Posted on 8/10/2021
Once upon a time, everything from Okaloosa Island in Fort Walton Beach all through South Walton and even reaching into Panama City Beach was referred to as "Destin" - which was the original crown jewel of the Emerald Coast. Over the past 30 years, other "jewels' have been exquisitely created along this route that include Okaloosa Island, Miramar Beach, picturesque coastal villages along South Walton's Scenic 30A and in Panama City Beach itself. Here is a snapshot of 10 beautiful vacation rentals that are right on the white sand beach "near" Destin proper, just a close distance away.
Off The Hook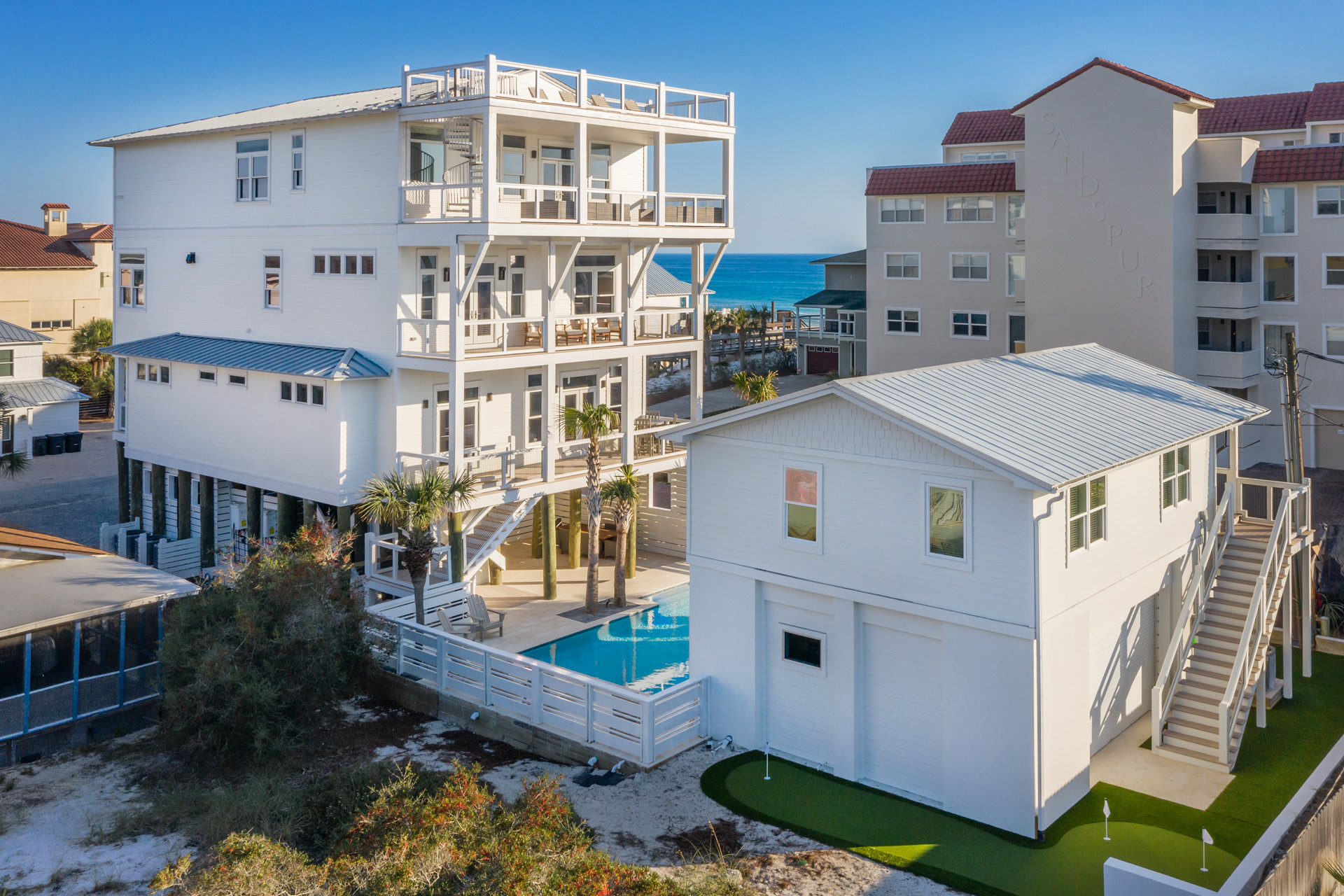 8 Bedrooms / 8.5 Bathrooms / 26 Guests - 4.6 Miles to Destin

This stunning, multi-level home in Miramar Beach really is off the hook! With a first-floor sundeck, three levels of breezy balconies, an additional rooftop terrace, a private pool, incredible Gulf views, and gracious vacay accommodations,
Off The Hook
is the perfect paradise home. Between the main home and the on-site guest house, the property features eight bedrooms and eight and a half baths. It can entertain up to 26 vacationers, making it perfect for large group getaways. Large windows and white paint, furnishings, and décor create an elegant coastal look inside. Each balcony, including the rooftop terrace, is comfortably furnished, perfect for enjoying the picturesque views and Gulf breezes. Spacious sleeping quarters in the main house include four bedrooms with king-size beds, two bedrooms with two- queen size beds each, and a kid's bunk nook with two twin bunks. The guest house features a master bedroom with a queen-size bed and a guest bedroom with a twin bunk. In regards to entertainment, guests will love the private pool and sundeck, game room with billiards table and large TV, putting green, and (of course) the convenient beach access.
Majestic Sun 208B
1 Bedroom / 1.5 Bathrooms / 6 Guests - 1.8 Miles to Destin

Majestic Sun 208B is a private beach view vacation rental located in Miramar Beach's Majestic Sun condo complex – minutes east of Destin. With one bedroom and one and a half baths, this condo can accommodate up to six guests. Beach vibes thrive throughout the space, with nautical blues, coastal accents, and a wall mural of a beach wave. The main living space features a bright, open floorplan that encompasses the living room, dining area, and kitchen. A queen-size sleeper sofa provides a perfect place to lounge during the day and a cozy bed for sleeping at night. Floor-to-ceiling sliding glass doors lead onto a beach view balcony, which overlooks the glittering Gulf. The condo's one bedroom includes a king-size bed and a private bath. A bunk nook in the hallway provides additional sleeping space.
Majestic Sun Condo Complex
1-5 Bedrooms / 1.5-7 Bathrooms / 6-22 Guests
Majestic Sun is an apt moniker for the multi-level almost beachfront condo complex that sits perched just off the shimmering shores of Miramar Beach. This building features two towers connected by a soaring arch, which makes the building look like one giant, Gulf view sandcastle. Although it's not technically on the beach, it does offer ample access and unobstructed views. Aside from comfortable beach condo rentals, the complex provides guests with top-of-the-line vacation amenities. These include a heated indoor/outdoor pool, full outdoor pool, two hot tubs, an on-site fitness center with both free weights and machines, a golf course, tennis courts, and lush landscaping with a lake and nature trails. It is also only steps from the salty, emerald shoreline. Its central location places this complex and its guests near a variety of coastal experiences and activities, including Silver Sands Premium Outlets, Grand Boulevard, Destin Commons, Scenic Highway 30A, and more.
Lotsa Fun Too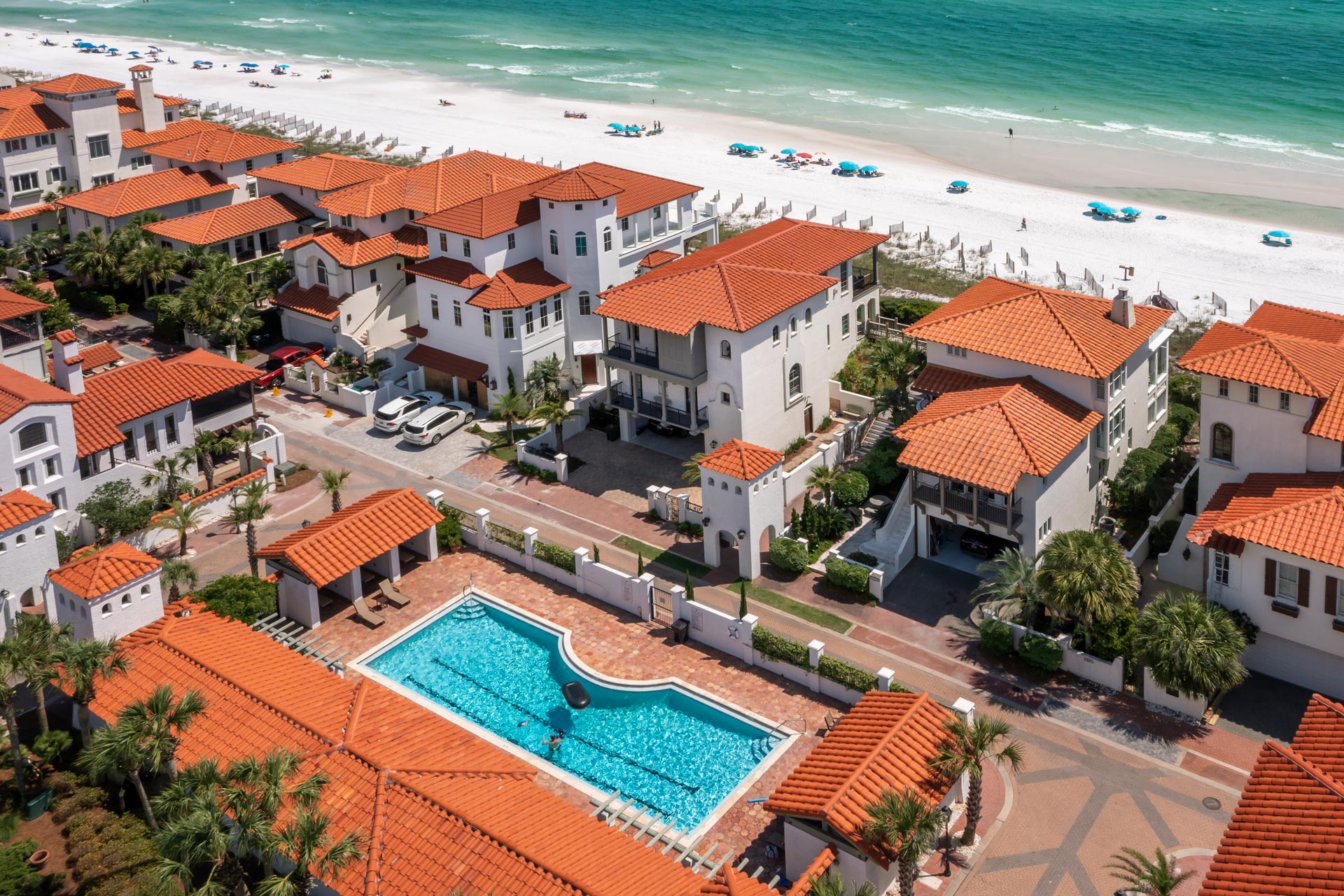 5 Bedrooms / 5.5 Bathrooms / 12 Guests - 10.9 Miles to Destin

Lotsa Fun Too is located at the exclusive gated residential community known as Vizcaya, a wonderful world of its own off Scenic 30A in Dune Allen Beach. This Tuscan styled enclave has its own large pool nearby, but the beautiful beach beckons you to take a dip in the gorgeous gulf from below this home's prominent perch from high atop a sugary dune. Five beautiful bedrooms accommodate up to 10 guests with rich classic elegance. The Dune Allen Beach location is the western gateway to the Scenic 30A lifestyle just a short distance away from favorite beachfront restaurants, specialty shops, friendly bars and an abundance of amusements.
Reflections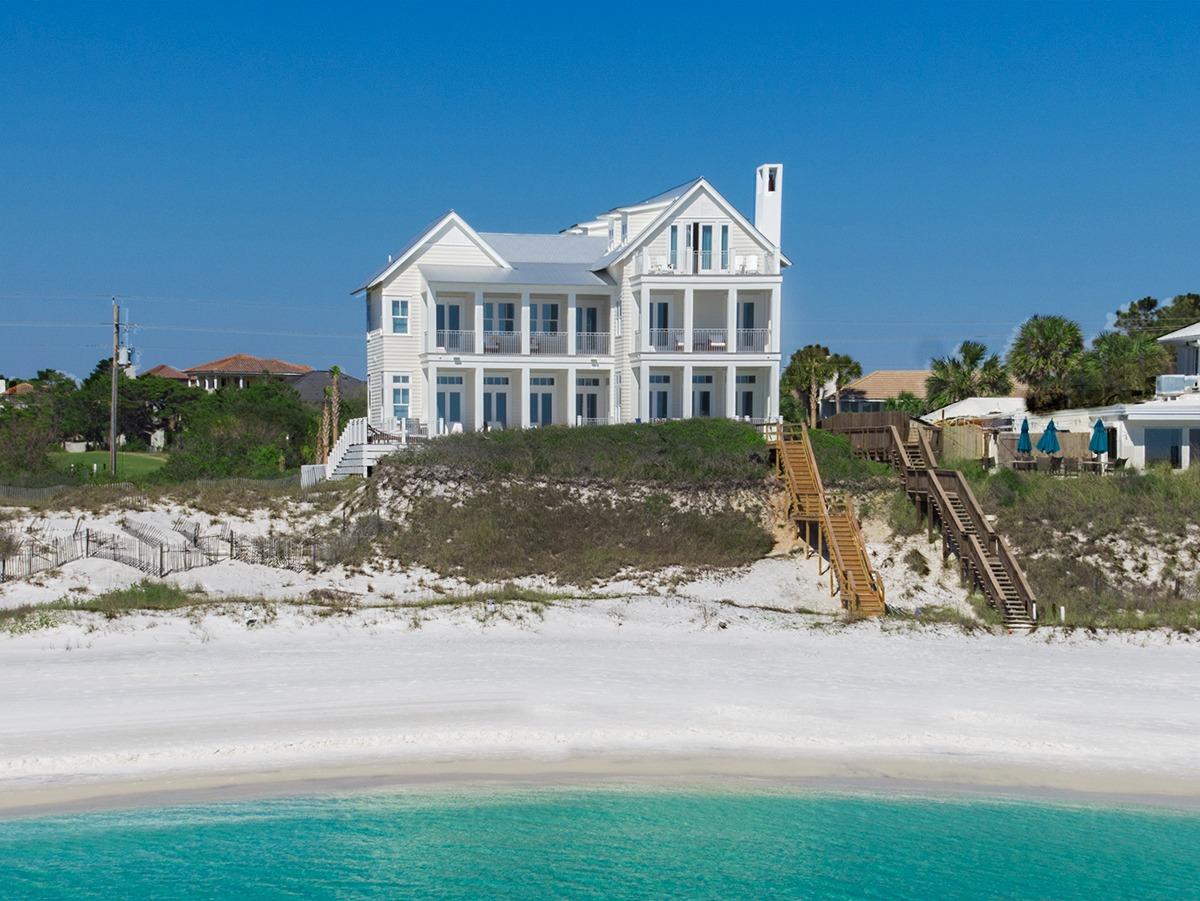 6 Bedrooms / 6.5 Bathrooms / 20 Guests - 11.1 Miles to Destin

Located in Santa Rosa Beach along Scenic Highway 30A, Reflections is a beautiful vacation home that combines coastal elegance with casual luxury. While grand, it maintains a simple beach cottage vibe. This beachfront home boasts six bedrooms, six and a half baths, outdoor balconies with amazing Gulf Coast views, and steps that lead directly to the beach. It can accommodate up to twenty guests, making it a great getaway for extended family vacations and reunions. Inside, a combination of whites, creams, and muted coastal hues creates a relaxed atmosphere. The open great room lets in plenty of light through the large glass doors and windows. A master's chef kitchen and formal dining room provide ample space to serve a fancy vacation feast. Three bedrooms feature king-size beds, and another two include queen-size beds. A kid's bunk room has two twin bunks, while the bonus den has two twin beds with trundles.
Blessings
5 Bedrooms / 4 Bathrooms / 22 Guests - 11.3 Miles to Destin

You will be counting your Blessings at this well-named hospitable beachfront vacation home that has been updated. It is perfect family and friend beach reunions with the ability to accommodate up to 24 happy beachgoers. It offers sensational views of the jewel toned waters of the glittering gulf. A large private 26 x 12-foot pool allows you to go from taking a freshwater dip to luxuriating in the glowing gulf in no time. This Santa Rosa Beach location is across from the Gulf Place center that features restaurants, bars, galleries, boutiques, seasonal festivals, and concerts.
Sea Haunts 3A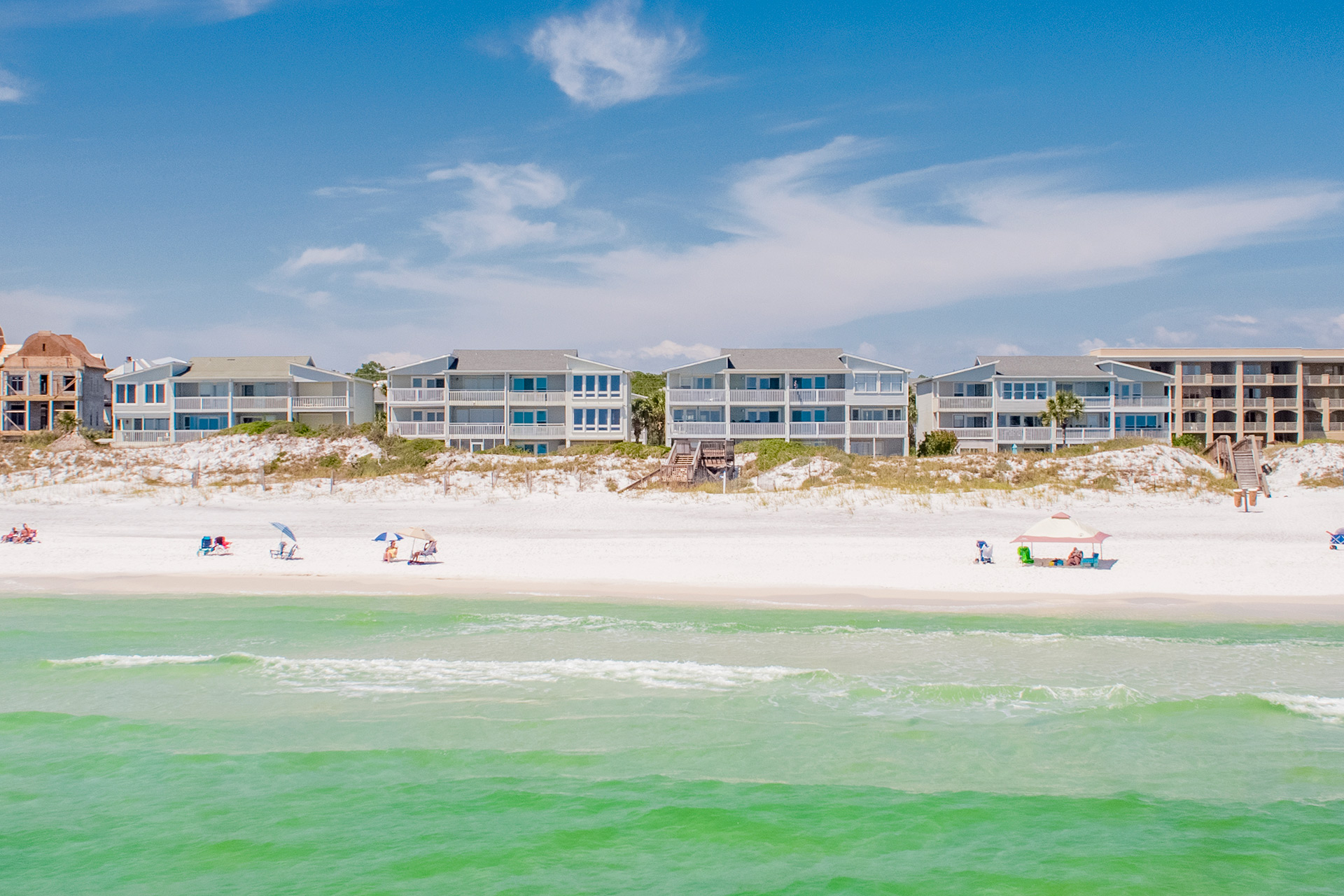 3 Bedrooms / 3.5 Bathrooms / 12 Guests - 11.9 Miles to Destin

Sea Haunts 3A is an attractive three bedroom vacation rental townhome with gulf views across the dunes and can sleep up to 10 guests. This gated, secluded community is located south of Scenic 30A in South Walton but is also close to the lively Santa Rosa Beach town center of Gulf Place. The interiors are professionally decorated with furnishings done in peaceful pastel colors and accented by chic beach-inspired decorative art. Sea Haunts shares amenities with its exclusive neighbor San Remo beside a lovely lagoon with two swimming pools and a simmering hot tub. There's plenty of room for watery frolic in the pools or on the beautiful beach below.
C Cottage
5 Bedrooms / 5 Bathrooms / 12 Guests - 15.4 Miles to Destin

C Cottage is a stylish sea cottage located in Blue Mountain Beach on 30A. Its blue and white exterior reflects a casual sophistication, while the inside is cozy and comfortable. This beachfront vacation home features five bedrooms, five baths, and can host up to twelve beach guests. Shiplap walls, nautical décor, and blue and yellow accents create a welcoming atmosphere in the open floorplan that consists of the living, kitchen, and dining areas. Large windows provide ample sunlight, while glass doors open onto a breezy beachfront balcony. The balcony features a set of stairs directly to the beach, meaning guests can bask in the Florida sun and bury their toes in the sugary sands mere seconds after leaving home. The master bedroom boasts not only a king-size bed, but also a sitting area, coffee bar, private bath, and access to a romantic balcony. Of the three guestrooms, one has a king-size bed, the second has a queen-size bed, and the third has a queen-size bed and a full bed. A carriage guest house completes the cottage, with a queen-size bed, en-suite bath, sitting area, kitchenette, and dining table.
Abaco
6 Bedrooms / 6.5 Bathrooms / 14 Guests - 17.7 Miles to Destin

Welcome to Abaco, a multi-level vacation home located in 30A's Grayton Beach. This rental home offers panoramic views of the crystalline shores, and the only thing separating this home from the beach is the dune lake that opens right into the Gulf. Abaco includes six bedrooms and six and a half bathrooms. Up to 14 guests can take advantage of comfortable accommodations. The living area features a cozy seating ensemble facing a TV and glass doors that overlook the Gulf. A formal dining area also sits beside a set of glass windows, creating the perfect environment for a vacation meal. The kitchen is large with stainless steel appliances, a breakfast bar with stool seating, and ample counter and cabinet space. Five of the six well-appointed rooms have king-size beds, while the fifth room includes a queen bunk. Not only does this home have incredible sleeping quarters, but it also features top-notch vacation amenities. These include a private dock on the dune lake, a hot tub, multiple outdoor balconies, and direct access to the beach.
Related Article: 10 Photos Showing How Beautiful Grayton Is
Shoreline Villas 11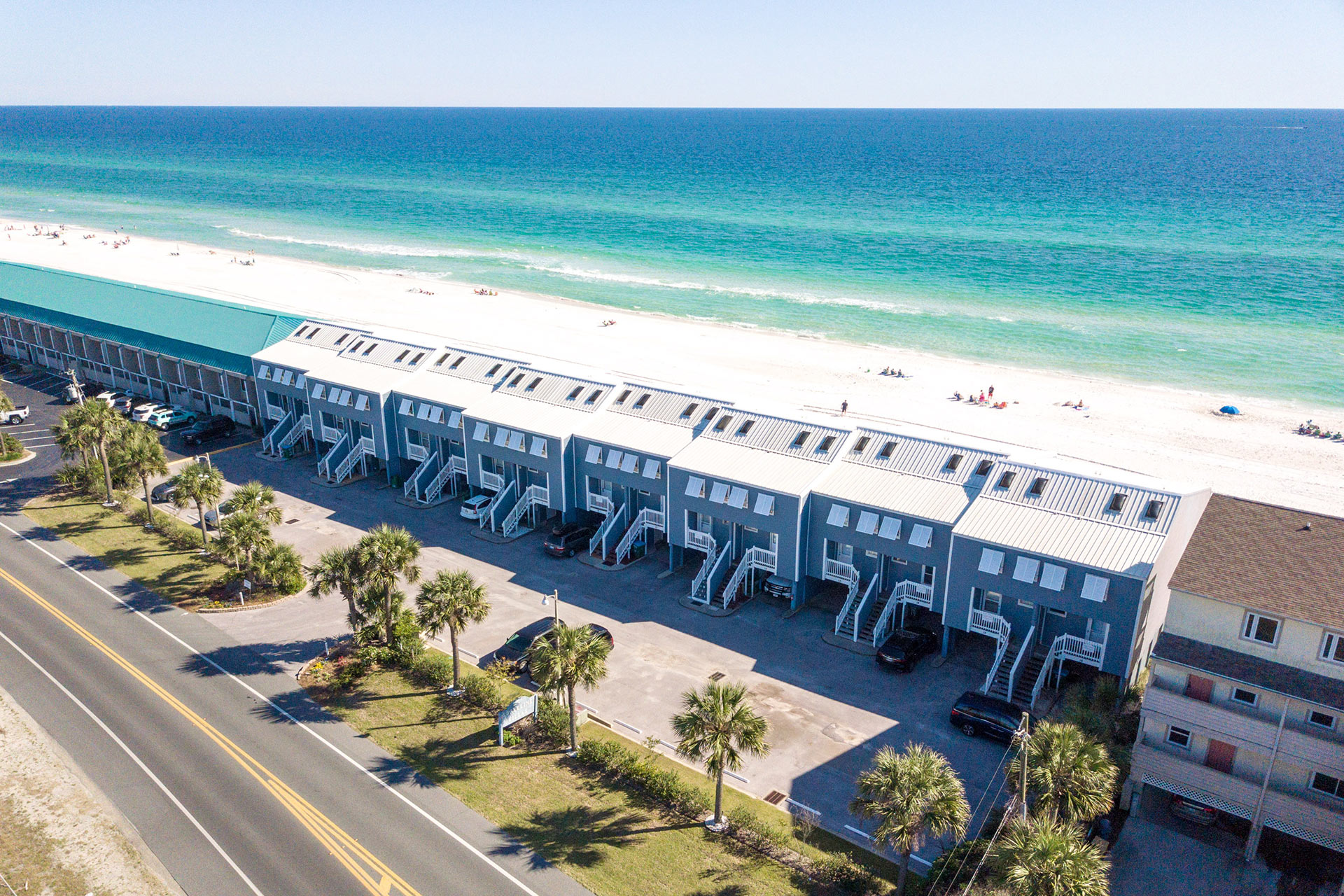 3 Bedrooms / 2.5 Bathrooms / 6 Guests - 29.6 Miles to Destin

Situated on the western edge of Panama City Beach, just east of Scenic Highway 30A,
Shoreline Villas 11
is a well-appointed Gulf-front condo that is great for small beach getaways. The condo has three bedrooms, two and a half baths, and can host up to six beachgoers. The open floorplan is sunny and welcoming, with sliding glass doors that let in the Florida sunshine and also lead to a beachfront balcony. Furnished with a table and chairs, guests will often find themselves sitting out on the balcony watching the waves, while enjoying casual conversation and drinks with their fellow vacationers. Coastal décor throughout gives the condo a distinct beach chic vibe. The master suite is painted a calming blue and features a queen-size bed and access to a romantic balcony with Gulf views. One of the guest bedroom also has a queen-size bed, while the other has two twins.
Splash 106E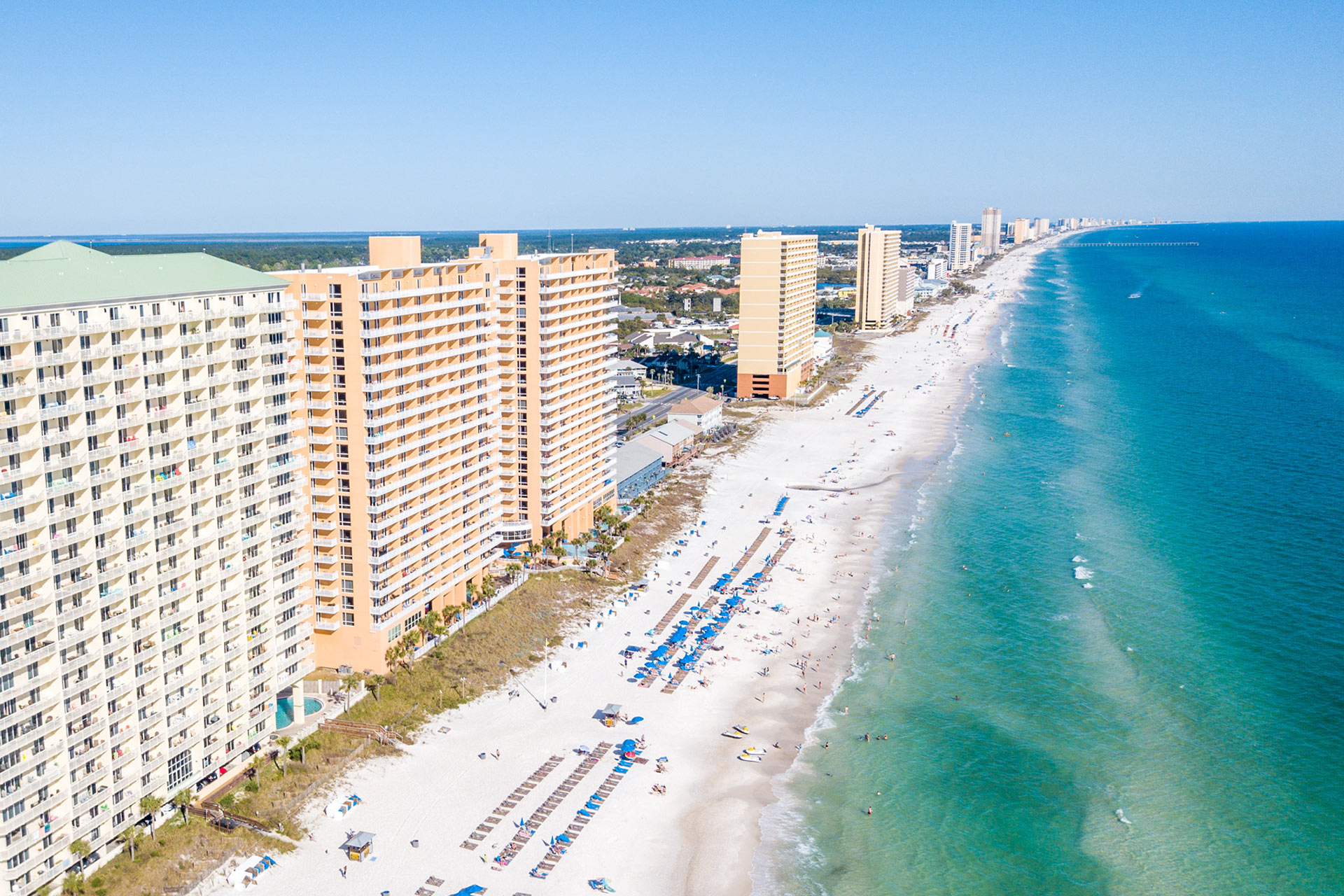 2 Bedrooms / 2 Bathrooms / 6 Guests - 33.6 Miles to Destin

Splash 106E is a two bedroom vacation rental that sleeps six in a luxury beachfront tower conveniently centered in Panama City Beach. Splash is a perfect name for this resort that includes a fantastic Waterpark with a meandering "Lazy River," multiple play pools, slides, tubes, tunnels, water cannons, spurting geysers, a giant mushroom waterfall and a huge bucket that dumps hundreds of gallons of water down on the swimmers below. A poolside bar and grill will help you relax with tropical drinks or savory snacks. There is simmering hot tub for soothing stress and a Video Arcade for fun. Besides all this the bright beach is just steps away.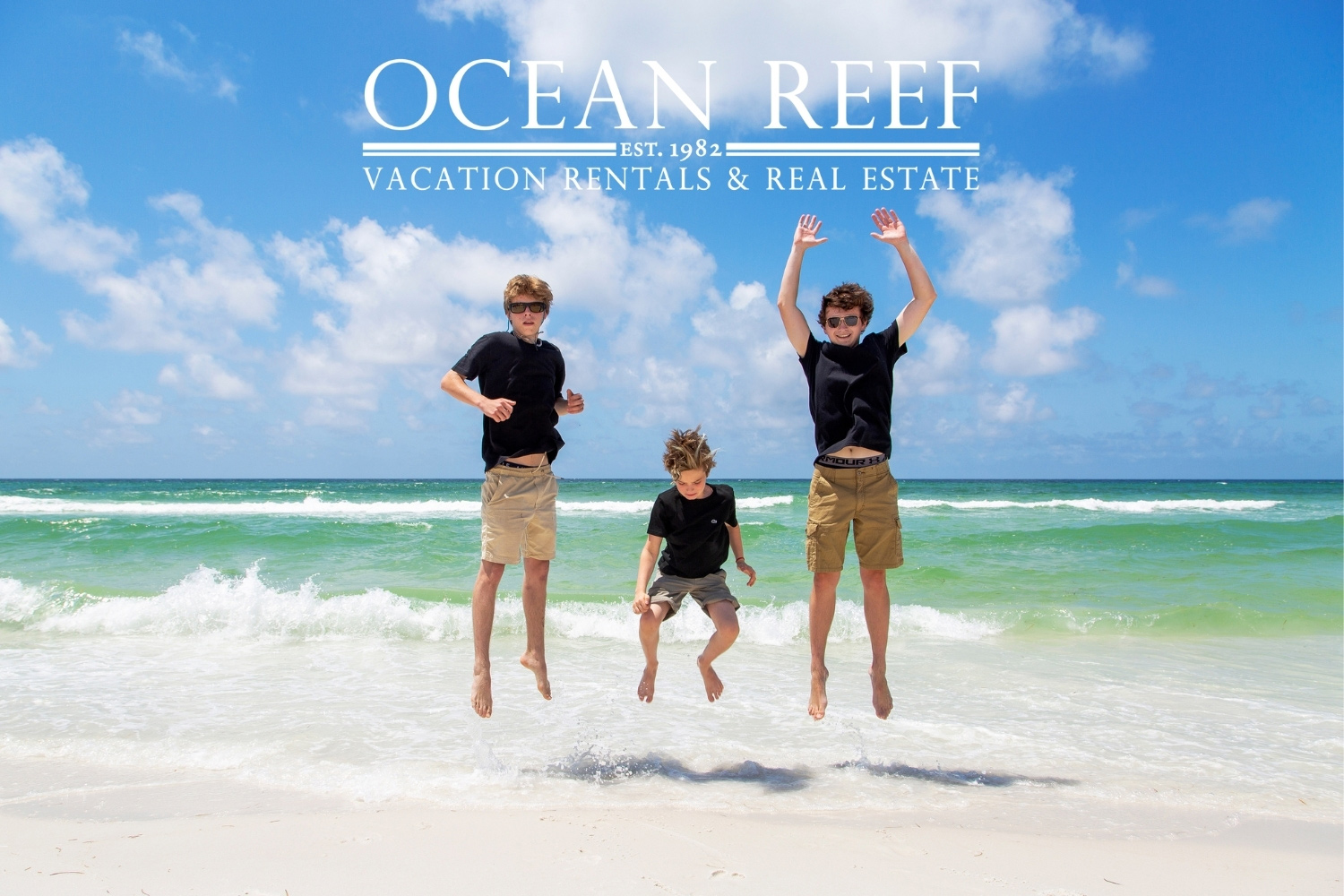 Take time to explore details and multiple images for all of these wonderful beachfront vacation rentals "near Destin" on our user-friendly website today to choose your favorite.