Posted on 10/10/2019
Besides our beautiful beaches, many vacationers enjoy sampling some famous Emerald Coast seafood while visiting Destin. Delicious fresh caught gulf seafood is very popular here; however, some folks enjoy the "turf" as well as the "surf." Many devoted carnivores among us will remind you of the adage: "Beef. It's what's for dinner!" After all, a sizzling savory steak is pretty hard to beat. For those landlubbers among you who want some turf instead of surf, here is a list of the top 10 Destin restaurants who serve the best steaks around.
Seagar's Prime Steaks & Seafood
Seagars over on the gulf side of Sandestin serves both prime steaks and seafood, so there is something for everyone. Seagars is acclaimed for being one of the top five steakhouses in the entire state of Florida. This is the only Four Diamond Award-winning restaurant in the northwest panhandle, and they have received this acclaim for the past 19 years in a row. Seagars also received a Best Fine Dining Platinum Award for 2019, a Diner's Choice Award for the past four years, and has been listed as being among the Top 100 Steakhouses in America. They also feature an extensive award-winning wine list. Their prime steak menu includes a 10 oz. Steak Diane, a 14 oz. Bone-in Filet, a 15 oz. New York Strip, a 22 oz. Bone-in Ribeye and a giant 24 oz. Porterhouse.
McGuire's Irish Pub of Destin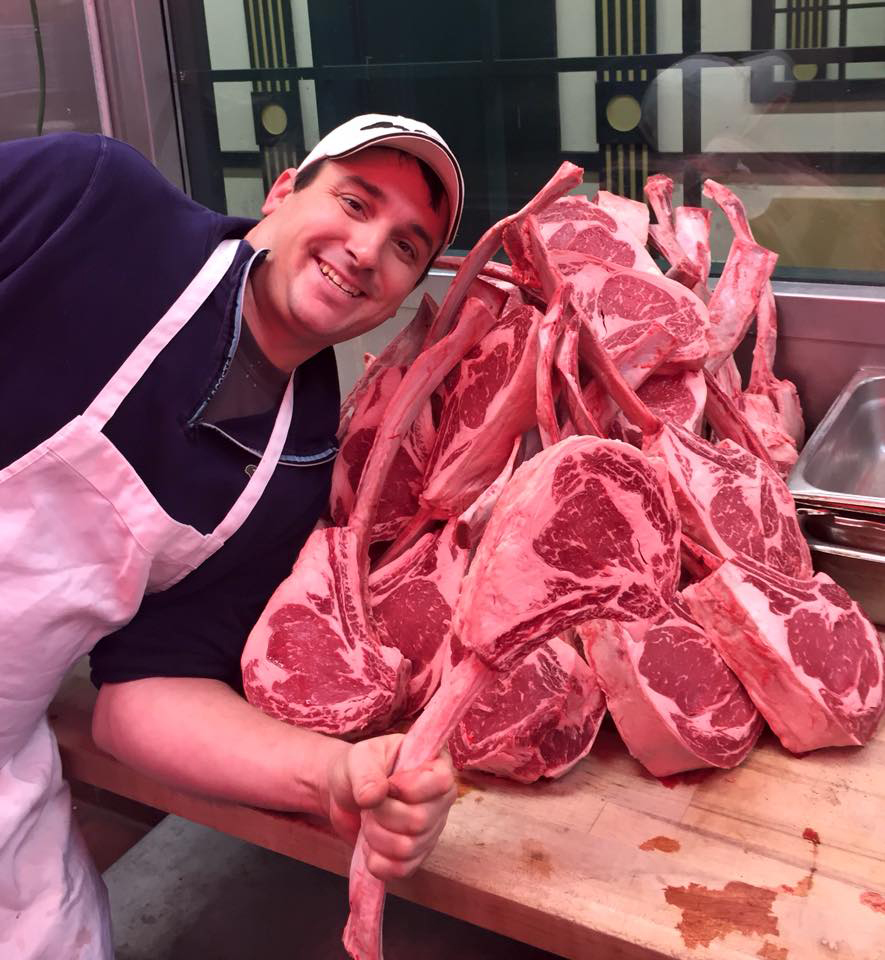 McGuire's Irish Pub is one of the most popular restaurants in seafood-loving Destin because this place is known as one of America's great steak houses. They have a great location at the foot of the Destin Bridge and also feature a sunset happy hour with live music on a raised deck overlooking Crab Island. Their whimsical motto is "Feasting, Imbibery & Debauchery," so plan to eat, drink and be merry when you go there! This fun, lively place is plastered with hundreds of thousands of one-dollar bills signed and placed by patrons for more than two decades. Their specialties include steaks and one of the best prime ribs around. They have received many accolades for their food over the years, which include: Eleven-time winners of The Golden Spoon Award; the Florida Trend Magazine Award for Excellence, and the Beef Backers Award for the Best Steaks in Florida. This fantastic restaurant has also been featured on NBC's Today Show and The Food Network. The menu features 16 0z. New York Strips, Ribeye's, and Hickory Smoked Prime Rib as well as a 10 oz. Filet Mignon. Besides the fine steaks and delicious prime rib, they also serve over 25 different burgers with various toppings. Ales, Porters, and Stouts are brewed right on the premises with classic oak and copper brewery techniques using the finest imported hops along with malted barley to create their own house yeast. McGuire's extensive wine cellar has received the Wine Spectator's Award of Excellence for several years.
Beach Walk Cafe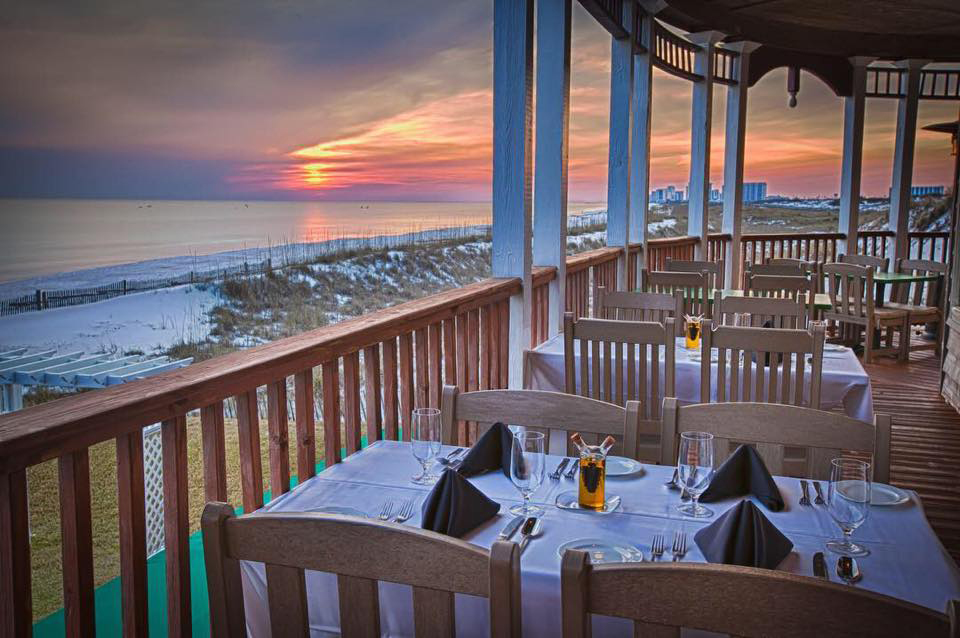 Beachwalk Café at the enchanting gulf front Henderson Beach Inn is known for its gourmet fare. They were named as one of the Nation's 100 Top Most Romantic Restaurants by Open Table due to the charming, elegant atmosphere and special Tiki torch dining available right on the beach. It was also named as having among the Top 100 Most Scenic Views in the US since the dazzling gulf, and unobstructed western views provide spectacular sunsets. TripAdvisor has listed the Beachwalk Café as being the #1 Restaurant in Destin. They are also a Golden Hall of Fame winner. Their USDA Prime cuts of beef include an 8oz Filet Mignon and a 14oz Cowboy Ribeye.
Marina Cafe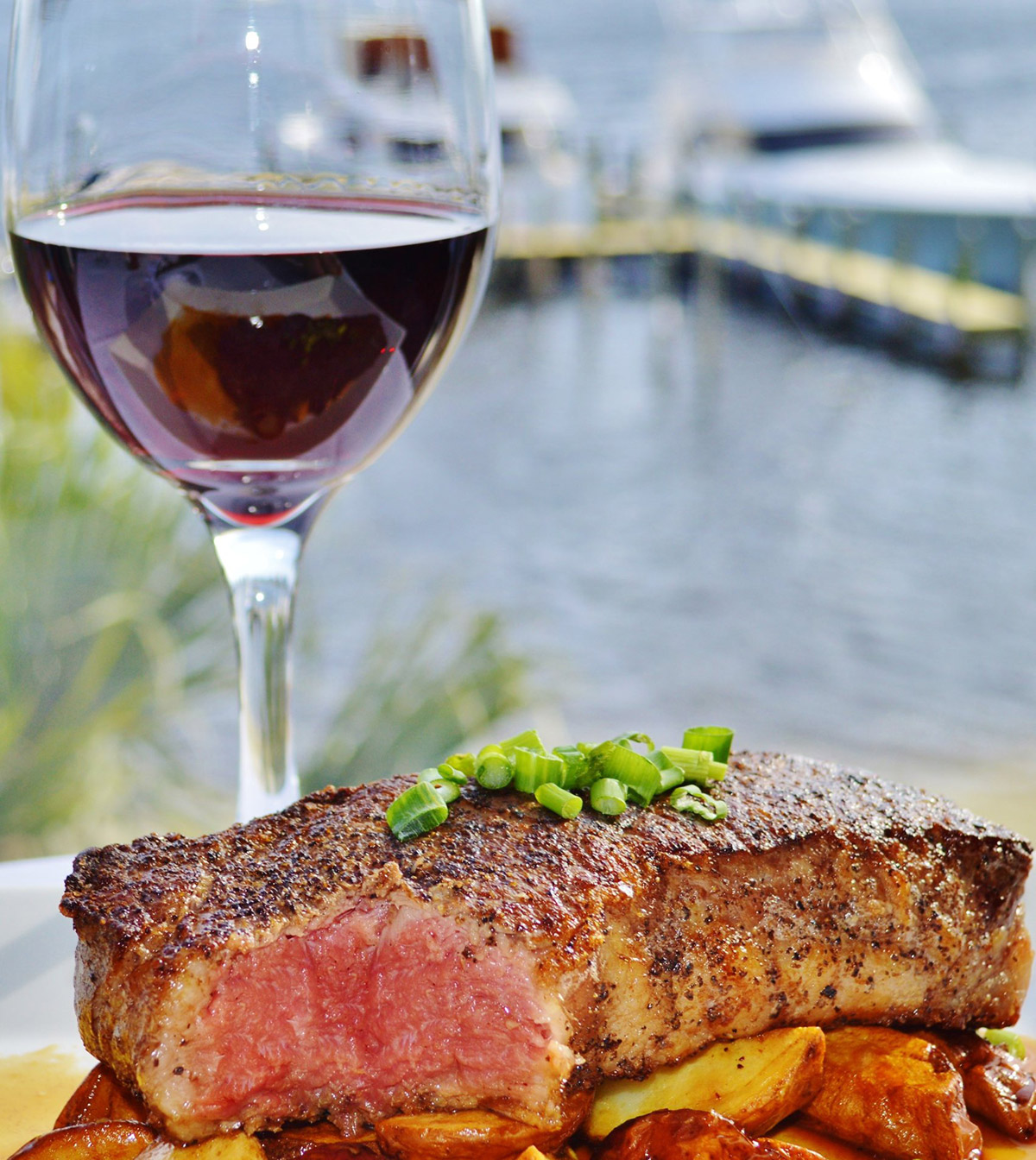 Marina Café is a well-established icon and one of Destin's most esteemed restaurants. It features sensational food, attentive service, and stunning views of the harbor from a chic candlelit dining room. Some of their awards include American Express Platinum Fine Dining, Florida Trends Top 500 Restaurants, Wine Spectator's Award of Excellence, and TripAdvisor's Certificate of Excellence. Savory prime beef entrees include an 8 oz. Center Cut Filet Mignon, a 16 oz. Ribeye, an 18 oz. New York Strip and 10 oz. of Braised Boneless Beef Short Ribs.
Fleming's Prime Steakhouse & Wine Bar

Flemings Prime Steakhouse & Wine Bar is located at Sandestin's upscale town center on Grand Boulevard, where they are known for ultimate three course gourmet specials. They include "Taste of Manhattan" a 9 oz. New York Strip served with steak fries and a Manhattan from the bar, "Tomahawk Tuesdays," which is a dinner for two, including a thick 35 oz. New York Strip and a "Filet & Lobster Tail" served with a Certified Prime Angus Ribeye. Their regular menu also features Filet Mignon, New York Strips, a Bone-in Ribeye, and a Dry Aged Ribeye. The handsome, comfortable club-like atmosphere dovetails with good eating.
Ruth's Chris Steak House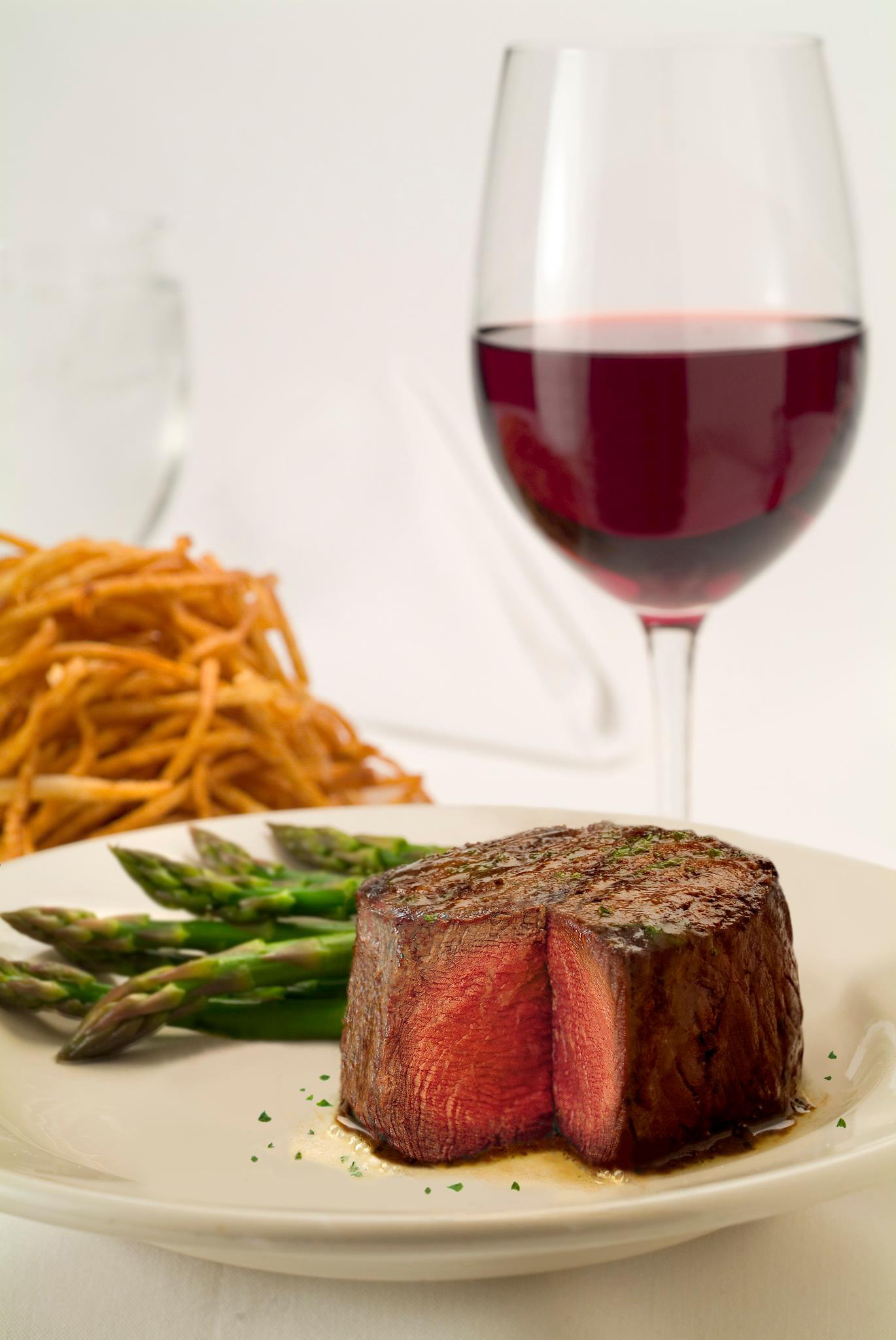 Ruth's Chris Steakhouse next to Destin's Silver Shells Resort has a national reputation as being one of America's best steak restaurants. Along with great steaks, they feature live music by #1 Billboard Charting Artist Michael J. Thomas, who is an awesome vocalist and saxophone player. Sizzling steaks topped with melting butter are served on hot plates and include the following USDA Prime Beef Entrees: an 11 oz. Filet; a 12 oz. and 16 oz. Ribeye; a 16 oz. New York Strip; a 24 oz. T-Bone and a giant 40 oz. Porterhouse for two.
The Louisiana Lagniappe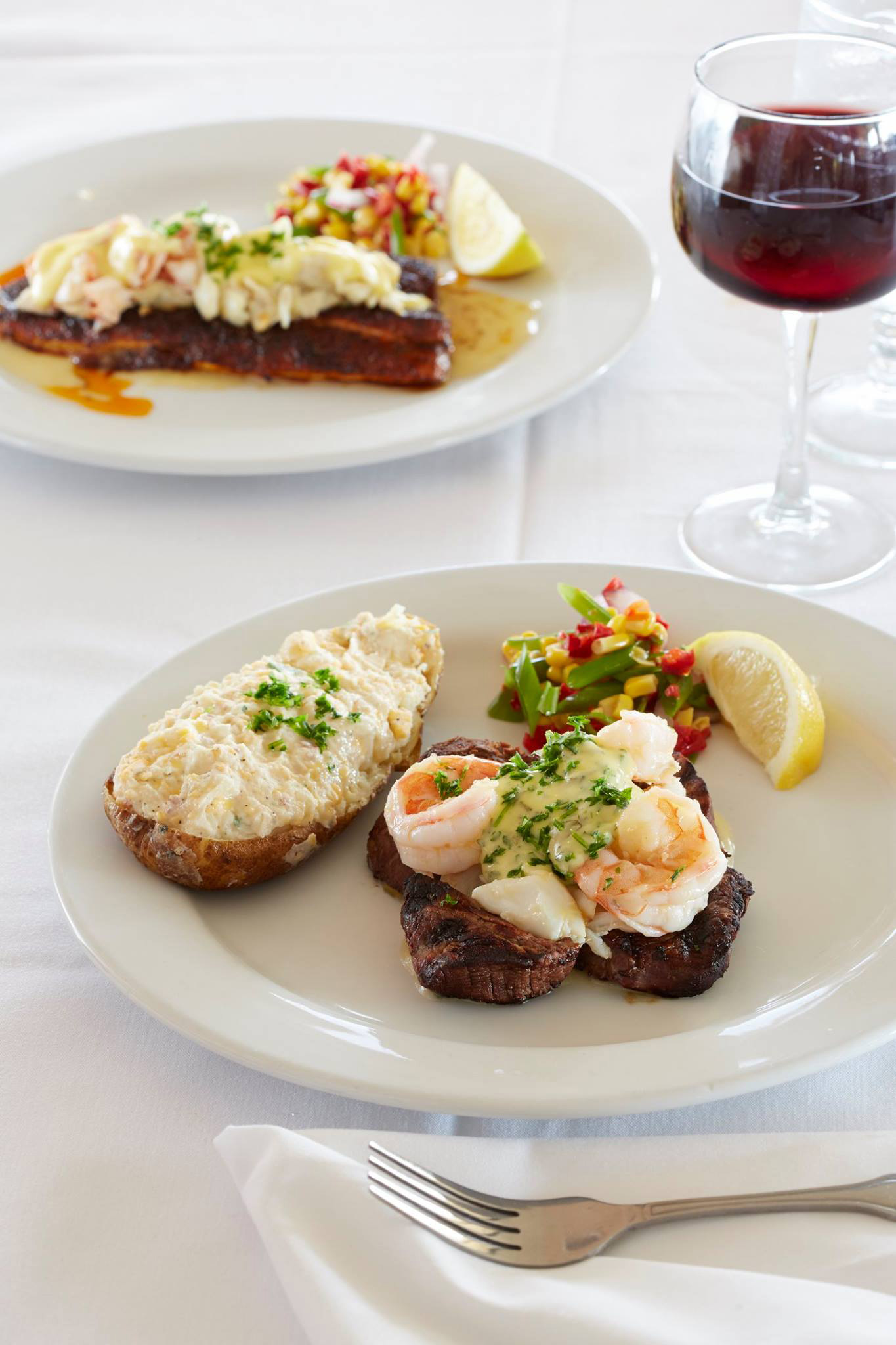 Louisiana Lagniappe is a fine French-Creole restaurant, and the Cajun word lagniappe stands for "a little something extra." The name resonates with this harbor-side restaurant on Holiday Isle that's been around since 1984. This popular restaurant consistently ranks among the Top 10 Destin Restaurants on TripAdvisor and wins The Award for Excellence every year. It has a charming setting and also features harbor front dining. Although primarily known for their wide selection of Creole-inspired seafood, they also have great steaks, including a prime certified Angus 9 oz. Filet Mignon and a 14 oz. Ribeye. A half a Maine Lobster can be added to your steak for an additional cost to create a Surf n Turf special. One of the chef's most popular culinary creations is the "Tournedos of Beef," which includes medallions of prime Filet Mignon topped with sautéed lump crabmeat and jumbo shrimp covered with a rich Béarnaise sauce.
Osaka Japanese Hibachi Steakhouse & Sushi Bar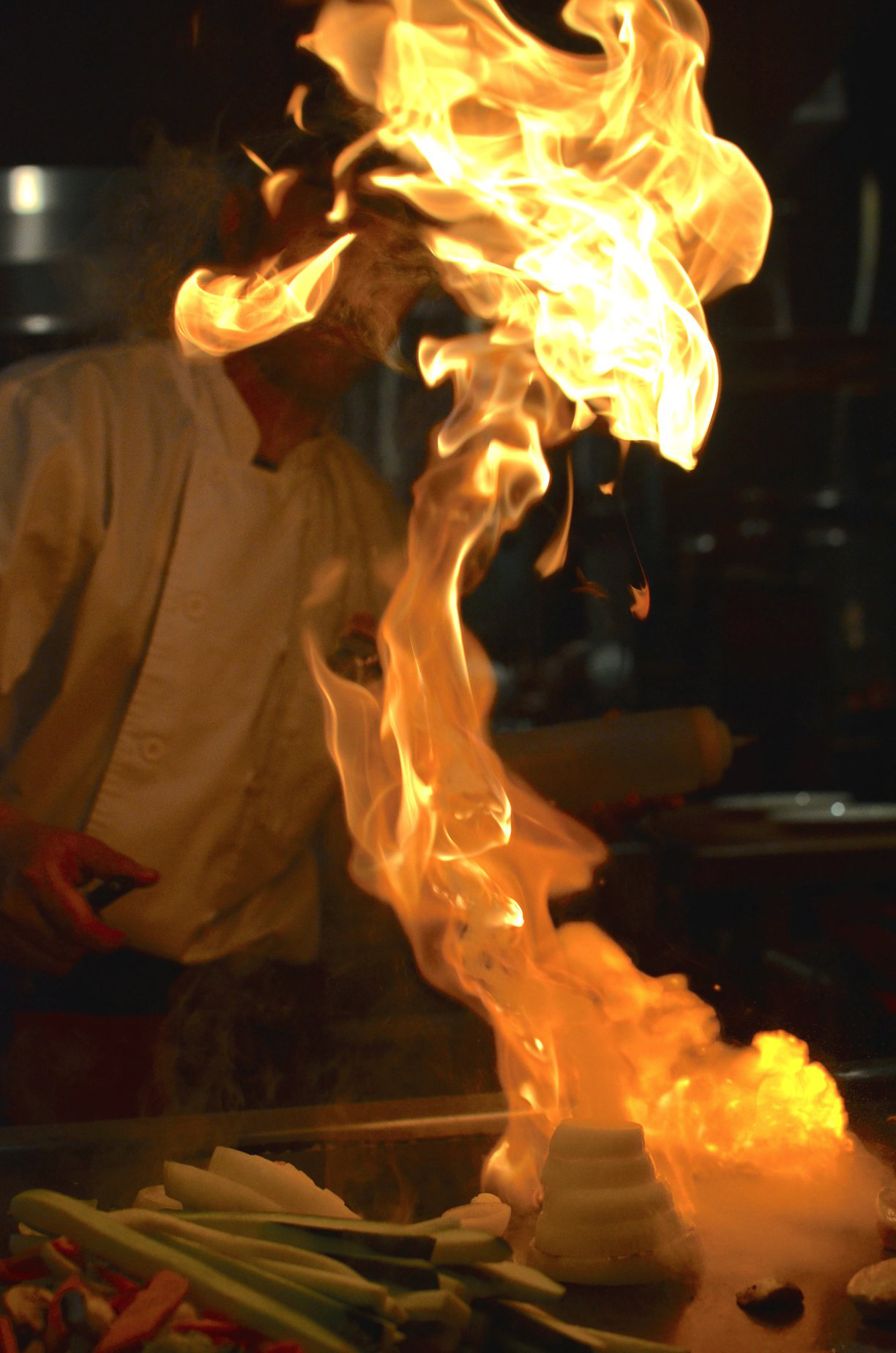 The Osaka Japanese Hibachi Steakhouse & Sushi Bar off Emerald Coast Parkway is known for its delicious dining and a jolly good time for all. They have been named Best of the Emerald Coast by EC Magazine and Best of Destin by VIP Destin Magazine. Individual chefs cook sizzling select dishes at your own hot grill centered table and put on quite a show with culinary acrobatics. The delicious steaks here are often paired with other delectables like lobster, shrimp, scallops, and even chicken. A special Dinner for Two includes Filet Mignon and Shrimp.
Outback Steakhouse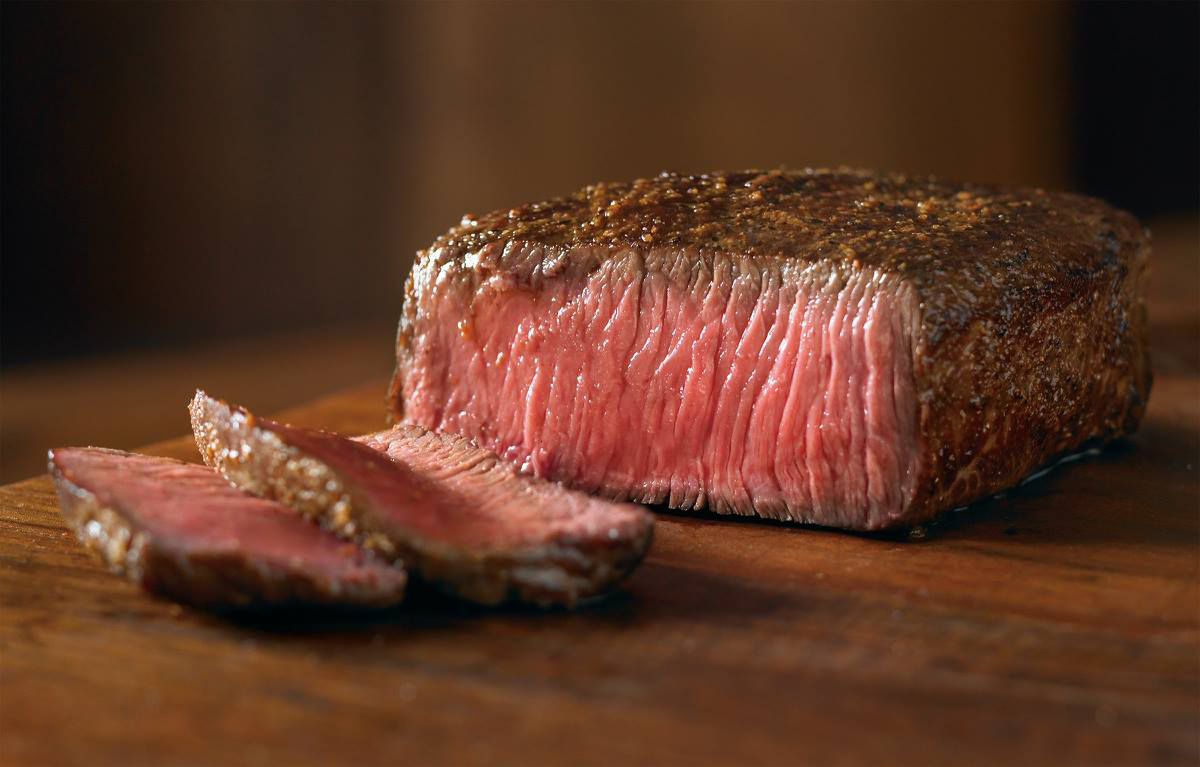 Outback Steakhouse is diagonally across from Destin Commons and nationally known for their wonderful fare, but steak lovers probably won't be asking them to "throw another shrimp on the barbie"! They feature affordable thick baseball cut Sirloins, well-marbled Ribeyes, and a juicy seared Filets. Some of their "Aussie-tizers" include their famous giant crispy Bloomin' Onion, Aussie Cheese Fries topped with Cheddar, Monterey Jack, Bacon, and Ranch as well as a Steakhouse Quesadilla stuffed with savory slices of Prime Rib and Monterey Jack cheese.
Longhorn Steakhouse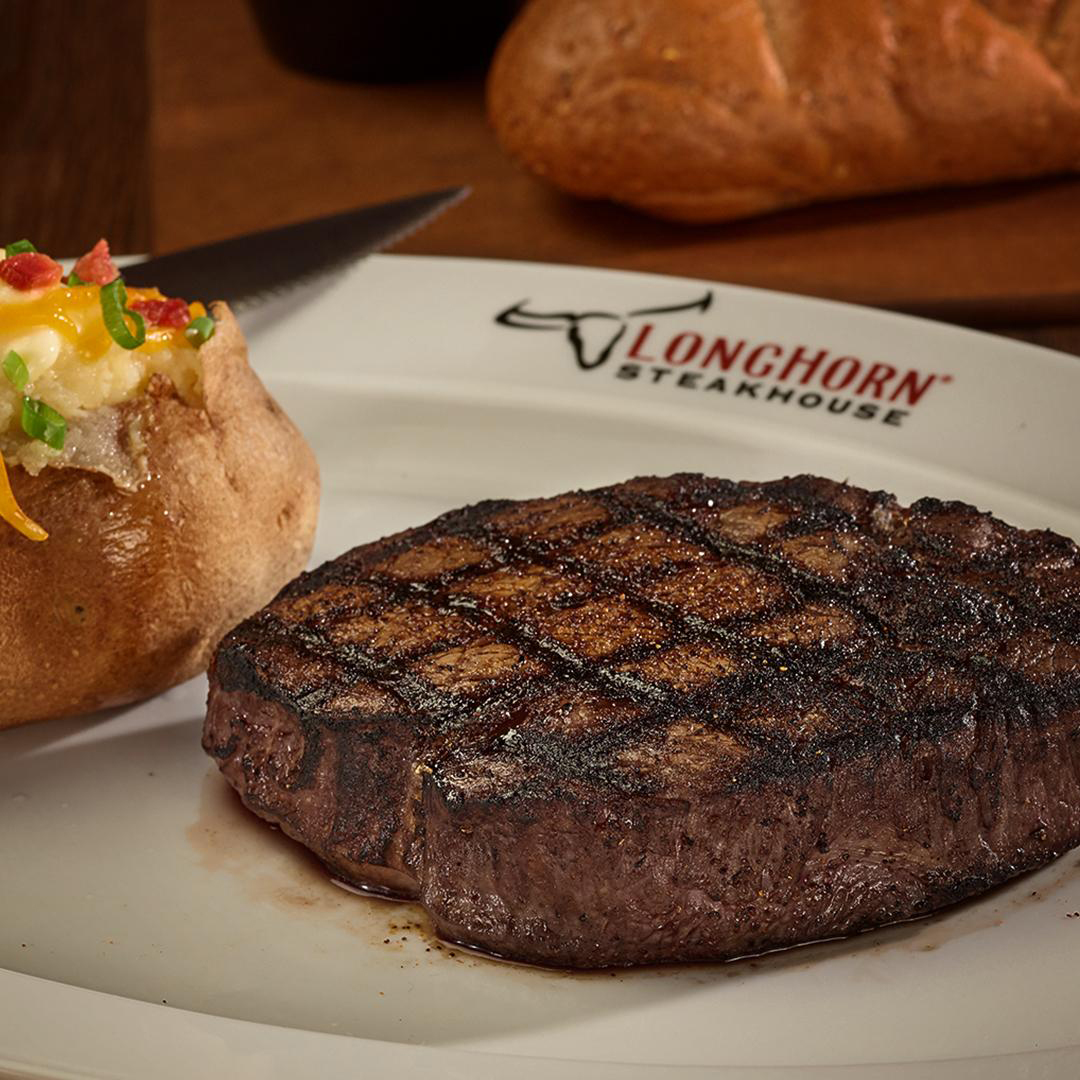 Longhorn Steakhouse is also near Destin Commons, and their steaks are expertly grilled with a unique, very tasty secret signature spice blend. Their steak entrees come in varying sizes from petite to giant and include a wide array of choices as follows: Renegade Top Sirloin; Chop Steak; Flat Iron Steak; Ribeye; New York Strip; Flo's Filet; Prime Rib; Fire-Grilled T-Bone; Outlaw Ribeye and a Longhorn Porterhouse.

Naturally, Ocean Reef Resorts has many Destin vacation rentals near each and every one of these fine steakhouses, so take some fun time to select one here on our user-friendly website. Detailed descriptions, vivid imagery, aerial satellite location views, seasonal rental rates and available calendar dates are shown for every property. Once you arrive, we wish you happy times and a Bon Appetit!