Posted on 6/11/2019
Grayton Beach is a dazzling destination half way down Scenic 30A in South Walton. Its natural beauty was discovered by a Major Charles T. Gray who created a family homestead in 1885. Soon thereafter, a general named William Miller and a gentleman named William Wilson were introduced to this precious piece of paradise. They instantly realized the potential of utilizing this heavenly habitat as a place to create a popular vacation retreat, platted the original village streets and named it Grayton Beach after Major Gray.

Entrepreneur W.H. Butler arrived in 1913 and bought up most of the village land to develop it. However, there were no bridges or even paved roads in South Walton to connect it elsewhere, so Grayton Beach remained primarily undeveloped for decades. Paved roads arrived in the late 1930s and in the 1940s electricity arrived, but it remained an isolated tiny town until the early 2000s. It was inhabited mostly by eccentric artists for many years and received the reputation as being a place that had "Nice dogs. Strange people."

Grayton Beach is quite stunning and has received high accolades in recent years for its natural beauty. Fortunately, this natural tropical paradise remained intact since thousands of acres around it were purchased to create state forest preserves and beach parks.

A picture is worth a thousand words, so get ready to see ten pics of paradise and see if you agree!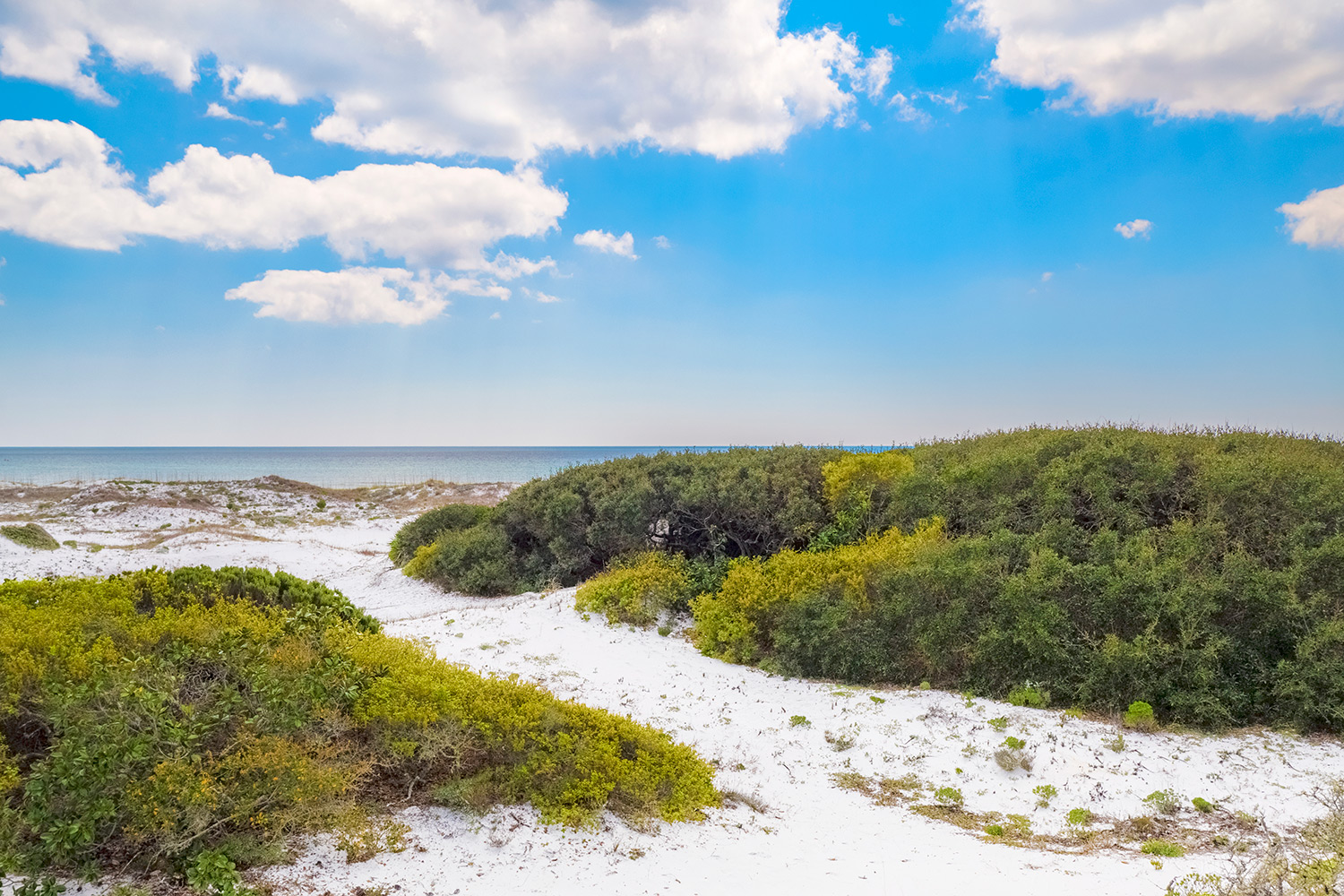 Vivid views of the shimmering crystalline white dunes that make up part of Grayton Beach State Park.
Grayton Beach State Park adjoins the historic village center towards the east. This place was just named the fourth most beautiful beach in America after an extensive nationwide study was completed as reported in Forbes magazine.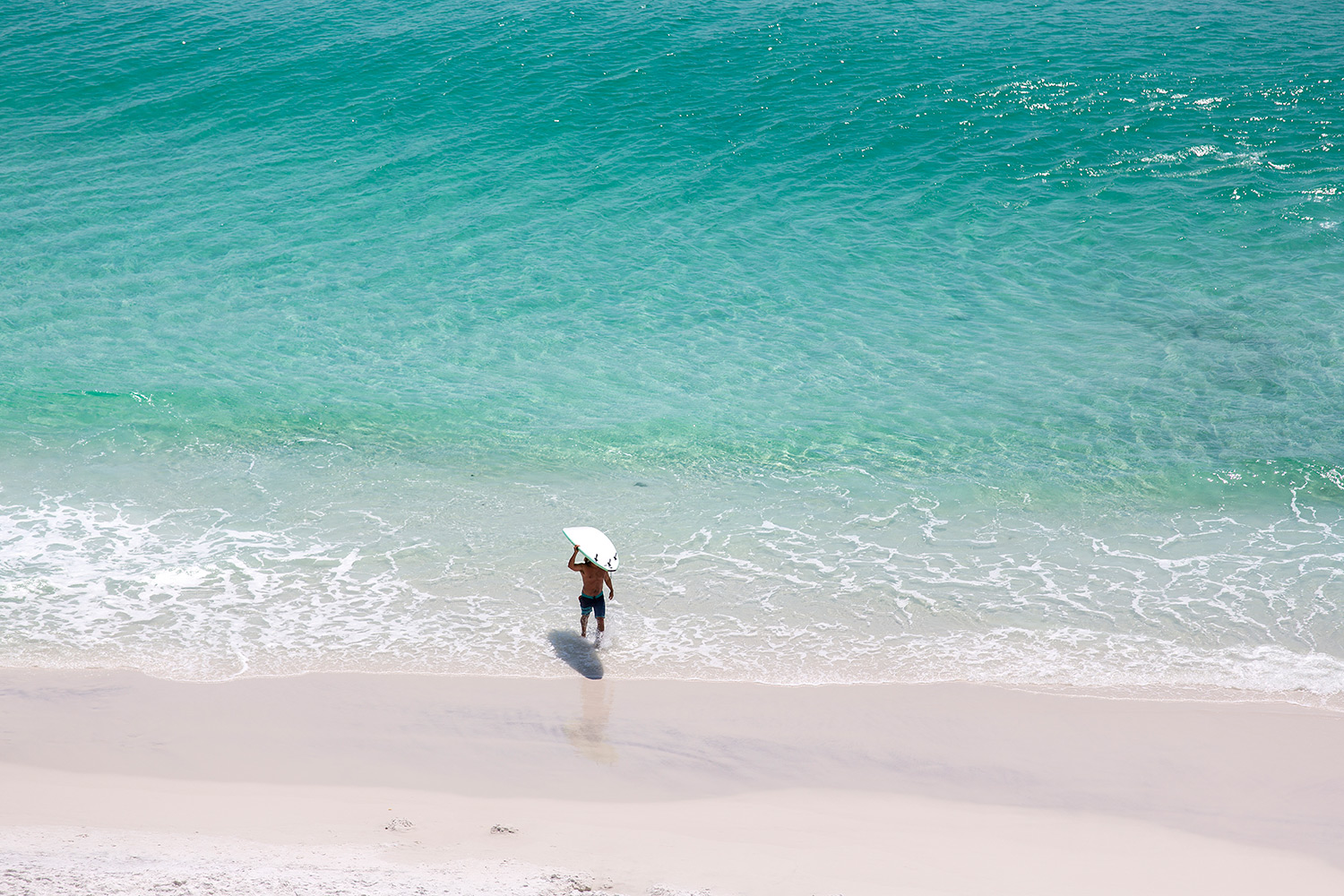 The dazzling jewel-toned gulf water features swimming pool clarity.

Grayton Beach State Park encompasses 2,000 acres, and a large part of this enchantingly beautiful place includes Western Lake. This exotic 100-acre coastal dune lake spans across from the bright, beautiful beach on its southern border over to the forested shores towards the north.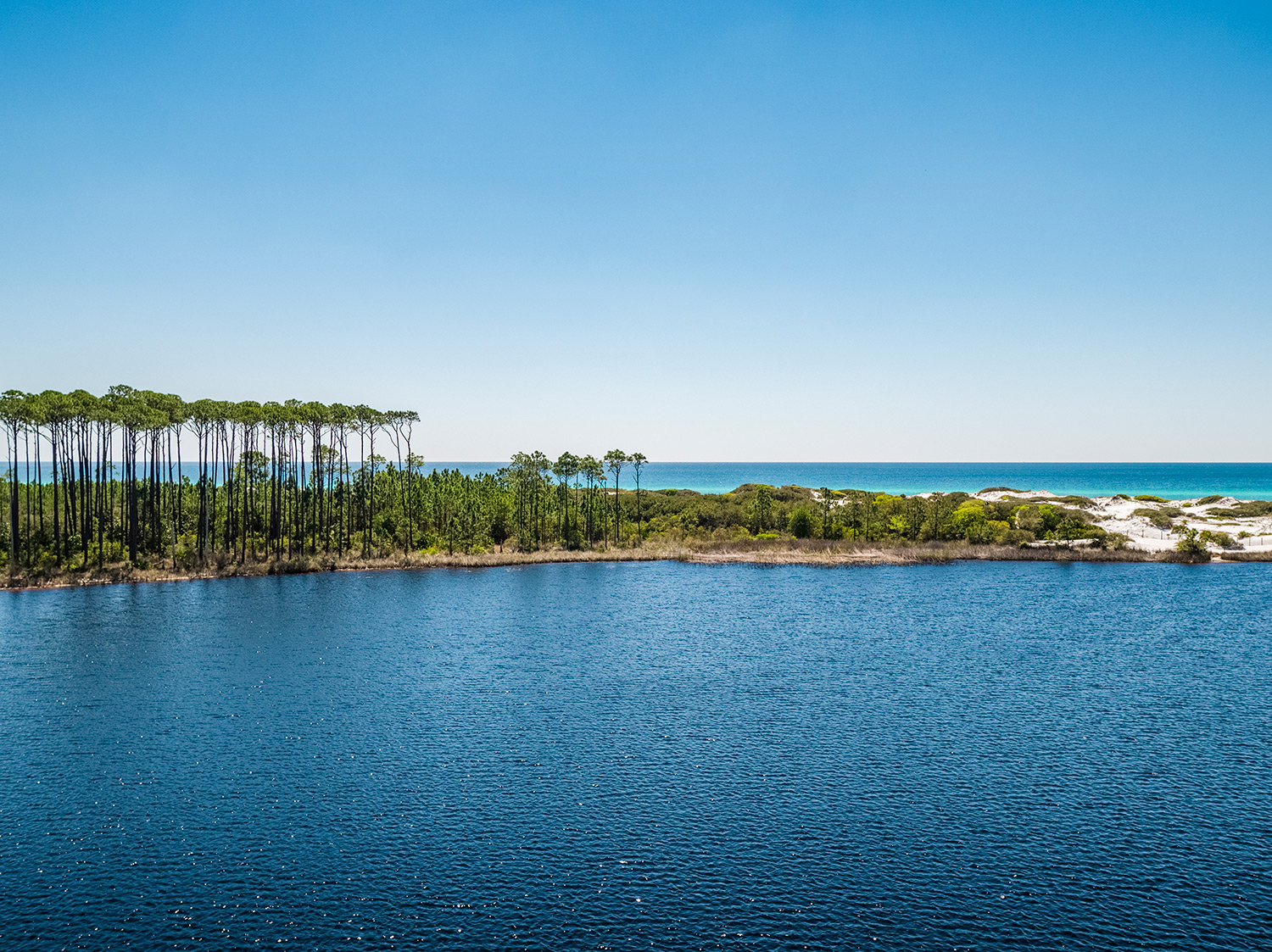 A view of the gleaming gulf from part of the serene waters of Western Lake.

Coastal Dune Lakes are rare precious treasures that are located hardly anywhere else on the planet. In fact, the only other places that they may be found are in Madagascar, New Zealand, Australia and parts of the Pacific Northwest. The freshwater lake intermittently opens and closes its dune connection to salted water, creating a magical mixture supporting abundant wildlife.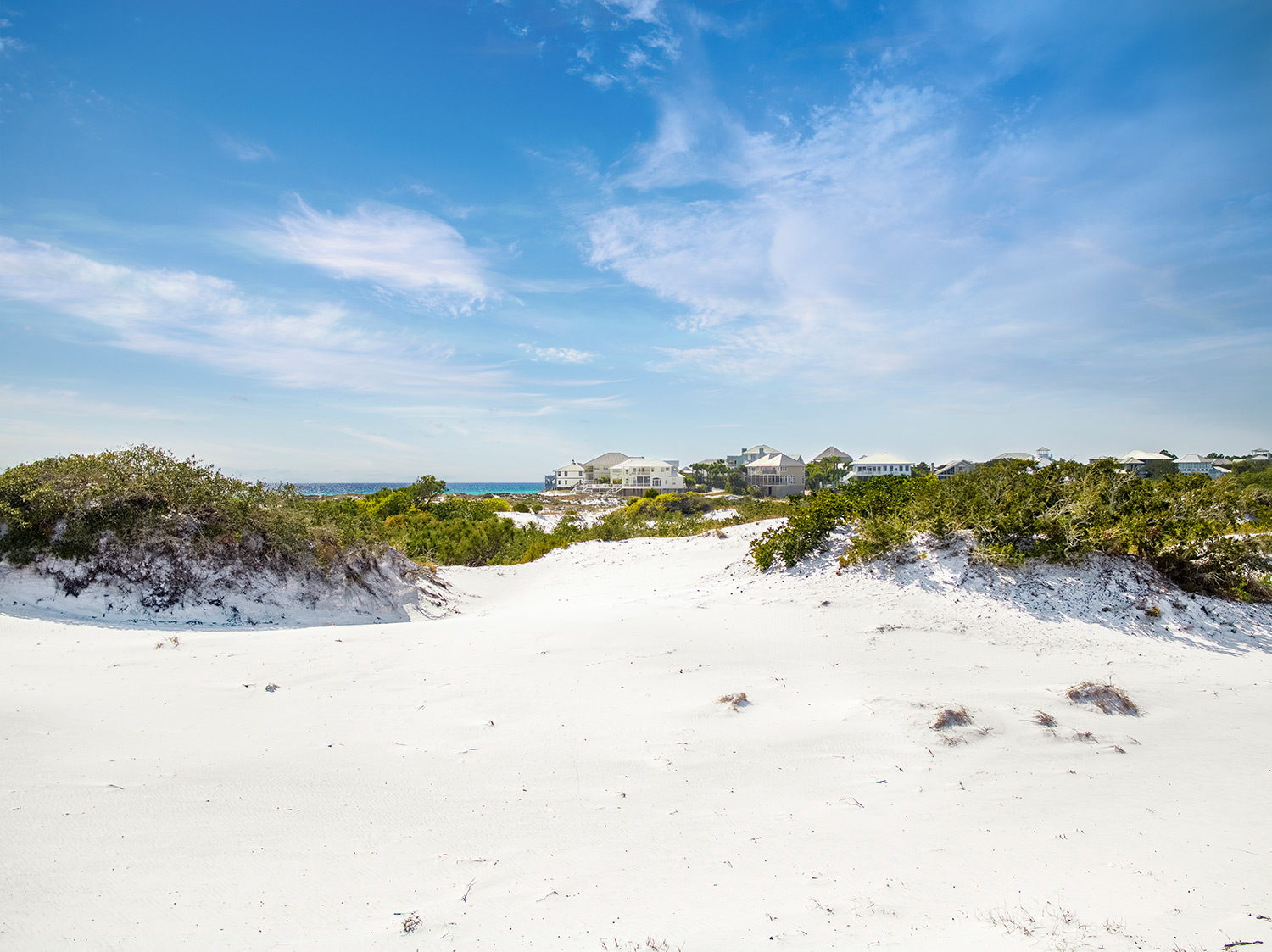 Sugary dunes like these between the lake and gulf form the intermittent barrier.

The estuary flows in both directions. It ripples its way towards the gulf like a creek when the tide is going out and washes back in with waves when the tide is coming back in. This "creek" is easy to wade across and provides an enchanting experience alongside the beach.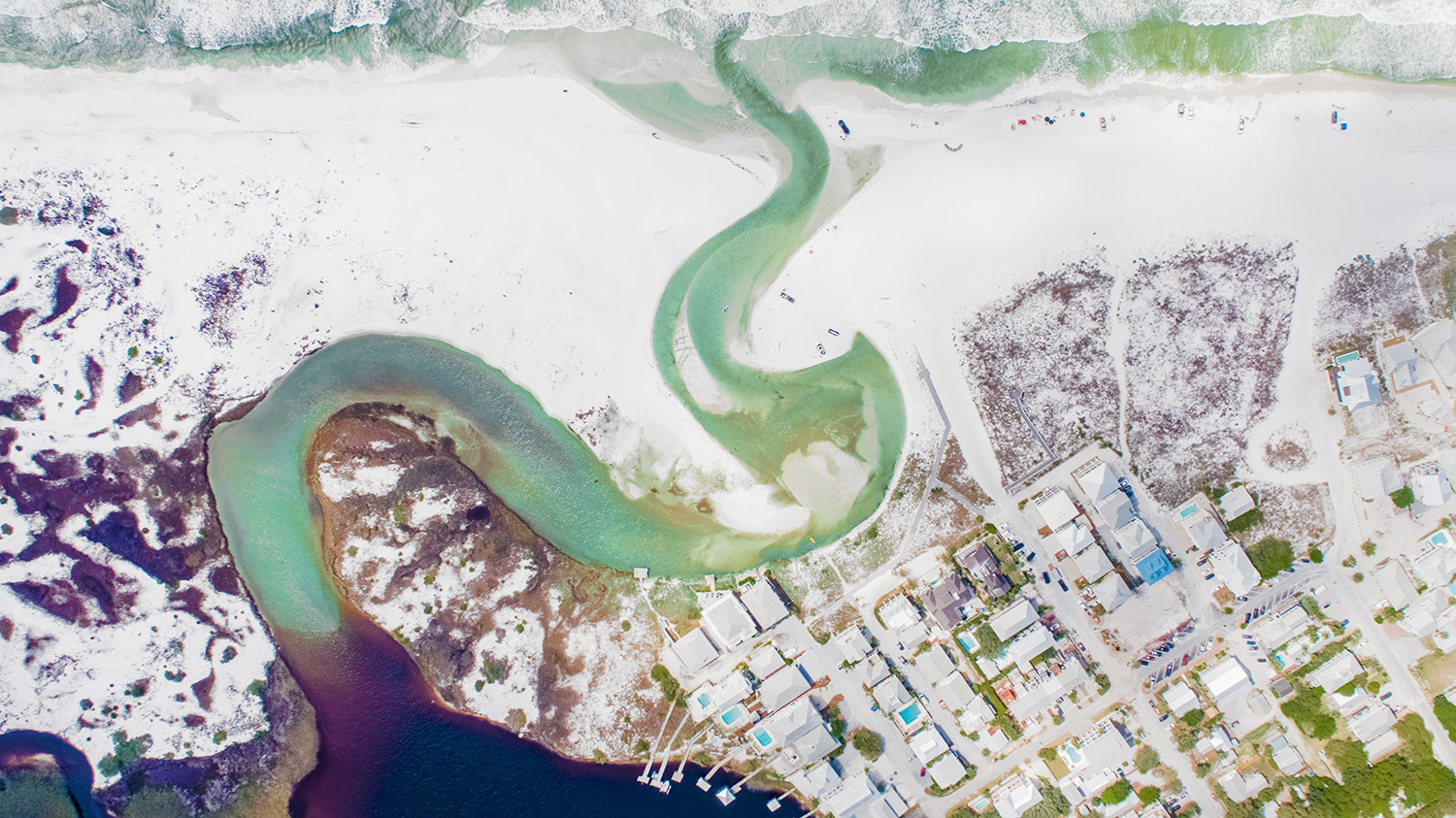 Aerial view of the exotic estuary that connects Western Lake to the gorgeous gulf.

Many people take advantage of this heavenly haven since it is a natural habitat for Great Blue Herons, Snowy White Egrets, Pelicans, Osprey, and Bald Eagles. Many enjoy becoming one with nature to experience this bountiful wildlife via paddleboard, kayak or canoe which may be rented out at the state park.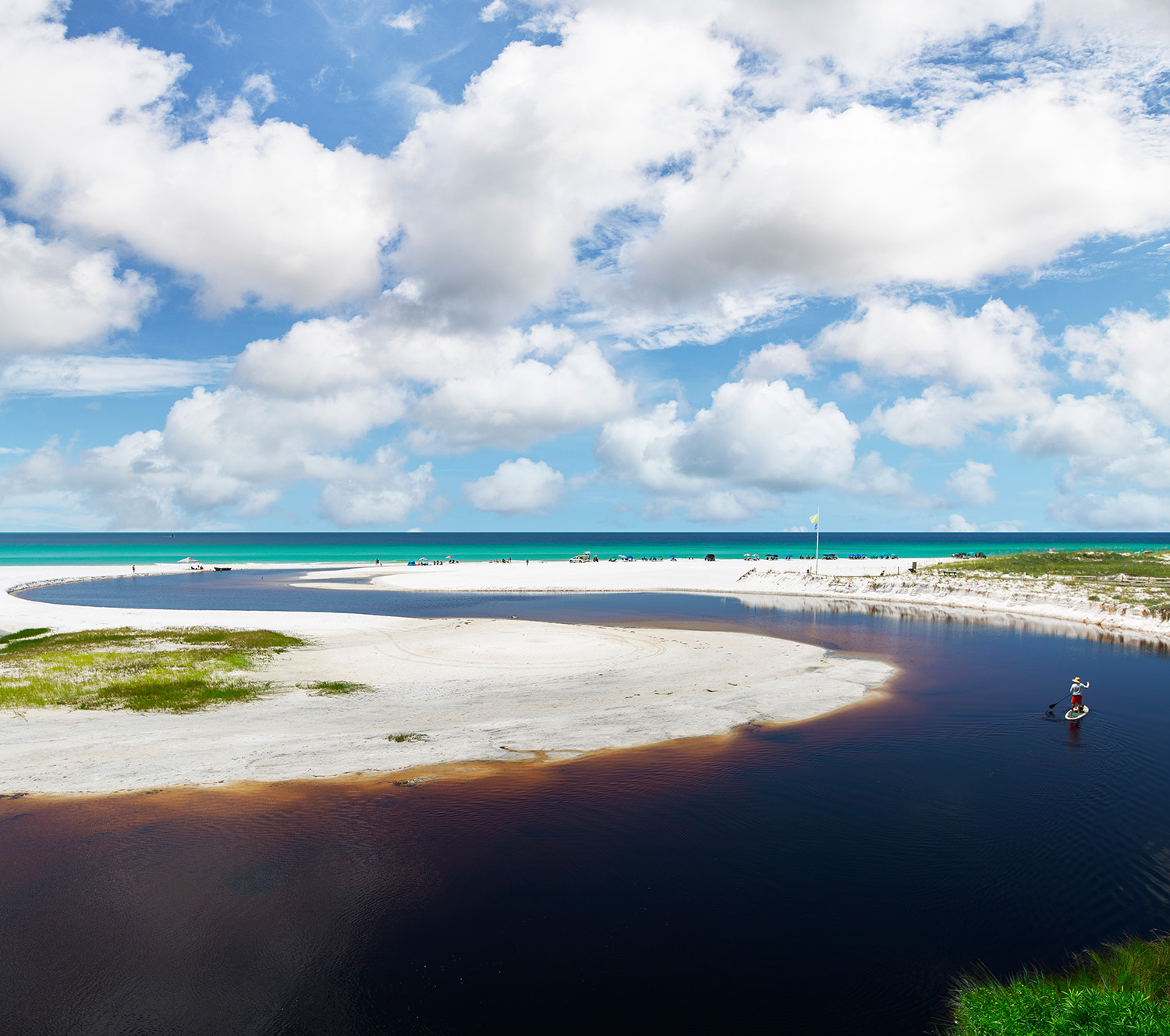 The unique coastal estuary that flows from Western Lake to and from the gulf can provide a paddleboard tour.

It also provides a perfect place for angling adventures. The lake has both fresh water and salt water fish that include Bream, Bass, Catfish, Flounder, Mullet, Redfish and Speckled Trout.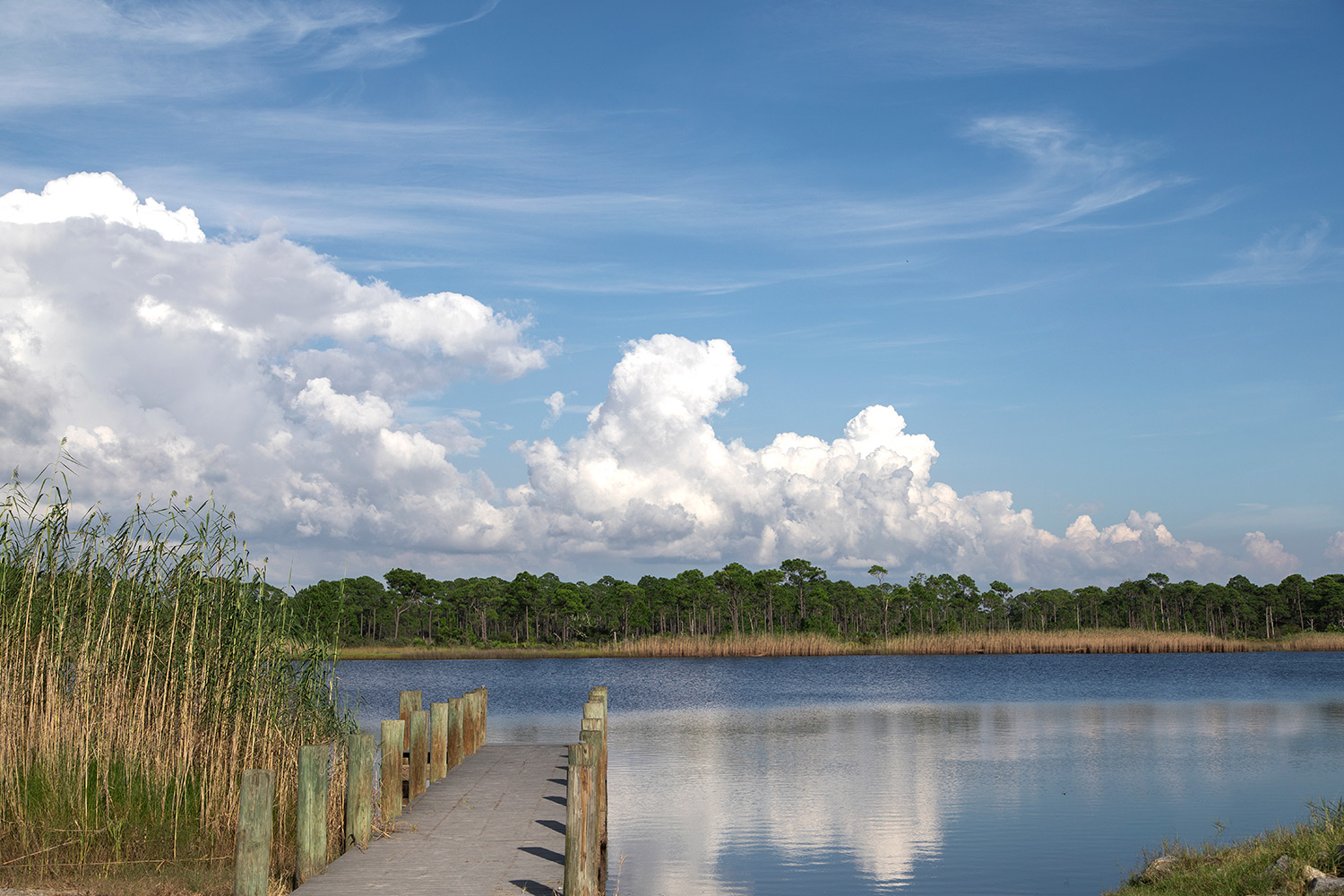 A fishing dock in the historic village center overlooks part of Western Lake.

Grayton Beach and sensational Scenic 30A have received a Blue Wave Beach status from an organization that conducts nationwide research. This certification is the nation's highest acclaim for a beach's natural beauty, pristine cleanliness, and immaculate quality.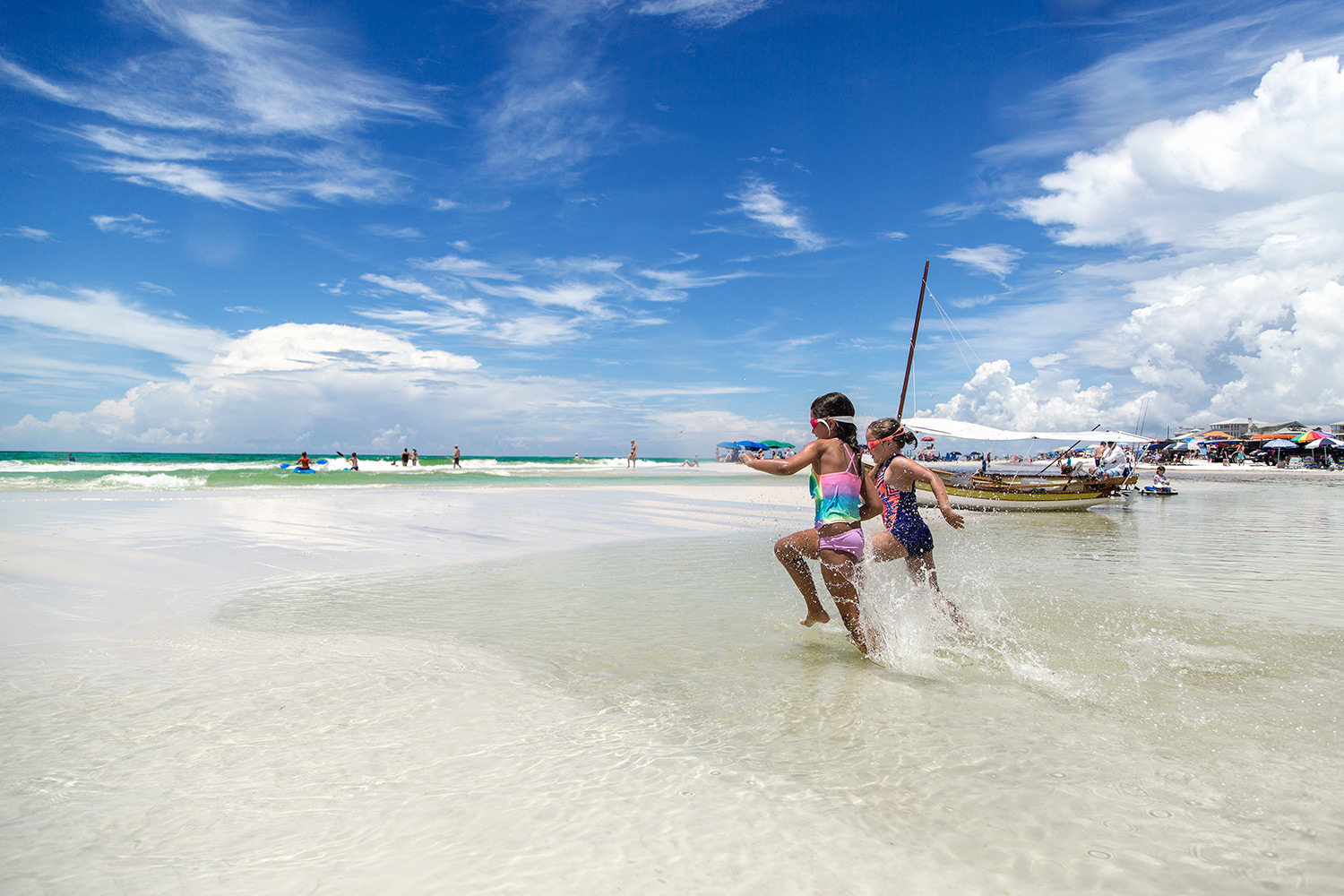 Image from the annual Rags to Riches Regatta in Grayton Beach which provides a lovely place for a heavenly sail.

The casual coastal ambiance is a perfect place for family vacations and meaningful time with good friends for fun memorable reunions at a beautiful beach. Special happenings include events like the Rags to Riches Regatta race that is held every year around Independence Day.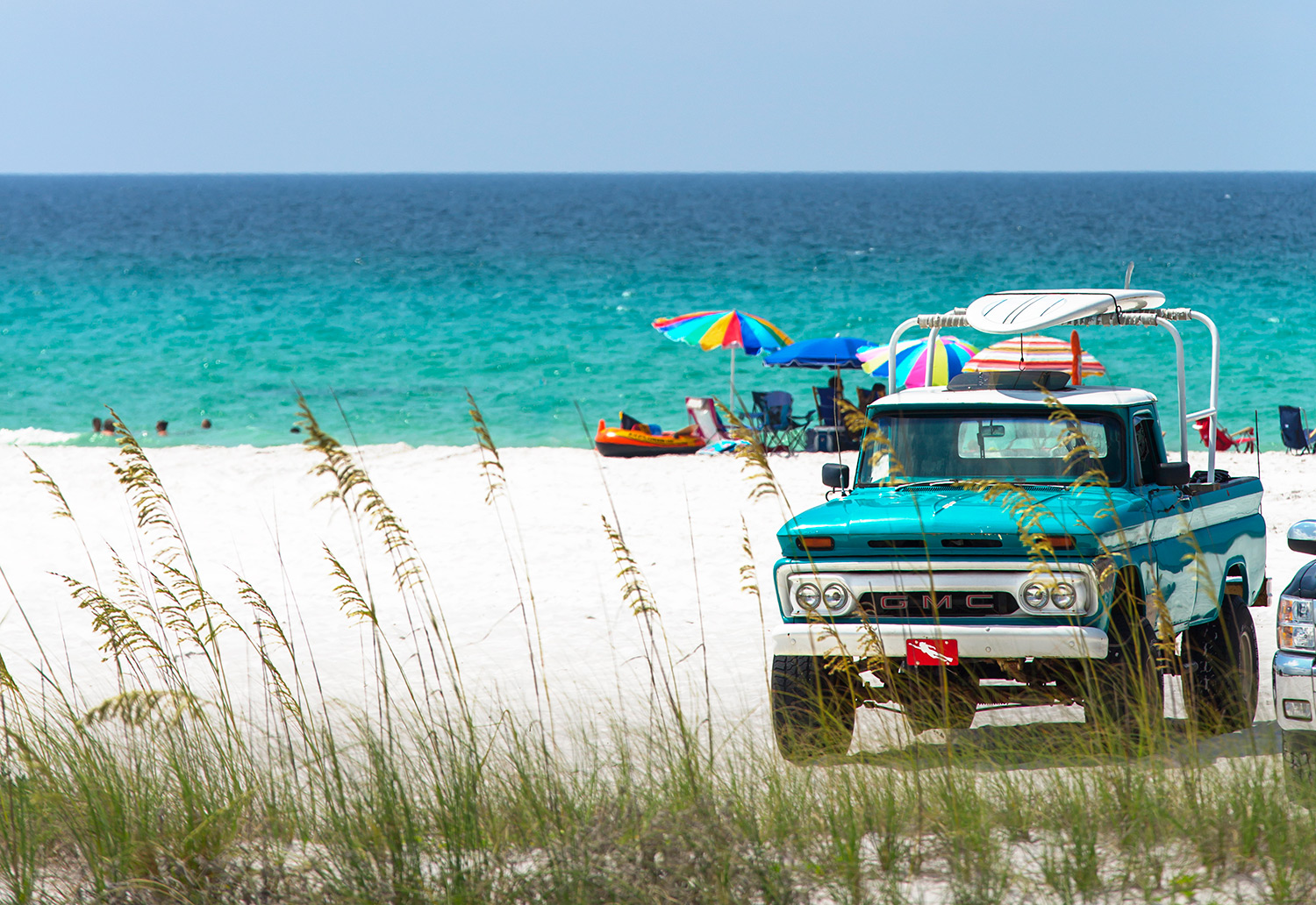 A vintage truck on the shore in Grayton Beach.
Don't be surprised to see a jeep or truck on the beach from time to time. Local residents' sign up for an annual lottery, and only 150 paid permits are provided to do so each year. Surf's up!

Ocean Reef Resorts is pleased to be able to offer a wide array of distinctive vacation rental properties in Grayton Beach for the creation of wonderful memories with families and friends. Some are located in the heart of the charming historic coastal village center steps away from the sugary shore, coastal dune lake, great specialty shops, restaurants, and beach bars. Others are in exclusive residential communities like Gulf Trace beside the gorgeous gulf just minutes away from abundant amusements and festivals at other nearby villages along Scenic 30A.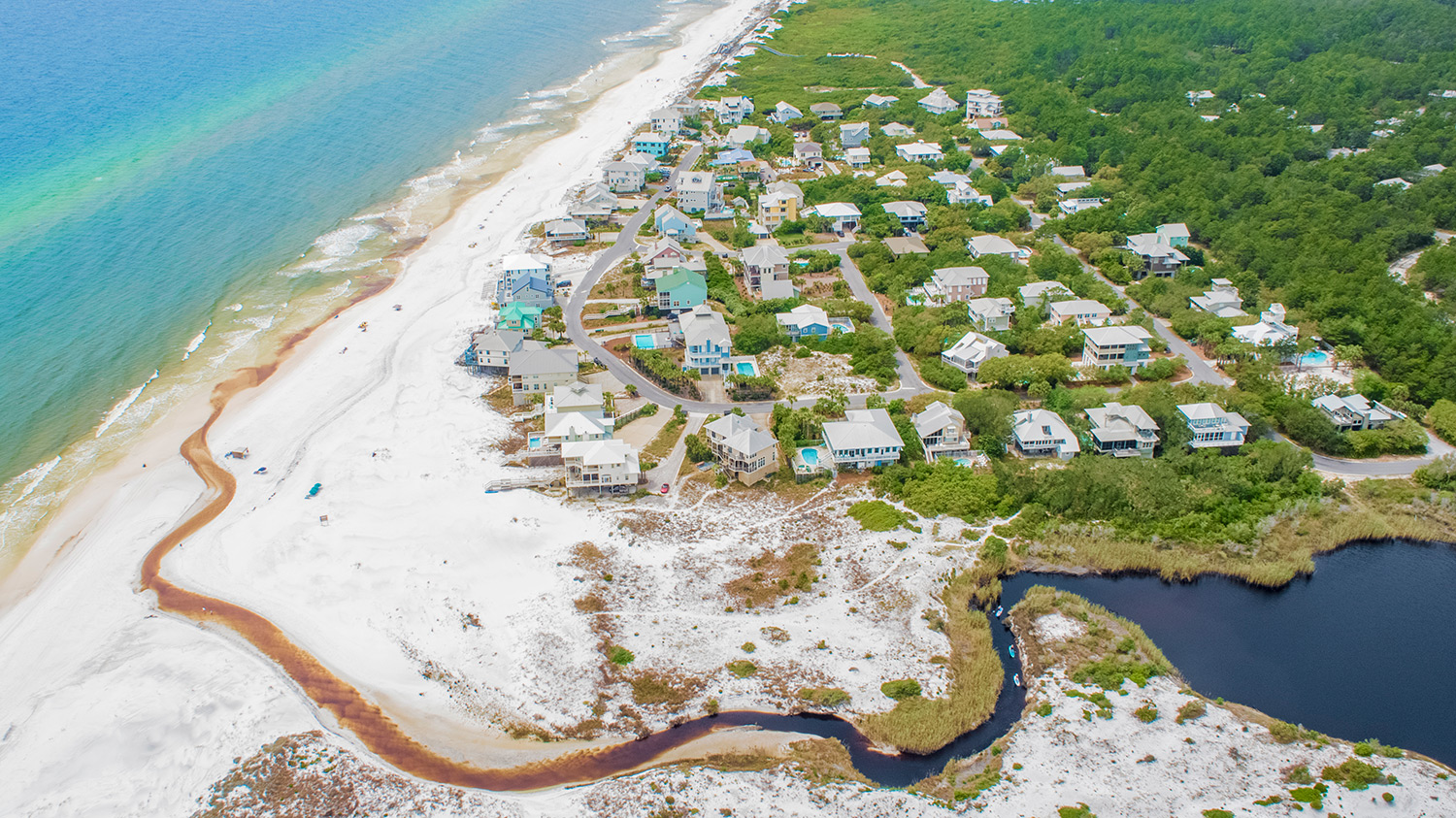 Aerial view of the Gulf Trace neighborhood in Grayton Beach that sits beside its own protected coastal dune lake.

Have fun checking out all of these Grayton Beach Vacation Rentals here on our user-friendly website that has detailed descriptions, multiple images, aerial views of each location, seasonal rates, and calendar dates to make reservations. Paradise awaits!