Posted on 6/4/2021
Dazzling Destin and magical Miramar Beach are well known as popular vacation destinations near the beautiful bright white shore that grace the glowing jewel-toned waters of the gulf. Single-family vacation homes with two or three bedrooms near the sugary shore are more affordable than larger residences. They are also a favorite since, surprisingly enough, they can accommodate six to a dozen carefree beachgoers. This allows groups of families and friends to share the expenses for less than the price of a hotel. They also come with full kitchens to create fun family feasts and save some money by dining in. One great added perk that some of these homes include is the use of a private swimming pool that's just steps away and provides cool refreshing relaxation. Here is a quick look at ten of these small Destin vacation homes that include private pools. Enjoy taking a look at each one and choose your favorites!
Lemon Drop
2 Bedrooms / 2.5 Bathrooms / 6 Guests
Lemon Drop has two bedrooms with private ensuite baths along with a half bath powder room and can sleep six guests. This charming cottage-style home has a unique wonderful location south of Scenic Gulf Drive in Miramar Beach, less than a two-minute stroll away from the sand. It has a first-floor wraparound veranda and an upper-level covered balcony off both the Master Suite and Guest Bedroom, both of which overlook the lovely pool setting. In addition, this Destin rental home comes with the use of an additional community swimming pool at the Windancer Resort that sits right beside the beach!
Painted Porch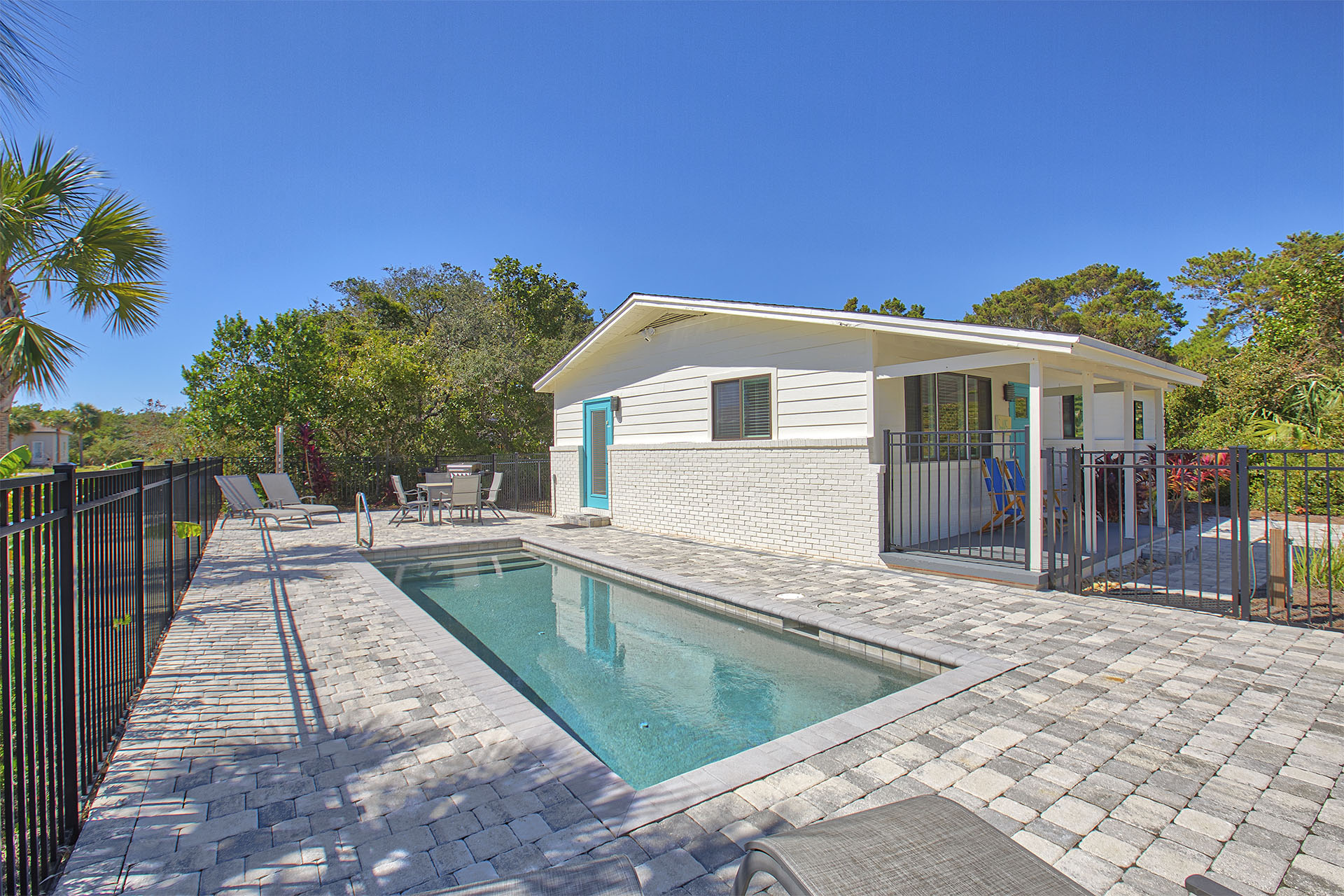 3 Bedrooms / 2 Bathrooms / 7 Guests
Painted Porch is a bright, comfortable, contemporarily furnished three-bedroom vacation home with beautiful appointments that can sleep seven privileged guests and all in beds. It's just a short four-block stroll from the beautiful shore in Destin's prestigious Frangista Beach neighborhood, but a private plunge pool for refreshing fun is just steps away. The multi-toned paver stone patio pool patio is studded with palm trees for a wonderful tropical ambiance. Lounge chairs, an umbrella table, along with a grill invite you to enjoy some relaxing cookouts, drinks, and dining poolside.
Lemon Fish
3 Bedrooms / 3 Bathrooms / 8 Guests
Lemon Fish is a cheerful pale yellow beach cottage with three bedrooms that sleeps eight beach-going guests. It is also located in a Crystal Beach neighborhood just three blocks away from the emerald green gulf. It comes with a rectangular swimming pool with an expansive sun patio outback but also has the use of a community pool.
Destin Blue
3 Bedrooms / 2 Bathrooms / 10 Guests
Destin Blue also has three bedrooms, but multiple beds, two bunks with four twin beds, and a queen-sized sleeper sofa can accommodate up to ten pampered guests. The large private swimming pool measures 32' x 16' and has a soaking tub nearby. The lavish pool patio is adorned with and towering palm trees and plantings that provide a providing a wonderful tropical setting. It is also located near the beach at Windancer, a short stroll away where guests have use of the great gulf front community swimming pool.
Islamorada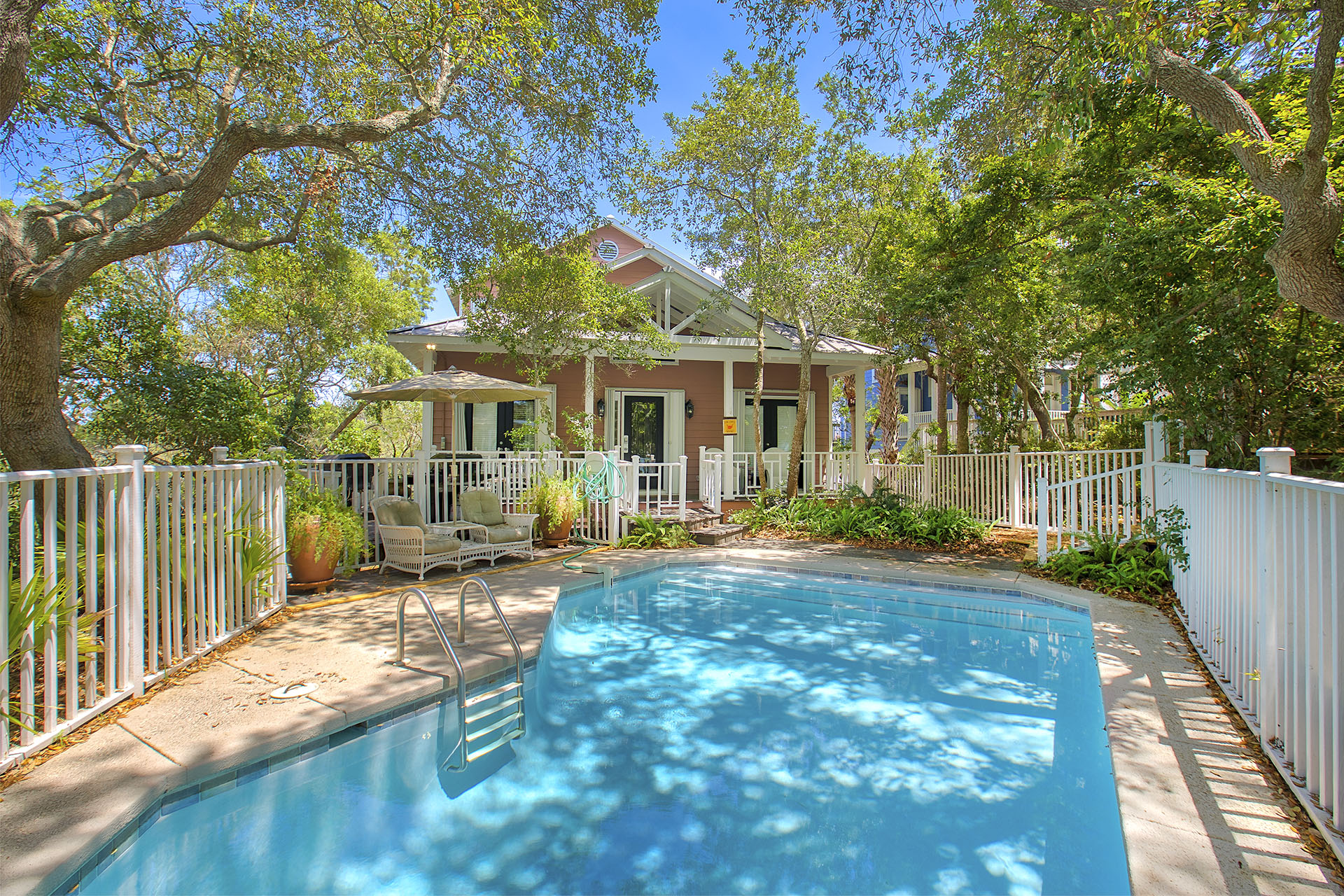 3 Bedrooms / 2.5 Bathrooms / 10 Guests
Islamorada is a gorgeous three-bedroom lakefront home with multiple beds and a queen-sized sleeper sofa that literally places ten lucky guests in the lap of luxury. The interiors are elegantly appointed with comfortable furnishings styled with tropical flair. It is just a short walk away from the long beach promenade at Destiny which includes the popular Crab Trap restaurant and beach bar. Its own private pool is in a lush oasis, and an upper-level balcony off the huge lavish Master Suite provides lovely lake views.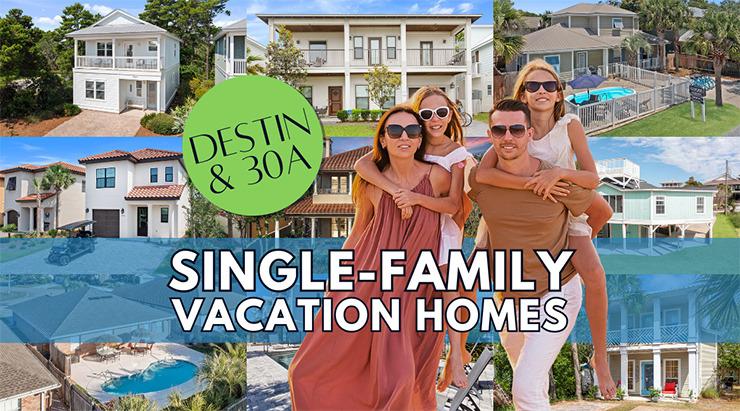 When it comes to creating unforgettable family memories, the setting is just as important as the story. At Ocean Reef Resorts, we believe that every family, whether large or small, deserves a space where every member can find their own corner of comfort.
Panorama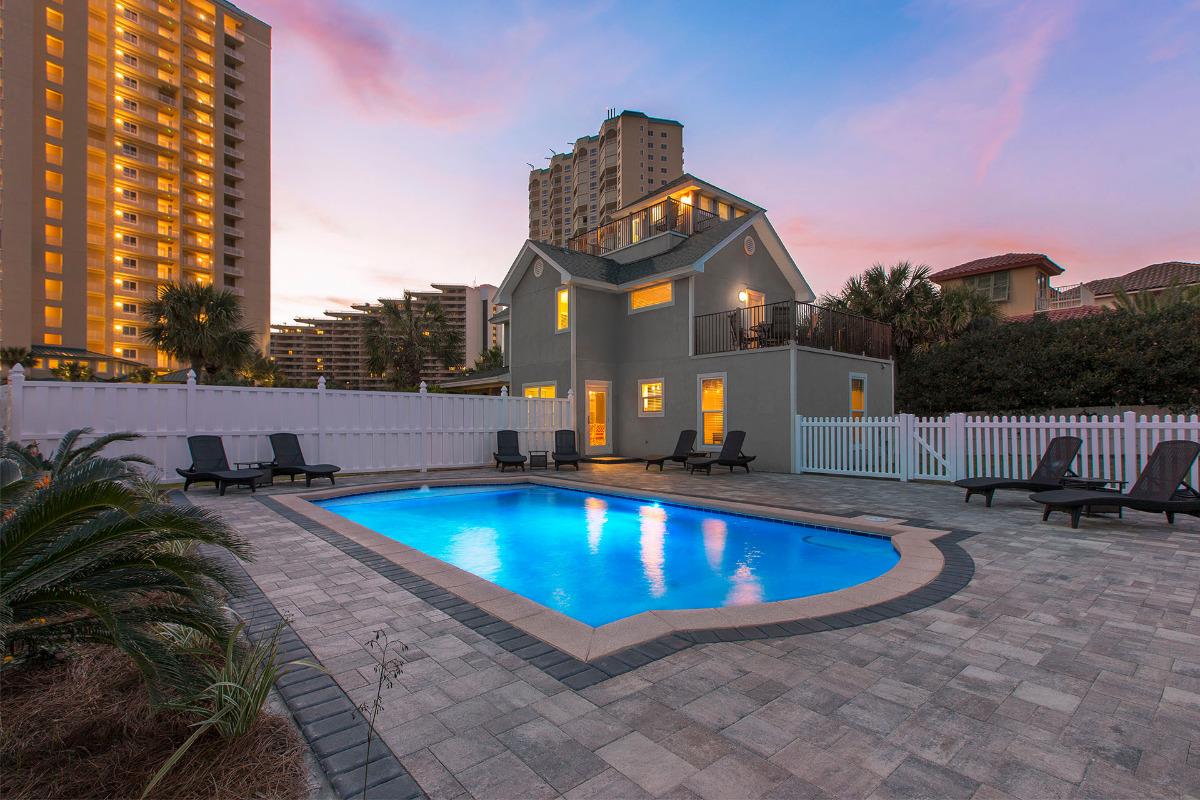 3 Bedrooms / 3 Bathrooms / 10 Guests
Panorama is a gracious, spacious three-bedroom home just steps away from the sugary shore at Windancer in Miramar Beach, which can sleep ten fortunate beachgoers. The great swimming pool and expansive patio are fairly new. An open balcony deck off the Master Suite and a rooftop deck provide a "panorama" of this beachside neighborhood. The large lagoon-shaped community swimming pool nearby at Windancer overlooks the glittering gulf.
Sea to Shining Sea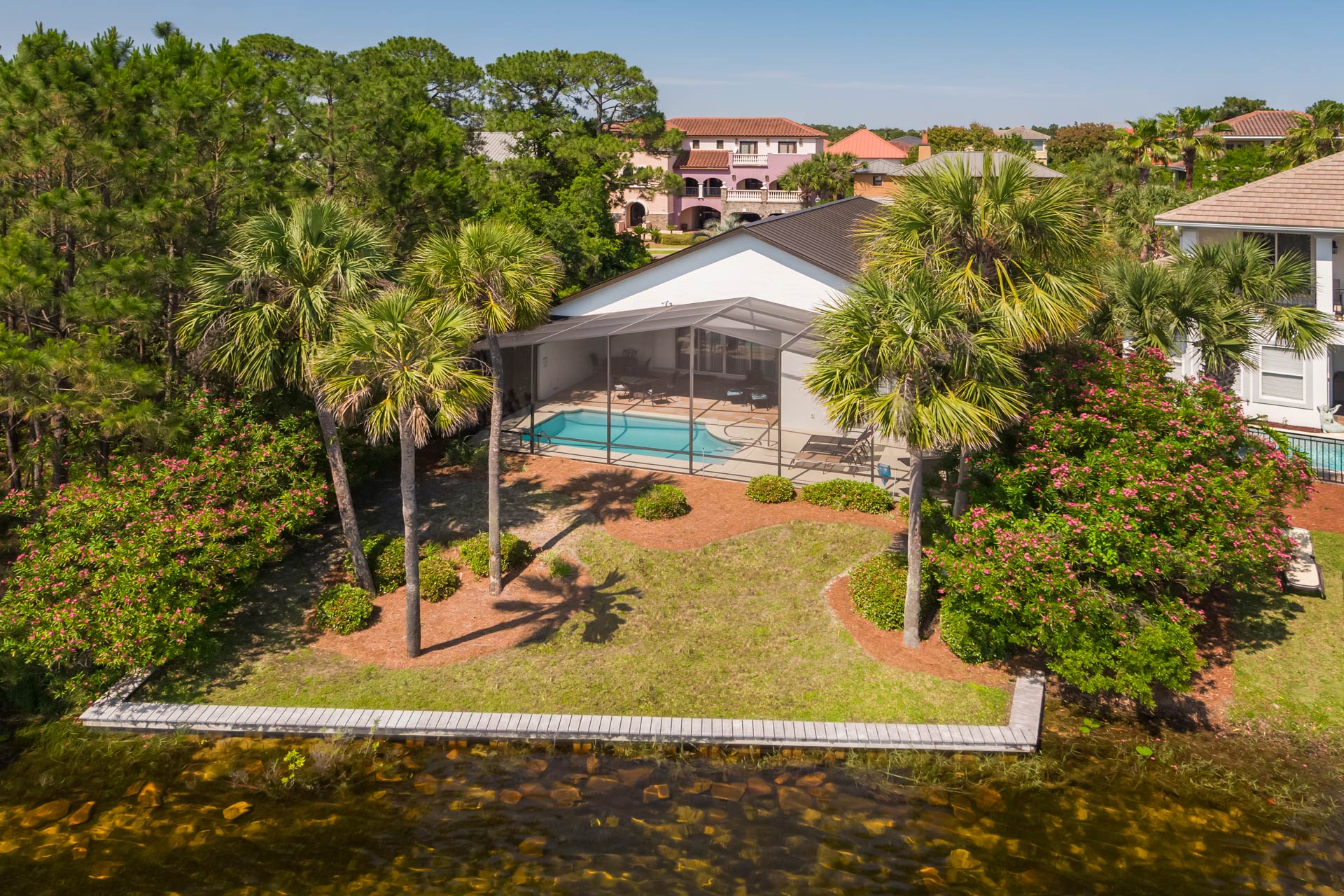 3 Bedrooms / 3 Bathrooms / 10 Guests
Sea to Shining Sea is another beautiful three-bedroom lakefront home that also includes a bonus room and is able to sleep 10 highly privileged guests. It is located in the exclusively gated prestigious beachside residential enclave of Destiny which offers a large community swimming pool, a Tiki Bar, a Hot Tub, tennis courts, and a kid's vibrant playground available for guest use. The private screened-in swimming pool, the open living area, and Master Suite feature stunning sweeping views of a coastal dune lake towards the west, which provides sensational sunset views over the water.
Destin2bHere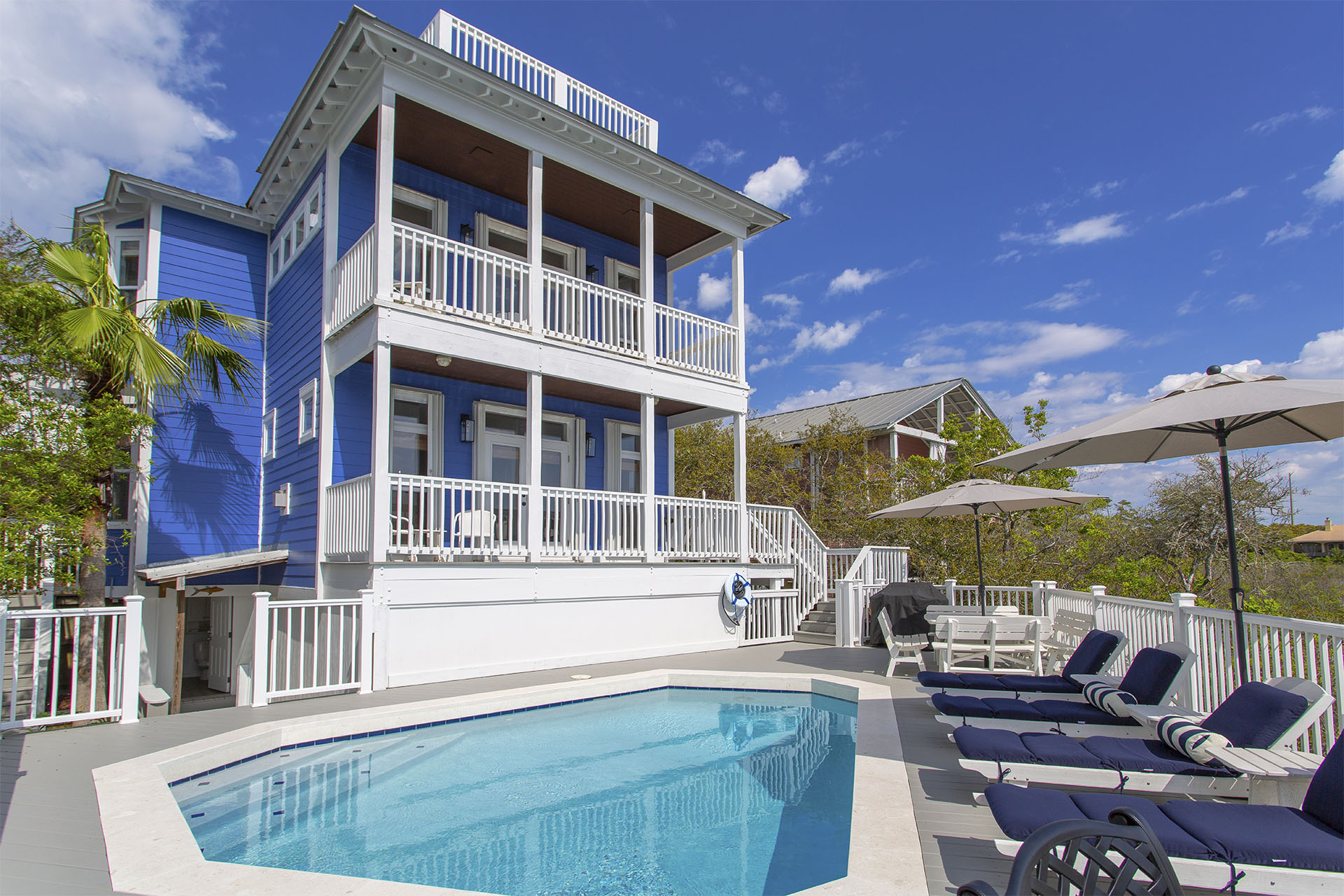 3 Bedrooms / 4 Bathrooms / 10 Guests
Destin2bHere is a three-story lakefront home with multiple beds, trundles, and queen-sized sleeper sofas that provides a heavenly setting for up to 10 guests. It is also a short distance away from the long beach promenade anchored by the popular Crab Trap Restaurant and gulf front bar. Upscale, luxurious, comfortable furnishings include professional appointments featuring a tropical Tommy Bahama-styled look. The swimming pool, soaking tub, two columned verandas, and an open rooftop sun deck provide amazing opulent views of the tranquil sparkling lake.
At Ease
3 Bedrooms / 3 Bathrooms / 12 Guests
At Ease in Destin's Crystal Beach neighborhood has three bedrooms with multiple beds and two sleeper sofas that, amazingly enough, can sleep 12 happy guests. It has a wonderful nostalgic golden Old Florida styling with two levels of columned wraparound verandas on three sides, one of which overlooks the lovely lagoon-shaped swimming pool with a cascading soaking tub beside it. This location is only a five-minute walk to the beach and some popular restaurants that are also within easy walking distance.
Crystal View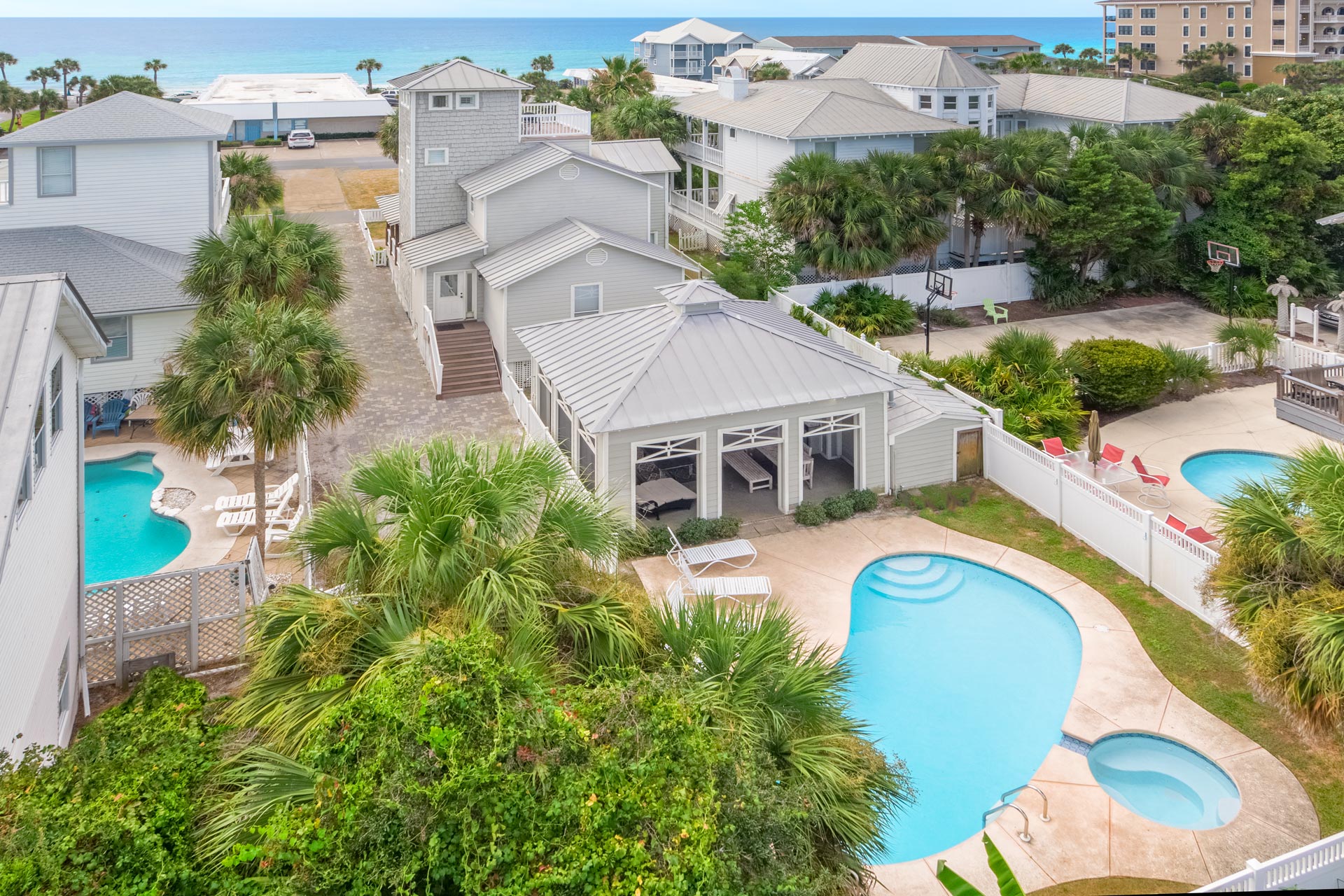 3 Bedrooms / 3.5 Bathrooms / 13 Guests
Crystal View is a larger two-story home with three bedrooms with multiple beds, bunks, trundles, and a queen-sized sleeper sofa that can accommodate over a dozen fortunate guests. It comes with an Observation Tower with an open rooftop deck which does indeed offer a "crystal view" of the shimmering shoreline right across Scenic Gulf Drive where it is located. The lovely lagoon-shaped swimming pool and soaking tub are right next to a sizeable open cabana. It features a great seating area, a dining table, along with an outdoor kitchen with a refrigerator and grill. It inspires a fun time with favorite drinks and poolside dining.
Now that we've piqued your interest, take a look at your favorite Destin vacation rentals here on our very user-friendly website. You can see multiple images, detailed descriptions, calendar dates available for reservations, and individual aerial views of each one showing where they are positioned near restaurants, beach bars, along many delightful shopping venues. Start getting excited because once you reserve one, not only will you enjoy deluxe accommodations and some great beach time, you will also have some refreshing fun in your own private pool!
Want to see more? Check out 10 Small Vacation Homes in Destin!