Posted on 8/31/2018
Welcome to Northwest Florida, where the beaches are divine and the sun shines all the time! The Emerald Coast, aptly named for its jewel-toned waves and miles of glistening white sand, is a popular destination for vacationers from all around the world. And the beach is just the beginning. If you have ever meandered through one (or many) of the quaint beach towns lining this stretch of the Gulf Coast, you know that each town brings its own charm to this pristine paradise.
In the midst of planning a trip or just daydreaming about your next vacation? Consider this unique area for your next destination. The following is a list of Northwest Florida's popular beaches, increasing from the least to most popular based on search traffic over the last twelve months.
15. Frangista Beach
Named after a town in Greece, Frangista Beach began as a dream cottage on a small stretch of beach along Gulf. Since the beginning, visitors have been attracted to this remote piece of paradise, and they continue to flock to the area to enjoy a relaxing vacation. Among its luxuries, Frangista Beach boasts a great location in Miramar Beach, a beautiful community pool, and a pedestrian-friendly design.
14. Dune Allen Beach
Extensive outdoor space and a tight-knit community feel – that is what Dune Allen is all about! With three coastal dune lakes, miles of nature trails, and views of the beach, this location is a favorite for beach lovers and outdoor enthusiasts. As a mostly residential area, it also provides a secluded and peaceful atmosphere for guests looking for some much-needed relaxation.
13. Carillon Beach
Family-friendly is the first word that comes to mind when describing Carillon Beach. As a small, gated village by the sea, Carillon Beach not only offers quieter beaches with fewer crowds, it also provides a sense of community and belonging. Families are free to enjoy their time together by swimming, paddle boarding, surfing, and staying active on the mile-long stretch of private beach.
13. Blue Mountain Beach
An authentic beach town with an eclectic vibe, Blue Mountain Beach is a unique destination. Although not technically a mountain, this piece of paradise is the highest elevation on the entire Gulf Mexico. Combined with the Blue Lupine Flowers found along the shores, it's easy to understand why early Spanish explores declared a name so whimsical.
11. Seacrest Beach
Another secluded coastal community along Scenic Highway 30A, Seacrest Beach boasts some of the highest sand dunes around, making the views of the beach that much better! There are relatively few commercial developments in this quiet neighborhood, ensuring the vibe remains peaceful and relaxing. However, this does not mean that Seacrest is boring! Stroll through the Peddler's Pavilion to enjoy a drink, participate in family-friendly activities, or rent a bike.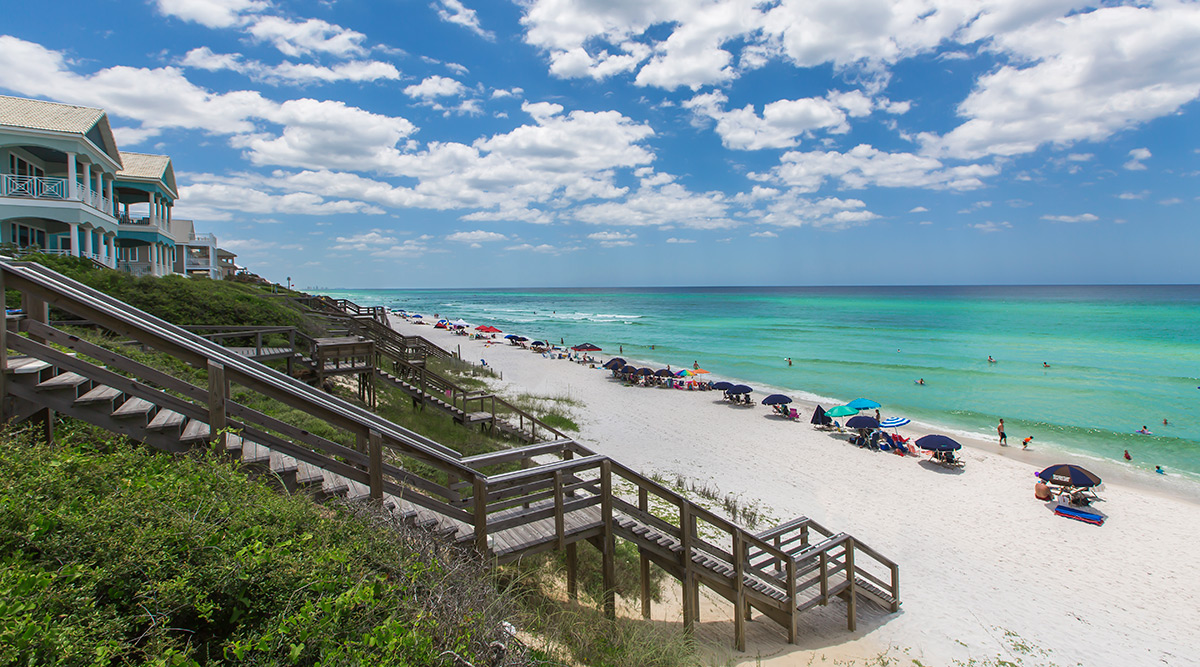 10. Seagrove Beach
Seagrove Beach spans across a two-mile long stretch of beach on the Gulf Coast. Besides access to the gorgeous white sands and blue-green waters, Seagrove radiates an outdoorsy atmosphere with lush landscaping. It is laid-back, yet luxurious, and visitors enjoy wandering through the boutiques and simple cafes.
9. Seaside
If you have ever seen the classic movie "The Truman Show", then you have already glimpsed the charm that is Seaside. As a world-famous vacation destination, this pedestrian-centric community offers a bustling town center that hosts a plethora of cute shops, dining locales, and art galleries. While here, be sure to check out the iconic Seaside tower, as well as the picture-perfect post office (in a new location)!
8. Grayton Beach
Grayton Beach is a town like no other. It is where funky meets casual, and the laid-back attitude is unmistakable. Stroll through town and explore the quirky art shops, quaint cottages, and the famous Red Bar. You can also slip into the secluded Grayton Beach State Park and enjoy the untouched landscape of sandy dunes and endless beach views.
7. Inlet Beach
Get a glimpse of "Old Florida" when you visit Inlet Beach. The timeless feel is protected by acres of dunes and a mix of cozy cottages and modern beach homes. Besides enjoying a casual setting and dining at local restaurants, visitors can take advantage of the proximity to Lake Powell, the largest coastal dune lake in Florida.
6. Navarre Beach
Hello twelve miles of gorgeous shoreline! With plenty of options for outdoor activities, Navarre Beach is a hotspot for nature enthusiasts and outdoor-loving tourists. Visitors and locals alike enjoy paddle boarding, swimming, biking, canoeing, hiking, and more. When it is time to unwind, there are also a few events, fun attractions, shops, and art galleries to check out!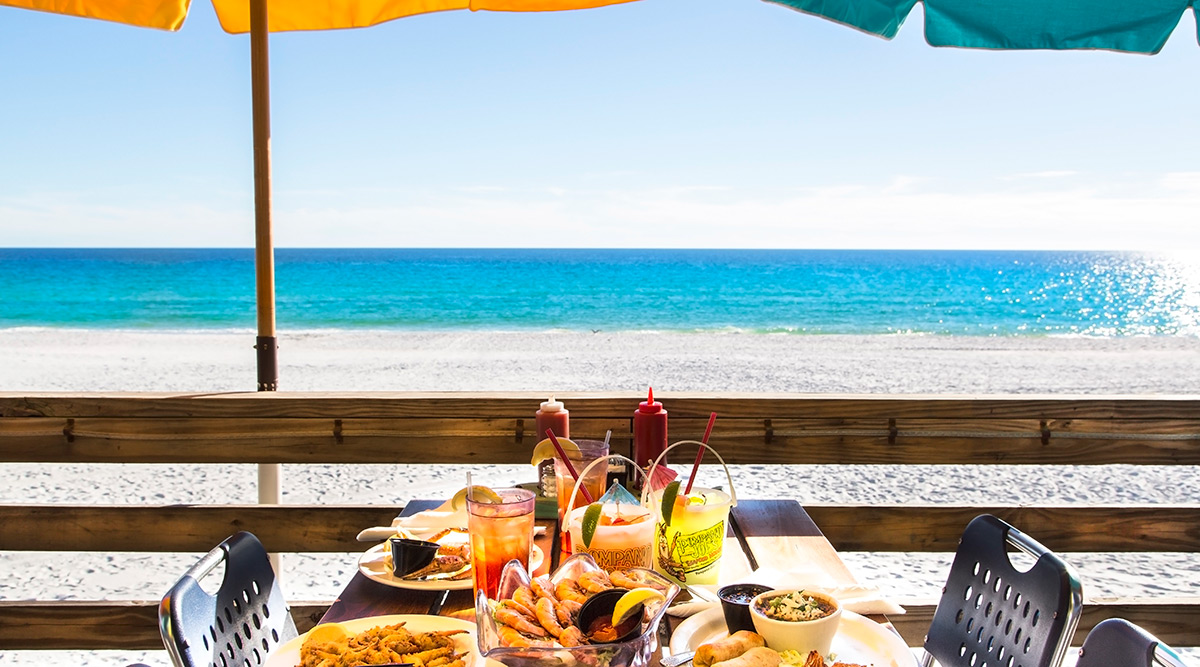 5. Miramar Beach
Perfectly situated between Destin and 30A, Miramar Beach is a thriving hub of coastal entertainment. Attractions include an assortment of shops, cafes and restaurants, fun family activities, and a nightlife that appeals to anyone who wants to have a little fun. Of course, you cannot visit Miramar Beach without also stopping in at Silver Sands Premium Outlets – a large discount shopping center featuring over 100 designer and name-brand outlet stores.
4. Santa Rosa Beach
Santa Rosa Beach is where historic chic mixes with modern luxury. Having been voted as one of the "best beaches on earth" by Travel + Leisure Magazine, it is no wonder this beach town is popular among tourists and beach vacationers. In addition to its long history and perfect sandy beach, Santa Rosa Beach appeals to visitors because it offers an escape from reality, complete with neighborhood-style dining, coastal shopping, and outdoor-friendly activities.
3. Pensacola Beach
Pensacola Beach is located on one of the longest barrier islands in the world. If you love the beach and have a desire to see some marine life, this is the spot for you. The fishing pier provides a fantastic location to catch a glimpse of dolphins, manatees, sharks, and more. The beach boardwalk also offers a number of attractions, bars, and restaurants.
2. Panama City Beach
Panama City Beach is not just a popular spring break destination. It attracts visitors from the far corners of the United States and around the world. Like the rest of the Emerald Coast, Panama City Beach provides pure, crystalline beaches and unending views of the emerald surf. It is also home to Pier Park, a premier shopping destination that offers dining, entertainment, and activities for everyone!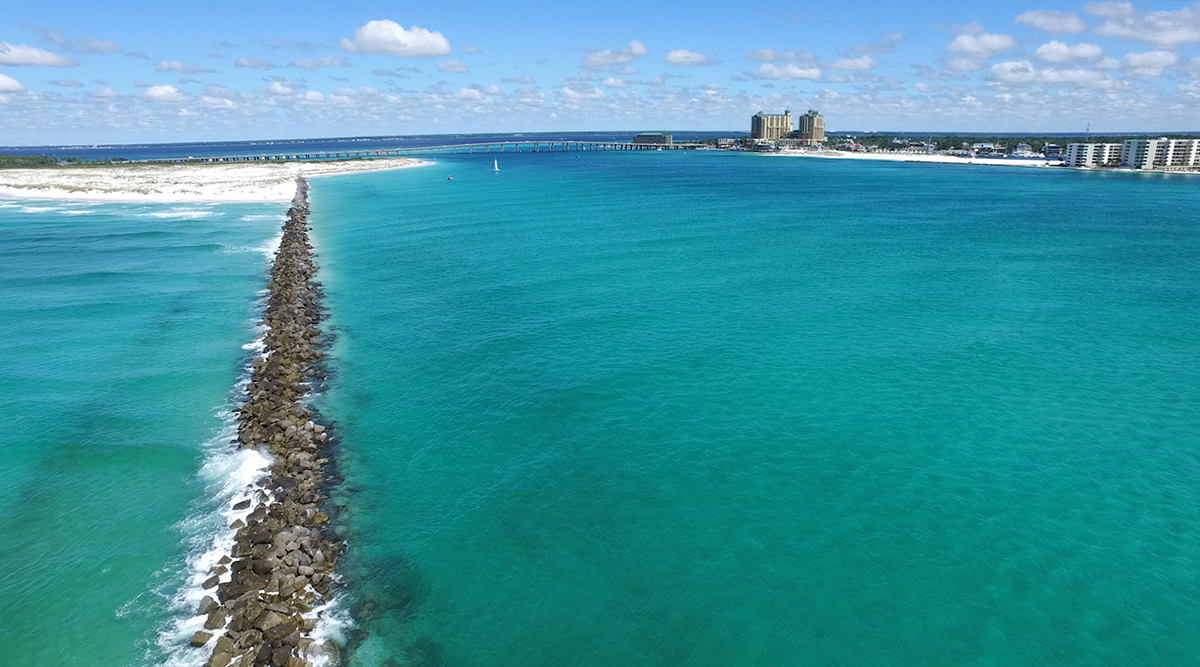 1. Destin
The most popular beach town in Northwest Florida according to web searches in the last twelve months is…drum roll, please…Destin! Looking at the booming town it is today, it might be hard to believe that Destin began as a small fishing village in the 1850s; however, it remains true to its fishing roots, boasting the largest fishing fleet in Florida and hosting an annual fishing rodeo. Destin is also a premier tourist destination known for its luxury resorts, fishing and recreational activities, and fun vacation opportunities. A trip to Destin is not complete without relaxing on the beach, exploring the Destin Commons, and wandering through HarborWalk Village.
Ocean Reef Resorts offers a large selection of vacation rentals along the Emerald Coast and in many of these popular beach towns. Explore the Northwest Florida vacation rentals and book your stay right here on our website. Happy vacationing!