Posted on 8/31/2021
Miramar Beach, Florida is a haven for relaxed, sophisticated fun. The beach may be what brings you here, but it's what lies just off the beach that brings you back.  As the sun sets, visitors and locals alike, kick back and relax at their favorite spot for a little beach libation.  Our assortment of establishments in Miramar Beach is unrivaled along the Gulf Coast of Northwest Florida and ranges from no shoes required to black-tie (well, closed-toe shoes to be more precise).  So whether you are searching for a Pina Colada, a local brew, an Old Fashioned, a bottle of wine, or some fine champagne – we've got you covered with these 21 Must-Visit Miramar Beach Bars. Cheers!
The Whale's Tail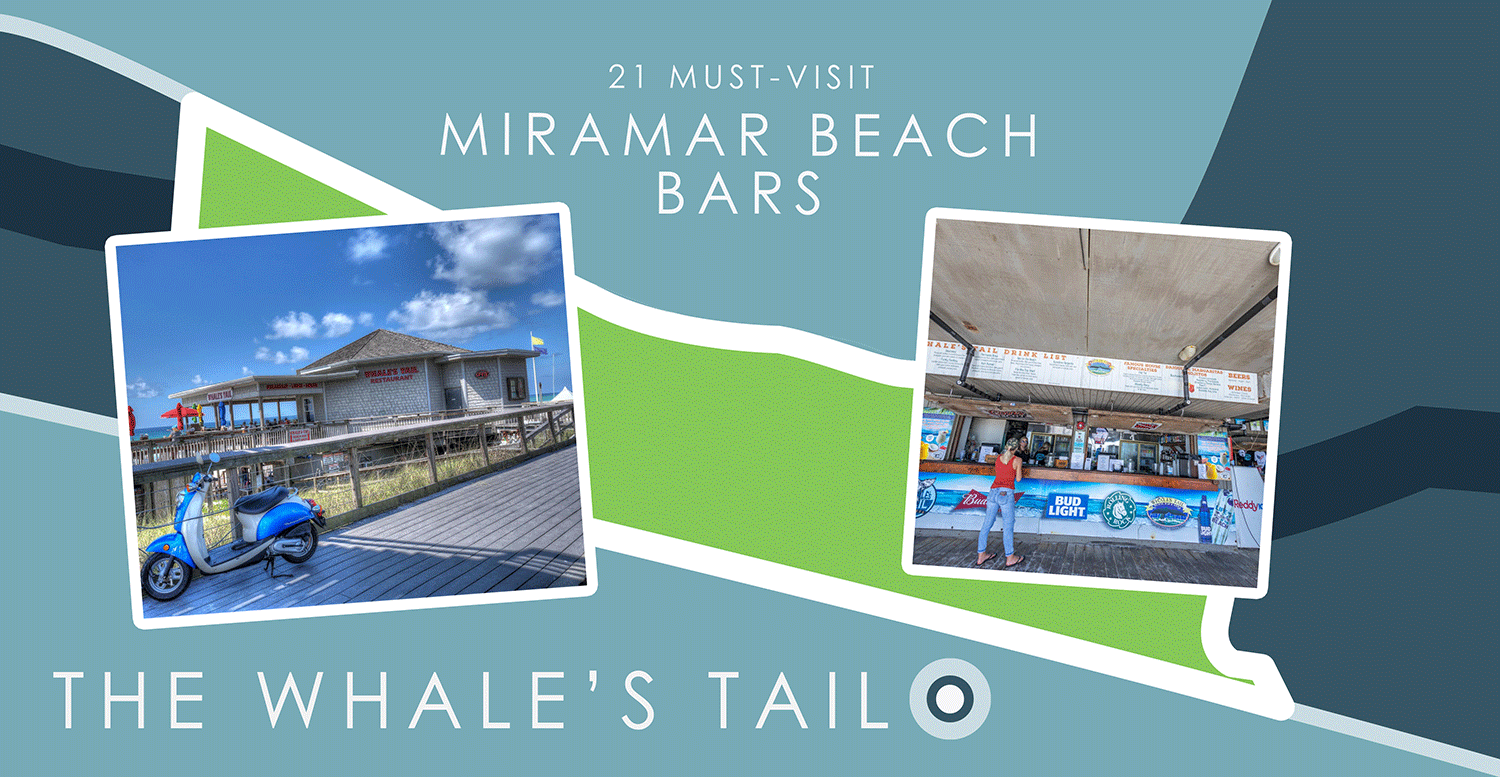 1373 Scenic Gulf Dr, Miramar Beach, FL 32550
The atmosphere here is beach casual since it sits right on the sugary sand beside Scenic Gulf Drive and within walking distance of many of our properties near Seascape. A drink dining deck above and beach bar below allows folk to watch or play Volleyball games which are a popular pursuit here.
Pompano Joe's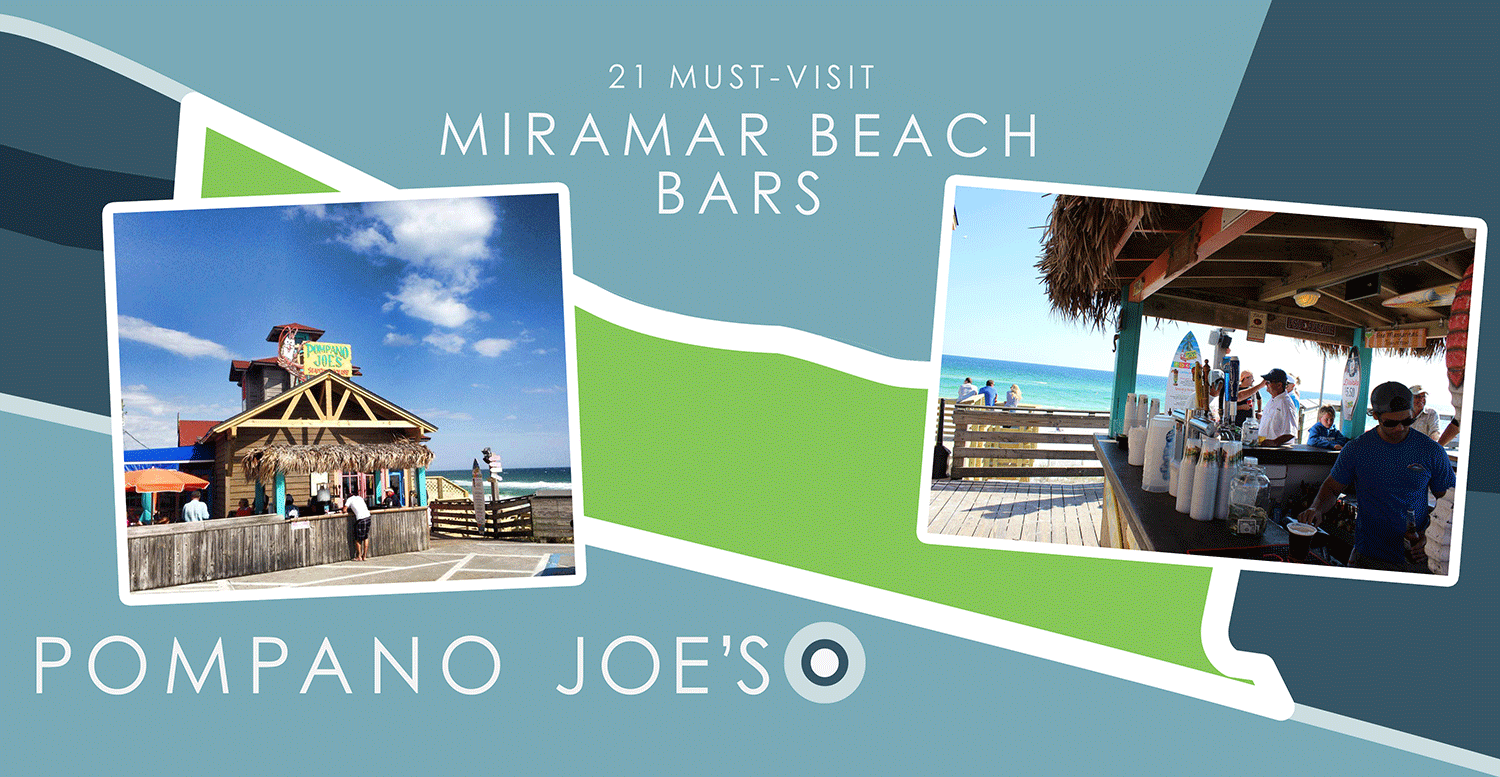 2237 Scenic Gulf Dr, Miramar Beach, FL 32550
This beachfront bar could be right at home in Key West but is located next to Frangista Beach within walking distance of many of our vacation homes. The Travel Channel featured Pompano Joe's as "the ultimate beach snack shack and one of the world's best beach restaurants." They serve tropically inspired cocktails and cold beer.
Surf Hut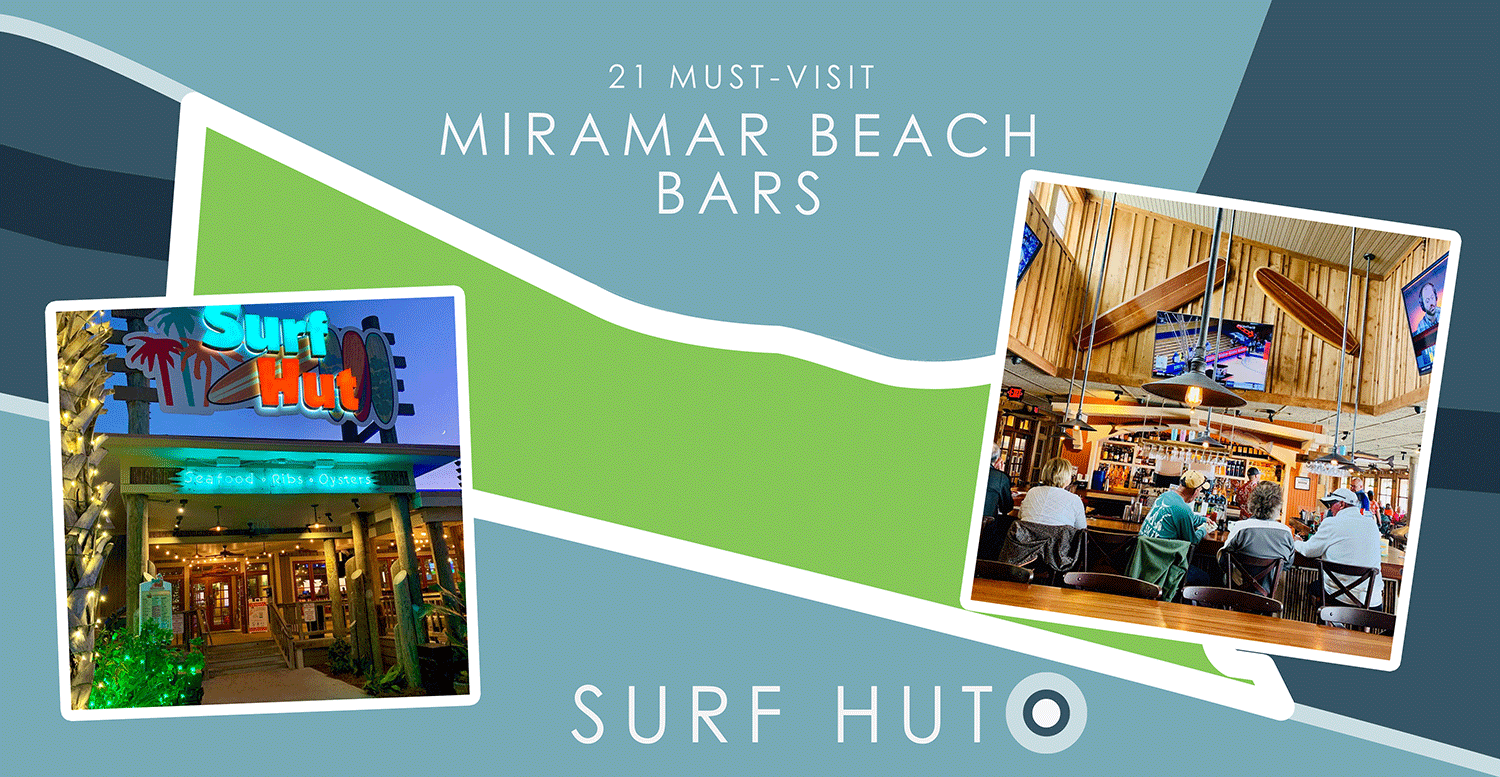 551 Scenic Gulf Dr, Miramar Beach, FL 32550
Located near Edgewater Resort on Scenic Gulf Drive this fairly new drink hub is next to the surf that also serves beach fare including seafood, oysters, and barbeque. A covered patio and beach game area encourages frolic.
Vintij Food & Wine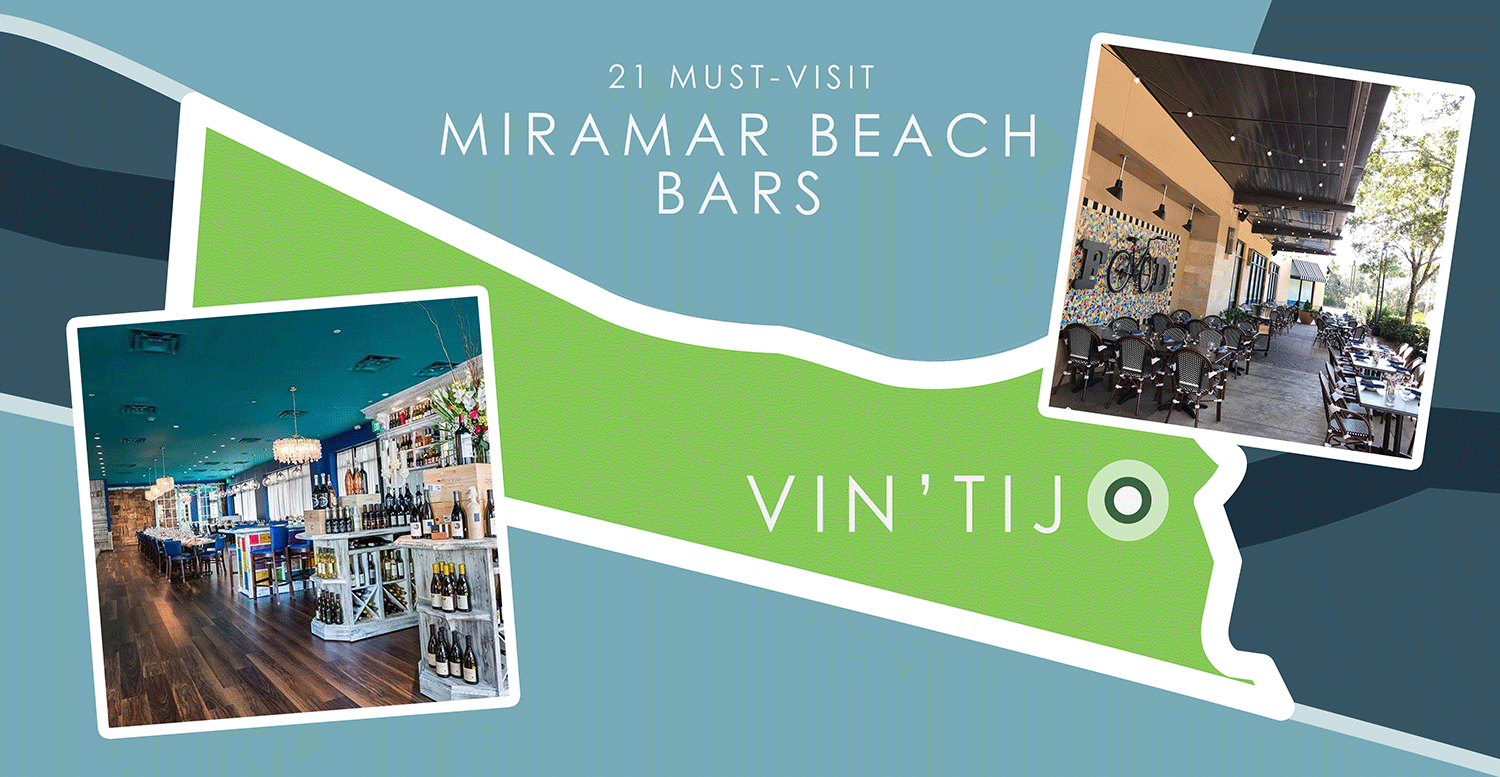 500 Grand Boulevard, #100K, Miramar Beach, FL 32550

If wine is your thing, Vintij in Miramar Beach is the place to be. Not far from the Silver Sands Premium Outlets, located in Grand Boulevard. This place is a Mecca for wine. They have a wine "library" with an abundant assortment of fine boutique wines and serve eclectic cuisine, which has earned Florida Trend's Golden Spoon Award since 2009.
The Beach House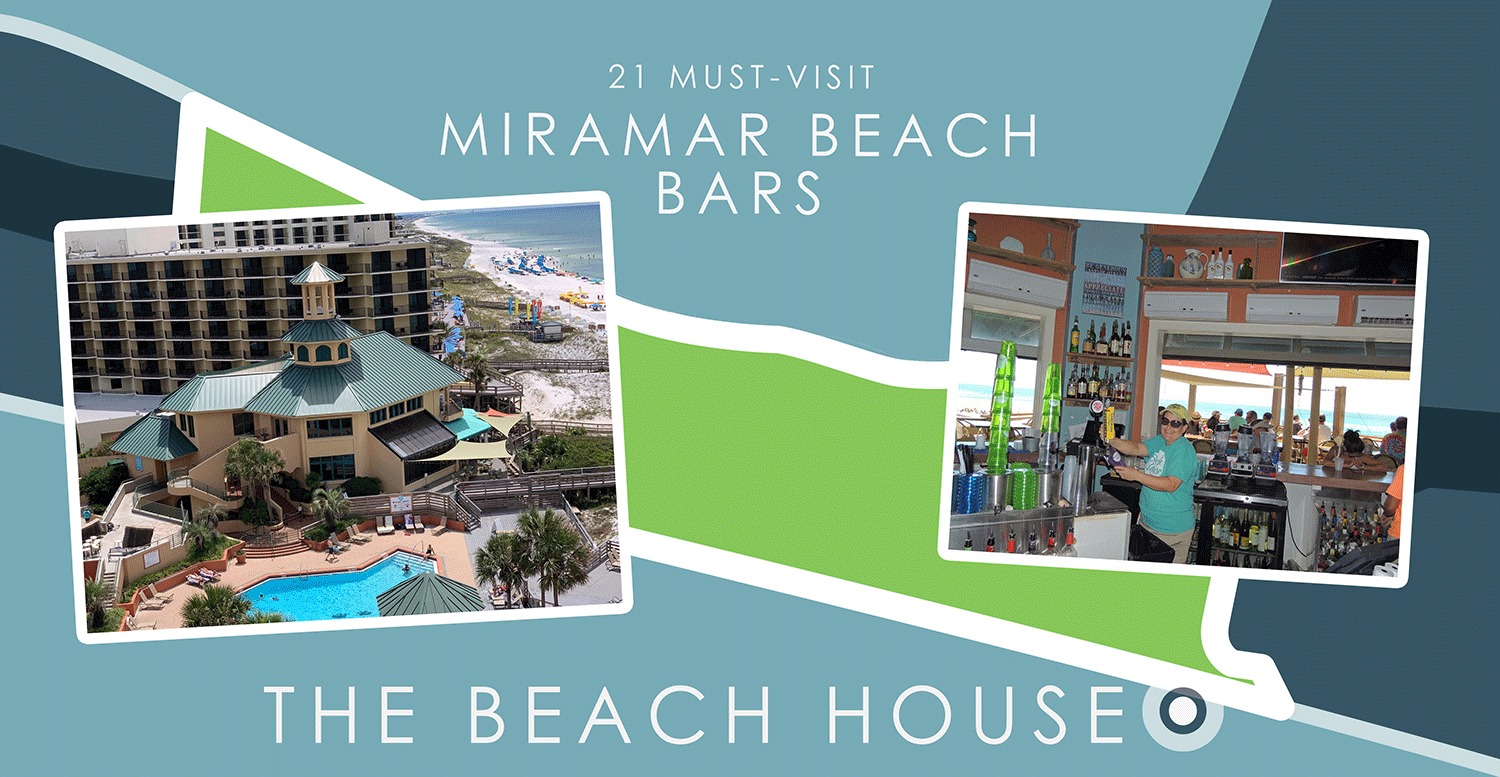 4009 S Sandestin Blvd, Miramar Beach, FL 32550
This place is on the beach at Sandestin but resembles a giant green-topped gazebo that provides sensational views of the jewel-toned gulf. Open walls from the restaurant lead out to a delightful drink and dining deck that offers breezy vistas.

Seagar's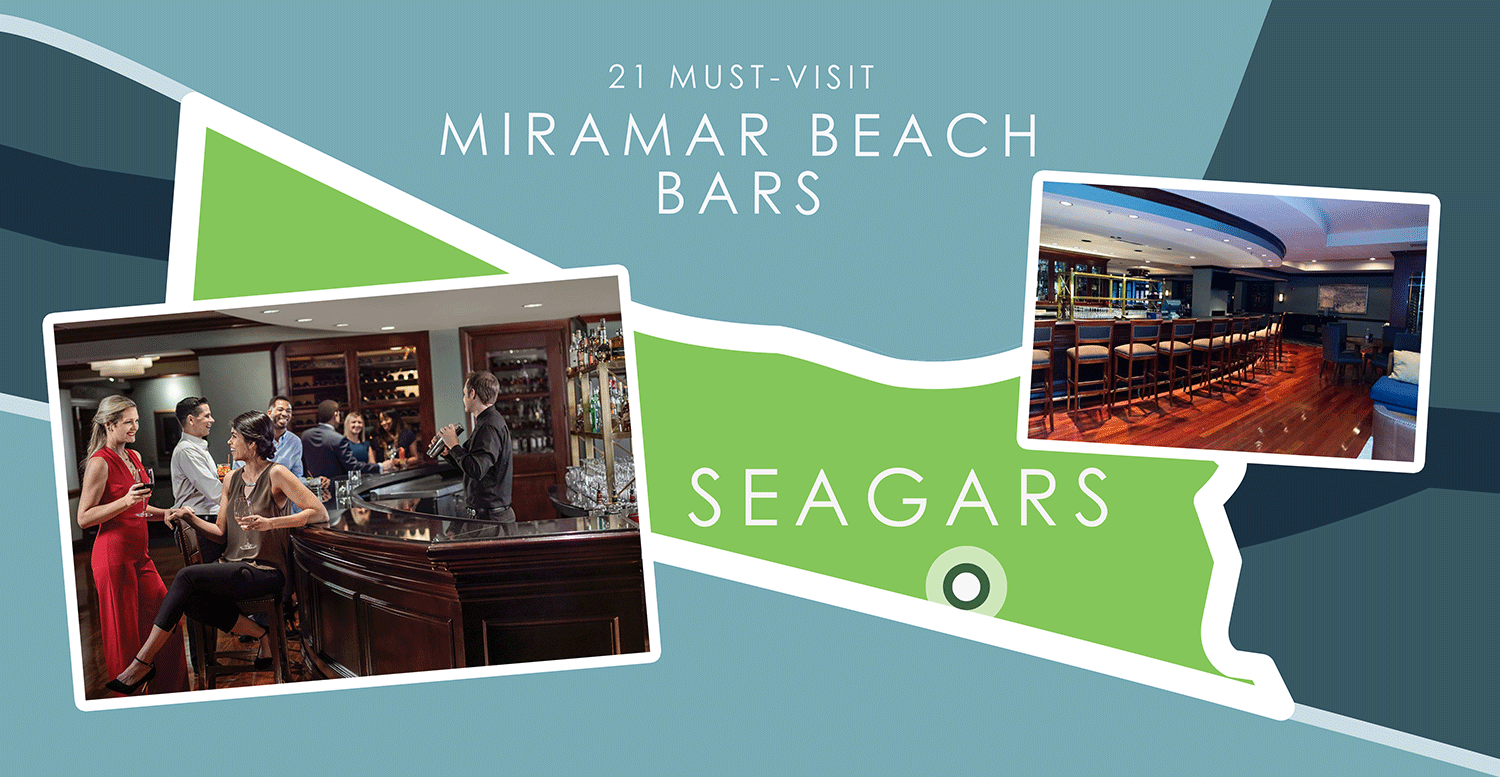 4000 S Sandestin Blvd, Miramar Beach, FL?
Located at the Hilton at Sandestin this establishment received Best Award of Excellence from Wine Spectator almost a dozen times and is known as an outstanding steakhouse. The highly acclaimed Seagars has been the area's AAA Four Diamond Award-winning restaurant since 2000.
Barefoot's Beachside Bar & Grill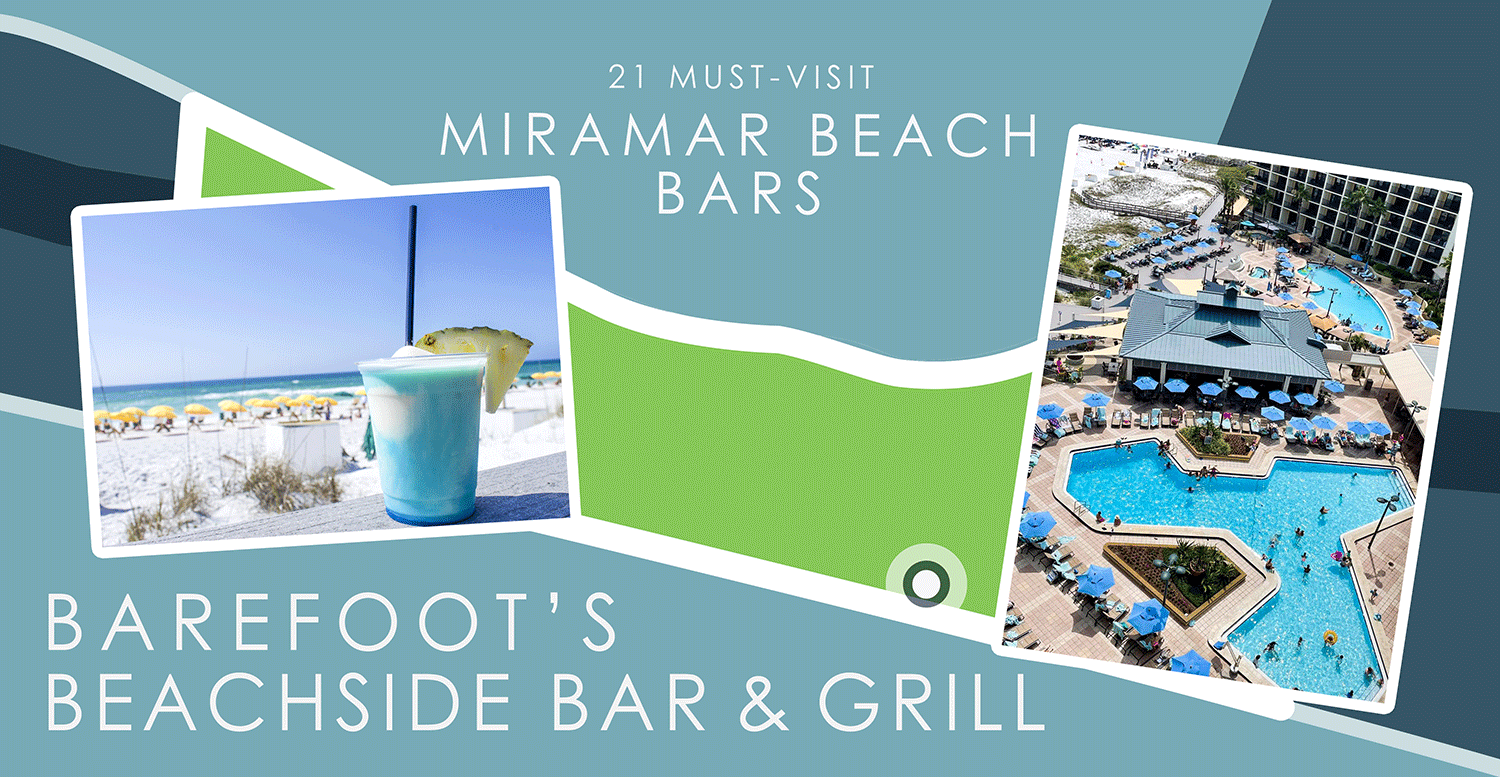 4000 S Sandestin Blvd, Miramar Beach, FL 32550
This Tiki Bar sits beside two pools overlooking the beach at Sandestin next to some of our Ocean Reef vacation rentals there. Creative cocktails accompany laid-back beach dining beside a large open-air bar and open deck with glittering gulf views.

You may walk from bar to bar along Sandestin's upscale Grand Boulevard to each of the following six drink and dining destinations.
Emeril's Coastal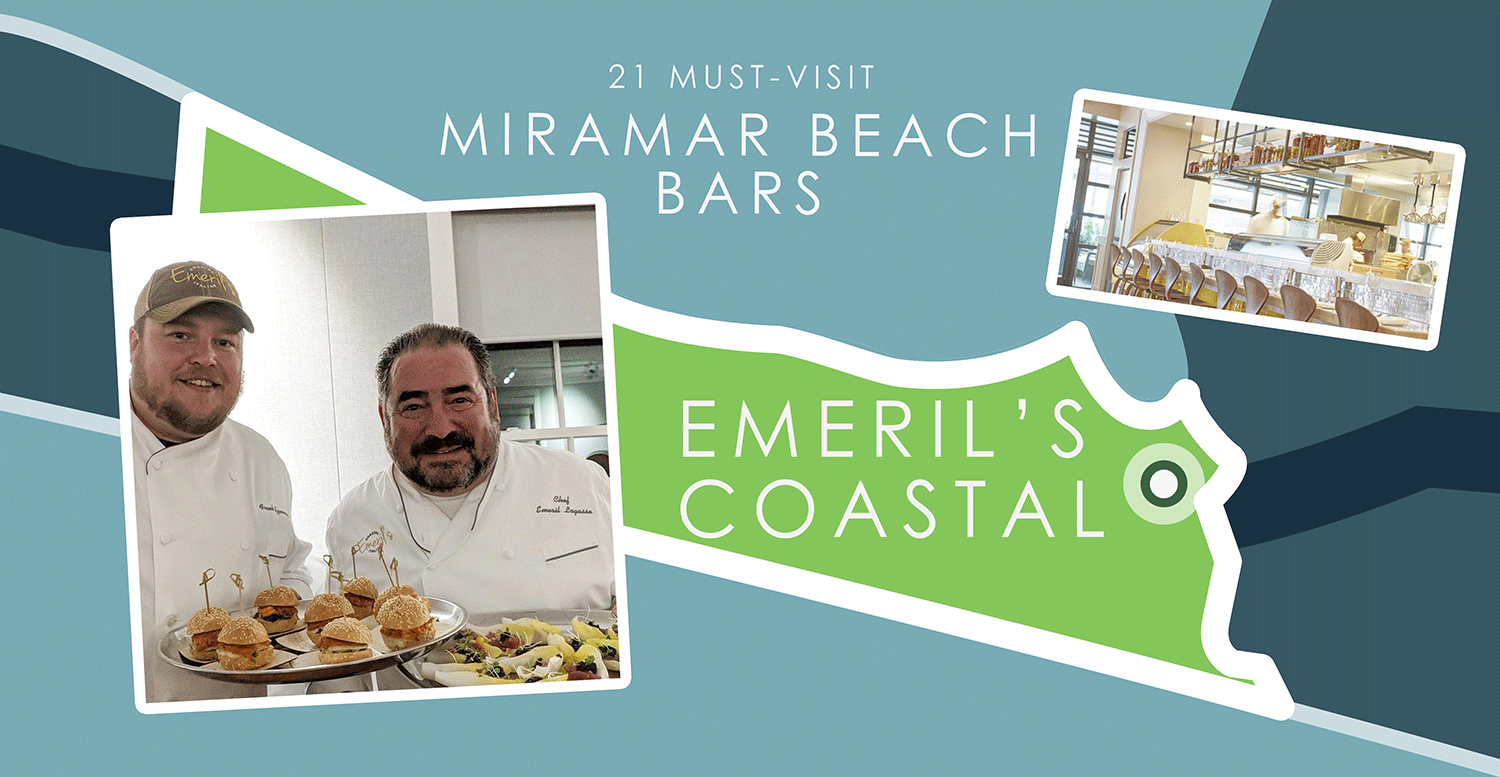 435 Grand Blvd, Miramar Beach, FL 32550
Wine is the top choice at this fantastic coastal restaurant, which was recently opened by Sandestin resident and famed chef Emeril Lagasse. Pair your favorite vintage (or craft cocktail) with classic and creative takes on fresh gulf-caught seafood in a chic space.
Read more: What's New at Emeril's in Miramar Beach
The Wine Bar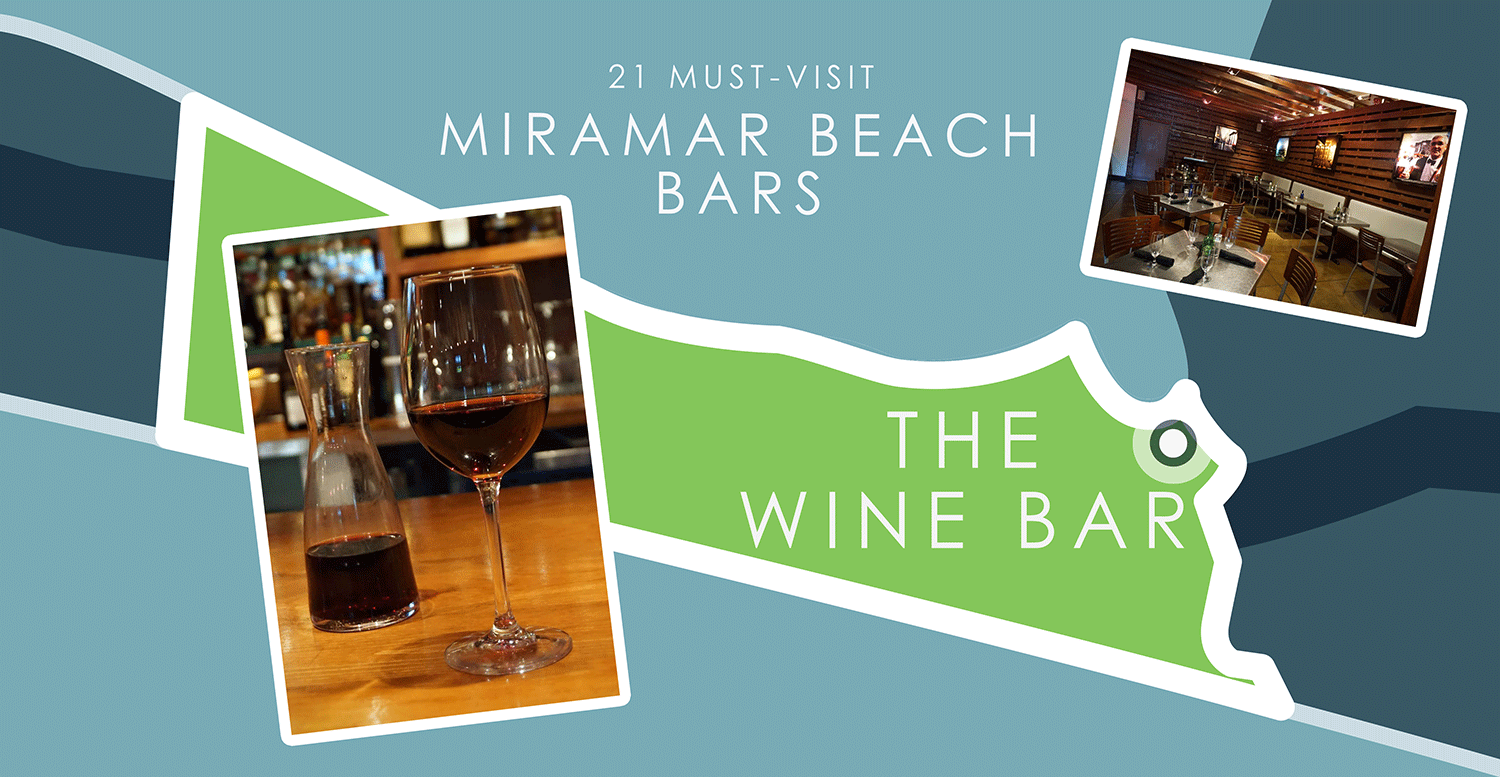 655 Grand Blvd #101, Miramar Beach, FL 32550
The name says it all since this place has an award-winning wine list. Extended Happy Hour Carafes for the price of a single glass are served with artisan cheeses. Soups, salads, hors-d'oeuvres, and main entrees are also on the menu.
Flemings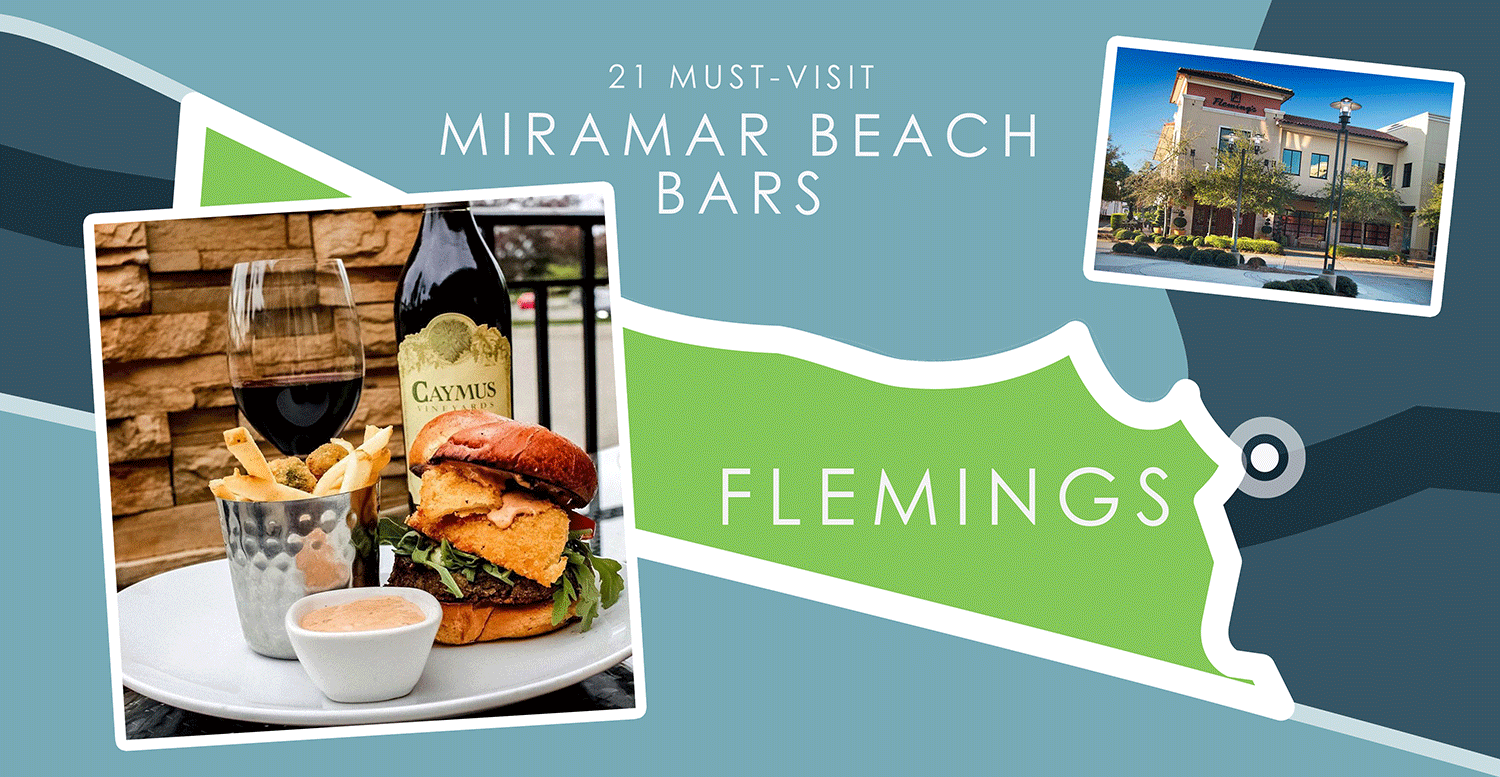 600 Grand Blvd Suite M105, Sandestin, FL 32550
This outstanding steakhouse has a club-like feel and its award-winning list of 100 wines by the glass. They also have a wonderful Happy Hour with half-priced drinks, tapas, and even half-pound bacon cheeseburgers. Drinks come with complimentary fresh fried chips.
Cantina Laredo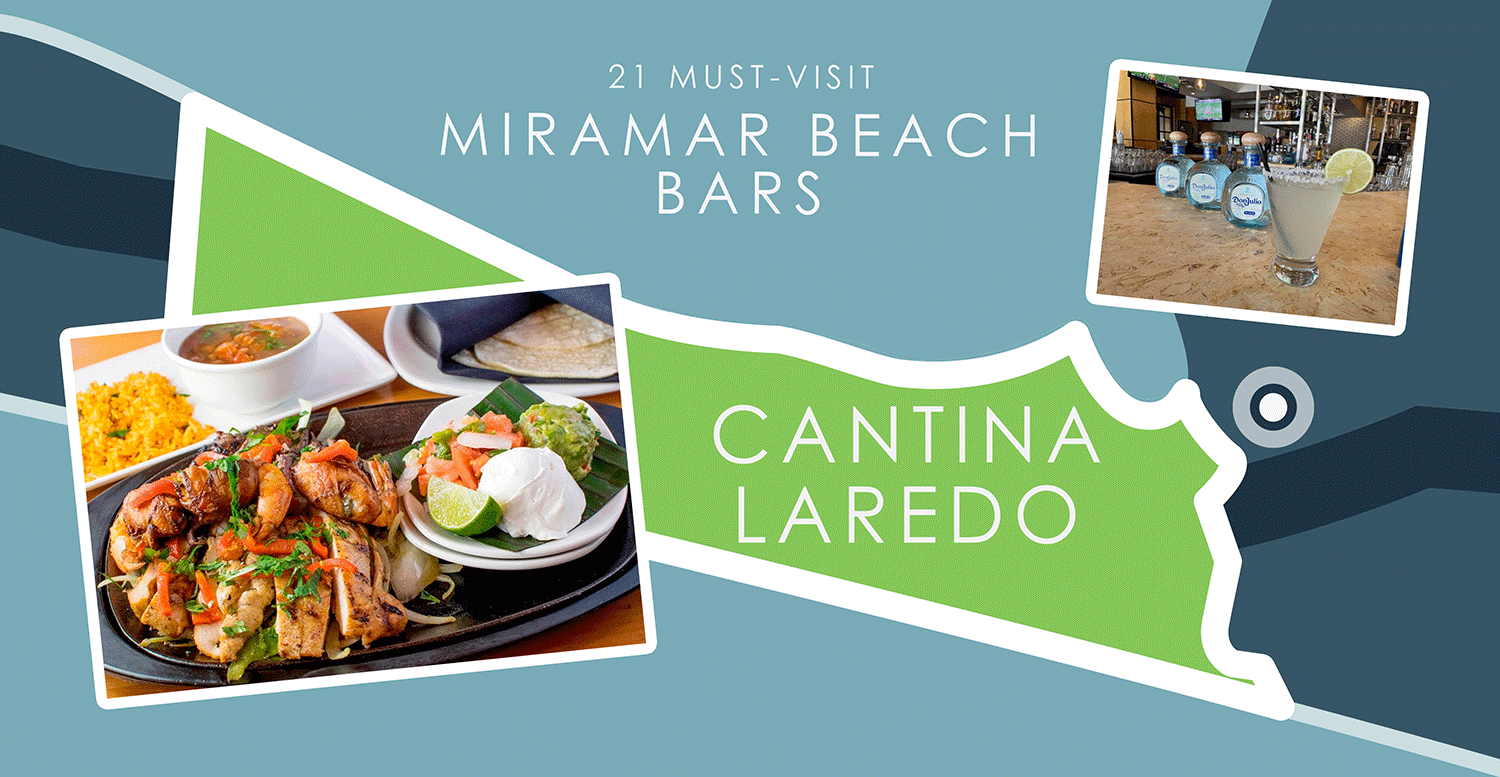 585 Grand Blvd N-106, Miramar Beach, FL 32550
A great restaurant with an open-air patio on Grand Park that offers a fantastic Happy Hour with low priced house Margaritas and Tapas. A wide array of authentic Mexican fare comes with a distinct coastal twist including seafood and unique sauces or toppings.
Tommy Bahama Restaurant & Bar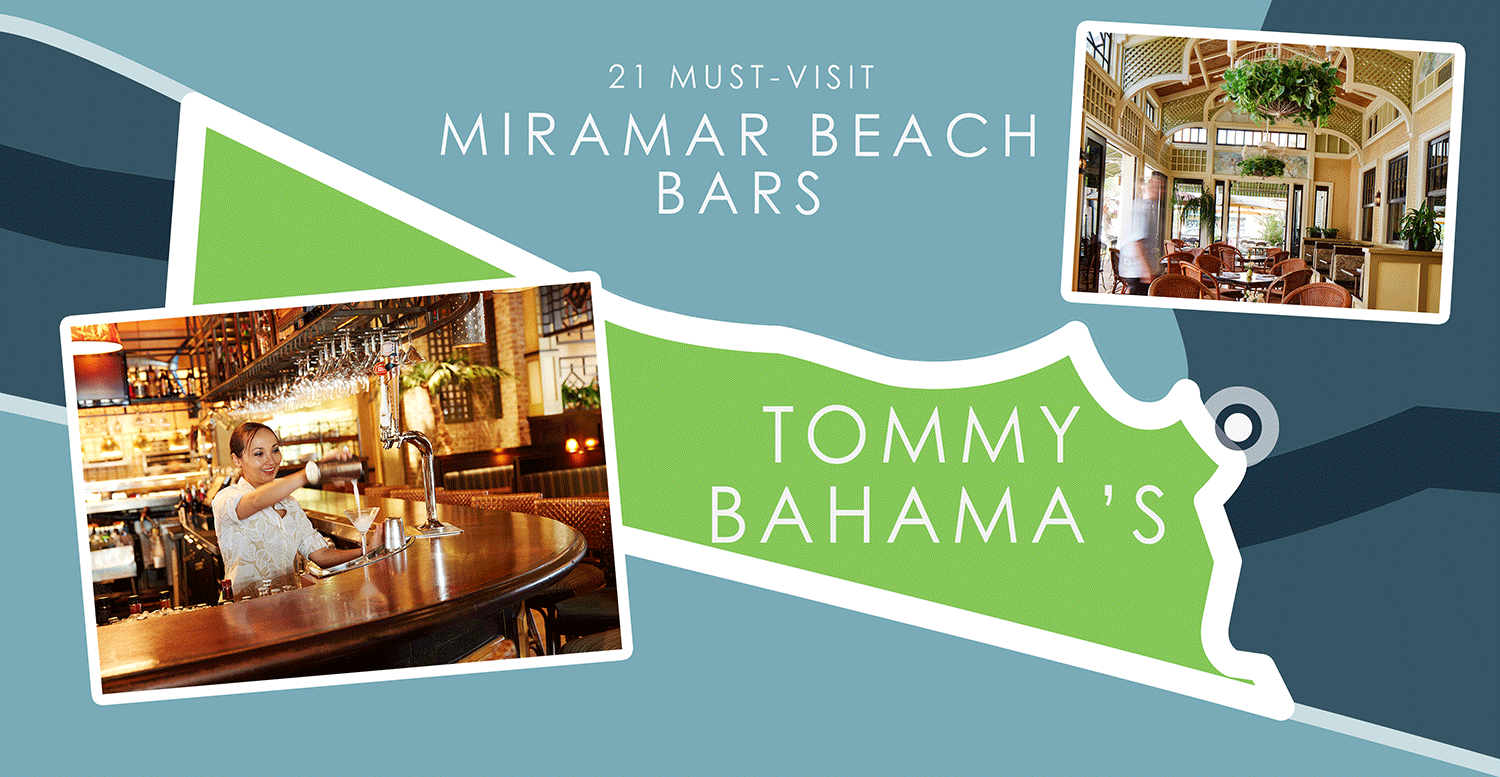 525 Grand Blvd, Sandestin, FL 32550
The patio and raised indoor garden pavilion with a soaring ceiling will make you feel like you are in the French Quarter. Bar specials include tropical concoctions, rum specialties, signature cocktails, and martinis all served with excellent food.
The Craft Bar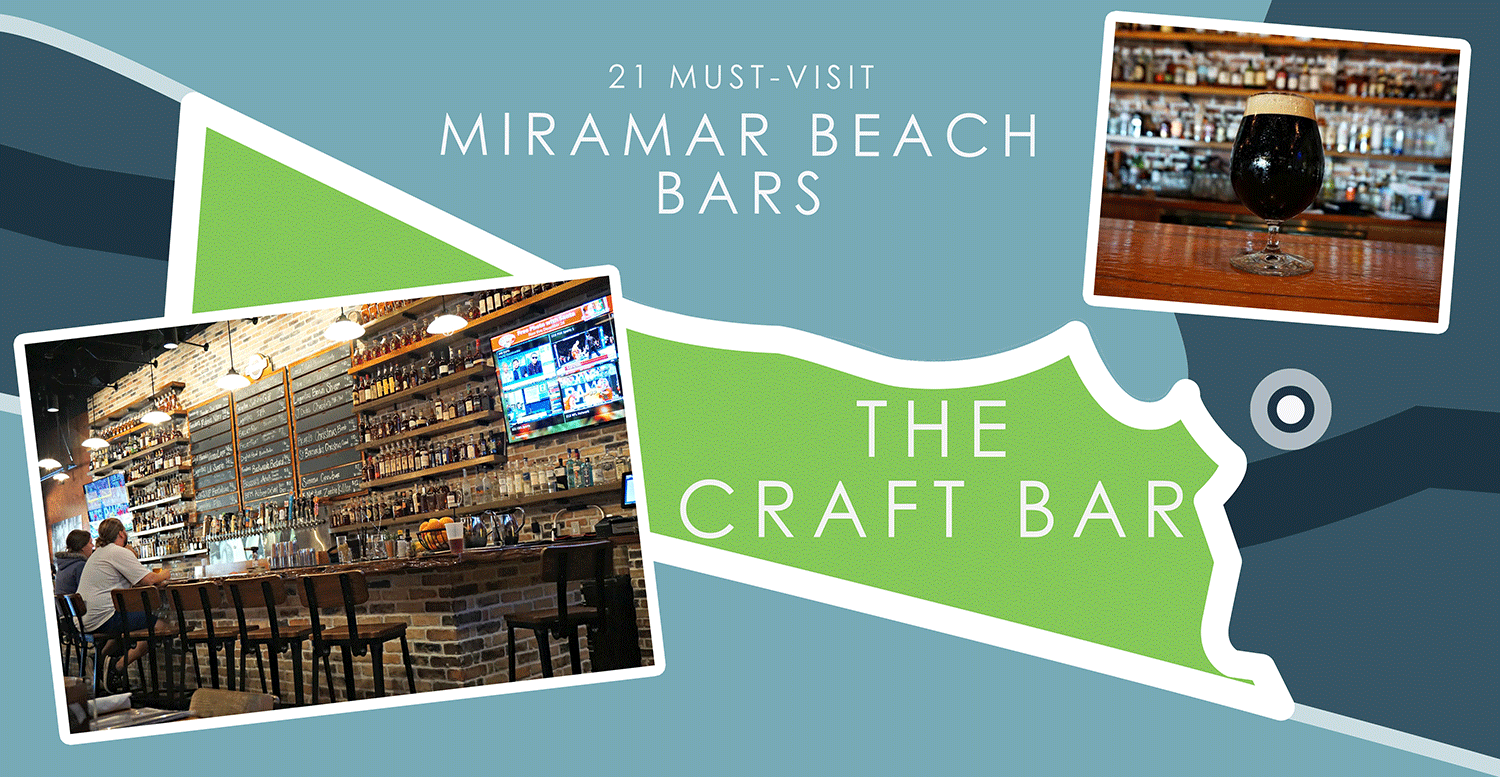 655 Grand Blvd, Miramar Beach, FL 32550
Billed as a "Gastropub" this establishment serves great food alongside handcrafted pub-like cocktails that include a hybrid mix of vodkas, rums, gins, rye whiskeys, and lots of single barrel bourbons.
Ocean Club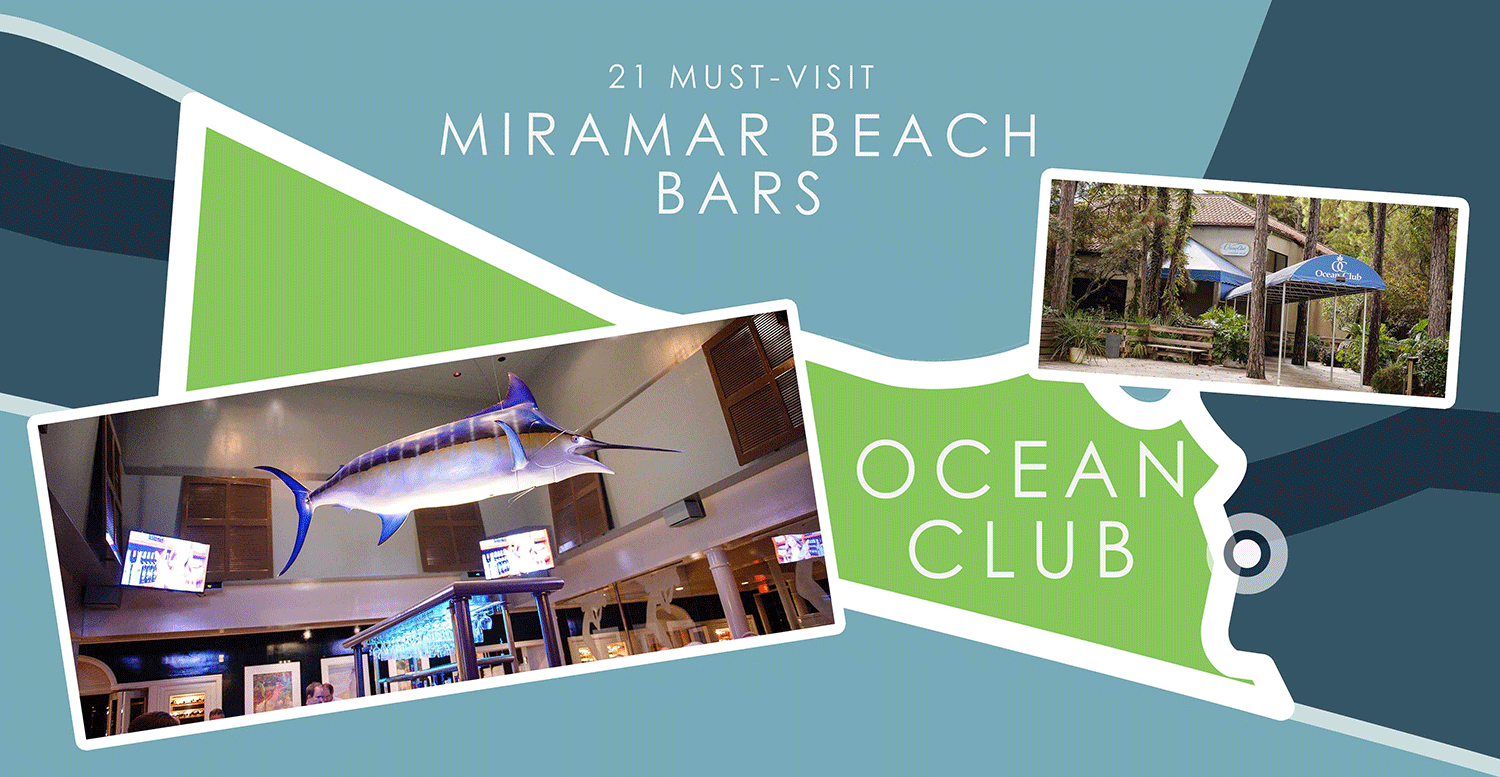 8955 US-98 W 107, Miramar Beach, FL 32550
A fine-established restaurant on Emerald Coast Parkway close to the Tops'l Resort is centered on a popular bar that features regular classic musical entertainment. A big Marlin hangs suspended above the bar that has a big screen TV for sporting events and a bar menu.
Some "regulars" at Ocean Club: Famous Football Coaches of Destin & 30A
Bijoux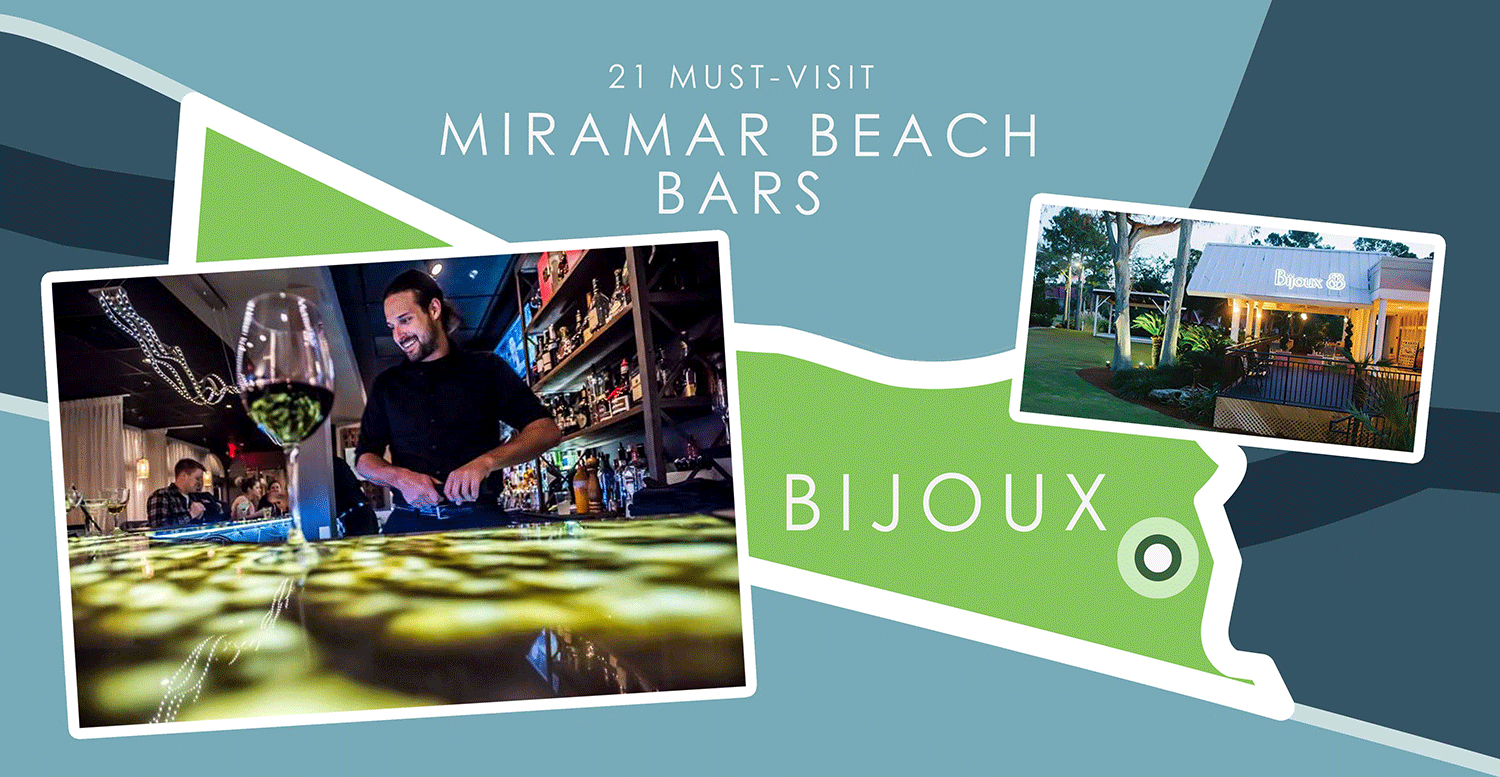 9375 US Highway 98 W #22, Miramar Beach, FL 32550
Bijoux is a gourmet restaurant at the Market Shops of Sandestin that also is known for its large selection of Specialty Martinis. They serve "coastal cuisine with New Orleans flair" and has won serveral Golden Spoon Awards for fine fare.
Kenny D's Beach Bar & Grill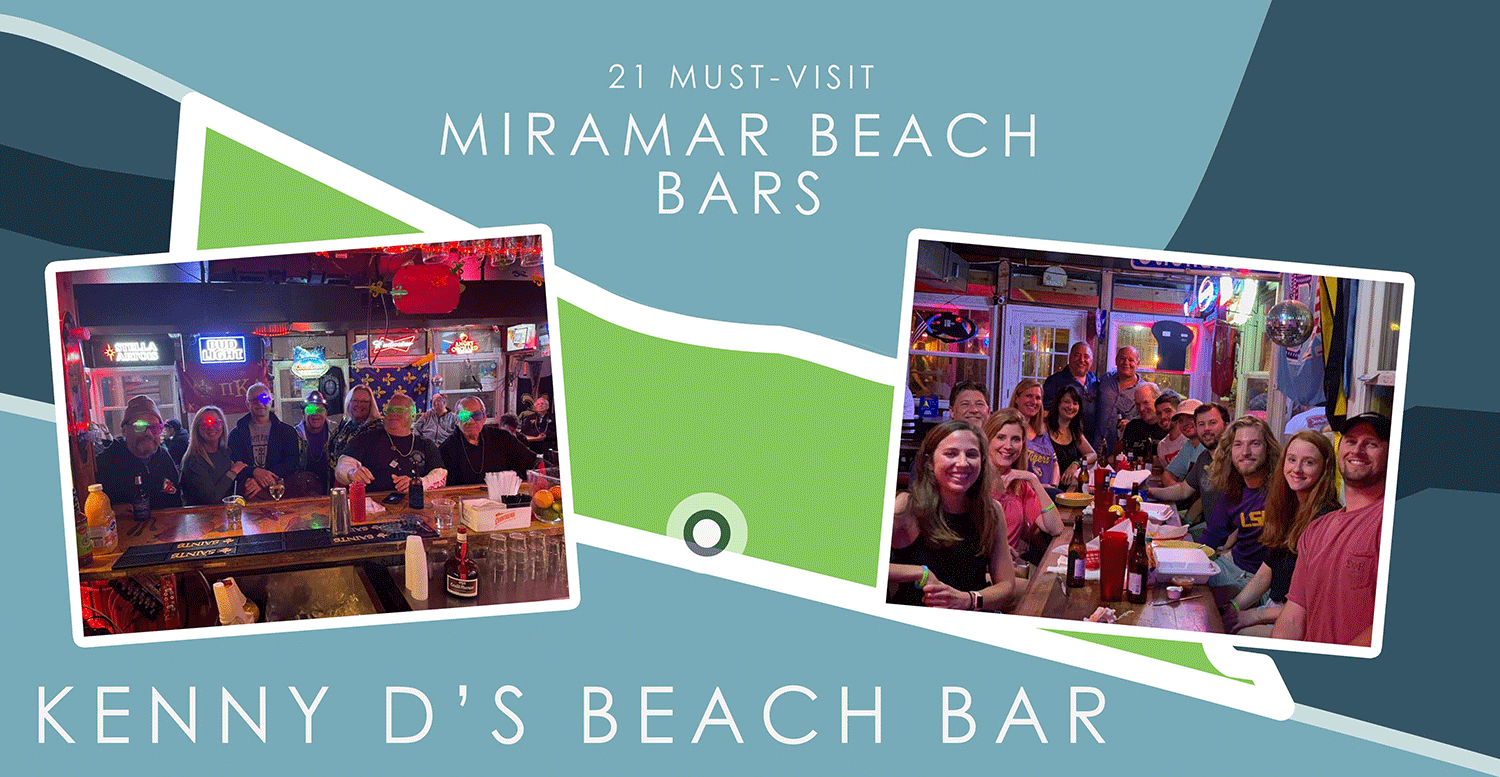 2964 Scenic Gulf Dr, Miramar Beach, FL 32550
Located at the eastern end of Scenic Gulf Drive near our properties at Destiny, this Cajun-inspired rustic snack shack bar has some of the best Oyster Rocky's around along with excellent etouffe, and award-winning gumbo served with an ice-cold beer.
If you are touring the charming Village of Baytowne Wharf at Sandestin here are five bars to check out as you happily stroll from the bay to the lagoon.
Marina Bar & Grill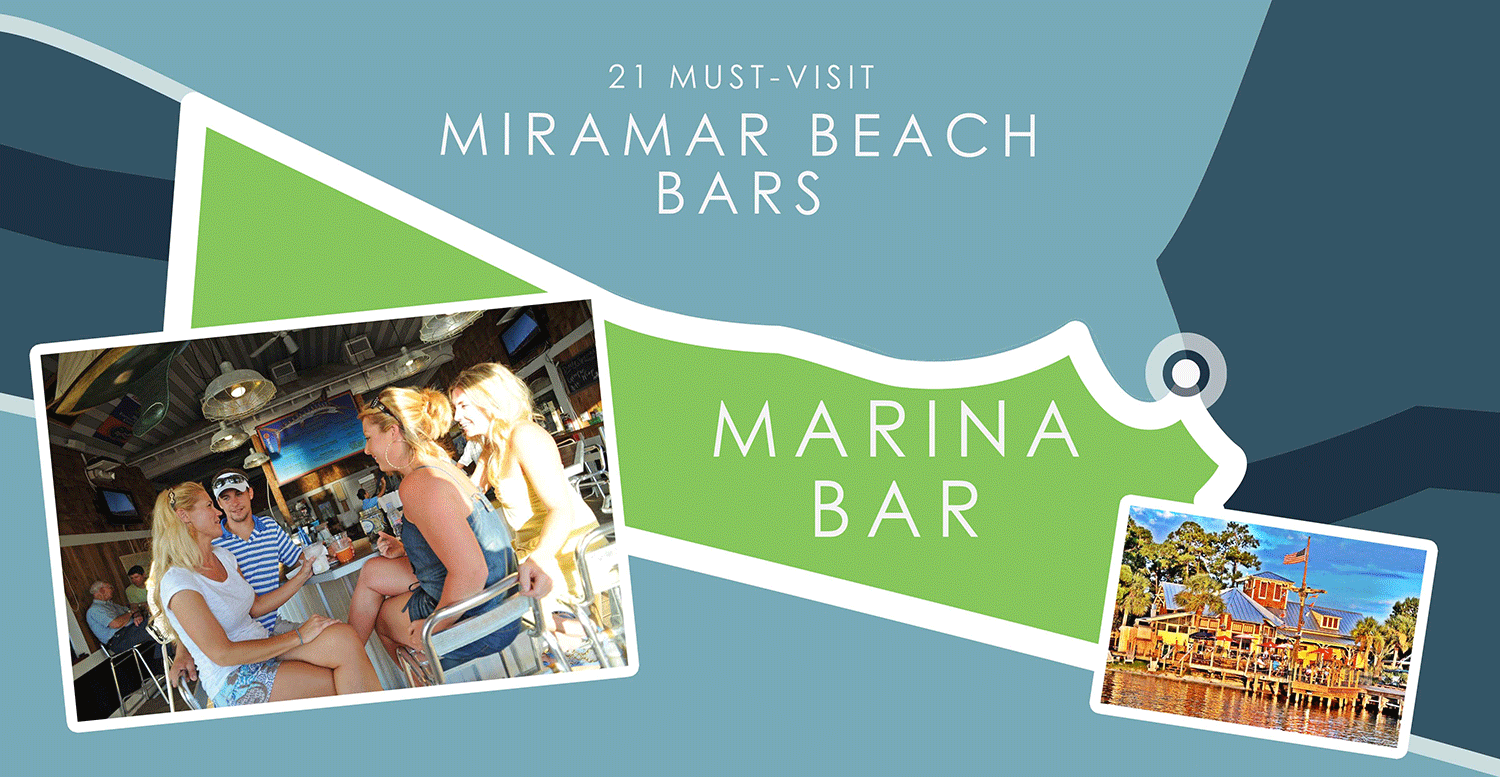 8330 Mike Hayes Dr, Miramar Beach, FL 32550
Located at the Sandestin Yacht Club in Baytowne Wharf, this unpretentious bar and dining spot features spectacular sunsets over the water during the summer months.  Be sure to say hello to the famed feathered resident, MaryAnn Macaw! Afterward, you may walk along the forested bay shoreline and cross over a lagoon walkway to explore the heart of the village.
Rum Runners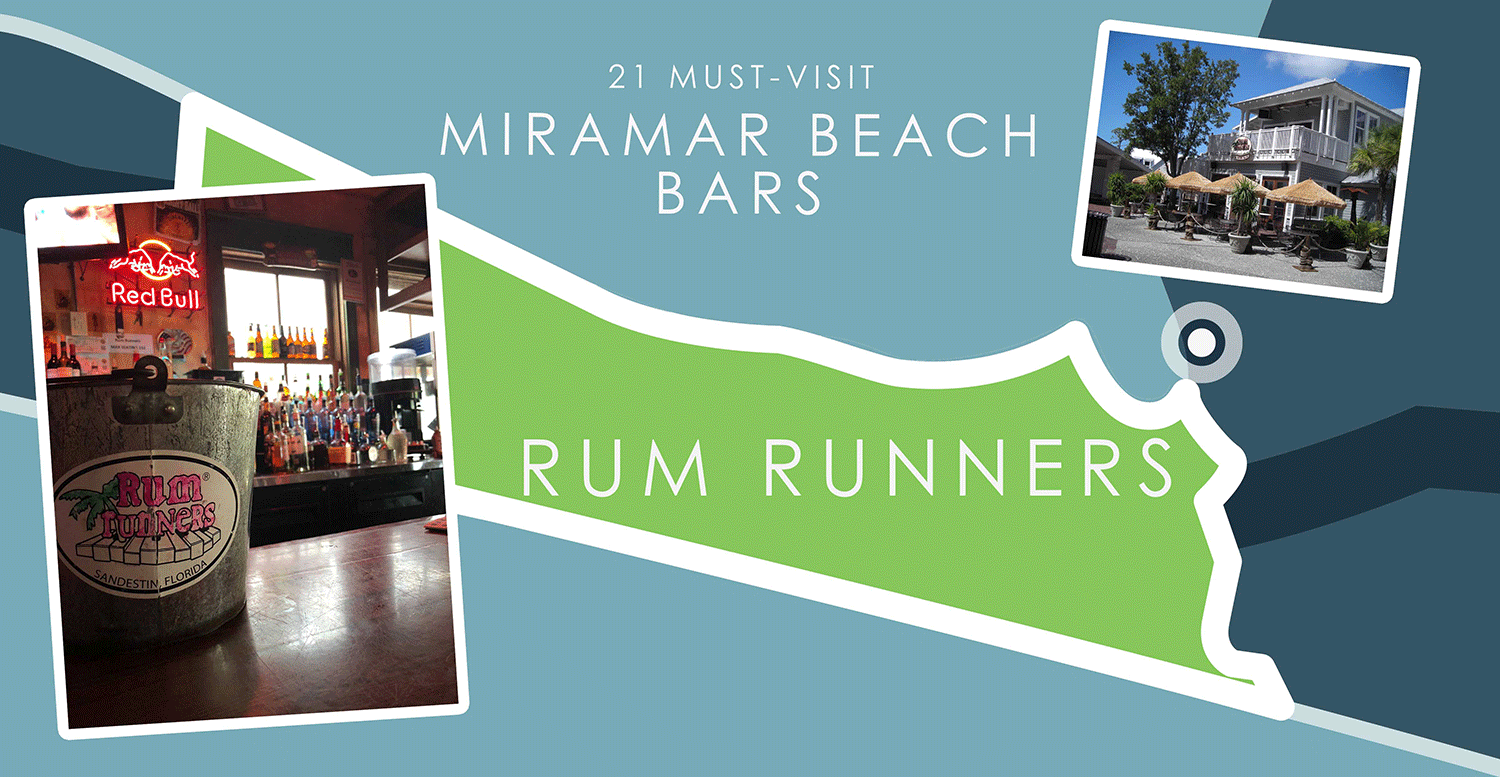 130 Fisherman's Cove, Miramar Beach, FL 32550
Located off the lagoon on the Event Plaza Green this place bills itself as the place for "Great Food, Great Music, and Great Food." They also have a lot of rum! Live musical entertainment seven nights a week features performers who engage everyone to have a fun time singing, dancing and acting silly. 

Fat Tuesday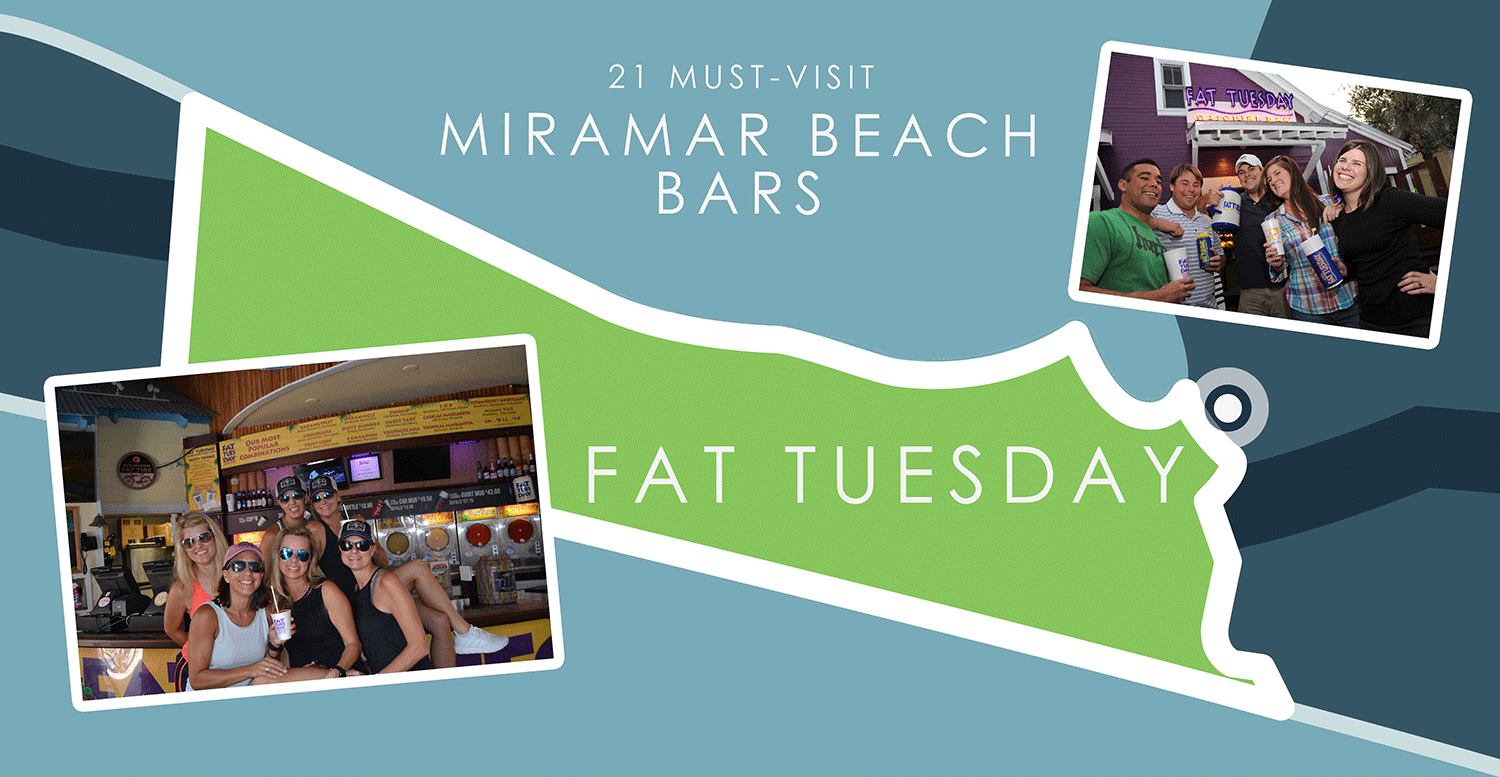 132 Fisherman's Cove, Miramar Beach, FL 32550
This bar celebrates the spirit of Mardi Gras year-round in the center of Baytowne and serves delicious daiquiris of all kinds. You may take them with you from place to place since "to go cups" are allowed in Baytowne until 10:00 pm. 
Hammerhead's Bar & Grill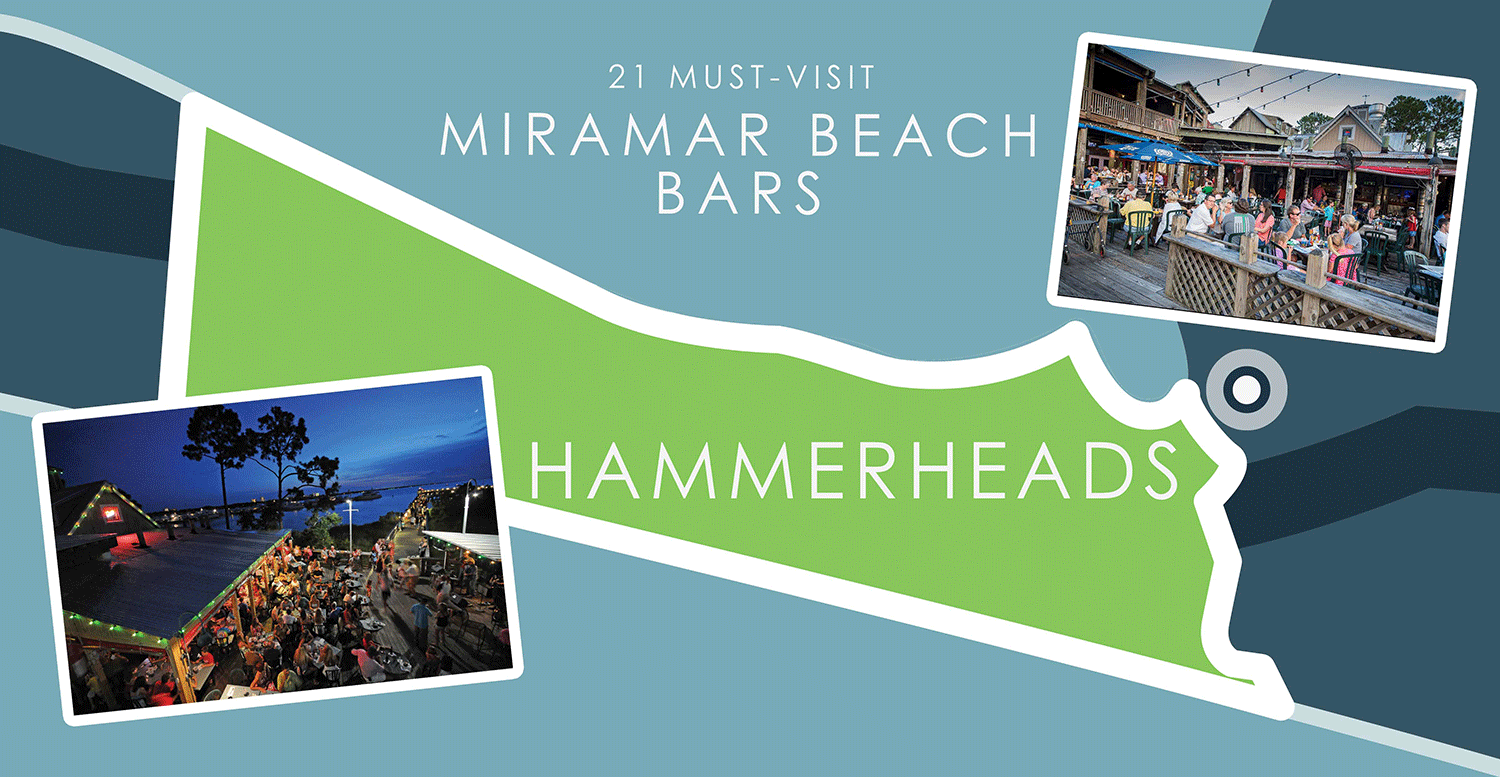 137 Fisherman's Cove, Miramar Beach, FL 32550
Located next to the long wharf overlooking the Sandestin Marina this is a perfect place to sip your favorite drink on their open deck while watching superb sunsets over the bay. Live bands play nearby while savory seafood is served with drinks and beer.
Village Door Bayfront Restaurant and Nightclub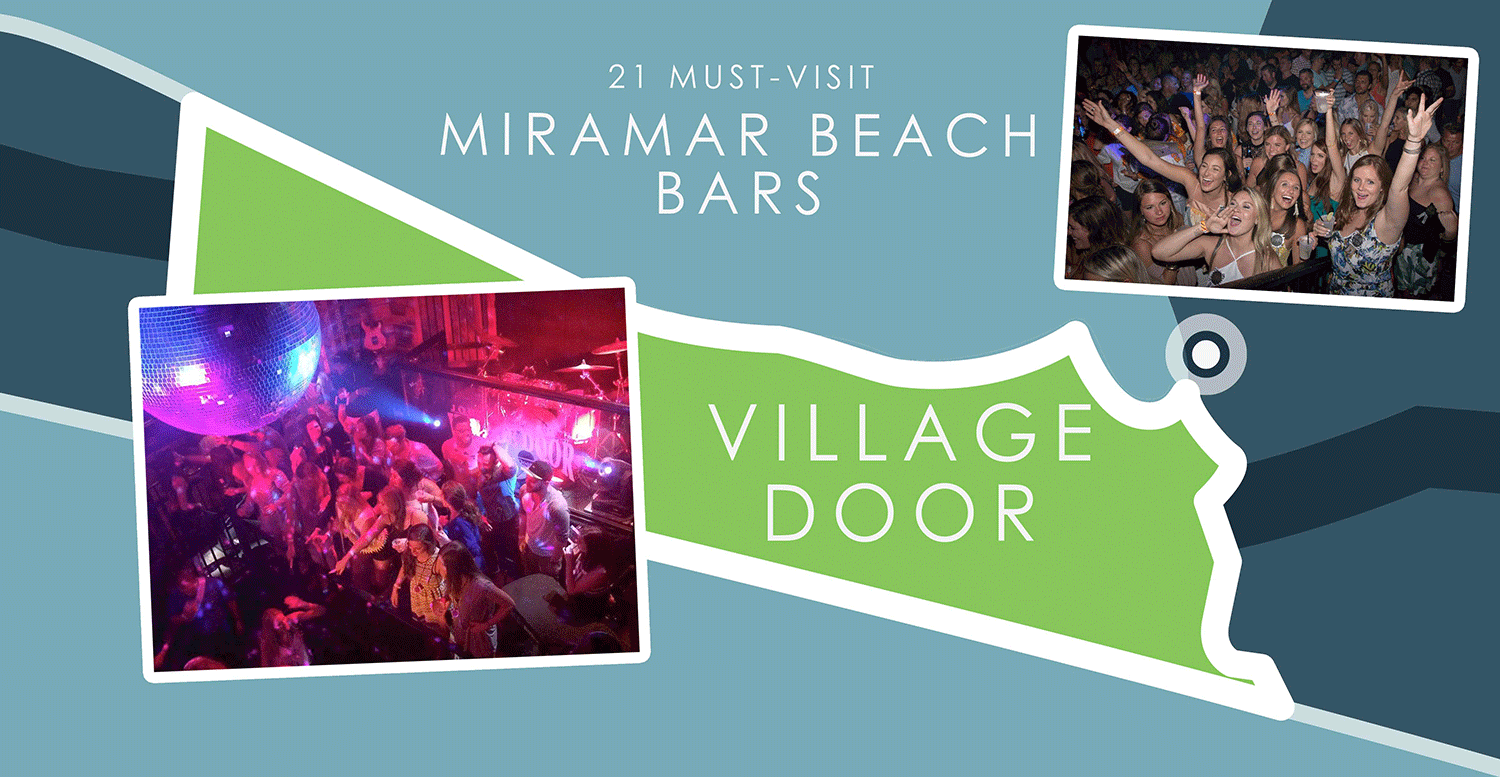 136 Fisherman's Cove, Miramar Beach, FL 32550
The Village Door was inspired by the original hot spot on Bourbon Street and brought to Baytowne in 2002. This two-story award-winning nightclub features Two bars; A bayfront tiki torch-lit dining deck that serves seafood, barbeque, burgers, and sandwiches; An open dance floor with a lighted classic crystal ball; State of the art sound systems; A DJ and live band entertainment on stage. It's known as the place to dance. 
Read more: Best Beach Drinks

Get ready to eat, drink and be merry with us here at Ocean Reef Resorts offering Miramar Beach vacation rentals by a bar near you! Have fun and be safe.