Posted on 4/3/2020
The award-winning beaches of Walton County are famously noted for their sugary white crystalline shoreline and the jewel-toned gulf waters, which feature dazzling colors that range from glittering emerald green to glowing peridot. This precious stretch of beautiful beaches has been awarded Blue Wave Beach status, which is the nation's highest acclaim of excellence for natural beauty and pristine water. Ocean Reef Resorts has represented fine distinctive private vacation rental properties along these shores for almost forty years and receives rave reviews from the vast majority of our esteemed guests. Generations of families have made it an annual tradition to spend their fun, memorable beach vacations and magical reunions with our company.

The following is a peek at 23 beachfront vacation rental homes, which are listed in ascending order of sleeping accommodations and are all located along Scenic 30A in southern Walton County. Besides the beautiful beach, these homes are near picturesque coastal villages that were perfectly planned and established to provide an Americana styled vacation reminiscent of golden yesteryears. Each enchanting village has its own "personality" related to style and amenities featuring wonderful restaurants, beach bars, boutiques, outdoor amphitheater concerts as well as delightful seasonal festivals. Enjoy taking a look at each 30A beach home as you plan your next trip to this precious piece of Northwest Florida paradise!
Read more: What is 30A?
A Suite Life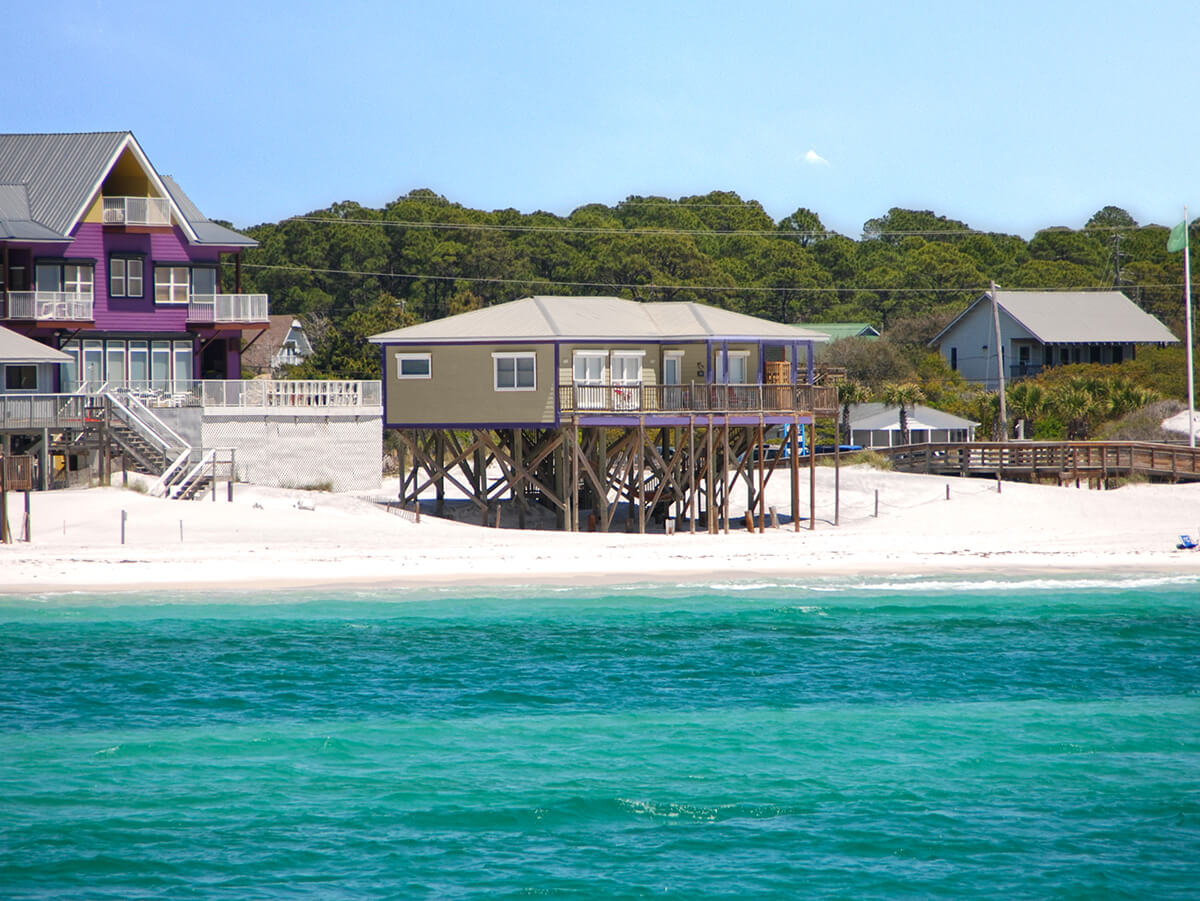 2 Bedrooms / 2 Bathrooms / 6 Guests
A Suite Life in Dune Allen Beach is sweet indeed since it is literally perched directly above the bright white beach! This classic two-bedroom beach cottage can sleep up to six guests.
Splash
3 Bedrooms / 4 Bathrooms / 12 Guests
Splash is a three-bedroom vacation home in Dune Allen Beach that can sleep 12 happy beachgoers - and your fur baby since it is also Pet Friendly. This charming Walton County home combines a chic coastal casual look with fashionable Vintage Modern furnishings.
Allen House
4 Bedrooms / 3 Bathrooms / 8 Guests
Allen House is a four-bedroom Walton County vacation home that sleeps eight in Dune Allen Beach and is on the Gulf, directly across from Oyster Lake, where you can go fishing. The open Great Room has four sets of sliding glass doors framing the sensational seascape and providing beach balcony access.
Tickled Pink
4 Bedrooms / 3 Bathrooms / 10 Guests
Tickled Pink is a family Gulf-front estate in Blue Mountain Beach with expansive lushly landscaped grounds, 100' of private beach, a 200 square foot sundeck, and a stone patio with a built-in grill. This hospitable abode with four bedrooms sleeps 10 fortunate guests.
Are We There Yet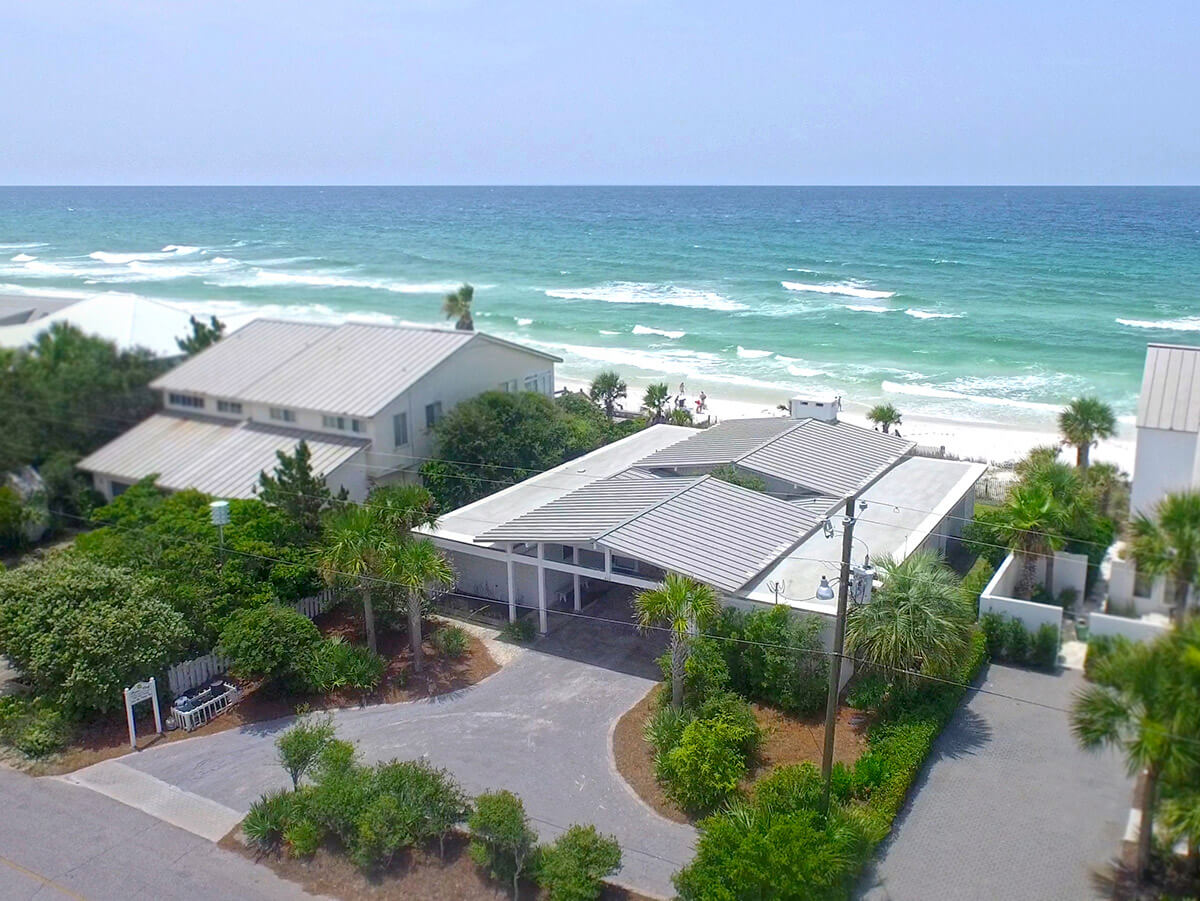 4 Bedrooms / 4 Bathrooms / 10 Guests
Are We There Yet is a four-bedroom rental property that sleeps 10 beach-going guests who have indeed arrived at this stunning Blue Mountain Beach retreat! Walls of windows, a cathedral ceiling and fashionable furnishings will make you feel like you are visiting a celebrity's beach home.
Dune Allen Delight
4 Bedrooms / 2.5 Bathrooms / 14 Guests
Dune Allen Delight is a four-bedroom 30A home that accommodates 12 delighted guests in Dune Allen Beach! The open Great Room includes walls of windows with a dramatic cathedral ceiling and a spiral staircase soaring up to a landing with a game table that leads to a family room adorned with stained glass windows and features a built-in bar.
Read more: 11 Dune Allen Beach Vacation Rentals
Abandon All Cares
4 Bedrooms / 3 Bathrooms / 14 Guests
Abandon All Cares is a four-bedroom beachfront property that sleeps 14 and is perfect for a multi-family beach reunion since it has two living areas, a kitchen, a kitchenette and bedrooms on separate floors. This cheerful rental is in the charming Americana styled exclusively gated Old Florida Beach residential neighborhood near the fun Santa Rosa Beach village center of Gulf Place. Double levels of lovely verandas front and back provide breezy views, and it has access to a community pool.
Shore-E-Nuff
4 Bedrooms / 3 Bathrooms / 14 Guests
Shore-E-Nuff is also in the wonderful Old Florida Beach community in Walton County. It has four bedrooms with the ability to accommodate up to 14 beach-going guests. This lovely vacation home is filled with comfortable furnishings that feature vibrant art, sea life sculptures, and marine life for beach-inspired décor.
C Cottage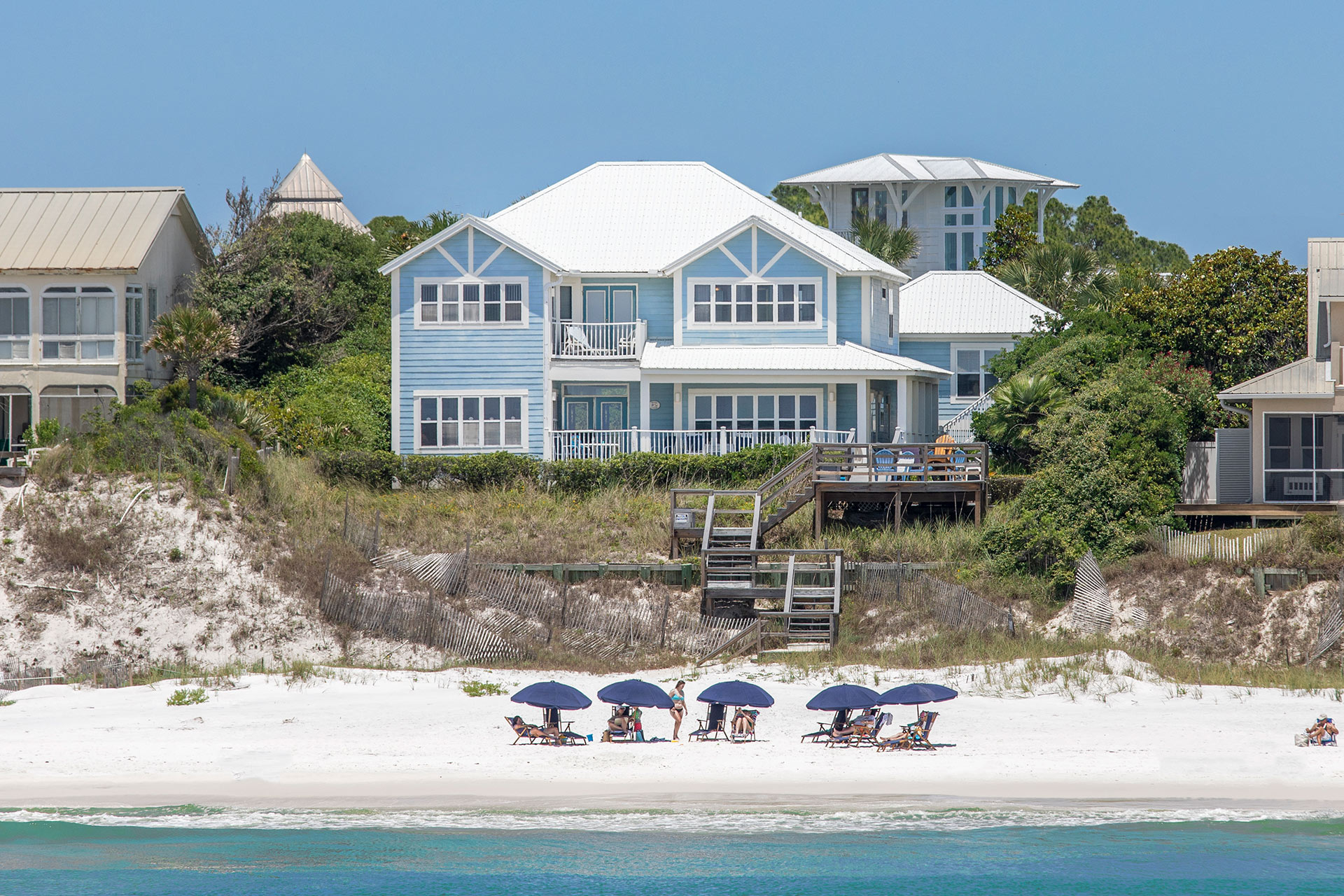 5 Bedrooms / 5 Bathrooms / 12 Guests
C Cottage in Blue Mountain Beach is not a cottage but rather a regal five-bedroom coastal home with a Carriage House that sleeps a total of 12 lucky gulf going guests. The lavish well-appointed furnishings with an eye towards comfort feature crisp blue and white nautical colors.
Lotsa Fun Too
5 Bedrooms / 5.5 Bathrooms / 12 Guests
Lotsa Fun Too is a stately Mediterranean styled manor with five bedrooms that all include en suite baths and can sleep 12 privileged guests. It sited in the prestigious exclusively gated residential enclave of Vizcaya in Dune Allen Beach, just steps away from a sparkling community swimming pool.
Everybody Loves A Shore Thing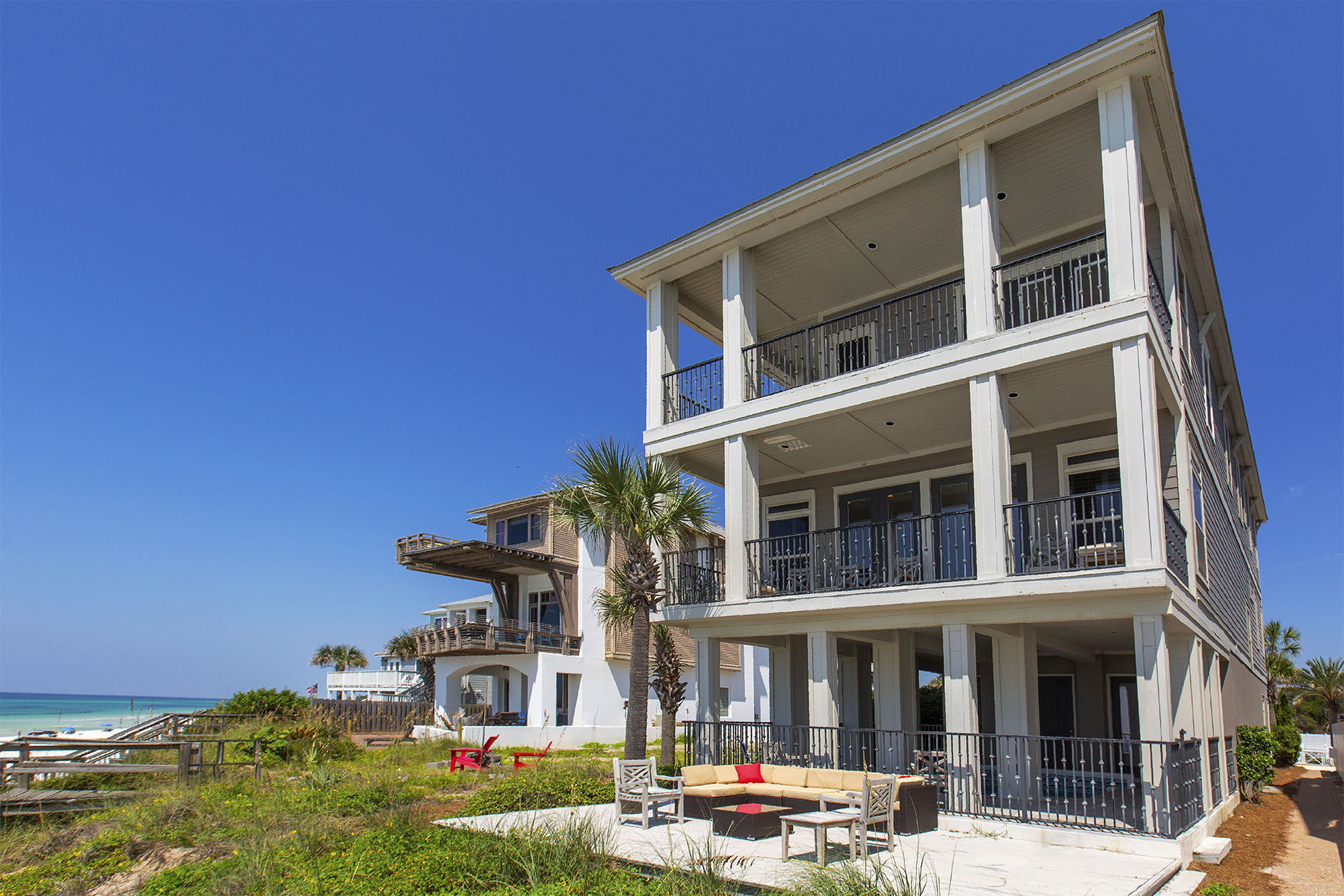 5 Bedrooms / 6 Bathrooms / 12 Guests
Everybody Loves a Shore Thing rises high above the sugary shore in Walton County's Seacrest Beach with a covered palatial plunge pool and five bedrooms that accommodate 12 guests. A beachfront balcony spans its entire width providing sweeping 180-degree views.
Santa Rosa Sunset
5 Bedrooms / 3.5 Bathrooms / 14 Guests
Santa Rosa Sunset is a gracious five-bedroom beachfront home that sleeps 14 and features spectacular sunset views in Dune Allen Beach from two levels of gulf-side verandas that span its width. The sun sets right into the Gulf from autumn through winter and are replaced by full moon rises and moonsets over the water during the summer. The interiors are decorated with vibrant colors for Floridian flourish.
Cliffview
5 Bedrooms / 4 Bathrooms / 14 Guests
Cliffview is aptly named since it towers high upon a sugary dune in Blue Mountain Beach, which boasts having the highest elevation on the entire Gulf of Mexico. This five-bedroom retreat with comfortable cottage styled furnishings and Floridian flair accommodates up to 14 guests. A unique curve walled pavilion-like screened porch and an expansive adjoining sun deck provide limitless vistas of the glorious shore.
Polo Beach Club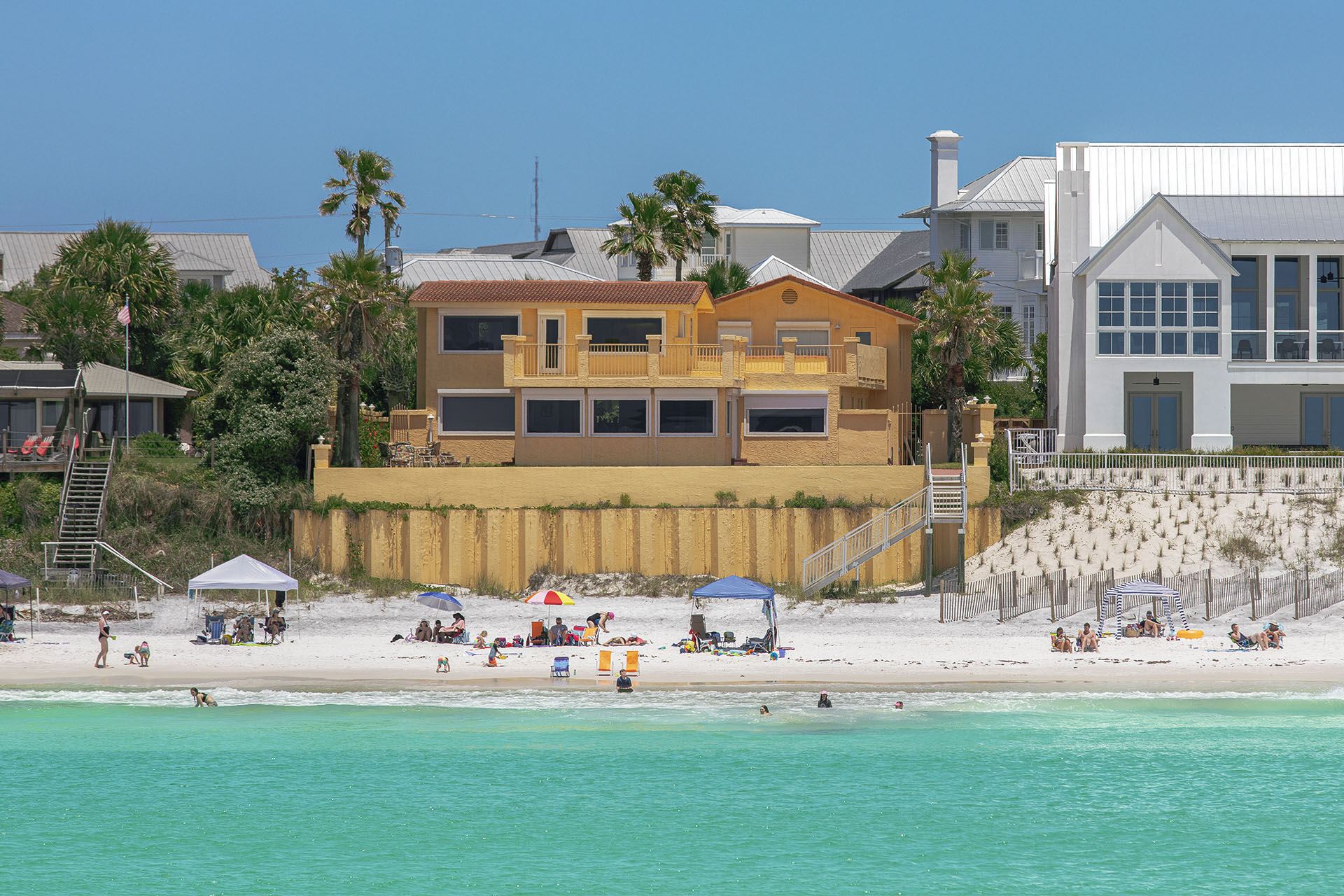 5 Bedrooms / 5.5 Bathrooms / 14 Guests
Polo Beach Club in Blue Mountain Beach is a huge vacation home with vibrant interior colors that sleeps up to 14 carefree guests. Three bedrooms with en suite baths are in the main house, and two more with ensuite baths and separate living quarters are in an attached Carriage House. It comes with a 12' x 36' swimming pool in a courtyard setting with lush tropical landscaping.
54 On The Shore
5 Bedrooms / 5.5 Bathrooms / 14 Guests
54 On The Shore is located in an exclusively gated Seagrove Beach neighborhood, hidden off Scenic 30A. Five bedrooms with en suite baths can sleep 14 indulged guests. It has a private pool with a wet bar and two living areas, one of which is a Game Room with a Billiard Table.
Kokomo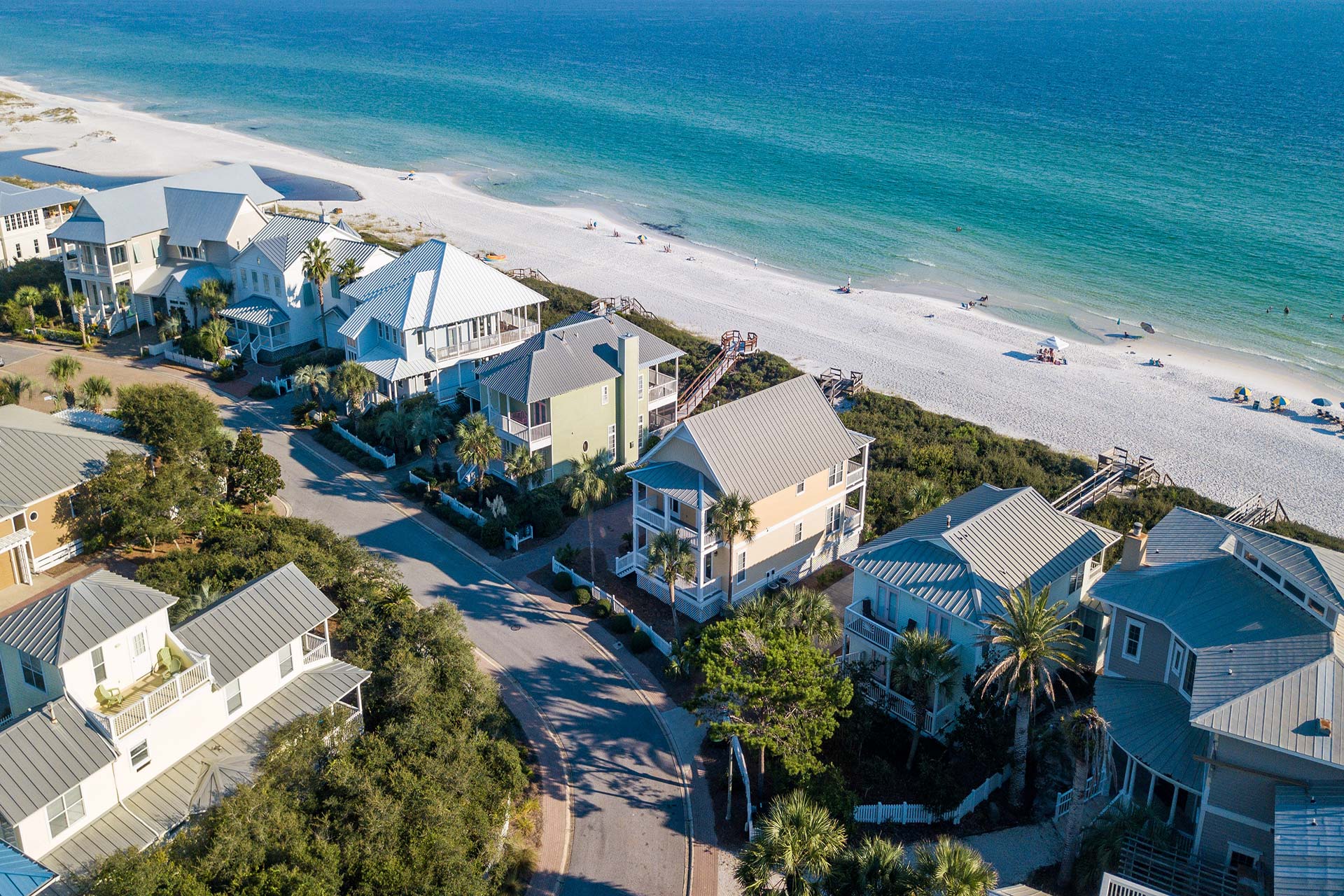 5 Bedrooms / 4 Bathrooms / 14 Guests
Kokomo is a five-bedroom vacation home in the exclusive golden era Old Florida Beach community near the Santa Rosa town center of Gulf Place and can sleep up to 14 grateful guests. Lots of outdoor living space takes full advantage of the dune top locale, with the private beach down below and a community pool nearby.
Barefootin
5 Bedrooms / 5.5 Bathrooms / 14 Guests
Barefootin is a cheery 4,000 square foot five-bedroom home with en suite baths that sleeps 14 favored visitors. It is also located in Old Florida Beach close to the pool and also adjoins an exotic coastal dune lake that is home to abundant wildlife and fish. The comfortable tasteful décor uses rainbows of pastel colors to put you in your happy place.
Blessings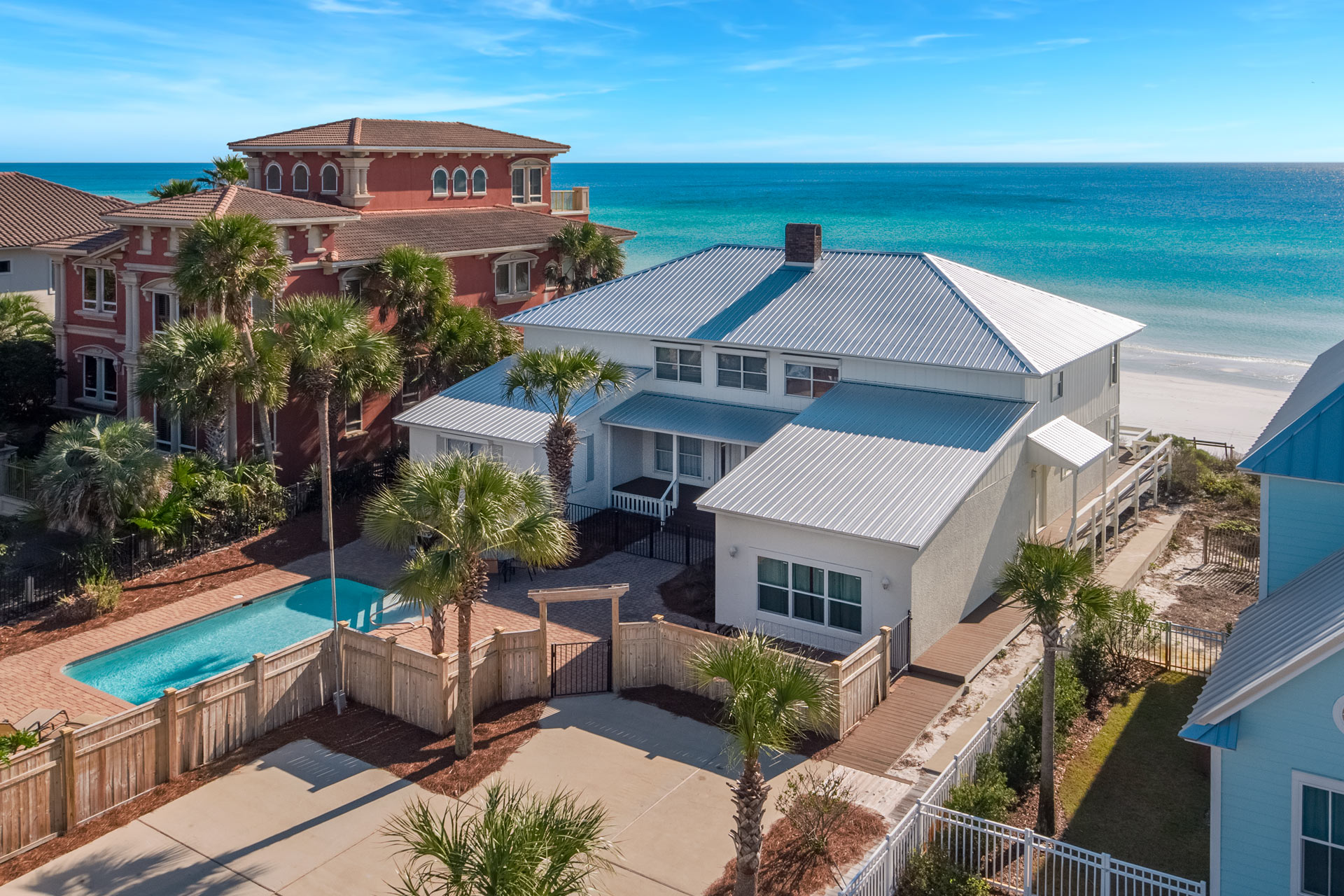 5 Bedrooms / 4 Bathrooms / 22 Guests
Blessings has five bedrooms with the ability to accommodate up to 22 blessed guests in Santa Rosa Beach, right across from the festive village center of Gulf Place. This place has a Gathering Room with a two-story ceiling, a beach deck, and a large private pool that measures 12' x 26'.
Abaco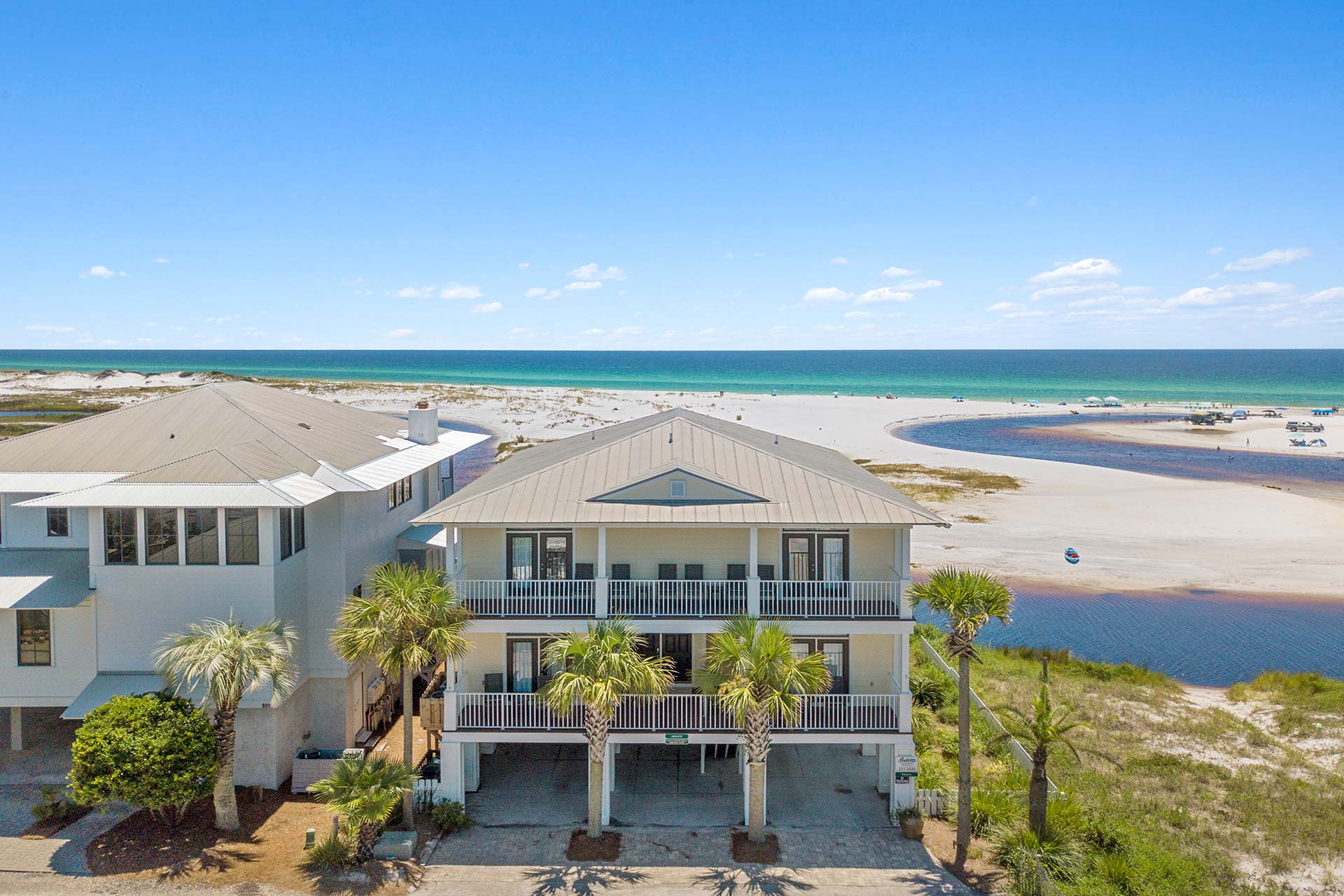 6 Bedrooms / 6.5 Bathrooms / 14 Guests
Abaco is a gracious six-bedroom coastal home with a heavenly location near the charming historic village center of Grayton Beach that can sleep 14 nature-loving guests. The home's impressive setting borders the award-winning crystalline beach and Western Lake. You may paddleboard or fish on this coastal dune lake, which connects to the Gulf. The lake is a very rare precious natural treasure harboring abundant wildlife. This handsome hospitable rental home is beautifully decorated with comfortable furnishings and was featured by Southern Living Magazine!
Firenze
6 Bedrooms / 5.5 Bathrooms / 18 Guests
Firenze also has an impressive beachfront location near the heart of Walton County's old Grayton Beach. This magnificent manor home has wraparound columned verandas on three levels, which provide stellar views of the sensational scenery. Six bedrooms sleep up to 18 pampered guests along with your favorite pooch since it is also Pet Friendly. Besides the beach, it also features a Gulf front swimming pool and a fun Game Room.
Reflections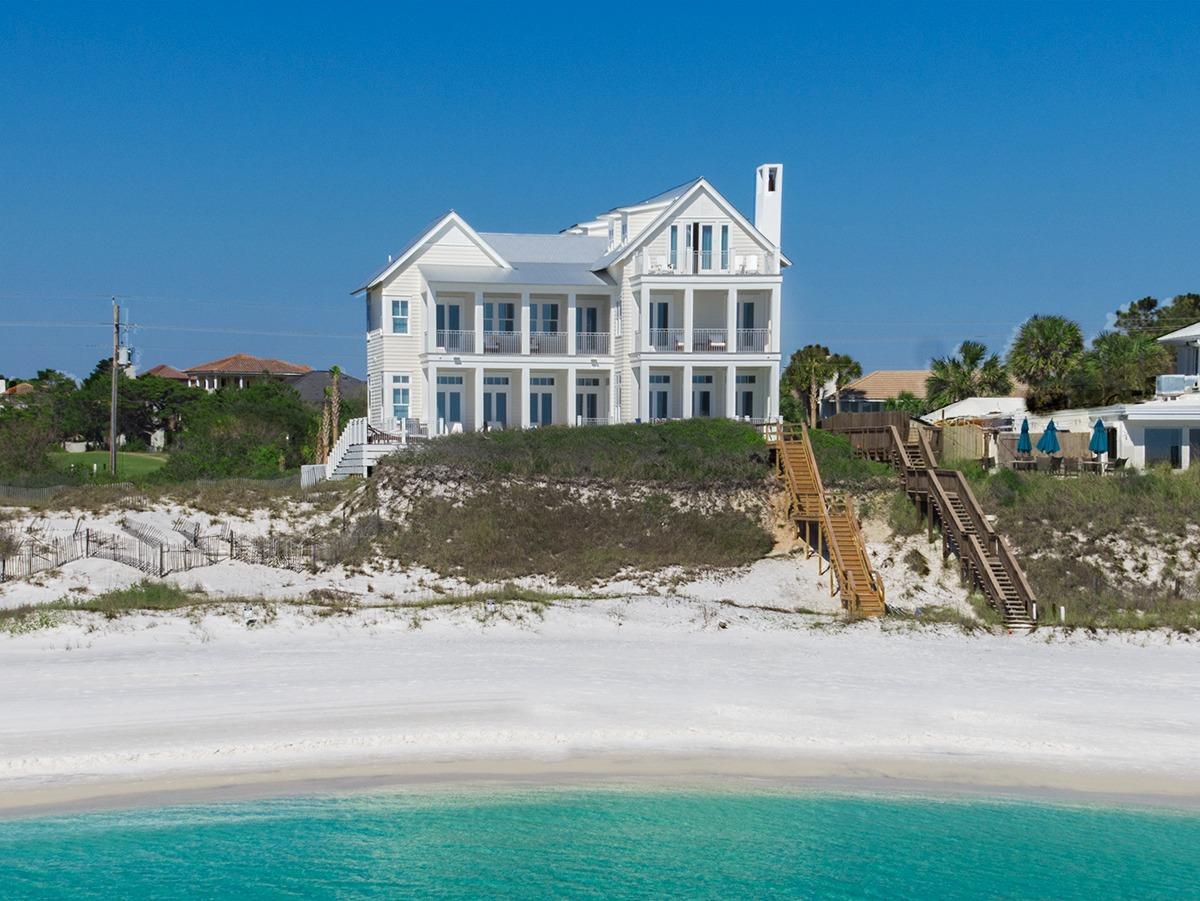 6 Bedrooms / 6.5 Bathrooms / 20 Guests
Reflections is a stately three-story home in Santa Rosa Beach that has six bedrooms with the ability to place up to 20 guests in the lap of luxury. The premiere perch high upon an ancient dune above the long white ribbon of beach provides panoramic views that extend as far as one can see. The bright white comfortable interiors look like the kind of home you usually see featured in the latest issue of Coastal Living Magazine or Architectural Digest. A sundeck with a pool provides gorgeous views of the jewel-toned Gulf.
Happy Days
7 Bedrooms / 7 Bathrooms / 18 Guests
Happy Days will make 18 members of your family and friends very happy since all of them may sleep in beds and enjoy separate living quarters in popular Santa Rosa Beach. Five bedrooms with full en suite baths are in the main manor, and two more bedrooms with a kitchen, living/dining area, and full hall bath are in a Carriage House. A spacious sun deck with a swimming pool has stairs that place you steps away from the beautiful Walton County beach.
Casablanca
7 Bedrooms / 8 Bathrooms / 22 Guests
Casablanca is an absolutely charming 7,300 square foot Mediterranean styled beach manor with seven bedrooms in Santa Rosa Beach on 30A that can accommodate up to twenty-two enchanted guests. Five bedrooms with private baths are in the elegantly furnished main residence while two more bedrooms with en suite baths are in a large Carriage Guest House. Lavish appointments include Travertine Marble flooring, rich hand-carved interior woodwork, columned portals, open Gulf-front verandas, and a refreshing pool. The large Guest House features a Game Room with a pool table, wet bar and media room on its lower level with a living/dining area beside a kitchenette on its second floor off the bedrooms.

Our very user-friendly Ocean Reef Resorts website includes detailed descriptions of each one of these great Walton County beachfront vacation homes along with multiple images, seasonal rates, satellite views of each individual property location, and dates available to secure reservations. Enjoy taking time to select your own favorite to share with family and friends on your next trip down for an exciting magical, memorable time at the beach!