Posted on 7/16/2021
Welcome to Blue Mountain Beach, a laidback beach town located on the picturesque stretch of coast known as Scenic Highway 30A. Though not a true mountain, this carefree South Walton community boasts the highest elevation on the entire Gulf… an impressive 64 feet above sea level. Here, you may find yourself having to catch your breath—not because of the elevation, but because of the breathtaking views! Blue Mountain Beach is the recipient of the coveted Blue Wave Beach Award, the nation's highest recognition for the beach environment's pristine cleanliness and natural beauty.
In addition to its beautiful shoreline, Blue Mountain Beach is home to a variety of shops and restaurants. Blue Mabel Smokehouse & Provisions is a well-loved restaurant with delicious Gulf-to-table menu options. The Blue Mountain Creamery is the place to go on 30A for homemade ice cream and other tasty treats. If you're interested in art, you can check out the awesome art gallery of Justin Gaffrey, a previous winner of South Walton's Artist of the Year Award. When you're in the mood to explore the beautiful area, head on over to Big Daddy's Big Shop. Other Blue Mountain Beach establishments include Johnny McTighe's Irish Pub, Red Fish Taco, For the Health of It, and more.
Ocean Reef Resorts is proud to offer deluxe accommodations in Blue Mountain Beach for our friends visiting South Walton. These include comfortable Blue Mountain Beach vacation homes that can sleep anywhere from nine to twenty vacationers. Whether you're looking to book a small getaway or a large family reunion, we have rental homes to meet your needs. Check them out!
3 Doors Down
5 Bedrooms / 4.5 Bathrooms / 16 Guests
3 Doors Down is a stunning new home that sits just across the street from the gorgeous 30A shores. With five bedrooms, this residence can host up to sixteen beachgoers. The home is painted in a charming blue with white accents, helping it blend beautifully into its coastal surroundings. Large windows and glass doors throughout provide a welcoming atmosphere, perfect for relaxing and hanging out with your fellow vacationers. Located on the third floor, the master suite is a dream. It features a plush king-size bed, paradise-blue walls, a luxury bath, and access to a furnished balcony with beach views—perfect for watching the sunset with your honey and enjoying your favorite tropical drink. When you're not relaxing indoors, take a refreshing dip in the private pool or hop on over to the beach for a saltwater swim.
On Point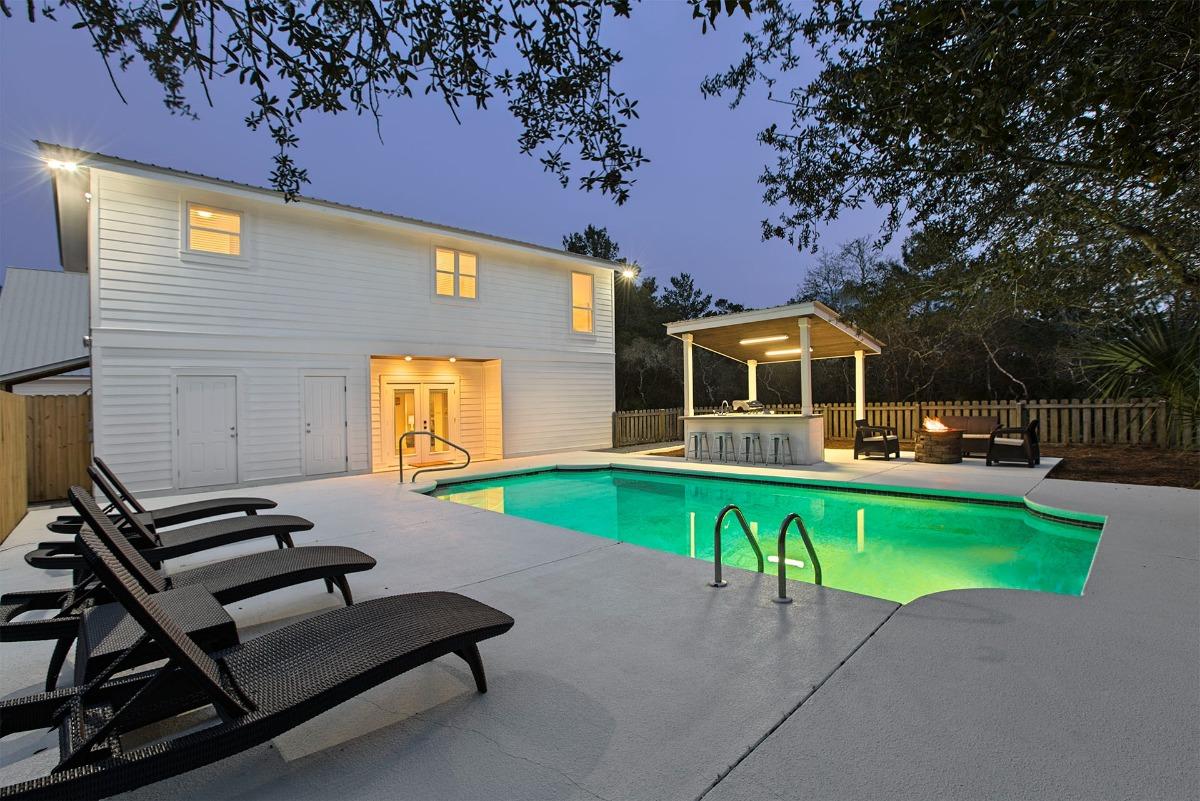 5 Bedrooms / 4.5 Bathrooms / 16 Guests
On Point is a Blue Mountain Beach vacation residence that exudes charm and exemplifies the very best of a chic beach lifestyle. It features five bedrooms and can accommodate up to 15 beachgoers. With a separate guest house, the property is a true vacation compound and perfect for mixed families or groups of friends. This stately property is a short stroll away from the neighborhood beach access that leads down to the iconic sugar sand. However, you don't even have to go beyond the back door in order to have a refreshing dip, as this hospitable home also comes with its own private pool.
Cliffview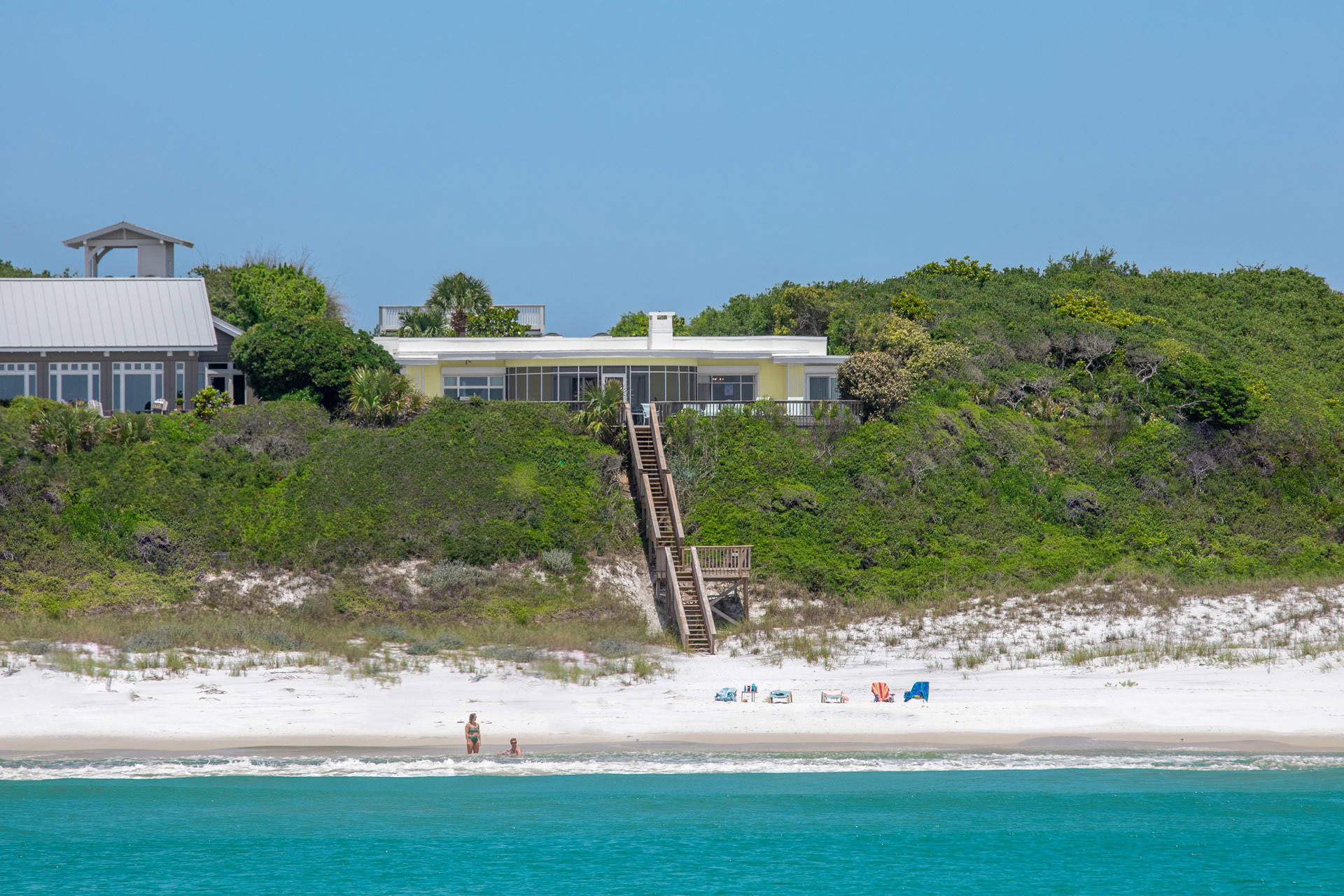 5 Bedrooms / 5 Bathrooms / 14 Guests
Cliffview is an appropriately named beachfront vacation home, as it is perched high up on a dune "cliff" that overlooks the Gulf Coast. It has five bedrooms, five baths, and a spacious great room with panoramic beach views. The residence can entertain up to 14 Blue Mountain Beach guests. Fashionably furnished in an original vintage mid-century modern style, the home hearkens back to days gone by, when life was simpler and time moved more slowly. An expansive sundeck and screened-in porch offer guests front row seats to nature's best show—the Gulf of Mexico's crystal shores and emerald waves.
About Time At Redfish
5 Bedrooms / 4.5 Bathrooms / 14 Guests
About Time at Redfish provides a serene setting that overlooks one of Scenic Highway 30A's coastal dune lakes, as well as the glorious Gulf in the distance. The three-level home features five bedrooms, four and a half baths, and gracious living accommodations. It can entertain up to 16 guests. An expansive deck encompasses a private swimming pool, soaking tub, and gas grill for poolside barbequing. A top-floor great room includes areas for spacious, relaxing, dining, and cooking. There is also a balcony deck offering treetop views of the sensational scenery. For an even better view, head up to the rooftop observation deck that looks out over Big Redfish Lake.
C Cottage
5 Bedrooms / 5 Bathrooms / 12 Guests
C Cottage sits atop a sugary sand dune overlooking the pristine Gulf shores. With five bedrooms and five baths, this beachfront rental can accommodate up to twelve vacationers. The home's light-blue and white exterior fits in perfectly with its tropical surroundings. It boasts furnished, tiered patios and a white staircase that leads directly to the beach. The nautically inspired interior is bright and inviting, featuring large windows with watery views and an open floorplan that accentuates its spaciousness. Guests will love the blue-and-white master suite, which includes a king-size bed, full sitting area, luxury bathroom with a deep soaking tub, and patio access. A separate guest house offers additional living and sleeping quarters.
View of Blue
4 Bedrooms / 3 Bathrooms / 13 Guests
View of Blue is a luxurious, Gulf-view vacation home with four bedrooms and three baths. Up to 13 vacationers may enjoy the comforts provided by this elegant home. The home and its picture-perfect location will inspire its guests to pop open a bottle of bubbly beside its lagoon-shaped swimming pool, which is surrounded by a sunny patio festooned with palm trees and tropical plants. The upscale interiors boast tasteful décor with an eye toward comfort. A master suite incorporates the entire third floor that includes a lavish bath, romantic balcony, and wet bar. The guest bedrooms are on two other levels with king-, queen-, and twin-size beds. A tower room includes a den and rooftop observation deck to enjoy the beach views.
Sandy by the Sea
4 Bedrooms / 2 Bathrooms / 13 Guests
Sandy by the Sea warmly embraces the golden days of yesteryear with a white picket fence, a wraparound porch, and an upstairs balcony. Four bedrooms comfortably host up to thirteen guests. It is pet-friendly, so you can bring your furry family members along for the vacation fun! The charming master bedroom suite encompasses nearly the entire second floor, and it has its own private bath, screened-in porch, and an open balcony. A lagoon-shaped private pool provides immediate refreshment, and the beautiful beach is just minutes away.
Are We There Yet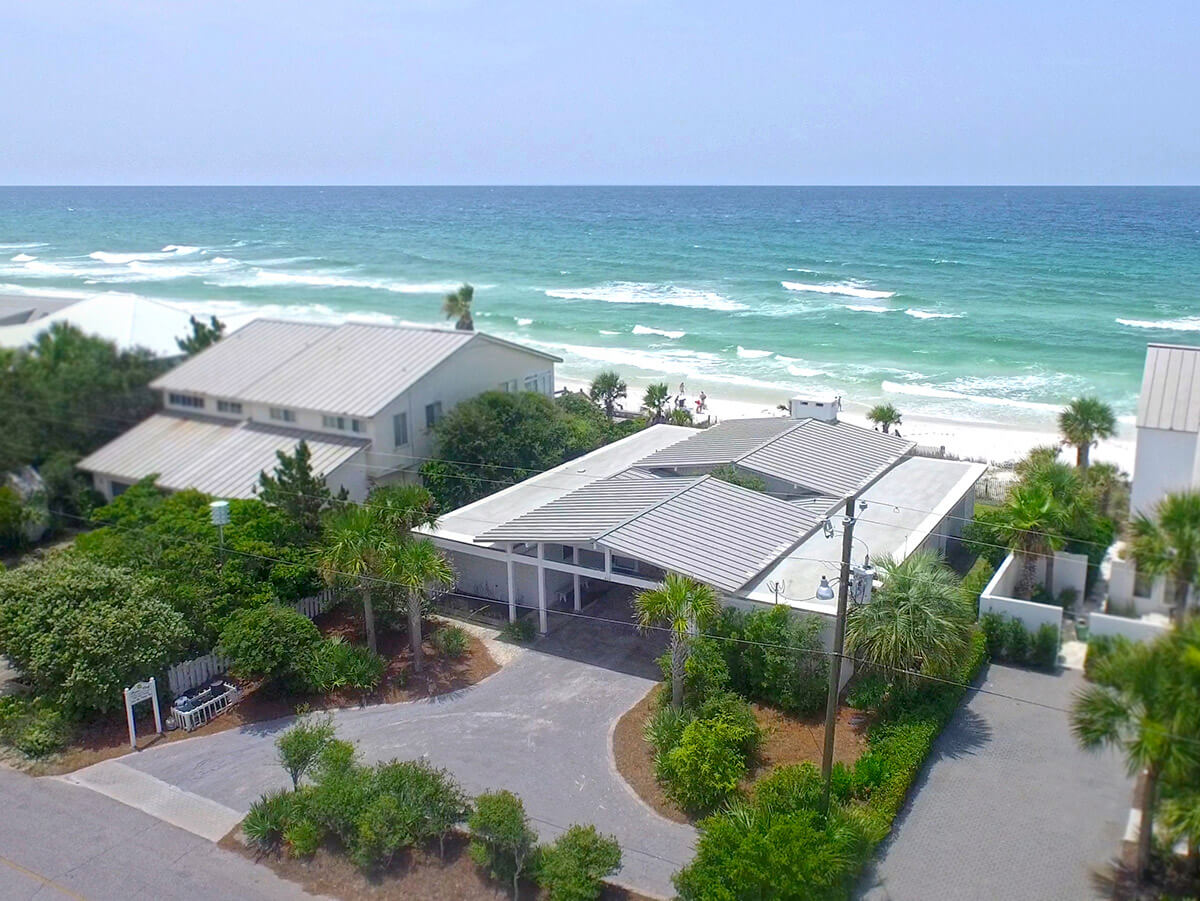 4 Bedrooms / 4 Bathrooms / 10 Guests
Are We There Yet is a wonderful contemporary-styled Blue Mountain Beach vacation home perched on the Gulf's shimmering shoreline. It can accommodate up to nine guests. Upon arrival, you will feel like you have fallen into a paradise dream. The beachfront rental home is beautifully decorated and well-appointed with modern 21st-century amenities that place you squarely in the lap of luxury. Soaring cathedral ceilings in the main living area have walls of glass doors, which lead to an open sundeck overlooking miles of sugary shores and glittering waves that extend into the sparkling horizon. Each of the four bedrooms is comfortably furnished, and three are master suites with king-size beds, private bathrooms, and glass access doors with dazzling Gulf views.
Playa Azul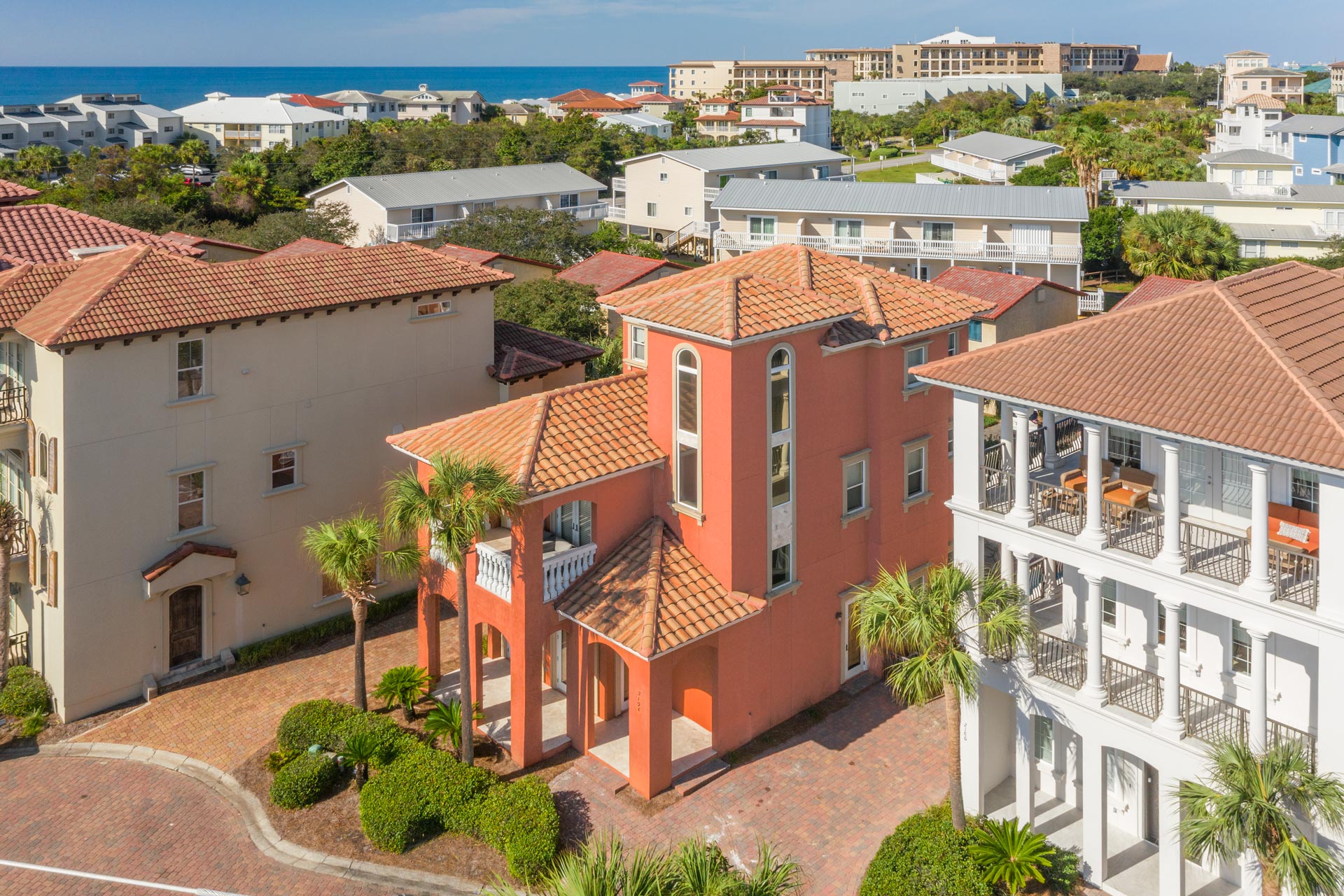 4 Bedrooms / 4 Bathrooms / 12 Guests
Playa Azul is a Mediterranean-styled beach home with four bedrooms and four baths. Up to 12 guests can enjoy the comforts provided by this stately residence. Inside, sunshine yellow walls radiate a bright and happy ambiance. Marbled pillars add a regal spin to the laidback atmosphere. The living room features an oversized wraparound couch that faces a handsome entertainment center, creating a relaxed spot to hang out with your fellow vacationers. The third floor is dedicated to the master suite, which is adorned in coastal décor and has its own romantic balcony. Though the beach is only a short walk away, you can always take advantage of the solitude of the home's private pool before heading to the salty shores.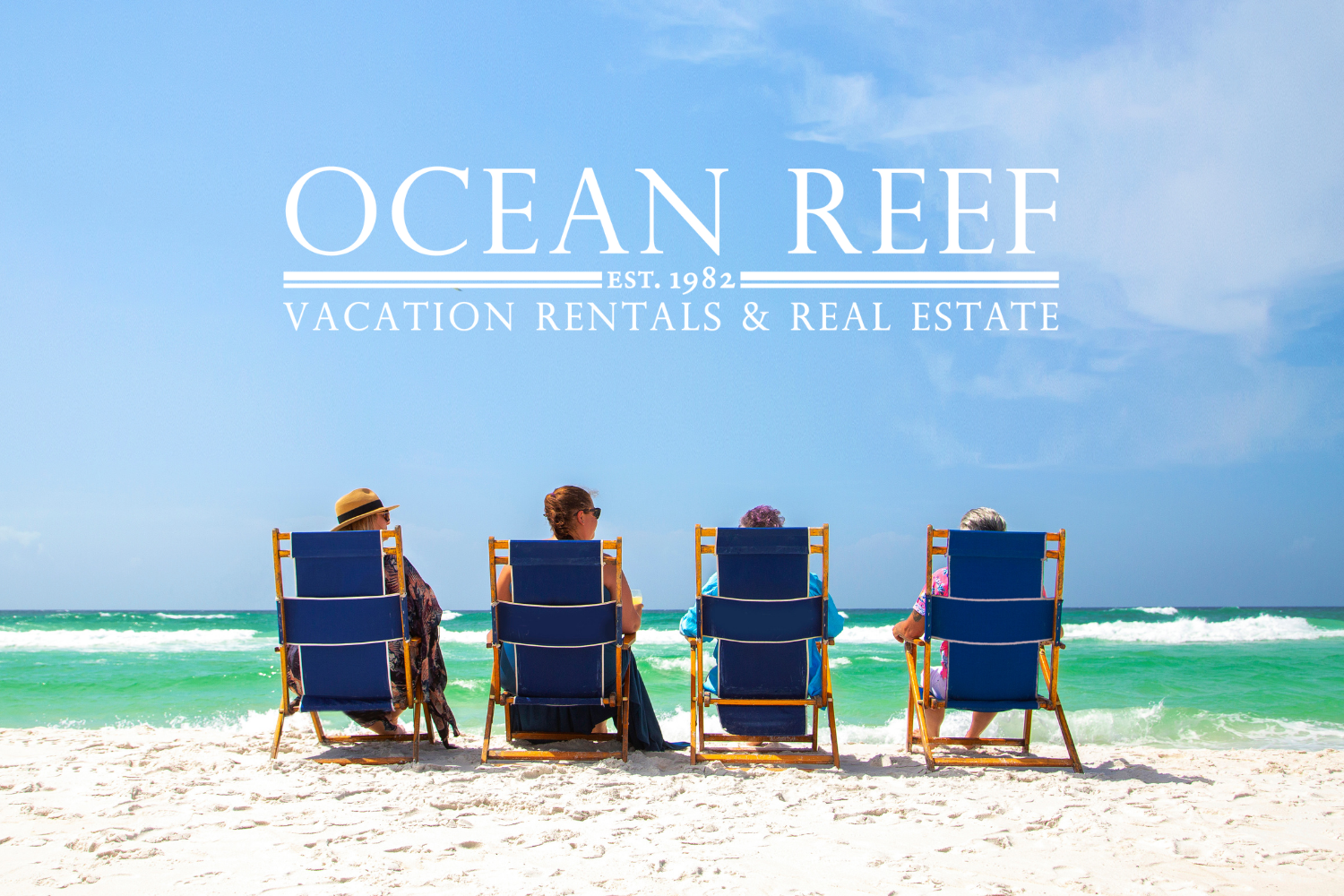 Love these rental properties in Blue Mountain Beach? Explore them all to find the one that meets your vacation needs, and book your stay with us!