Posted on 8/22/2023
Welcome to the vibrant world of Crystal Beach in Destin. This area earns its name from the shimmering white quartz crystal sands that have contributed to Northwest Florida's Emerald Coast's renowned status across the nation. The luminous shoreline, with its sparkling sands, borders the radiant, ever-changing jewel-toned Gulf of Mexico, creating a truly dazzling spectacle. Before we delve deeper into the exquisite condos awaiting your discovery, let's embark on a journey through the area's prime location and amenities. If you're eager to explore the vacation rentals immediately, feel free to jump ahead to our list of Beachfront Condos in Destin's Crystal Beach. Otherwise, come with us as we unveil the gems of Crystal Beach and beyond.
Crystal Beach Location & Amenities:
Crystal Beach is ideally situated between Downtown Destin and Sandestin Golf & Beach Resort in Miramar Beach, positioning you just a short distance from:
A Mediterranean-inspired shopping oasis only blocks away. Here, pedestrian-friendly avenues lined with Royal Palms take you on a journey past clothiers, jewelers, boutiques, and an array of dining options. Entertainment abounds with the AMC Multiplex Theater, seasonal festivals, and family-friendly features like classic fountains and a children's geyser plaza. Anchored by Bass Pro Shops, Belk's, and Buck's Fish Bowl & Grill, you're also conveniently close to grocery options like Publix, Fresh Market, and Whole Foods.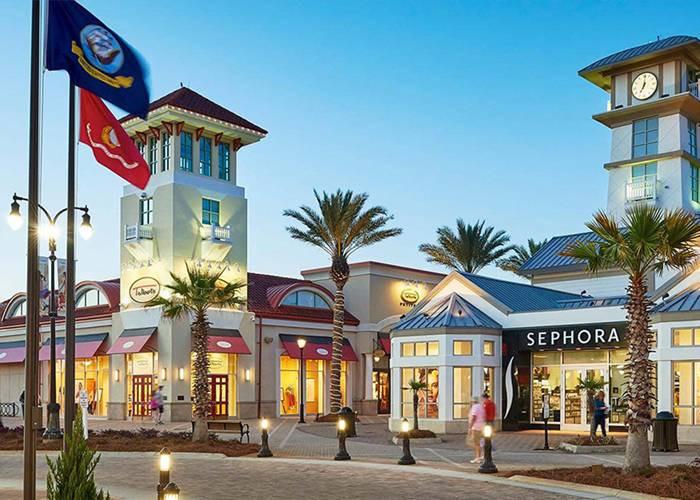 Destin's premier waterfront destination with a panorama of the bustling marina. Embrace the Americana charm as you discover dockside restaurants, lively bars, and specialty shops. Families can revel in unique amusements, including magic shows, zip lining, and rock climbing. The boardwalk often pulsates with live music, outdoor concerts, and vibrant seasonal firework celebrations. Maritime enthusiasts can embark on sunset dinner cruises, dolphin-watching excursions, and fishing charters.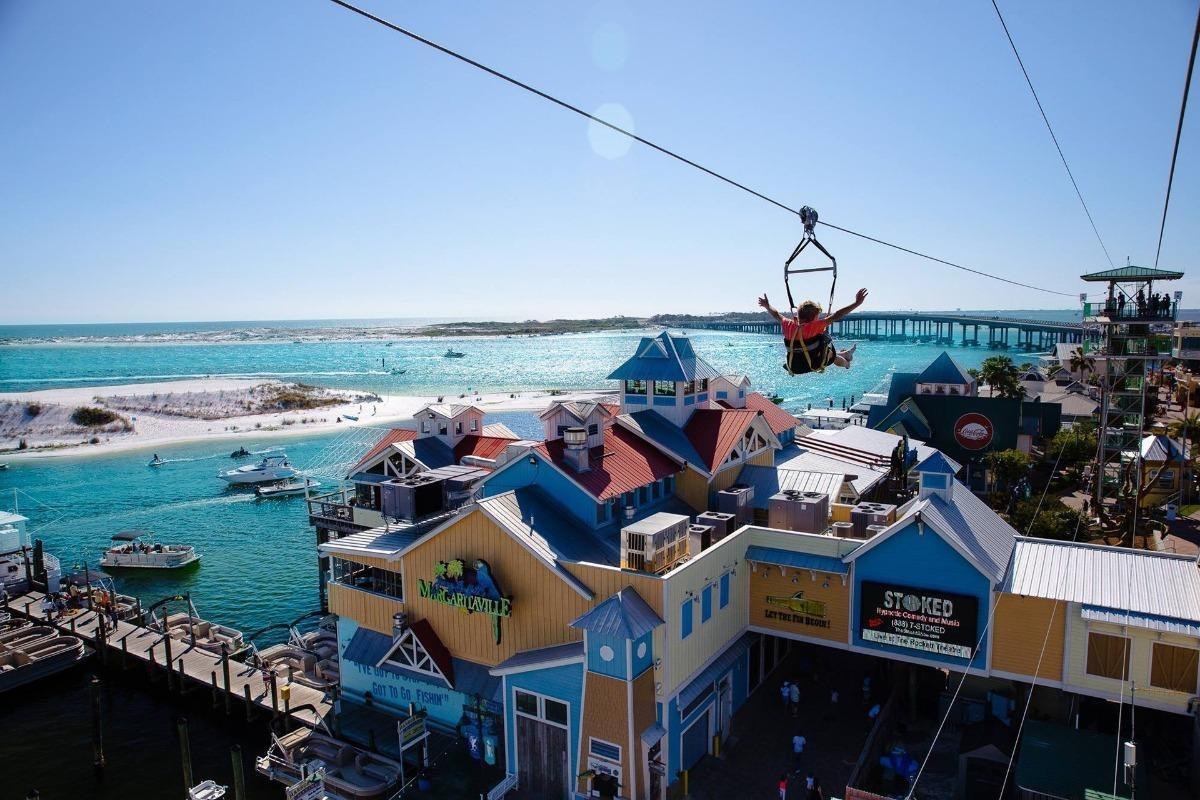 An upscale, tropically inspired venue offering an eclectic mix of boutiques, fine dining restaurants, and cafes. Shop at national retailers and local boutiques. After shopping, enjoy a performance at the theater or dine al fresco at one of the many restaurants, surrounded by manicured gardens and water features. Regular art exhibitions, wine festivals, and farmer's markets add to its rich tapestry of experiences.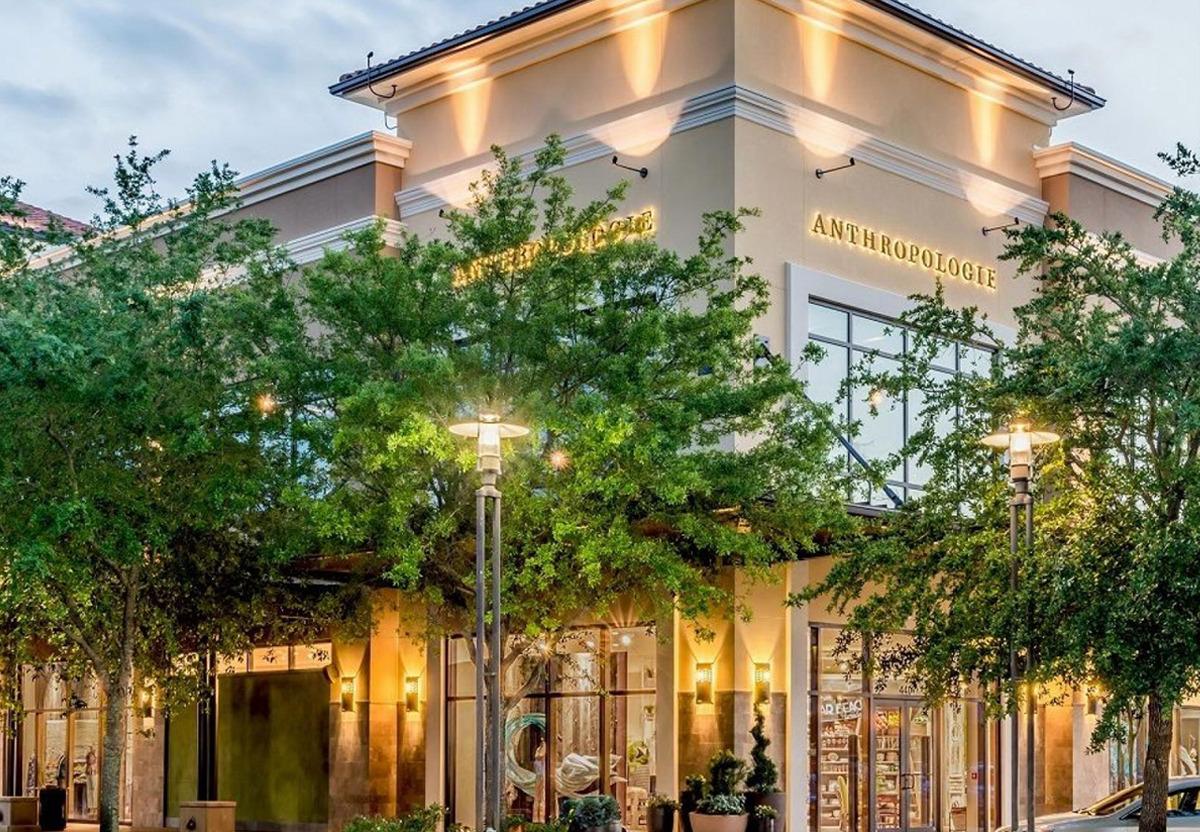 Village of Baytowne Wharf
This New Orleans-inspired enclave boasts cobblestone pathways leading to myriad pleasures. Savor culinary delights from casual eateries to gourmet restaurants. Bars and pubs echo with live music, while the village square becomes a focal point for festivals, art shows, and seasonal firework displays. Children can enjoy adventure lands with zip lines, a carousel, and an arcade, making it a family favorite.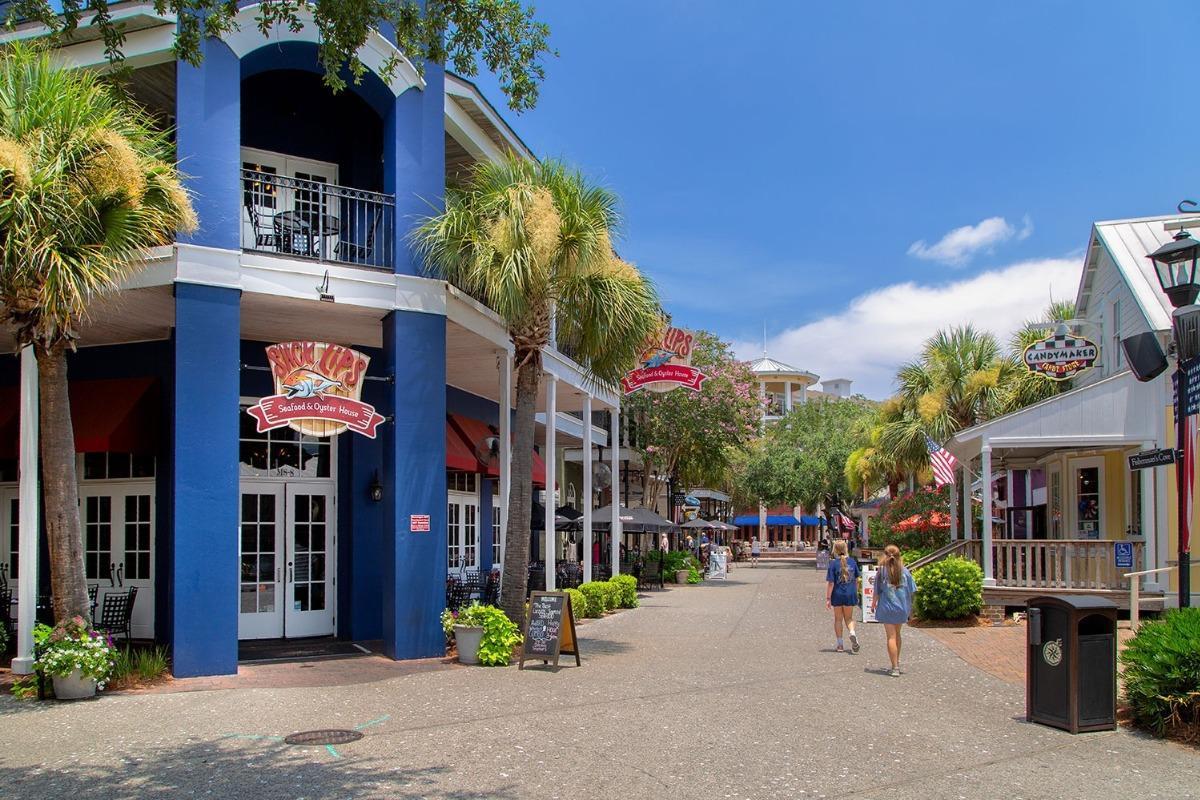 Sports and beach enthusiasts aren't left behind, with the nearby Seascape Resort offering championship golf courses, a professional tennis center, and beach watersport rentals. Special discounts are available for our guest via our Reef Rewards program.

Even More on Crystal Beach: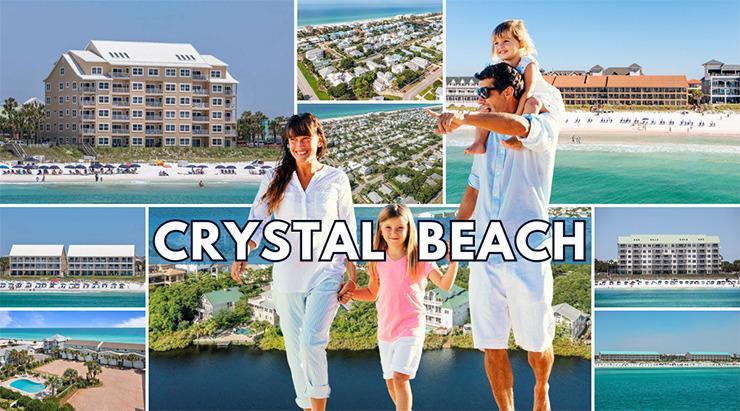 Nestled in an ideal spot, Crystal Beach places you just moments away from a spectrum of conveniences: from essential grocery stores to vibrant gulf-front eateries, chic beach bars, and enticing shopping locales.
Beachfront Condos in Crystal Beach
Ocean Reef Resorts is delighted to showcase a collection of exquisite, privately-owned beachfront condos in five prime destinations in Crystal Beach, lining Scenic 98 in Destin. Our esteemed locales encompass Coral Reef Club, Crystal Dunes, Crystal Sands, Crystal Villas, and Emerald Dunes. Each of these exclusive properties boasts unique charm and amenities tailored for an unforgettable coastal experience. From panoramic gulf-front views to meticulously designed interiors, our condos are a testament to luxury and comfort on the Emerald Coast. Dive into the details and find your perfect seaside escape. We invite you to explore a glimpse of each.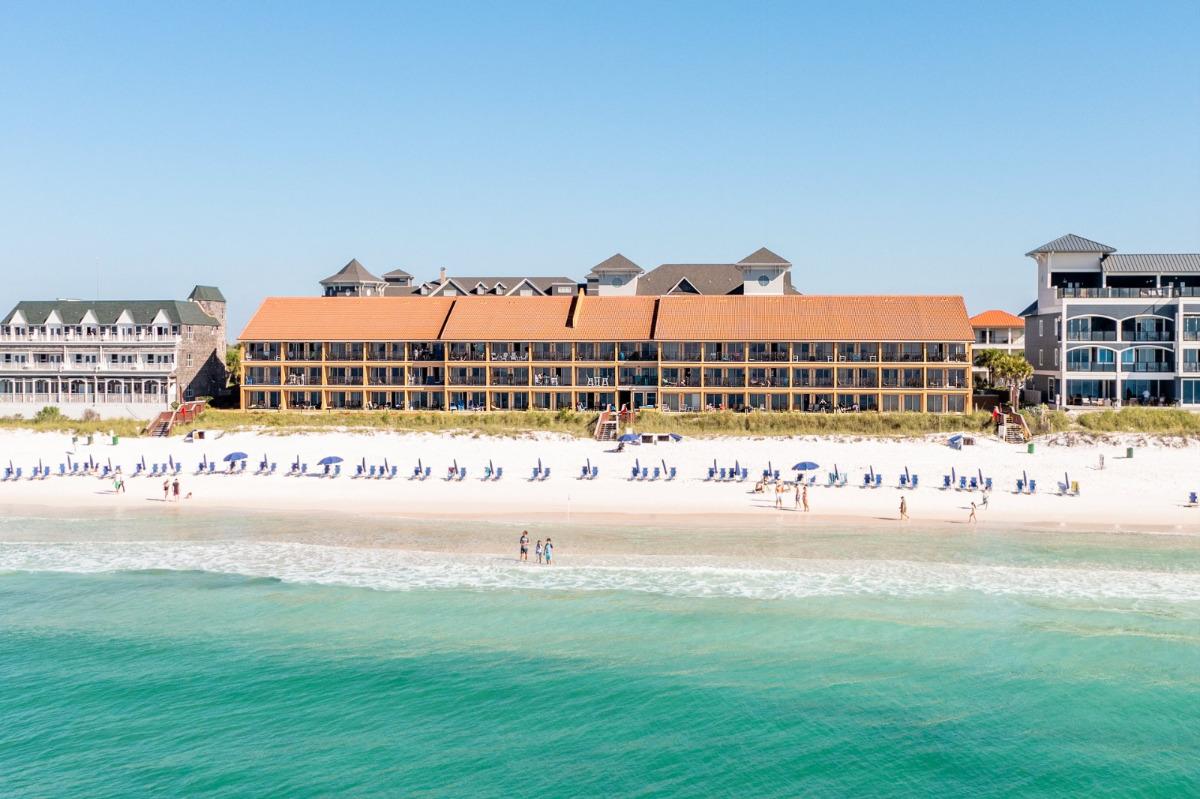 1 Bedroom / 1 Bathroom / 6 Guests
Coral Reef Club is a low-density beachfront Crystal Beach condominium complex overlooking the glittering emerald-hued waters of the glowing gulf. The connected buildings are only three stories tall, with one-bedroom condos accommodating up to six happy beachgoers. They feature furnished first-floor covered beach patios or upper-level balconies which span across each residence and invite you to enjoy the sensational water vistas. Besides the beach, the Coral Reef Club features a sparkling swimming pool that is heated during the chilly times of the year, a fitness room, and grills inviting you to enjoy wonderful outdoor cookouts.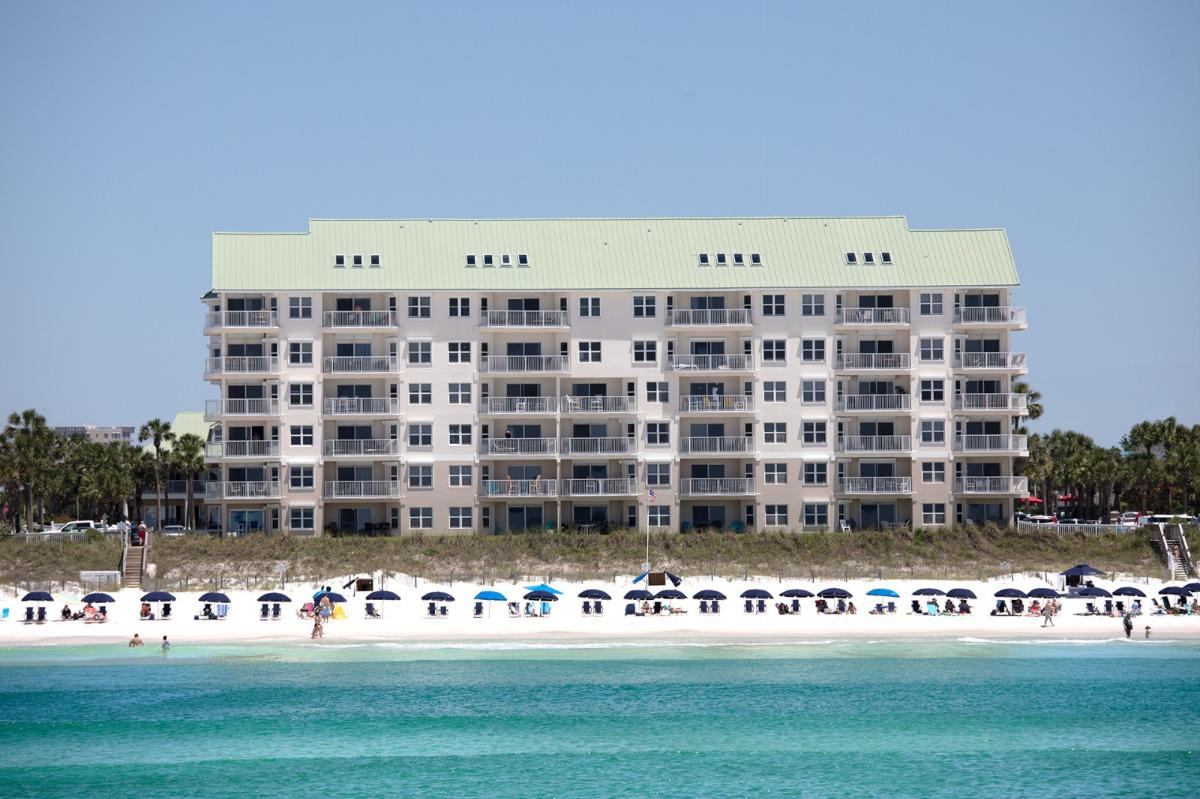 3 Bedrooms / 3 Bathrooms / 10 Guests
Crystal Dunes is an exclusively gated upscale six-story-tall beachfront building that majestically towers above the shore with a prominent position and regal presence. The grounds are studded with abundant palm trees and other tropical plants. There are only thirty-eight condos, and these three-bedroom properties can accommodate ten privileged guests. This gulf-front enclave sits right next to the pure sugary white shoreline overlooking the luminescent waters of the gulf. A lovely lagoon-shaped swimming pool that is seasonally heated is surrounded by lush plants near a bubbling hot tub for pampered relaxation. The adjoining pool patio has plenty of seating for leisurely lounging, and tropical palm trees border the perimeter. A short stairway provide easy access to the sugary shoreline, steps away.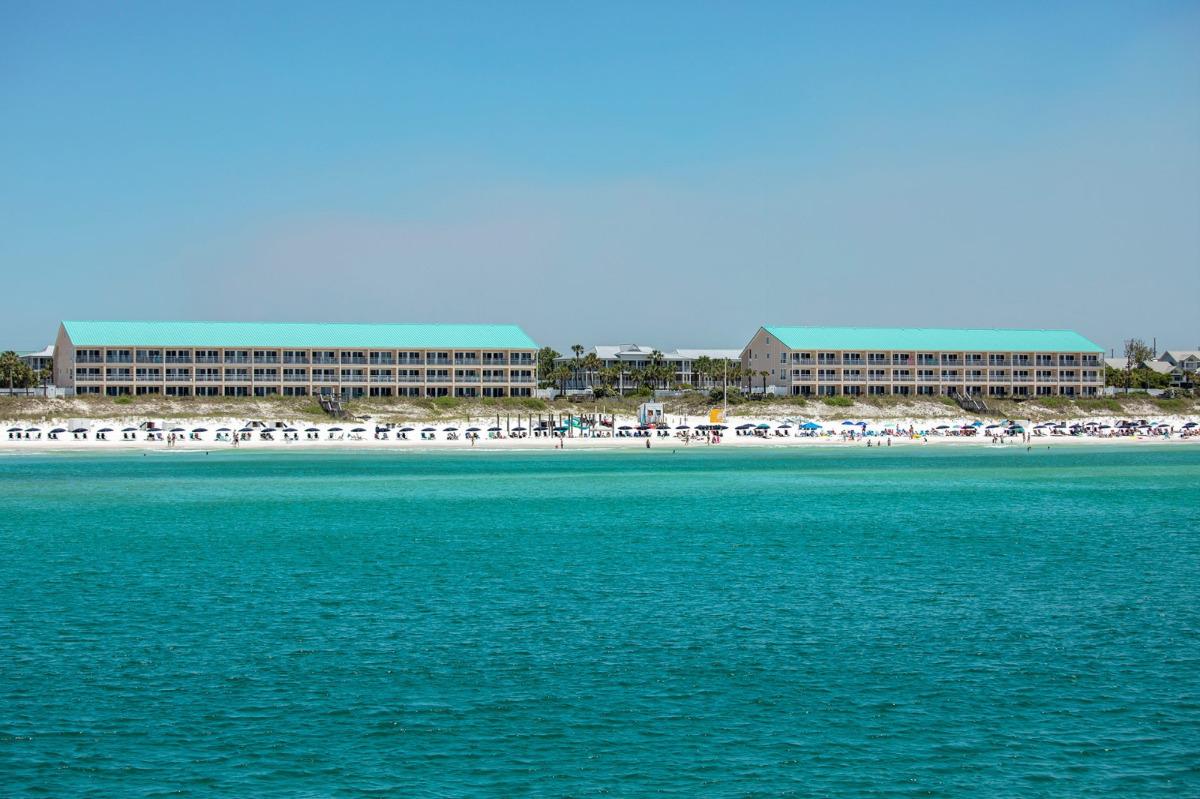 1-2 Bedrooms / 1-2 Bathrooms / 6-12 Guests
Crystal Sands has two beachfront buildings that sit beside one another with brilliant blue rooftops that provide a striking accent against the brilliant white sands and emerald-hued waters. Here the atmosphere is decidedly laid back, which is somewhat surprising since the physical location is near the heart of everything this area offers. Spacious one and two-bedroom rental properties can accommodate six to twelve beach-going guests. They all include a beach patio or a breezy balcony with spectacular gulf views. These Destin vacation rentals have open-concept living areas that feature comfortable furnishings lavished in several coastal styles with individualized décor. Swimming pools are located at each building, and one is heated for use during the chilly times of the year. A bubbling hot tub remains heated for year-round use and soothing relaxation.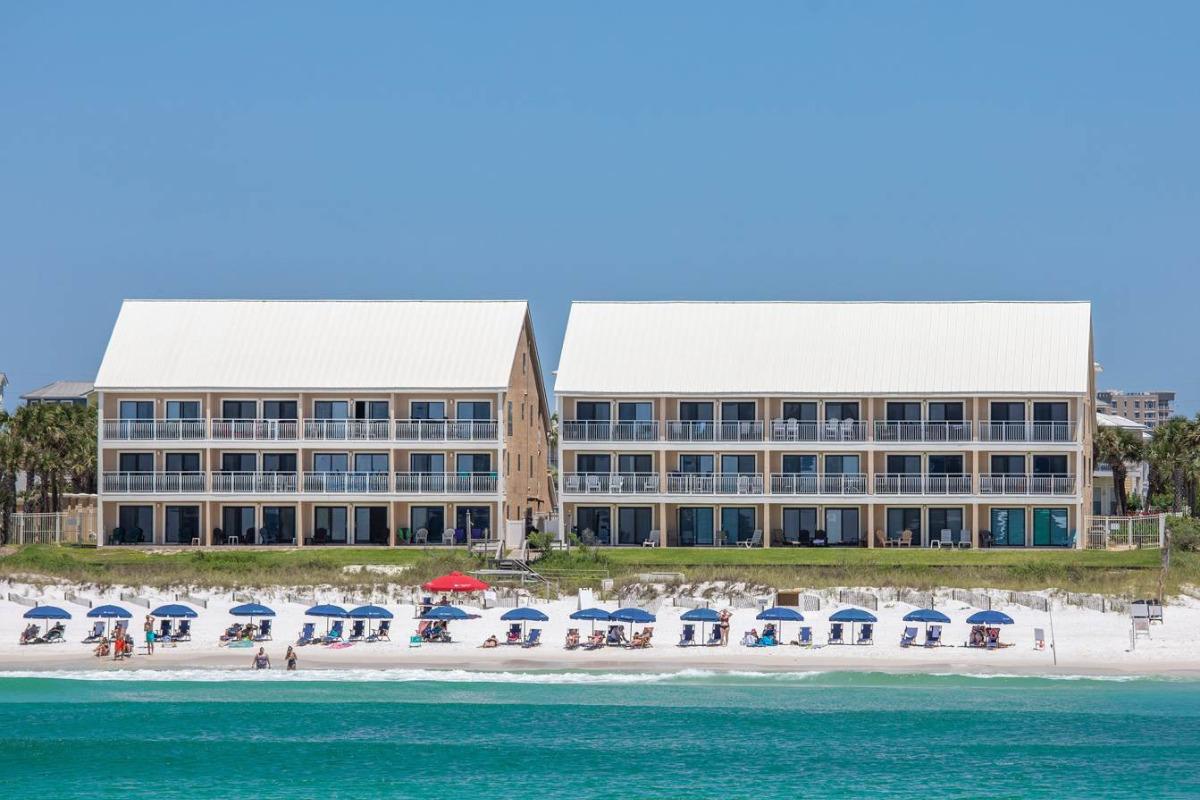 1 Bedroom / 1 Bathroom / 6 Guests
Crystal Villas is a small gulf-front condominium complex only three stories tall and sits less than fifty feet from the shimmering crystalline shoreline. One-bedroom rental residences with sophisticated coastal-styled furnishings sleep up to six carefree guests. Sliding glass doors lead out onto the breezy beachfront balconies with superb views of the vast sugary shoreline expanse and the glorious gulf's jeweled waters. Comfortable outdoor furnishings invite you to enjoy your favorite tropical drinks, tasty seafood appetizers or have a magical dinner while enjoying the views and listening to the soothing surf. Besides the bright beach, Crystal Villas has a swimming pool available which is also seasonally heated.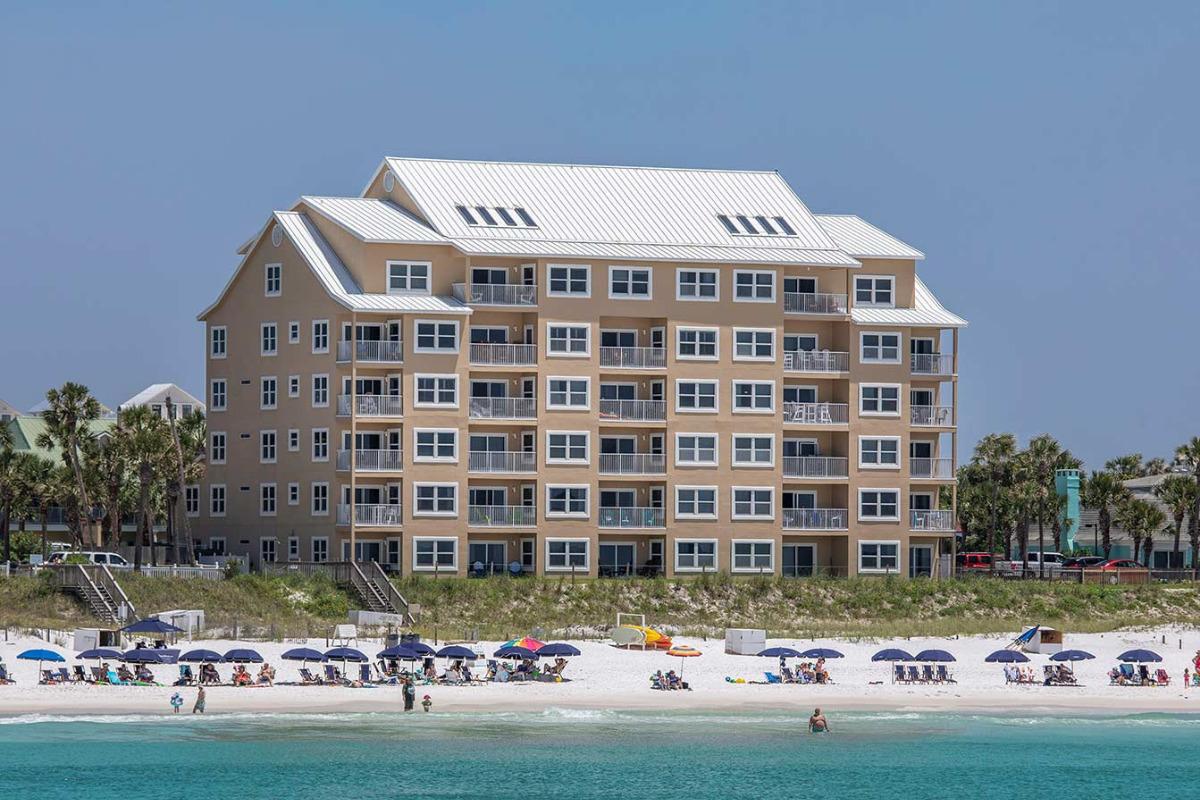 2-3 Bedrooms / 2-3 Bathrooms / 8 Guests
Emerald Dunes is a low-density residential vacation enclave with a lovely gulf-front Destin setting that provides guests an exclusive privileged experience since this six-story building only has twenty-seven condos. Two and Three Bedroom vacation rentals sleep up to eight fortunate guests. Open-concept living areas include comfortable tropical, coastal, and cottage-styled furnishings. Sliding glass doors lead to beach balconies that bid you welcome to experience the stunning water views. Besides the private shore, this community has a swimming pool and simmering hot tub with an expansive sun patio bordered by a virtual sea of palm trees. Gas grills are located right beside the beach with gleaming gulf views and invite you to create a savory 'Surf n Turf' meal for fun poolside dining.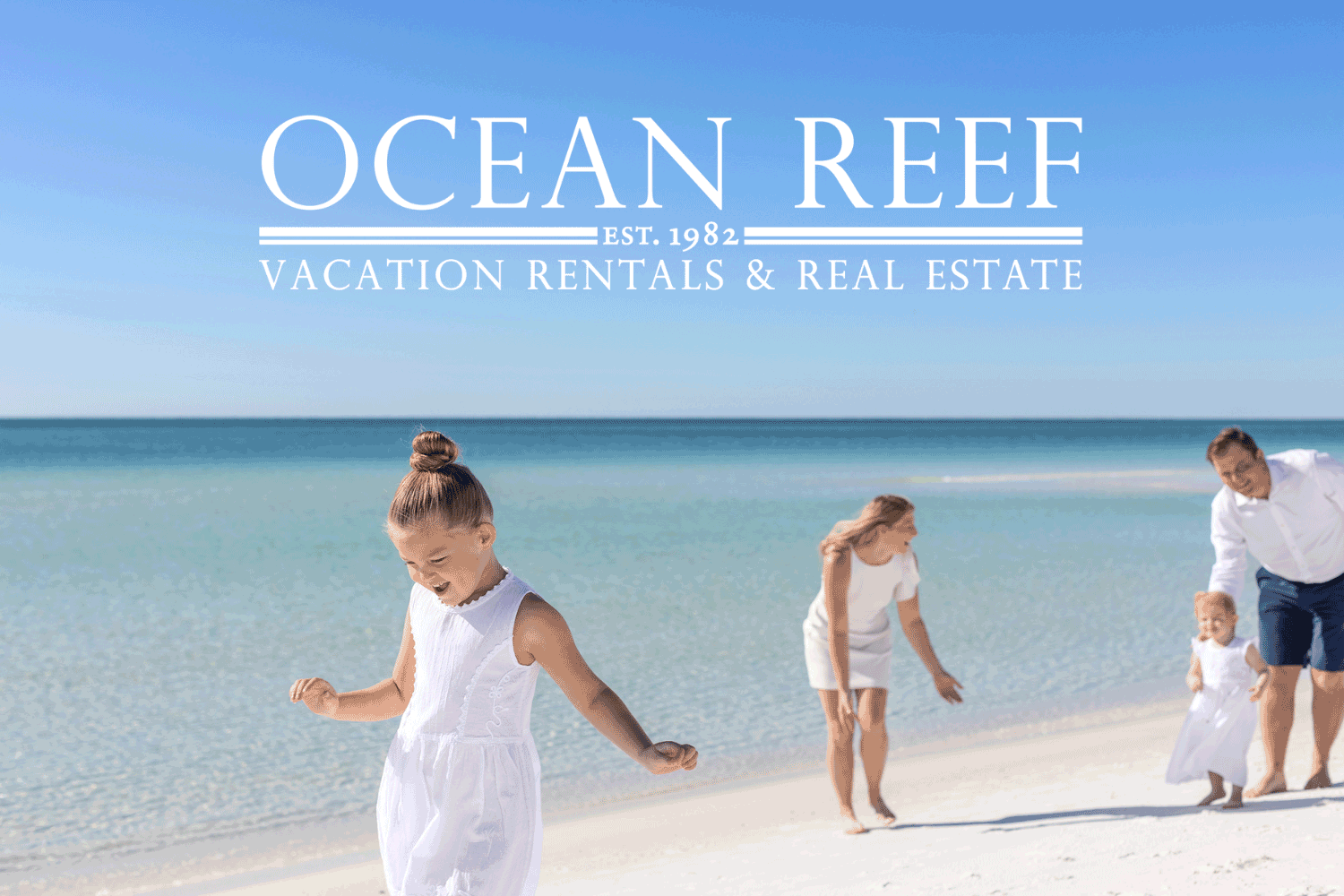 Enjoy looking at these five fantastic gulf-front condominiums in Destin's Crystal Beach, and pick your favorite. Each place and residence has its distinctive style, personality, and comfortable, stylish décor. Our acclaimed Ocean Reef Resorts website includes general descriptions of individual buildings, a seagull's eye view of each location along with details, vivid imagery, seasonal rental rates, and calendar dates available to reserve a condo for your next beach getaway. Get excited because you're all soon going to be having some fun times at Crystal Beach!