Posted on 10/21/2022
You know the old mantra, "location, location, location!" Well, all seven of these wonderful beachfront vacation rental townhomes sit on sugar-white dunes with spectacular views of emerald, jewel-colored waters. They are also located at the most picturesque places along Scenic 30A in South Walton.
Check out these beachfront townhomes on 30A at Sea Bluff, Sea Haunts, Seagrove Dunes, and Walton Dunes to see if one of them could be your next vacation rental when you visit South Walton!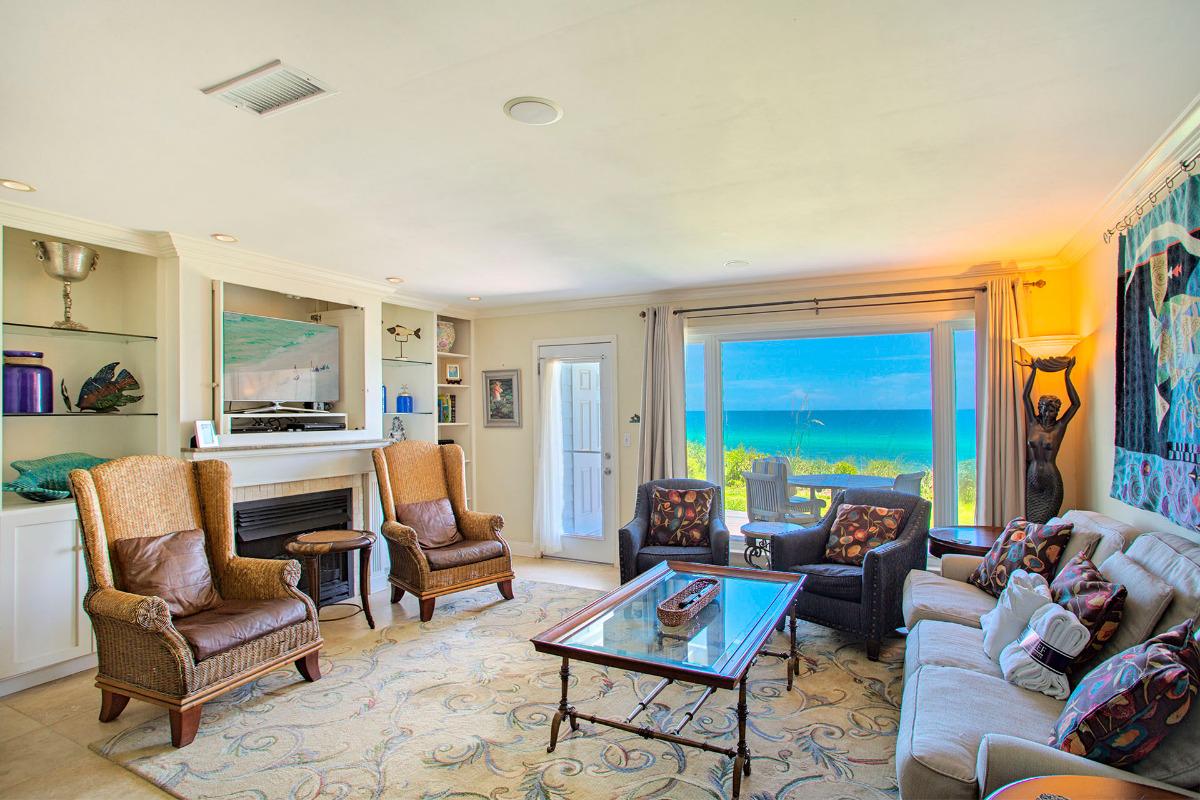 2 Bedrooms / 2.5 Baths / 8 Guests
Sea Bluff 3 is a townhome in 30A's quiet Blue Mountain Beach community. The elegant rental has two bedrooms and can host up to eight vacationers. Its beachfront location and comfortable accommodations are perfect for those looking for a relaxing tropical getaway. Inside, the living room is colorfully decorated with tropical-inspired art and unique statement pieces. A couch, two armchairs, and two matching wing-backed chairs encircle a glass-topped cocktail table, creating a laidback seating ensemble. A floor-to-ceiling window provides unparalleled views of the coast, while a door leads to a furnished patio where guests can enjoy the views.
A large dining area sits beside the living room, boasting a hardwood table and six high-backed chairs seated next to a navy-blue accent wall and wooden buffet chest. Additional seating for three is located at the sleek kitchen island. The open kitchen also boasts spacious countertops, glass-front cabinetry, and stainless-steel appliances.
Each of the bedrooms and bathrooms are unique and colorfully decorated. The primary suite boasts a king-size bed, as well as lavender walls and décor. Two sets of sliding glass doors lead to a beachfront balcony. The ensuite bath is painted orange and features a large vanity. The nautical-inspired guest bedroom has two full-size beds and a private bath with a tub/shower combo.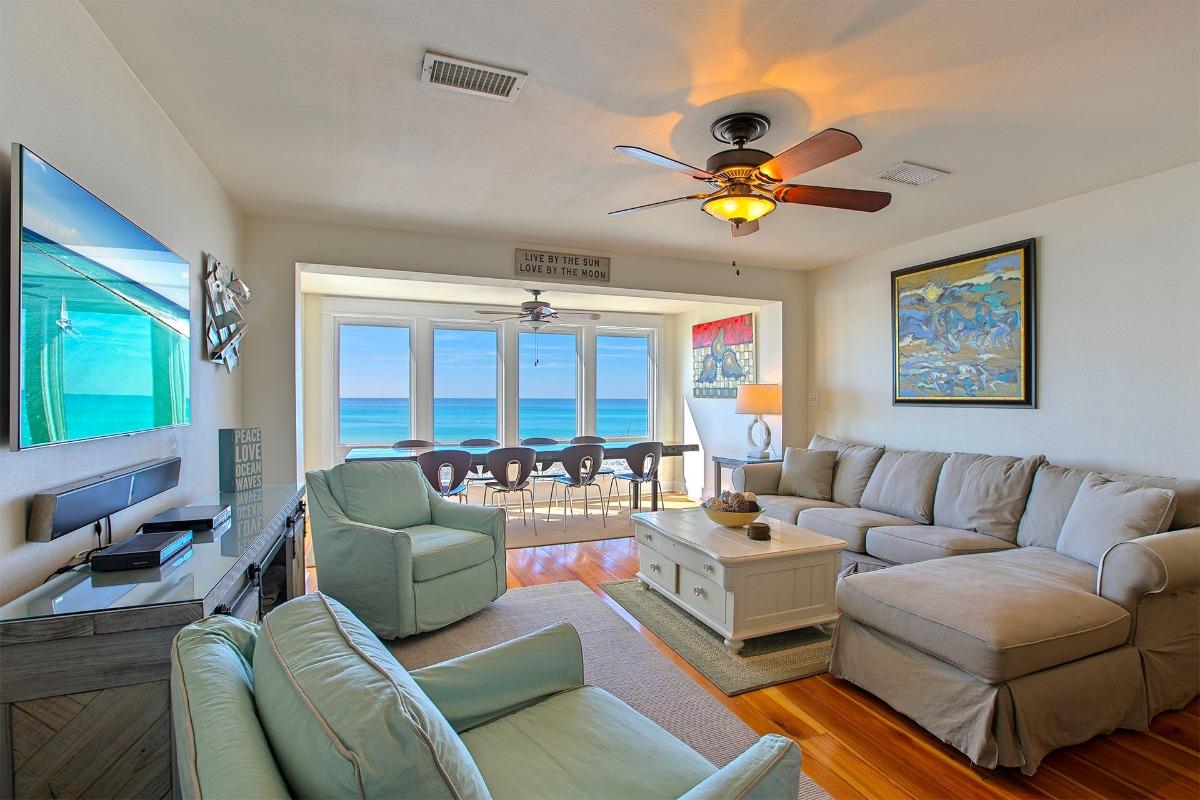 3 Bedrooms / 3.5 Baths / 12 Guests
Sea Haunts 3A is a three-bedroom vacation residence that can accommodate up to 12 guests. This beachfront townhome is in an exclusively gated private residential community in Santa Rosa Beach. However, its close proximity to Gulf Place offers family fun at restaurants, specialty boutiques, and seasonal festivals. At the townhouse, a sundeck offers outdoor fun with bench seating, a shower for sandy feet, and boardwalk access to the beach.
The sunny interiors are professionally decorated with upscale furnishings. The open living area includes floor-to-ceiling windows, whimsical décor, and a cozy seating ensemble. The dining area seats six beside a row of windows, where guests may enjoy vivid vistas while savoring fresh seafood. A granite bar nearby has seats for three more next to the open kitchen.
The primary bedroom has a private bath and a king-size bed decorated with cheerful tropical patterns. An adjacent sunroom sitting area is perfect for spending leisure time enjoying the views. The guest bedroom is decorated with a charming queen-size bed and has access to a full bathroom. A spacious Kid's Bunk Room suite features a colorful set of double bunks, trundles, and a sofa.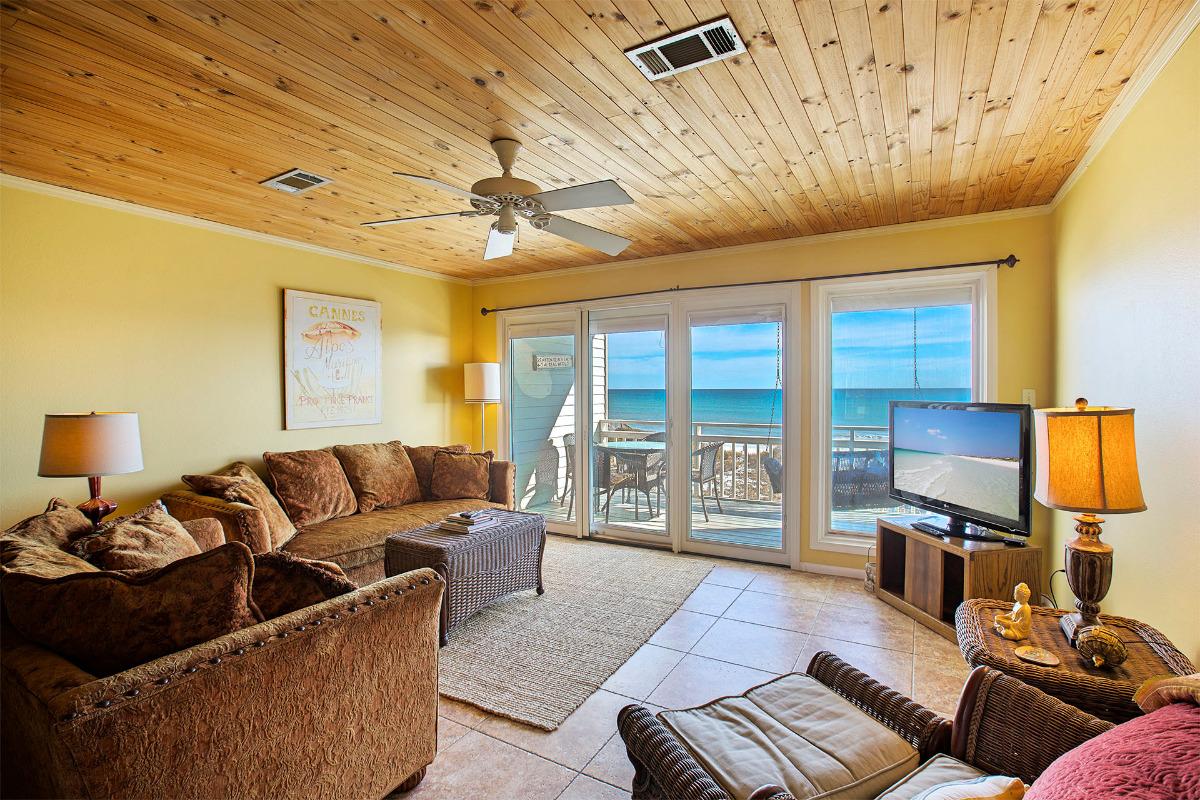 3 Bedrooms / 2.5 Baths / 8 Guests
Sea Haunts 3C is a Gulf-front townhome off 30A with views of lively dunes, crystalline beach shores, and glittering jeweled waves. With sandy-toned tile floors, beachy décor, wood-paneled ceilings, and rustic furnishings, the three-bedroom townhome gives off a beach cottage-meets-mountain cabin aesthetic. The vibe is warm and welcoming, inviting guests to relax and leave their worries at the door.
The living room features sunshine-yellow walls, a plush brown couch and matching loveseat, a straw-woven accent chair and drink table, and a flatscreen TV. The setup enjoys beach views through a wall of sliding glass doors that lead to a breezy balcony furnished with a table, chairs, and a hanging swing. Back inside, the spacious kitchen includes a granite-topped breakfast bar, tiled backsplash, custom wood cabinetry, and contrasting black appliances. There is also a bonus den on the first floor, as well as an outdoor wooden porch with a grill and direct access to the beach.
Each of the three bedrooms boasts a queen-size bed and comfortable furnishings. The primary suite also has a wall of sliding glass doors and access to a romantic balcony—perfect for an evening of sipping cocktails with your person and watching an enchanting beach sunset. The guest bedrooms are sunny, and both are equipped with flatscreen TVs.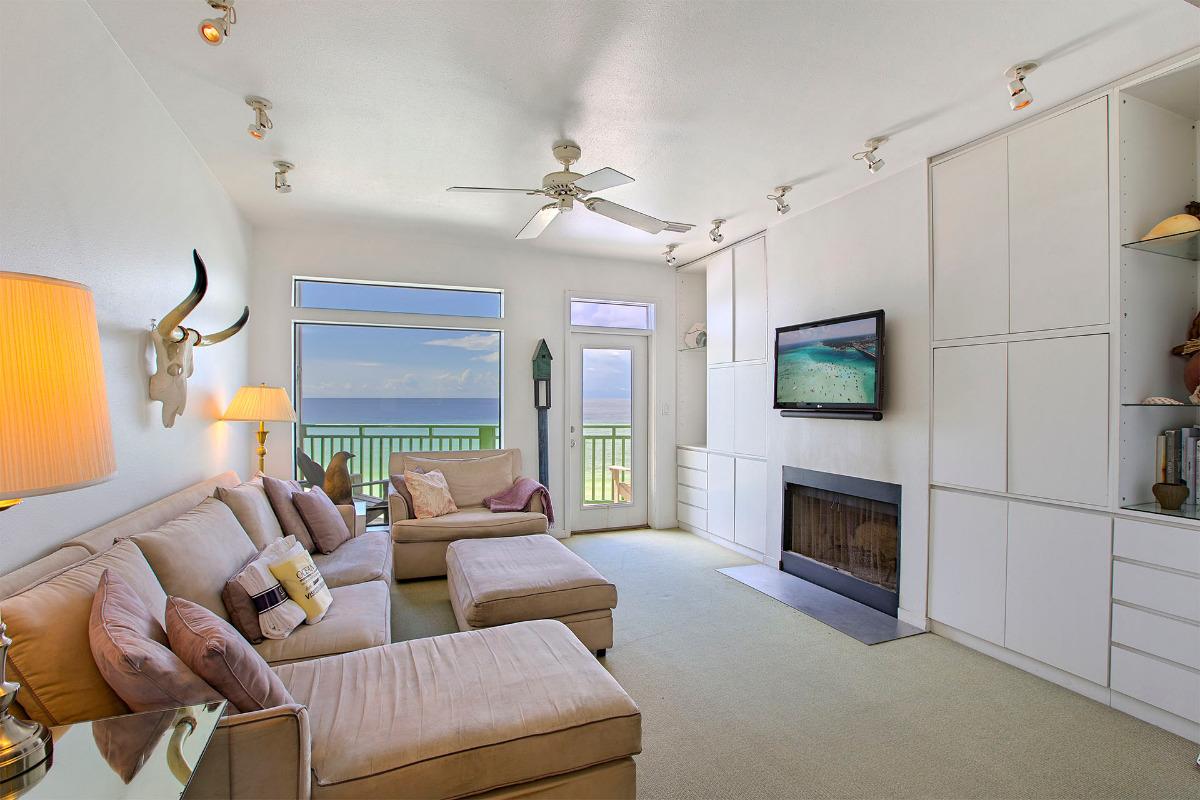 2 Bedrooms / 2.5 Baths / 6 Guests
Seagrove Dunes 2 is a cozy townhome in the peaceful community of Seagrove Beach on 30A. Styled with a Mid Century Modern Vintage feel, this two-bedroom vacation rental is comfortable, warm, and relaxing. From its beachfront balcony, glittering views of the Gulf Coast stretch as far as the eye can see. Guests can also take advantage of those views from inside, as the living area features large windows that overlook the shore. A plush couch, overstuffed armchair, and ottoman make up the cozy seating ensemble that faces a flatscreen TV mounted above a fireplace. Carpeted floors turn to tile as you enter the dining area, which includes an oval-shaped table, eight chairs, and bonus bench seating. Four additional stools are at the granite-topped kitchen bar. White cabinetry, white appliances, and beachy décor give the open kitchen a distinctly coastal feel.
The modern aesthetic extends into each of the bedrooms. The primary suite has a king-size bed, inset cabinetry and drawers, a bookshelf, flatscreen TV, and a private bath. Sliding glass doors access a romantic beachfront balcony. The guest bedroom also has a king-size bed and ensuite bath. Its private balcony overlooks the coastal greenery of 30A.
Because this home is located by the beach, its first-floor porch provides direct access to the soft sandy shores. Whether you want to spend time lounging in the porch swing with a cocktail watching the waves, or down at the beach splashing in emerald waters, you can do that here!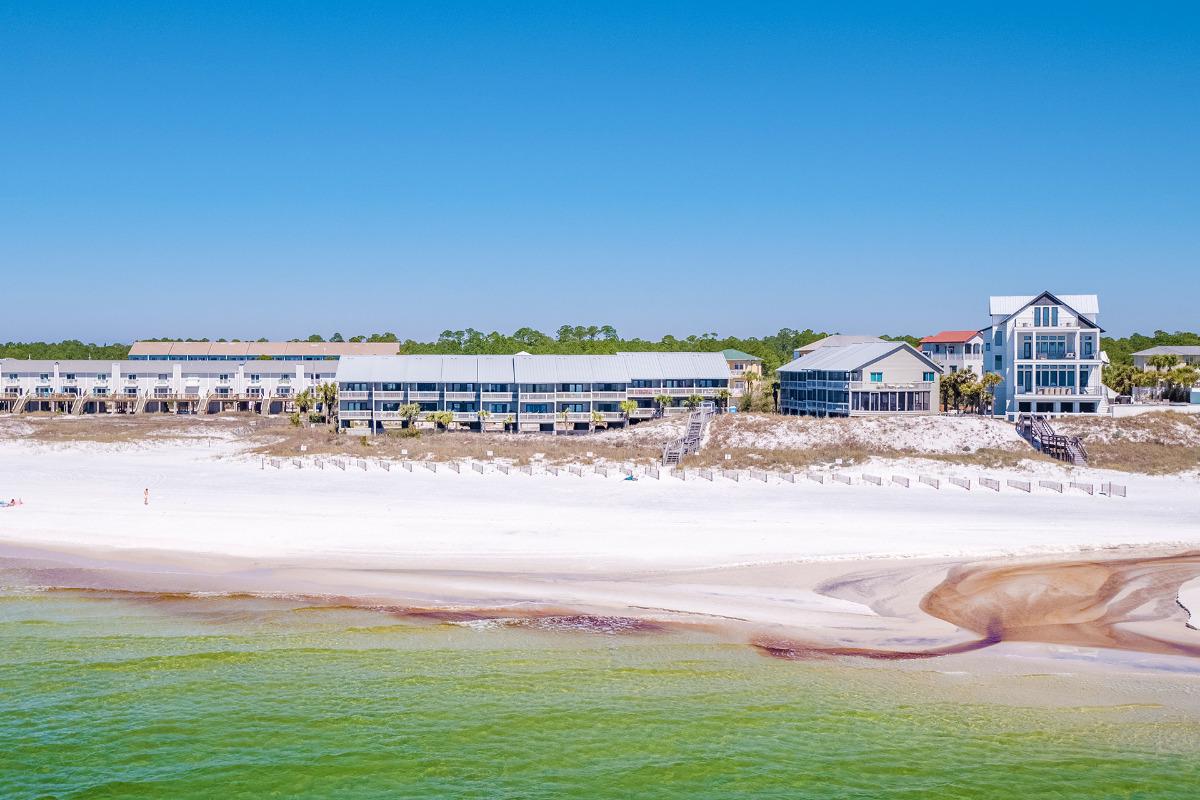 2 Bedrooms / 2.5 Baths / 6 Guests
Walton Dunes 3 is a two-bedroom beachfront townhome with stunning views, cozy accommodations, and close proximity to 30A fun. It borders Deer Lake State Park, a natural treasure and serene sanctuary for woodland hikes, kayak rides, and walks along the sugary beach. Wildlife is abundant here. A raised walkway meanders through the forest above a creek and crosses powdery dunes on the way to the beautiful beach. The townhome itself offers a community BBQ grill for tasty vacation meals. The beach is less than a one-minute stroll away from the property, so you can find yourself lounging on paradise's shimmering shores in no time.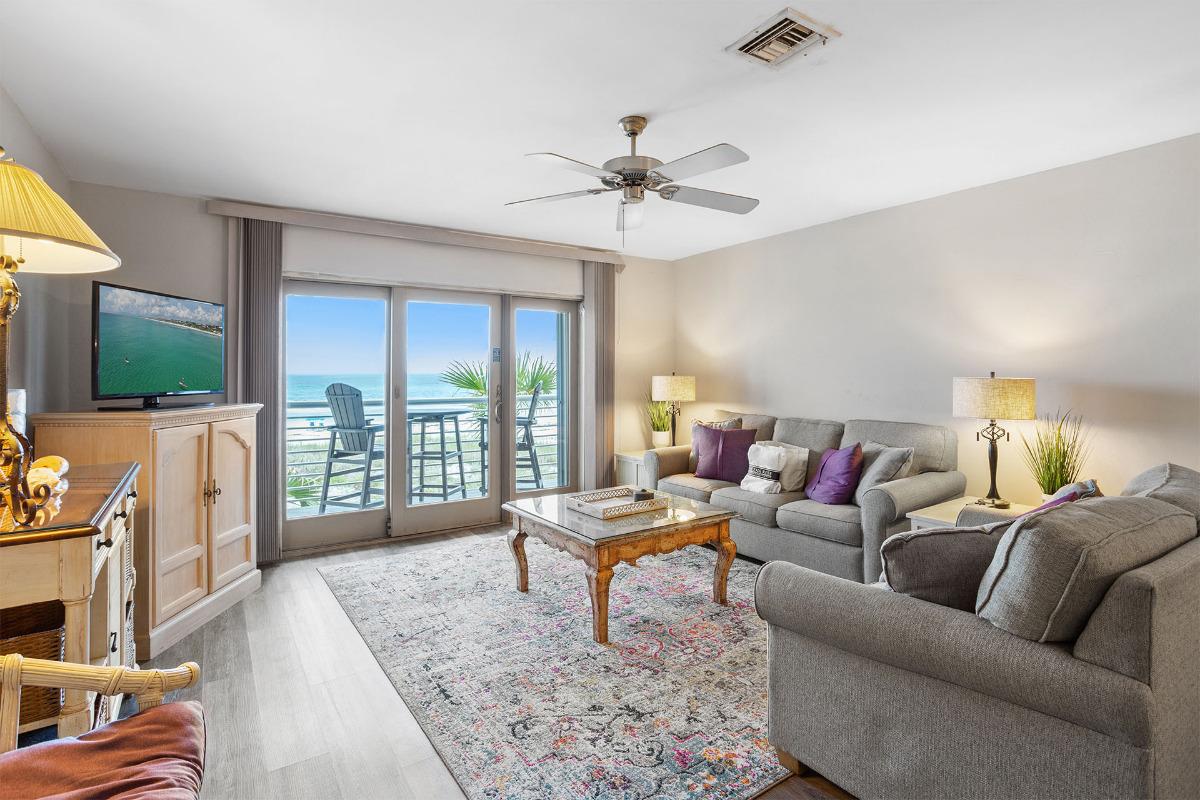 2 Bedrooms / 2.5 Baths / 8 Guests
Walton Dunes 13 is a chic two-bedroom townhome with modern amenities and elegant decor. It can accommodate up to eight visitors. Perched on Gulf sand dunes overlooking the beach and situated near Deer Lake, this beach rental is ideally located for vacationers looking for outdoor adventures. A furnished Gulf-front patio takes advantage of the gorgeous views, providing the perfect place to relax and unwind.
Inside, the townhome's living room is bright and spacious, featuring a comfortable dove-gray couch and matching loveseat. The casual seating ensemble faces a flatscreen TV mounted atop a sandy-toned entertainment cabinet. A glass-topped table in the adjacent dining room offers colorful seating for four, and extra chairs are also provided. Guests will love whipping up tasty home-cooked meals in the large kitchen and using the breakfast bar to serve appetizers and mixed drinks.
Each bedroom is well-appointed and welcoming. The primary suite boasts a king-size bed next to a panel of sliding glass doors that open onto a beachfront balcony and overlooks the beach. The room also has an accent chair, large TV, and a private bath with a walk-in shower. In the guest bedroom, there are two full-size beds, a TV, and a sunny window.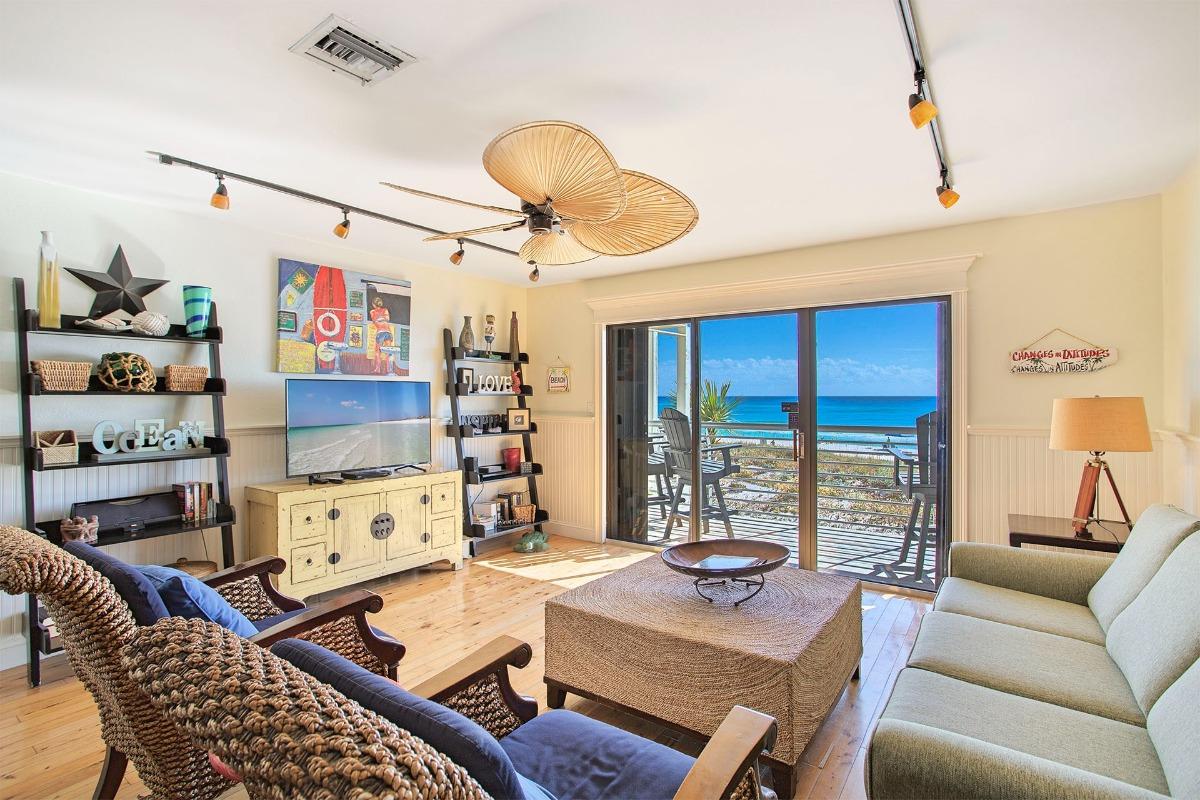 2 Bedrooms / 2.5 Baths / 8 Guests
Walton Dunes 14, a wholly remodeled two-bedroom townhome in Seagrove Beach, also borders Deer Lake State Park. The interior décor is an eclectic mix of chic furnishings and decorative art, creating a warm and whimsical ambiance. An expansive great room has triple-panel glass doors that frame the spectacular beach scenery and opens onto a patio deck perfect for basking in vivid views and soothing surf sounds. In the living room, a comfortable couch and two straw chairs enjoy beach views, and a flatscreen TV offers evening entertainment. The nearby dining table has seating for six, and the adjacent kitchen includes stainless steel appliances and a large refrigerator.
Each distinctively decorated bedroom has access to a full bath. The primary bedroom has a comfortable king-size bed with Gulf views and a beach deck. A luxurious bathroom ensuite has double vanity sinks with dark rich granite countertops and a glass-walled shower with a long tub. The guest bedroom has two swank full-size beds with fashionable spreads, along with its own private bathroom.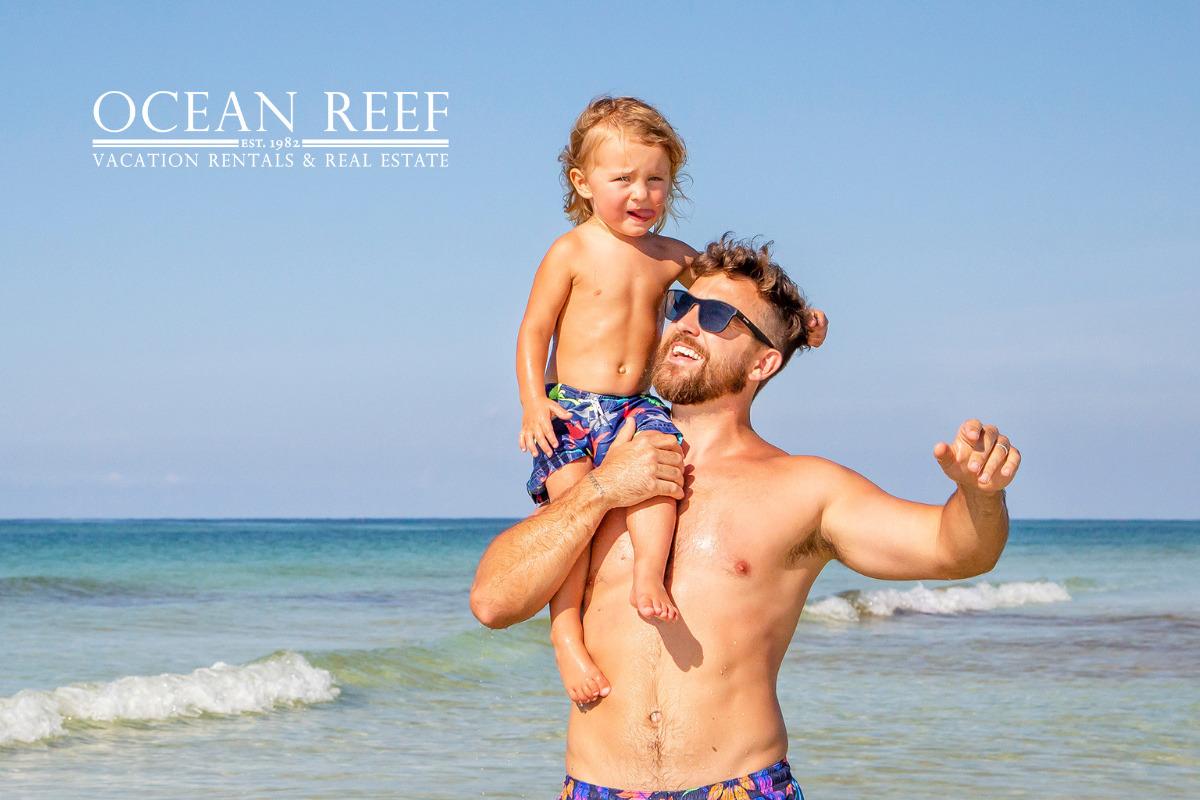 We hope you enjoy your next trip down to the beautiful 30A shores! Be sure to book the 30A beach vacation rental of your choice here at Ocean Reef Resorts!