Posted on 1/10/2020
Our Ocean Reef Resorts guests have the option to dine in because nearly all our South Walton Vacation Rentals come with a complete kitchen. However, many choose to dine out anyway – after all, it is vacation time! Some do both, especially when first arriving after a long trip to the coast. How is this possible? By ordering a pizza of course! You may have it delivered to your rental or go pick it up and relish eating a tasty pizza in one of these great South Walton Pizzerias.
Here are a few choice savory suggestions for the best pizza available to our visiting guests who are spending their vacation with us here in South Walton. These include everything Pizza by the Sea in Santa Rosa Beach to Bruno's Pizza in Watersound Beach, and many, many more! Because we have fine Ocean Reef Resorts vacation rentals throughout South Walton, you may want to choose the one that is closest to your own pizza locale. Just a thought!
Pizza by the Sea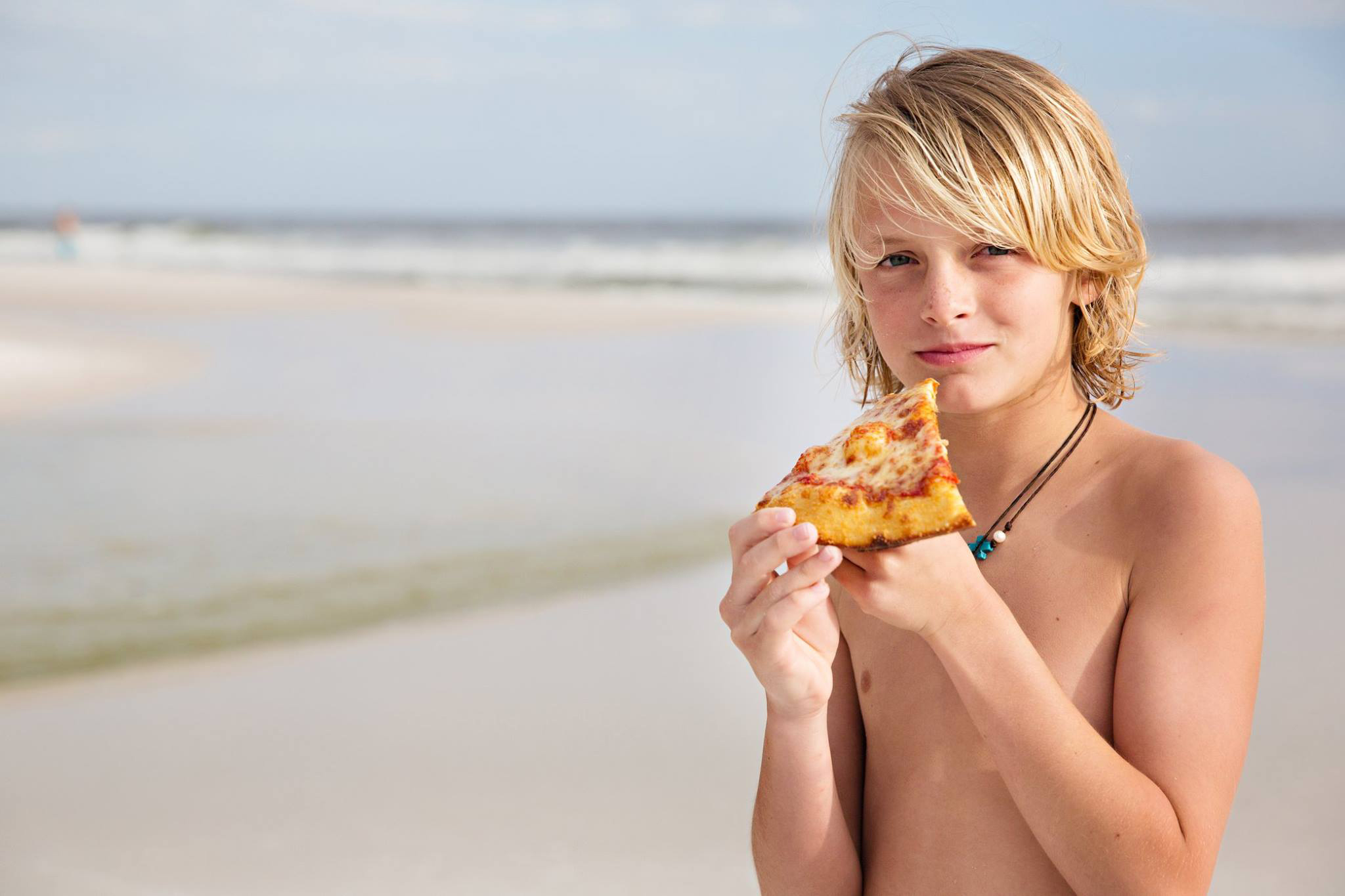 Voted number one by our Ocean Reef Resorts staff, Pizza by the Sea tops our list of best South Walton pizzerias! Why? Our Revenue Manager Josh chimed in, saying:
"Pizza by the Sea - Hands Down the BEST! They have a thin pizza crust which allows you to taste the ingredients and not just crust. Their sauce is different than any other sauces I have tasted. It's not too sweet and not too bold. Just the right flavor to enjoy the insanely fresh ingredients. Do you see a theme here? High-Quality fresh ingredients. You can get toppings like- artichoke hearts, mushrooms, feta, chicken, spinach, red onion, green peppers, Roma & sun-dried tomatoes, basil, Canadian bacon, garlic and olive oil. You're not going to find some of these ingredients at other pizza joints."
Talk about delicious!
Before opening, the owners experimented for many months with a wide variety of the best ingredients and blends to perfect their pizza offerings. The work paid off because they have since received public acclaim for having the Best Pizza in SOWAL. See, it's not just Ocean Reef Staff that loves Pizza by the Sea's pizza! They only use the finest selections of herbs, spices, tomatoes, and mozzarella cheese. The fresh dough is made daily and slowly cooked directly on a hot stone in their ovens.
For those fortunate diners who are waiting to eat, they also have a nice selection of wine and beer. They will even provide glasses and uncork your bottle for a small fee if you decide to bring your own. Kids are provided with hula hoops and sidewalk chalk to have some fun before they are served. No wonder this place was also recently was named a "Hot Spot for Kid-Friendly Dining." A favorite "Very Happy Meal" for kids is called the Cheeseburger Pizza that is topped with hamburger, cheese, pickles, ketchup, and mustard. Pizza by the Sea offers fourteen different pizza specials, one of which is the Quadruple Bypass Pizza complete with sausage, beef, bacon, pepperoni, and lots of cheese. Adult favorites include The Great White with mozzarella, Romano, feta ricotta cheese, as well as The Colby Special with bacon, pepperoni, and feta cheese.
Pizza by the Sea has three locations! For more information, call 850-267-2202 for the Gulf Place location, 850-231-3030 for Watercolor, or 850-650-0015 in Miramar Beach.
Pickle Factory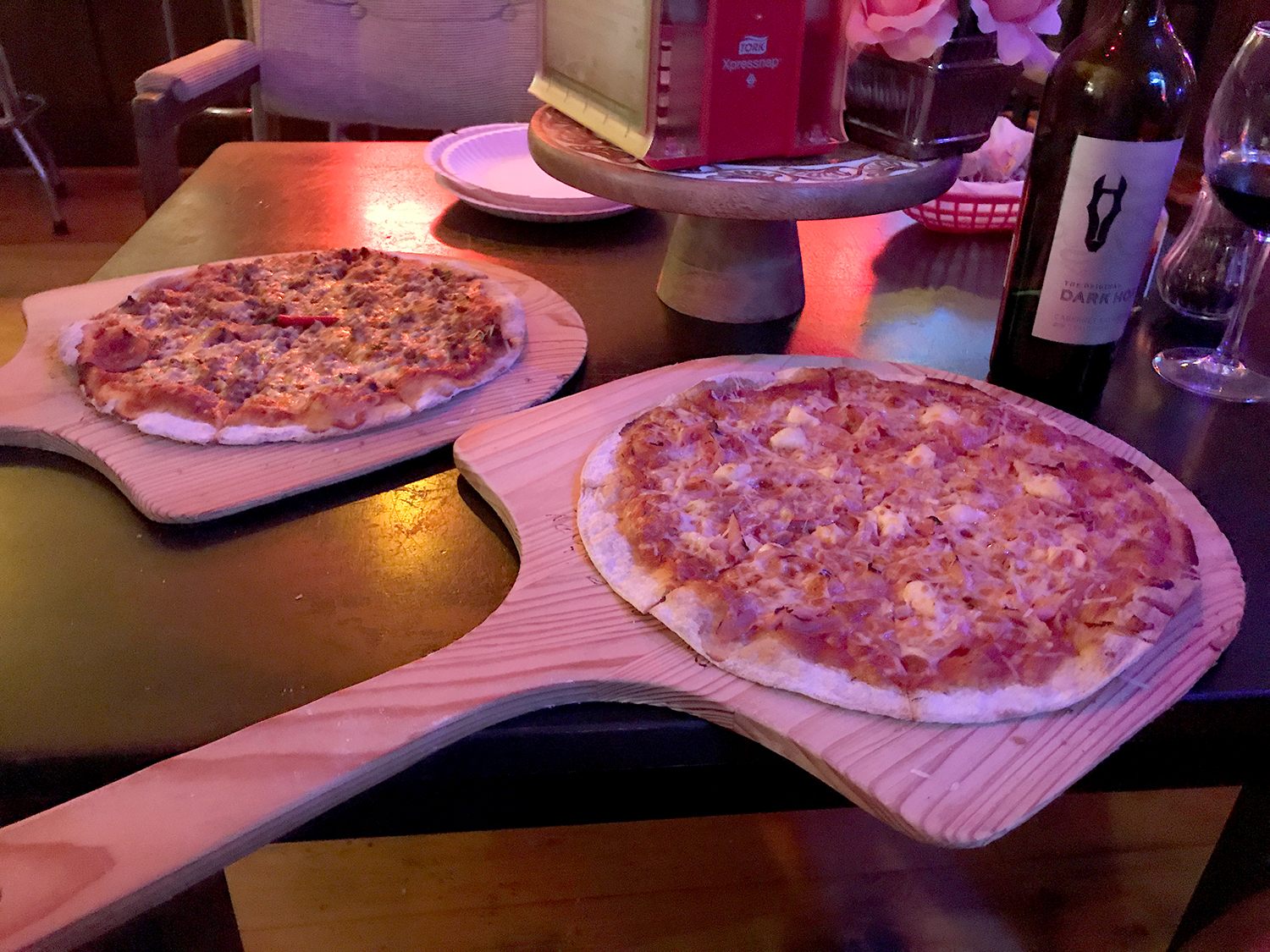 No, the Pickle Factory isn't actually a pickle factory. It is a pizza joint! The Pickle Factory Gourmet Pizza has an unusual name and history. Owner Jeffrey Fehr once operated an establishment by the same name in Bangkok, Thailand. He started out by selling his own special brand of pickles that became so popular that he even sold them to the Hard Rock Cafe and Planet Hollywood to be included on their menus. After taking time out to study pizzas in Italy, he expanded his business to include tasty pies, he was named the "Best Pizza in Bangkok" by the national media. He brought his business to Grayton Beach, where he opened an eclectic pizza place that has an open concept kitchen, and diners can watch their food being prepared. Of course, this includes the traditional pizza toss as part of the culinary show. Pizzas are cooked at high temperatures in a brick oven, and his special dough has a tasty, crispy, cracker-thin crust.
This pizza establishment offers seventeen very unusual gourmet pizzas that feature names like: Alla Vodka (yes, the cream garlic sauce has vodka in it!), Poor Man's Lobster, Laughing Cow, Chiang Mai, Kee Mao, and the Rubenator. Various unique ingredients include blue crab meat, shrimp, Thai sausage, shaved ham, feta cheese, pesto, sun-dried tomatoes, and even sauerkraut. Gourmet options not really your thing? "Regular" pizzas are also available, which have essential ingredients like garlic, mozzarella cheese, Italian sausage, bacon, mushrooms, olives, and pepperoni. Gourmet appetizers are available as well, such as Crab Rangoon, Crab Brochette, Stuffed Mussels, and two types of Foccacia Bread.
Although many like to dine in due to the singular atmosphere, the Pickle Factory also offers carry-out, which is available by calling 850-231-1290. Pickle Factory is located in the Mystic Port Shopping Village on County Road 283 just north of Scenic 30A in Grayton Beach. It should be noted that this establishment does not take credit cards and only accepts cash or personal checks. An ATM machine is within the premises of the restaurant.
Bruno's Pizza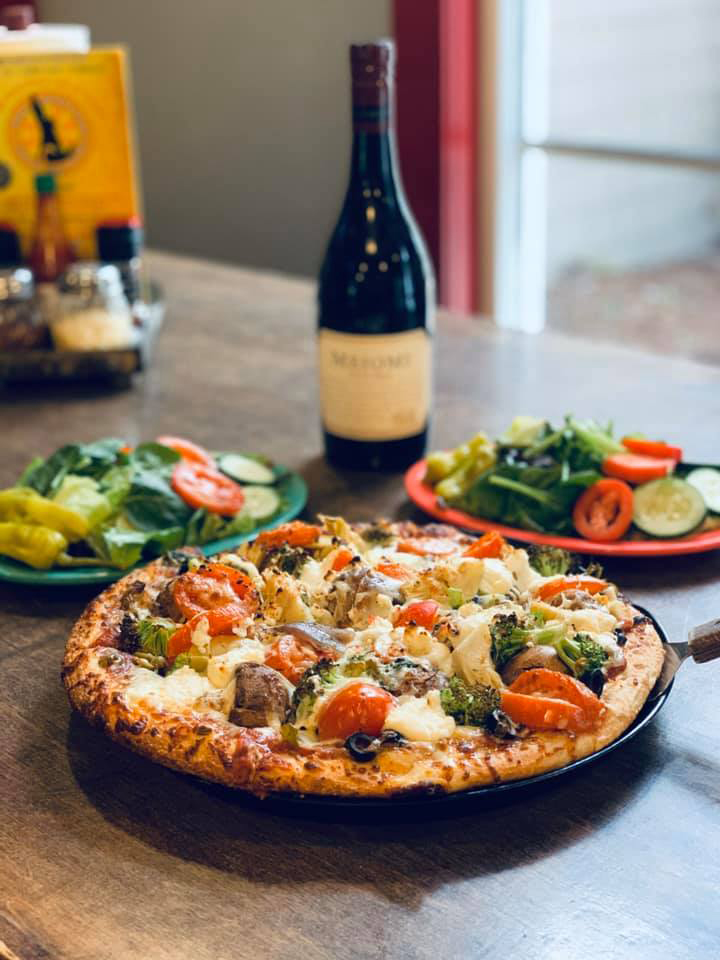 Bruno's Pizza is another South Walton favorite! Established in 1991, it recently celebrated its twenty-eighth year in operation and has the distinction of being the very first pizza place on Scenic 30A. This is a classic old-style pizzeria that has hand-tossed pizzas made with homemade dough and topped with a wonderful tomato sauce that is made fresh daily. This charming restaurant has an expanded location and a beautiful outdoor patio, located near the iconic arched gateway into Watersound Beach on the beachside of Scenic 30A. TripAdvisor gives it a Four-and-one-half Star Rating with reviews that have comments like: "Delicious," "Great Pizza," "the most generous toppings I have ever seen," and "Bruno's is the best!" Their food also received a "Certificate of Excellence" for 2014.
Bruno's has a fabulous and very affordable All-You-Can-Eat-Pizza-Buffet from 11 am till 2 pm Monday through Saturday that also includes salad and your choice of beverage. Regular hours are daily from 11 am until 10 pm. Specialty pizzas are self-descriptive, featuring names like Ultra Veggie, Meat Lovers, Mexican, Hawaiian, BBQ Chicken, Smokehouse, Philly Style, and Four Alarm Fire. Besides traditional toppings, you can always choose gourmet ingredients such as Artichoke Hearts, Baby Portabello Mushrooms, Boston Butt, Broccoli, Kalamata Olives, and Philly Style Steak, to name a few. They also serve hot delicious oven-baked subs, calzones, Buffalo wings, cheese bread, and salads. You may dine-in or place an order for pick up or delivery by calling 850-231-1452.
Bud & Alley's Pizza Bar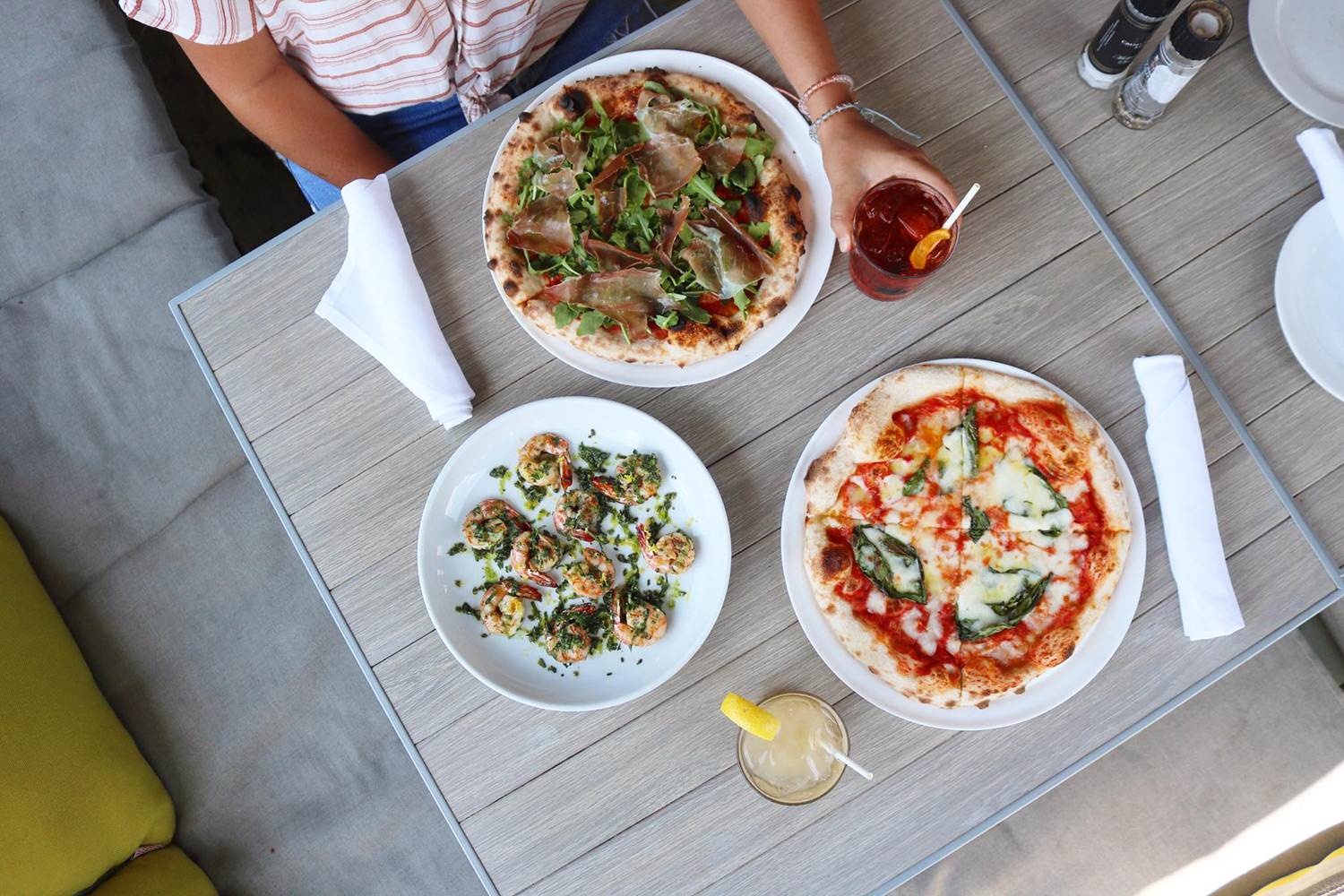 Pizza and a view of the Gulf – what could be better? Bud and Alley's Pizza Bar + Trattoria is located in the quintessential town of Seaside on Scenic Highway 30A. This open-air establishment ensures visitors may enjoy their one-of-a-kind pizza in a warm, relaxed, and beachy atmosphere.
Bud and Alley's focuses on traditional cooking methods. What does this mean exactly? It means mixing the dough and shaping each pizza individually. It means hand-crafted and wood-fired pizzas, house-made pastas, and fresh ingredients. Even their fresh mozzarella cheese and sourdough bread is made in house daily! With every bite of your carefully crafted pizza, you will experience a rush of perfect flavor – not too subtle and not overpowering. The menu includes your basics like Margherita with basil and fresh mozzarella, to more gourmet options such as the Clam Pie with cedar key clams, Parmigiano-Reggiano, parsley, chili, and fresh mozzarella. There's even a fun selection called The Egg, which features sunny farm egg, fontina, 'Njuja, basil, and Calabrian chili. Want to make your own special pizza creation? You can do that, too! With plenty of delicious toppings to choose from, you can add any of these to an available pizza pie to create your new favorite culinary concoction.
Not only does Bud and Alley's provide a tantalizing pizza experience, but it also offers its visitors a selection of cocktails, wine, and craft beer to pair with your pizza. Grab your pizza and beer and enjoy a casual dinner in the beautiful outdoor setting on the Gulf Coast. Bud and Alley's is open daily between 11 am and 8:30 pm. For more information, call 850-231-3113.
Fat Clemenza's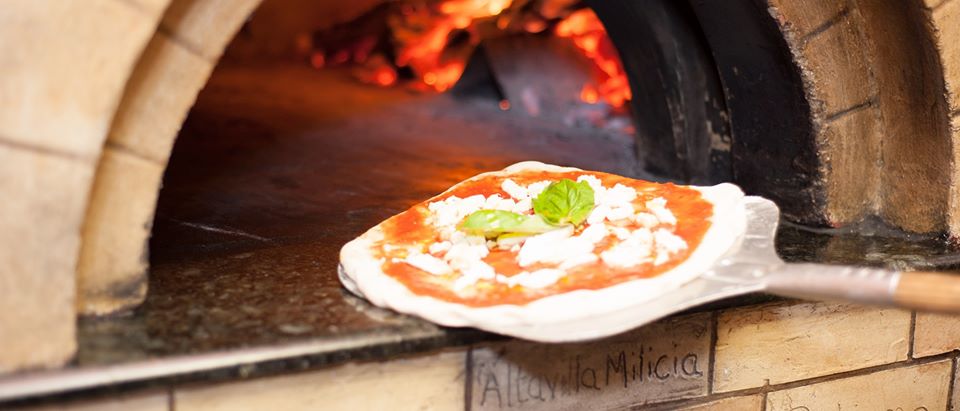 Welcome to Fat Clemenza's Brick Oven Pizzeria, where maintaining recipe quality and consistency is key to its success! This Chicago-style pizza joint was born from the founders' nostalgia for the local Italian restaurants that were customary in the ethnic Italian neighborhood where they grew up. Because they strive to maintain authenticity to create the best pizzeria with the most delicious pizzas, they are passionate about getting the best ingredients from around the world – and it certainly shows in their pizza pies! We're talking olive oils and tomatoes from Italy, flour from Naples, and sausage from Chicago. They have also incorporated New Orleans influences, which offers a unique twist on the some of the more traditional pizzas. Part of the charm of Fat Clemenza's is the consistency over time. You could order the Capricciosa with ham, spinach, salami, fire-roasted peppers, caramelized onions, mushrooms, tomato sauce, and mozzarella one year and then come back years later and it would be just how you remembered it!
Of course, the atmosphere also adds to the attraction of this fine establishment. Again drawing on their childhood experiences, the founders incorporated a blackboard into the setting, which is a staple of many family restaurants in Chicago. According to the pizza joint's website, "Blackboard menu items often appeared when some friend or family member of the restaurant owner would come in and say, 'Tomorrow, make me pasta with peas' and the next day, that would go on the blackboard because it was special for a given person or group." Fat Clemenza's blackboard is just that – an expansion on their daily menu with even more yummy options. It's a great way to let the chef's creativity soar, as well as keep things interesting for the customers.
Since 2009, Fat Clemenza's has been rated the best of the Emerald Coast for its incredible menu. That's ten years of amazing pizza! For more information, visit their location in Miramar Beach or call 850-650-5980.
Romeo's Pizza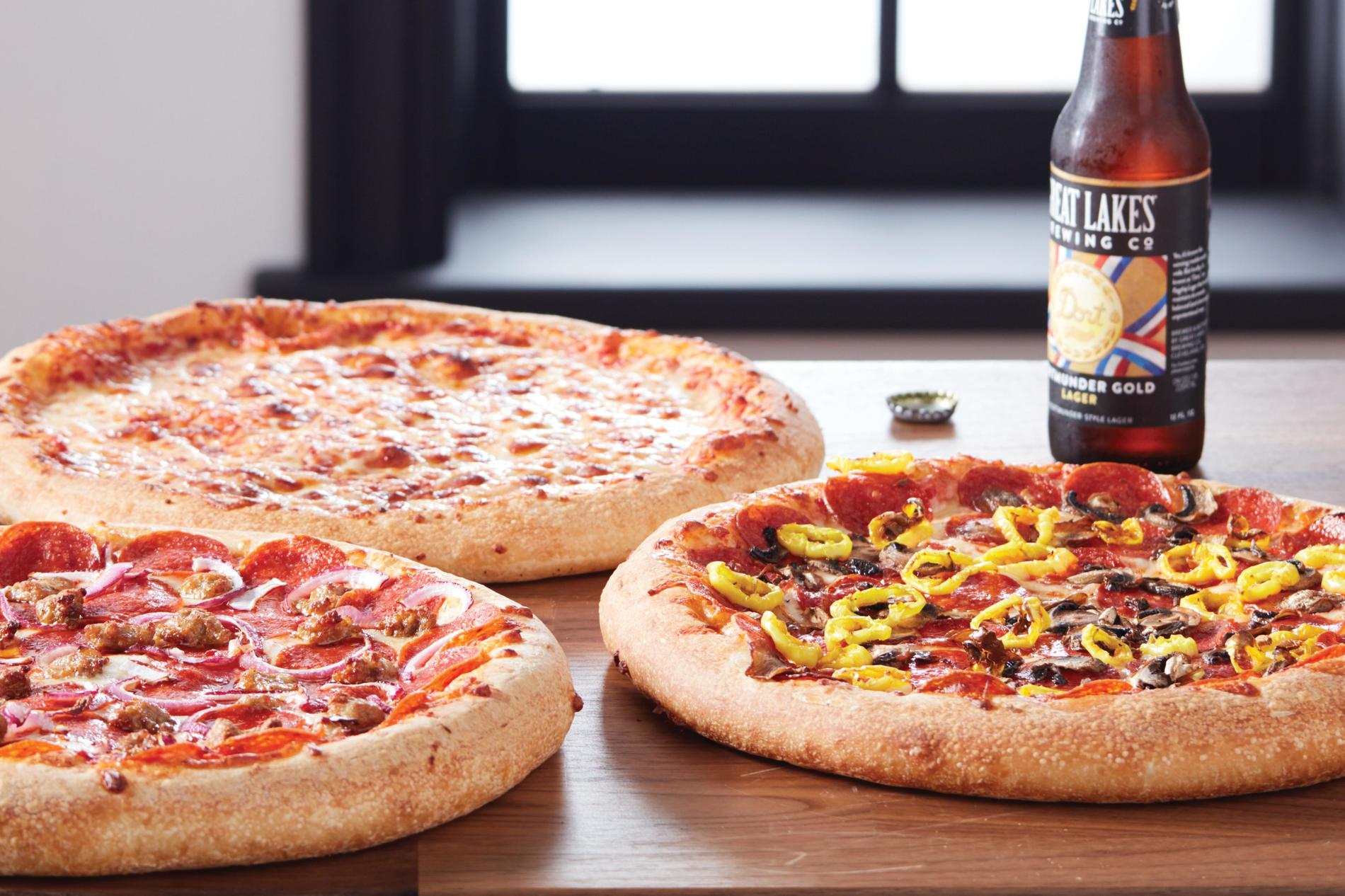 A new favorite in an old favorite's location. Romeo's Pizza is located in Miramar Beach, where Jordano's used to be. If you loved Jordano's, don't fret, because Romeo's Pizza more than makes up for the loss! Romeo's Pizza was first founded in Ohio, and it has since spread to dozens of locations across the United States, including our own Miramar Beach. This pizza establishment is known for its unique and tasty pizza sauce. Made from sweet California tomatoes, the sauce combined with fresh-made dough and hand-cut vegetables makes for an award-winning pizza dining experience. Romeo's offers pizza options for everyone. Choose from regular, loaded, or gluten-free crust. Take your pick of toppings – from Italian sausage to broccoli to buffalo chicken. Or, try one of the tastily crafted pizzas on the menu, which include selections such as Dante's Peak Specialty Pizza which features pepperoni, sausage, banana peppers, red onions, tomatoes, Wisconsin cheese blend, and original pizza sauce, or the New York White Specialty Pizza that boasts toppings of broccoli, spinach, tomatoes, Wisconsin cheese blend, and butter garlic sauce.
A great way to enjoy this pizza is by dining out. Call 850-654-8080 to order and take your pizza back to the beach, the pool, or your Ocean Reef Resorts rental!
Brozinni's Pizzeria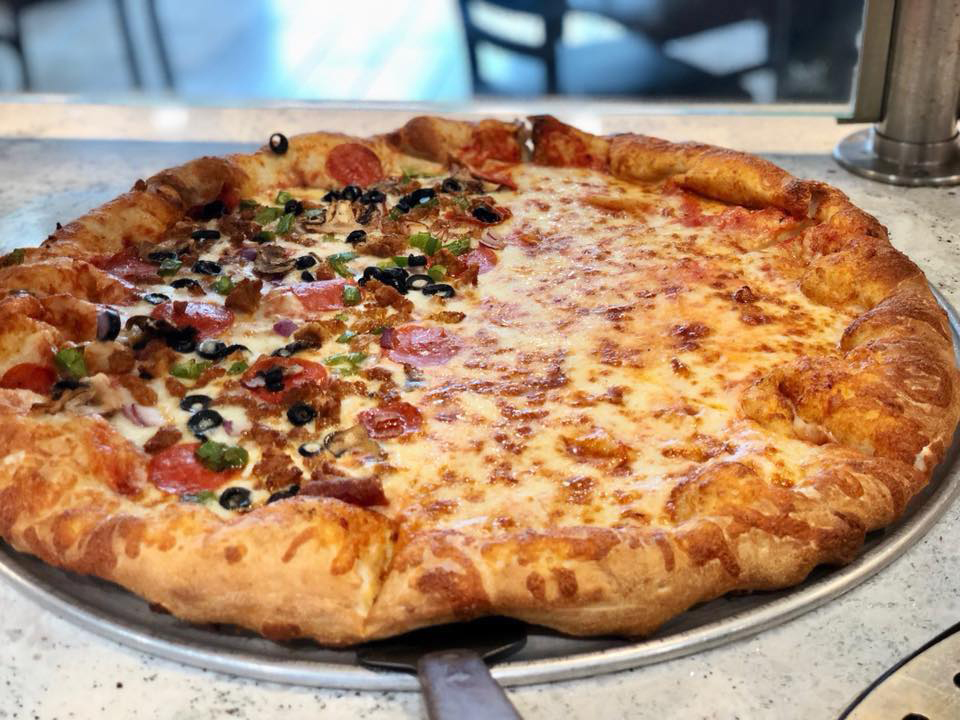 New York pizza right here on the beach…um, yes please! Seriously, combining the taste of New York with the most beautiful setting in the world (ahem, the Emerald Coast) is probably the best combination of anything since…well…ever! Brozinni's Pizzeria is located in Seagrove Beach on Scenic Highway 30A. It is a family-friendly dining establishment that features hand-selected ingredients, a New York pizza signature crust, and yummy garlic knuckles. Other unique menu items include stuffed pepperoni, smoked tuna dip, meatball sticks, calzones, and much more. You can build your own pizza from a large range of toppings, or choose from the variety of specialty pizzas. Some favorites include the Park Avenue, a meat lover's dream with sausage, pepperoni, ham, and bacon or the 34th Street, which includes ricotta, garlic, basil, mozzarella, and white sauce. Of course, you'll have to browse the whole menu to find the right option for you!
Whether you feel like eating out or grabbing a pizza to take back to your rental, Brozinni's is for you. This establishment delivers within a 12-mile radius of its location, meaning that a good chunk of Scenic Highway 30A is fair game for delivery! From Dune Allen Beach to Inlet Beach, you can get Brozinni's pizza right at your doorstep. Call 850-231-4544 for more information.
Is your mouth watering yet? Pizza is great any time, but now you too may join other Ocean Reef Resorts visitors by making this the first meal you enjoy after you arrive on the Emerald Coast in South Walton. It's easy, it's fun, and many of them will deliver it right to your vacation home away from home while staying here in this part of paradise!