Posted on 5/4/2022
Nestled among the Longleaf Pines on South Walton's Scenic Highway 30A, Seaside is a beach town reminiscent of simpler times. It exudes a coastal elegance that one might see in the movies. In fact, movie producers agree, as it was used as the setting for The Truman Show. If you're lucky enough to be in town, you can even check out the iconic Truman House at 31 Natchez Street.
But movie chic isn't all Seaside has going for it. Seaside is also home to a quaint, white post office that is one of the most photographed in the world. Popular restaurants, wine outlets, bars, art galleries, boutiques, and specialty shops provide plenty of things to do. Walking and biking in this idyllic setting is a fun way to spend the day. And of course, we couldn't mention Seaside without also calling out the beautiful beach made up of crystalline sand and emerald tides.
With so many things to do in Seaside, we got curious – what are your favorite things to do in this laidback 30A beach community? We conducted an informal Facebook poll to get your insights, and here are the results!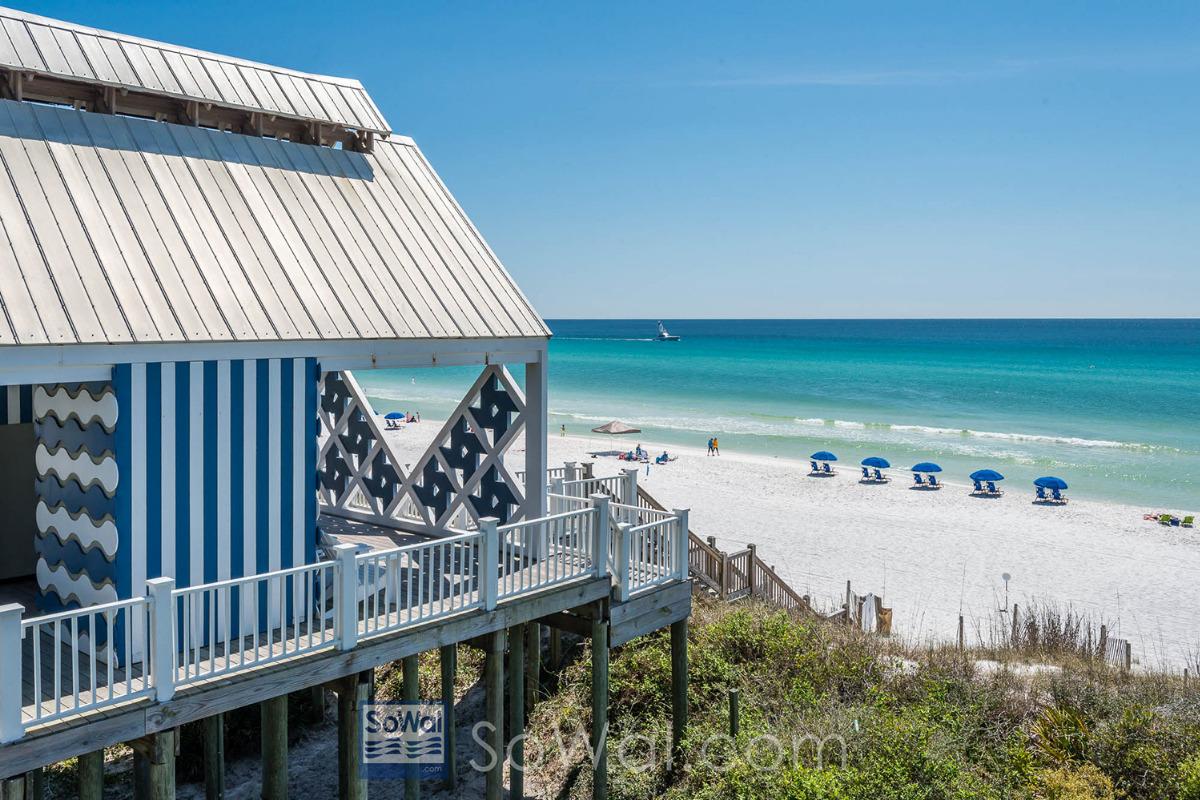 Okay, so of many awesome things that Seaside has going for it the beach is number one – it is the main reason many people travel to this stretch of Northwest Florida. It is absolutely worth visiting, 100%! Created by mountain quartz carried by the river to the Gulf, the beach sands are pristine, clean, and perfect. Each grain sparkles like a diamond under the Florida sun. Every step feels like a blanket of silky softness engulfing your feet. And the sand is just the beginning. Smooth, blue-green waves stretch as far as the eye can see. The water is warm and welcoming, perfect for a refreshing swim or an exploratory dive into its clear depths. Oftentimes you can see rows of colorful beach umbrellas of chairs providing a front-row seat to nature's greatest show. The beach offers a chance to experience a variety of Gulf Coast fun – building sandcastles, suntanning, swimming, paddleboarding, kayaking, parasailing, and tons more! Visitors can visit the beach in Seaside anytime via the Van Ness Butler Beach Access, just west of town.
What's not to love about an eclectic, gourmet grocery store? Modica Market was first started by lifelong grocers Sarah and Charles Modica, who moved from Alabama to Seaside for retirement. Retirement didn't last long, as they took the opportunity to start a local grocery shop that matched the relaxed and hospitable Seaside way of life. Over 25 years later, this cute family-owned business is still considered a gem by many of its new and repeat customers. The shop features everything from homemade southern staples, gourmet meals, local and imported goods, wines and craft beers, specialty coffees, and a whole range of fun foodie finds. At Modica Market, you can enjoy a meal indoors or out on the patio in the fresh coastal air. It even offers meals-to-go for busy folk or those who just can't wait to hit the beach. Besides the delicious food, the friendly atmosphere and staff make this cute shop well worth a visit. As one customer said, "The people working there are lovely folks who know their products and make you feel like family. Don't come just for the food. Soak up the experience!"
Bud & Alley's Rooftop Bar
The countdown continues with Bud & Alley's Rooftop Bar. As part of the popular Bud & Alley's Restaurant (which, spoiler alert, is also one of the best things to do in Seaside), the rooftop deck overlooks the Gulf, offering panoramic vistas of the stunning shoreline. The bar is the ideal place to kick back, down your favorite cocktails or a glass of wine, snack on seafood appetizers, and take in an amazing beach sunset. Appetizer favorites include crab cakes, tuna dip, and sweet potato fries. If you can't make it in the evening, check out the rooftop bar for breakfast. There's nothing better than chowing down on cheese grits and cherrywood bacon while watching the waves roll in. Besides the delicious food and incredible views, the rooftop bar is chill and relaxed – the embodiment of life in Seaside. When in Seaside, this is an experience you don't want to miss.
The Great Southern Café is firmly one of the top things to do in Seaside, meaning you definitely need to go! Chef and owner, Jim Shirley says that Great Southern "tells the story of my history, of the great food and people I've met along the road." Having traveled far and wide, he mixes his taste for international fares with southern cooking and local fish and produce. This unique twist makes for a fun menu, including dishes like New-Orleans Style Seafood Gumbo. Crab Cakes & Fried Green Tomatoes, Balsamic Salmon, Pensacola Pulled Pork, and more. In addition to the food, visitors love the atmosphere of Great Southern. "Vibrant," "friendly," "southern charm," and "outstanding" are just a few of the words used to describe the restaurant vibe. If you're looking for an eatery with great food, tasty drinks, and friendly service, Great Southern is your place!
Bud & Alley's Waterfront Restaurant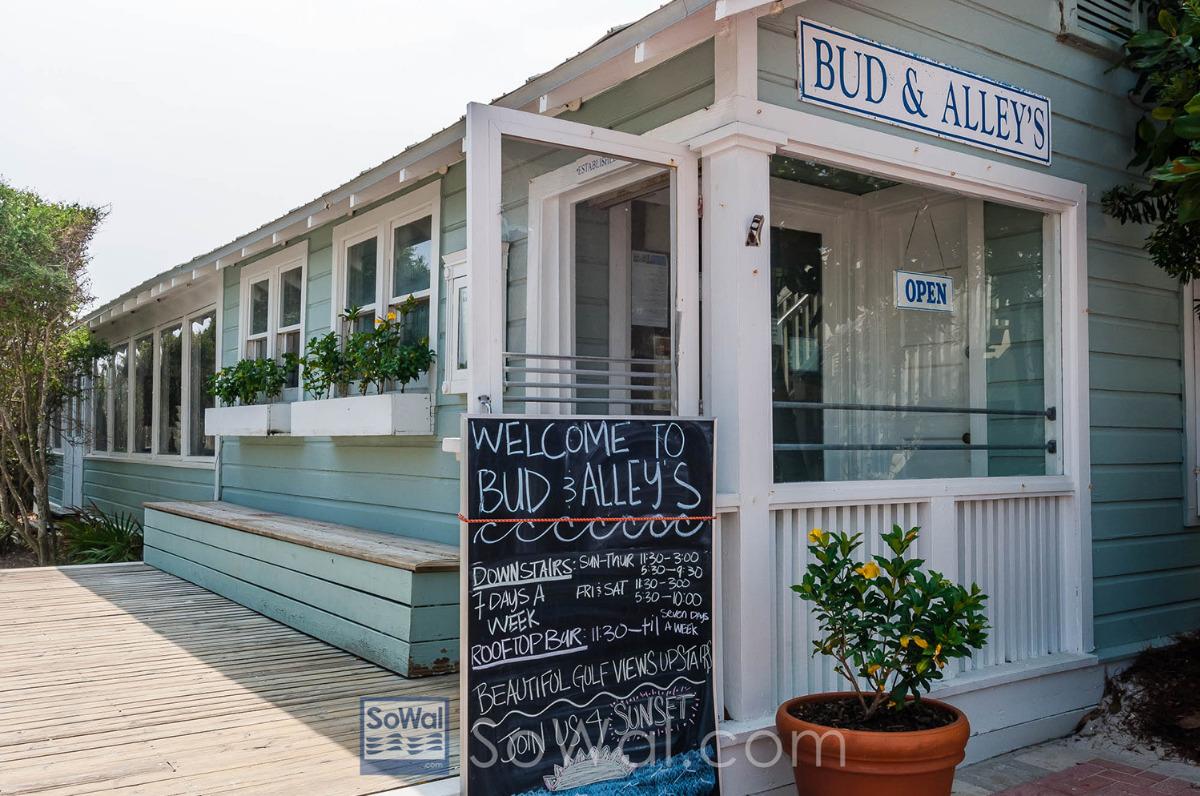 One of the best places to do in Seaside is Bud & Alley's Restaurant. As the longest-standing restaurant in this beach community, Bud & Alley's offers both a classic and modern scene. It was founded in 1987 by local surfers and named after the town founder's dog and the restaurant owner's cat. The restaurant's motto is "Good people, good food, good times." And boy, does it deliver! Bud & Alley's attracts easygoing folks who love to unwind and take life as it comes. The menu is a fresh take on southern coastal classics, using ingredients from local farmers and fishermen. It includes a variety of delectable dishes, including seared diver scallops, grilled Gulf fish of the day, and crab cakes. Bud & Alley's serves breakfast, lunch, and dinner – so there's no excuse for not dropping by during your Seaside vacation! And after your meal, head up to the rooftop bar to catch one of those draw-dropping sunsets we're always talking about.
Seaside Architecture Walking Tour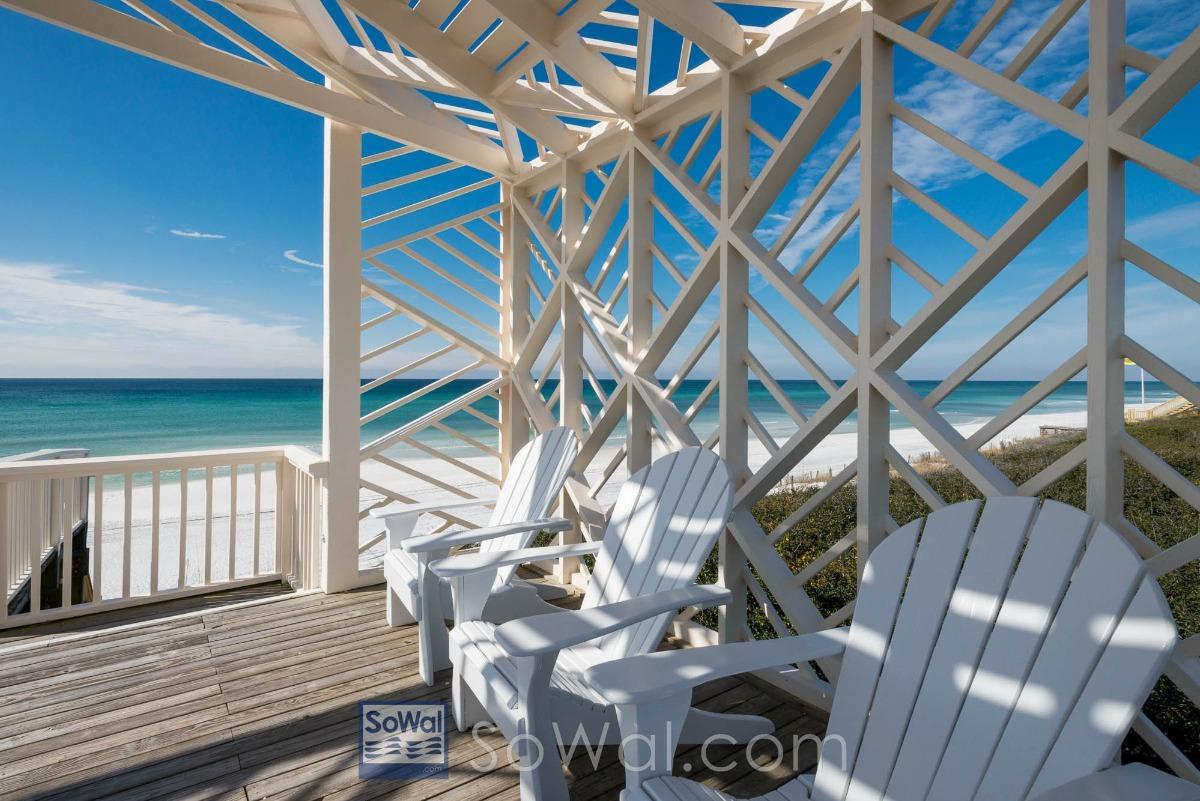 Seasides' architectural language, from humble cracker style beginnings to the crown jewel of new urbanism, parallels the development of the town itself. The earliest and arguably most quaint side of town is East Seaside. The year is 1983 or so, homes here are small, intricately appointed, and very much a porch-centric design. Walking North on Tupelo street, you may take a path on your right into the rose garden, a beautiful stroll any time of year, but especially in the spring. When you are ready, still on Tupelo, take any path to your left and head into town. Heading west along the narrow gravel paths, you'll witness time passing with every step. The homes gently grow taller, the porches are grander, but the spaces between them are no less intimate. Seaside's architectural popularity on the worldwide stage is growing, as are the scale and materials of the architecture. By the time you have weaved your way through Ruskin Place (more on this shortly) and made your way to the far Westside of town, you may feel like you're in an entirely different beach town, save for the closeness of the porches, the one theme that ties the whole town together.
Gallery Hopping in Ruskin Place
Hidden in plain sight, smack dab in the middle of town, is Seaside's arts district, known as Ruskin Place. The architecture here is a bit out of place for Flordia, yet perfectly suited for New York City's Upper East Side. Amidst colonnades and low height, rolling cement fences, you'll find some of the best galleries in town. Their proximity to each other enhances one's stroll as each is only a few steps from the next. Boutique jewelry and fine clothing stores accent the robust art market in Ruskin. Ruskin Place is actually named after 19th Century art critic and theorist noted for leading the charge of the importance of arts and crafts in American culture. The art galleries here are as intimate in size as they are grand in the scope of work they present. Popping between galleries here will certainly entertain you greatly; enjoy the Classic American Beach town for its very unique art!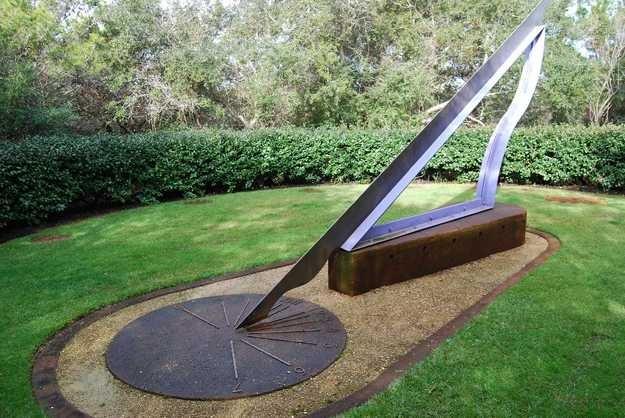 Make your way to the far West side of town. Natchez Street, to be specific. You can get here by walking through the center of town, or from 30A simply head North up the most western street in town, just before the Van Ness Butler Beach Access. Here you will find some of the most peculiar sites in town. You'll make your way between the homes on the West side of the street along narrow gravel paths. Within about 50 feet, you should see some very unique sculptures. One is a small obelisk, similar to the Washington Monument. Another significant sculpture here is comprised of a series of steps that make a small geometric mound. Toddlers love it, sure, but it also dazzles the eyes at dusk and dawn with its truly unique shadow and light play. Finally, the largest and clearly most dramatic piece here is the sundial. Soaring 12 feet above the wooded sands, this monstrous creation tells perfect time and is framed in a circle of tall bushes that create great privacy. It has certainly been the backdrop of numerous romantic encounters through the years and is a must-see on your list.
Summer Plays in the Amphitheater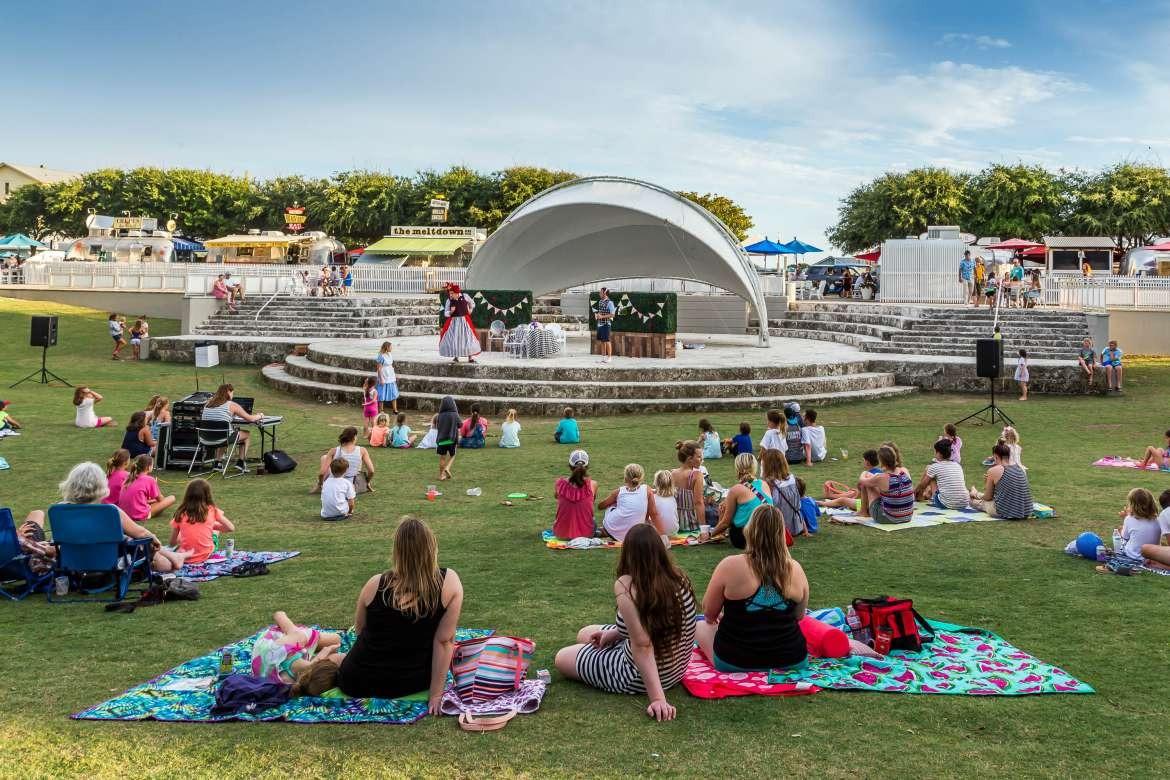 Summer means fun in Seaside; throngs of families descend on this little coastal town to see the beach and relax. The first part is easy; the beach is always within reach. The second part, relaxing, can take practice. If you find yourself with 4 or 5, 4 or 5-year-olds, getting them to sit still can be a real chore. Well, if you are anywhere near Seaside on a Wednesday in the summer, simply stroll those little critters to the center of town. The Seaside Repertory Theater features a robust performance program and one that always includes live plays in the Amphitheater. Nothing quiets the rug rats faster than seeing a grown man dressed as an overweight female Viking. Once they are in earshot, they are like moths to the flame. Bring a bottle of rosé and a blanket and just sit back and watch the kids roll around in the field and watch the play. It's a safe, fun way to get them to sleep before eight.
Seaside School Half Marathon
Every spring, the quaint charter school within Seaside hosts its world-famous Half Marathon. And there's a 5k, too, if you don't want to go the full 13.1 miles. This humble little event has really grown into its own with international sponsors, an amazing food event (Taste of the Race), and a general feeling for the love of running as the entire event takes place in Seaside and along Scenic 30A. If you fancy meeting the natives, the movers, and shakers, so to speak - book this early Spring event in your calendar. It's a great off-season time of the year to visit and is probably the most popular time to be in town other than the summer season.
While these ten places claimed the top ten spots, the Facebook poll also identified a list of honorable mentions – there were a lot of things that you love in Seaside! These include Bud & Alley's Pizza Bar and Bud & Alley's Taco Bar, which was no surprise because Bud & Alley's name is obviously a favorite. Other well-loved eateries include Pickles Burgers & Shakes, Frost Bites, and Airstream Row. The iconic Coleman Pavilion also made the list. Fun places to shop include Seaside Style and the Cabana Market, while Duckies Shop of Fun is a great place to find kid's clothing and whimsical toys. You can buy unique homestyle goods at the Art of Simple. If you're into reading or music, be sure to check out SunDog Books and Central Square Records. Or, visit the Truman House if you're a movie buff. Finally, riding bikes is not only a great way to get around town but also a throwback to times of simplicity and serenity.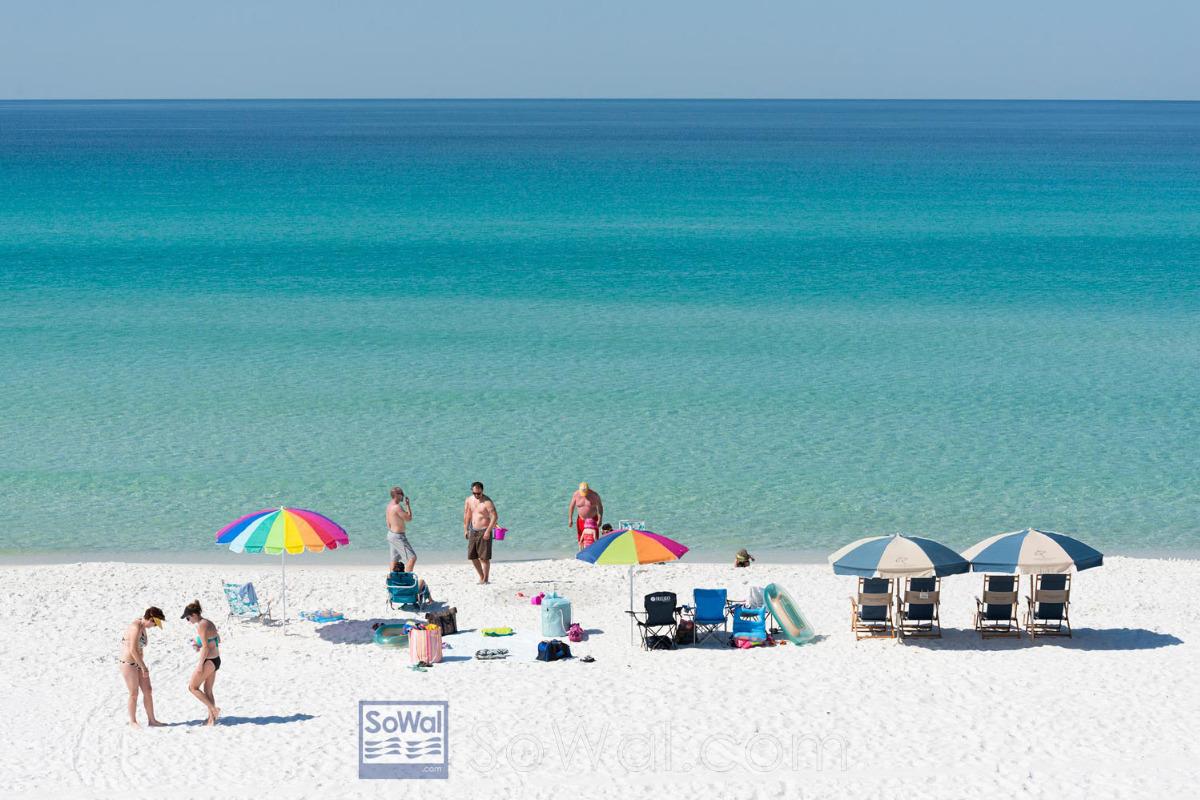 Are you planning a trip to Seaside soon? These are all great places. And the best part about booking a vacation home in Seagrove Beach (right next door) is that you're within walking or biking distance to all of them! If you haven't yet made your reservations, book online or give us a call at 800-782-8736.