Posted on 4/7/2020
Along the beaches of South Walton is the charming community of Blue Mountain Beach, located just off Scenic Highway 30A, which meanders beside the jewel-colored waters of the Emerald Coast. Here, sand dunes and forests along the coast rise up to 25-feet, and the forested hills are over 70-feet tall. This may not sound like much, but the hills certainly look like mountains from afar, particularly compared to the relatively flat elevation of the surrounding area.
Blue Mountain Beach is one of the highest points on the entire Gulf of Mexico. In fact, its elevation is the reason it received its name. In the 1500s, Spanish explorers sailed across the Gulf to map the coast of Florida. These early explorers encountered hostile Native Americans further south, so by the time they got up this way, they decided to map the coast from many miles off shore. The explorers saw what they thought were "blue mountains" bordering a shimmering white beach. What they actually saw were the tall hills and dunes, which were covered with abundant blue lupine flowers. They dubbed it "Blue Mountain Beach," and the name has remained ever since.
Three pristine, coastal dune lakes sit between the forested rolling hills and the beach. These rare dune lakes are Draper, Big Redfish Lake, and Little Redfish Lake. These lakes are a unique, beautiful, natural phenomenon. Other than along the Emerald Coast, they are only found in Madagascar, Australia, and New Zealand. The hills around Blue Mountain Beach wrap around these scenic lakes and the coast, and they are noticeable as you travel along Scenic Highway 30A heading east. A paved bike trail parallels this route, and on Draper Lake, the largest of the three, a little covered bridge allows bikers to enjoy the vista before heading up the hill. Blue Mountain Beach borders the extensive Point Washington State Forest, which incorporates thousands of acres, inland tributaries, lush marshlands, and the dune lakes. Miles of sandy trails wind through the park, where they are used by locals and visitors for hiking, "mountain" biking, and even Jeep rides. The hills gently lead down to the lakes and then turn into sand dunes along the shore. Blue Mountain Beach is nationally designated as a Blue Wave Beach due to its pristine, unspoiled landscape. Only a few precious beaches receive this designation, considered our nation's highest environmental rating for cleanliness and beauty.
Ocean Reef Resorts is pleased to offer eight vacation home rentals on the centrally located residential road known as Blue Mountain Beach Road. These vacation rentals include 3 Doors Down, Are We There Yet, C Cottage, Cliffview, Coast On Inn, Polo Beach Club, Tickled Pink, and View of Blue.
3 Doors Down
571 Blue Mountain Road ~ 5 Bedrooms / 4.5 Bathrooms / 16 Guests
First on our list is 3 Doors Down. This striking blue and white vacation home stands out from the crowd with four levels of expansive living space, five bedrooms, and four and a half bathrooms. 3 Doors Down can comfortably host up to 16 guests. A paver drive and curated lawn greet visitors upon arrival. Before stepping into the house, many like to explore the private outdoor pool and sundeck. They know they will be spending a lot of vacation time lounging by the freshwater pool, sunning on the deck, serving up meals from the outdoor kitchen, or grilling poolside! Indoors, the first level features a guest bedroom with a queen-size bed, another guest room with two triple twin bunks, and a bonus game room. An open floorplan consisting of the living, kitchen, and dining areas is the main focus of the second level. Large windows and glass doors allow plenty of Florida sunlight into the great room, creating a warm and bright atmosphere. Two additional guest rooms are located on this level, one with a king-size bed and the other with a queen bunk. A large master suite dominates the third floor, boasting a king-size bed, luxury en-suite bath, wet bar, and access to a huge outdoor balcony. The fourth and final level features bonus living space, a wet bar, and access to a rooftop sundeck, where guests can enjoy the best views of the coast.
Are We There Yet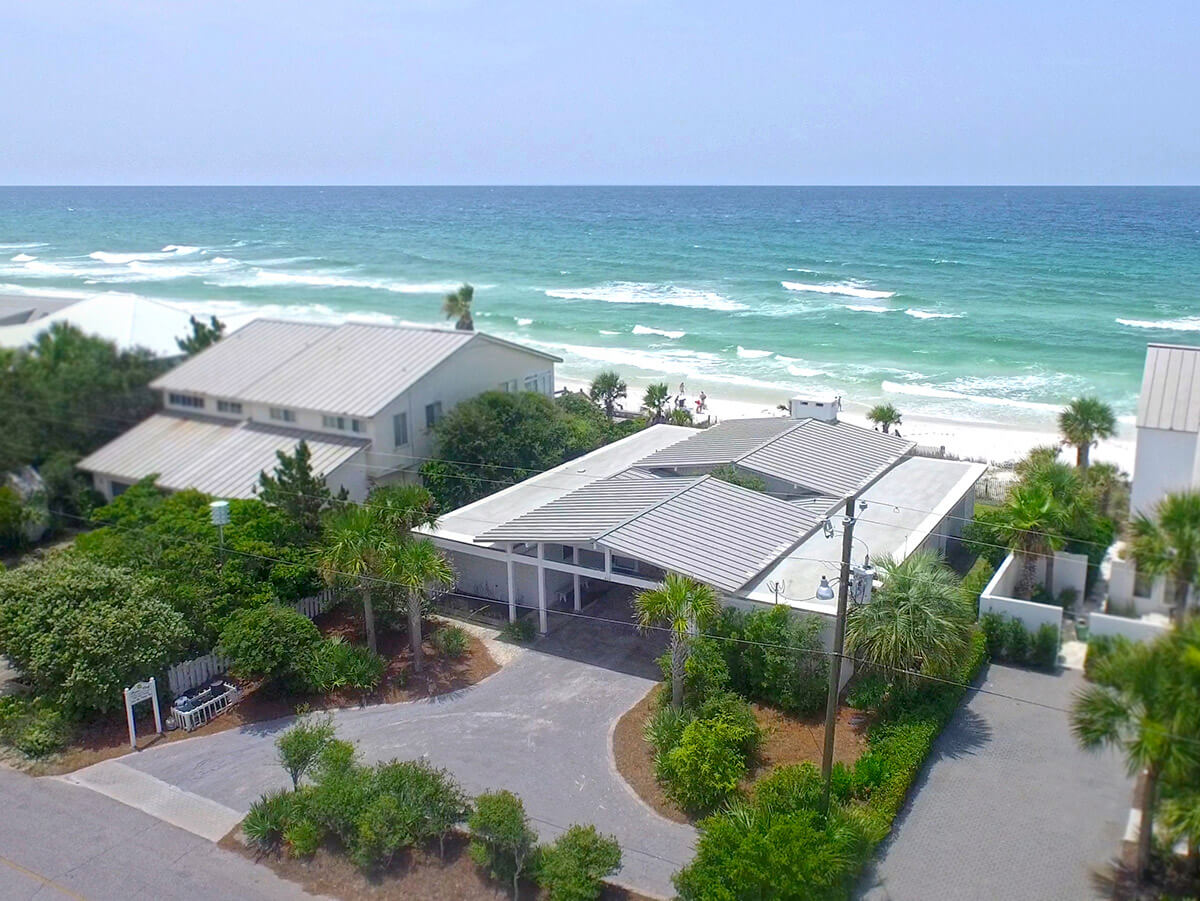 674 Blue Mountain Road ~ 4 Bedrooms / 4 Bathrooms / 10 Guests
Situated on Blue Mountain Beach Road, Are We There Yet is a charming beachfront bungalow with four bedrooms and four baths. This home is characterized by its retro design but adds a charming "Soaring Sixties" flair with its high ceilings and contemporary space-age look. The Brady family would find themselves right at home here! It is cheerily decorated with impressive Gulf-front views from the living room and two of the master bedroom suites, each of which has a king-size bed and a private bath. The third bedroom is also a master suite with a king-size bed, and it features a private bathroom as well. The fourth bedroom includes twin beds and access to its own bath, which also serves as a convenient powder room. The large kitchen has been renovated and boasts the same soaring ceilings as the living area. It also has room for the main dining table that seats eight. Additional diners, or perhaps the kids, can be accommodated at the adjacent breakfast bar, which has three stainless-steel bar stools with white-capped seats. A large wood deck out back is great for sunning, and enjoying the refreshing coastal views. Stairs are conveniently connected at the end which lead visitors right down to the beach for a cool dip in the gorgeous Gulf of Mexico.
C Cottage
700 Blue Mountain Road ~ 5 Bedrooms / 5 Bathrooms / 12 Guests
Take a break at C Cottage, a gorgeous beachfront villa perched upon sugary sand dunes, providing incredible views of the Gulf Coast's emerald waters. This opulent vacation home features five bedrooms, five bathrooms, spacious living accommodations, and a separate carriage house with guest quarters. In total, the estate can house up to 12 visitors. Upon entry, guests are greeted by a sprawling great room that encompasses the living, kitchen, and dining rooms. The nautically inspired living room features shiplap walls, sunny windows, tropical décor, and a cozy seating ensemble that is perfect for relaxing. A formal dining table for eight sits nearby, enjoying grand views of the coast. In the kitchen, you will find a large bar, quality appliances, and plenty of counter and cabinet space for storing your vacation goodies. One queen-size guest bedroom is located off the great room, while a wraparound porch with stairs leading to the beach completes this level. Each of the bedrooms is located on the third floor. The master suite has a king-size bed, seating area with coffee bar, luxury bath, and access to a Gulf-front balcony. The carriage house features a studio-style bedroom with a queen-size bed, en-suite bathroom, cozy seating area with a TV, dining table for two, and a kitchenette.
Cliffview
814 Blue Mountain Road ~ 5 Bedrooms / 4 Bathrooms / 14 Guests
Cliffview is a luxury Gulf-front Blue Mountain Beach home that soars above the snow-white sands and blue-green waves. With five bedrooms and four bathrooms, this home can comfortably entertain up to 14 guests. Located at the end of the cul-de-sac and nearby Big Redfish Lake, guests will love the secluded privacy that this oasis provides. Inside, the one-level home is spacious and luxurious, yet relaxing. Huge Gulf-facing windows bathe the rooms with Florida sunshine. A large living room features an intimate seating ensemble with a couch, matching love seat, two armchairs, and an additional accent chair. Coastal art and beach décor add to the ambiance. The formal dining area and kitchen offer ample space for cooking and serving tasty appetizers, tropical drinks, and vacation feasts. Although unique, each bedroom gives off a beachy cottage feel, featuring blue tones, chic furniture, and colorful accents. There are two rooms with king-size beds, one with two double beds, one with two queen-size beds, and the fifth has two twin beds. In addition to the comfortable living and sleeping space, an outdoor deck allows guests to enjoy the Emerald Coast atmosphere and provides a staircase leading directly to the sandy shores below the dune.
Coast On Inn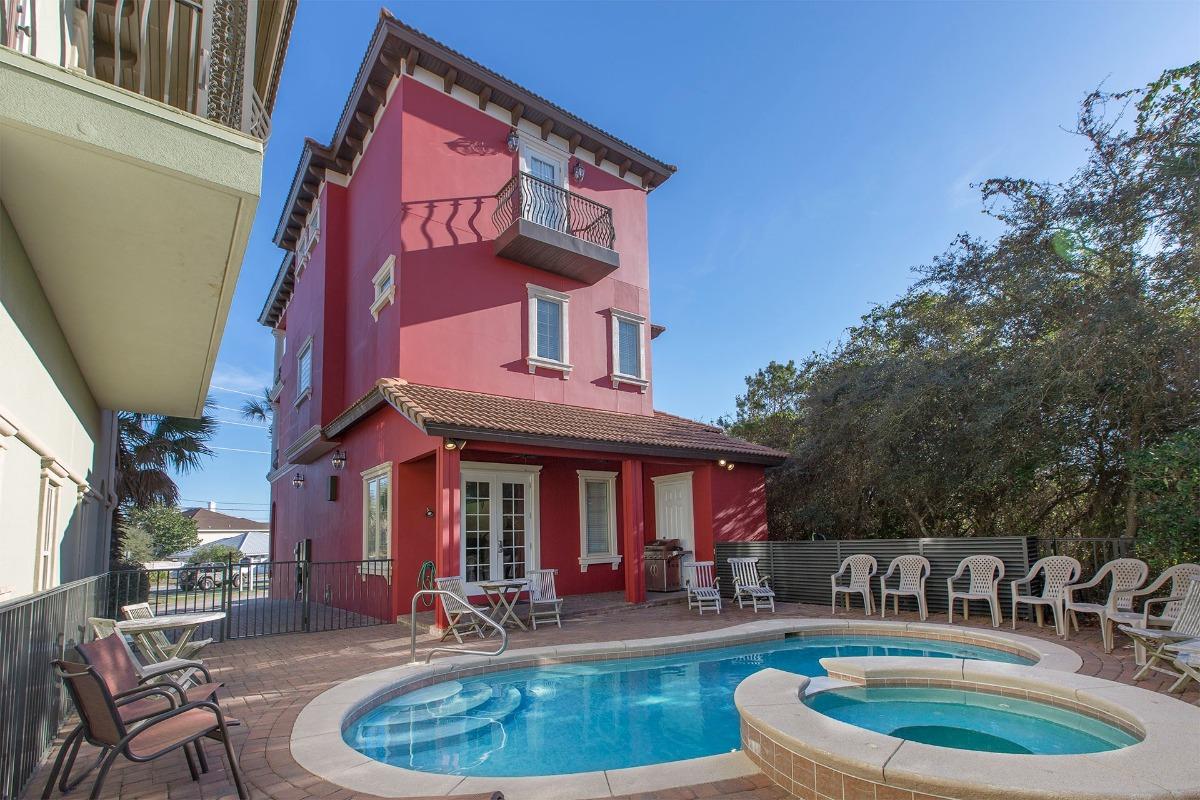 2236 State Highway 83 South ~ 4 Bedrooms / 4.5 Bathrooms / 14 Guests
Coast On Inn is a Mediterranean-style home offered just off Blue Mountain Beach Road. This stately vacation home has four bedrooms with four and a half baths, and it can sleep up to 12 guests. The main living area has light travertine marble flooring and high ceilings accented with crown molding. One section of this room has an attractive floor-to-ceiling wood cabinet that holds the flatscreen TV. The other part features a card table with seating for four and a built-in bar nearby that can seat four more. The formal dining area sits beside two windows under a unique box tray ceiling and stylish chandelier. The kitchen has shiny stainless-steel appliances that are built into light molasses-colored cabinetry. This is richly accented by a two-sided granite breakfast bar with café-style seats. All of the bedrooms are outfitted with hardwood flooring and are elegantly attired. Each room is distinctly different from the others, except that they share the same comfortable yet sophisticated look. Additionally, each bedroom is like a private suite because they all have their own bath. The main master suite includes access to a quiet balcony, perfect for enjoying a morning cup of coffee or romantic, late evening "nightcap." Besides being only seconds from the beach, this rental home also has a stunning lagoon-shaped swimming pool in the back. It is surrounded by a stone tile sundeck and is beautifully landscaped.
Polo Beach Club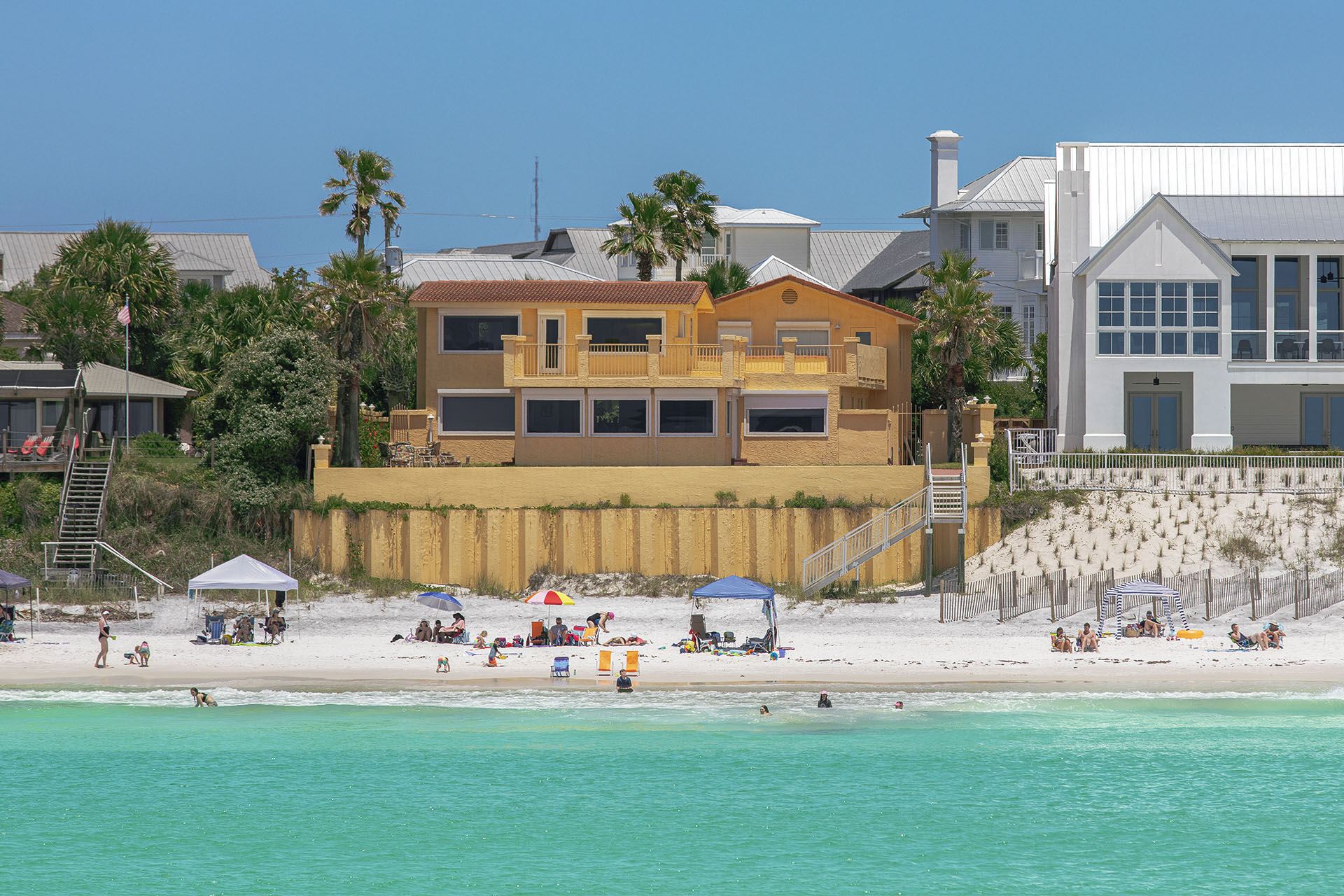 350 Blue Mountain Road ~ 5 Bedrooms / 5.5 Bathrooms / 14 Guests
Join the club… the Polo Beach Club that is! The colorful beachfront rental is prominently perched upon a high dune overlooking the shimmering Gulf. Its unique structure and vintage interior décor appeal to the artsy soul. The beach house has five bedrooms and five and a half bathrooms, ensuring comfortable accommodations for 14 beach guests. On the main floor, you will find an open living area, complete with parchment-toned Mexican tile, vivid red couches, a bright yellow coffee table, and an assortment of brightly colored décor. The space connects seamlessly with a vibrant kitchen, where two teal dining tables provide seating for ten. Two of the guest bedrooms with king-size beds are located on this level, as well. Upstairs, guests can access the massive master suite that boasts a king-size bed, luxury bath, and access to a 1,000 square-foot Gulf terrace patio. You will likely spend a lot of your vacation on this terrace, enjoying the views and the beautiful coastal atmosphere! A separate carriage house offers additional living and sleeping space, perfect for a multi-family vacation. The carriage house features two bedrooms, a kitchen, and a living area. A large freshwater swimming pool is the icing on the cake of this home and features a large sundeck, lounge chairs, and grills for poolside dining.
Tickled Pink
332 Blue Mountain Road ~ 4 Bedrooms / 3 Bathrooms / 10 Guests
You are sure to be tickled pink when you stay at Tickled Pink on Blue Mountain Beach Road. And we're not talking about getting a sunburn! This incredible coastal beachfront home blends right into its surroundings, creating the perfect setting for a family vacation. As a four-bedroom and three-bath rental, Tickled Pink can host up to 10 vacationers. One of its most notable features is the sizeable beachfront patio, where Adirondack chairs are strategically placed for taking advantage of the panoramic shore views. A wooden staircase leads down to the beach, so guests can go from lounging on the patio to dipping their toes in the warm emerald waters in seconds. Step indoors to check out the Florida-style vintage interior. The living room boasts an informal seating area, while the adjacent dining area with two tables provides a great setting for both casual and fancy dinners. If you consider yourself a chef-at-heart, you will love the large kitchen, which boasts a wraparound bar, custom cabinetry, ample counter space, and top-notch appliances. Three of the home's bedrooms include king-size beds, all of which have private baths. The final bedroom features a twin bunk, which is perfect for the kiddos.
View of Blue
631 Blue Mountain Road ~ 4 Bedrooms / 3 Bathrooms / 13 Guests
If the Mediterranean look is more to your liking, you might consider staying at View of Blue. This stately Blue Mountain Beach home rises four stories and has four bedrooms and three baths. Up to 12 guests can enjoy the luxurious amenities provided by this vacation rental. The upper-level floors are characterized by covered, columned balconies with views of the sparkling waves on one side and the private lagoon-shaped swimming pool on the other. The back yard surrounding the pool is lushly landscaped and lined with palm trees, and the pool's patio is bordered by a high fence for privileged privacy. Inside, the living area has an open floorplan that merges with the large dining room and kitchen. Gleaming, honey-colored hardwood floors flow throughout the space, and the living room has comfortable, overstuffed chairs, and a plush couch. There are bedrooms on every floor, which is great for providing individualized space, especially if your group includes both "night owls" and "roosters." The downstairs bedroom has a king-size bed and access to a full hall bath. The second floor boasts two more bedrooms with queen-size beds and a shared hall bath. The third floor encompasses the entire master suite, richly accented and decorated in a safari motif. It has a king-size bed, sitting area, access to a private balcony facing the Gulf, and its own luxury bath. Another popular feature of View of Blue, and its crowning glory, is its rooftop party deck. You can reach the observation deck from an interior spiral staircase.
Read more: 10 Popular Blue Mountain Beach Vacation Rentals
Blue Mountain Beach itself is more of a residential enclave than a real town and is known for its somewhat Bohemian vibe. Its eclectic selection of stores and shops, coupled with its relaxed atmosphere, makes for a fun beach vacation experience. When in town, be sure to visit all the spots that make Blue Mountain Beach unique.
The area's oldest health food store, For the Health of It, is definitely worth a visit. This place could be right at home in northern California but sits here on Scenic 30A in South Walton. The store provides a wide variety of organic and mostly locally grown food items, spices, and special vitamins. For the Health of It offers Aromatherapy, a wonderful Juice Bar, and even massage services.
Sally's by the Sea Store also sits along Scenic 30A. It looks like one of those country stores and gas stations from years gone by. It has been colorfully converted to a small market for supplies and is a popular morning destination. The market serves up wonderful country breakfasts, COG (Coffee Over Gossip), and picnic items you can take to the beach. Behind the store, you will find Sally's Backside, which serves good food, great BBQ, and has a lively bar. This has become a favorite hangout for locals and even a few visiting celebrities who prefer to travel incognito. The down-to-earth feel of this place is refreshing, friendly, and highly entertaining.
If you have a sweet tooth, you may want to try out Blue Mountain Bakery, located right next door to Big Daddy's Bike Rentals. This yummy bakery is famous for its delicious baked goodies! On the corner of Scenic 30A and Hwy 83 is the Blue Mountain Beach Creamery, which serves delicious frozen yogurt, sorbets, and premium ice cream on a seasonal basis.
As you can see, even though you are way up on a "mountain" above the beach and surrounded by a forested landscape, there is still plenty to do here when it comes to drinking, dining, and simply relaxing. In addition to our distinctive, private Blue Mountain vacation home rentals, we also have beachfront condominiums at the Blue Mountain Villas available in the same area. Be sure to check out the photos, rates, and availabilities on our easy-to-use website. Also, our friendly, professional staff is here ready to help if you have any other questions or special requests. It is our pleasure to serve you and yours, and we hope you love this "mountainous" beach town as much as we do!