Posted on 11/10/2020
Are you dreaming of a white Christmas? Destin is your place! It may not be white with snow, but the snow-white beaches are guaranteed to put you into the Christmas spirit. Destin is not only a relaxing place to spend your winter holiday, it also offers a wide variety of fun Christmas experiences.
This comprehensive guide will help you make the most out of your Destin Christmas. It highlights the Christmas activities, events, shopping, and lodging available in Destin, 30A, and all along the Emerald Coast. Get ready for a holiday you won't forget!
Christmas Activities in Destin

Beach
Spend the holiday season relaxing on the Destin beach, where the sand is sparkling white, and the waves glimmer like jewels. Here, you'll experience a white Christmas, but without the nuisance of being freezing cold. Furthermore, while sandcastles are the usual monument of creative fun at the beach, this is the perfect time of year to build a "snow" man out of the pristine sand. In the evenings, you can even plan a beach bonfire, creating a cozy environment for roasting marshmallows, sipping hot chocolate, and belting out Christmas carols.
Christmas Dinner
One of the best parts of Christmas is gathering with friends and family for a delicious meal. And everything always tastes better when you don't have to cook! Destin is home to a myriad of popular restaurants that cook up tantalizing holiday feasts. Some offer lavish on-site dinners, while others provide tasty dinners-to-go. A couple of favorites include Grande Vista Bar and Grill, The Crab Trap, Bijoux Bistro, Stinky's Fish Camp, and Beach Walk Cafe at the Henderson.
Christmas Performances
Attend one of the many Christmas performances hosted on the Emerald Coast. During the holidays, organizations like the Emerald Coast Theater Company, Seaside REP Theatre, and the Mattie Kelly Arts Center put on fantastic seasonal performances for the public. Performances vary from year to year, but you may get to catch some fun classics such as A Christmas Carol or The Nutcracker, or you might get to see a more obscure holiday piece.
Church Services
If attending a Christmas church service is one of your holiday traditions, you're in luck! Multiple Destin churches offer Christmas worship services. Some of these include Village Baptist Church, Destiny Worship Center, Shoreline Church, St. Andrew's Episcopal Church, Grace Destin Church, and others. Each of these offers the perfect way to get into the joyful spirit of Christmas.
Ice Skating
Every year, the Village of Baytowne Wharf features Baytowne on Ice at the Community Broadcasters Skating Pavilion. The rink is open for public ice skating. This winter sport is an awesome way to get in the Christmas mindset. Whether you're a novice or an expert, it's time to dust off those skates to create some fun memories. Who knew you'd get the chance to ice skate in Florida!
Visit with Santa
For kids, getting to visit with Santa is part of the magic of Christmas. Fortunately, there are many ways to see and get photos with Santa in Destin. Throughout the month, there are Breakfast with Santa events at multiple locations, including the Henderson, Emerald Grande at HarborWalk Village, Uncle Bucks Fishbowl, AJs, and others. Grand Boulevard and the Village of Baytowne Wharf are just a couple of places that host visits and photos with Santa. Find a day that works for the family and grab the kids so they can tell Santa everything they want for Christmas!
Christmas Events in Destin
Arrival of Santa at HarborWalk Village
The season of joy gets off to a great start with Santa's grand entrance at HarborWalk Village. There is typically a treasure hunt for early arrivals, as well as crafts and activities. Additionally, you can have your kids bring their Santa letters to mail to the North Pole—and for each letter received, a dollar is donated to a local children's charity.
Christmas Open House Candlelight Tour
The Eden Gardens State Park in Point Washington hosts a yearly Christmas Open House Candlelight Tour. Tour the historic Wesley House, which is decorated by local businesses and organizations, with each room boasting a different holiday theme. Guests can vote on their favorite room. In addition to the festive home, thousands of lovely luminaries illuminate the expansive lawn and gardens. The magical evening is complete with tasty refreshments in the garden pavilion.
Christmas Tree Lighting at the Destin Community Center
The annual Christmas Tree Lighting Ceremony is held at the Destin Community Center near HarborWalk Village. It is a fun event for the whole family. It includes a visit from Santa, musical entertainment, and food and drinks. In keeping with the giving spirit, canned food or toy donations are collected to help families in need.
Christmas Tree Lighting at the Henderson
Destin's Henderson Resort hosts an annual Christmas Tree Lighting on the Grand Piazza. Aside from the tree lighting, the event includes plenty of activities, entertainment, and hot cocoa. Of course, Santa Claus and Mrs. Claus make their appearance, as well! Complimentary photos with the Clauses and the lighted tree are provided.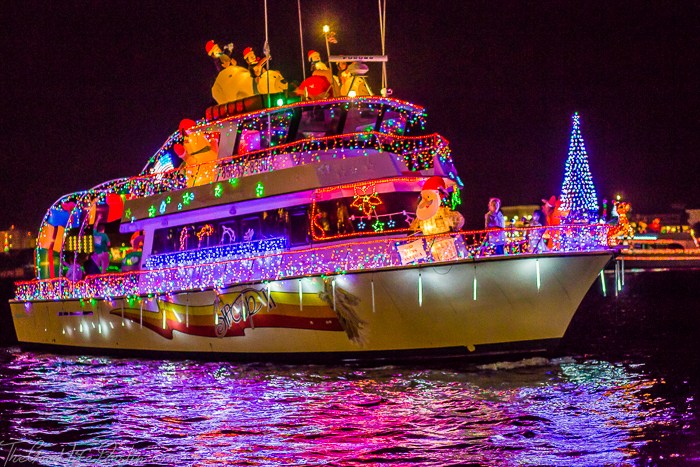 Destin Boat Parade
Image courtesy of The Good Life Destin
Nothing says "Florida" like a holiday boat parade! Hosted by the Destin History and Fishing Museum, the annual Holiday on the Harbor Lighted Boat Parade is a popular Emerald Coast event. Due to the sheer size of Destin's private fishing fleet, which is the largest on the Gulf of Mexico, this is one of the best Christmas boat parades in the nation. Most visitors from America's interior heartland have never seen anything like it! The parade features boats and watercraft of all sizes decked out in Christmas lights and other festive décor. Prizes are awarded to participating boats in multiple categories, including "Best Overall." The parade ends with a spectacular fireworks display over the decorated boats and sparkling water.
Destin Christmas Parade
Who doesn't love parades? The annual Christmas Parade has been a Destin tradition for decades. Packed with colorful floats, decorated vehicles, and live bands, the themed parade starts at the Downtown Destin Shopping Center and moves along Harbor Boulevard to HarborWalk Village.

Destin Commons Jolly Jubilee and Tree Lighting
During the holiday season, a 50-foot Christmas Tree is erected in the center of the Destin Commons. The Jolly Jubilee begins with the lighting of the Christmas tree, which is equally as grand as the tree itself. Not only do you get to see every inch of the tree shine brightly against the dark sky - but you can also join in the other fun festivities. From face painting to holiday booth photos to festive music to a firework extravaganza, it's sure to be a memorable experience. Following the tree lighting, the Jolly Jubilee will offer exciting weekend festivities until Christmas, including entertainment, Santa Claus photo ops at Bass Pro Shop, free crafts, and more.
Festival of Trees
Get the family together for an amazing experience at Grand Boulevard's annual Festival of Trees. This holly, jolly event showcases beautifully decorated Christmas Trees from local non-profit organizations. Each organization competes to win cash prizes. You will not only get to enjoy the stunning trees and vote for your favorite, but you will be supporting these non-profits while you're at it!
Holiday Concert Series at the Village of Baytowne Wharf
In December, the weekly concert series at the Village of Baytowne Wharf has a holiday flair. Enjoy live music that includes your favorite Christmas and holiday classics, as well as choreographed light shows and Santa Claus appearances. It's a blast spending quality time with family and soaking up the holiday feels.
Twelve Nights of Lights Festival
The Twelve Nights of Lights Festival is a bright Christmas light show that takes place around the village green at the Village of Baytowne Wharf. Each show is choreographed to holiday music. The performances occur on Wednesday, Friday, and Saturday nights throughout December.
Santa Claus Pub Crawl
Ugly sweater party meets pub crawl at the annual Pup Crawl at HarborWalk Village. Grab your friends, get dressed in your tackiest festive attire, and head out for great drinks and a memorable night. There will be games, raffle prizes, an ugly sweater contest, food, drink, and laughter the entire evening. Drink special proceeds will be donated to charity, so you'll be drinking for a good cause!
Christmas Shopping in Destin

Christmas Craft Show
On the hunt for unique holiday gifts? Look no further than the annual Destin Christmas Craft Show. Held at the Destin Community Center, the craft show features dozens of vendors with an impressive variety of handcrafted goodies. We're talking jewelry, books, wreaths, artwork, silk floral arrangements, and so much more. Here, you'll find all kinds of creative gifts while also supporting local businesses.
Destin Commons
Many guests love to visit the delightful Disneyesque Retail Complex of Destin Commons at the corners of Mid-Bay Bridge and Highway 98, which has consistently been voted "The Best Place to Shop in Destin" by Emerald Coast Magazine. With a wide variety of shops, this pedestrian-friendly retail village is the perfect place to get your Christmas shopping done. The shopping center goes all out in decorating for the holidays, complete with a Christmas Village, old-time model train area, costumed nutcrackers, elves, reindeer, and other holiday characters. Strolling through the winter wonderland of shops is the best way to let the happiness of Christmas into your heart while finding great gifts for your friends and family!

Grand Boulevard
Grand Boulevard is the upscale town center of Sandestin. It is a distinctive destination that serves as an enchanting casual place to shop, complete with cute shops, popular restaurants, streetscapes, lush landscaping, tropical plants, and an intimate park with green lawn and geyser fountains. Grand Boulevard's Grand Park and towering Royal Palm Trees are awash with thousands of glittering lights during the holidays. Every Friday and Saturday night throughout December, a free horse-drawn carriage takes shoppers around the town center while faux snowfall on the Festival of Trees displays. The chic clothing and specialty shops, boutiques, and galleries along the boulevard are ideal for finding great Christmas gifts. Grand Boulevard also has a nice selection of restaurants to choose from after a busy day of holiday shopping.

Silver Sands Premium Outlets
If you haven't checked all the items off your Christmas shopping list or if you didn't get that outfit you wanted from Santa, Silver Sands Premium Outlets should be one of your first stops. Silver Sands is one of the nation's largest discount outlets and offers bargain prices for up to 65% off designer goods. Millions of shoppers arrive here throughout the year to buy merchandise for themselves, their families, or friends, as well as to find great deals on Christmas gifts. The Christmas shopping season is particularly huge, so be sure to arrive early to find a parking space. Then, shop till you drop! When shopping at Silver Sands, you won't be surprised to find amazing discounts on clothing, shoes, leather goods, jewelry, crystal, china, candles, houseware items, unique gifts, and more.

Merchants of Seaside
Located just a little outside of Destin city limits, the merchants of Seaside on Scenic Highway 30A is a wonderful place to shop during the Christmas season. It includes a diverse collection of shops, galleries, boutiques, Airstream trailers, and restaurants centered on a town green and across the street from the gorgeous Gulf. The charming, Americana-styled town of Seaside received international recognition as a picture-perfect and pedestrian-friendly coastal town when it began in the 1980s. And it's even cuter in the winter! During December, the outdoor amphitheater features a towering Christmas tree, and lights glisten in the surrounding palm trees. Shops are decorated with festive wreaths and garlands. You will find so many delightful items that make the best Christmas presents and stocking stuffers, including bohemian outfits, casual clothing, souvenirs, designer jewelry, perfumes, artwork, books, and even vinyl records.
Christmas Lodging in Destin
Christmastime is the most wonderful time of the year in Destin, Miramar Beach, and along Scenic Highway 30A. Ocean Reef offers a huge variety of vacation rental homes and luxury condos, making it easy for you to choose the lodging that works best for you and your family. Accommodations at this time of year are incredibly affordable — if you split the cost with family and friends, it is less expensive than staying in a hotel! Book your stay and experience this incredible Florida version of a white Christmas. The snowy white beaches of the Emerald Coast await you!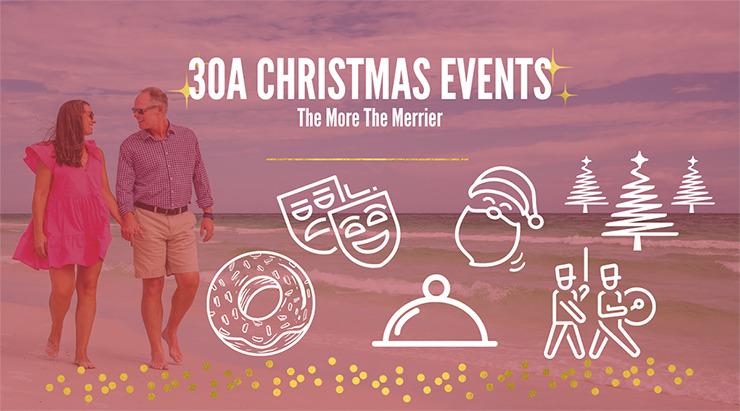 If you haven't visited in the winter months, you absolutely should. South Walton's 30A offers many not-to-be-missed events in December. Here are a few to enjoy this Christmastime!