Posted on 9/6/2019
Welcome to the Village of Baytowne Wharf!
While it may be the white sand beaches that beckon to visitors from all over the world, the Village of Baytowne Wharf sprinkles extra magic on an Emerald Coast vacation. The Village of Baytowne Wharf is located in the heart of Sandestin along the Choctawhatchee Bay and opposite from the oh-so-famous beach. This thriving hotspot boasts a variety of shops, restaurants, events, and all kinds of fun coastal activities. From family-friendly fun to seasonal festivals to a thriving night scene, the Village of Baytowne Wharf offers something for everyone.
This complete guide to the Village of Baytowne Wharf includes all the details about this must-visit spot to help you make the most of your beach vacation.
If natural skin care is important to you, Artful Soap Co. is your shop! As a family-owned and operated company, Artful Soap Co. provides quality, natural skin care products that are entirely handmade by the owners. Because of this, products are 100% natural, as the owners can control each ingredient to ensure customers are getting what they pay for. The store features everything from bar soaps, body scrubs, lotions, and even dog care products.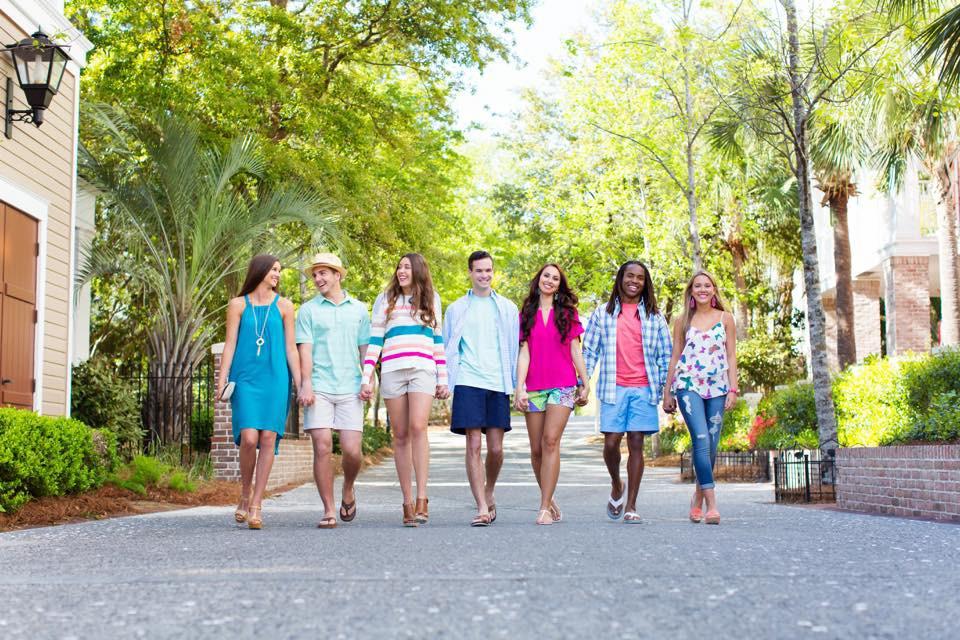 When at the beach, be sure to dress like it! Barefoot Princess is a first-class lady's boutique that offers its customers the best in resort wear. It features a large selection of Lilly Pulitzer apparel, which is known for its paradise appeal. You'll feel right at home in a stunning new beach dress, classy jewelry, and sandals. Whether you are looking for something casual to wear around the resort pool or an upscale outfit to wear out on the town, Barefoot Princess has you covered.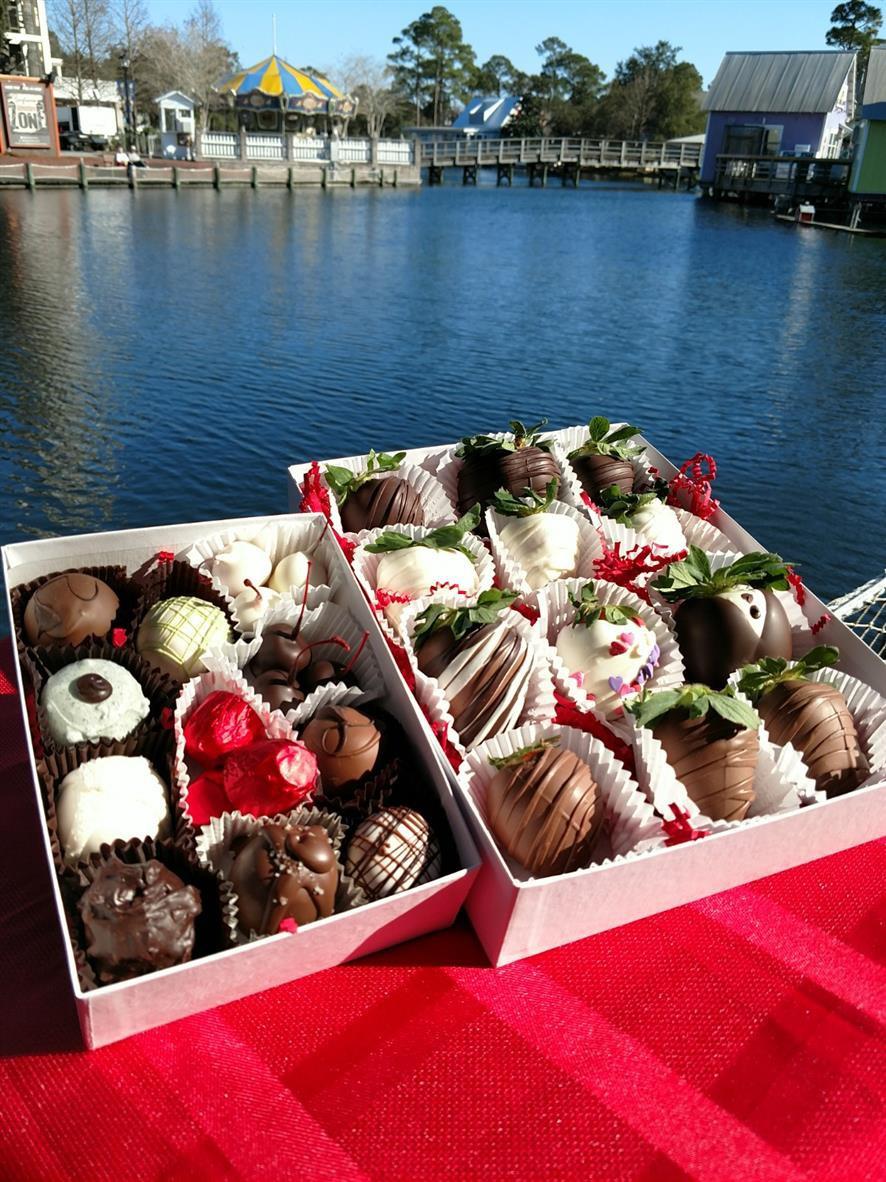 Who doesn't love candy – especially if it's the melt-in-your-mouth, can't-get-enough-of-it kind? Candymaker is a hit with both the kids and adults. As a popular sweet spot, this shop prepares authentic Southern candy right in front of its customers. This way, you know it's fresh! From candy apples to saltwater taffy to fudge, you will likely find yourself coming back for seconds at the Candymaker. You might even want to drop by for dessert after a tasty meal at one of the Village of Baytowne Wharf's fabulous restaurants.
Coconut Kidz is the kind of store that makes shopping a fun experience. Its selection of children's clothing and fantastic toys could rival Mr. Magorium's Wonder Emporium! Boys and girls of all ages won't be able to get enough of the whimsical and imaginative toys, games, and activities. Parents, on the other hand, can browse through the cute clothing selection from well-loved brands and start updating their children's wardrobes. It's a must-stop for the whole family.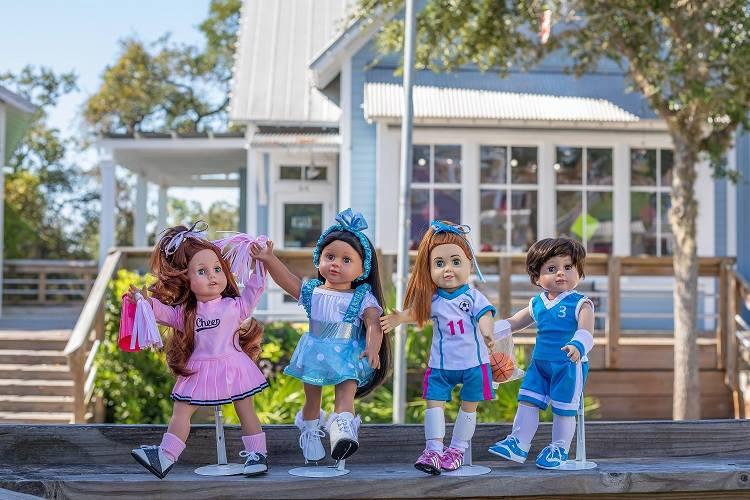 It's a well-known fact that dolls bring an element of magic to playtime, and Dolls & Friends certainly knows this to be true! This cute shop provides an incredible selection of clothing, footwear, and accessories for your child's American Girl Doll or Bitty Babies. What makes this deal even sweeter? Dolls & Friends offers clothing and accessories for up to 50% less than American Girl lines. Yep, you read that right – great quality for a great price! 18" dolls are also available, which make perfect friends for American Girl dolls.
Add a little glitter to your beach vacation! Gemesis Expressions is a classy boutique that provides a wonderful blend of jewelry, apparel, and other accessories. Each product is made in America, and many are the work of local entrepreneurs and artists. Browse jewelry made from salvaged metals, leather and freshwater pearl jewelry, candles, home décor, and more. A gift or souvenir from this shop is a great way to commemorate your stay on the coast.
The General Store at Baytowne Provisions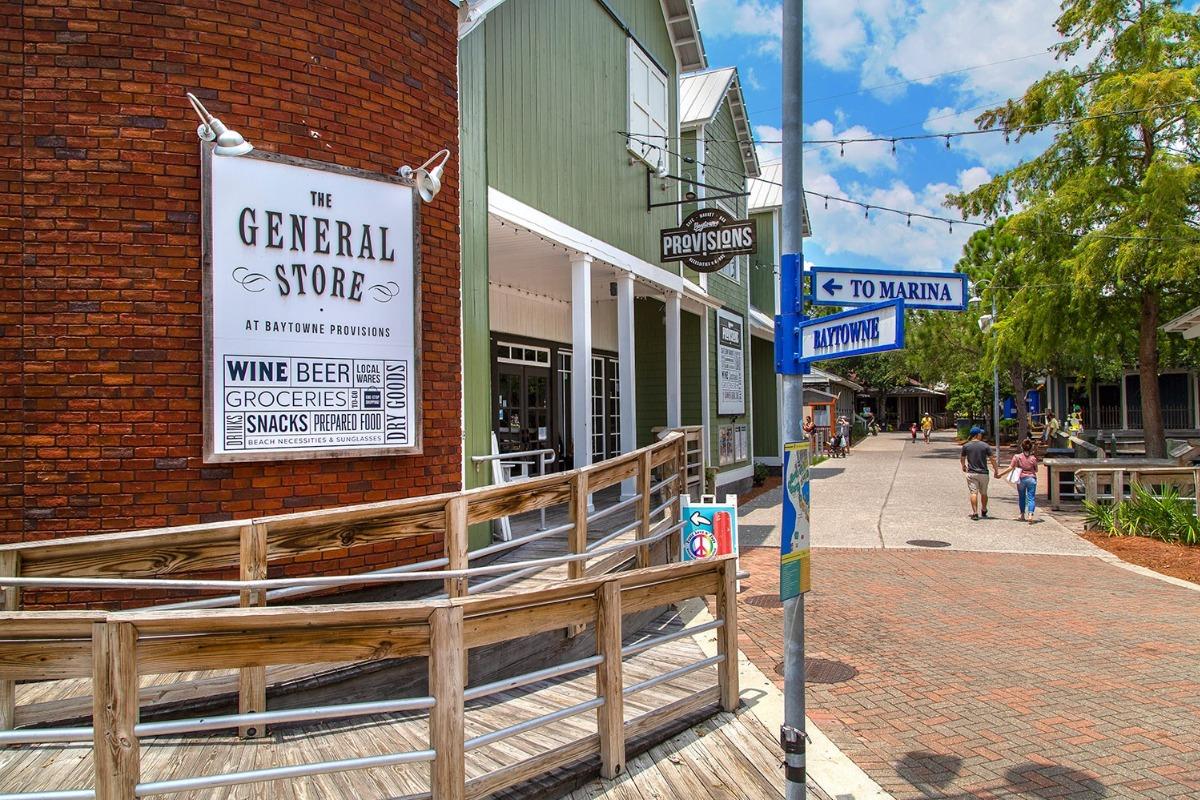 Even though you are on vacation, you still need groceries! This is especially true if you are staying somewhere that includes a kitchen, and you want to cook up a delicious vacation meal. The General Store at Baytowne Provisions is the perfect place to grab your groceries, including snacks, drinks, dinner ingredients, everyday necessities, and more. This one-stop-shop also offers grab 'n' go meals for those in a hurry.
HPO | High-Performance Offshore
Planning to fish while in Destin? Look no further than HPO. Featuring the latest and greatest in fishing gear, the avid fisherman can get everything he needs at this prime location. Of course, with Choctawhatchee Bay only a stone's throw away, you can hit up this store and head straight to the water afterward. In addition to fishing gear and accessories, HPO also offers clothing for men, women, and children.
Salt Life isn't just a store - it's a way of living! By offering products that are both functional and fashionable, this shop speaks to beach lovers from all over the world. Those living an active lifestyle – from surfing to fishing to diving to relaxing on the beach – will find a variety of clothing that fit their needs. Besides apparel, Salt Life also provides customers with decals and gear so that you can show off how you are living the "Salt Life."
Calling all-island men! Island Clothiers stocks an incredible selection of men's clothing and accessories, featuring all the top brands and lines. No matter what "look" you are searching for, you will find it here. Designs range from southern charm to trendy to classic. Dressing for the beach? Taking your lady out for a date night? Be sure to check out Island Clothiers first because it might be the only store you need to visit!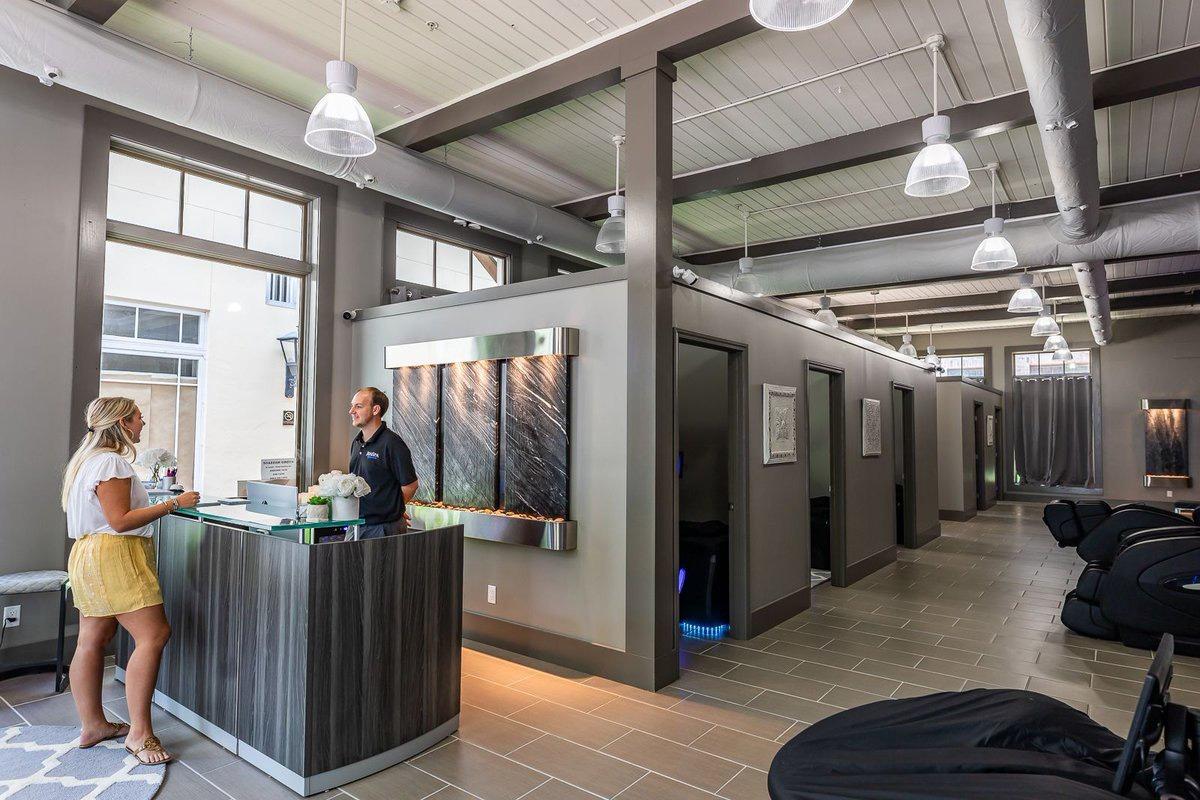 Beach vacations are for relaxing, right? And there is nothing more relaxing than spending some time at the spa! JenSpa features massage beds with the latest and greatest innovative spa technology. You get to choose the pressure, temperature, length, and speed of the massage. The convenience of these massage beds helps you relax on your own time and on your own schedule. Get in a quick massage before heading out to explore the rest of the Village of Baytowne Wharf.
You really will find a paradise of souvenirs when you visit Paradise Found. Offering a variety of souvenirs to commemorate your Emerald Coast vacation, Paradise Found is great for all ages. This store is home to novelty shirts, coastal décor, seashells, beach toys, and just about anything else beach-related that you can think of. Find something for you, your friends, and your family all in one place!
Rockwell Tharp Ladies Boutique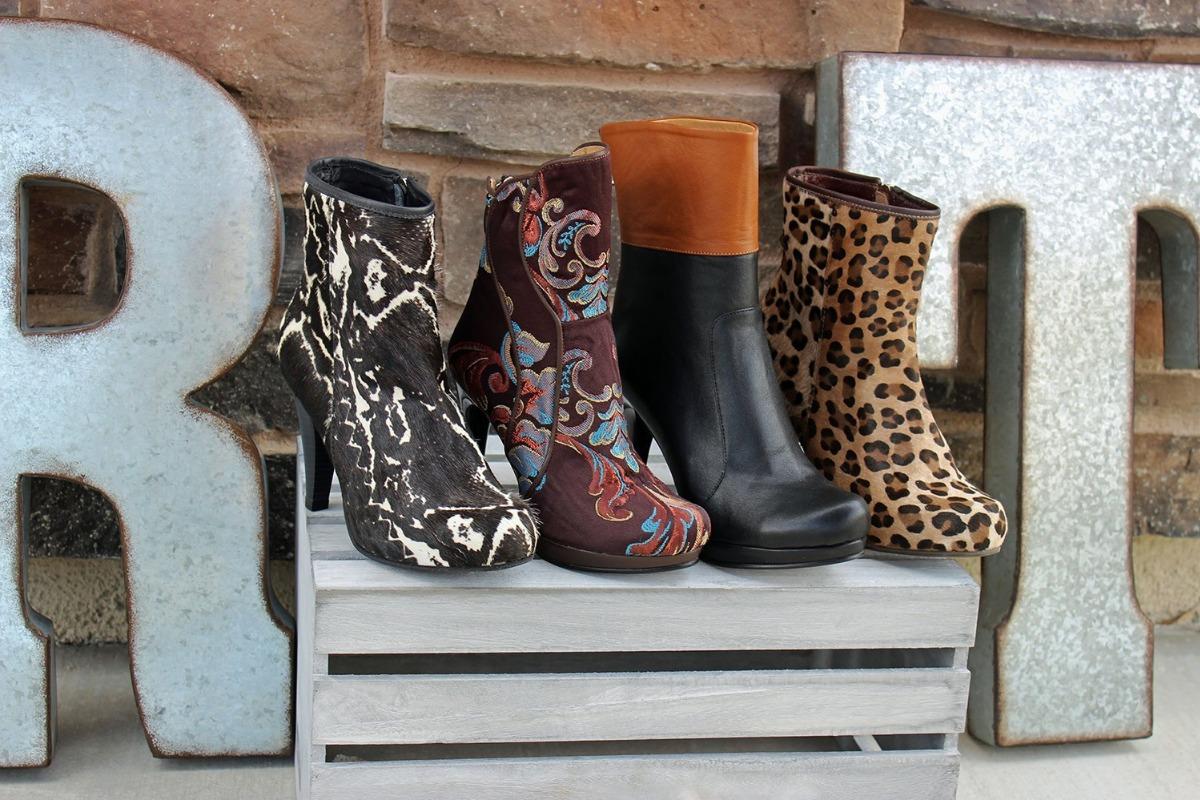 Hey there, ladies! If unique and empowering fashion is what you are about, you have come to the right place. Founded by Kristi Rockwell and Cameron Tharp, Rockwell Tharp Ladies Boutique boasts cutting-edge fashion for all the ladies out there. At this boutique, you will find boots, shoes, and handbags that inspire confidence and positive self-image. Don't miss out on your chance to check out this excellent shop in the Village of Baytowne Wharf, and be sure to bring all your girls!
Sandestin Clothing Company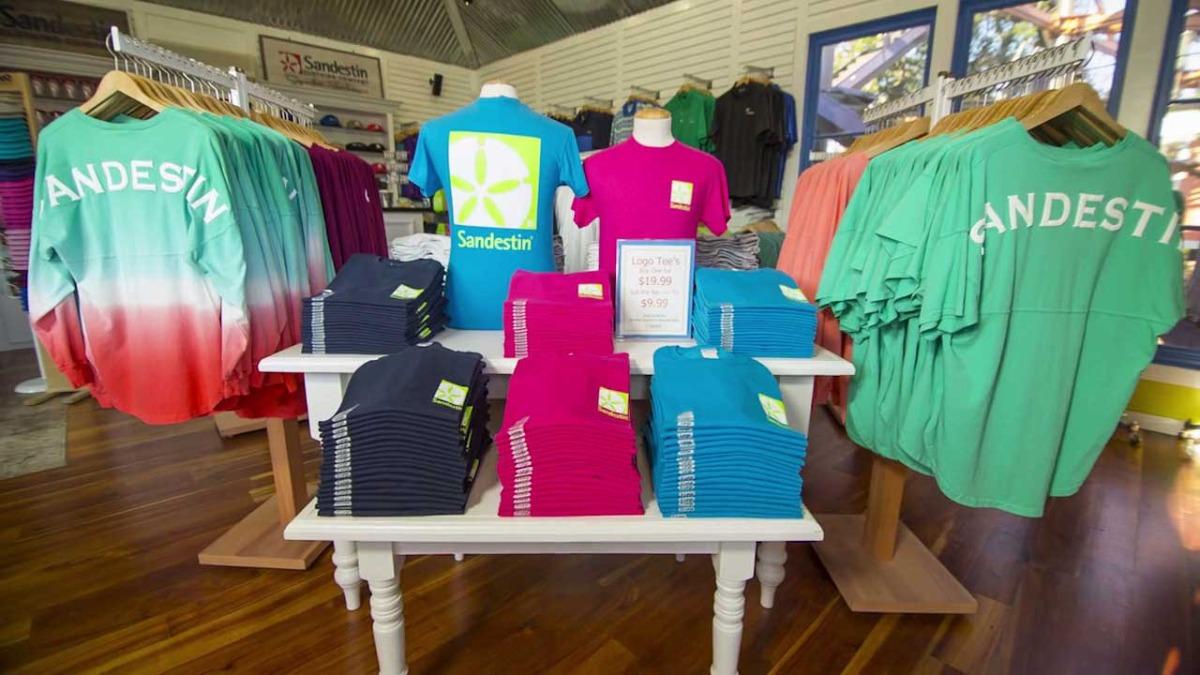 Did you stay at Sandestin Golf and Beach Resort during your vacation? Sandestin Clothing Company is the resort's one and only signature logo shop, where you can get a commemorative logo t-shirt! The shop also includes souvenirs, gifts, beach toys and necessities, and more.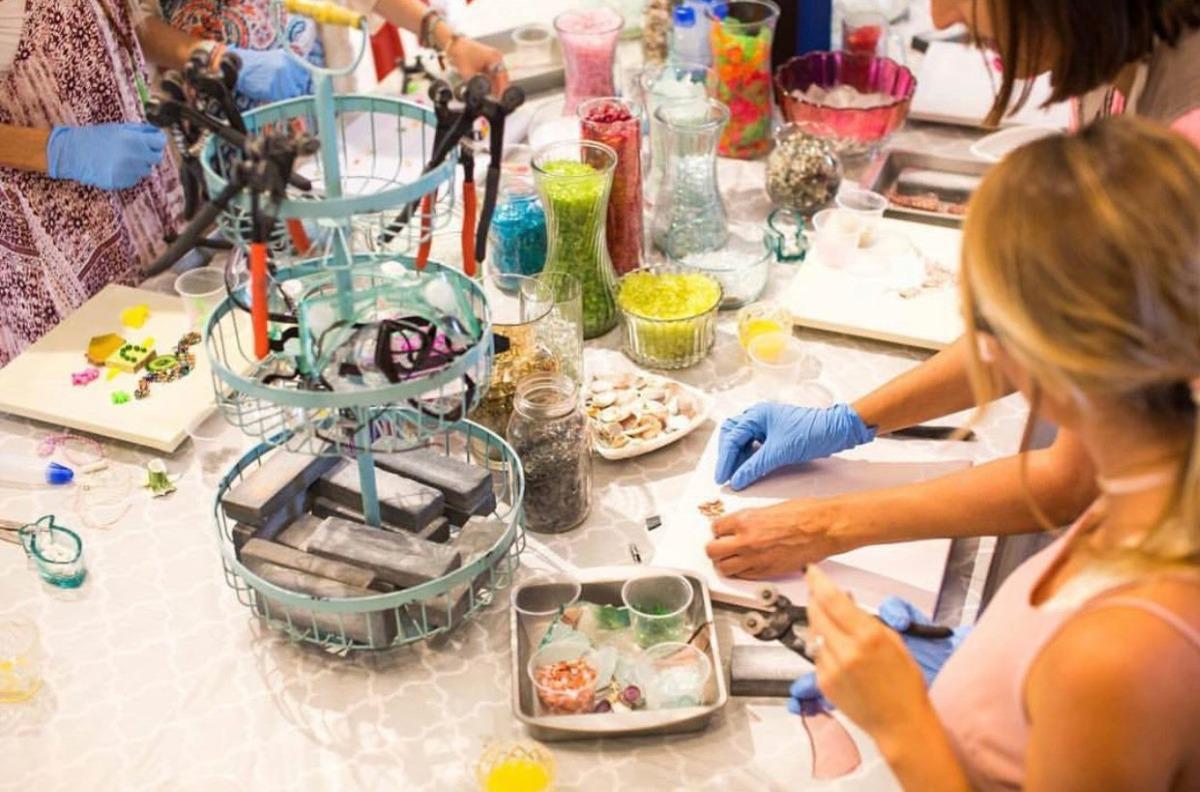 Get your creativity on at the Shard Shop! This art shop isn't your typical browse-and-buy art gallery. Here, you get to make your own unique art using shards of glass, shells, resin, paint, and canvas. Whether you are feeling inspired by the beautiful beaches or calm views of the bay, the sky is the limit to what you can create. The Shard Shop is only open Thursday through Sunday, so be sure to get in while you have the chance!
Things to Do at Baytowne Wharf

Adventure Land Playground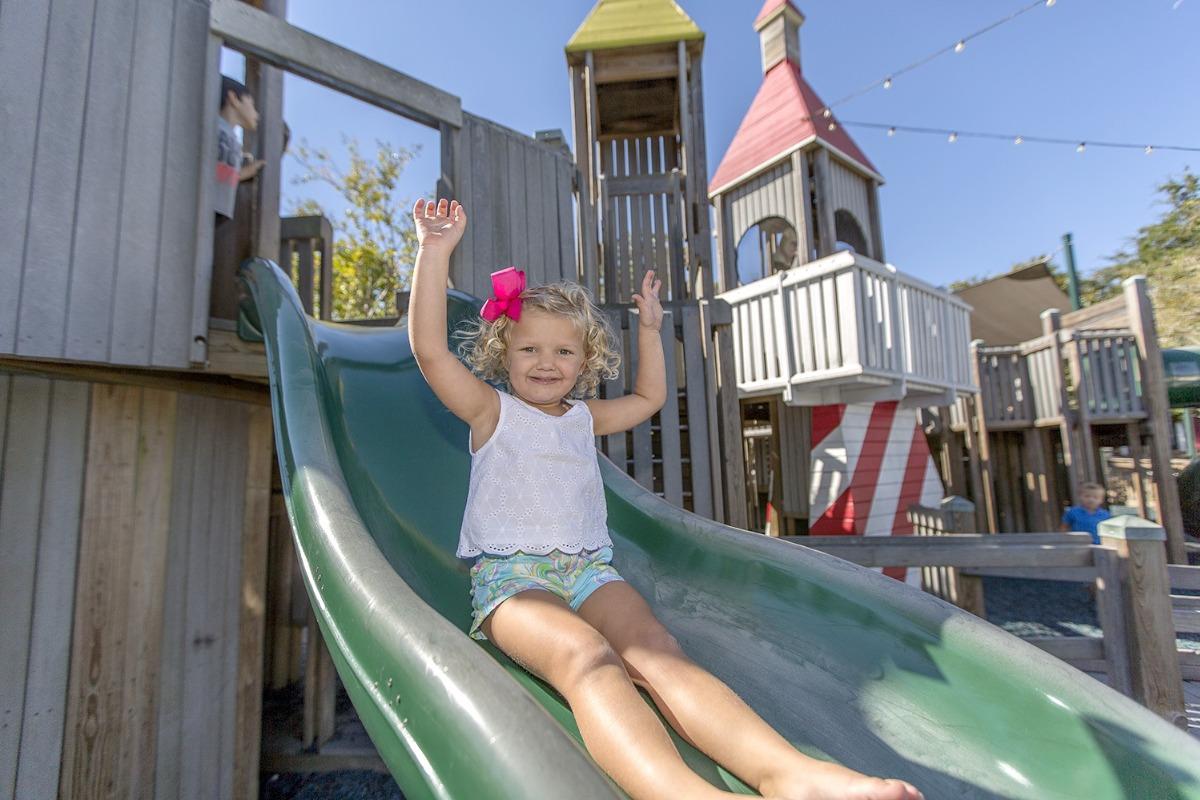 Family fun abounds at the Adventure Land Playground. This awesome playground is nautical-themed, inspiring make-believe fun and adventure for your little ones. Located in a fenced area, parents can be sure that their kids are playing, climbing, and running around safely.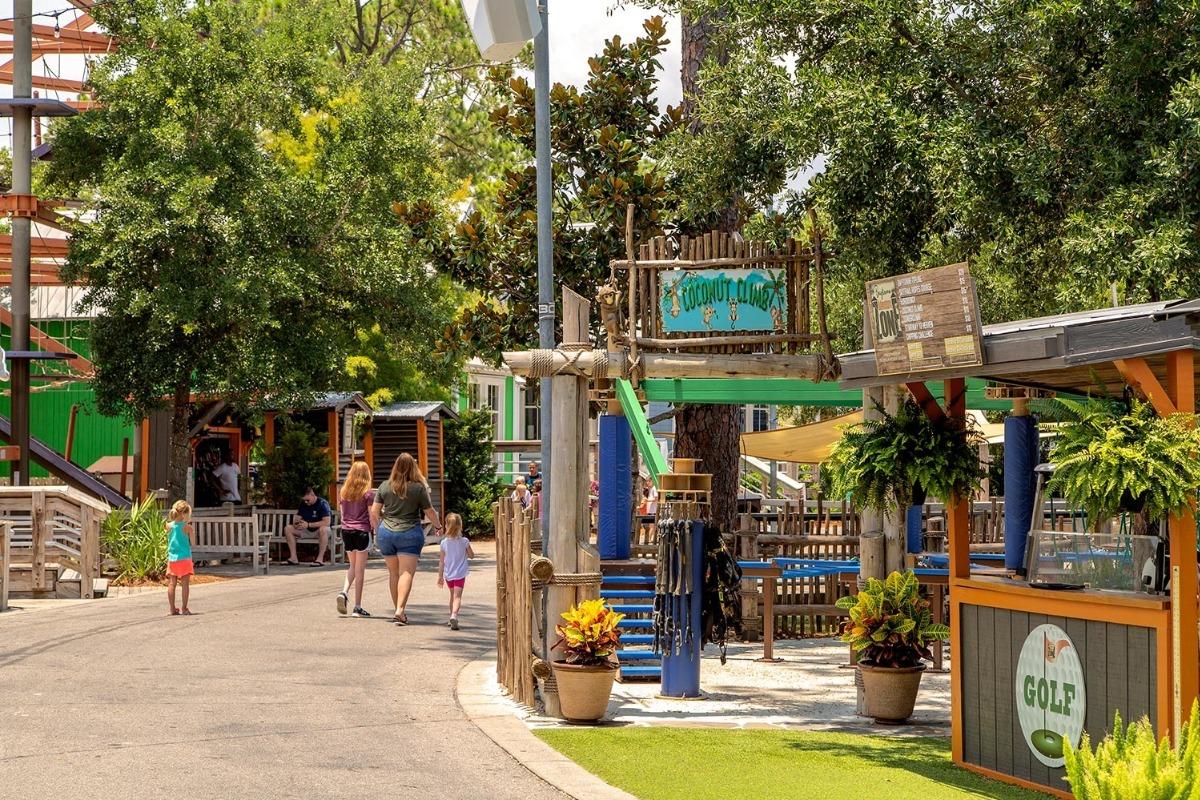 The Baytowne Adventure Zone is a step up from the Adventure Land Playground. Older and more adventurous kids (and adults) will definitely have a sky-high good time in this zone. The Baytowne Adventure Zone features a zipline, EuroBungy, two ropes courses, a tower climb, and a golf challenge.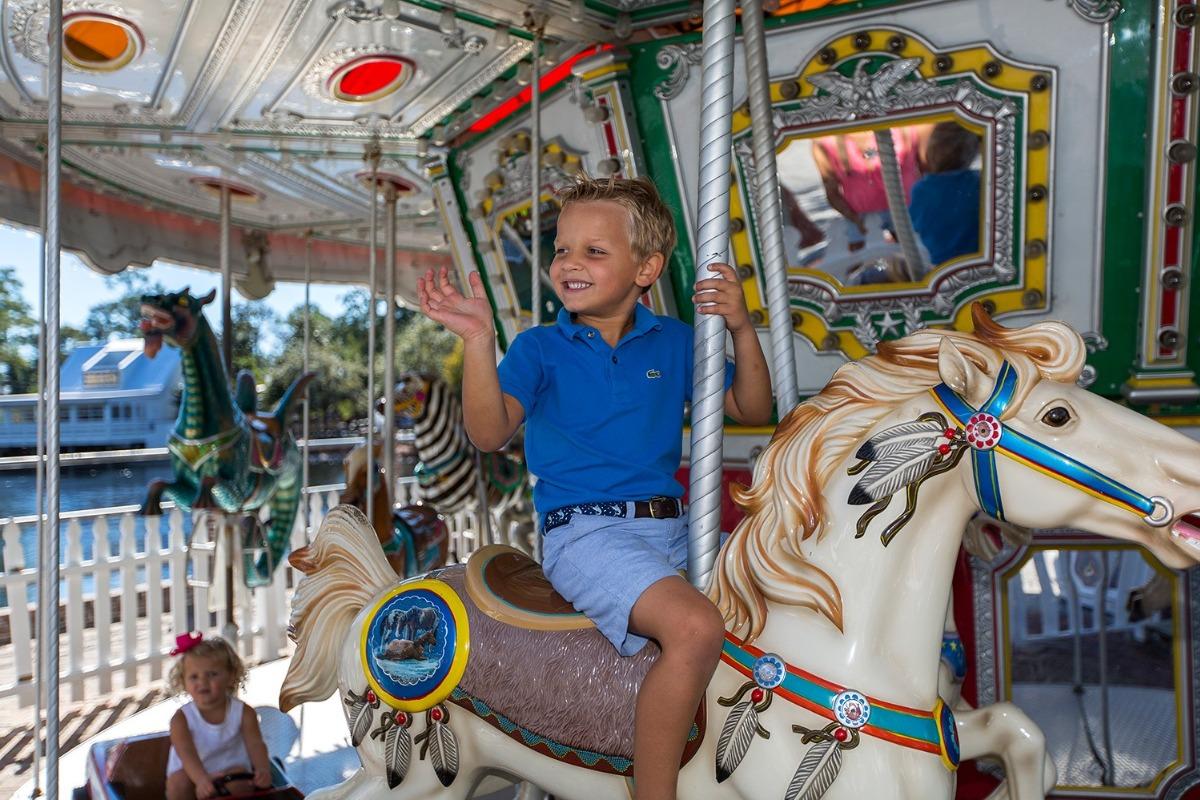 Everyone loves a good carousel! The Baytowne Carousel is sure to put a smile on your little one's face. With options to ride race cars, dragons, zebras, and more, your child's imagination will come to life.
Blast Arcade & Laser Maze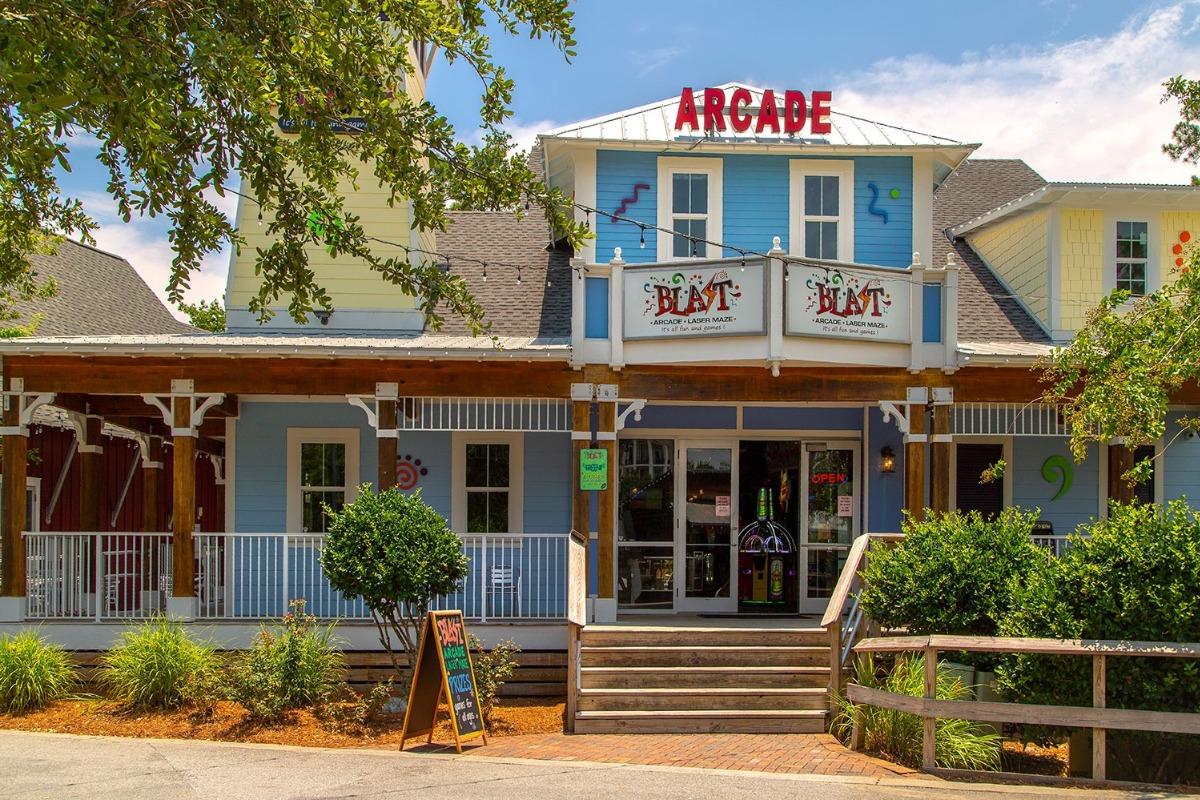 Arcades are far from being a thing of the past. The Blast Arcade and Laser Maze offer enough family-fun to last the entire day – and even longer! The arcade features over 60 games, so be sure to challenge your friends to some friendly competition. A Laser Maze and Blast Em Shootin Gallery add to the fun.
Throughout the year, the Village of Baytowne Wharf hosts memorable events and festivals. Some of these include the Wednesday Night Concert Series, Baytowne Art Walk, Annual Wharf Beer Festival, Annual Duck Regatta, Trick or Treat Street, and 12 Nights of Lights. The Village of Baytowne Wharf provides a calendar of events that lists the full details and scheduling of each of these events. Be sure to check the schedule, so you don't miss out!
John Wehner's Village Door Nightclub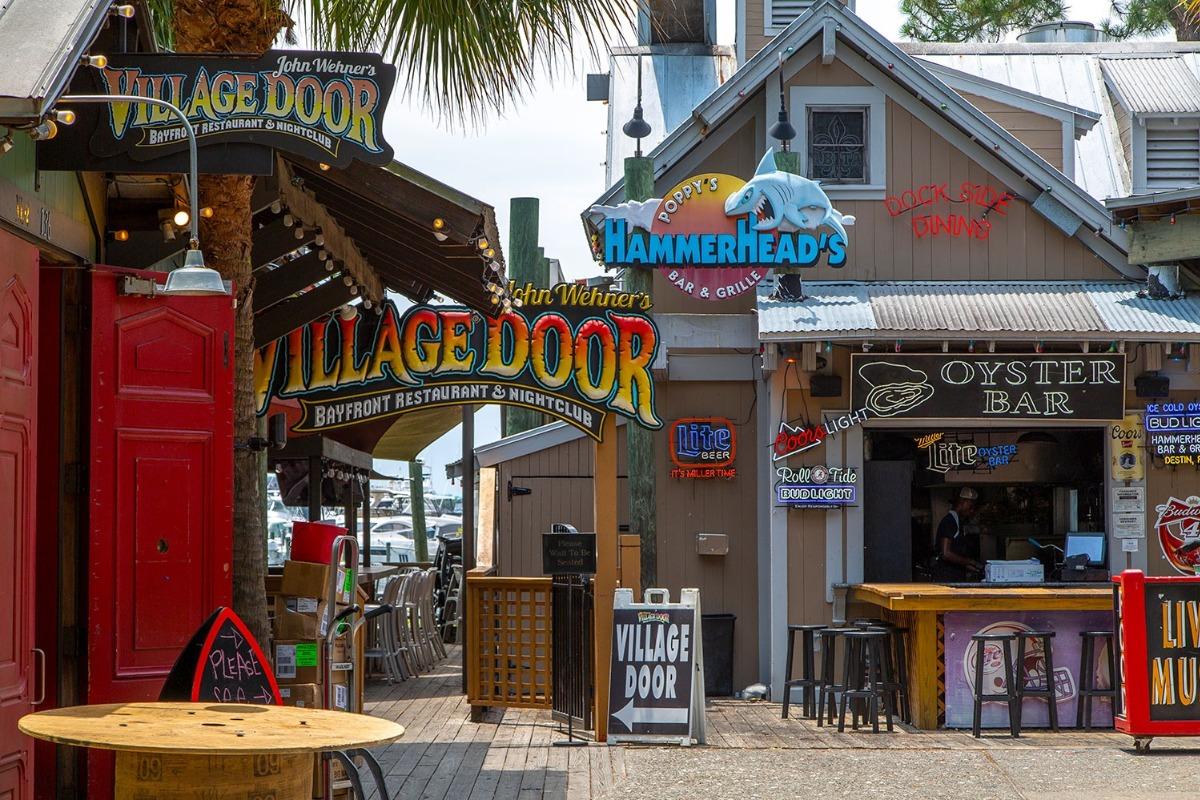 Enjoy the nightlife at the Village of Baytowne Wharf with a visit to John Wehner's Village Door Nightclub. As an award-winning dance venue, you will enjoy live music, an upscale crowd, dancing, and your favorite shots. With a lively dance floor and a bar overlooking Choctawhatchee Bay, there is no better way to spend a night out.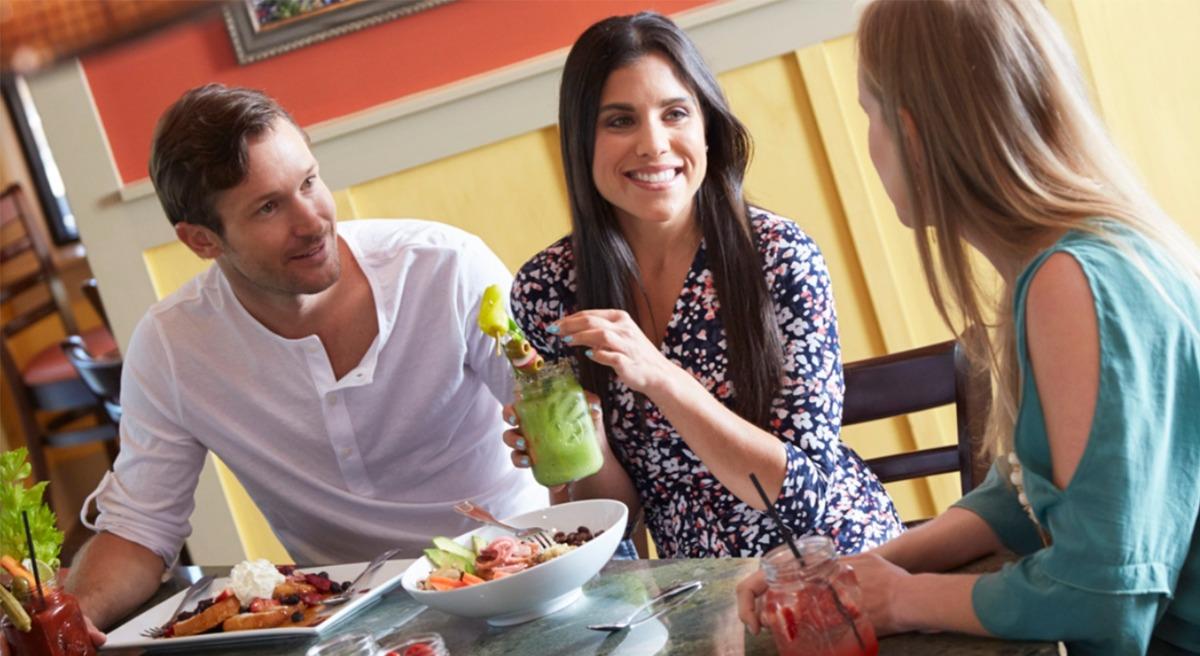 Mix it up with a French Coastal atmosphere and a delightfully delicious menu at Another Broken Egg Café. Here, you can get breakfast all day, as well as specialty coffees, Bloody Mary's, and Mimosas. This quaint café has been voted "Best of the Best" on the Emerald Coast for 12 years in a row.
Fresh, hot coffee… just the way we like it! Caffee Siena serves a variety of coffee and pastries that you will love. It's the perfect spot to kick start your day or give your afternoon a jolt of energy!
Where can you get a pleasant mix of Mexican and Caribbean-inspired dishes? At the Cannery Lane Cantina, of course! Enjoy everything from tacos, burritos, quesadillas, avocado fries, and more. Add a beer or sangria, and you're all set!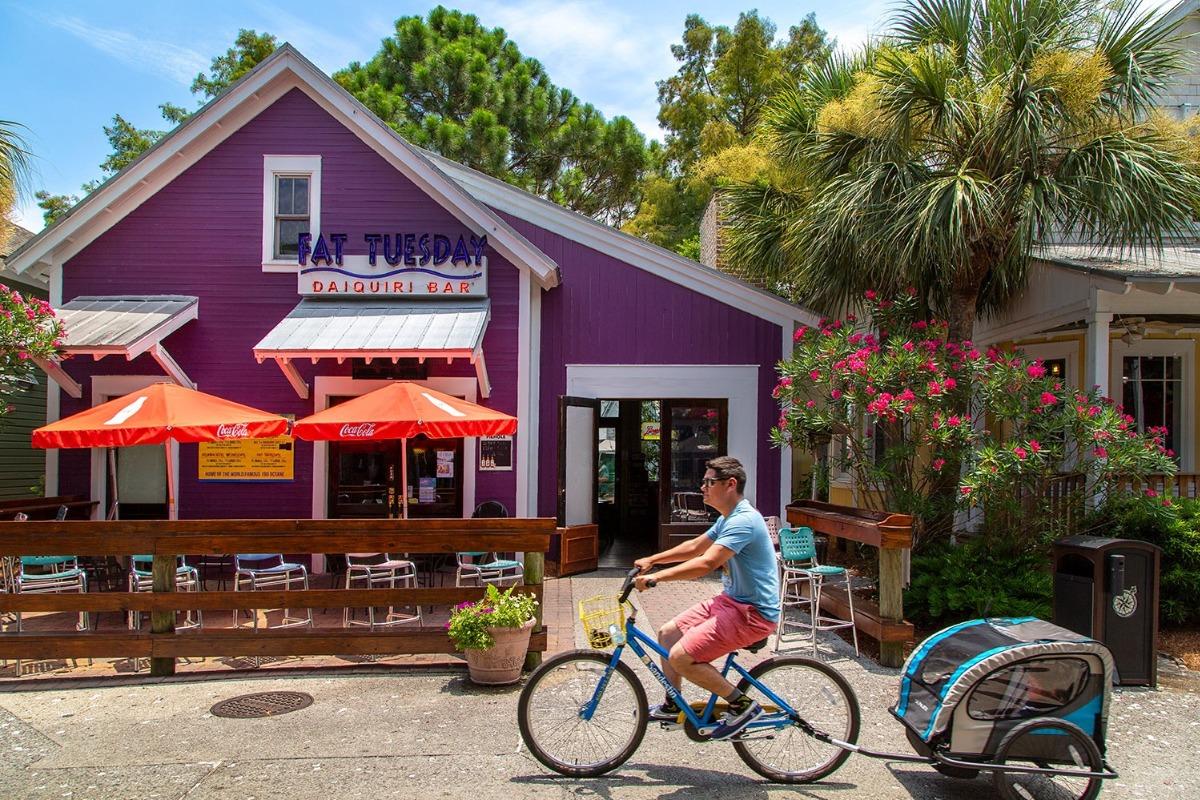 Chances are you've heard of Fat Tuesday Daiquiri Bar, a New Orleans specialty. This bar serves up all your favorite specialties like the 190 Octane or Hurricane, chilled and easily enjoyed under the heat of the Florida sun.
Hammerhead's Bar & Grille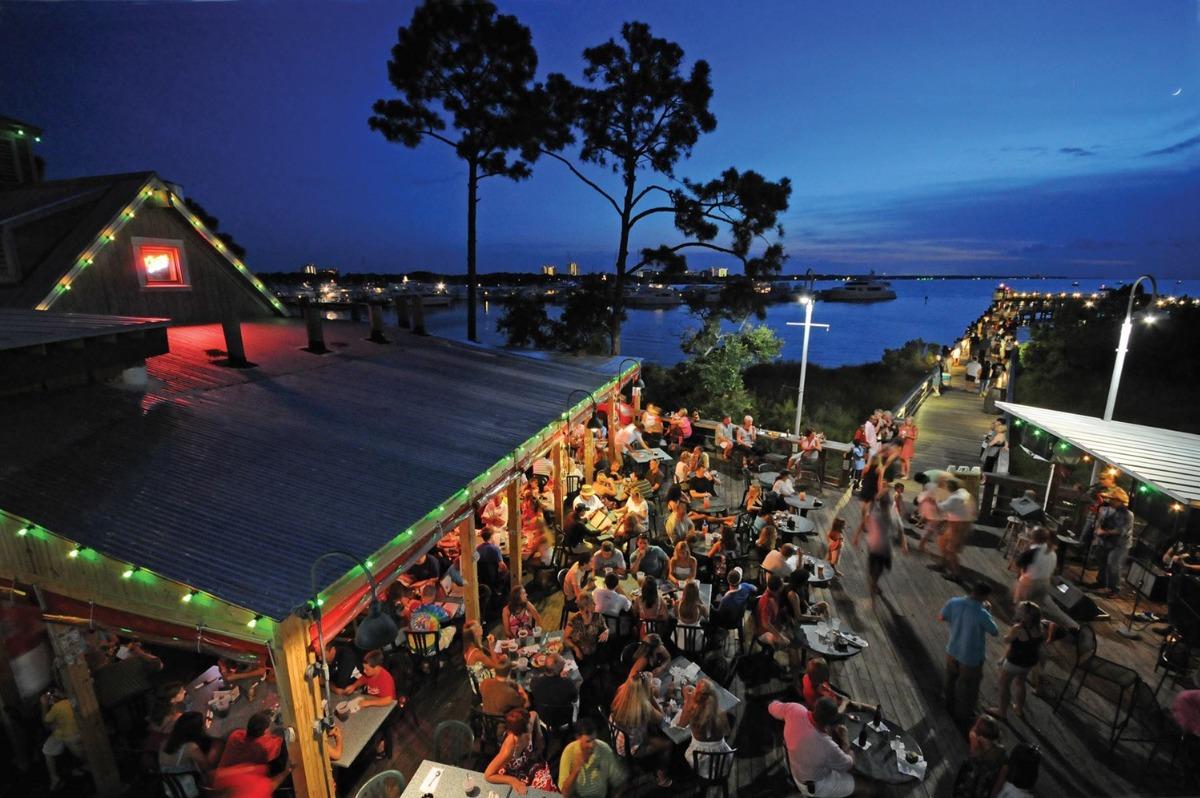 Get dinner and a view at Hammerhead's Bar & Grille. This popular restaurant overlooks Choctawhatchee Bay, providing stunning views while you enjoy steamed seafood with an ice-cold beer. Live music and a pet-friendly atmosphere add to the relaxing experience.
Everyone's a cool cat at Hartell's Village Diner. This classic 50's diner will have your nostalgia in full swing, as you enjoy a taste of the past. Besides breakfast, lunch, and dinner, you can check out Bob Bodiker's World Famous Sweet Shop and ice cream bar.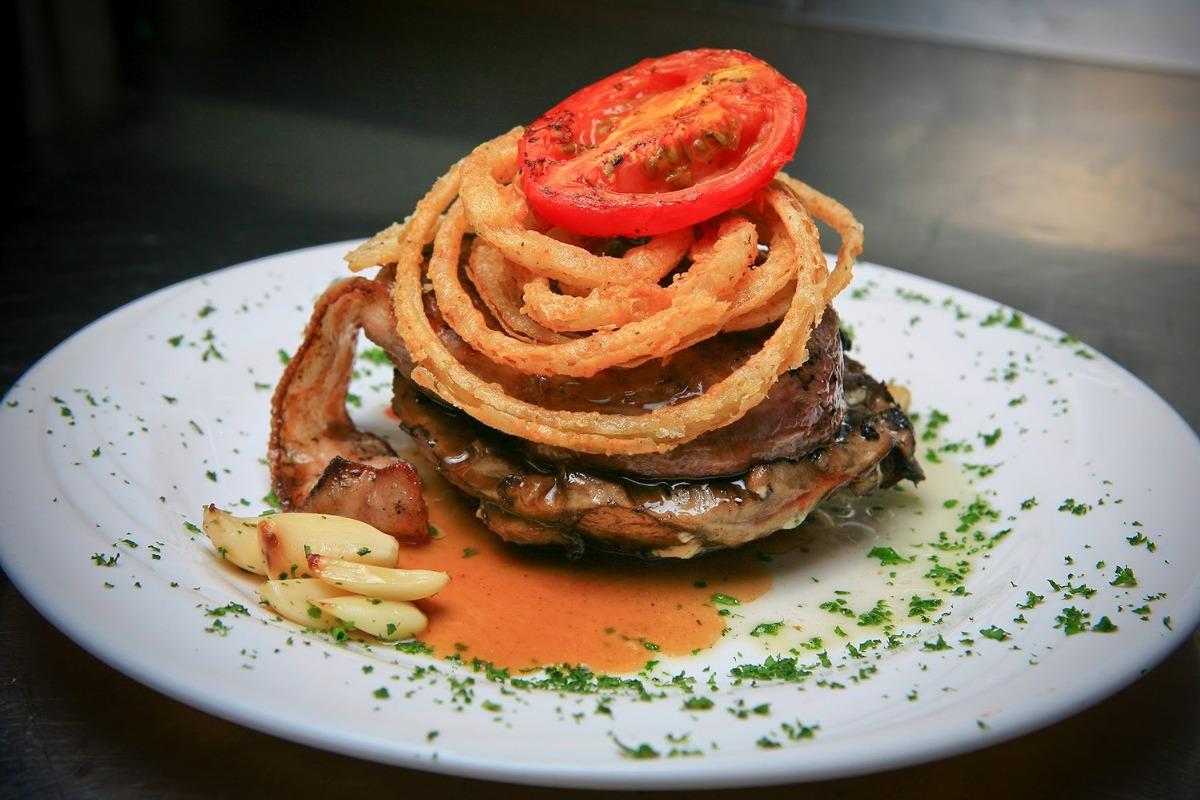 This dinner destination is a must-visit. As a casual yet upscale dining establishment, customers will enjoy an incredible menu with tasty dinner options. Top your meal of seafood or grilled steak with a cocktail and outside terrace seating… you won't want the night to end!
Moo La-La Ice Cream & Desserts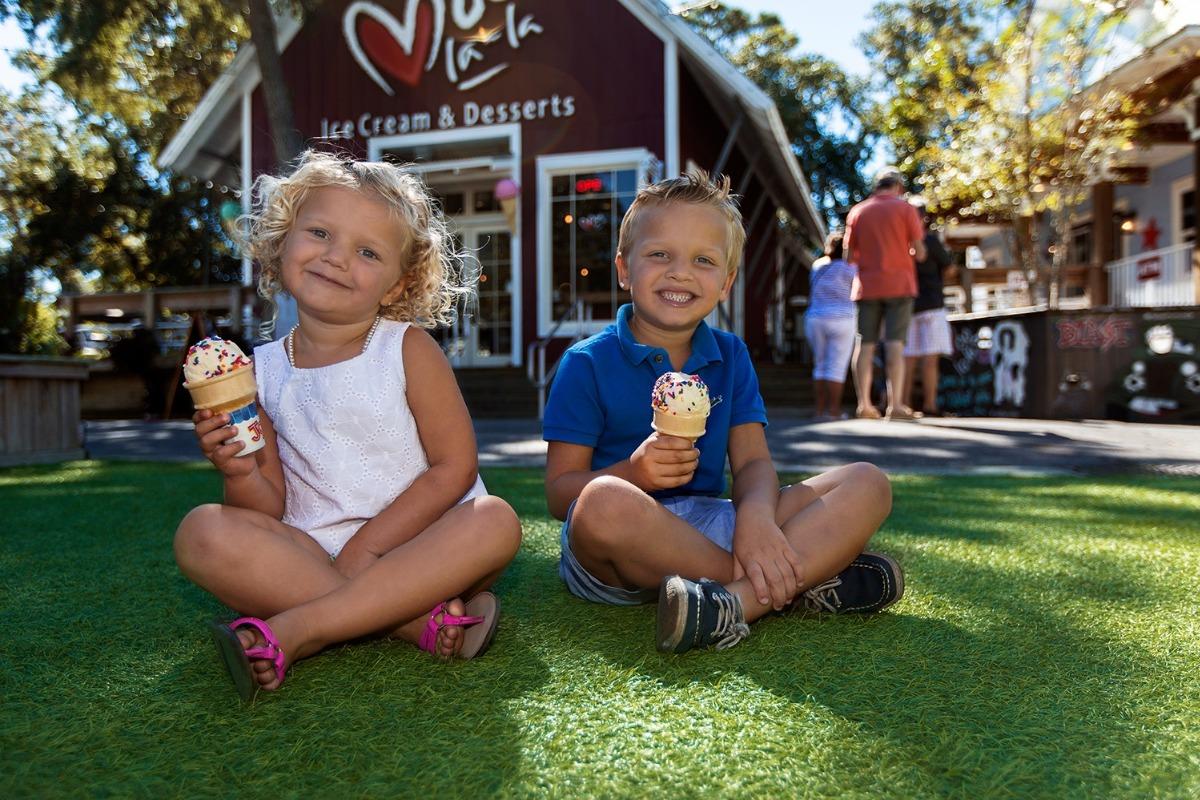 You scream, I scream, we all scream for ice cream! Moo La-La Ice Cream & Desserts will have you drooling over their selection of 24 different ice cream flavors. If you're not that into ice cream, don't worry. They also offer a variety of sweet desserts, chocolate, and pastries to please your taste buds.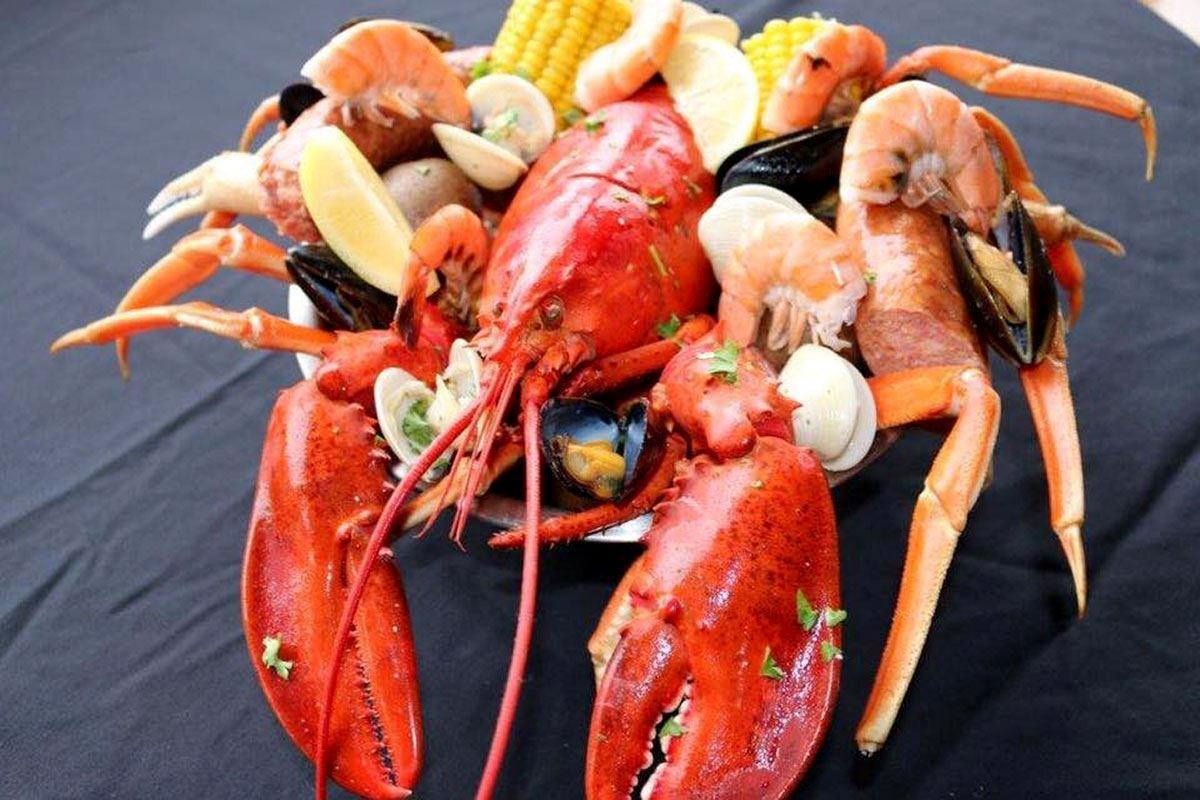 When you're craving local seafood and Cajun favorites, it's time to go to Poppy's Crazy Lobster. Its eclectic menu combined with views of the bay makes for a perfect dining experience.
Roberto's Pizzeria & Sports Bar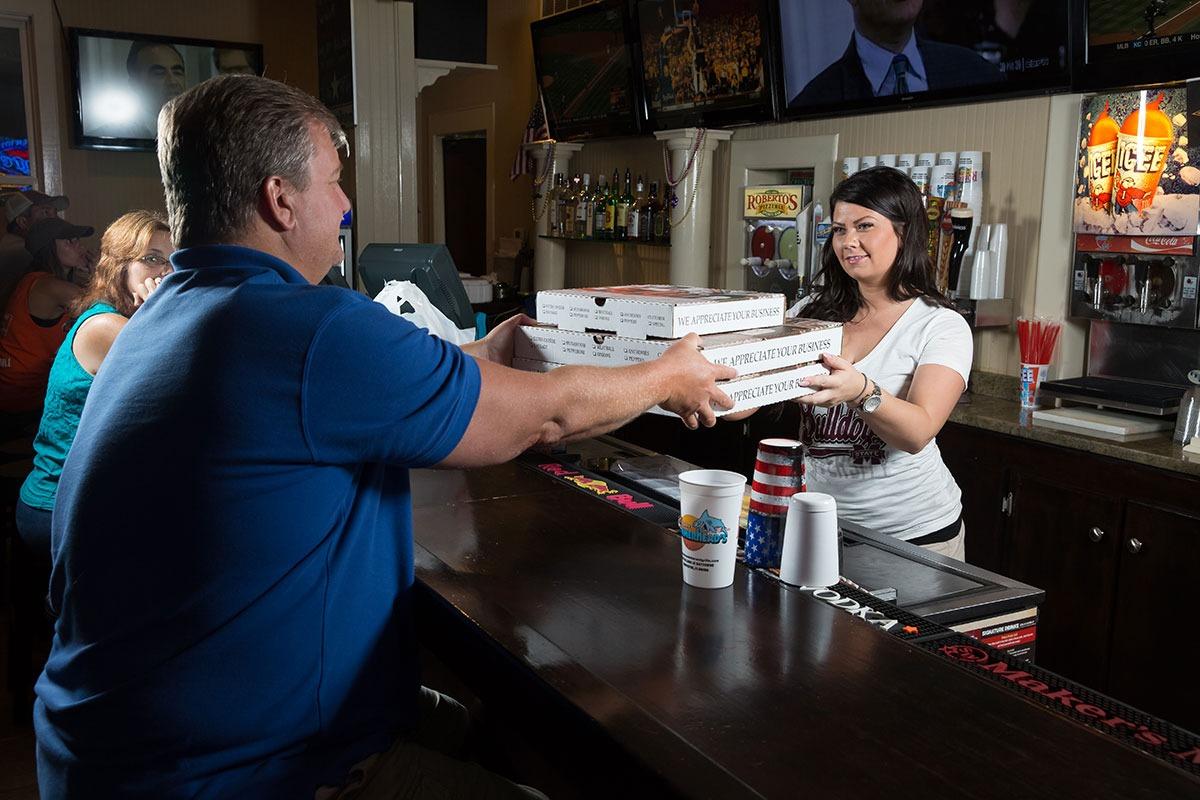 You can never go wrong with pizza, and Roberto's Pizzeria & Sports Bar is so right! Providing gourmet pizzas, calzones, Stromboli's, as well as pasta and salad, this family-friendly restaurant appeals to kids and adults alike. It also features indoor and outdoor seating, big-screen TVs to watch the game, and a full bar.
Find great food, music, entertainment, and fun all in one place at Rum Runners. This excellent location features dueling piano players who perform hits from every decade, starting in the 50s. Enjoy your food and sing along to these talented musicians all night long.
Did someone say dessert? Seaside Sweeteries provides Italian gelato for a light and refreshing dessert. Enjoy your gelato after lunch, dinner, or even a midday snack! You can also check out the full gourmet espresso bar or discover other desserts.
Slick Lips Seafood & Oyster House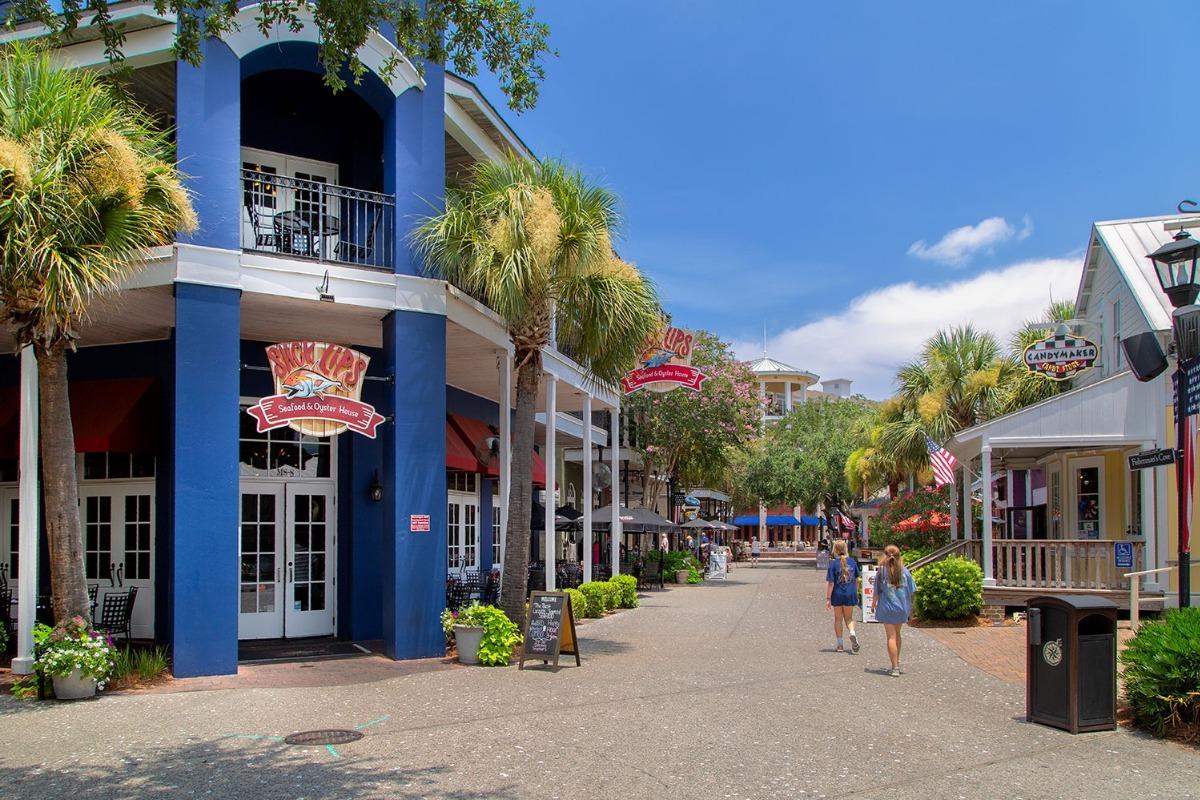 Seafood, seafood, and more seafood! As a family-friendly seafood restaurant and oyster bar, this establishment provides something for the whole family. Fresh ingredients, local fish, and fresh oysters are only the beginning of this delicious menu.
Tony Larue's New Orleans Snoballs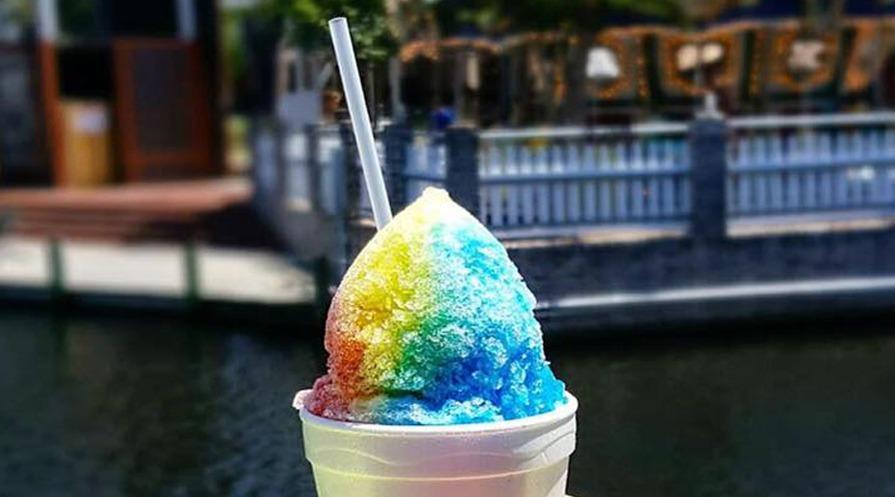 Cool down in the summer heat with a cold New Orleans-style snoball. Besides tasty snoballs in a variety of flavors, Tony Larue's New Orleans Snoballs also offers a range of snacks, including popcorn and cotton candy. As our guest, they'll even throw in a bonus snoball with any purchase!
Village Door Dockside Restaurant
It's time for some authentic southern Bar-B-Que! With meats smoked in-house, award-winning BBQ sauces, and additional seafood options, there is no better place to stop for a meal! The views only add to the atmosphere of the Village Door Dockside Restaurant.
If you haven't already booked your Emerald Coast vacation, now is the time to do it! To be nearby both the beautiful beaches and the Village of Baytowne Wharf, be sure to check out our Sandestin Vacation Rentals. Our team of reservation specialists can help make planning your trip easy, and this guide will help you make the most of the famous Village of Baytowne Wharf!