Posted on 12/16/2022
The Christmas season is upon us. Just this year alone, our team has helped over 200K guests have an excellent beach vacation! We pride ourselves on finding them the perfect vacation rentals on the beaches of the Emerald Coast. From Destin to 30A, we know the very best places to stay. Since no one works harder than Santa this time of year, we got to thinking we might oughta give Ms. Claus a couple of subtle suggestions. Trust us, these spots were tailor-made for Saint Nick, Raindeer, and Elves to have a little R&R, south of the arctic circle for a change. Our staff of vacation pros, housekeeping heroes, and maintenance masters was simply tickled pink at the chance to suggest the right place for Santa to stay after the holiday. Far better than milk and cookies, here are their recommendations for a jolly jamboree...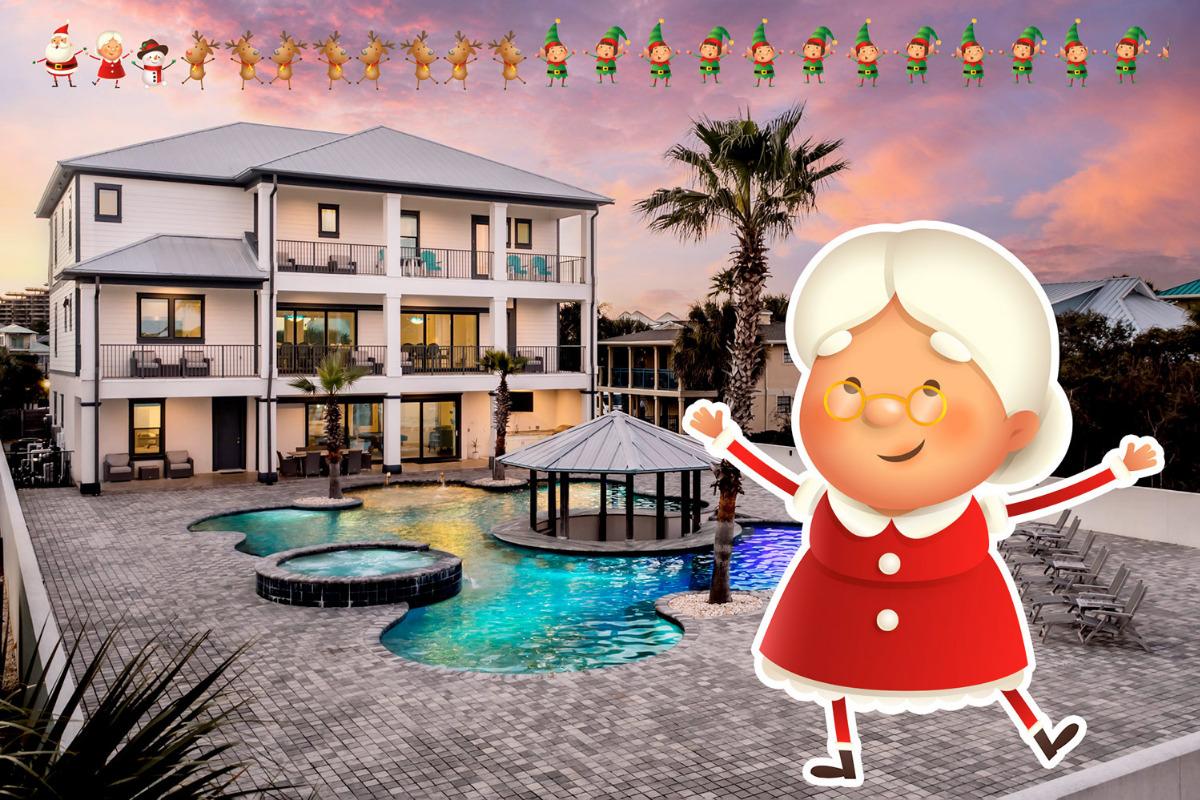 8 Bedrooms / 8 Full & 2 Half Bathrooms / 25 Guests
Atlantis is a purposed-designed massive rental home sits in the heart of Destin's Miramar Beach and sleeps a whopping 25 guests! Its most distinguishing feature is the gigantic resort-style lagoon-shaped pool, perfect for outdoor cooking and entertaining! A game room for the kid in all of us makes for fun around the clock, and the luxurious appointments provide the perfect escape from everyday life. You'll have space for your whole crew to spread out and relax; dual master suites and grand guest rooms are perfect for extended families.
There is plenty of room for Santa, Mrs. Claus, the Elves, and 8 Reindeer! Santa & Mrs. Clause deserve some relaxation time in the hot tub. The Elves can float around in the "GINORMOUS" pool. The reindeer can take a break and play a game of pool or a round of poker at the poker table. There's plenty of room to entertain at this beautiful luxury home. And last but not least, they are only a "jingle" away from the beach! Good thing the Reindeer are service animals since pets aren't allowed here, lol.
Val (Reservations)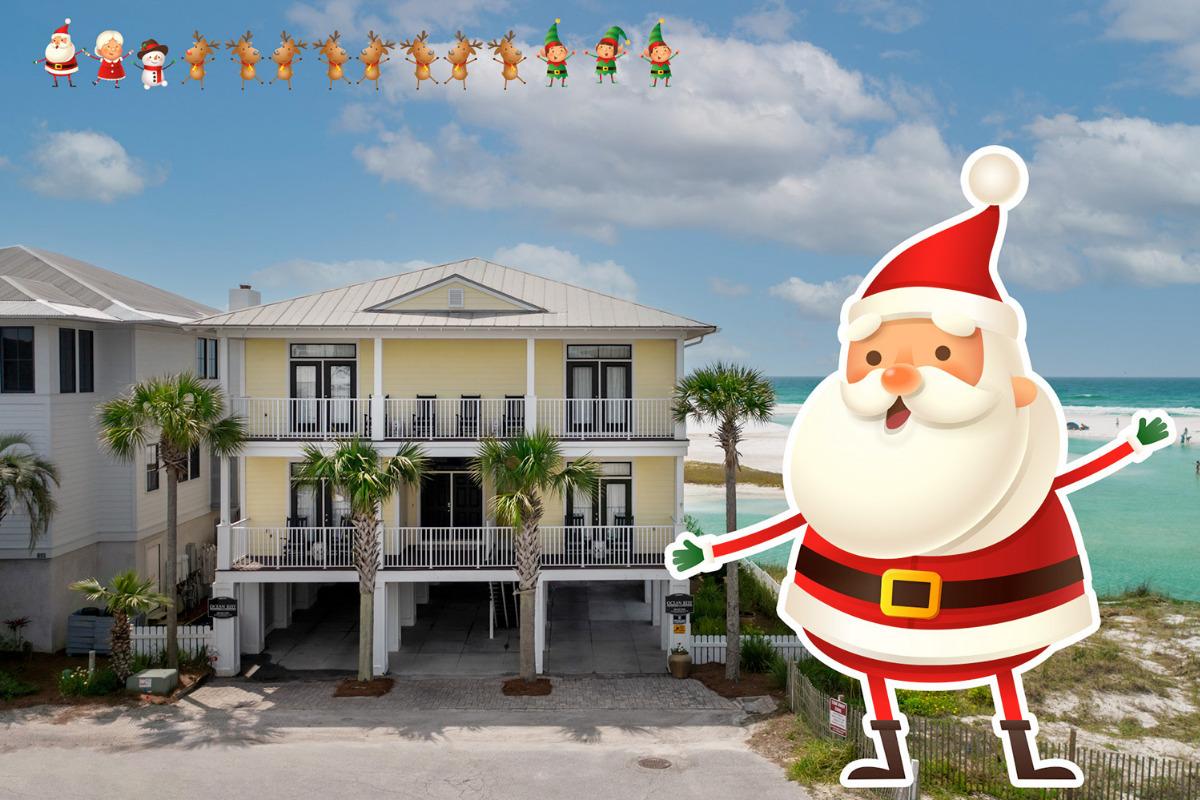 6 Bedrooms / 6 Full & 1 Half Bathrooms / 14 Guests
With some of the best views in town, Abaco overlooks Western Lake and the dazzling Gulf of Mexico. The Place even features a dock from which to launch any number of kayaking and paddle-boarding adventures. Need to relax after a long day on the shore? Pop into the hot tub for a soothing soaking. Inside you'll find an abundance of sophisticated elegance and charm, so much so it was featured in Southern Living Magazine. This location is unique and close to everything Grayton Beach beach has to offer.
Abaco in Grayton would be my pick. Great location, a perfect view, a great place to run his Reindeer on the beach, plus a hot tub for old Santa's weary bones. C Cottage is another great property with a fantastic view, a hot tub, and lots of beaches to run on!
Joan (Housekeeping)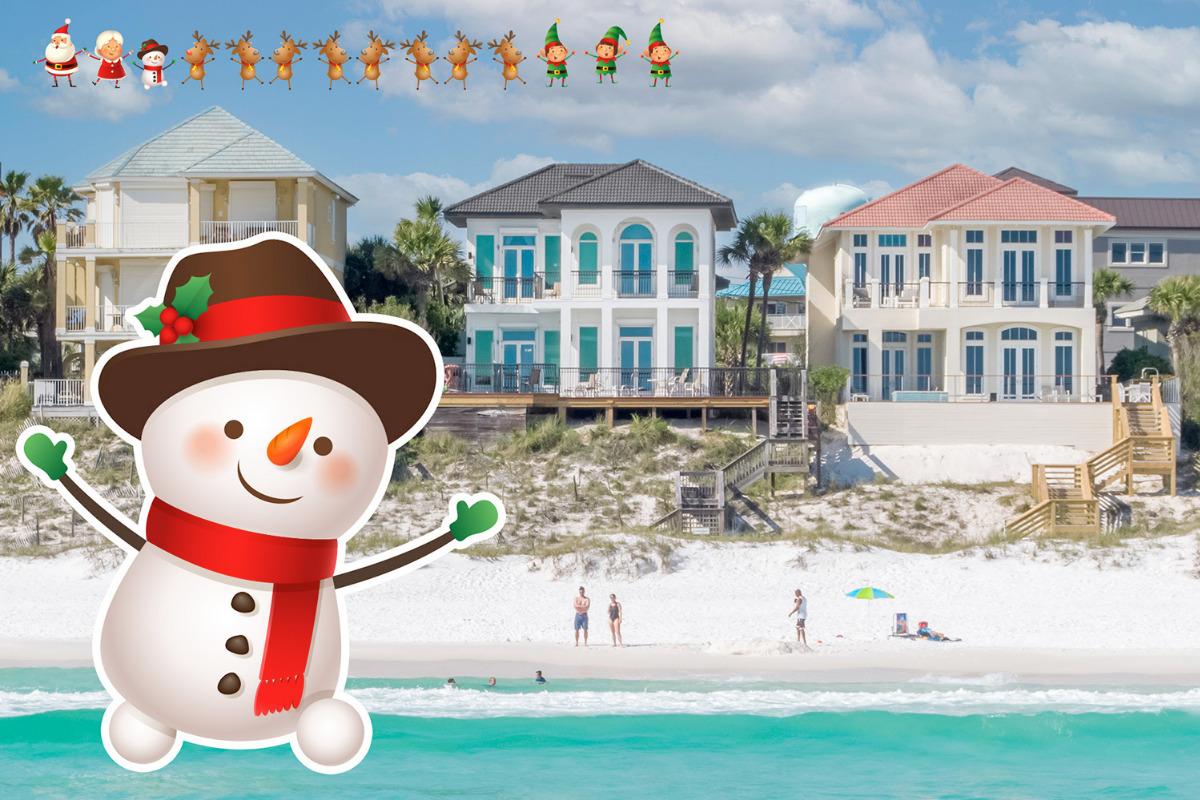 5 Bedrooms / 5 Full Bathrooms / 14 Guests
French for "paradise," Paradis features everything you could ever want in a beach house. Starting with the exterior accouterments, you'll find a grand pool with a soaking tub that looks out over the Gulf and pours into the pool. Inside, a grand kitchen with ample counter space abounds. Magnificent primary suites, high ceilings, and lush appointments round out this perfect home in the perfect location. Nearby you'll find the area's best shopping and dining options, as this rental is centrally located right in the thick of it. Miramar Beach is home to more than just paradise; here, you'll find some of the best shopping and eats in town!
My recommendation would be Paradis; it has a large (in-operable) fireplace for Santa's easy access. A beautiful spacious kitchen for Mrs. Claus to make cookies and hot cocoa. Also, there is a fabulous beach access for the reindeer with a white snow effect from our white sand beaches.
Ivan (Guest Services)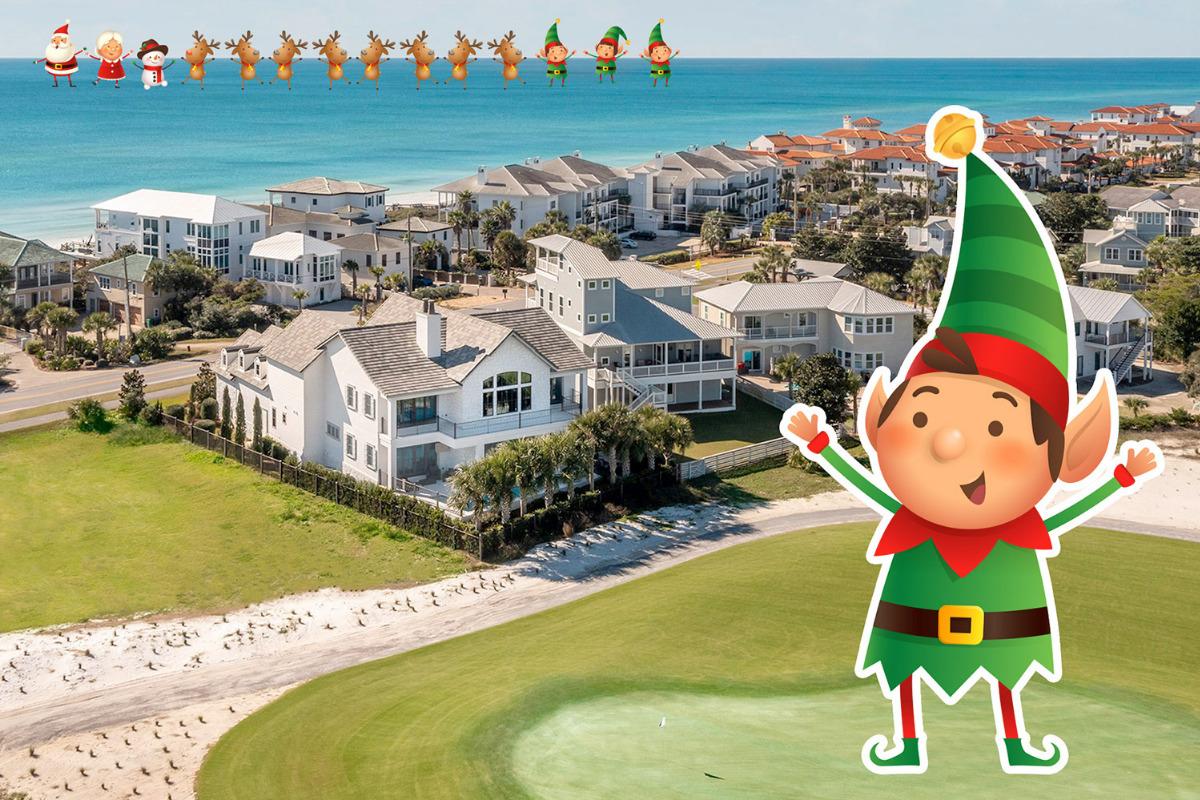 5 Bedrooms / 5 Full Bathrooms / 14 Guests
This 30A address in Dune Allen Beach sits between this famed stretch of the scenic coastal highway and the Santa Rosa Beach Golf Course, so parking that sleigh will not be a problem. This stately vacation home dubbed Fairway to Heaven has one of the grandest entrance ways on the coast. A massive spiral staircase leads up to the second floor, where you will find the home theater. Yes, there is a beautiful pool, and yes, in this home, the views inside rival the views outside; both are plentiful.
I recommend Fairway To Heaven. Why, you ask? Well, Here it is: Enough room for Santa, the Mrs, all nine reindeer (including Rudolph), and even Frosty. A home theater to watch classic Christmas movies like Die Hard (Yes, it's a Christmas movie). A heated pool, and right on the golf course to get in a little R&R after working so many hours.
Jeff P. (Guest Services)
They can also land on the golf course behind the house!
Todd (Leadership)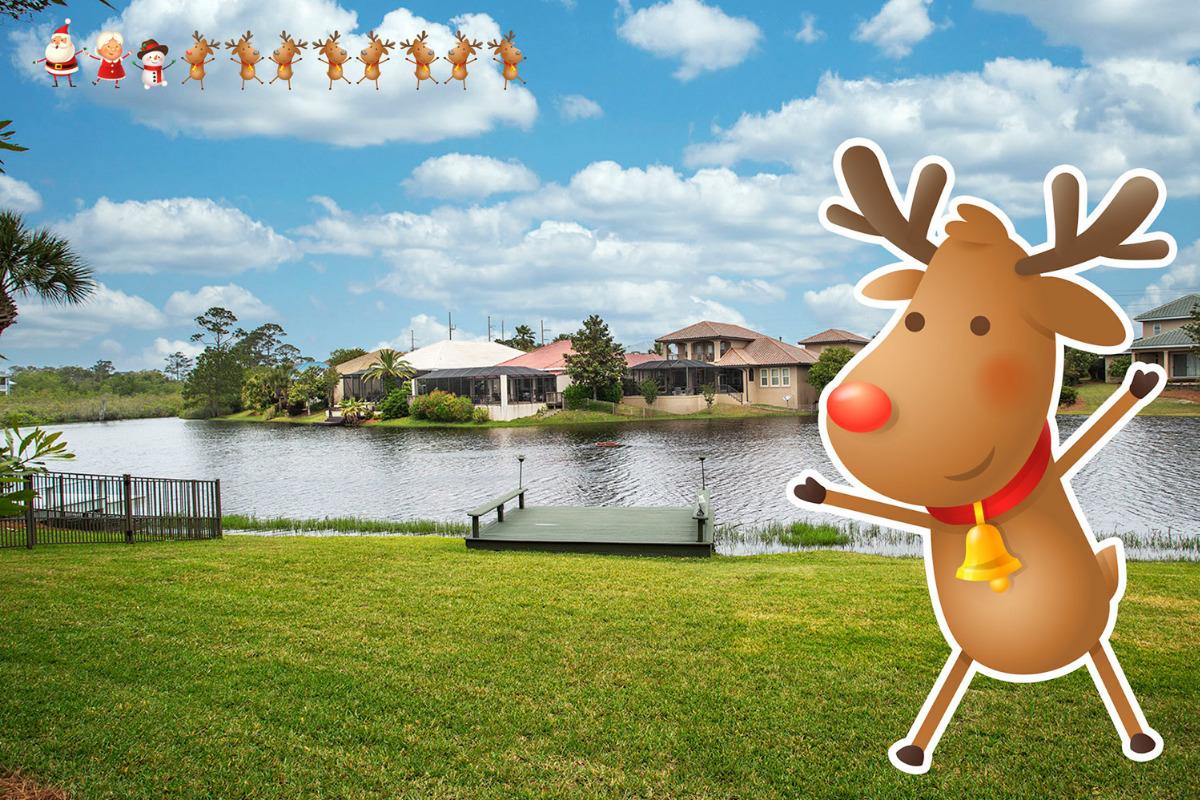 4 Bedrooms / 3 Full Bathrooms / 11 Guests
Siesta Del Sol sits in the heart of Destiny, on a dreamy dune lake. It's the perfect hideaway, hidden in plain sight between Crystal Beach and Miramar Beach. The neighborhood is walkable. The decor is beach casual. This home reminds one of a simpler time; it is both cozy and spacious, with lots of places to curl up after a day at the beach or delivering 8 Billion presents. There's a great porch on the back with a big hot tub. Farther out in the back yard there's even a cute little dock to go out and watch the stars on a clear night.
I recommend Siesta Del Sol because it has a dock perfect for Santa to park his sleigh on, and a hot tub on the back porch so he can defrost while keeping an eye on his reindeer!
Kyra (Reservations)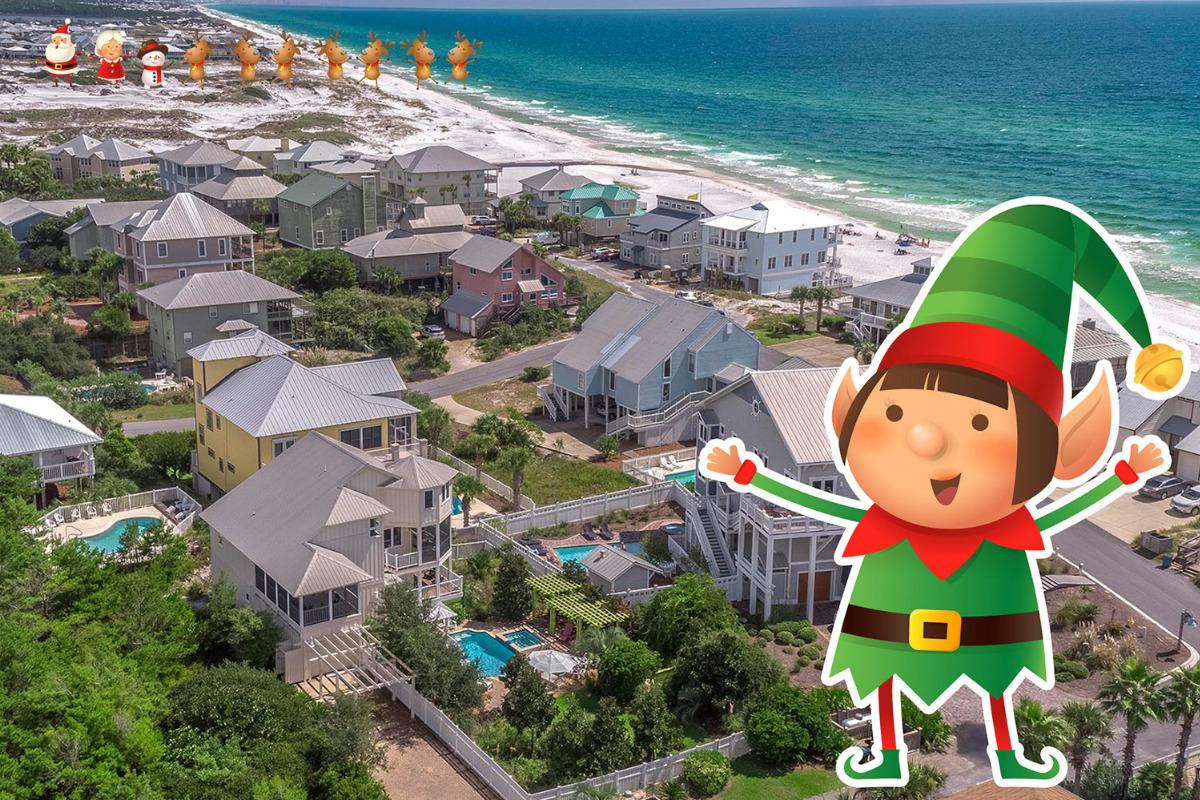 4 Bedrooms / 4 Full Bathrooms / 10 Guests
Located in South Walton's Grayton Beach, R And R is aptly named. This vacation destination engulfs you in its little world. Not so much a home away from home as a complex away from home. Towers and porches abound on the exterior, making for lots of fun nooks and crannies inside. Skylights and vaulted ceilings are all around. The furnishings are bright and uplifting! Outside there is a fantastically private pool, surrounded by lush gardens, and in the shadow of the home's beautiful architecture, there may, for some, be no place better to slip away.
R and R would be great for Santa, Mrs. Claus, and those reindeer. It is pet friendly (we will waive the weight limits just for Santa), so all the reindeer will have a bedroom to chill in. A heated pool for all the Claus' to relax in. A beautiful beach view. And a state park nearby for the reindeer to be able to spend time with their 'deer cousins.
Tonya (Reservations)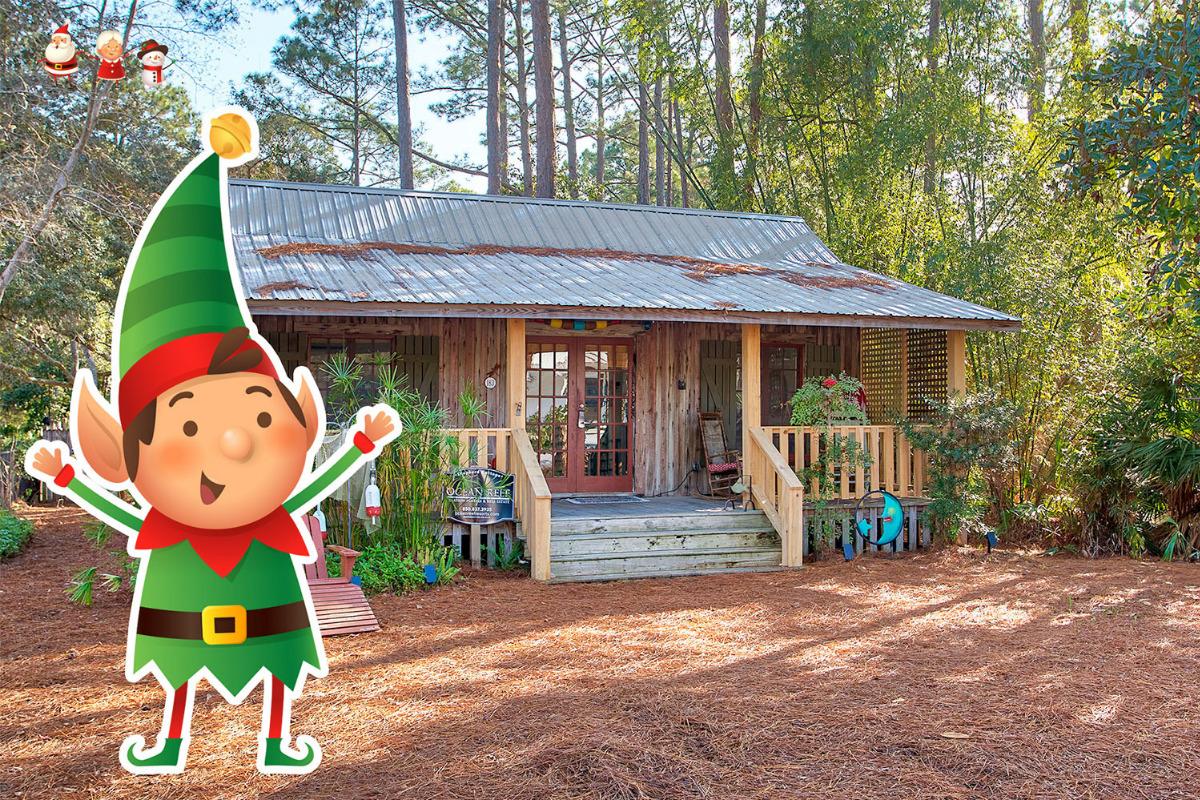 1 Bedroom / 1 Full Bathroom / 3 Guests
Want to go back in time? Stay in the Shepherd Cottage. In the heart of Grayton Beach, this very charming wood cottage was built in the 1880s. Inside, the place has been spruced up with a blend of modern conveniences and historically significant furniture that would take a whole blog in itself to describe. Striking here is the scale of the towering pine trees that seem to reach 100 feet or more into the sky; balanced with the almost jewel nature of this deceivingly simplistic log cabin esthetic, it truly will transport your beach experience to another time. You might even find yourself believing in the magic again.
Shep cottage! As the elves could build a fun spiral toy land terrace to the sky. Made of candy canes, of course!
Chris (Real Estate)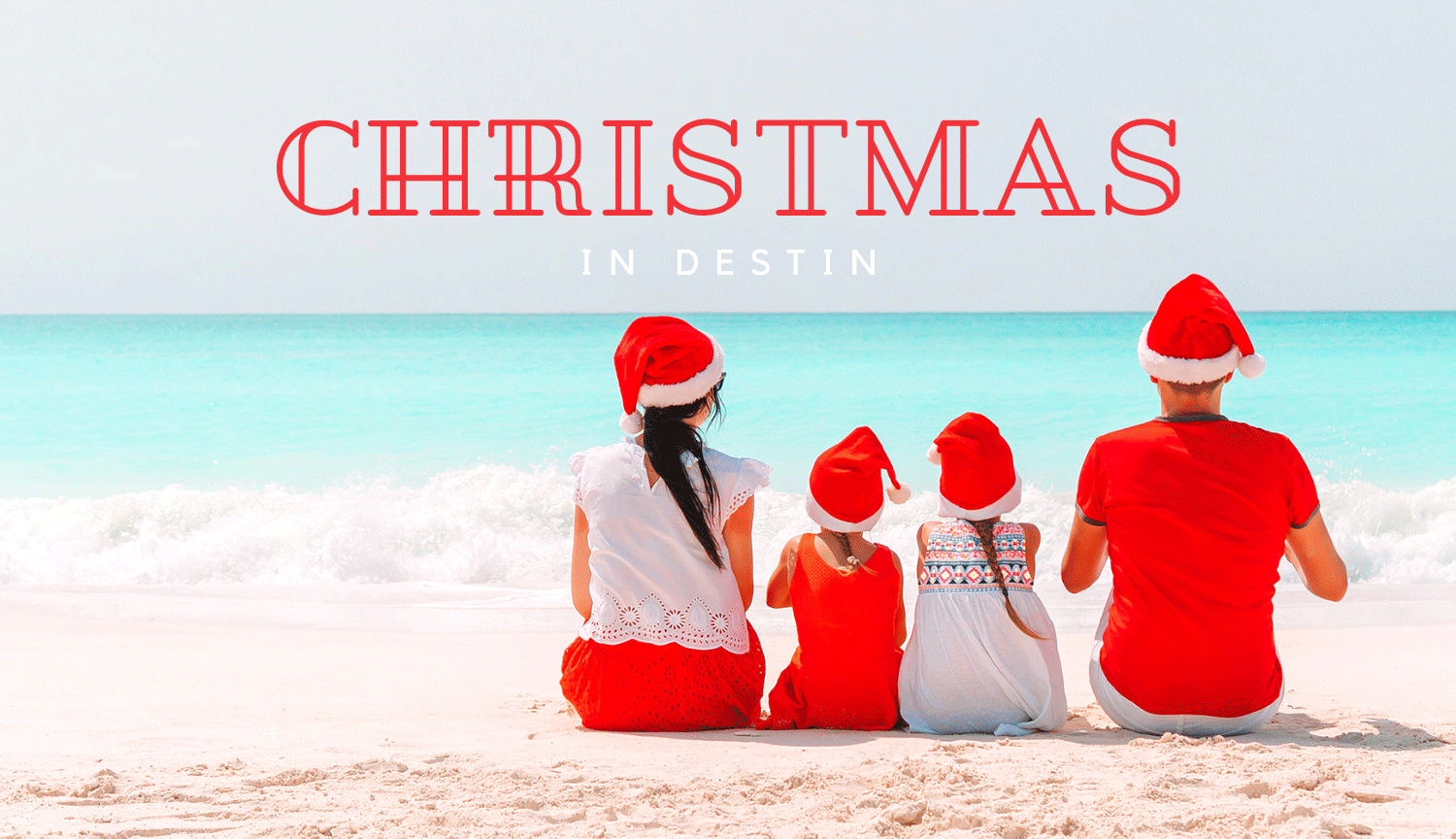 So there you have it, folks, a list robust enough for Kris Kringle n' crew, but made just for you. Special homes to help one unwind. A magical menagerie of places to relax with your eager crew. When you're ready to plan your next trip to the beaches of Destin & 30A, Ocean Reef's vacation specialists are only a phone call away, ready to brighten your day with a great place to stay!