Posted on 10/25/2019
"Art washes away the dust of everyday life." -Picasso
Just like art, a trip to paradise also washes away the dust of everyday life. When you combine the two – art and paradise – the effect is simply magical!
The Destin Commons, a popular shopping center along Florida's oasis known as the Emerald Coast, boasts the best of paradise and creativity. Vibrant murals span across the walls of the Destin Commons, offering visitors an escape into the whimsical and passage through fanciful imagination. Local creatives and distinguished artists from around the world weave color and shape together to create fun, interactive artwork that may be enjoyed by all. From snapping Instagram-worthy photos to receiving your own artistic inspiration, these murals are here to help wash away the dust from your own life!
Learn more about these great murals, and be sure to visit in person as soon as you can.
Blue Crab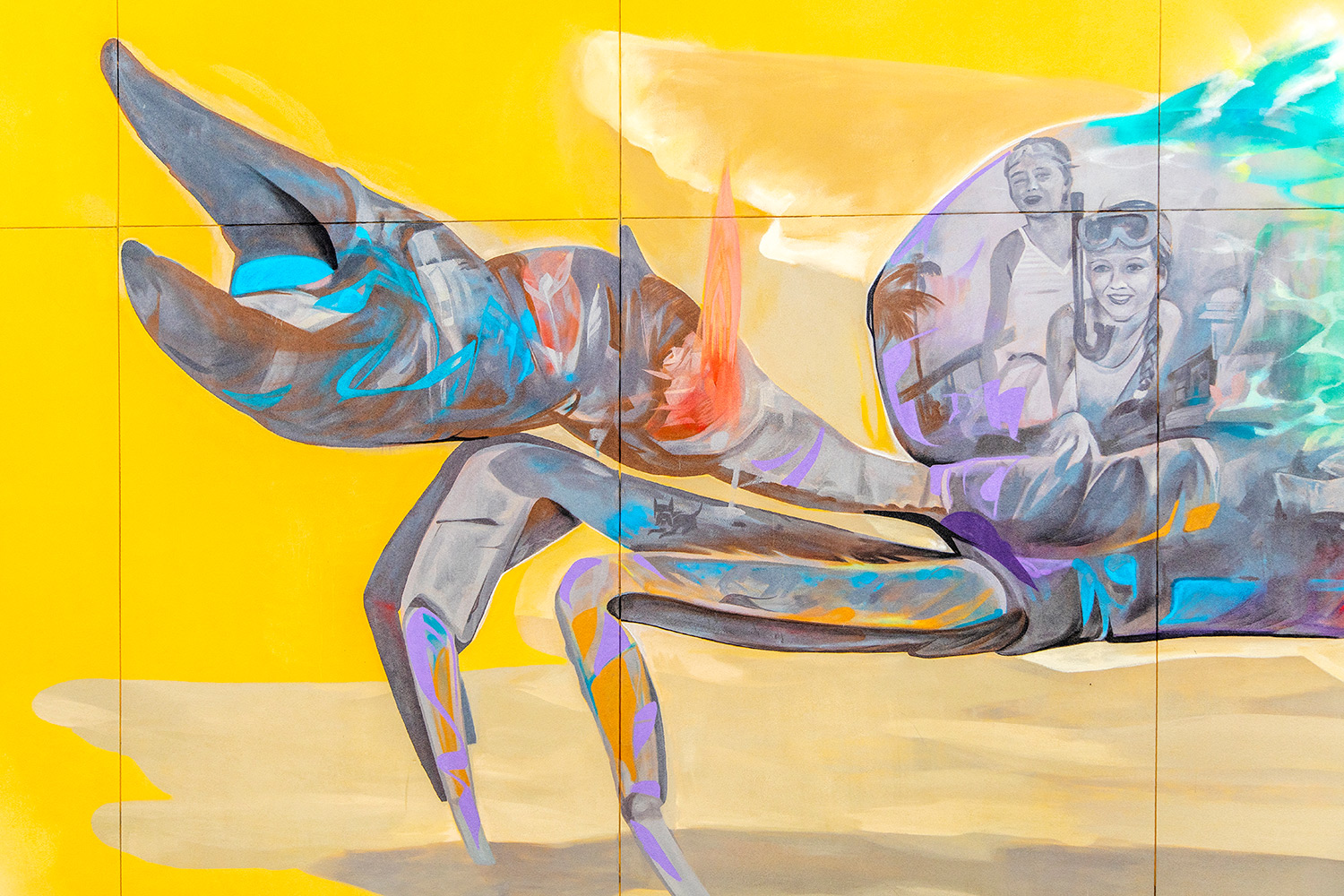 The Blue Crab mural was painted by Miami artist Daniel Fila. As an artist, Fila does it all. Through his murals, abstract paintings, urban sculptures, animations, and other works, he expresses himself and his individual identity. Instead of words, he uses a range of colors, shapes, and mediums to speak to his audience. With his Blue Crab mural, Fila captures the local atmosphere and the essence of the Emerald Coast. It'sIt's interactive aesthetic – viewers can stand right under the claw and feel as though they are in the painting – enables greater accessibility to this beautiful paradise.
Mattie in the Sky with Birds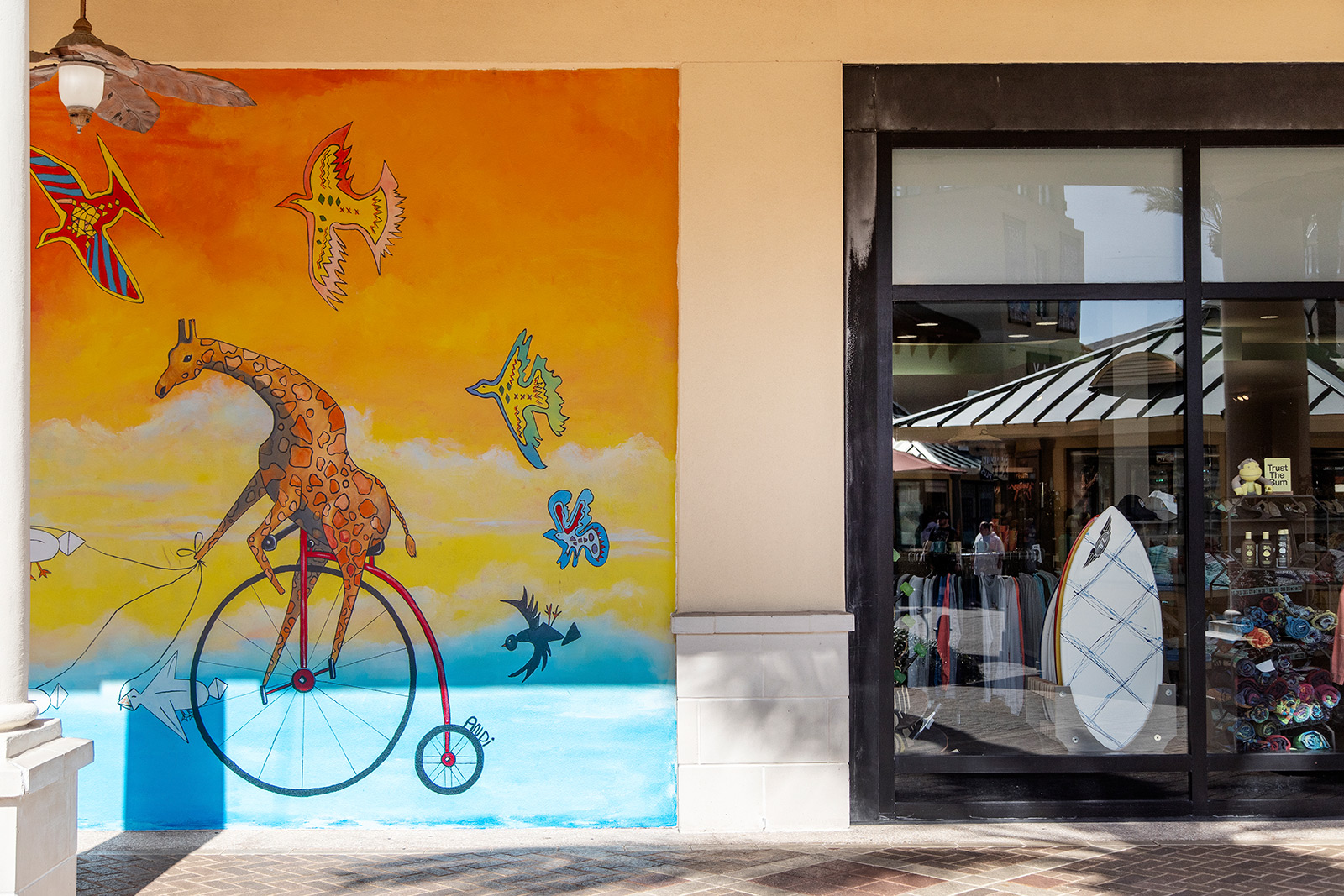 Located by the playground, Mattie in the Sky with Birds is a mural loved by locals and visitors alike. Local artist Andi Scurto initially created the character Mattie the Giraffe for an art competition in 2015. Since then, Mattie's popularity has taken off, and it is no wonder she is a big hit at the Destin Commons. Full of colorful whimsy, Scurto's mural of Mattie riding an old-fashioned bicycle in the sky surrounded by brightly colored birds radiates an expression of freedom. With Mattie, viewers are reminded that we do not have to be bound by limits on our imagination!
Greetings from Destin, FLA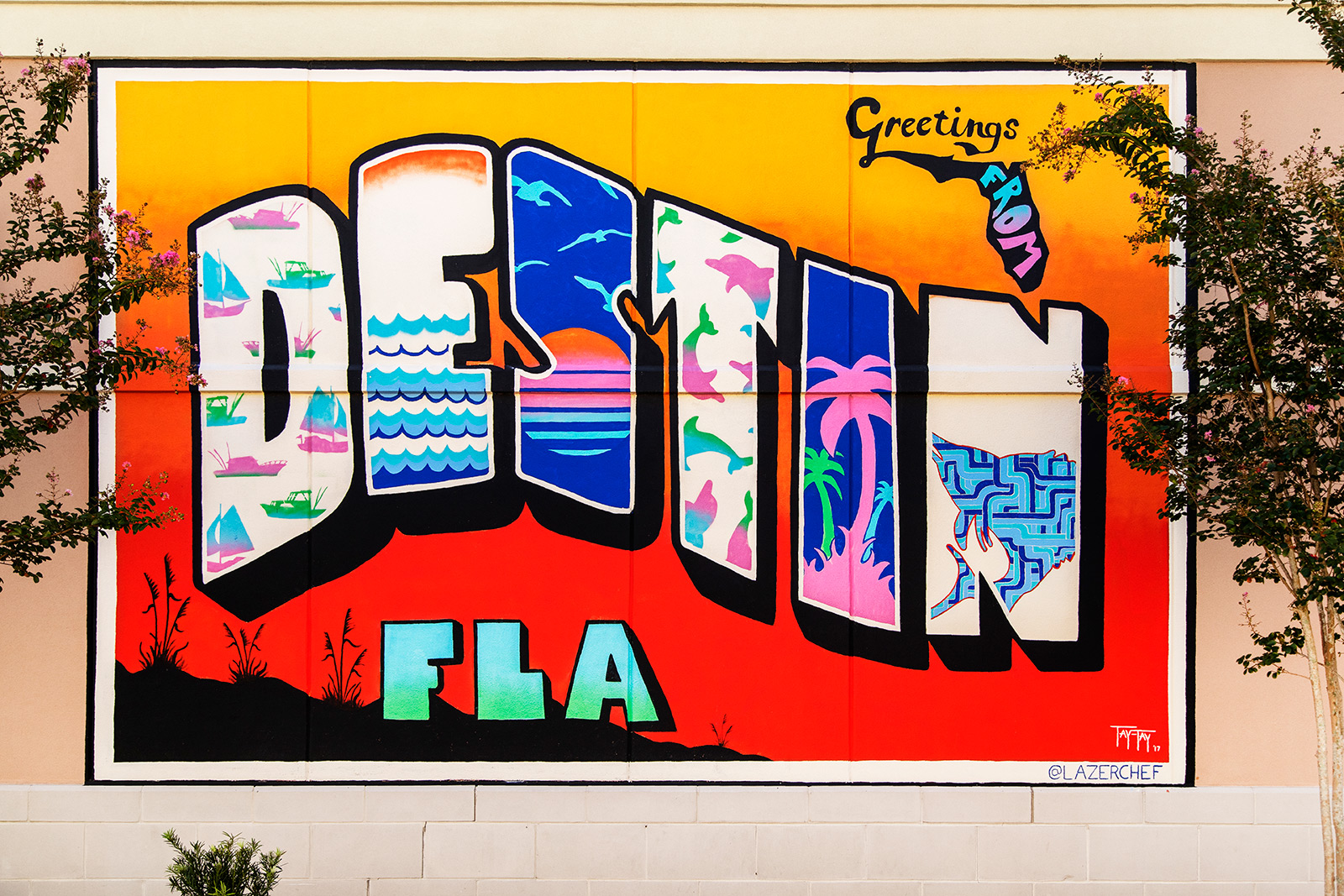 Destin native Taylor Shaw shares the love of his hometown through his mural titled, Greetings from Destin, FLA. Having grown up in Destin, Shaw incorporates popular elements of the Gulf Coast into this piece, which is displayed prominently in the Destin Commons. Look closely, and you will see boats, waves, sea life, and more that are reminiscent of this heaven-on-earth. Whether you live locally or are just visiting for a short time, be sure to snap a photo with this perfect Destin masterpiece. You can find it by Abercrombie & Fitch.
Good Vibes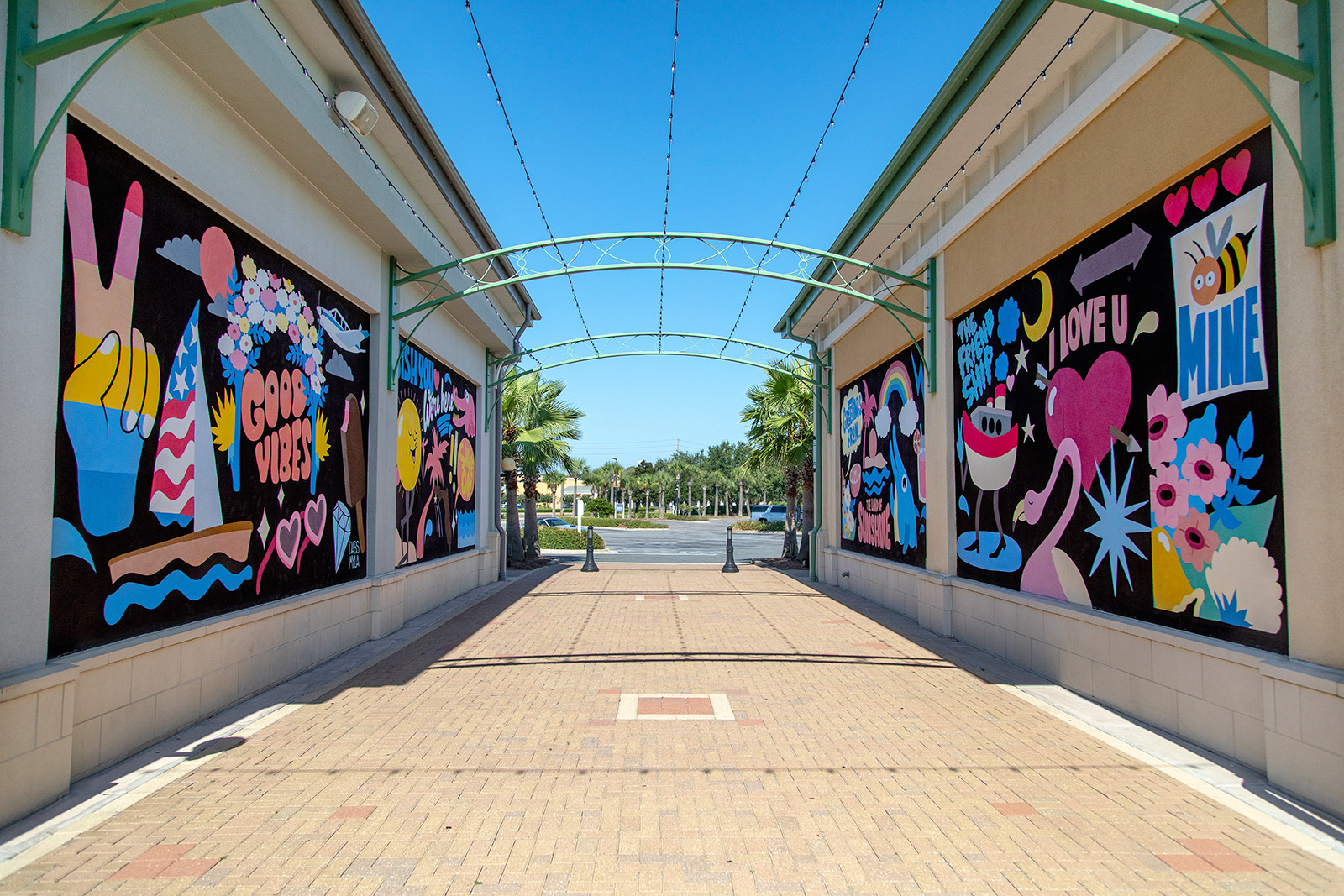 All beach vibes are good vibes! Good Vibes is one of four murals at the Destin Commons by DABSMYLA, the power artist couple from Australia. As artists, DABSMYLA endeavors to tell their unique experiences in a story format made from color, design, and perspective. Through their distinctive style, the real world meets fantasy in a fantastic explosion of light and color. On its own, "Good Vibes" embodies the relaxed beach atmosphere. As a whole, the DABSMYLA murals at the Destin Commons speak the language of the Emerald Coast.
Wish You Were Here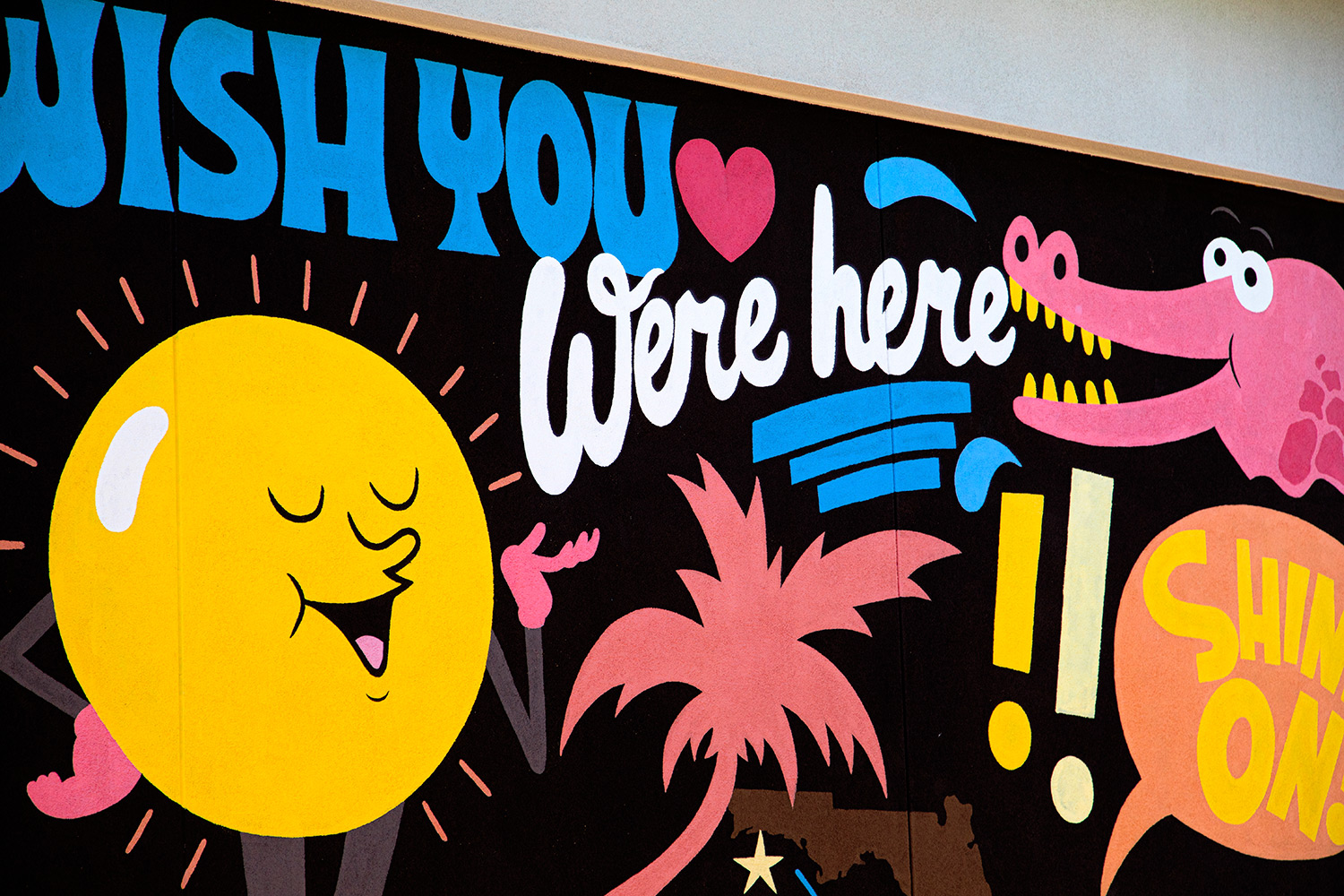 Another chapter in the DABSMYLA story, Wish You Were Here, is another inspired piece that shares the beauty of the coast with its viewers. Whether you deliberately seek out this masterpiece or happen to come across it while enjoying a casual day of shopping, it will definitely grab your attention. With its vibrant colors, purposeful shapes, and coastal elements, this mural expresses a classic beach sentiment. After all, don't we all wish we here on the coast, enjoying an endless beach vacation?
Friendship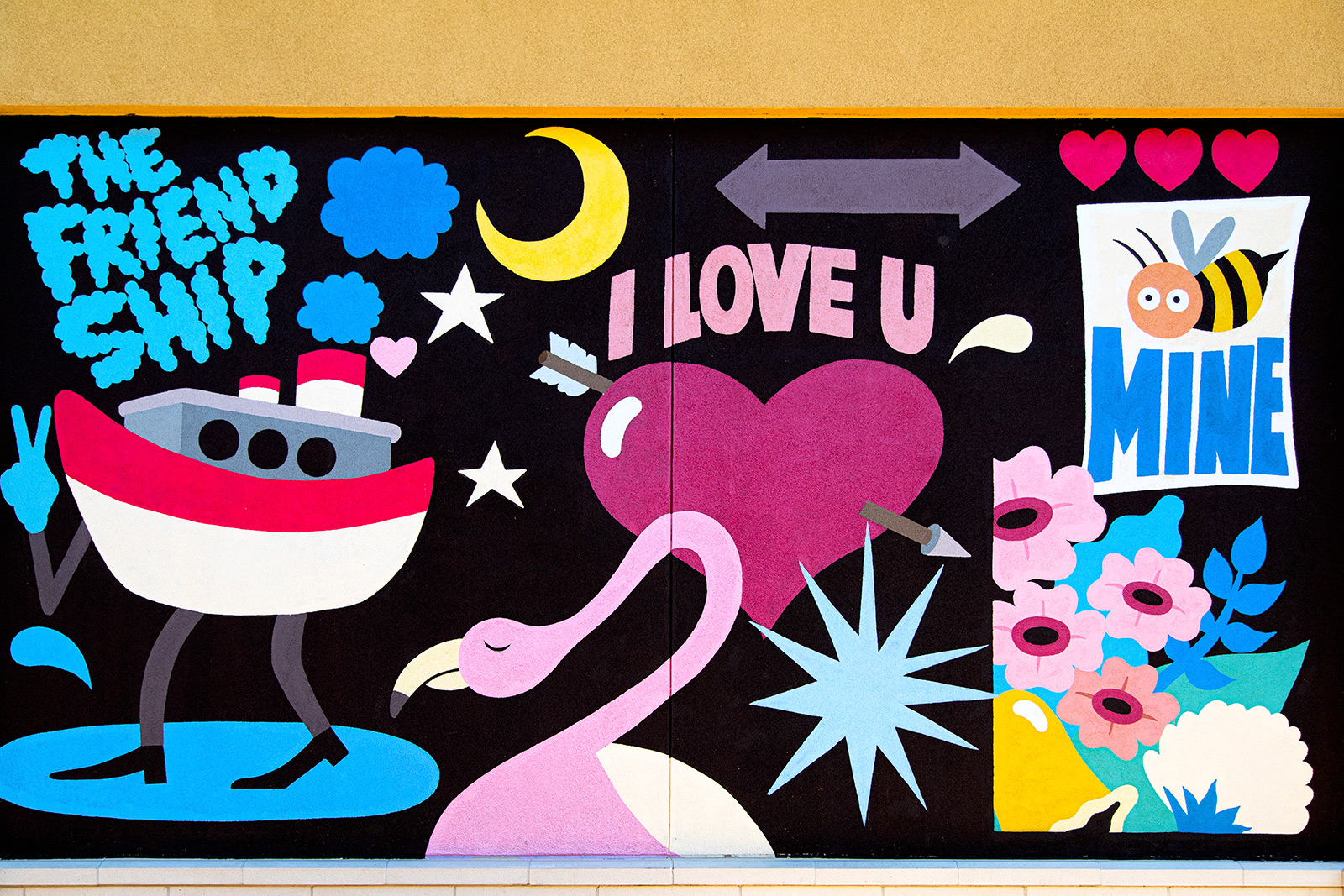 DABSMYLA does it again with their third technicolor, a postcard-esque mural titled, Friendship. This painting specifically illustrates a fun play on words, as one of its main elements is a personified ship! Spectators will right away feel a connection with the motifs and symbols expressed in the painting. Viewed in tandem with the other murals in this series, it is easy to see how DABSMYLA has created a story of their adventures through precise and deliberate design. 
Greetings from the Land of Sunshine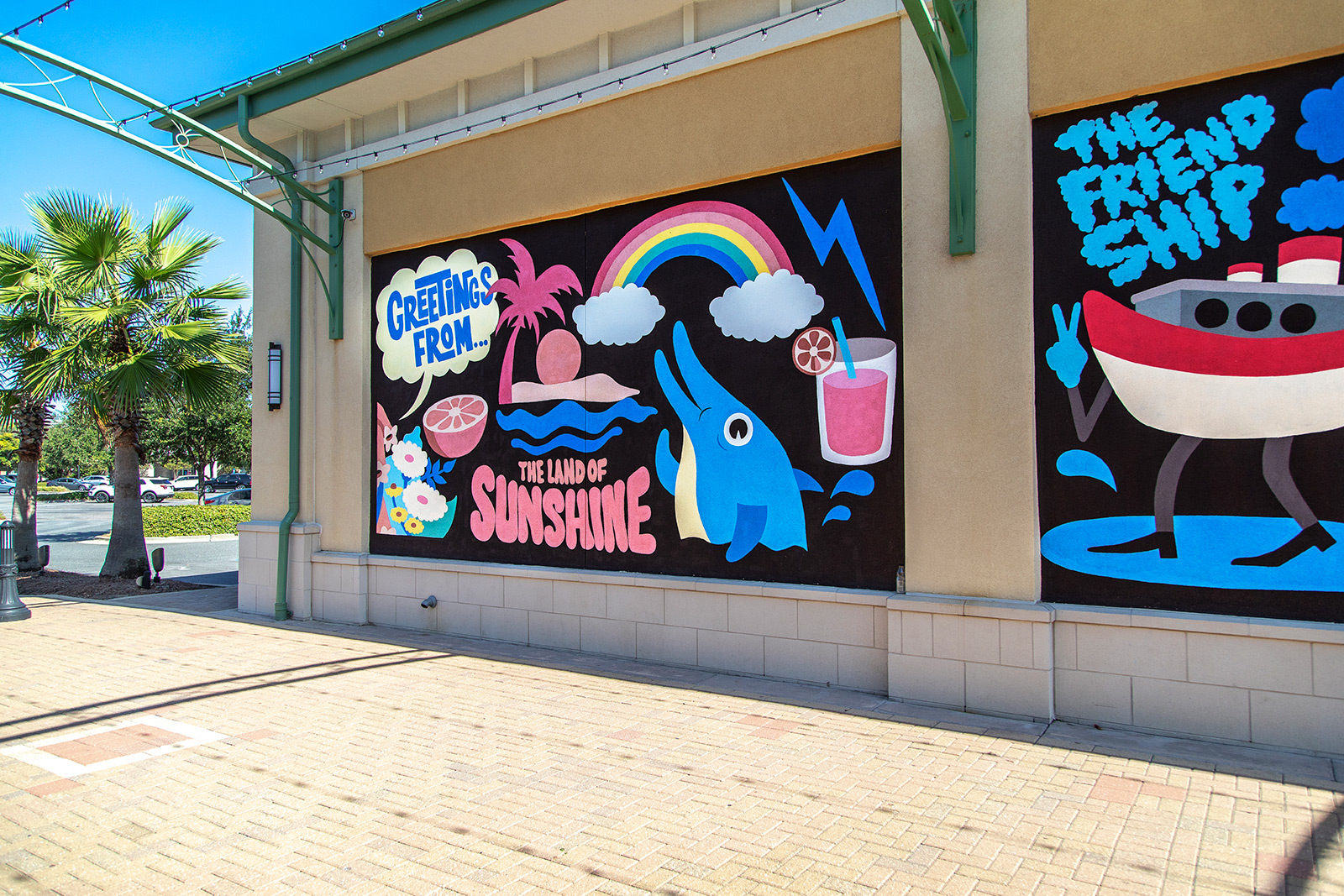 Finally, DABSMYLA creates a bright greeting through their fourth mural, Greetings from the Land of Sunshine. Like the others, this masterpiece shares a story of adventure in the sunshine state. Beachy elements like the sand, sea, a dolphin, a palm tree, and others present a dreamlike scene of cozy happiness. Immersed among the technicolor world of the DABSMYLA murals, viewers will get a glimpse into the artist's world, while also feeling a deep personal connection to their own stories and experiences.
The Fisher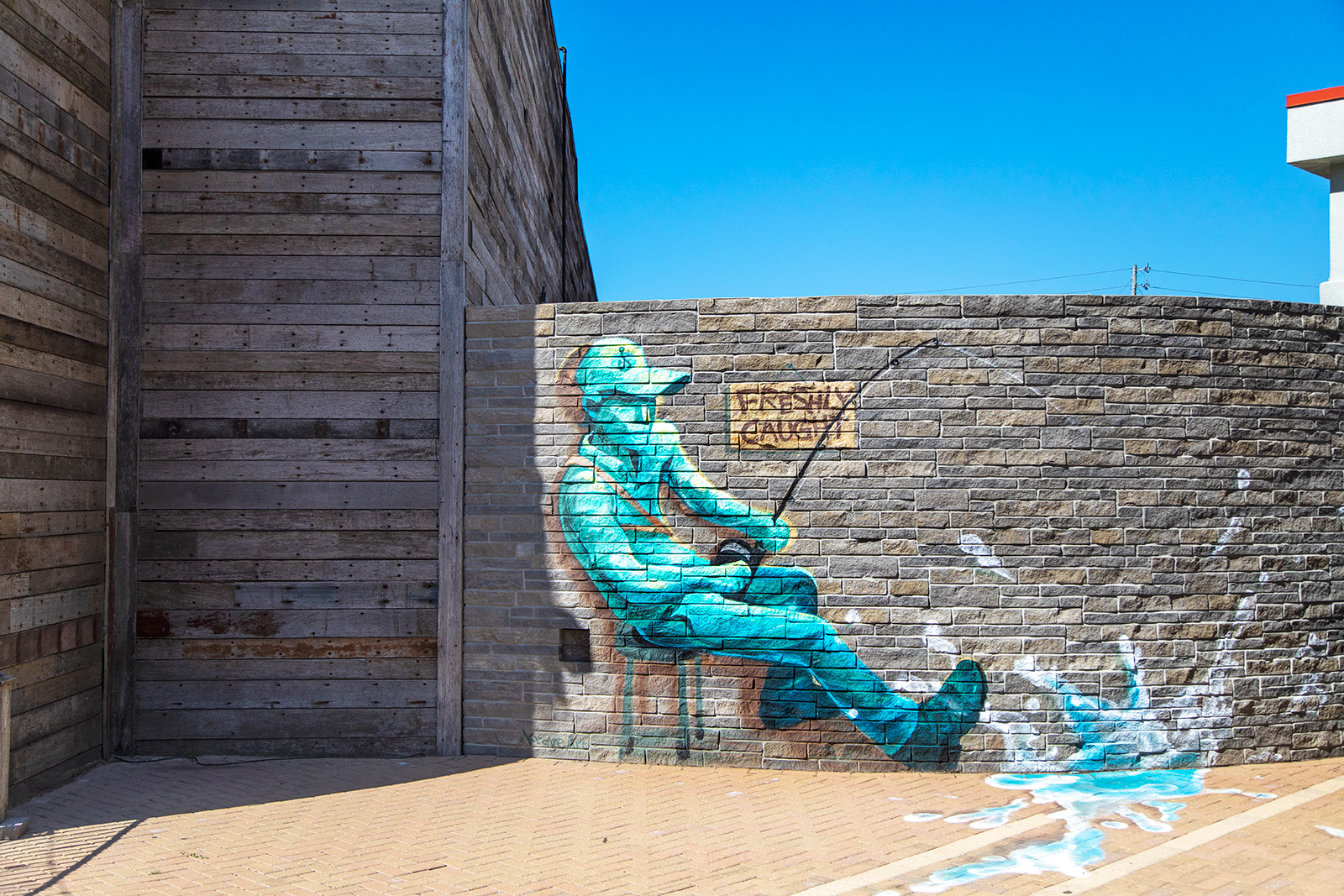 The Fisher is another artistic piece created by Daniel Fila. Like the Blue Crab, this calming mural embodies the lifestyle of the coast - and also creates an interactive experience for its viewers by standing in the splash of water. Dominated by blue hues, the fisherman is the focus of this mural, at ease in his natural environment by the sea. It appears as though the fisherman could sink right into the ocean, at one with his happy place. As Destin was founded as a fishing village many years ago, this piece speaks fondly of the town's heritage and culture.
Tropical Vibes
Andrew Wargo and Keith Jette worked together to create Tropical Vibes, a fun mural consisting of colorful flamingos happily wading in water. Both artists originally hailed from Orlando, but have now made the Emerald Coast their home. To craft their unique mural, Wargo and Jette used a creative mix of air brush and brush painting techniques. Vibrant colors and expression make this mural stand out. Snap a photo in front of the mural to send to your friends and families. You can bet they'll be wanting a turn next!
Love what you see here? It's even better in person, we promise you! You might be planning a trip to the Emerald Coast for the beach - you'll get so much more when you check out Destin Commons and the art scene there. Book your Destin vacation with Ocean Reef Resorts, and be sure to stop by each of these murals while you're here!