Posted on 8/6/2010
Many people know that Destin is known as The World's Luckiest Fishing Village but only the fortunate participants of this adventurous sport understand why it merits this exceptional distinction. This lucky fishing phenomenon is bestowed to us by our unique geographical location, nature's abundance and local history. It has always been Destin's best known secret, way before the pure white beaches, world class golf courses, resorts, shopping and upscale vacation rentals became a focus.
It began a few centuries back when Destin was just an island! Surrounded on all sides by water, local Indian natives depended upon the huge bounty of near shore seafood. Later with time, the island became part of the current peninsula but with a fortunate exception. What is called the 100 fathom curve remained located just ten miles off shore. This means that Destin has the closest and fastest access to deep sea fishing in the entire Gulf of Mexico! Early settlers took advantage of this fact, starting with Captain Leonard Destin who arrived in 1850. He began commercial fishing here catching delicious Cobia, Tuna, Pompano, Grouper, Flounder and Snapper. He was joined by the legendary Billy Marler in 1880 and went to work for Captain Destin. Marler expanded the bountiful fishing operation, built over 100 boats and introduced the first private, charter fishing trips for adventurous tourists. (And they were adventurous too, since Destin did not receive electricity until 1947) By the 1920s Destin became known as the Bill Fish Capital of the Gulf. Today, Destin has not only the largest private charter fishing fleet in the state of Florida but in the entire Gulf of Mexico!
Those who have tried this wonderful sport have a truly, memorable deepsea adventure but many absolutely fall in love with it and fish on every visit. The exciting launch from the dock on a big boat, the scent of salty sea air as you enter the open waters and the amazing beauty of emerald green waters against the crystal blue skies is only a prelude to the fun to be had. Once the first strike occurs, this hearty sport begins! You are reeling in a fish that is running deep until you pull it up to ride the waves as it leaps and splashes about before you haul it in, but don't worry, there will be plenty of help from the crew.
Nature abounds with Amber Jack, Cobia, Flounder, Grouper, King Mackerel, Mahi Mahi, Pompano, Red Fish, Sea Trout, Sheep Head, Snapper, Spanish Mackerel, Scamp, Shark, Tarpon and Trigger Fish. The season for most of these fish species runs from spring thru autumn although some of are available year round. Trophy fish include the classic Swordfish, large blue fan-finned Sailfish, giant Mako Sharks and the cobalt colored, Blue Marlin. Records have been set here too, including an 847 pound Mako Shark which was caught here in 2007!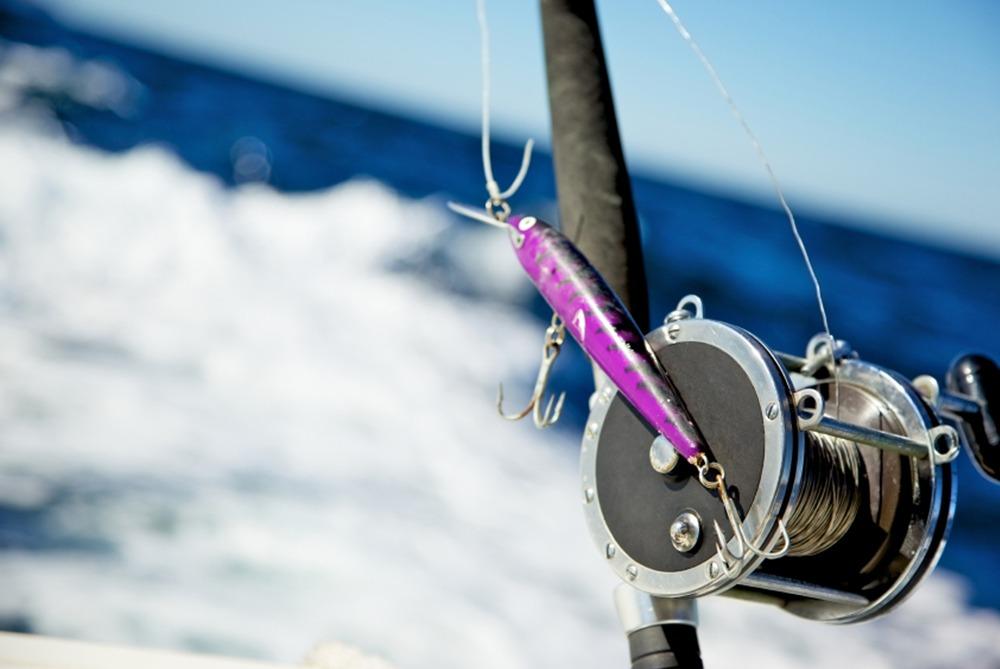 In 1948, the famous Destin Fishing Rodeo was established which runs through the entire month of October. Over $100,000 in cash prizes are awarded for the largest catch in every category for near shore and off shore fishing. Exciting weigh-ins occur on the harbor docks at the end of each day, usually with the local Destin newspaper snapping photos of the happy crew. Contest entry is automatically free for all charter fishing excursions as well as for on-shore pier, bridge or jetty fishing. Approximately 30,000 visitors arrive here from all over the world for this amazing Destin event. Other contests include specific tournaments for Cobia in April, Swordfish in July, and Red Fish as well as King Mackerel in September.
Ocean Reef Resorts has been providing accommodations for fishing trips for many years to both new adventurers as well those experienced in the love of the game. Our special Concierge Service can set up reservations on everything you need to indulge in this thrilling activity. Private Charters all depart from Destin Harbor for a minimum of four hours daily up to even overnight excursions. Prices average $150 to $200 per hour as a flat rate but accommodate up to six passengers for this price. Additional passengers beyond the six, adds about 10% more per flat rate hour. "The more, the merrier" definitely applies here, not only for the fun of a family or friend grouping but also to help split the cost! Did I mention that you get to keep all the fresh fish you catch, all cleaned and ready to go? Yum!
One of the best fishing charters available is aboard the luxury, sixty-five foot fishing yacht called The Relentless. It is run by Captain Brant Kelly and his friendly, able, accommodating crew. His thirty-five year experience has made him one of the most sought after Captains on the harbor. Trips run from fun day trips of four to eighteen hours long, up to twenty-four to seventy-two hour over-night adventures for serious tournament fishing. The gorgeous yacht has all the hardcore necessities for fishing as well as comfortable amenities.
Whether you and your family want to experience a thrill of a lifetime or be introduced to the new love of your lives, Ocean Reef is always here to help!