Posted on 9/7/2012
One of the most delightful times of the year here in Destin and along The Emerald Coast begins after the Autumnal Equinox when the days are no longer longer than the evenings. This occurs around September 21st and usually ushers in some of the most beautiful fall weather you can experience anywhere in the US. Cobalt blue, sunlit skies are accompanied by a refreshing sea breeze with extraordinarily comfortable daytime temperatures in the mid seventies. Nights are wonderfully cool and crisp with lows in the high fifties. The humid Summer season is replaced with dry air that requires no need for air conditioning or heaters so that even the temperature symbolizes perfection. Such weather accomplishes amazing things as it invigorates the soul and provides a happy countenance of spirit. This Season of Happiness is not short lived either since it generally runs from September through the entire month of November. Fall Gulf water temperatures remain warm enough to swim in up until about Thanksgiving time. In addition, this wonderful time of the year coincides with lower rental rates since the busy traditional Summer season usually ends after the start of September. The crowds of visiting families who arrive here on vacation by Memorial Day generally leave before Labor Day due to early school starts, so the beaches are in less demand. For this same reason, from late October until the following March, rental rates here are at their absolute lowest level which also makes it a very economical time to visit Destin!
Fall events in Destin coincide with awesome Autumn weather starting on October 1st. The premier event of course is the long held, annual Fishing Rodeo that has earned Destin the reputation of being "the luckiest fishing village in the world." Over 30,000 anglers arrive here from throughout the nation and other parts of the world to compete in the Destin Fishing Rodeo which is held from October 1st through October 31st every year. Destin was the obvious choice for this event due to the special bounty of the sea here and the fact that we have the largest private charter fishing fleet in the entire Gulf of Mexico. Anglers win prizes by competing with each other for daily, weekly and monthly fish size totals. Over $100,000 is awarded in trophies, merchandise and bonds to the lucky winners. Virtually every type of game fish is represented including in shore catches of King Mackerel , off shore snares of Marlin and Sailfish as well as deep water bottom fishing for Snapper and Grouper. You receive an automatic free entry license when you participate on a Destin fishing trip for this thrilling and potentially profitable adventure.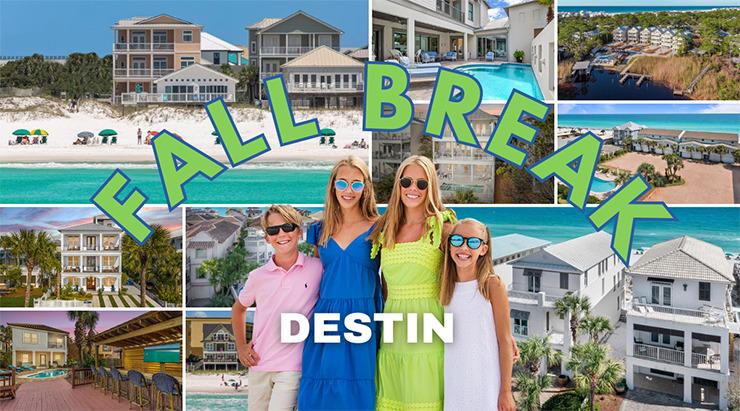 From grand estates that can host your extended family to cozy havens, there's something for everyone.
The 34th Annual Destin Seafood Festival will be held again this year along the harbor front on October 5th through October 7th. This popular event started back in 1979 by Fran Beaird, Nancy Cheney and other members of the Ladies Charter Boat Association Auxiliary to help their husbands who were boat captains. It was a huge success encouraging more people to visit the docks, charter their boats and participate in the Destin Fishing Rodeo. This year it will be set up running from Harborwalk Village along the docks at East Pass Marina to AJ's Seafood & Oyster House, Dewey Destin's, The Boathouse Oyster Bar, The Royal Melvin City Heritage Park and Fisherman's Wharf. Admission is free! This event is known for an abundant feast of fresh local seafood which is right out of the gulf or bay. The many venues include area restaurants and private angler entrepreneurs who serve up dishes that are deep fried, grilled, sautéed, blackened or Cajun style with lots of yummy side dishes like Gumbo, Hush Puppies, Tater Fries, Corn on the Cobb and Slaw. Besides the great food, live musical entertainment will provide festive accompaniment on multiple stages scattered throughout the grounds. These will include live performances from the Main Destin City Stage, the Harborwalk Village Amphitheater, Harry T's Lighthouse, the Crazy Lobster, Tightlines, AJ's Seafood & Oyster Bar, and The Boathouse Oyster Bar. There are also activities planned especially for children. There will be plenty of things to entertain them in a Kid's Fun Zone including craft arts, face painting, fun rides, inflatables and games. The event kicks off at 3:00 pm on Friday October 5th and runs until 10:00 pm. Saturday, October 6th it will be held from 10:00 am until 10:00 pm and on Sunday, October 7th it goes from 11:00 am until 5:00 pm. Ocean Reef Resorts is the official lodging sponsor of the 2012 Destin Seafood Festival and is offering accommodations at a special discounted rate. Be sure to call 800.782.8736 for more details on the event and lodging.

It wouldn't be October without some kind of Oktoberfest and the Beaches of South Walton are no exception. The Baytowne Wharf Beer Festival is scheduled on October 19th and 20th. This charming "Nouveau" New Orleans village is less than ten years old and is located on Choctawhatchee Bay at the renowned Sandestin Golf and Beach Resort in Miramar Beach. Graceful pedestrian bridges arch over a long lagoon that connects one side of the village to the other complete with restaurants, bars and specialty boutiques. On the other side is the Sandestin Marina with its big yachts and a long wharf that juts out into the bay, hence the name- the Village of Baytowne Wharf.

The Baytowne Wharf Beer Festival will feature over 100 different American domestic specialty beers from across the nation as well as international craft beers from other countries for sampling. Brewery representatives will be on hand to impart knowledge to beer consuming aficionados about various lagers and ales. Live musical entertainment will be provided during the festival at the Events Plaza Stage which is next to the Village Green. Tickets may be purchased in advance for twenty-five dollars or on either of the actual days of the event for thirty dollars. The price of the ticket includes a beer tasting glass, (presumably NOT a mug since there will be over 100 samples to be tasted!) and a special discount for purchases.

Down toward the far eastern end of Scenic 30A, a wine version of Oktoberfest will be held at Rosemary Beach Uncorked also known as "Eat. Drink. Be Rosemary." This one day happening is scheduled for Saturday, October 20th in a picturesque Dutch Colonial looking town that makes you feel like you are visiting some exotic isle in the West Indies. Cobblestone avenues meander past European styled shops, restaurants and town homes adjacent to sprawling public lawns that are meticulously manicured. The seventy-five dollar ticket allows you to stroll down these quaint streets visiting nine different restaurants that will have special signature dishes accompanied by samplings of paired boutique wines. Besides the great wine last year's food entrees included a variety of unique seafood appetizers, specialty cheeses, various Tapas, sushi, gourmet pizzas and even chocolates.

On Saturday, October 27th from 9:00 am to 5:00 pm as well as on Sunday, October 28th from 10:00 am to 5:00 pm there will be the Annual Destin Festival of Arts at the Henderson State Beach Park in Destin. Over 100 juried artists both locally and from around the nation will be setting up their creative works for view and purchase along the dunes overlooking the gorgeous gulf waters. They will also be competing and participating for top awards totaling almost $10,000. It is being sponsored by the Mattie Kelly Arts Foundation which was established in 1995 to be a leading advocate of cultural arts in Okaloosa and Walton counties. The foundation also provides student outreach in area schools to inspire kids through literary, performing and visual arts. There will only be a three dollar donation to attend this show which will also feature an outdoor Bistro Court with delicious food, an interactive art area for children and live musical performances. The masterful art work includes all types of genres including works in acrylics, clay, collage, fiber, glass, jewelry, metal, mixed mediums, mosaics, oils, pen and ink, photography, digital art, pottery, sculpture, textiles, wood and watercolors. Festival parking and a free bus shuttle will be available at the Bealls Department Store near Wal-Mart at the Emerald Coast Center across the street from the park on the north side of Highway 98.

No matter which awesome Fall event you are planning to attend along the Emerald Coast, here at Ocean Reef Resorts we are sure you will particularly enjoy this spectacular time of the year, especially after a long sizzling Summer. We have a wide range of fine, distinctive private vacation rental properties located from Destin to Panama City Beach and everything in between along Scenic Highway 30A in South Walton. The weather is wonderful, the rental rates are low and there are obviously lots of fun things to do!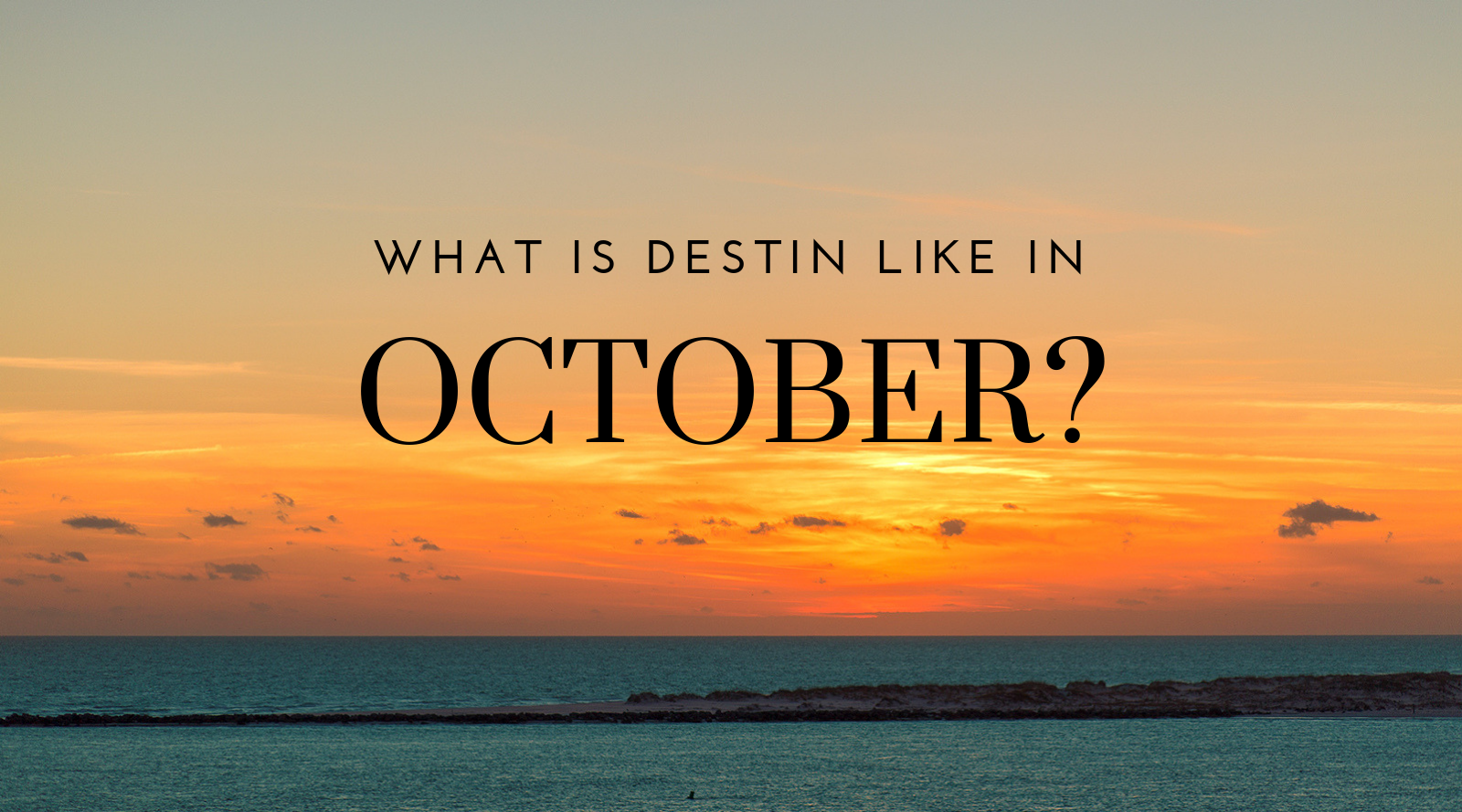 The summer heat abates in October, which ushers low humidity, and everyone enjoys the picture-perfect weather. Cobalt blue sunlit skies are accompanied by a lovely gulf breeze and extraordinarily comfortable daytime temps in the seventies. Evenings are delightfully cool and crisp, with lows generally in the sixties.