Posted on 2/2/2021
Life is all about the people in your life, particularly close friends and family. Time with beloved members of the family and close friends makes it all worthwhile. Such ties provide us with a "reason for being." The business of our daily lives often makes us lose sight of this precious treasure since work has to be completed, errands run, and chores are done. However, these close relationships nurture our souls with love, laughter, camaraderie, empathy, support, and shared experiences.
The beautiful beaches in Destin and along the Emerald Coast also provide a reason for being through Mother Nature. We are blessed to have a shimmering sugary shoreline with jeweled Gulf water that glows in tones ranging from dazzling emerald green and peridot to tranquil turquoise. Our Ocean Reef Resorts guests experience the blessings of family along with the nurture of nature, and many have made it an annual vacation tradition passed down for generations. For almost forty years, we have been dedicated to the type of hospitality that provides outstanding private vacation rental properties to help friends and families create some of the most treasured memories of their lives. Of course, a big family or friend reunion requires lots of room so that everyone can enjoy each other's company while sharing the same space. These homes validate the term "the more, the merrier" since guests may split rental expenses and create an inexpensive fun family feast when dining in by using a gourmet kitchen. These properties can become your "beach" home away from home with comfortable furnishings and great centralized locations close to delightful diversions.
Here are some of our favorite vacation homes for your Destin Family Reunion:
Mer Le Soleil
13 Bedrooms / 13.5 Bathrooms / 30 Guests
Mer Le Soleil is an exceptional vacation home that combines two elegant contemporary styled residences into one beautiful beach compound connected side by side. With seven in one portion and six in the other, Thirteen bedrooms can accommodate 30 favored guests in a luxurious setting. This combined residence was masterfully designed for entertainment with attractive, spacious accommodations in each part. Each one features four sets of comfortably furnished wraparound balconies overlooking the gleaming Gulf and first-floor entry foyers that lead to furnished covered beach patios with refreshing plunge pools. All thirteen bedrooms are comfortably appointed, individually decorated, and some of them provide great bunk rooms for the kids. Open living areas on the second floors offer stunning views of the gulf with walls of windows and glass doors that lead to the beach balconies. This home is next door to the iconic Captain Dave's seafood restaurant and minutes away from other popular gulf front dining destinations.
Frangista Breeze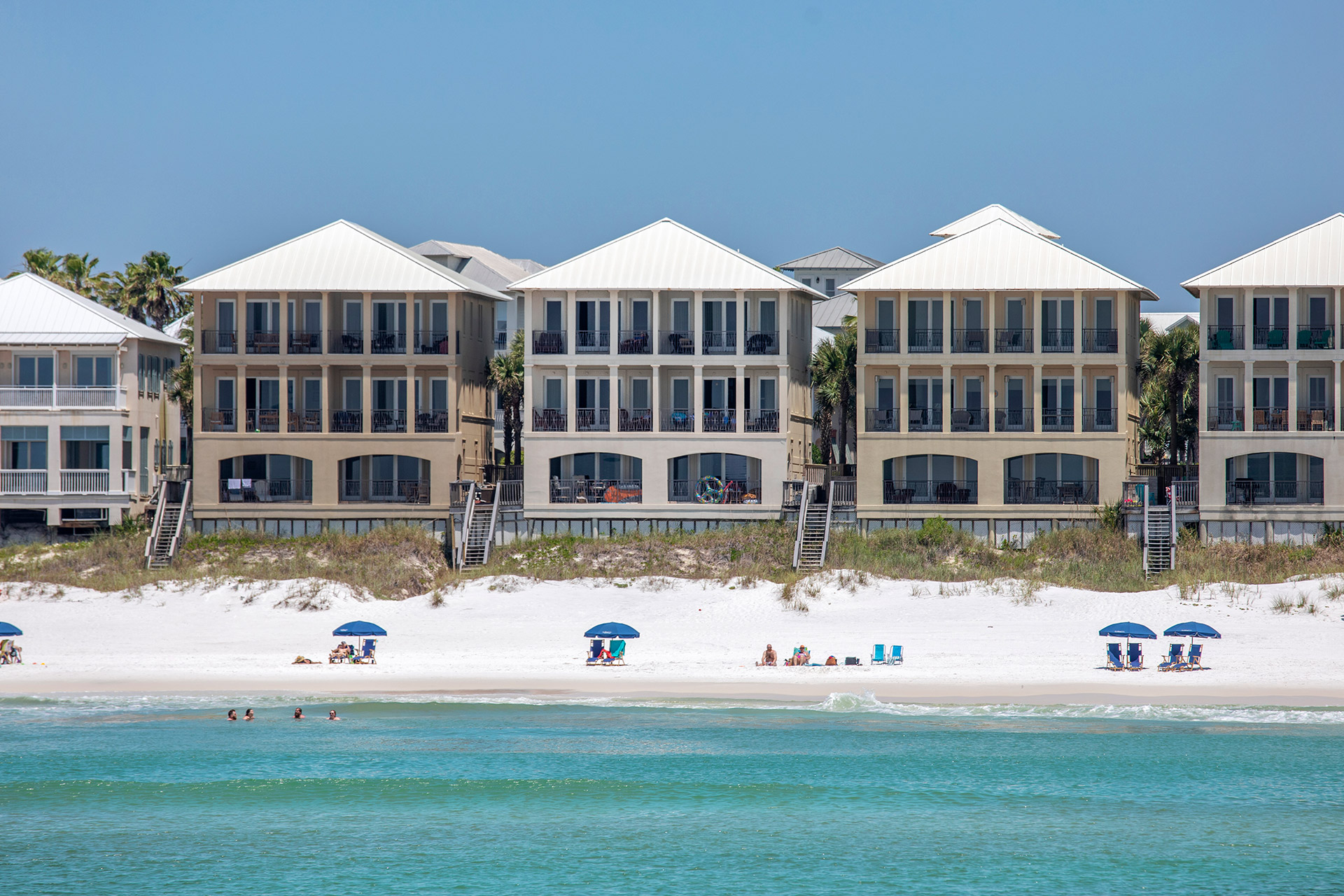 10 Bedrooms / 8 Bathrooms / 32 Guests
Frangista Breeze is a palatial rental residence located in Frangista Beach. It has an excellent beachfront location in one of the most prestigious neighborhoods on Scenic Gulf Drive. Featuring ten bedrooms and can provide separate guest quarters for up to 32 privileged guests. This unique beachfront residence also features two homes combined into one connected side by side, making it perfect for a reunion of separate parties who want to vacation together but prefer their own space. Each portion of this spacious three-story beachfront home includes five beautifully decorated bedrooms interspersed on each floor. A large gulf-side veranda consists of a refreshing plunge pool and spacious balcony off the second floor's open living areas—a private romantic one-off Master Suites on the top floors. Frangista Beach features a centrally located lushly landscaped private oasis that features a secluded private pool, a patio decorated with columned arbors, bathroom facilities, and showers. This excellent convenient location is also near popular gulf front restaurants with friendly beach bars like Pompano Joe's and The Whale's Tail, which are both a short beach stroll away.
Seaclusion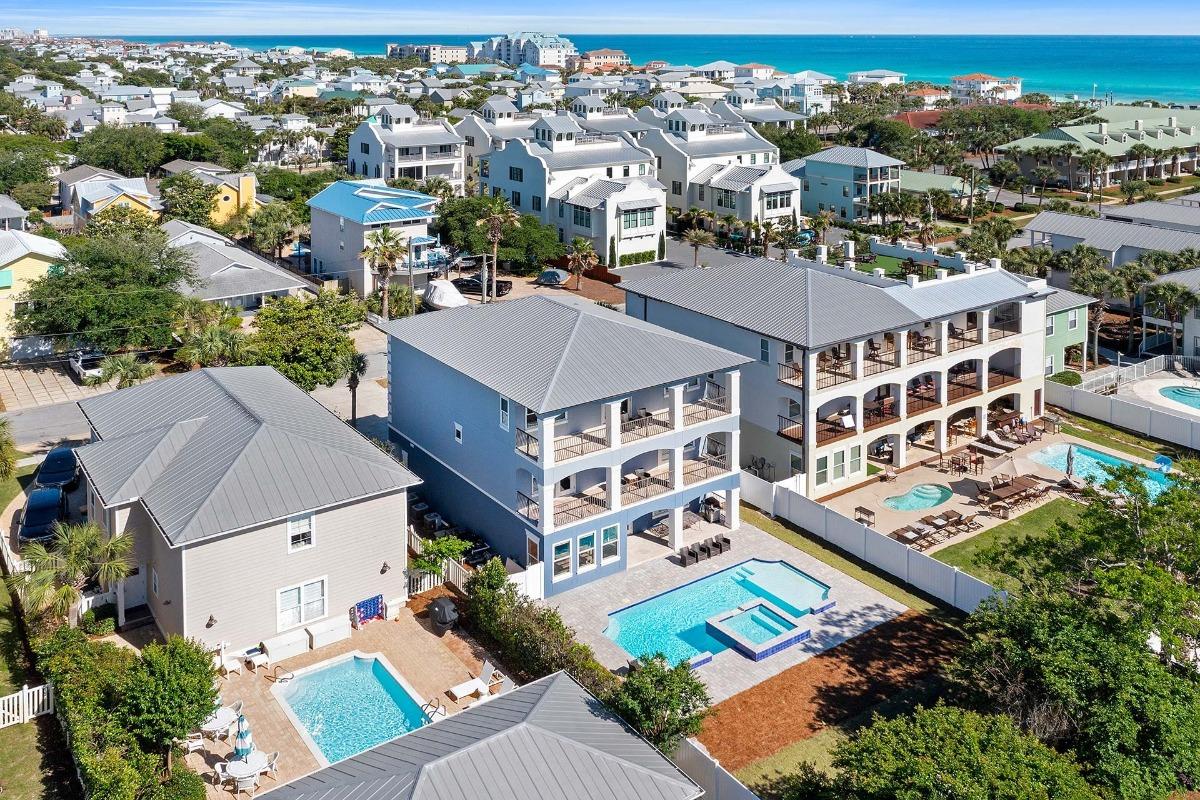 9 Bedrooms / 5.5 Bathrooms / 22 Guests
Seaclusion is a big nine-bedroom home in the heart of sought after Crystal Beach that can sleep 22 beachgoers since six bedrooms come with king-sized beds. A queen, full, and double twin bunks are in the additional guest bedrooms. A bonus den adjoins the bedrooms on one level. Balconies span the two upper levels off some of the bedrooms and look down upon the private pool below. This home was made for entertaining large groups with a great room that overlooks the pool along with three places to dine, including a country table for eight, a breakfast alcove with seating for four, and half a dozen more saddled up to a granite-topped bar beside the large open kitchen.
Off The Hook
8 Bedrooms / 8.5 Bathrooms / 26 Guests
Off The Hook was constructed as the ultimate vacation home and can accommodate up to 25 guests in a six-bedroom main house and two-bedroom guest cottage. The private guest cottage also features a living area with a full kitchen. Each level boasts expansive balconies with views of the Gulf of Mexico and a rooftop patio perfect for a day of sunning. A private pool, grilling area, putting green, and a 15-second walk to the beach makes this stately home truly "Off the Hook."
Two other highly-rated homes ideal for your Destin beach reunion are available near Miramar Beach off Scenic Gulf Drive. These two vacation homes are right next door to each other beside the glittering gulf in case you are planning a super-sized beach reunion or perhaps a wedding with separate family and friend groups. This location places guests' minutes away from popular gulf front restaurants, friendly beach bars, grocery stores, wine outlets, and bargain shopping at the Silver Sands Premium Outlets, one of the nation's largest designer discount centers. It is also close to many restaurants, bars, specialty shops, and seasonal festivals at Sandestin's charming Village of Baytowne Wharf and Grand Boulevard.
Tackle Box
9 Bedrooms / 7.5 Bathrooms / 28 Guests
Tackle Box has nine bedrooms and can accommodate 28 guests. You may also bring your favorite furry family member since this large home is pet friendly! There are seven bedrooms in the main house and a kitchen and full-sized wet bar on different levels, and two more bedrooms in the Guest House, complete with its kitchen beside a large lagoon seasonally heated swimming pool.
Snowdrift
3 Bedrooms / 2 Bathrooms / 8 Guests
Snowdrift is a three-bedroom vacation rental residence that sleeps eight beachgoers perched beachfront, nearby upon a "snow" white dune "drift" above the gulf just a stone's throw away from the other home. A wall of glass doors in a Great Room with soaring cathedral ceilings provides gorgeous views across the gleaming gulf to the southern horizon. A balcony wraps around the house's gulf-front over to a side deck to enjoy leisurely lounging as you sip favorite drinks, enjoy the vivid views and listen to the soothing surf.
Two additional fantastic beach homes, perfect for a family and friend reunion, are located along Scenic 30A in Santa Rosa Beach. These South Walton vacation homes neighbor each other, so they may also be rented in tandem for a giant reunion or gathering involving separate families and groups. These homes are right across from Gulf Place, Santa Rosa Beach's unofficial town center, which offers a selection of fantastic restaurants, local cafes, art galleries, specialty shops, and outdoor amphitheater concerts with seasonal festivals.
Blessings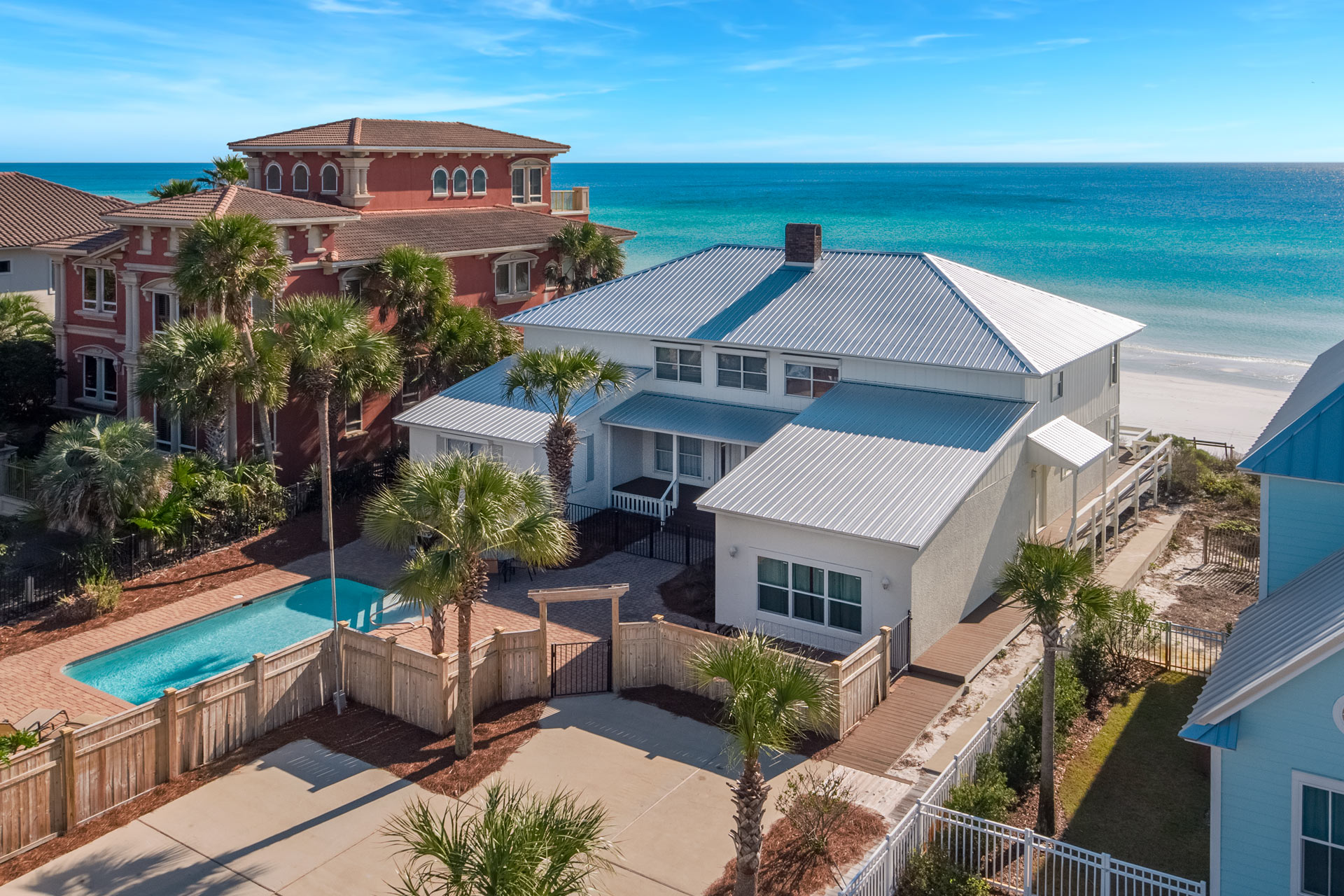 5 Bedrooms / 4.5 Bathrooms / 22 Guests
Blessings has five bedrooms, and up to 22 happy family members may be accommodated here. This hospitable rental home has been recently refurbished, updated, and remodeled. A "gathering room" features a soaring cathedral ceiling that accentuates spaciousness and takes full advantage of its beachfront setting with a window wall that faces the gulf. A large 26 x 12-foot private pool allows guests to take a freshwater dip before or after luxuriating in the glowing gulf.
Casablanca
7 Bedrooms / 8 Bathrooms / 22 Guests
Casablanca next door is an ultimate beachfront family compound with an estate like design that incorporates a handsome Mediterranean style exterior accented with stunning classically styled interiors. This regal beachfront residence can sleep up to 22 guests since it has almost 7,300 square feet of gracious living space with five bedrooms in the main house. Two more bedrooms are included in the charming two-story guest house with an open living area, kitchenette, a master bedroom with a king-size bed, a full bath, and a bunk room for kids. It also includes a media game room, a pool table, and a wet bar adjoining an open sun deck surrounding a swimming pool overlooking the bright white beach.
Start planning your Destin Family Reunion by taking a look at each of these magical settings to create treasured memories with family and friends. Our user-friendly website provides detailed descriptions, multiple images, aerial views of locations, seasonal rental rates, and calendar availability dates. Enjoy a precious part of what life is all about!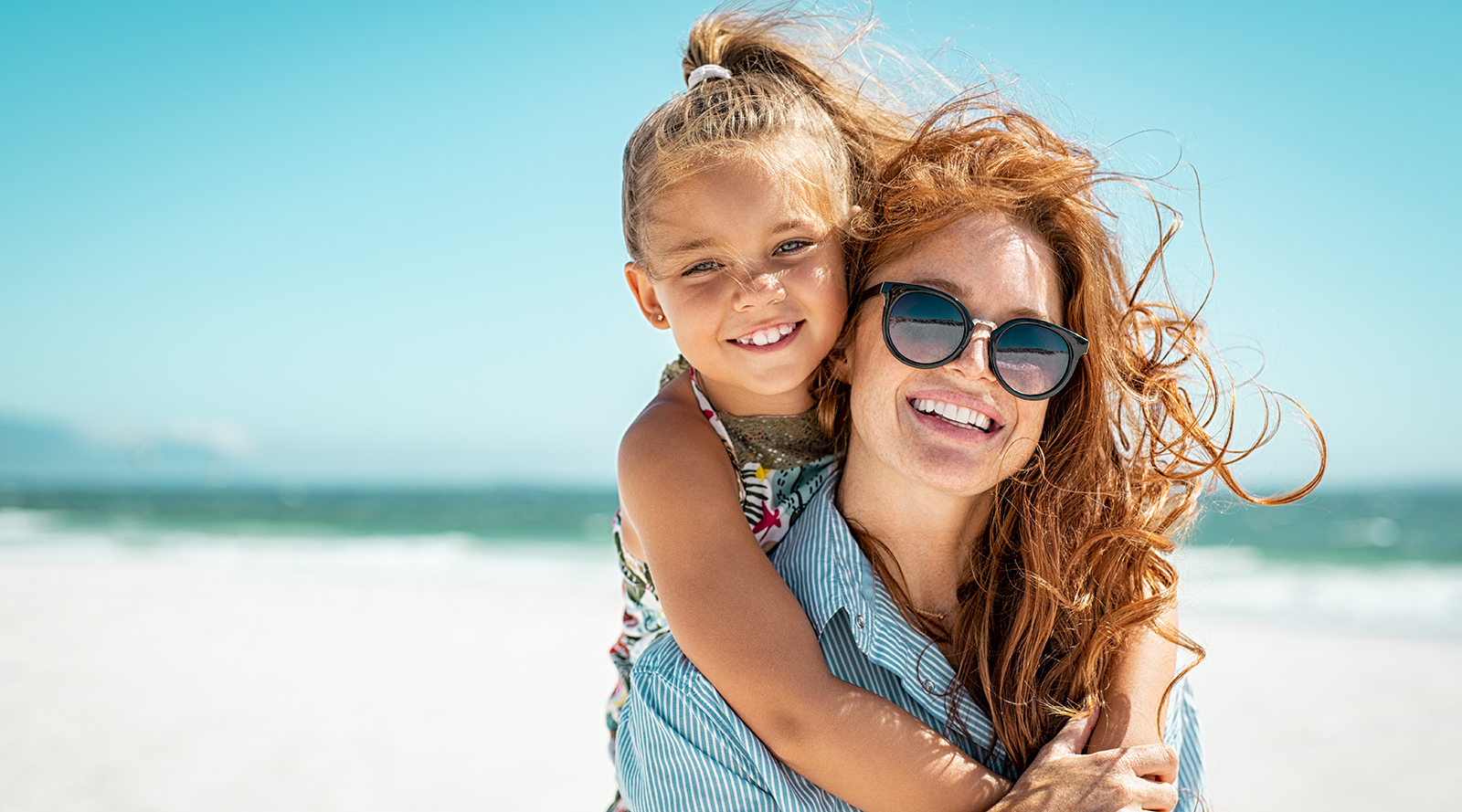 Keep reading: Help Mom Relax on a Destin Vacation