Posted on 1/20/2023
Many of our Ocean Reef Resorts guests "flock" here during our "off-season," which runs from autumn till early spring. Substantial savings are available this time of year, with rental rates far below their peak during the high demand of summer. In fact, they are the lowest they ever go, and some of our properties offer special monthly winter rates.
Besides enjoying great savings, there are many advantages to visiting this time of year. Temperatures usually range from the low 40s at night to around 70 during the day. One huge bonus is that the sun shines almost every day during the winter months! Crystal blue skies and moderate temperatures invigorate the soul inviting everyone to experience the outdoors at our sparkling seascape. The beaches are not crowded and provide a serene setting for leisurely strolls beside the glowing jewel-toned waters of the gulf. This time of year, the golden sun descends directly into the gulf providing a magical, heavenly experience for those along the sugary shoreline. Many couples are seen taking romantic walks together along the beach, creating memories that will last a lifetime. Restaurants and bars beside the beach are usually filled with patrons relishing the magnificent sunset views while enjoying their favorite drinks with delicious food. There are no wait times at restaurants this time of year, and it is easy to get from place to place since traffic is minimal.
We are pleased to inform our fortunate Ocean Reef Resorts winter guests about some "Snowbird Specials" available in Destin. Here is a brief look at each one!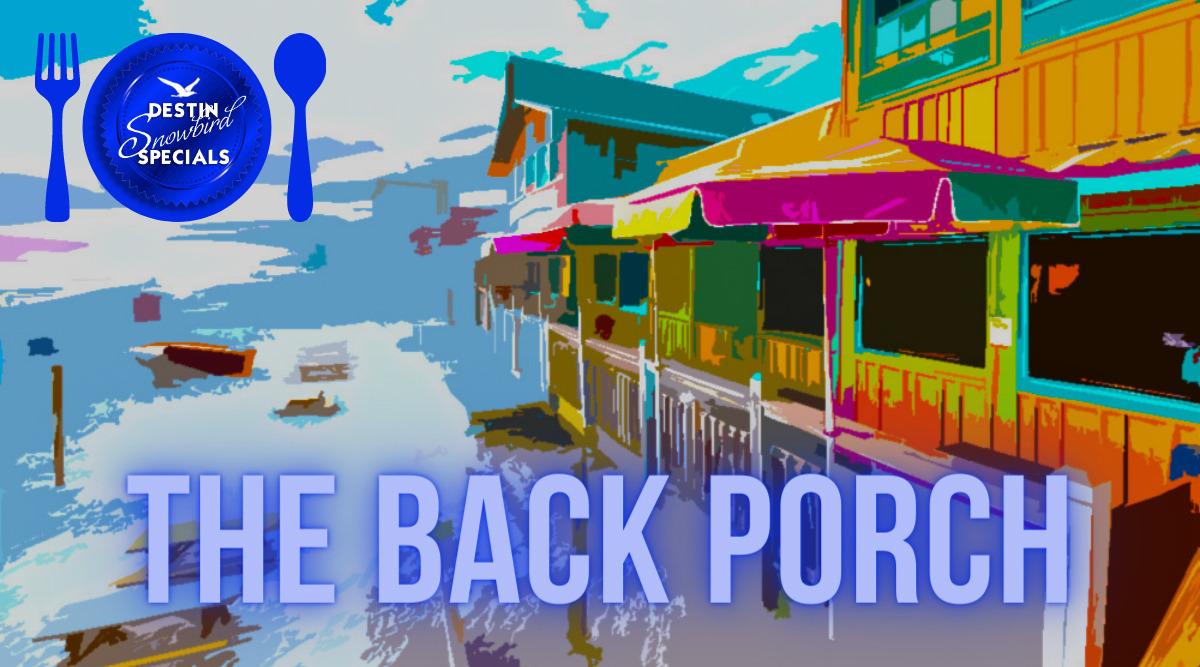 1740 Scenic Hwy 98, Destin, FL 32541
The Back Porch Seafood & Oyster House, located at 1740 Scenic Highway 98, is an iconic Destin favorite and has been around for over four decades. They also have a second location in Panama City Beach at 18220 Front Beach Road. As the name suggests, this restaurant does indeed have a "back porch" that spans across the building, and since it sits right on the bright beach, the views are quite stunning. They feature a wide range of gulf-caught fish, including Grouper, Amberjack, Red Snapper, Yellowfin Tuna, and Mahi-Mahi. They have Winter Snowbird Lunch Specials ranging from Fish n Chip or Surf n Turf pasta at $15.99 to Broiled Shrimp and Salmon at $18.99.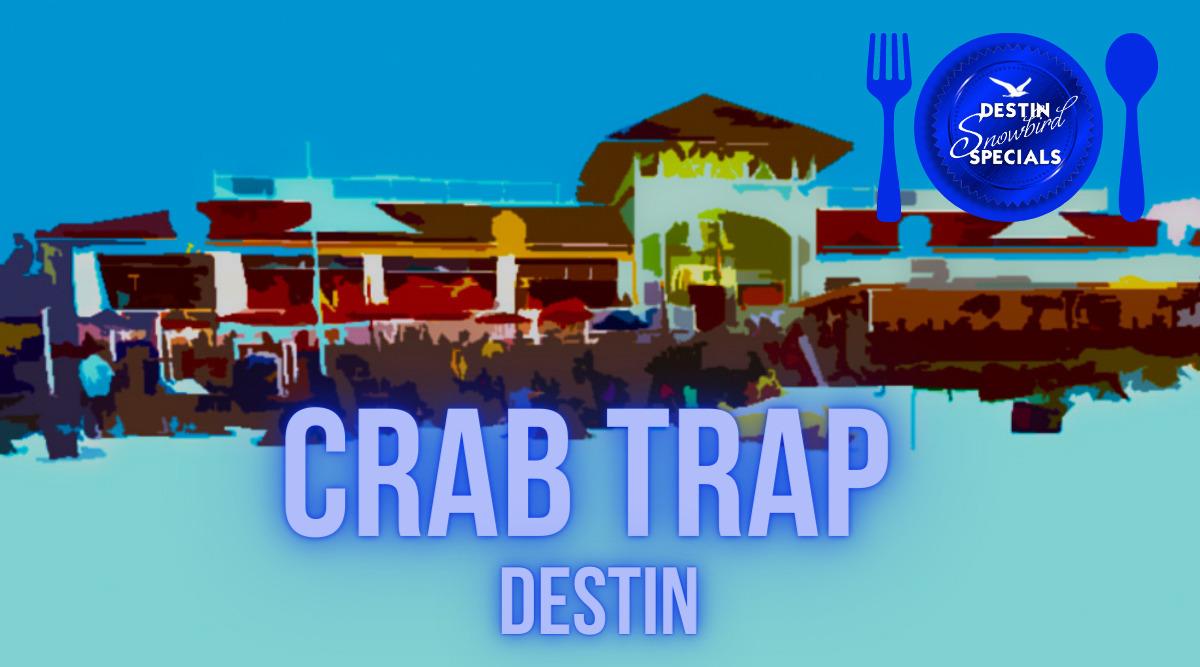 3500 Scenic Hwy 98 E, Destin, FL 32541
The Crab Trap at 3500 Scenic Highway 98 is right across from the exclusive Destiny neighborhoods. Ocean Reef Resorts has quite a few rental homes, so you could walk on over. This restaurant is quite charming since it resembles a seaside pavilion from the early 1900s. It overlooks the gorgeous gulf in the center of a long promenade at Henderson Beach, with multiple access points down to the sugary shoreline. This restaurant specializes in daily fresh gulf-caught seafood and prepares 250,000 lbs. of Amberjack, Snapper, Grouper, Wahoo, Mahi-Mahi, and Shrimp every year. True to their name, they also serve domestic crab claws, lump crabmeat, and Alaskan Snow Crab. They have a great Happy Hour featuring favorite libations and craft cocktails Monday thru Friday from 3:00 to 5:00 pm.
Dewey Destin's Seafood Restaurant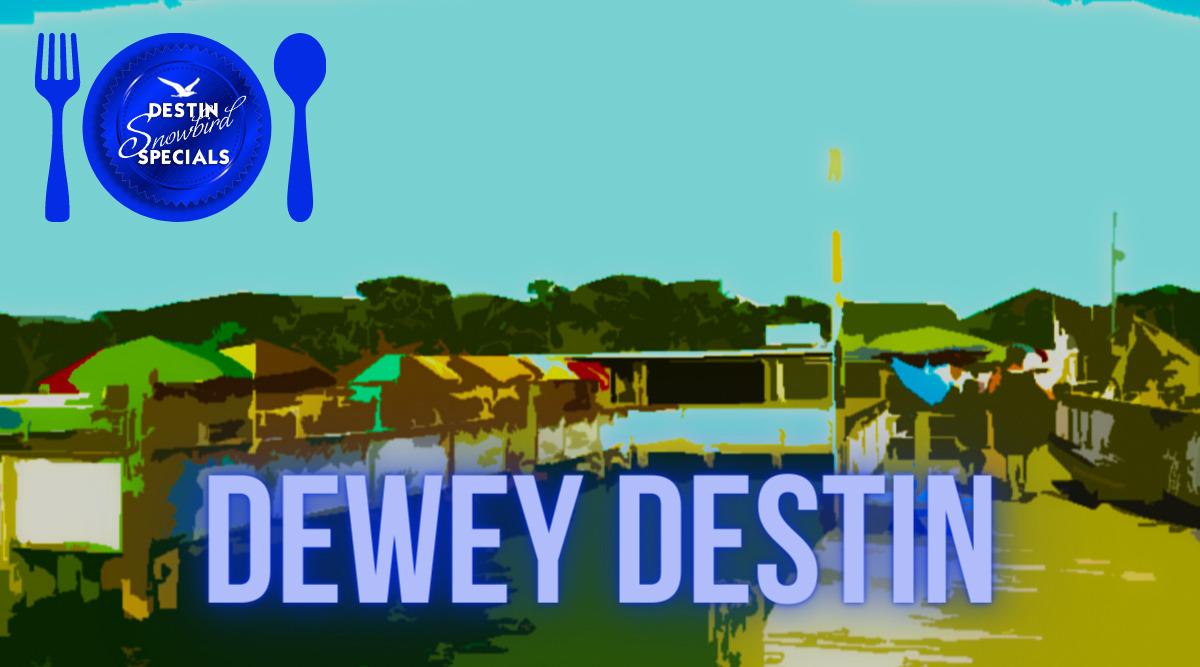 9 Calhoun Ave, Destin, FL 32541
Dewey Destin's is located at 9 Calhoun Avenue on the beautiful bay overlooking Crab Island towards the west. This place is owned by one of the founding families of Destin. It is situated very close to where their ancestors started a thriving fishing enterprise back in the mid-1800s. They are only open at lunchtime from 11:00 am till 3:00 pm, serving various fresh seafood, including fried or grilled baskets and sandwiches. Their Snowbird Lunch Special features your choice of fried, blackened, or bronzed shrimp right off the boat for only $12.95. It is served with fries and hush puppies.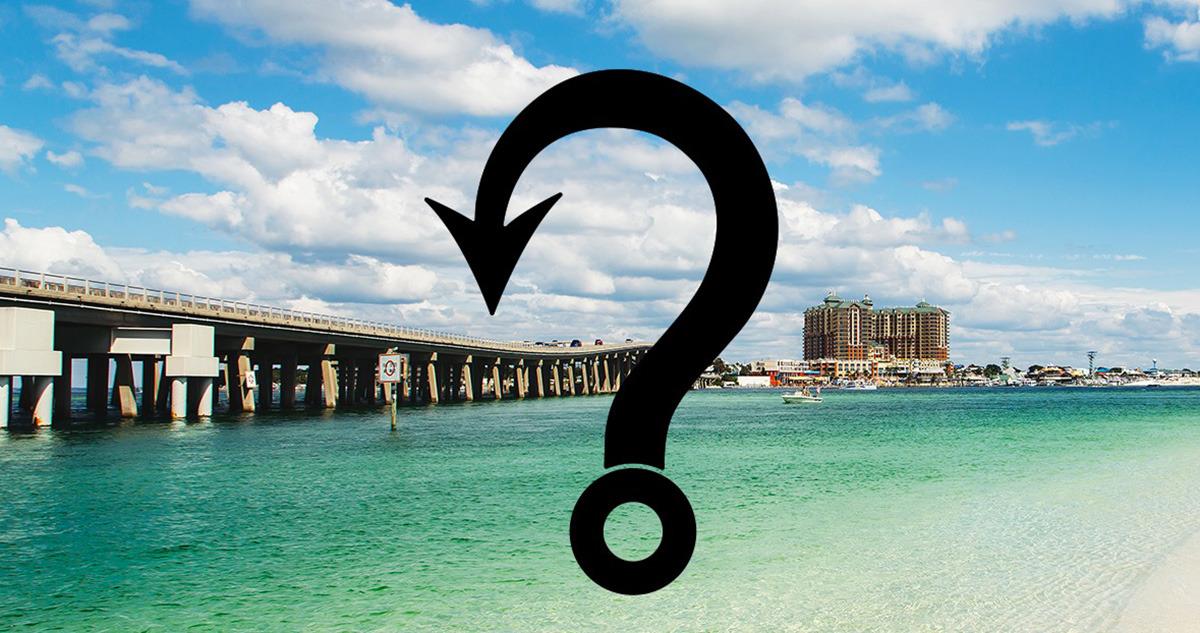 He is a direct descendant of Captain Leonard Destin for whom the city was named and his family has been fishing these abundant waters for many generations. They used his family's original traditional method of utilizing net fishing to harvest this aquatic cornucopia of ...
Fudpucker's Beachside Bar & Grill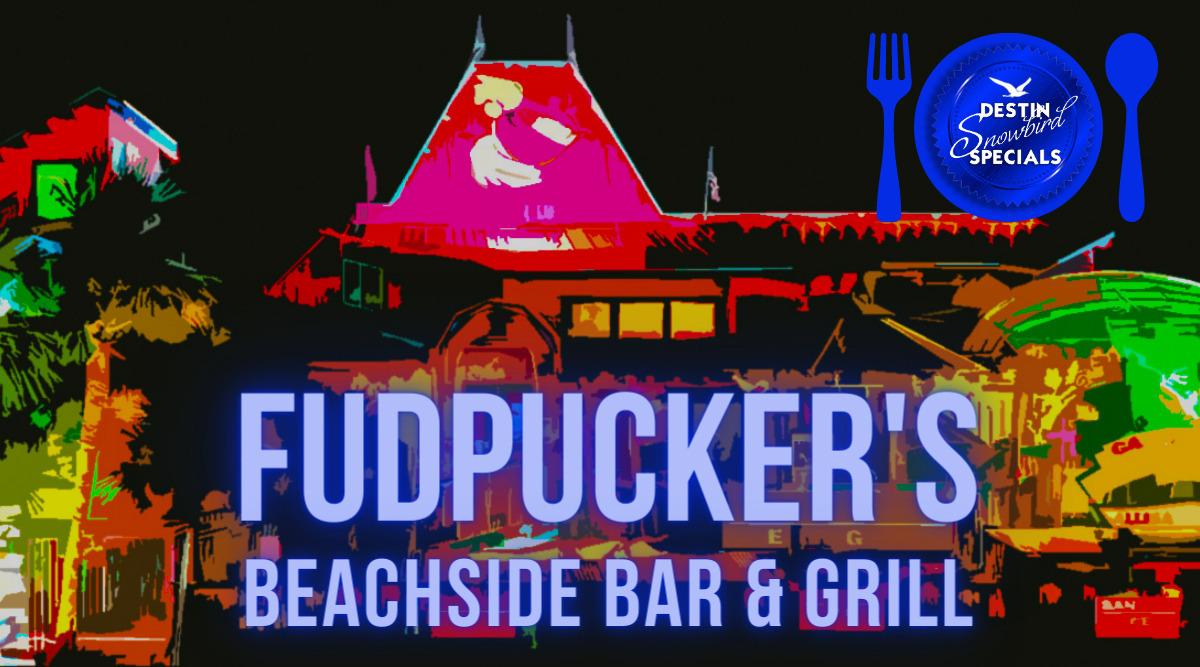 20001 Emerald Coast Pkwy, Destin, FL 32541
Fudpucker's is located at 2002 Emerald Coast Parkway just west of the popular Destin Commons shopping village. This restaurant is a unique one-of-a-kind family-friendly experience. It is conveniently close to our Ocean Reef vacation rentals in Crystal Beach. Besides having great food and delicious drinks, this place is also known for their live alligators! They also have a kid's game arcade, a playground, and a souvenir shop. Their "Gator Park" is in the back! Admission to the gator viewing area is free, and a staff member tells you all you want to know about alligators. For only $5, you can help feed them. You can also hold a baby gator and have your photo taken. Special coupons for reduced rates are available this time of the year.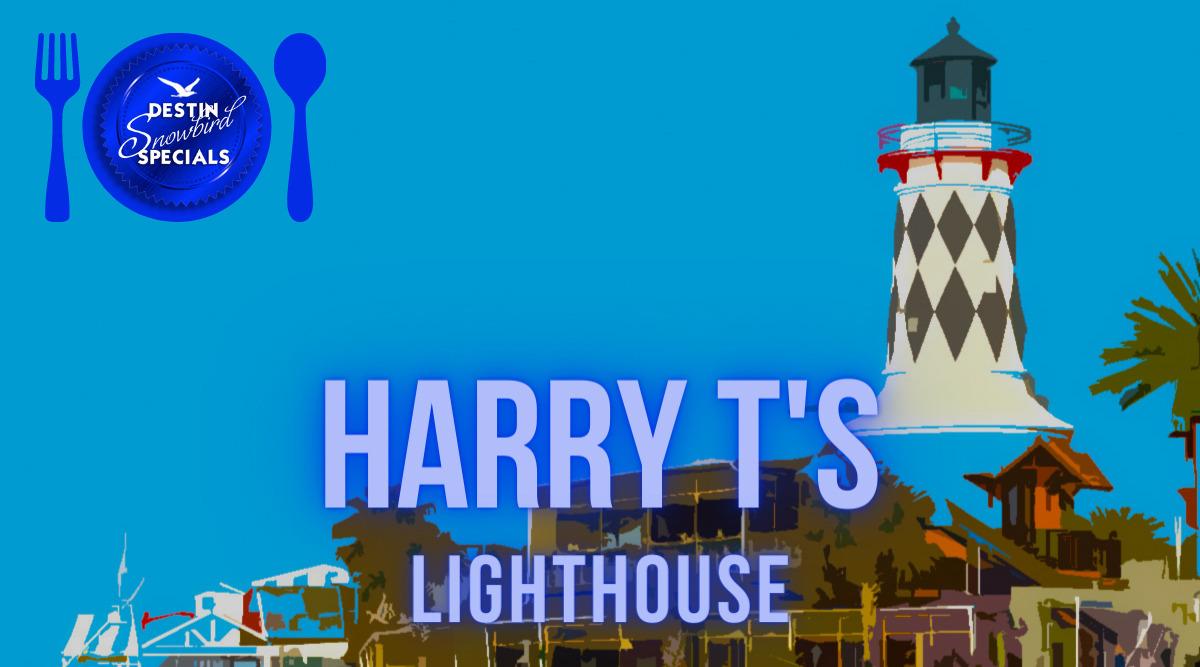 46 Harbor Blvd, Destin, FL 32541
Harry T's Restaurant is located at HarborWalk Village, with a wonderful dockside location right under the lighthouse. The views of the harbor and distant gulf are outstanding, especially this time of year. Just a visit to Destin's golden Americana-styled crown jewel is a delight since they host outdoor concerts, fun festivals throughout the year, and vibrant seasonal firework celebrations. Although they are known for a wide array of seafood, they also serve sandwiches, burgers, steaks, and pork barbecue. A Happy Hour Special serves reduced-price drinks from 4:00 to 5:00 pm.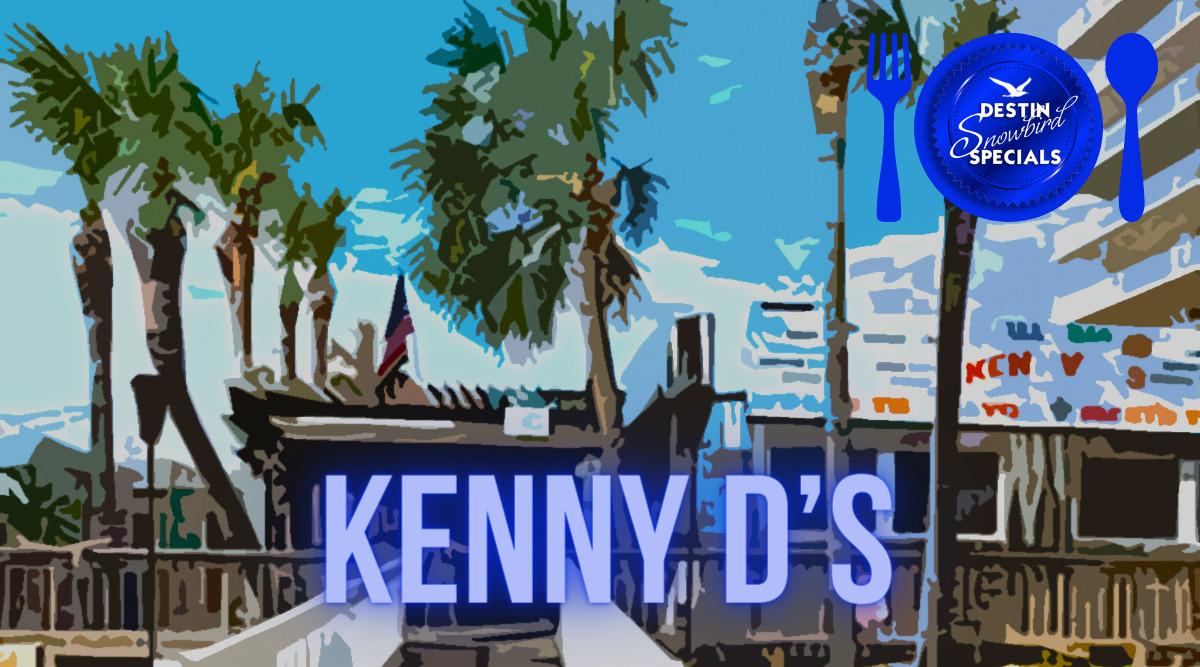 2964 Scenic Gulf Dr, Miramar Beach, FL 32550
Kenny D's is located in Miramar Beach at 2964 Scenic Gulf Drive, very close to our condo rental properties at the Leeward Key, Maravilla, Empress, Majestic Sun, and many more! They bill themselves as "the best Cajun style food this side of New Orleans," and the owner is a native from that famous city. They are known for their award-winning gumbo and have excellent etouffee'. They also have some of the best Oyster Rockefeller around. The setting is casual and laid-back, with indoor as well as outdoor dining. They have a Happy Hour Special from 3:00 to 5:00 pm.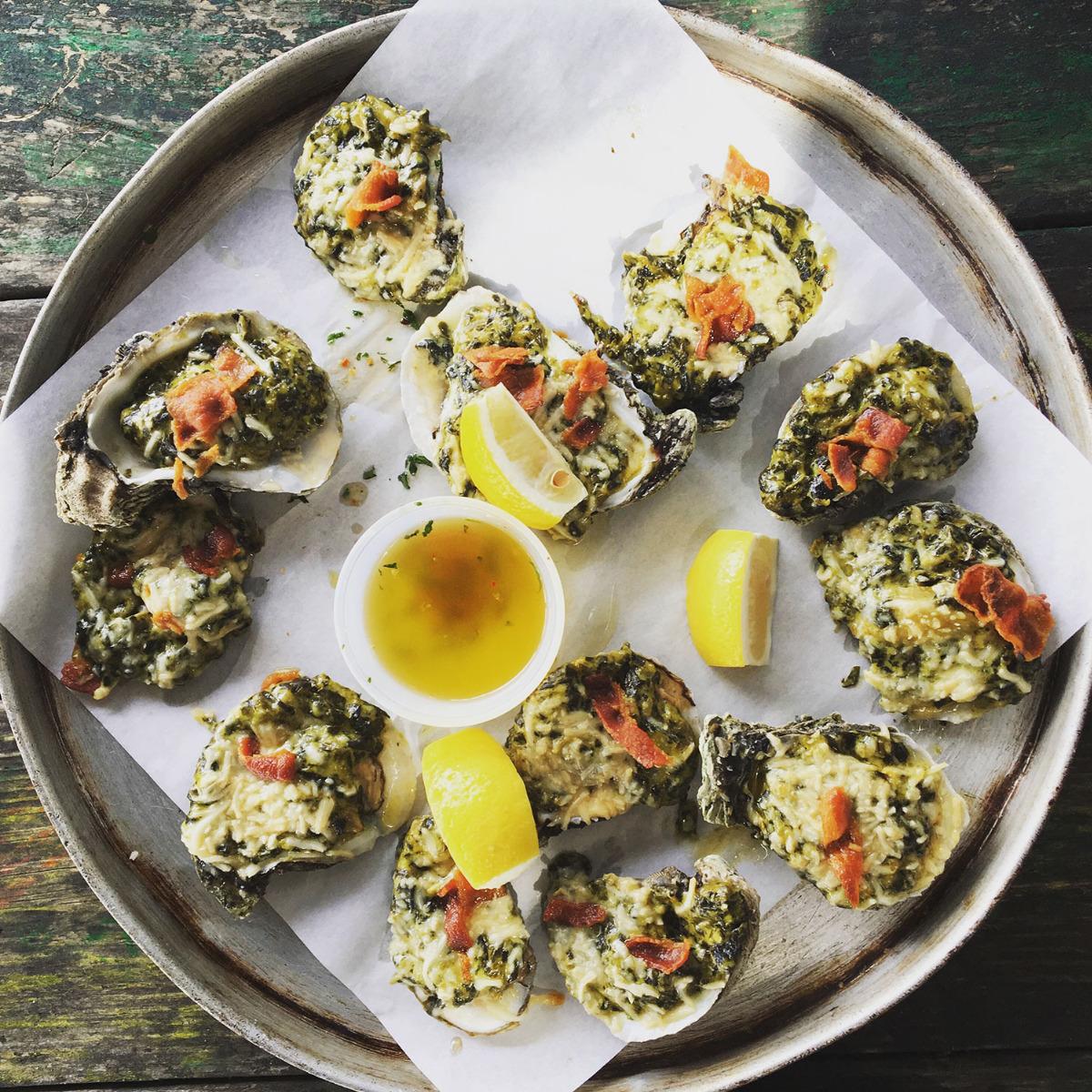 If you've ever wondered where to find the Best Seafood in Destin, you've come to the right place! Based on votes by our staff, we created a comprehensive list of the best and most popular Destin Seafood restaurants. Just for you!
Why should you care what our staff has to say?
Because they are local experts! Ocean Reef Resorts prides itself on hiring locals who live, work, and play in this special piece of paradise.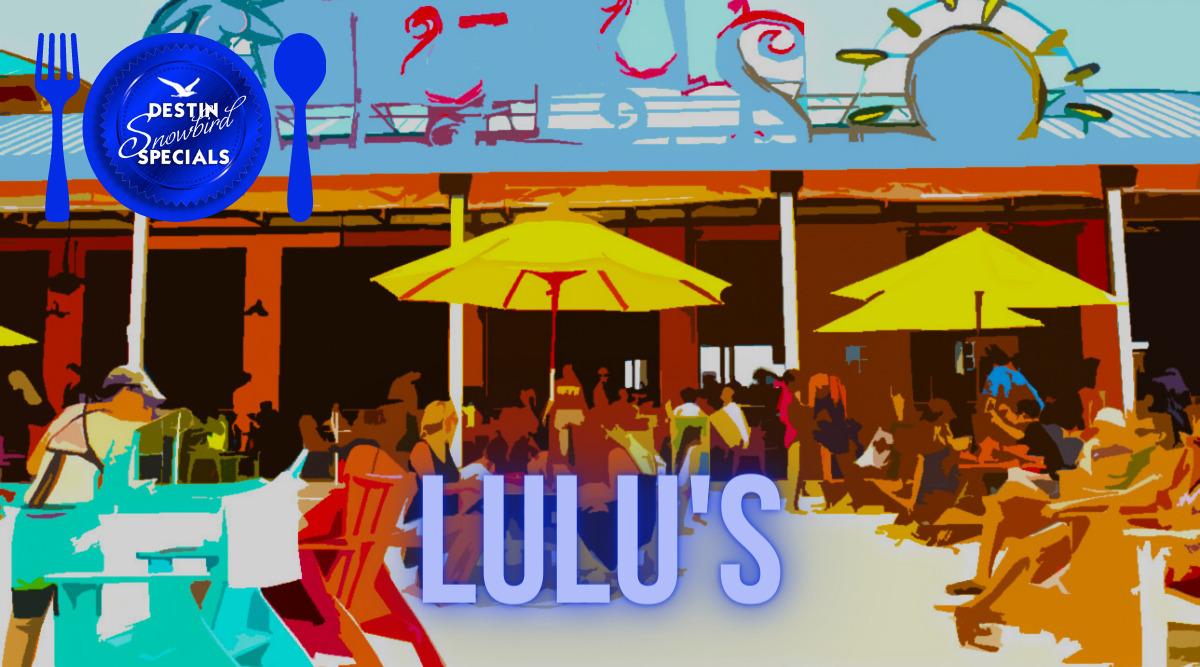 4607 Legendary Marina Dr, Destin, FL 32541
LuLu's Restaurant is located at 4607 Legendary Marina Drive, right at the base of the Mid-Bay Bridge. This captivating happening place is owned by Jimmy Buffet's sister Lucy, and it hosts great live musical entertainment along with favorite drinks with great food. They are planning a unique "Tropical Reunion" on February 11th from 1:00 to 3:00 pm. Just in time for Valentine's Day, this event will feature a Vow Renewal ceremony that will include flowers for the brides, a wedding cake, photos of each couple, and a complimentary champagne toast. Prizes will be awarded to couples who have been married the longest, the shortest, and those who are wearing the most fabulous wedding attire. Attendees must register in advance at lulusfunfoodmusic.com since individual official Vow Renewal certificates will be issued.
McGuire's Irish Pub of Destin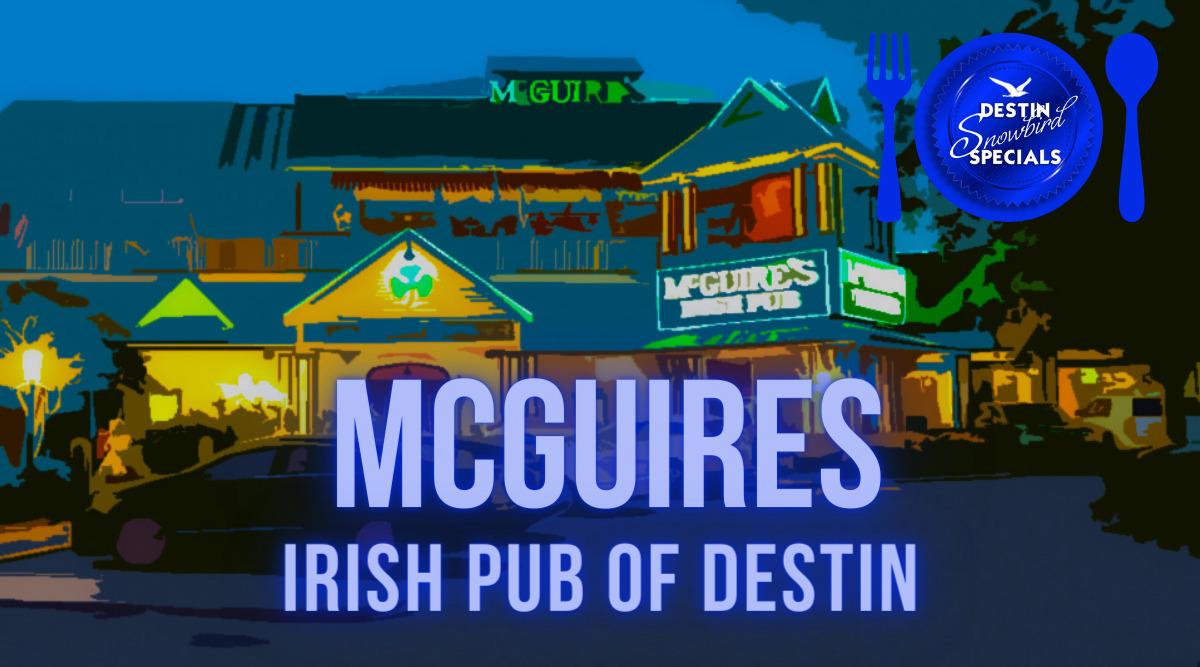 33 US-98 E, Destin, FL 32541
McGuire's, which is located at 33 Hwy 98 East, right across from HarborWalk Village. They are famously known for their motto "Feasting, Imbibery and Debauchery." Snowbird Specials are offered Monday thru Friday from 11:00 am to 4:00 pm. They include the following: Mondays Free Bread Pudding with any entrée; Tuesdays Free Senate Bean soup with any entrée along with an Irish sing-along with a free appetizer buffet from 3:00 till 6:00 pm; Thursdays Free Irish Boxty potato pancake with any entrée and Friday Irish Coffee Specials for only $3.50 each.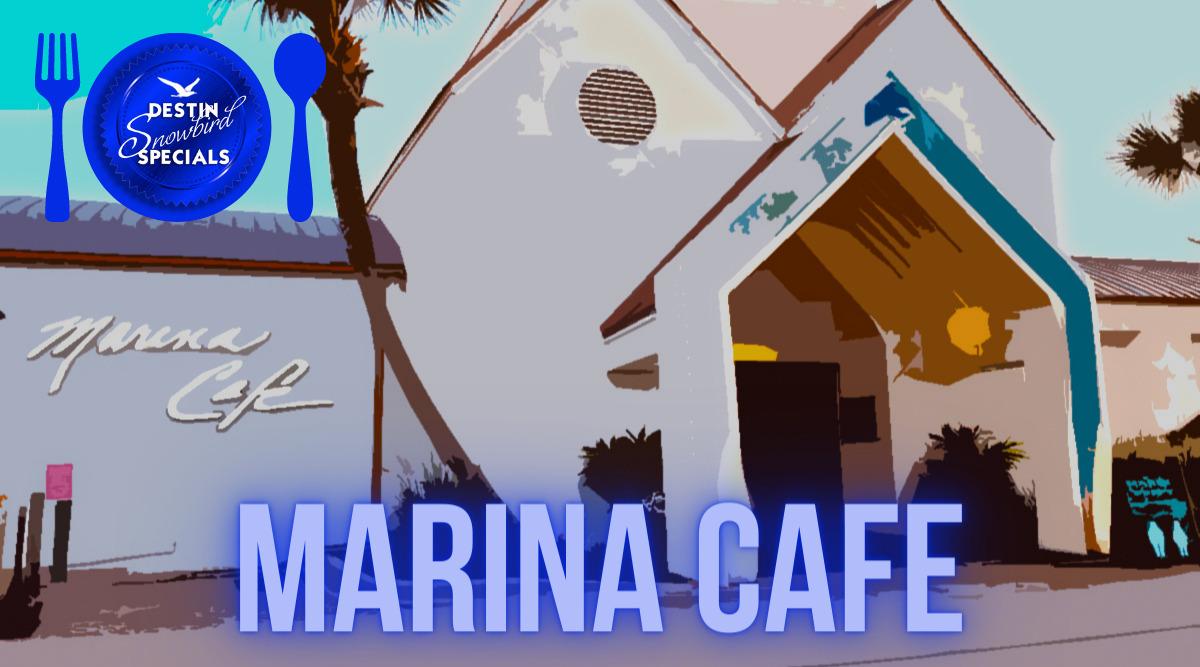 404 Harbor Blvd, Destin, FL 32541
The Marina Café is a highly acclaimed and award-winning gourmet restaurant overlooking Destin's marina at 404 Harbor Boulevard. This is very close to those of you who are staying at one of our fine vacation rentals on Holiday Isle. They serve a lavish array of tasty appetizers, gourmet seafood offerings, prime steaks, lamb, and pork chops. A Happy Hour special runs daily from 5:00 to 7:00 pm daily which includes half-price on wine, drinks, and beer, along with reduced-price appetizers. From 5:00 till 6:00 pm, diners get their choice of a gourmet meal on a "Buy One, Get One Free" special offering. Live music is played from 7:30 to 10:30 pm in their lounge.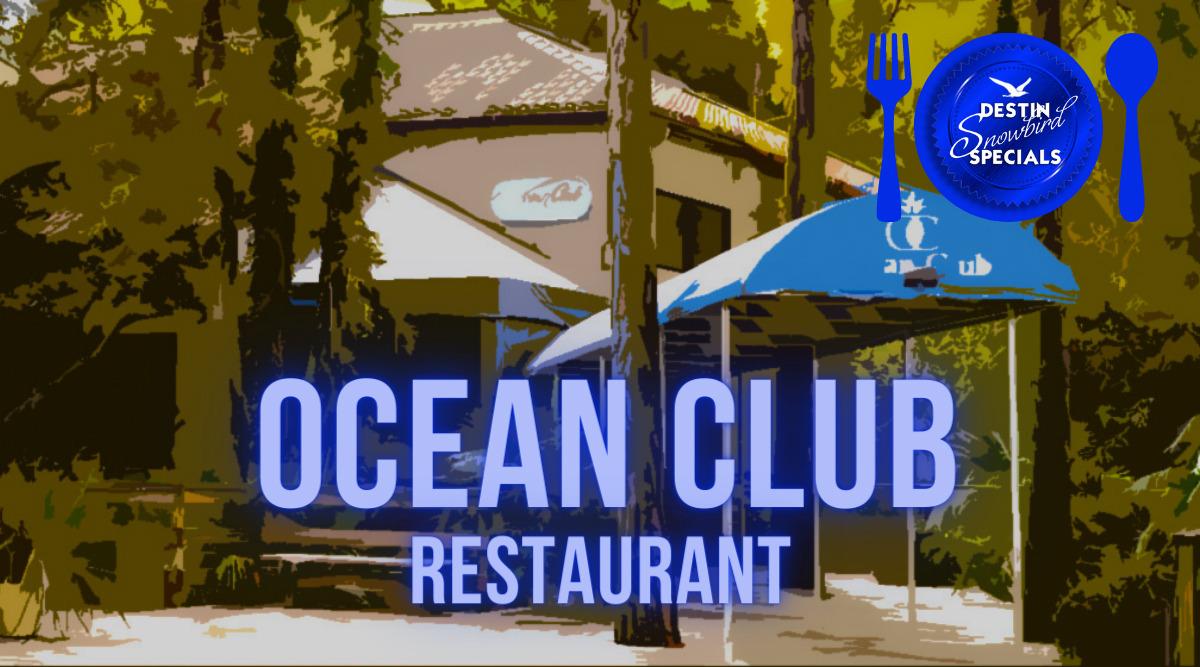 8955 US-98 W 107, Miramar Beach, FL 32550
The Ocean Club is located in Miramar Beach at 8955 Emerald Coast Parkway beside the Tops'l Beach and Tennis Resort. We have quite a few fine vacation rental offerings near Tops'l, which makes this restaurant a close, convenient dining destination. This restaurant features gourmet seafood, steaks, lamb chops, veal, chicken, soups, and salads. Live musical entertainment is featured regularly in their lounge. They have a "Buy One, Get One Free" dinner of your choice from 5:00 to 7:00 pm, along with drink specials.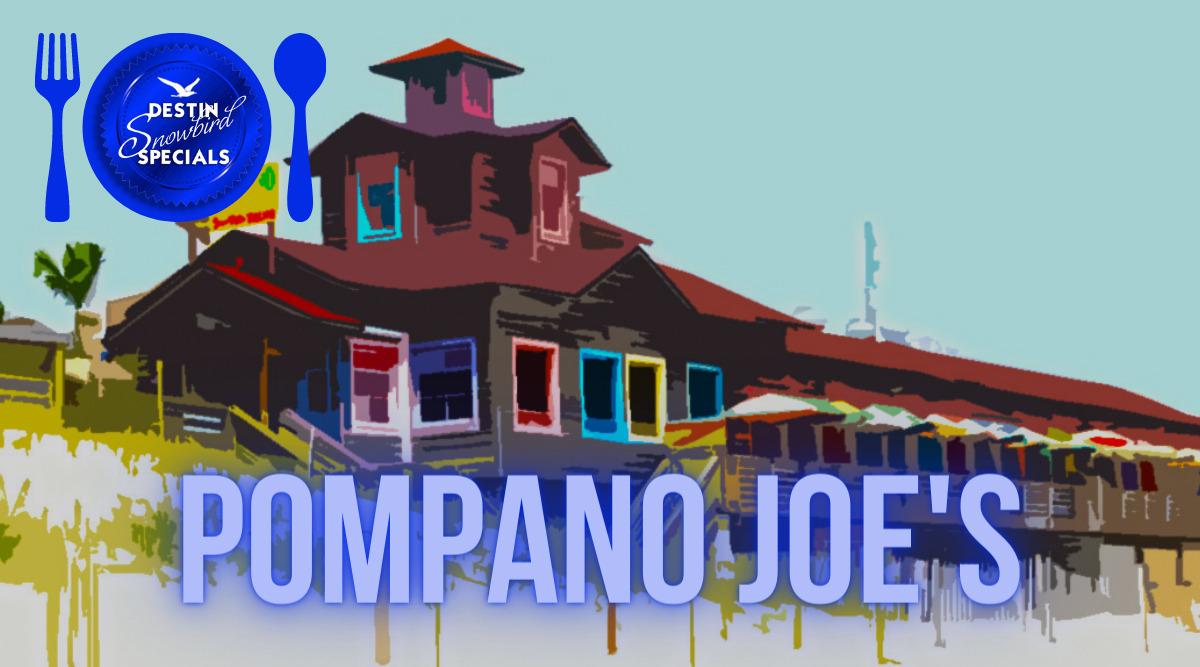 2237 Scenic Gulf Dr, Destin, FL 32550
Pompano Joe's is a colorful seafood restaurant with a Key West feel located in Miramar Beach at 2237 Scenic Gulf Drive. This fun place is within easy walking distance right down the crystalline shoreline from our Ocean Reef Resorts vacation rentals in Frangista Beach. They feature a popular Happy Hour every day from 3:00 to 5:00 pm with $1 off drinks, beer and wine, and margaritas for only $4.25 each.
Now that you know where to go for Snowbird Specials in Destin restaurants, enjoy finding your perfect getaway on our user-friendly Ocean Reef Resorts website. You will see detailed descriptions, vivid property images, aerial views of each locale, our seasonally low rental rates, and calendar dates that are still open for a reservation. Enjoy and Bon Appetit!