Posted on 6/26/2015
You are riding beside a beautiful white sand beach in a jeep with friends while the salty breeze blows through your hair on a spectacularly gorgeous day. Maybe you have some vintage Beach Boys music playing. The top is down, everyone has a big smile on their face and life doesn't get much better than this. Thanks to Destin Jeep Rentals now you can be part of the show. They provide you with an opportunity to create exciting and unique memories that will last a lifetime.
Destin Jeep Rentals is a local family owned company that prides themselves on providing the kind of experience that will thrill your family and friends. It is owned and operated by Nick and Jennifer Briggs who personally offer exceptional dependable customer service which is greatly evident from rave reviews on their Facebook page. Destin Jeep Rentals receives high ratings from their customers with comments like: "Excellent service", "quality of the vehicle was incredible, in pristine shape, loaded with a solid sound system via satellite", "pleasure to work with", "Cannot say enough good things about them" and "couldn't be better!"
Three new vehicle models are available for rental which include the Jeep Unlimited, Grand Cherokee and Sahara. All three of these fun vehicles accommodate up to five passengers with four doors, have Automatic Transmission, Power Outlets for your Cell phone, Touch Screens, CD players and lots of luggage space for your favorite picnic gear. The Jeep Unlimited and Sahara have soft tops that can be let down and removable side doors to let the fresh air flow, so bring your cap or just let your hair fly freely in the breeze while you soak up the rays of the sun! The Grand Cherokee has a Moon Roof and both this and the Sahara feature rich comfortable leather seating as well as a Navigation System.
Besides cruising up and down Emerald Coast Parkway stopping in at places like Harborwalk Village in Destin or the charming Village of Baytowne Wharf at Sandestin you will truly enjoy "jeeping" down Scenic 30A. This sensational two lane road meanders along the glistening gulf for about eighteen miles beside the sugary shores. The scenic corridor hugs the forested Gulf of Mexico coastline with breathtaking views of sugar white sand beaches and luminescent emerald hued waters. You will want to pull the jeep over to make pit stops along the way since it passes through a number of picturesque beach side communities. Running west to east these include Dune Allen, Santa Rosa Beach, Blue Mountain Beach, Grayton Beach, Watercolor, Seaside, Seagrove Beach, Watersound, Alys Beach, Seacrest and Rosemary Beach. Each picture perfect town offers its own unique personality with individual architectural features and lifestyles. There are great restaurants, unique boutiques, galleries and lots of shopping adventures along the way.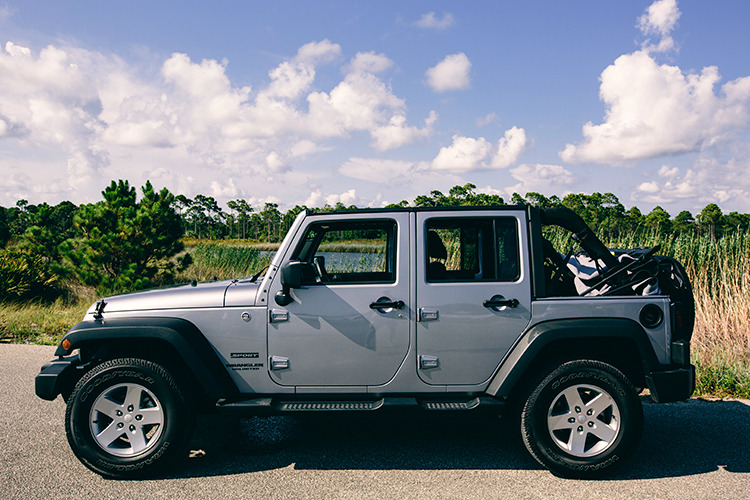 You may want to stop your Jeep somewhere along the way and have a picnic on the beautiful beach since Scenic 30A has been awarded an esteemed double distinction. First of all the state selected this route as a one of a favored few Florida Scenic Highways due to its natural beauty. Secondly, this gorgeous route travels beside shores that are designated as a Blue Wave Beach, which is the nation's highest honor for cleanliness and beauty. There are numerous public access points along the way, many of which are below sand dunes that rise up from the edge of the gulf in this special part of the world. Precious Coastal Dune Lakes parallel the coast. These exotic bodies of water are found in only three other places in the world which include Madagascar, Australia and New Zealand. They support a huge variety of wildlife due to the combination of fresh and salt water which varies as inlets open up or close off to the gulf. Most are undeveloped and protected with almost 25,000 total acres of state forests, preserves or parks that stretch across this scenic route. Sensational seascapes border these pristine forested lakes from beginning to end. At Draper Lake you cross into the rolling hills of Blue Mountain Beach which marks the highest elevation in the United States on the Gulf of Mexico.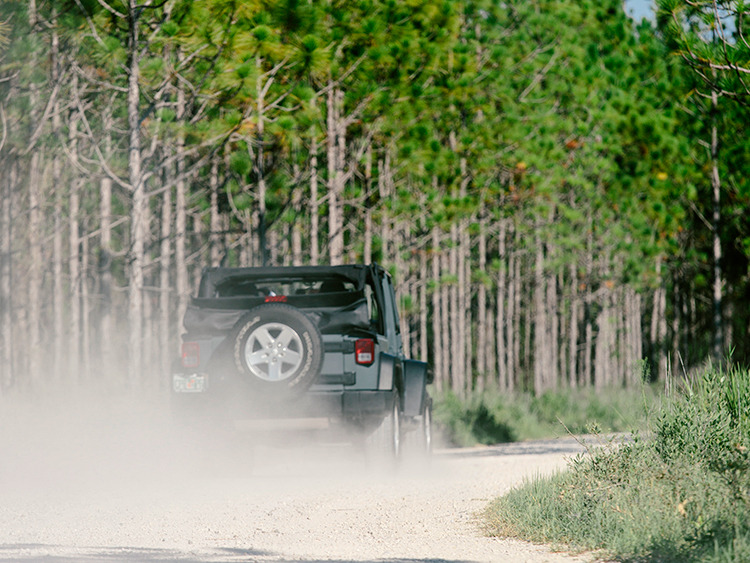 Three amazing state parks parallel the coast here which include Topsail with "towering" twenty-five foot dunes, award winning Grayton Beach and forested Deer Lake which is named for the doe that are sometimes seen eating golden Sea Oats near the shore. Grayton Beach State Park is particularly lovely since Scenic 30A crosses Western Lake which borders the forest on one side and runs all the way to the gulf towards the south. A narrow isthmus that crosses the lake in the middle leads into Watercolor. This community is aptly named since this locale experiences spectacular sunsets from fall thru early spring that are colorfully mirrored in the calm lake waters. Imagine the serene yet exhilarating feeling you will have cruising along in your Jeep with the top down while experiencing such sensational scenery. The gentle alabaster colored dunes and shimmering gulf on the beach side of Western Lake complete this picture which is heavenly to gaze upon. Couples and families can be seen here enjoying nature aboard their kayaks, canoes and even paddle boards.
These fun amazing modes of transportation are available for rent in Destin, Santa Rosa Beach and Panama City Beach. Both the commercial Northwest Florida Regional Airport in Destin/Ft. Walton and Northwest Florida Beaches International in Panama City Beach airports are served. These Jeeps are also available at the private Coleman Kelly Field Airport in Destin. Destin Jeep Rentals will also deliver right to your front door wherever you are staying in Destin, along Scenic 30A or Panama City Beach for a small extra fee. These rentals are for daily or weekly use. Reservations are strongly encouraged especially during the busy summer season so make them by calling Nick or Jennifer at 850.687.9262.

After your awesome Jeep adventure you know you will get a fine night's rest at one of our distinctive Ocean Reef vacation rentals anywhere in Destin, Miramar Beach, along Scenic 30A or in Panama City Beach. Enjoy!