Posted on 3/14/2023
Ocean Reef Resorts offers something fun for everyone, even lovers of classic Arcade Games. Here we are featuring some of our most loved places to stay and play! Arcade Games are old-school classics. Your grandmother might have been a master at Space Invaders, but now while she's on vacation, she can share that love with your daughter. Video games are timeless, offering a delightful diversion to pass the time between beach trips, before bed, or especially on the rare chance the weather outside gets drizzly.
Here for your review are four of our finest Destin vacation homes, overloaded with amenities. You'll find grand pools, large living areas, porches a' plenty, and yes, some of the most amazing game rooms in town.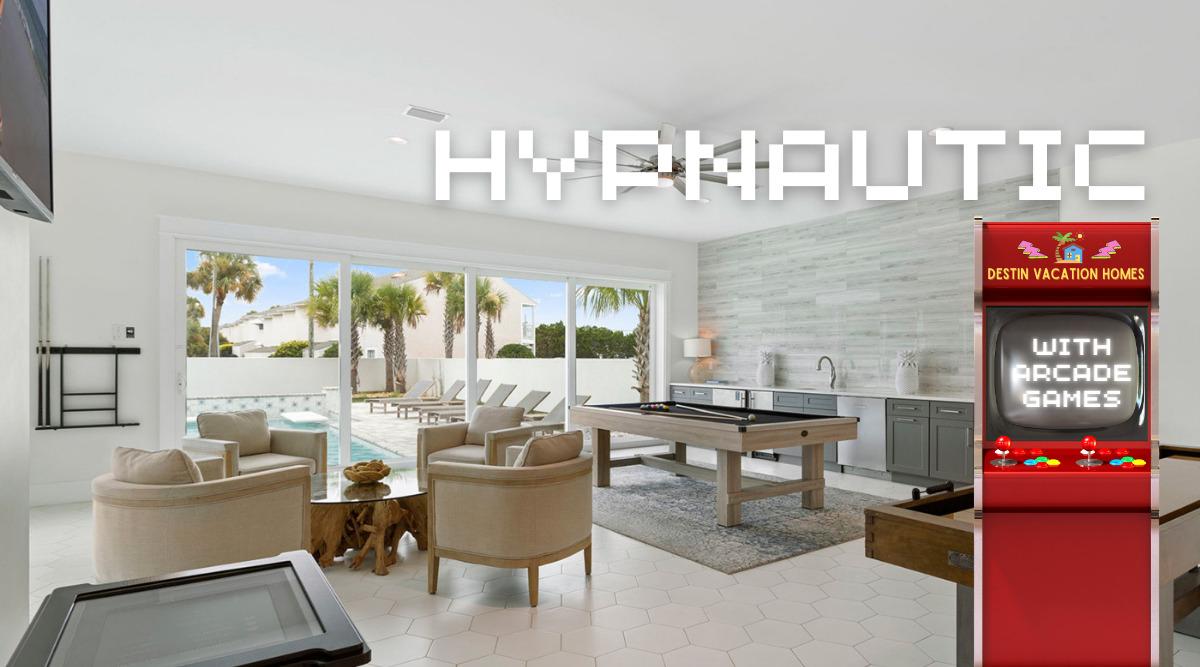 8 Bedrooms / 9 Full & 1 Half Bathrooms / 30 Guests
Player 1: Looking for the ultimate Miramar Beach vacation home for that massive family reunion or friendiversary you've been planning? This is the trance you've been waiting for! Hypnautic is an 8-bedroom beast that sleeps a whooping 30 guests (that's 7 x four-person nuclear families and two spare aunts, or any permutation thereof). Located just a few blocks from the Gulf of Mexico. It is only a few minutes walk, but why? When included in your rental, you'll have access o a small fleet of beach bikes and a luxury 6-person golf cart so you can arrive in style. The centerpiece of the entire renta home is the huge 33'x28' private pool. It's framed by a massive patio, and an outdoor kitchen. But you came here to hear about the arcade game. Just like everything else in this home, the gaming station is over the top. It's a head-to-head sit-down table format with all your favorites from the 80s. But be careful; you may have so much fun on a single or double player you may forget to go to the beach!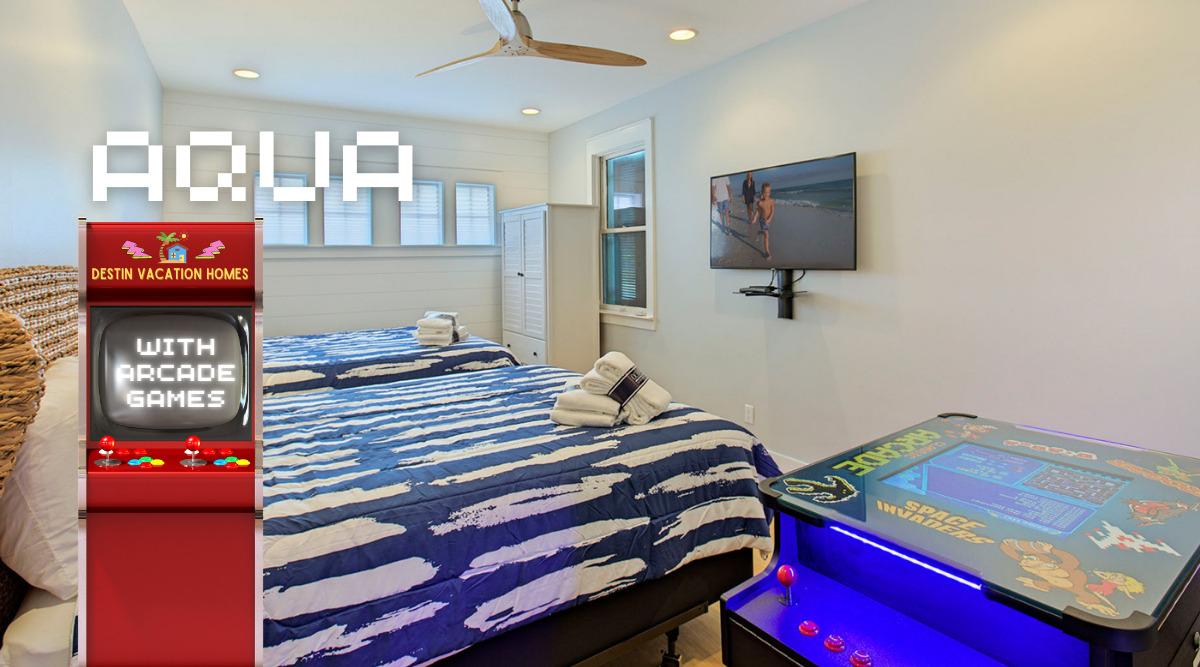 5 Bedrooms / 4 Full Bathrooms / 12 Guests
Situated in the historic local community of Frangista Beach, we find Player 2: Aqua. We have this grand duplex villa for gamers who prefer their beach house beachfront with a private heated pool and porches that overlook the Gulf of Mexico. 12 Guests occupy five beautifully appointed and well-decorated bedrooms in this multi-level Destin rental. The kitchen is perfect for entertaining. And while you prepare your feast, you can look out over the open floor plan living room and out to the jewel-toned waters. The kids' room in this home is a great place to escape the hustle and bustle of goings on in the common areas and features a table-based, two-player video game for head-to-head arcade action; This game has Donkey Kong, Space Invaders, Centipede, and gaggles of other favorites for megabytes of fun. You can't beat Aqua, a great setting, great amenities, and all set on a sugary dune above the shimmering shores.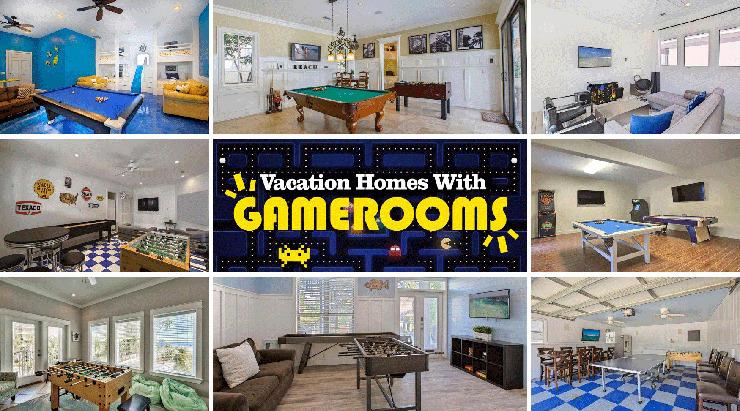 If you're looking for a vacation that exceeds your expectations, you will need a little more than the sun, sand, and beach. That is why so many of the Destin vacation homes offer guests a little bit extra.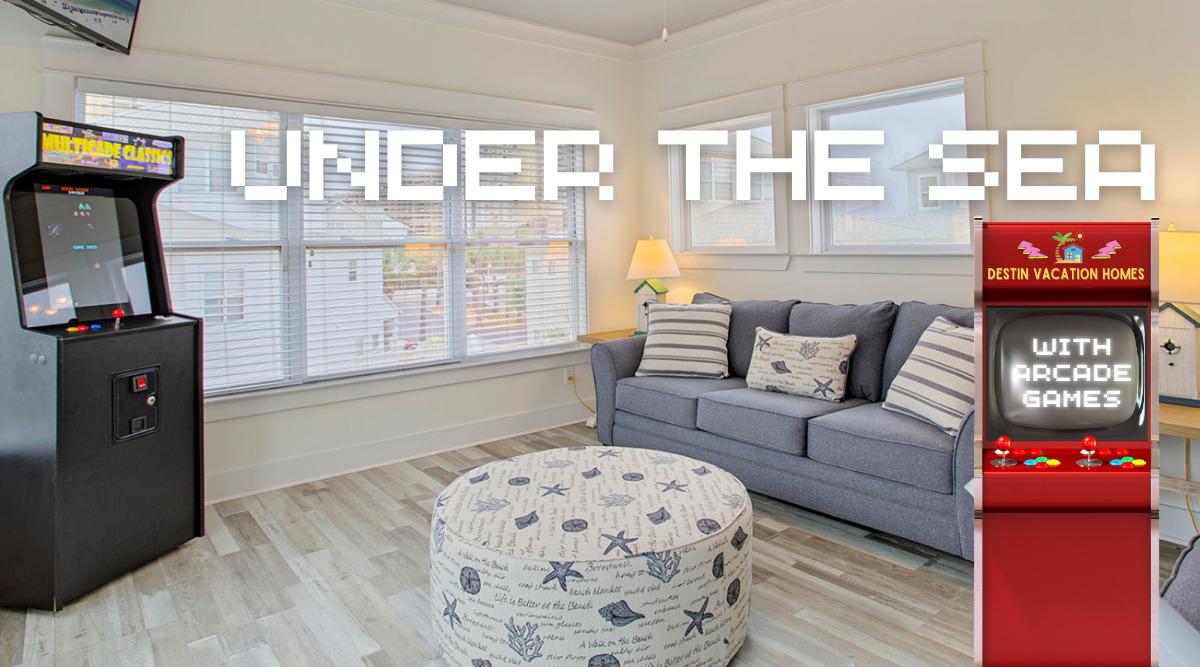 6 Bedrooms / 5 Full Bathrooms / 18 Guests
This very colorful, very charming 6-bedroom Miramar Beach home sleeps 18 guests happily. It's just off of Scenic Gulf Drive and places you near popular beachfront restaurants like The Crab Trap, Whale's Tail, Pompano Joe's, and Captain Dave's. Under The Sea is the perfect place to flip the script on everyday life, with lively diversions like a heated private pool, beach bikes, and a charming gulf view. Player 3 is on our list for its epic stand-up style video arcade game, like the last two, which features a plethora of your favorites on its Mult-Cade Classics system. Call us nostalgic, but standing up to play just gives you that one-of-a-kind interaction with the game. Your mom and aunts will love this location because of its proximity to massive amounts of factory outlets and boutique shopping; you'll love it for the same reason, hours of uninterrupted play!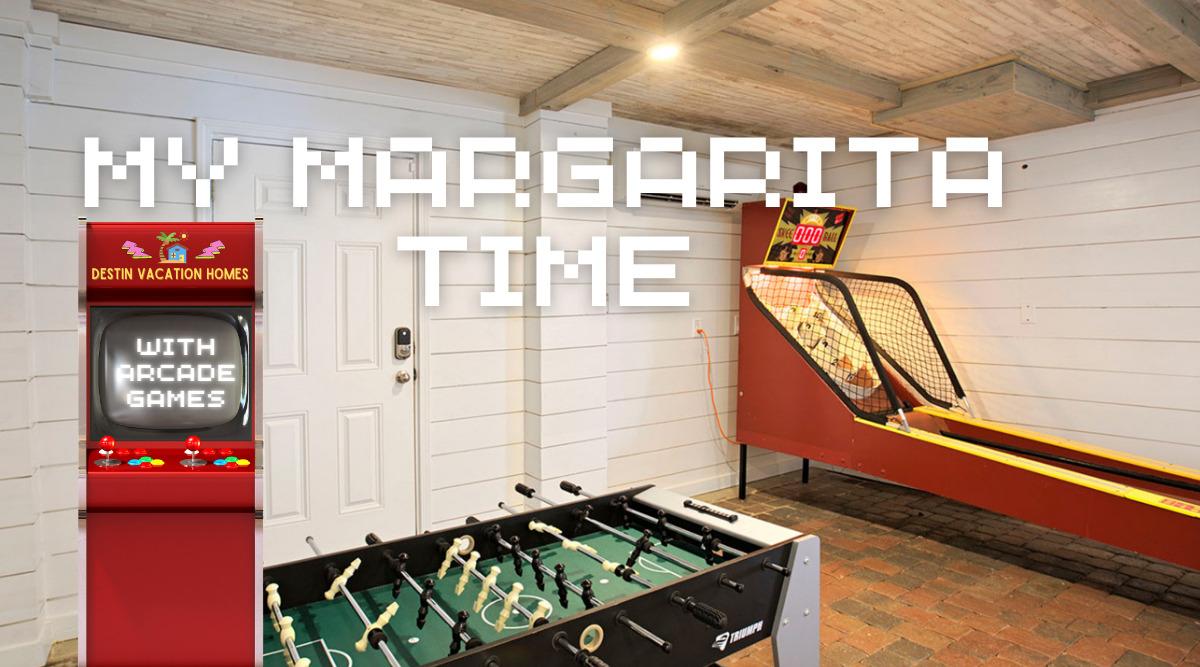 4 Bedrooms / 5 Full Bathrooms / 10 Guests
My Margarita Time is a vibrant 4-bedroom vacation home that sits upon a dune, just a stone's throw from the beautiful white sand beach. Player 4 has island vibes aplenty to put big smiles on your face. Vivid, colorful, whimsical furnishings abound, and there are interesting nooks and crannies everywhere. This Destin home comfortably personifies a laid-back beach lifestyle that would make Jimmy proud and put any Parrot head in a good mood within moments. Porches surround this property and are perfect for enjoying the views and with a frozen Margarita! Surfboards and a hanging Barracuda finish off the "ambiance." Following this home's classic style, the game room echos the vibe with a non-digital arcade favorite Skee-Ball. A beach vacation favorite for generations, you will love sending balls up for 100-Pointers!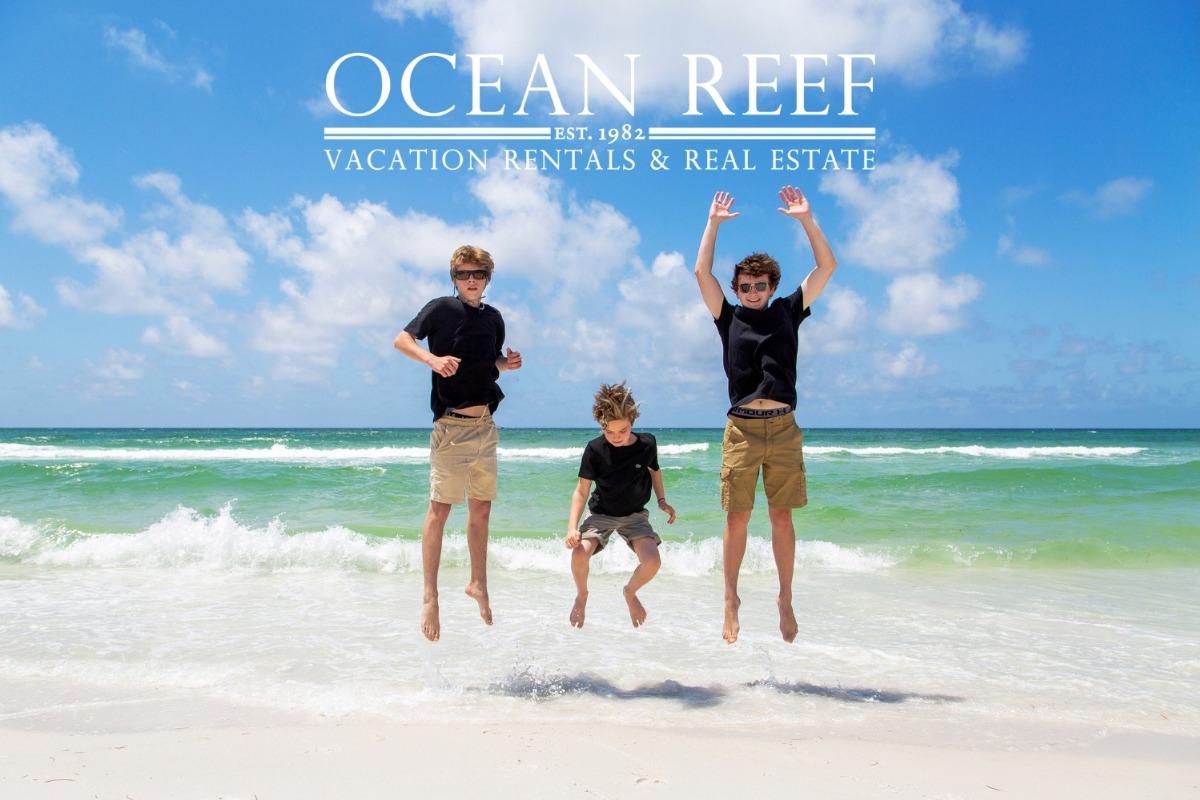 Ocean Reef Resorts offers hundreds of vacation beach rentals to choose from. There's a special place for you here in Destin & along 30A in South Walton. Call us today to speak to our vacation planning specialist, so we can find a place for you that suits your every desire! See you at the beach, Players!