Posted on 4/10/2020
Destin and the Florida Keys are both popular beach destinations for visitors. They are much alike in some ways but very different in others. Our Ocean Reef Resorts guests already know that Destin is their family favorite. For others who may be considering a Florida Keys vacation and have never been down, here is how they compare.
Location & Getting There
Destin is located in the Northwest Florida Panhandle along the Emerald Coast, which was named for the famous jewel-toned waters found in this part of the world. It used to be called the "Forgotten Coast" by some because, unlike the Florida Keys and Atlantic shoreline, this part of the state was only developed in recent years using picture-perfect meticulous designs to create master-planned communities. In fact, coastal villages like Seaside along what is now called Scenic 30A in South Walton received international renown for new pedestrian-friendly town planning when it was created.
Destin is considered a "drive to" destination due to its relatively close proximity to cities throughout the southeast. For example, Atlanta is only about six hours away, so most visitors drive down for their vacations. However, two of the closest major airports that serve the Destin area are located only thirty minutes and less than an hour away.
The Florida Keys are located 68 miles south of Miami on a chain of islands sandwiched between the Atlantic Ocean and the Gulf of Mexico, which mark the far southern part of the United States. It's almost like visiting a foreign country. In fact, the southern tip where Key West is located is only 90 miles away from Cuba. Key West is the largest city located at the very end of this long chain of mini islands and is quite old. It was originally established by an industry based upon profits derived from salvaging the many shipwrecks that occurred upon its coral reefs. It became a tourist destination when entrepreneur Henry Flagler built an overseas railroad that connected Key West to Miami in the 1910s. It was wiped out by the strongest hurricane to ever hit the United States on Labor Day in 1935. It was replaced by the current Overseas Highway known as US Highway 1.
The Florida Keys are usually a "fly to then drive to" destination since it is about a six-hour drive from just the Georgia state line, with another two and one half hour drive across the islands to Key West. Most of the Overseas Highway is a long two-lane road. The majority of visitors fly into Miami International Airport and then drive down from there.
The Territory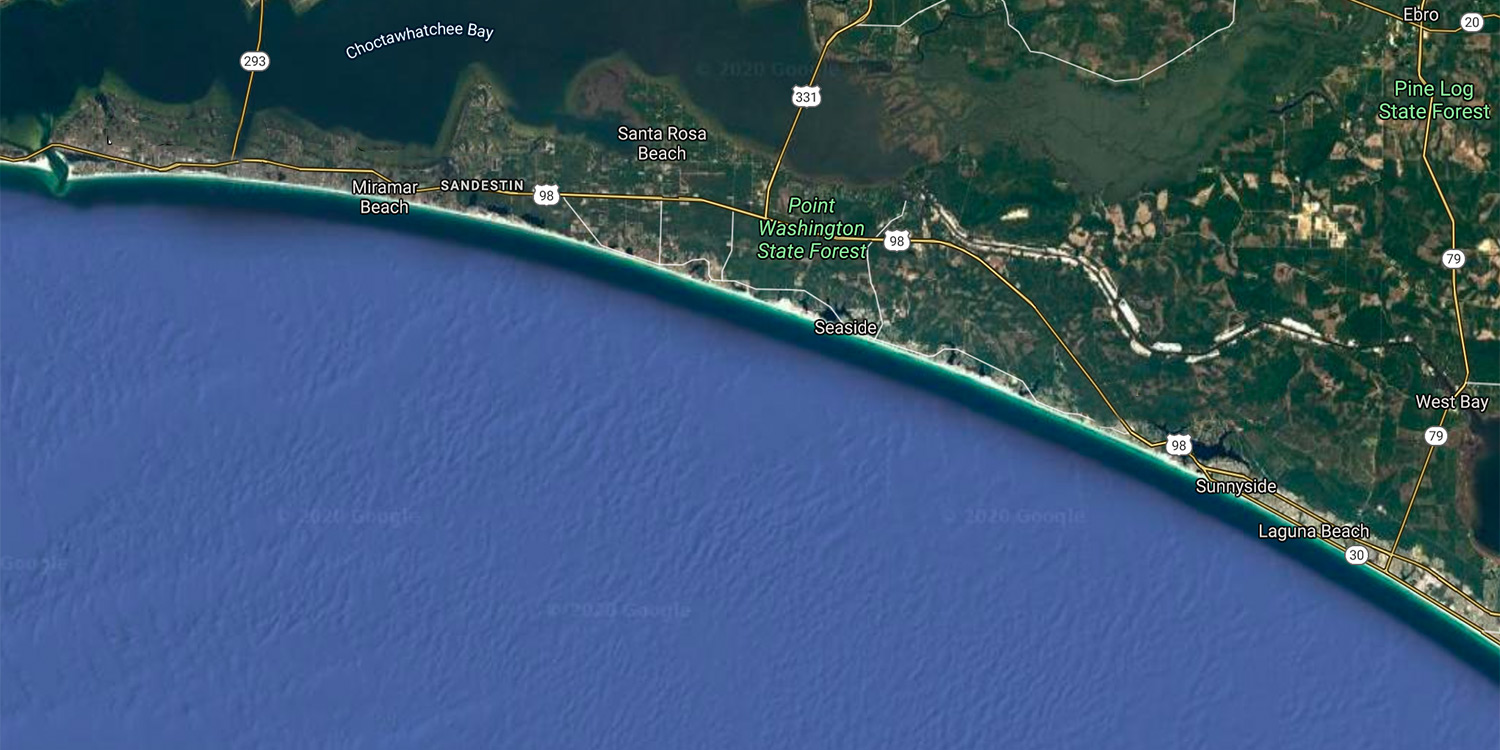 Destin covers an area that extends from the town itself 47 miles eastward through Miramar Beach and across South Walton along Scenic 30A into Panama City Beach. It is located on a long thick peninsula that runs from west to east that is nestled between the open Gulf and Choctawhatchee Bay. It resembles an offshore island since the wide expanse of the bay extends three to five miles across to the northern mainland. Besides the sugar white beach on its southern shore, it is mostly forested along Scenic 30A with towering loblolly pines, live oaks, magnolias, and palmetto palms. There are thousands of acres of preserved state forests and parks. It is distinguished for being home to rare precious coastal dune lakes near the shore, which are located hardly found anywhere else in the world. Such bodies of water are a natural habitat for a wide array of fish and abundant wildlife due to an exotic mixture of salted fresh water. It also has the highest elevation on the entire Gulf of Mexico, which is located at Blue Mountain Beach on Scenic 30A.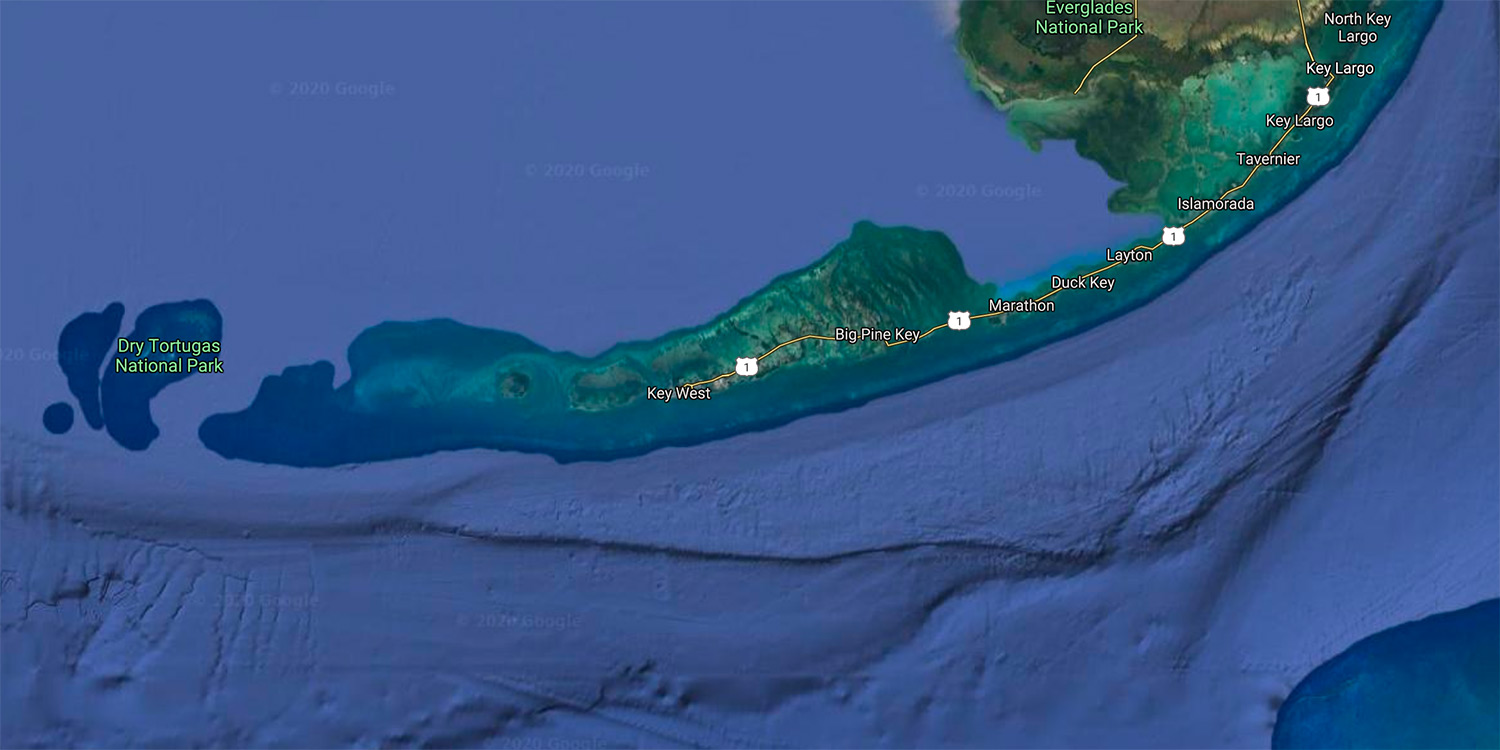 The Florida Keys extend 113 miles, which cross over from Key Largo to Key West. It is a narrow chain of almost 1,700 mini islands or cays consisting of ancient coral reefs, limestone, and cap rocks. Cap rocks are found throughout the keys and were formed over many years from acidic decaying vegetation that dissolved limestone and was redeposited as a denser rock. Indigenous plants include scrub bushes, slash pine, mahogany, and Jamaican dogwood; however, the climate supports most "household plants," some of which have invaded native species.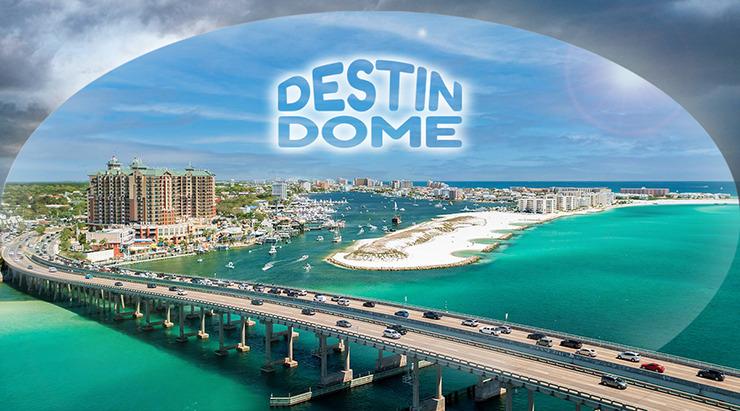 In Destin, the weather forecast may often call for rain, but these showers are typically brief and are usually welcomed by locals and visitors alike, as they cool things off a bit. The rain rarely interferes with plans and often adds to the refreshing ambiance of the area.
The Beaches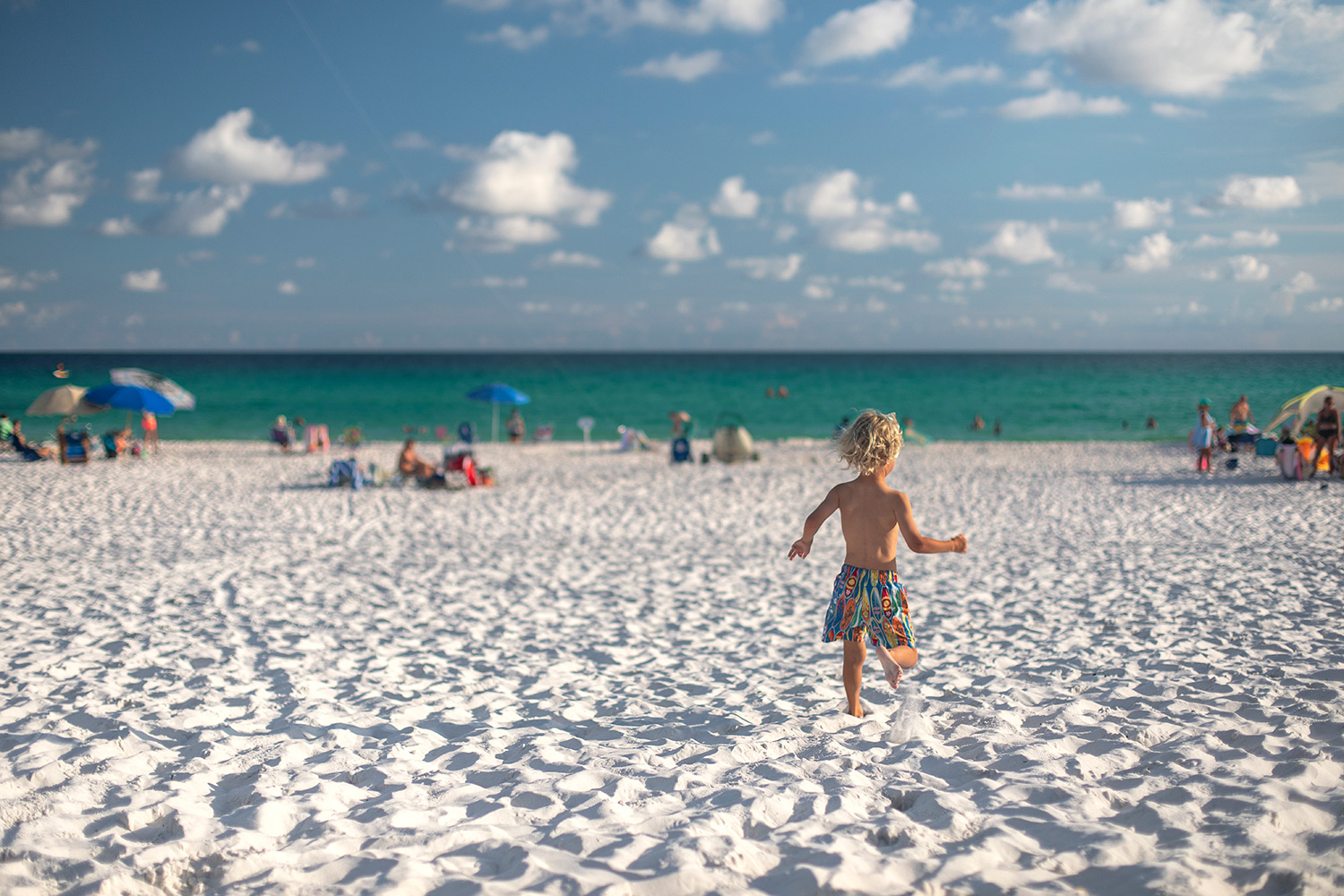 Destin is known for its shimmering sugary beaches that are actually composed of pure white quartz crystal that was shaved off Appalachian mountain tops during the last Ice Age. The quartz was ground down into powdery white sand over many thousands of years, which is cool to the touch due to its reflective qualities and brilliantly bright, so sunglasses are a must. The reflective white sand and clear Gulf waters here illuminate natural green microscopic plankton, which creates dazzling glowing emerald toned hues. Almost 17 miles along Scenic 30A have achieved Blue Wave Beach status. This is the nation's highest acclaim of excellence based upon extensive environmental studies related to cleanliness and pristine natural beauty. It is also the nation's longest contiguous coastline to receive such esteemed recognition.
Read more: Why is the Sand in Destin So White?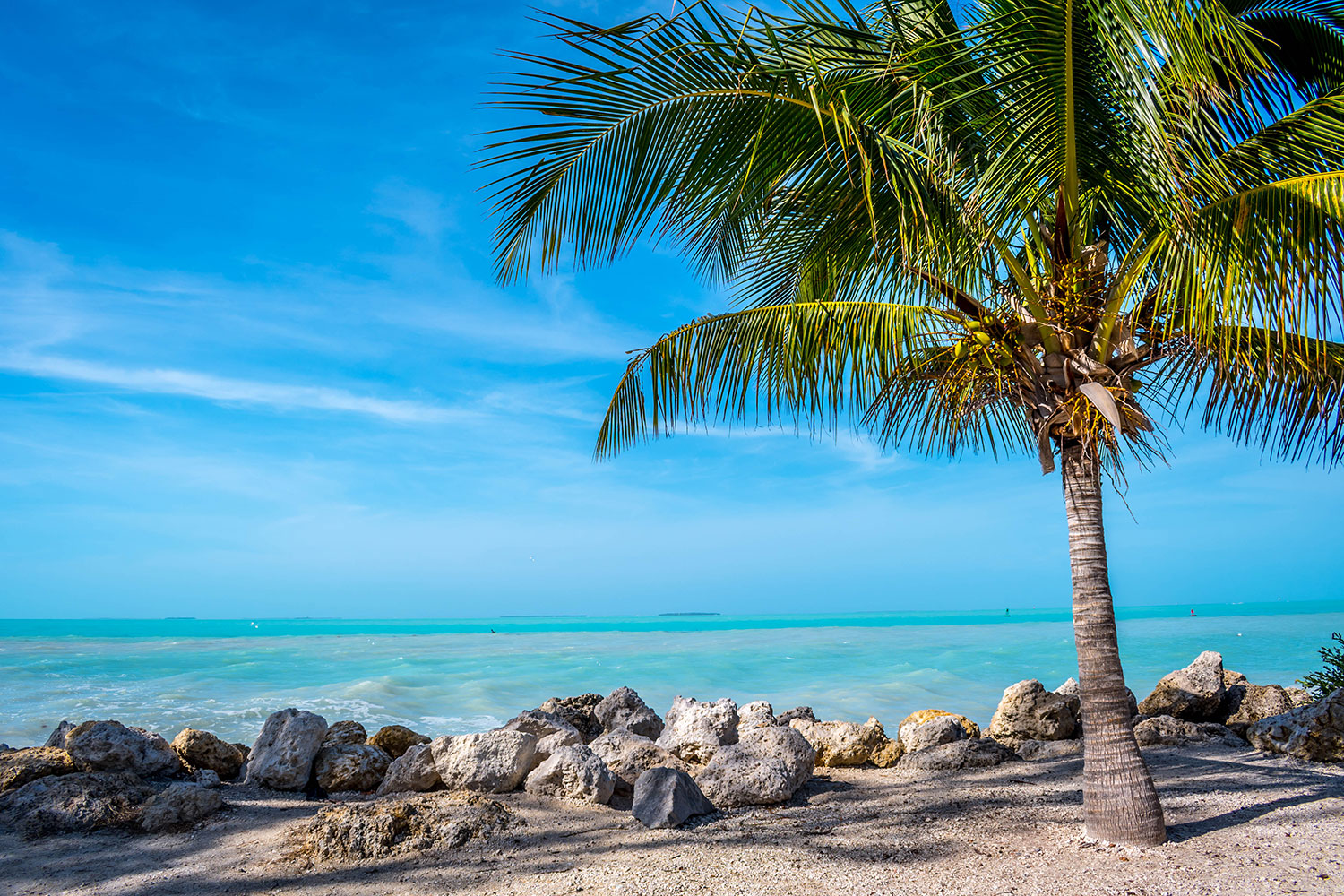 The Florida Keys are composed of coral, limestone, and caprock outcroppings with very little sand due to shallow waters and distant barrier reefs that protect the shore from waves. The waters are usually a turquoise blue in color. All the sandy public beaches are humanmade, and many are located in Key West, which includes Smathers Beach - the largest along with Higgs, Fort Zachery Taylor, Boca Chica, and Dog Park Beach. Calusa, Bahia Honda, and Long Beach are found halfway down the keys in Big Pine Key.
The Climate
Destin has a temperate climate with highs mostly in the upper 80s during the summers and 50s in the winter. Although hot, humid weather occurs during the summer, coastal breezes from both the bay and Gulf make it pleasant. Two months in the spring and then again in the fall, it experiences delightful sunny temperatures in the 70s during the day with little humidity. However, Destin is mostly a spring and summer destination for family beach vacations.
The Florida Keys have a tropical savannah climate and is the only part of the nation to have never experienced subfreezing temperatures. It is very hot and wet from June through October and then dry and breezy from November through April. Temperatures range from hot tropical 90s in the summer to perfect dry, sunny 70s during the winter, which is a great time to visit, but it is highly popular during the summer.
What To See & Do
Top destinations in Destin include the beautiful beaches, numerous championship golf courses, gorgeous lushly landscaped exclusively gated resorts, shopping, dining, fishing, water recreation, outdoor concerts, and fun festivals. Ocean Reef Resorts guests receive complimentary reduced rates for golf, tennis, pontoon boat rentals, watercraft recreation, dolphin watching excursions, sunset dinner cruises, fishing, miniature golf, and waterpark entry.
Fine clothiers and fashion boutiques are found everywhere but especially at the popular Destin Commons retail complex that resembles a charming European styled village adorned with palm trees and fountains. Over 100 world-class stores provide discounts of up to 60% off at one of the nation's larger designer discount centers - known as the Silver Sands Premium Outlets in Miramar Beach, which attracts millions of shoppers every year.
HarborWalk Village in the heart of Destin along with the enchanting New Orleans French Quarter inspired Village of Baytowne Wharf and swank Grand Boulevard at the Sandestin Golf and Beach Resort in Miramar Beach offer delightful diversions. They all feature a wide array of great restaurants, lively bars, specialty shops, family fun, open-air concerts, seasonal festivals, and fabulous firework displays. Visitors enjoy sensational sunsets that drop into the Gulf during the winter months and over the bay in the summer. Destin was founded on fishing over 150 years ago due to having the closest access on the Gulf to deep water fishing and harbors North America's largest private charter fleet, so angling adventures are quite popular.
Key West is the primary destination in the Florida Keys, and one of the biggest attractions is Duval Street and Mallory Square. It rates a 4.5 Star Rating on TripAdvisor. This was the original village center founded in the 1820s and is host to a wide variety of restaurants, rollicking bars, specialty shops, and live entertainment. Key West features charming architecture along with colorful native wild roosters and chickens that wander about freely. This locale at the far southwestern tip of America features an amazing Key West Sunset Celebration every night during nice weather. Hosts of visitors from all over start gathering to celebrate two hours before the spectacular sunsets occur. It provides a passionate party atmosphere with live musicians, street performers of all kinds, torch jugglers, clowns, magicians as well as lots to eat and drink. Everyone applauds and toasts the sun as it ends its descent into the Gulf in a heavenly fashion. There are also sunset sailboat, fishing, and dinner excursions available.
Other top attractions include the Key West Aquarium, a Butterfly Nature Conservatory, a Tropical Forest Botanical Garden, a Turtle Museum, a Shipwreck Treasure Museum, President Harry Truman's Little White House, writer Earnest Hemmingway's home, Florida's first millionaire William Curry's mansion and the Key West Lighthouse to name a few.
Snorkeling is a highly popular adventure in the Florida Keys, and the best place to go is located at the entrance on Key Largo. The waters are very clear here, and lots of vibrant tropical fish may be seen on the natural coral reefs where they abound. The top-rated place in Key Largo for snorkeling is the John Pennekamp Coral Reef State Park. Several private companies provide snorkeling and scuba tours throughout the keys.
The Ambiance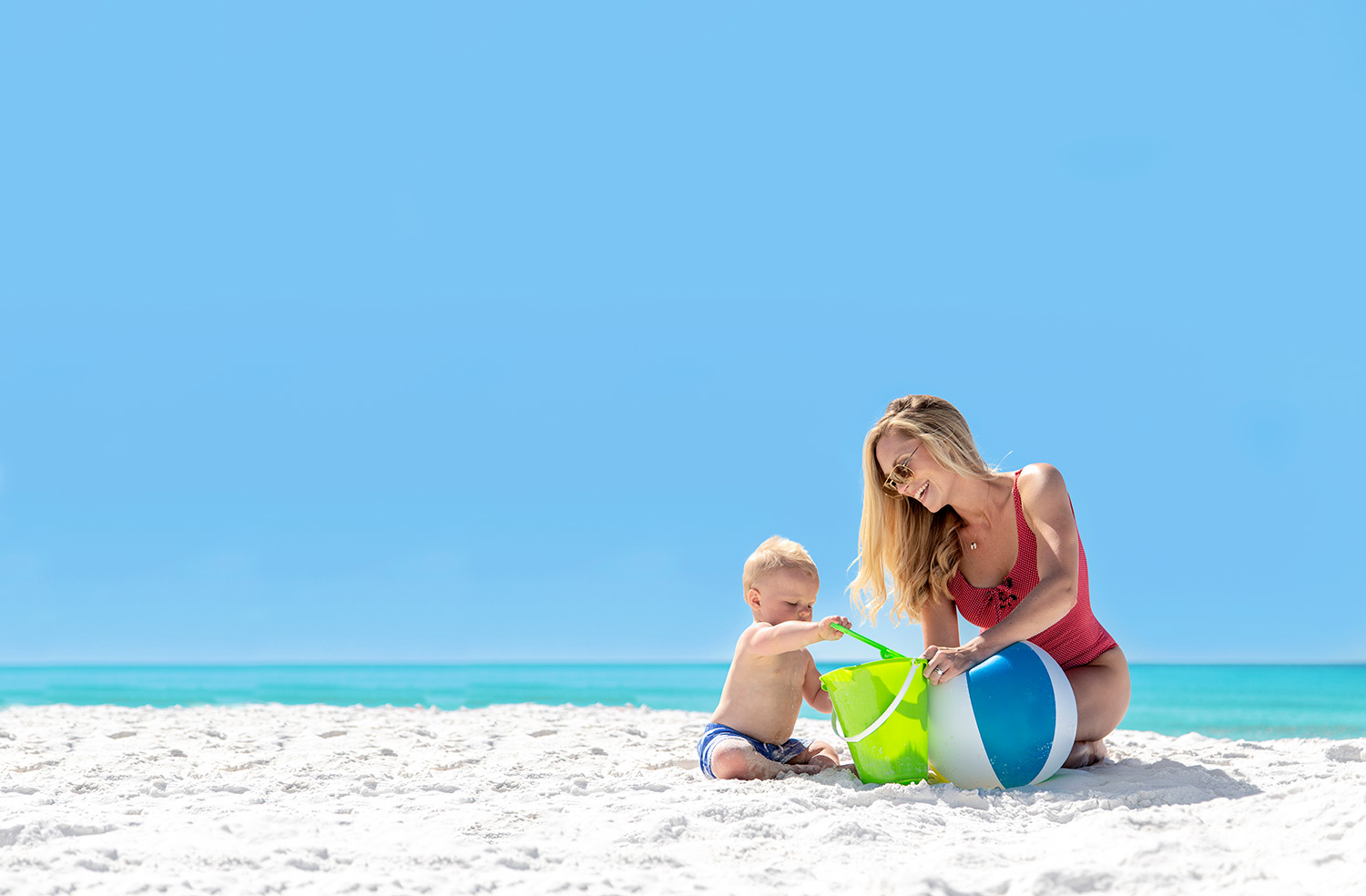 Destin is known for having a wonderfully casual, laid back southern style - and provides gracious hospitality to anyone who visits here. It is also known as a very family-friendly destination since many arrive here with loved ones to enjoy a traditional summer beach vacation. In fact, Southern Living Magazine has named Destin as being the top place to go for family beach vacations numerous times.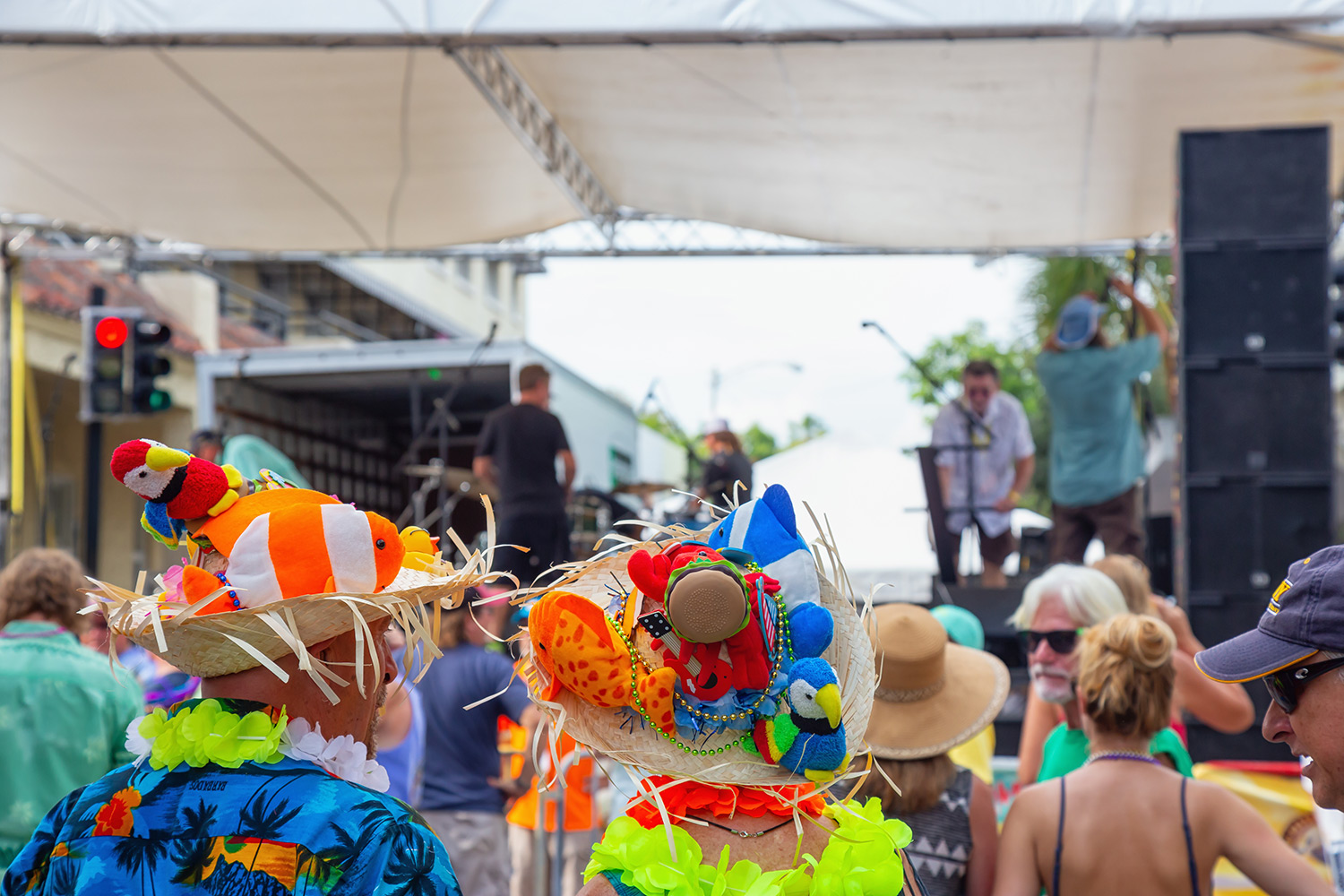 Key West is known as "Party Central," which is also a popular place to go among young visitors and the LGBTQ community. The biggest party is famously known as Fantasy Fest, which is a 10 day Halloween celebration in late October that has been compared to the decadent New Orleans Mardi Gras and Rio de Janeiro's colorful Carnival. Over 100,000 people show up to party, which is significant since it is three times the year-round population of Key West. There are multiple street fair parties including; a Goombay two-day street festival with lots of dancing that celebrates native Bahamian culture; a Royal Coronation Ball where a Conch king and queen are crowned; a Zombie Family Bike Ride; a Pet Masquerade Parade; Fogarty's Red Adult Party and a Headdress Ball. The Fantasy Fest grand finale is an opulent parade with lots of lavish floats, music, and costumed street dancing.
Ocean Reef Resorts offers fine distinctive vacation rentals in Destin of all kinds and all along the Emerald Coast. Enjoy taking a look at our state of the art website to see detailed descriptions, individual property images, satellite views of locations, seasonal rental rates, and calendar dates available for family fun. You'll like what you see!
Read more: Which Part of Destin Should We Stay In?