Posted on 11/2/2018
White sand beaches in Florida are harder to come by than you might imagine. Sugar white sand shores caressed by the gentle emerald-toned Gulf of Mexico create a truly magical sense of place. Two well-known white sand beaches include Destin and Siesta Key. Trying to decide between the two? You are in luck, as we are comparing Destin and Siesta Key's beaches, Gulf waters, sunrise & sunsets, landscapes, restaurants, bars, and shopping!
The Beaches
Siesta Key has three beaches that include Crescent Beach, Point of Rocks and Turtle Beach. The Point of Rocks has limestone outcropping which is more fun for snorkeling than swimming. The beaches have hard packed shimmering white sand. On Sunday evenings the volunteer Siesta Key Drum Circle performs in a nostalgic flower power tribal-like manner on one of the beaches that's like a time warp back to the sixties. There are no golf courses or other diversions available on this heavily developed small barrier island, however you may go inland to explore many golf courses and other attractions under an hour away in Sarasota or Tampa. Restaurants, bars, and boutiques are mostly located in Siesta Key Village which serves as a focal center for vacationing guests. The beautiful beaches are the stars of the show here for restful relaxation.

The powdery white beach in Destin, adjoining Miramar Beach and the picturesque coastal villages in South Walton along Scenic 30A spans over 26 miles and are significantly brighter than Siesta Key beaches. It's reported as among the nation's top-rated beaches by the Forbes Travel Guide as well as by USA Today, U.S. News and World Report, Coastal Living and Southern Living magazines. The Destin beaches have received Blue Wave Beach status by a private research organization that has awarded only 62 of these certifications nationwide for excellence for cleanliness, water quality, and natural beauty. It's the only beach in the nation to receive such acclaim for a 26 mile long contiguous coastline.
The Gulf Waters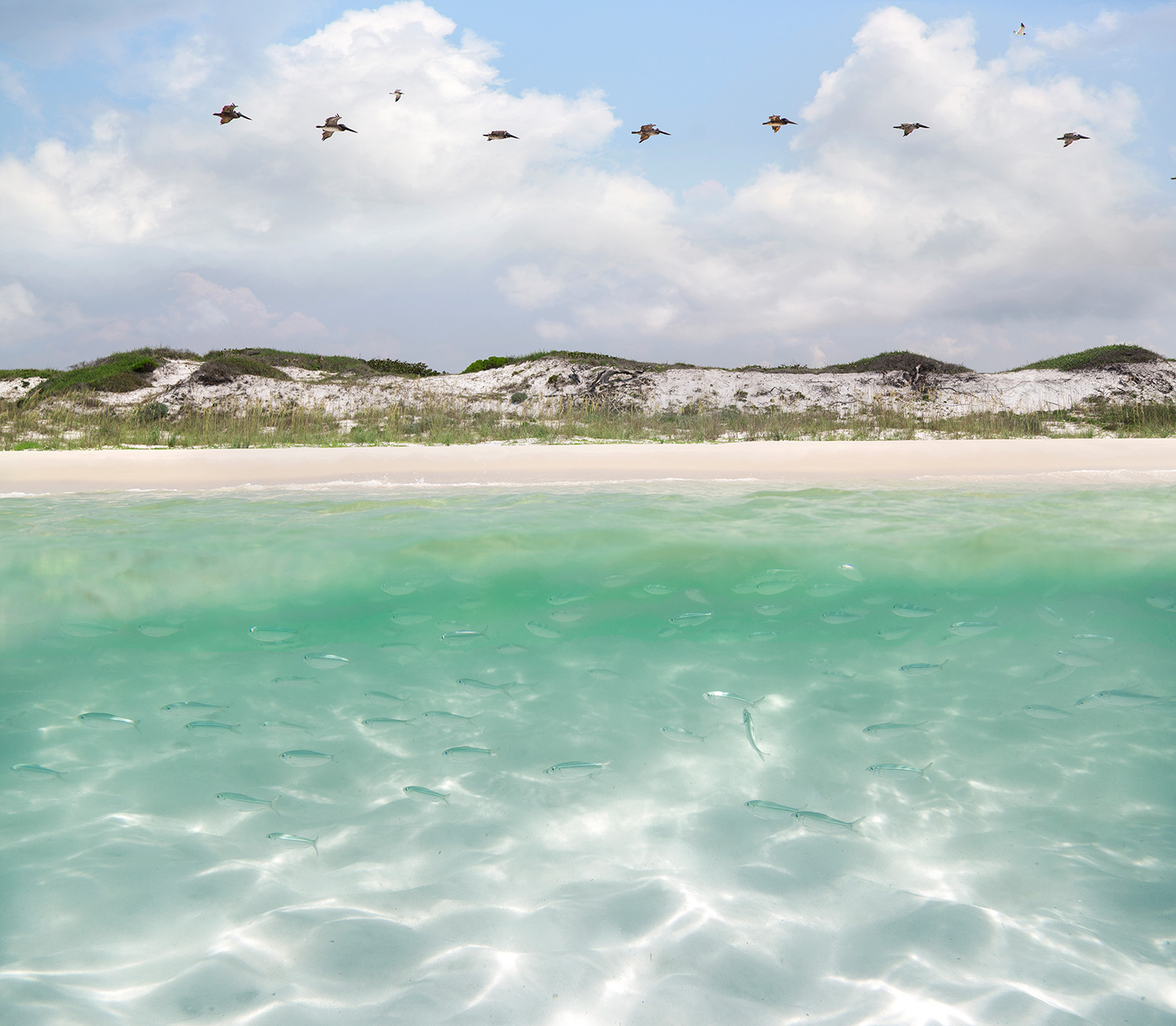 Both Destin and the Siesta Key area have received excellent reviews for the gulf waters at each location. The gulf at Siesta Key is warmer than Destin since it is much further south, which makes it a popular destination during the winter when it is frequented by "snowbirds" mostly from the northeast and New York. Numerous studies consistently rate the Emerald Coast as having the best water clarity in Florida. This title of clarity includes Destin, Miramar Beach, and South Walton. The water is usually "swimming pool clear" with a glowing emerald tone. Clarity is influenced by sediment from mainland drainage, and Destin has no rivers draining into the gulf. The closest rivers are the Apalachicola River 100 miles east and the Mississippi River 250 miles west. The largest deposit of sediment flowing into the gulf comes from the Mississippi, but the current carries the runoff away from our crystalline coast toward Texas.
Sunrises and Sunsets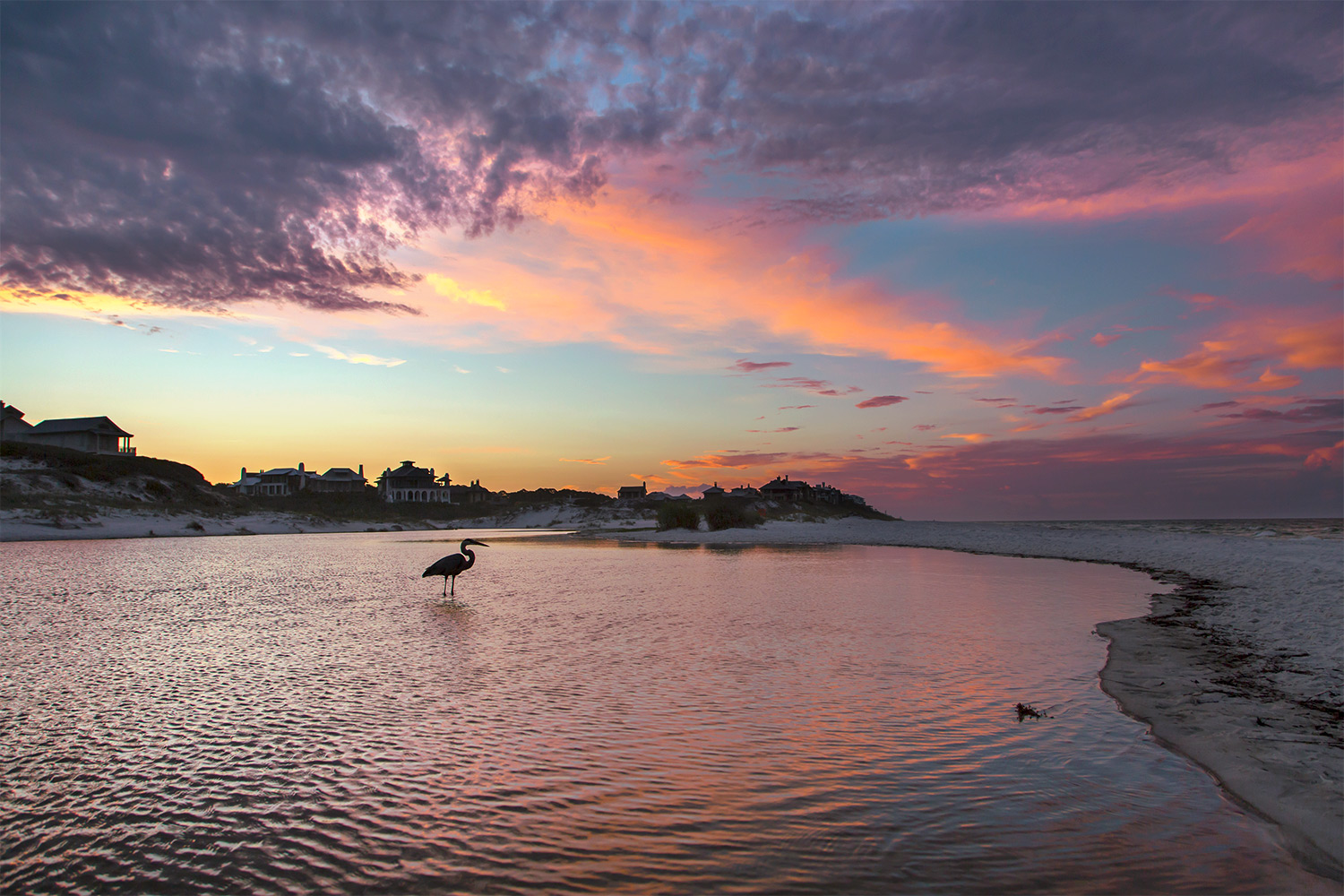 Siesta Key has awesome sunsets that occur right over the gulf 365 days a year when it's not cloudy since the gulf is due west of its location. In Destin the sun sets over the gulf during the months of October thru February when it makes its winter transit south. The sunsets are equally stunning over the gulf but only for five months of the year. However early risers may go down to the beach and watch a sunrise over the gulf towards the east at this time of year which is not possible in Siesta Key near the mainland. From April thru August, the sun sets over the wide expanse of Choctawhatchee Bay, which borders Destin's northern shore. Vivid sunsets over the water are seen from the marina at Harborwalk Village and Baytowne Wharf in Sandestin, which has a long dock where people gather to catch these heavenly views. Magical full moons add another perk for Destin since you may watch them both rise and set over the gulf during the summer months.
Landscapes
Siesta Key is heavily developed with single-family homes, 14 gulf front hotels, and over 800 rental properties. There are a few public beach access points but with long walkovers to the Gulf since the beach road is not close to the shore. The Destin area is more diverse with a forested coastline and open, windswept beaches. Scores of public beach access points are a very close to the shore on Scenic Highway 98 in Destin, Scenic Gulf Drive in Miramar Beach and along Scenic 30A. Precious coastal dune lakes that are found in very few other parts of the world parallel the gulf here supporting an abundance of wildlife due to the water's unique composition. Over 15,000 acres are preserved with nature trails and include six large gorgeous state beach parks.
Restaurants, Bars and Shopping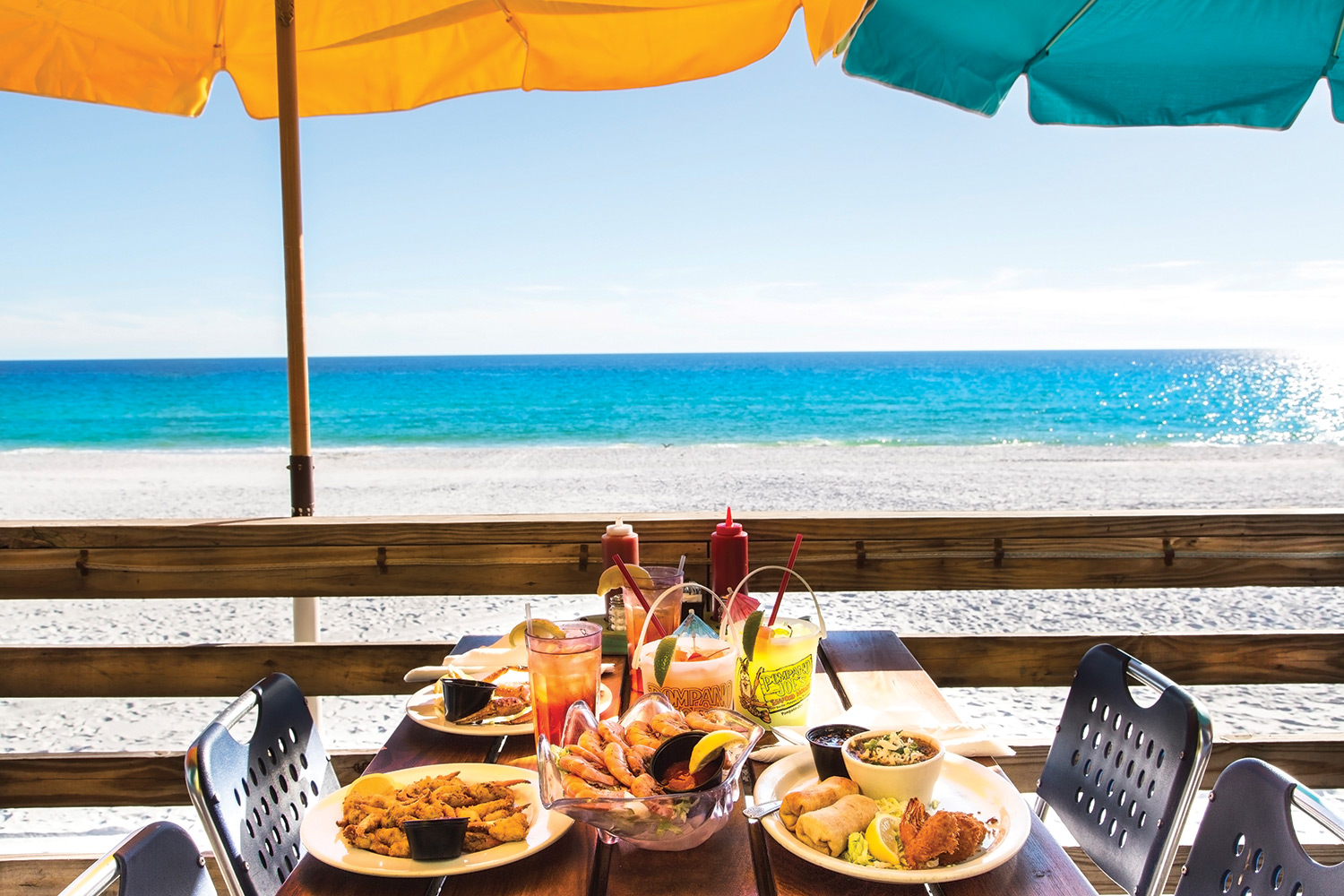 Siesta Key has eight main restaurants with bars, which include a few seafood places, a French restaurant, an Italian restaurant, a couple of Tiki Hut grills and a couple of "Daiquiri Deck Raw Bars." Most of them are located at Siesta Key Village, which also features some other eateries as well as about three dozen stores with men's clothing, woman's fashion boutiques, jewelers, housewares, gift items, and souvenirs.

Destin and nearby Miramar Beach have much more to do, with almost 80 restaurants that feature fresh Seafood, Cajun, Caribbean, French, Italian, Mexican, Greek, Mediterranean, Barbeque and Southern-styled food. Numerous other restaurants are nearby in Santa Rosa Beach, Blue Mountain Beach, Grayton Beach, Watercolor, Seaside, Seagrove Beach, Alys Beach, Seacrest Beach, Rosemary Beach and Inlet Beach. Many restaurants, bars, and retail shops are at the Destin Marina in Harborwalk Village, the popular Disneyesque retail complex of Destin Commons, upscale Grand Boulevard as well as the charming Village of Baytowne Wharf at the Sandestin Resort which feature frequent festivals. One of the nation's largest discount designer retail centers known as the Silver Sands Premium Outlets in Miramar Beach features 110 stores for bargains shopping.

Join many others who have picked their favorite "home away from home" at the beach here in Destin. Ocean Reef Resorts has your Destin vacation rental available here on our friendly website. Take a look today!