Posted on 7/7/2017
Destin, Florida is usually a "drive to" destination. A majority of our Ocean Reef Resorts visitors are from the southeastern part of the nation. However, many others from around the nation (and world) are now discovering our shimmering sugary shores. Non-stop flights arrive at the Destin – Fort Walton Beach Airport from 22 cities, including New York City, Memphis, Atlanta, Houston and Dallas. This airport (with call letters VPS) is just a 30-minute drive away from Destin.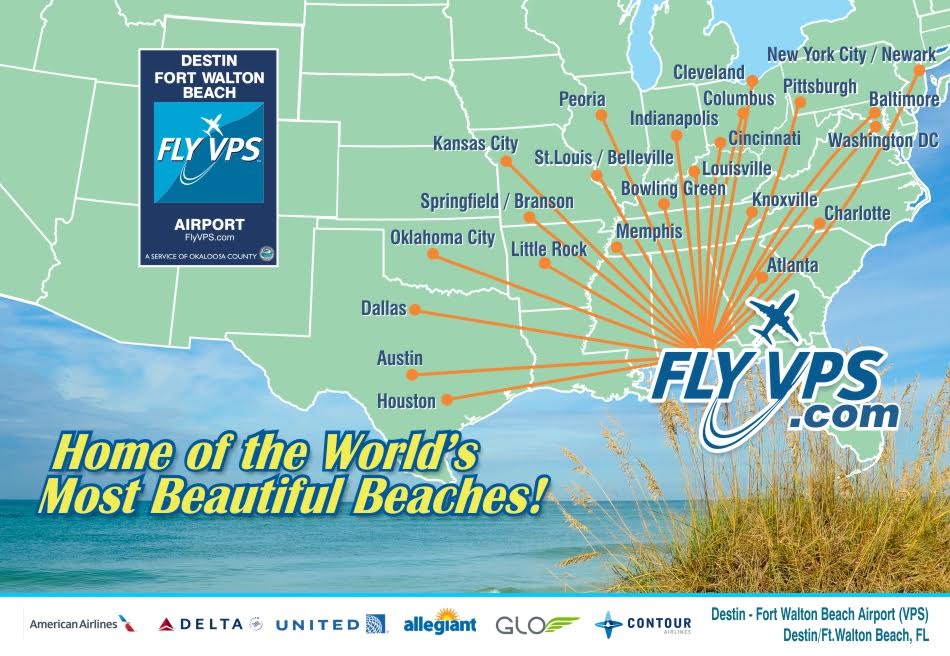 An assortment of rental car agencies are available including Alamo, Avis, Budget, Dollar, Enterprise and National. Current rental car prices range from about $225 to $275 per week for a standard sized car. There are 50 companies that provide other forms of transportation to Destin and Miramar Beach from this airport. They include 11 taxi services, six limousine companies and 29 shuttles. There are also four companies that provide charter buses for larger groups. Average shuttle rates from this airport to area destinations are as follows: Destin $45; Miramar Beach $50 and Sandestin $55. Rates vary but information and individual rates may be found here: Destin-Fort Walton Beach (VPS) Airport Shuttles.
In addition, many people are starting to use UBER, which has recently become available serving Destin, Miramar Beach and South Walton. This service started out just a few years ago in major metropolitan areas and has become quite popular since it is generally less expensive than using a taxi and is comparable in price to taking a shuttle. Uber services use privately contracted individuals who use their own vehicles for transportation. They are on call throughout any given area with wireless communication and maps for easy navigation. Locally they primarily come in two categories, which are UberX and UberXL. UberX is the "economy" mode of transportation usually with smaller cars and are the least expensive. UberX cars are generally sedans like a Honda Accord or a Toyota Prius that can seat up to four riders. UberXL are larger vehicles that include large luxury cars, SUVs or vans with the ability to seat up to six passengers. These larger vehicles usually cost about 40% more than the economy version. The easiest way to get this service is to simply download their free app on your phone. Once you open it, click onto the type of vehicle you desire which will be either UberX or UberXL depending upon the size or type of vehicle you prefer. Then you click on your pick up location and then the destination so your driver will know where you are going as soon as you step in the car. This will also give you the fare quote. If the rate is acceptable you finish by clicking Request UberX or UberXL depending upon which one you choose. Upon completing this reservation you will receive a notice telling you the driver's name and estimated time of arrival for pick up. Fares are paid by credit card but no tipping is necessary unless you want to do so. Your reservation can be cancelled for up to five minutes but you will be charged a nominal amount if the cancellation is after this time. When you reach your destination you will receive a Fare Summary and you can rate your driver. Uber is also available throughout the area in case you are doing a "night on the town" celebrating your vacation with wine or cocktails and do not want to worry about driving irresponsibly. The relatively inexpensive fares for such occasions make a lot of sense. If you make it down to Destin's Harborwalk Village you can try another fun mode of transportation called a water taxi, which will take you to several different restaurants along the marina for a relatively cheap fare.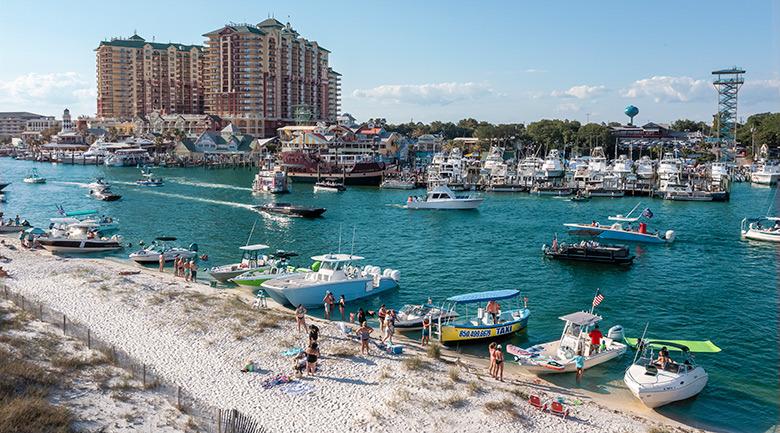 Explore Destin Harbor like never before with the Destin Water Taxi, offering a scenic and hassle-free way to visit popular waterfront destinations, restaurants, and entertainment hubs. Click to discover how you can dine with a view, party at local hotspots, or catch a beautiful sunset, all while enjoying the unique experience of traveling by water taxi!
Whether you rent a car, take a shuttle, taxi, limousine or uber service, Ocean Reef Resorts has fine properties in locations that are considered "all inclusive" meaning that once you arrive at these destinations you don't even have to leave while on vacation. Restaurants, lively bars, shopping and amusements are all at one resort along with a complimentary shuttle service.
One of the largest and most fabulous of these vacation rental residence destinations is at the Sandestin Golf and Beach Resort in Miramar Beach. This spectacular 2,400-acre private resort comprises 36 distinctively different "neighborhoods" that include individual residences and luxurious condominium towers that soar above the sparkling quartz crystal white sand beach. A charming picture perfect rendition of the New Orleans French Quarter called Baytowne Wharf and an upscale Town Center called Grand Boulevard are within this exclusively gated resort. Sandestin has an abundant array of restaurants, lively bars, special seasonal festivals and family amusements. Fantastic firework displays light up the skies for Memorial Day, July 4th and New Years Eve. It has been nicknamed "the gated city" for this reason. The lushly landscaped forested grounds include a multitude of natural lagoons extending from the glowing emerald toned gulf across the peninsula to the wide expanse of Choctawhatchee Bay. Sandestin's complimentary beach tram shuttle service takes you anywhere you want to go on the resort. Besides the beautiful beach there are four championship golf courses that meander throughout the resort. Readers of EC Emerald Coast Magazine consistently name Sandestin "Best Resort on the Emerald Coast".
Ocean Reef Resorts offers other luxurious condominiums and vacation rental residences that are along the beach and within walking distance of many popular gulf front restaurants and friendly bars. Many of these are on Scenic Gulf Drive in Miramar Beach and Scenic 98 in Destin. Resorts like Edgewater, Majestic Sun, Amalfi Coast, Surfsideas well as Ariel Dunes I & Ariel Dunes II do not have shuttles but are also within walking distance of destinations for delicious dining or a beachside drink. Once you arrive at any of these you probably would not want to leave anyway. The Ariel Dunes complex includes 23,000 square feet of swimming pools. The Majestic Sun, Amalfi Coast and Edgewater have two pools each along with bubbling hot tubs. One of them at Majestic Sun is a large indoor pool with a cathedral ceiling. They all overlook the glistening gulf.
Once you have established your own mode of Destin transportation take a look here on our user friendly Ocean Reef Resorts website to pick the perfect place to stay. We're sure you will enjoy your stay with us!