Posted on 11/28/2018
The Gulfside Cottages development is a trip back in time to the simple Americana life of the late 1800s but conveniently located right in the heart of the 21st Century in mesmerizing Miramar Beach, just east of Destin. This exclusively private, walled in residential community is indeed gulf side, nestled near the lustrous, sugar sand shore. It is a place out of time and space due to its architectural ambiance. Houses have white picket fences, columned front porches, tin roofs and a modern constructed version of an old Florida style look. It is the type of place where friends may gather on the porch to enjoy the gulf breezes, sipping on some sweet lemonade, waiting for the brownies to bake. Nowadays, it may be that the same folk visiting on the front porch are sipping frozen Margaritas and waiting for the nachos to be ready!
Gulfside Cottages is a combo of two and three story, nostalgic abodes that will feel like your own individual home away from home. The beach with its views of jewel-toned waters, for which the Emerald Coast is famous for, is only a short walk away down the private boardwalk. The community itself has a lovely swimming pool for residents and visitors alike. It is a double squared pool and surrounded by a sunny patio that is accented with decorative arbors as well as many palm trees. Within minutes you may go from enjoying the fresh water here or take a salty plunge into the glorious translucent gulf, which itself is often swimming pool clear. Both are popular, but on the beach, you may build a white quartz crystal sandcastle with the kids, take a leisurely walk or watch the dolphin frolic and play in the distance.

Miramar Beach is the perfect halfway point between Destin and Scenic 30A in South Walton, which are two totally different vacation destinations. Destin has the bustling harbor, movie theaters, shopping, lots of nightlife, water sports, and deep sea fishing. South Walton is laid back with newly constructed preplanned, picturesque towns and villages surrounded by thousands of acres of state forest and beautiful beach parks. You may want to take a day trip to either one which are less than 20 minutes away in each direction. However, you may not ever have a chance or desire to leave Miramar Beach itself. There is so much to do here including all sorts of venues for food, fun, shopping, and recreation. Here Scenic Gulf Drive or Old Highway 98, parallels the coast all the way to Destin with favorite beachfront restaurants like Whale's Tale, Pompano Joe's, Captain Dave's and The Crab Trap. Nearby, Seascape Golf Course provides a professionally designed, challenging eighteen hole golf course and well-known tennis club where Ocean Reef Resort guests receive complimentary discounts for play.

The Village of Baytowne Wharf at Sandestin is open to the public for fun or entertainment. This version of the French Quarter in New Orleans is a popular friend and family destination as well. Only minutes away, Baytowne Wharf sits right on the Choctawhatchee Bays near the Sandestin Marina with five-mile views across to the mainland. Here you will find the home of the three-tiered SS Solaris where guests can enjoy a fabulous three-hour dinner cruise. True to its name, there is also a long wharf that extends into the bay where spectacular sunsets occur right over the water from spring through early fall. Great restaurants, bars, specialty boutiques, free live music entertainment, and fireworks are usually a weekly thing here. There are also seasonal festivals and lots of amusements for kids with an old-fashioned carousel, an arcade, a zip line and an obstacle tower to name a few. Grand Boulevard, Sandestin's Town Center, is also just minutes away on Emerald Coast Parkway offering upscale shopping, galleries, and fine restaurants. In addition, a new ten-screen, stadium seated luxury Movie Theater is on-site.

If shopping is on your agenda on that occasional rainy day or even when the sun shines, you will find the nationally known Silver Sands Premium Outlets is just an arrow's shot away. Believe it or not, this is the largest designer outlet in all of America and attracts millions of shoppers per year. Significant discounts of up to 70% off may be found on all sorts' adult apparel, shoes, kid's wear, leather goods, crystal, china, perfumes, kitchen products, and decorative home accents, all with designer labels. Many of our Ocean Reef Resorts guests go there to take advantage of savings on needed back to school clothing, early Christmas shopping, birthday, anniversary, wedding gifts or for apparel for themselves.

The following is a brief review of our wonderful vacation rentals at Gulfside Cottages.
Destination
Destination is a two bedroom, two and one half bathroom beach house that has four covered balconies and porches for outdoor enjoyment. This pet friendly home is only 50 yards from the Gulfside Cottages pool and a two-minute walk to the beautiful beach. The main living area is on the first floor and has a bright, colorful decor. An entertainment system includes a TV, DVD player and a sound system. There is also a nice powder room located for convenience. Upstairs you will find the master suite with a king-sized bed and a guest bedroom with twin beds, each of which has a private bathroom. The master suite also has access to the main upstairs covered balcony which faces the front of the house and looks down on the white picket fenced yard below.
All For Fun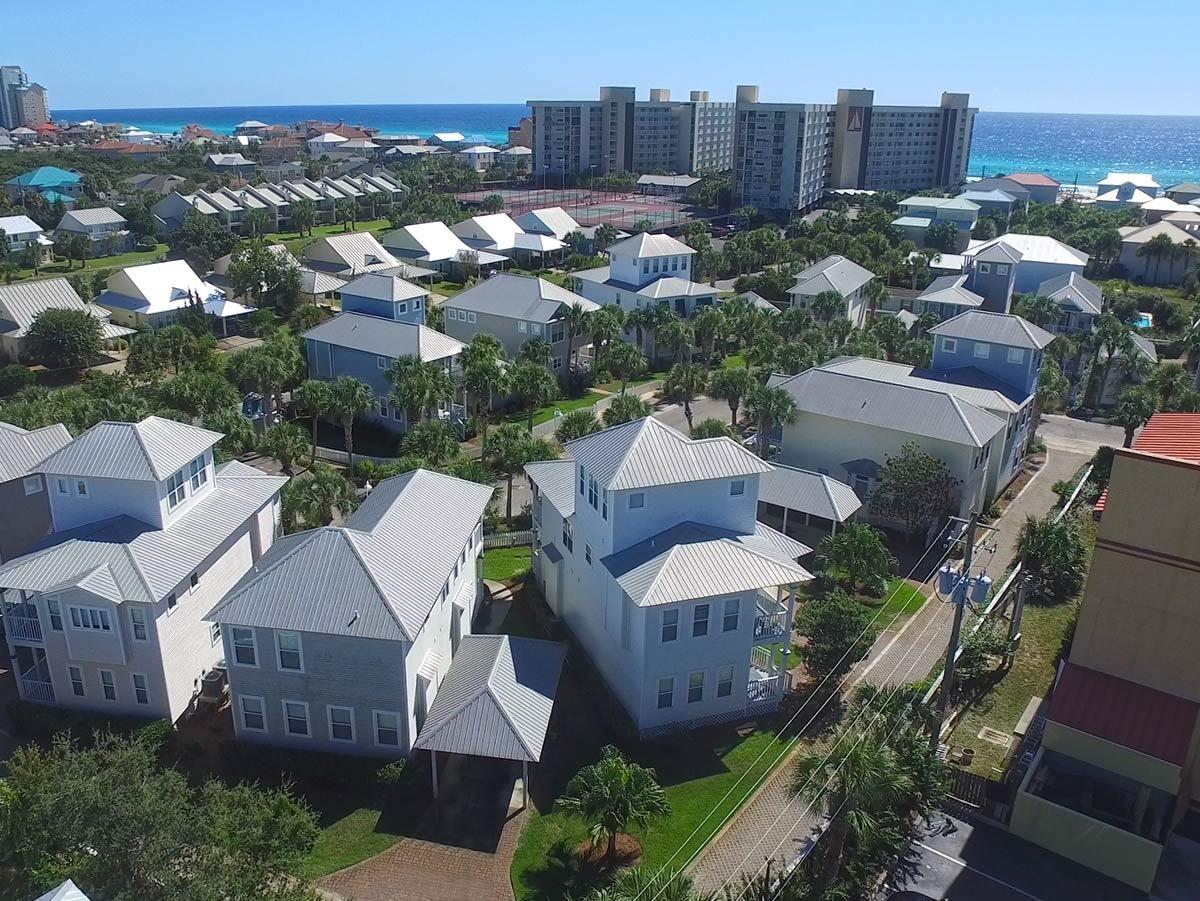 All 4 Fun is a four bedroom, three bathroom vacation rental home with a front porch downstairs and an open upstairs balcony off the main living area. Three of the bedrooms are downstairs with two master suites with king sized beds and a kid's bedroom with two twin bunk beds. One guest rooms with a queen sized bed is on the second floor which is also the main part of the house. The home is well appointed with a charming kind of Earnest Hemingway style complete with comfortable furnishings and vintage lamps.
Edens Estate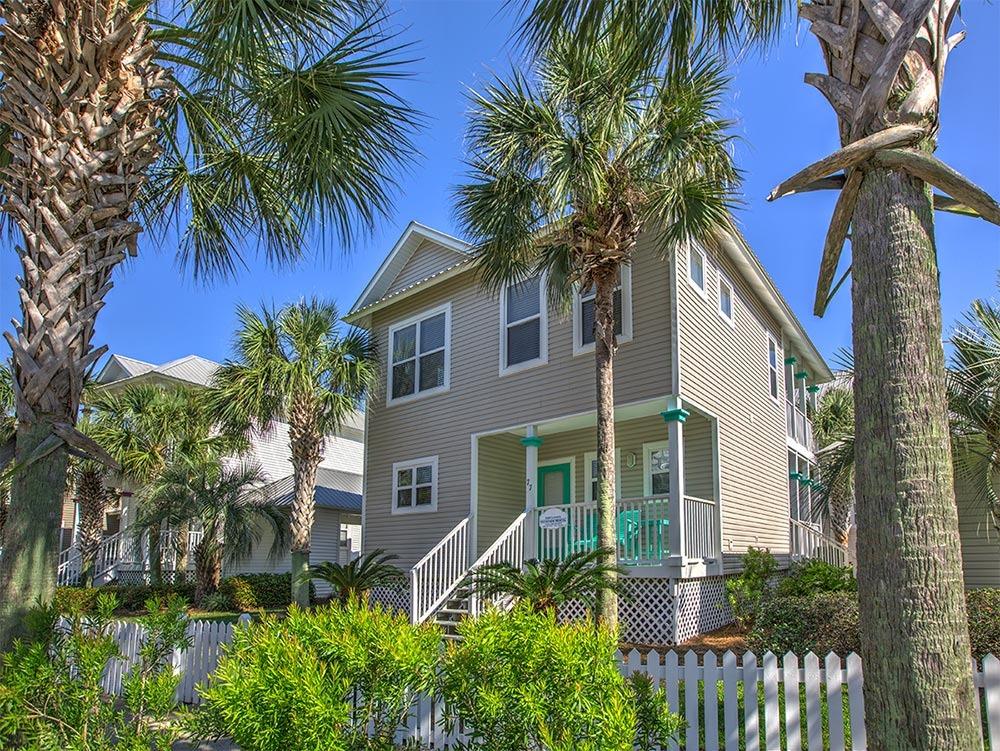 Edens Estate is a luxurious, Gulfside Cottage rental that has three bedrooms and two and one half bathrooms. It sits directly across from the seasonally heated neighborhood pool that is only steps away. You can literally sit on one of the porches sipping your favorite beverage and watch the kids play in the water nearby. This home is also Pet Friendl" so Fido can come along too. The main living area downstairs is regally colorful with updated electronics that include TVs, DVD players, a stereo system and access to WIFI. Large flat screen TVs are in the living room and master suite. The master sedroom also has gulf views in the distance so you can check out the surf and weather conditions at the start of your day. The kitchen has upscale appliances to serve all of your culinary needs. At Edens Estate, you will find your family and friends are so comfortable here, no one will want to leave this special version of paradise.
Skinny Dippin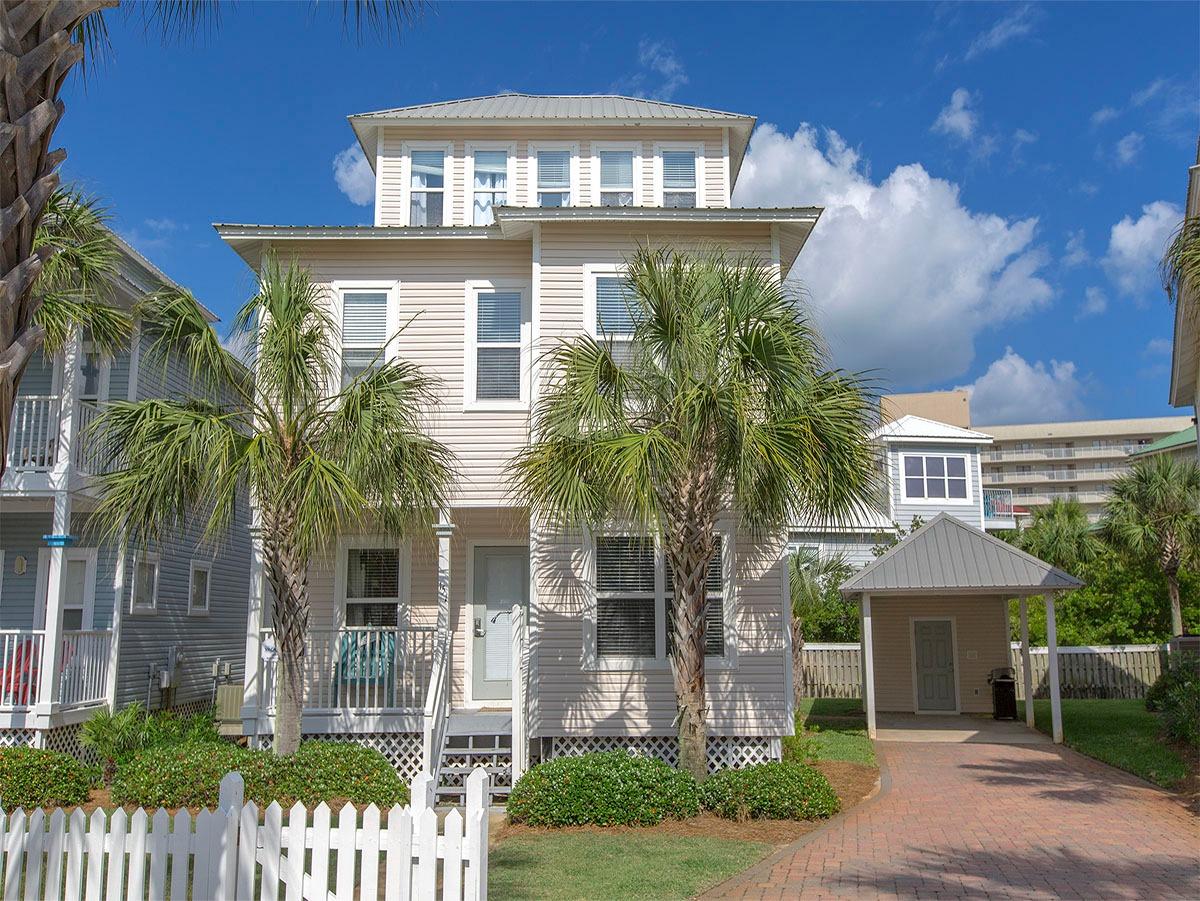 Skinny Dippin is a charming vacation property that has an almost palatial look due to the columned, old fashioned wraparound porch downstairs and a wide, covered almost identical balcony above. Three of the four bedrooms in this warm residence are located on the first floor near the front porch. This includes a master suite with its own private bathroom and a king sized bed, a lovely guest bedroom with a queen sized bed and a cheerful kid's room with double bunk beds. The main living area upstairs has access to the other balcony and there are gulf views in the distance. This home exudes warmth with tasteful furnishings and a touch of whimsy that creates a country cottage styled ambiance. Light blue and white nautical colors remind you that you are at the beach. The kitchen is perfect for creating your own "surf n turf" meal and the electronics are upscale, offering HD TV as well as WIFI access. A Tower Room on the third level also has gulf views and has a fairly spacious living area with windows all around to catch the views. The couch is really a double futon that faces the TV so this could be a fun room for young teens. The Gulfside Cottages neighborhood pool is right in the community, but despite the name of this abode, you do have to wear a bathing suit when swimming here. However, who knows what you might do in the warm gulf on a full moon summer night!
Sandy Bottoms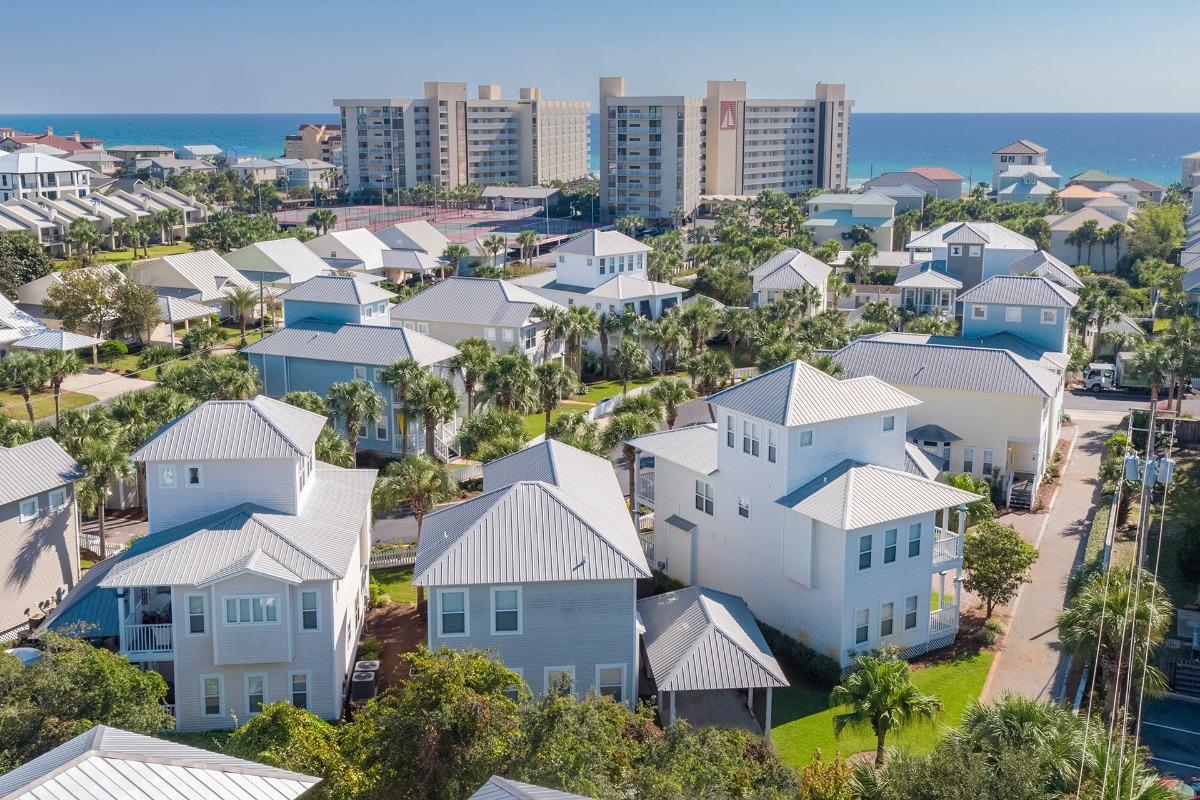 Evoking a golden feel of yesteryear and oozing with charm, Sandy Bottoms can accommodate up to 12 happy guests in a classic Americana ambiance. However, this vacation home is not rustic; it's well-appointed with all the modern amenities you could ever want for your beach vacation! Best of all, it's just steps from the Gulfside Cottages community pool and only a 3-minute walk to the white sandy shores and emerald-hued waters.
Afer Dunes Delight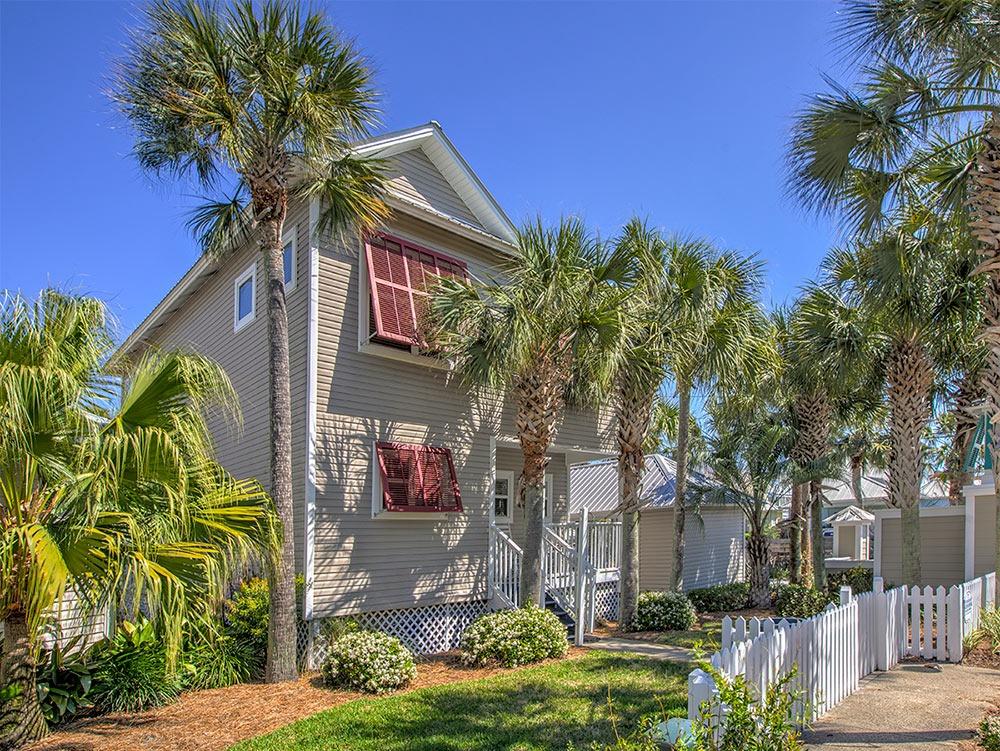 After Dunes Delight is delightfully beachy in a tasteful, modern way. The living room is open, with a shiplap focal wall and slip-covered seating. The nearby dining and kitchen areas are ample, and ideal for entertaining. The bedrooms are fun, colorful, and well outfitted. The master boasts a King-sized bed as well as a day bed with a twin trundle. The guest rooms include a queen-sized bed in one room with a double twin bunk in the other. Including the queen sleeper sofa in the living room, After Dunes Delight hosts a total of 11 pampered guests
White Sands Landing
White Sands Landing is a three bedroom, three bathroom vacation home that is actually three stories tall. It offers over 2,000 square feet of space so there's plenty of room for the family. The main living area of this property is on the ground floor that also has a guest room with a two queen sized beds and a special handicapped accessible, walk in shower. Two couches in the living room face a built in flat screen TV and the kitchen is more than ample to serve your family's needs. Two more bedrooms are upstairs and both have king sized beds and full bathrooms. In addition, each bedroom has its own private porch balcony to enjoy good conversation and the fresh air breezes. The bonus third story level is a tower room which encompasses a fairly spacious living area with its own TV and a sleeper sofa that can accommodate extra guests and serve as a fourth sleeping area.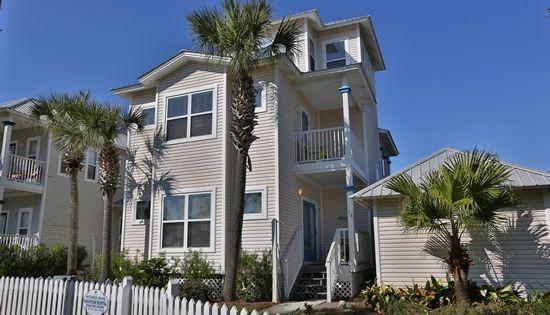 Bird of Paradise
Bird of Paradise is a two bedroom, two and one half bathroom home that has a wide, columned front porch with a covered balcony above. This rental property is delightfully completed with tasteful, over stuffed furnishings for comfy leisure. You may saunter out onto the downstairs porch to begin your day from the main living area which is cheerfully decorated and includes the living and dining areas as well as a great kitchen. A half bathroom on this level conveniently serves as a powder room. The two bedrooms upstairs are light and airy with plush, comfortable bed linens. The master suite has a queen sized bed and private bathroom as well as access to the sunny covered private balcony. The guest room has cheerful, tropically decorated twin beds with access to another full bathroom and it also has its own private balcony.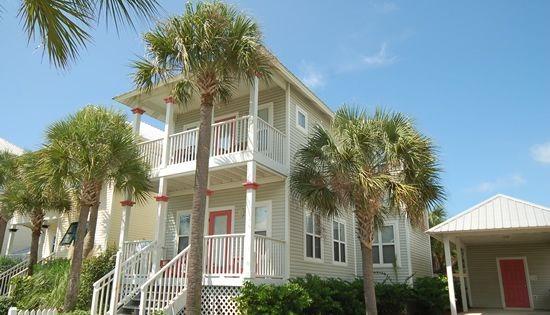 Ocean Reef Resorts is pleased to let you know about this delightful private vacation home enclave known as Gulfside Cottages in Miramar Beach. Enjoy checking out our user friendly website to see multiple images of each of these hidden treasures. You will find a wonderful little world that hearkens back to a serene, simpler time but is conveniently located for 21st century access. Such an enchanting world will create the magical memories of tomorrow for you and yours.