Posted on 10/21/2011
Ocean Reef is blessed to be able to offer our guests a bountiful array of fine private vacation rental properties along one of the nation's most beautiful highways, Scenic 30A. It just so happens that this two lane road also meanders along the shores of one of the most beautiful beaches in the world known as The Emerald Coast! This twenty-eight mile corridor hugs the forested Gulf of Mexico coastline with breathtaking views of alabaster colored sands and translucent, emerald green waters. Along this route Scenic Highway 30A crosses through picture perfect communities such as Dune Allen, Santa Rosa Beach, Blue Mountain Beach, Grayton Beach, Watercolor, Seaside, Seagrove Beach, WaterSound, Alys Beach, Seacrest and Rosemary Beach. Each of these communities offers its own individual architectural features and lifestyles. It is located along the affluent Beaches of South Walton where it is connected at both ends to Highway 98, which is also known as The Emerald Coast Parkway.
An official "Florida Scenic Highway", 30A has numerous public access points along the way to the sugary white sand beaches, many of which are below sand dunes that rise up from the edge of the jewel toned waters of the Gulf in this special part of the world. Precious Coastal Dune Lakes parallel the coast as well. These exotic bodies of water are found in only three other points on the planet including such faraway places as Madagascar in Africa, Australia and New Zealand. They are also unique in that they support a huge variety of flora and fauna. The water is a special combination of fresh and salt water depending upon when inlets open up to the Gulf beside them supporting such diverse wildlife. Most are undeveloped and protected with almost 25,000 acres of state forests, preserves or parks that stretch across this scenic route. Running from west to east, (some sounding like names out of a Dr. Seuss book), they include Stallworth, Oyster, Draper, Big Redfish, Little Redfish, Alligator, Western, Eastern, Deer and Camp Creek Lakes.

A newly completed, mostly separate bike trail follows Scenic Highway 30A as well from one end to the other which starts and ends at Highway 98. Cycling enthusiasts, families and practicing triathlon athletes ride this route often at varying speeds. There are also sandy forest bike trails that interconnect at different points along the way from this smoothly paved path but they are not for the faint of heart. At one point the bike trail even runs under a covered bridge with glimpses of Draper Lake as you cross into the rolling hills of Blue Mountain Beach which marks one of the highest elevations in the United States on the Gulf of Mexico. Don't worry though, they're not really mountains. This IS Florida after all. They just looked that way to early Spanish explorers who saw these blue lapin flowered dunes rising above the flat lands from way off shore, hence the name.

Three gorgeous state parks also parallel the coast here which include Topsail with "towering" twenty-five-foot dunes, award-winning Grayton Beach and forested Deer Lake which is named for the doe that frequent its shore. Seeing deer grazing on sea oats at dusk, on isolated sand dunes with the Gulf as a backdrop is an awesome scene unto itself! Grayton Beach State Park is particularly lovely since Western Lake transverses Scenic 30A from the north and runs all the way to the beach. A narrow isthmus on the approach into the aptly named Watercolor community on the other side offers spectacular sunsets from Fall till early Spring which are reflected in the placid waters. The park is a popular spot for kayaking, canoeing and the latest craze Yolo Boarding. The gentle alabaster colored dunes and shimmering Gulf on the beach side of Western Lake complete this picture and is heavenly to gaze upon. It is easy to see why travel guide guru Stephen "Dr. Beach" Leatherman named Grayton Beach State Park as the most beautiful in the state of Florida a few years ago.

Once you connect to the western edge of Scenic 30A in Miramar Beach off The Emerald Coast Parkway, it shoots straight down in a southeasterly direction until it reaches the small residential community called Dune Allen which is between the beach and Oyster Lake. The first real "town" you come to, just east of this point, is Santa Rosa Beach which sits high upon a dune at Ed Walline Beach. This features Gulf Place the unofficial town center and it plays host to seasonal music festivals on a grassy lawn of an outdoor amphitheatre. The lawn is surrounded by luxury residential townhomes and rental condos above retail shops, galleries and restaurants. Beachside mansions are across the street as is the old Santa Rosa Beach Club with an adjoining golf course. Santa Rosa Beach is a popular destination for many of our Ocean Reef guests who attend beach weddings since we have properties available on the Gulf and in the town center.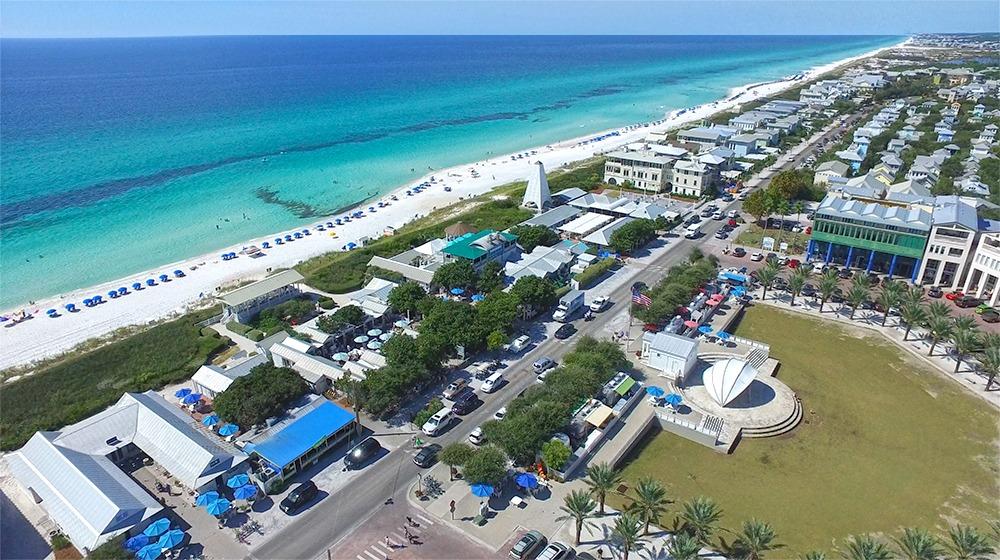 Further towards the east down Highway 30A is Seaside, the first pre-planned pedestrian-friendly community in the world, which ushered in "New Urbanism" design by the renowned Miami based architectural team of Plater-Zybork that debuted in the mid-1980s. This award-winning town was deliberately designed to be reminiscent of a "seaside" community from the late 1800s. It is complete with white picket fences, a town green, retail shops, outdoor cafes, bars and restaurants. A special section called Ruskin Place looks similar to Jackson Park in New Orleans and houses artists and galleries in a courtyard setting. The Coleman Pavilion provides beach access in Seaside and overlooks the Gulf below. Seaside became an icon several years ago when it was used as a location shoot for The Truman Show, a comedy starring Jim Carey, Laura Linney and Ed Harris. It still looks like a Hollywood movie set depicting the same picture-perfect town it did in the movie.

Seagrove Beach borders Seaside and is the oldest real town along this stretch of Scenic Highway 30A. It was established years ago and started to become a popular place to have a beach house after WW II in the late 1940s. Seagrove Beach today houses everything from old Florida styled smaller homes from yesteryear to newly completed, opulent beachfront mansions that sit among mini forests of live oak trees above the water's edge.

Further east, the community of Seacrest Beach greets 30A travelers with tall life guard towers that border each edge of this "town" welcoming visitors. Double rows of palm trees flank the highway on each side and it is the convenient locale of Ocean Reef Resort's friendly 30A real estate office. Seacrest also has the distinction of having the largest community pool along the entire corridor which may be used by many of our visitors who stay here. This 14,000 square foot watery oasis is lushly landscaped with cascading waterfalls, fountains and interconnecting pools.

The road ends next door in Rosemary Beach where it actually merges back onto Highway 98 just west of Panama City Beach. Rosemary Beach looks very Old World with charming Dutch Colonial Architecture but is actually very new. This pre-planned community sprang up within just a couple of years not even a decade ago. It is a very picturesque place where you can see children frolicking on putting green perfect public lawns while their smiling parents look upon them at play while often sipping on some wine from their picnic basket. The white Town Hall almost looks like an old colonial, mission styled church and sits at the top of a dune hill. A lane lined with upper level town homes as well as street level boutiques and wine cafes leads gently down from here to the beach below. This stroll will make you feel like you are somewhere in Europe. Along the beach shore are single family residences in varying custom built styles with pedestrian paths that connect the entire village.
Scenic Highway 30A is starting to become famous and attracts a lot of visitors, especially during the Summer. In fact two songs have been written about this beautiful, unique highway. The most recent song was just released in April and is called Life Shines. It was written by locals Bryan Kennedy and Mike Ragsdale and is available on I Tunes complete with a musical video featuring the scenery of 30A. It was produced in Nashville by two time Grammy Award winner Gordon Kennedy who has also written or produced songs for Eric Clapton, Amy Grant, Faith Hill, Bruce Hornsby, Jewel, Kenny Loggins, Reba McEntire, Tim McGraw and Bonnie Raitt. Mike Ragsdale who co-wrote the song also owns and operates the 30A.com website. He described the special communities along 30A by saying it "still has a sense of Mayberry" from 1960s sitcom called "The Andy Griffith Show" which featured a charming, albeit somewhat eccentric small country town. The new, upbeat country song highlights some of the scenic highway's specialties with lyrics like "just another green flag day, watching the dolphins play, somewhere on 30A." Describing the Scenic 30A area further Ragsdale said "You find a Southern Hospitality here that you don't ever get in other parts of the world. It is authentic and it feels like home."

Another popular light jazz song started to receive air play on Sea Breeze FM 106.3 a few years ago called The 30A Song and is still played often today. It is a compilation of three popular local musical artists including Greg Barnhill, Tim Jackson as well as Jones & Company. It was recorded as part of "The Beachfront Project" and can be found on CDBaby.com, an online music store. The song pretty much sums up a lot of what our visiting guests and new residents to this area say and feel like ..."It's hard to get away from 30A", (mainly because no one ever wants to leave!) Another lyric that pretty much sums things up, especially during the Summer is this line: "Well the Riviera's hot this time of year, Welcome to the Sunshine State, where golden people congregate... On 30A." Here at Ocean Reef, we couldn't agree more. Enjoy perusing our wonderful 30A vacation rentals in South Walton. Hope to see you soon!