Posted on 10/7/2022
Ocean Reef Resorts offers a variety of exemplary vacation rental properties of all kinds in Destin's Miramar Beach with many popular rentals at Majestic Sun and Ariel Dunes. These luxury condominium towers are located on the Seascape Resort off Scenic Gulf Drive, which provides a coveted centralized locale conveniently close to all sorts of delightful diversions.

When it comes to a beautiful beach, great golf and terrific tennis, Seascape has it all. This sprawling resort comprises of over 300 acres of lushly landscaped grounds which embrace the emerald green waters along Scenic Gulf Drive and extends north all the way to Emerald Coast Parkway.


Down on the beach our Ocean Reef Resorts guests can enjoy complimentary discounts available through our Reef Rewards program at La Dolce Vita Water Sports. This locally owned and operated enterprise provides opportunities to go kayaking, paddle boarding, wave running or parasailing at our reduced rates.
If tennis is your game, you will be happy to know that the Destin Tennis Club is located on the grounds of Seascape. Eight clay courts are available for play at this nationally designated Five Star Tennis Resort. Seascape also has a sprawling eighteen hole championship golf course that should surpass even the most experienced player's expectations. Rolling fairways meander through pine forests and lovely landscaped grounds. This was created by famed golf designer architect Joe Lee as a 71 par course with over 6,100 yards of "treacherous" play. There are two sets of obstacles. The first is the fact that there seems to be water everywhere since fifteen holes are adjacent to a languid lagoon, pond or the exotic coastal dune lake. The second major obstacle is that you may be easily distracted by the beauty of this course, especially when you have a glimpse of the dazzling gulf in the distance. Our Reef Reward discounts are also provided for both golf and tennis here.
Although the Majestic Sun and the luxury towers of Ariel Dunes I and II share this location in Seascape, they have distinctive individual architectural styles. They also have a distinct nuance of difference as far as their individual amenities are concerned.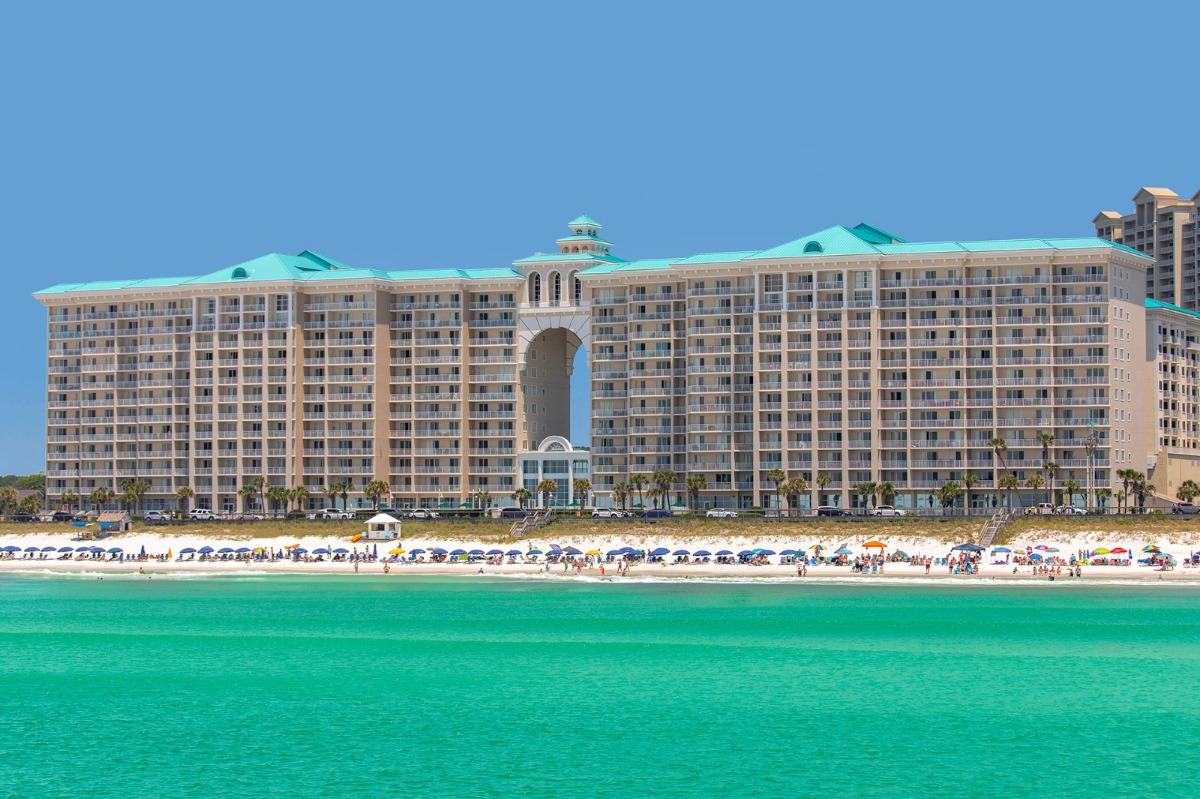 The Majestic Sun is an iconic architectural masterpiece that sits parallel to the beautiful beach and resembles a giant man-made sandcastle since a soaring "see through" arch rises eight stories tall in the center of the two luxurious interconnected high rise towers. Here you are up front and center on the glistening gulf with individual property balconies that look down upon an outdoor swimming pool and a palm studded promenade that runs along the 2,000 linear feet sugary white beach. Panoramic 180 degree views extend across the dazzling emerald toned waters all the way to the sparkling southern horizon. The Majestic Sun has both a large indoor and outdoor swimming pool. The indoor pool sits under the arch with a cathedral ceiling that dramatically rises three stories tall. An expansive wall of glass windows face the glistening gulf so you may enjoy the views in a climate controlled environment on a hot or occasionally rainy day. From here you may literally swim from indoors to the outside. It trickles down to the outdoor pool which has a spacious sun deck with bubbling hot tubs overlooking the glorious gulf. There is also a Fitness Center with state of the arts equipment and a wall of windows that also looks out over the gulf.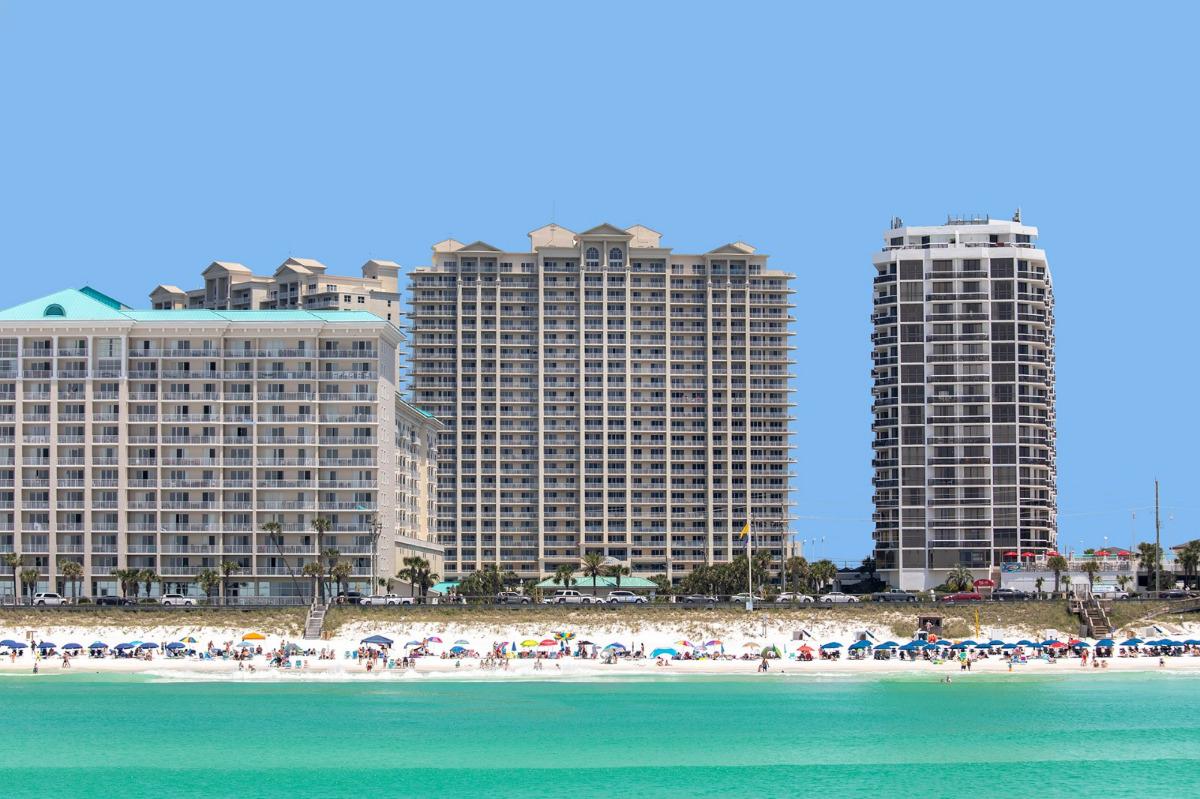 The twin towers of Ariel Dunes I and Ariel Dunes II overlook the glowing gulf in the near distance, the championship Seascape golf course and a precious coastal dune lake. These two towers sit side by side one another with an awesomely urbane, sophisticated kind of look you might expect to see in Miami Beach or Las Vegas. Multiple porticos crown each building with classic Roman or Greek styled columns that are up lighted at night for dramatic effect. They stand about 200 yards away from the 2,000 linear feet of shimmering crystal sand beach that they share with the Majestic Sun. There are five gigantic swimming pools throughout this complex with an amazing 23,000 square feet of fun watery refreshment. You see two of them extending around the base of Ariel Dunes I as you enter the palm lined drive that creates a mirage of sorts since from a distance since the building appears to magically float above the water. The expansive swimming pools wrap around the front of the two towers providing a watery mirror like image of its own beauty. There are remodeled Fitness Centers in each building. A restaurant called the Cabana Café is conveniently located on site where you may enjoy poolside drinks and dining at the Ariel Dunes I tower. It is open daily for breakfast, lunch and dinner during the summer season.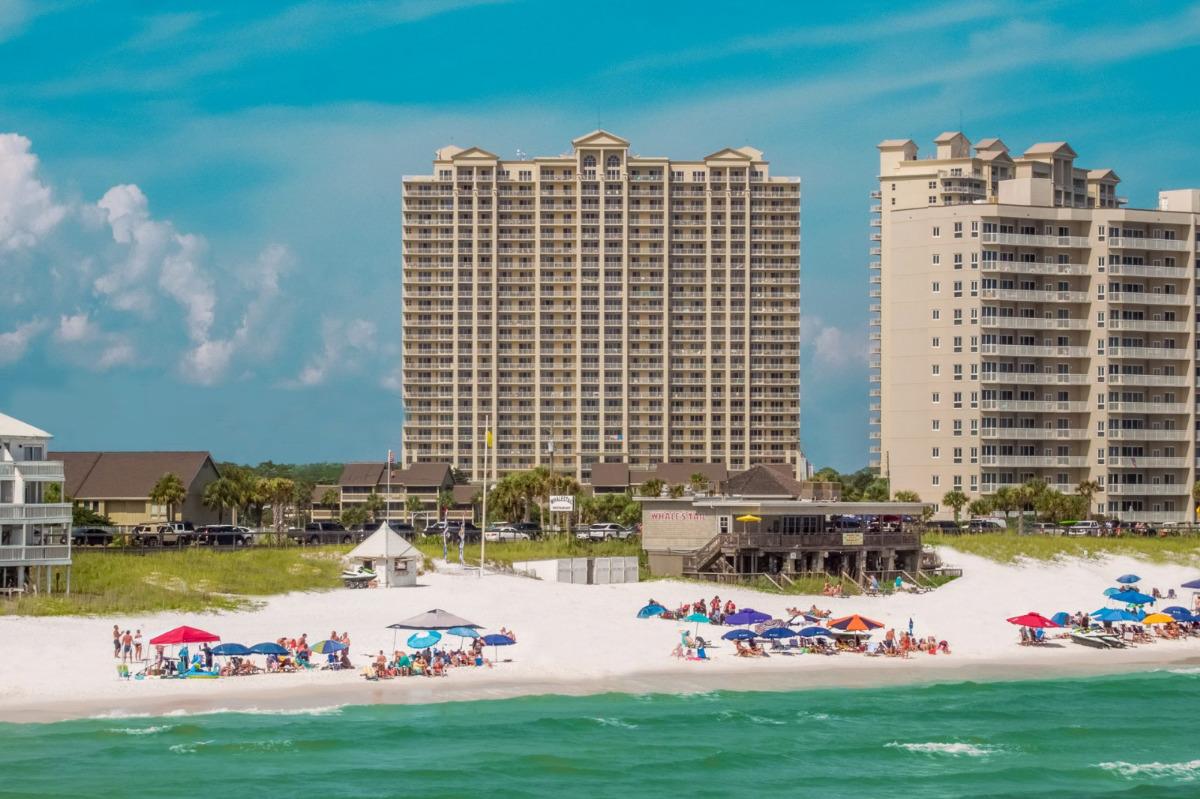 Both Ariel Dunes and Majestic Sun each have one, two and three bedroom vacation rentals available. They all have spacious main living areas, open kitchens and breezy balconies. However in addition to this, the Majestic Sun also offers Penthouse units with three bedrooms and a one of a kind mega deluxe Penthouse available with five bedrooms. Vacation rental rates are somewhat pricier at the Majestic Sun compared to units offered at Ariel Dunes mainly due to its closer proximity to the beach. The Majestic Sun is only available for a minimum weekly rate stay during the peak summer season while Ariel Dunes may be rented for nightly stays year round.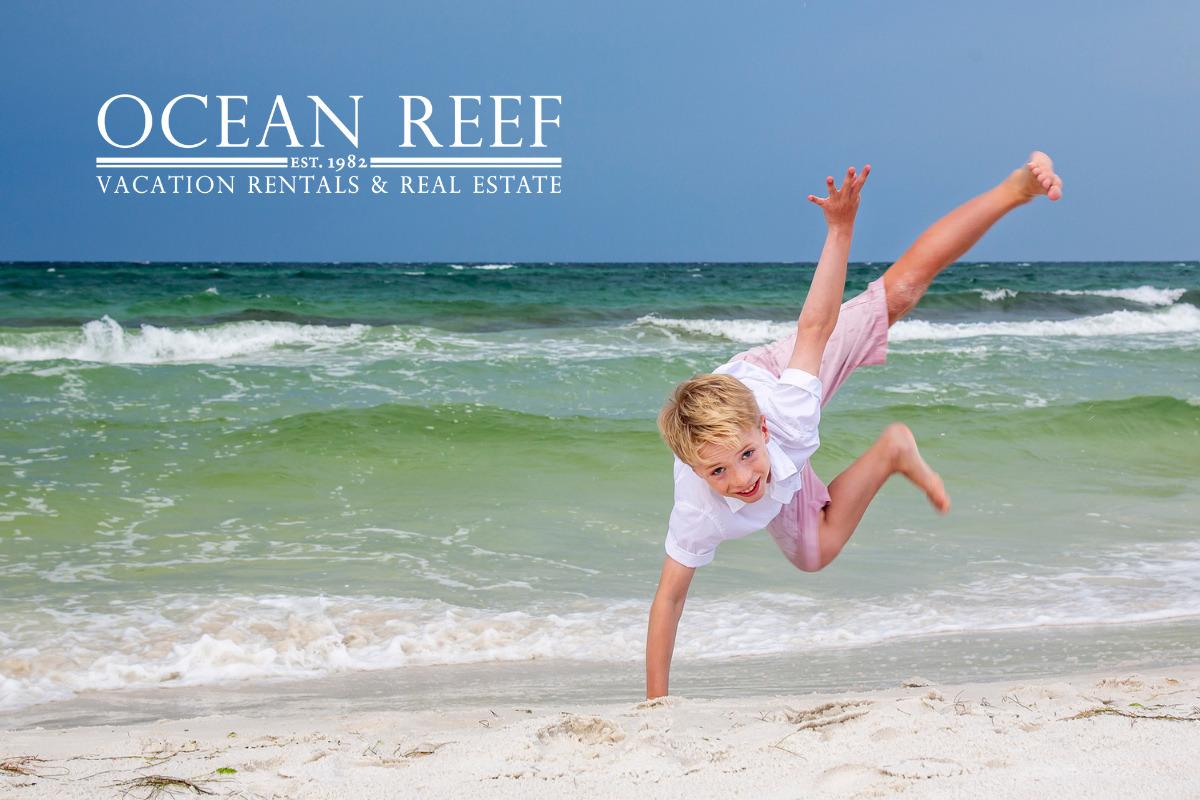 The remarkable setting for both the Majestic Sun and the Ariel Dunes towers are minutes away from popular beachfront restaurants and friendly beachside bars up and down Scenic Gulf Drive. The Whale's Tail is within walking distance and is a popular laid back casual rendezvous spot for tropical drinks, ice cold beers, sandwiches or snacks. It has an outdoor deck that looks down on the beach where volleyball games are often played. Silver Sands, which happens to be the largest Designer Discount Factory Outlet in the nation is also near by. A wide assortment of wonderful restaurants, lively bars, free musical concerts, fun festivals and even seasonal firework displays are minutes away at Grand Boulevard and the charming Disneyesque Village of Baytowne Wharf at Sandestin. Staying at either the Majestic Sun or Ariel Dunes is a "win win" vacation for your family and friends!