Posted on 4/25/2023
If you haven't already made plans for the beach for the marvelous month of May, now is the time to do so! Many of our Ocean Reef Resorts patrons already know that May is a wonderful time to visit the beautiful beach. Rental rates and crowds dip just after Easter until about Memorial Day. This lull occurs just after the busy Spring Break season and before the high season of summer begins when many families flock to our shimmering crystalline white shoreline. Besides the savings on rental rates this lovely time of year, the weather is usually sunny, with highs in the 80s and lows in the high-60s with very little humidity. In other words, picture perfect! The water temperatures have warmed up from the sun a bit, and you can luxuriate in the glittering jewel-toned gulf while the beaches are less crowded. May is also a happening time of the year with regard to special events that occur here, especially at the Village of Baytowne Wharf.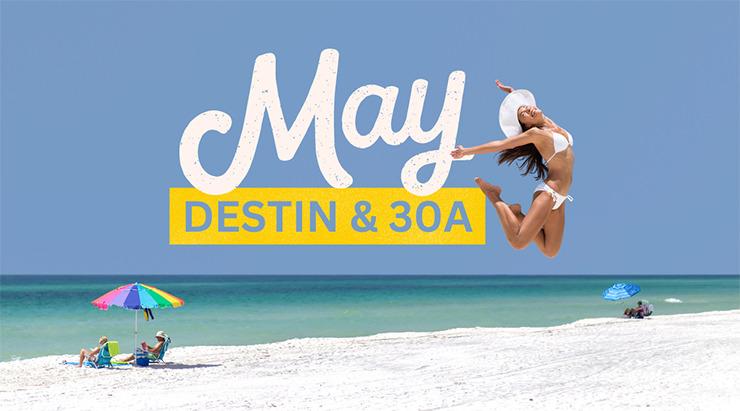 Unbeatable Weather, Tranquility, and Exciting Spring Events
The May season kicks off at the Village of Baytowne Wharf at Sandestin Golf & Beach Resort in Miramar Beach. This captivating village was inspired by the architecture found in the French Quarter of New Orleans. It sits right on the wide expanse of Choctawhatchee Bay and has a long wharf that juts out into ted waters near the Sandestin Yacht Club. It is a favorite place to gather this time of the year as the sun begins to set right over the bay in magnificent fashion, providing a heavenly experience. Baytowne has restaurants with bars that play live music, specialty shops, boutiques, outdoor concerts, family amusements, and exciting seasonal firework celebrations. Let's take a look at our list of can't miss May events in the Village of Baytowne Wharf:

Wednesday Night Concert Series
May 3rd, 7th, 17th, 24th, & 31st
Tequila and Taco Festival
May 12th, 13th, & 14th
Movies Under the Stars
May 22nd

Alissa Steffens Concert
May 19th
Memorial Day Celebration
May 27th & May 28th
Wednesday Night Concert Series
Baytowne features a Wednesday Night Concert Series at the Events Stage on the village lawn from 7:00 pm to 9:00 pm on May 3rd, 7th, 17th, 24th, and 31st. The events are free, so feel free to bring chairs, blankets, picnic baskets, along with coolers to enjoy a magical good time.
Tequila and Taco Festival
The Tenth Annual "Tequila and Taco Festival" will be held at Baytowne on Friday, May 12th, from 6:00 pm to 9:00 pm; Saturday, May 13th, from 1:00 pm to 4:00 pm and Sunday, May 14th, from 1:00 pm until 4:00 pm. Local Mexican restaurants and other food vendors will be competing for a cash award for having "The Best Tacos on the Emerald Coast ." Besides an unlimited amount of tacos, you may sample a wide array of tequilas from a shot glass or in a margarita. There will also be face painting for "little amigos," a Taco Toss, a Macho Nacho Eating Contest, a Chihuahua Beauty Contest, an award for Best Dressed, live DJ music, and national performing artist Mishka. Tickets for the main event on Saturday are available for $75 each.
Baytowne Wharf on Thursday, May 18th, from 5:00 pm to 7:00 pm for those of you who adore champagne. This bubbly event is free since it is being hosted by merchants in the village. You may "shop till you drop" while sipping upon premium champagnes as you explore all the stores in this lovely village.
On Friday, May 19th, from 7:00 pm to 8:30 pm, Nashville recording artist, songwriter, and music coach Alissa Steffens will be holding a live free concert at the Baytowne Wharf Events Stage. Performers will include kids and adults who will sing a variety of different songs. The delightful performance will include a mix of different musical genres done by a group of beginners and advanced career artists.
On May 21st, kids will enjoy a "Scallywag Sunday" at Baytowne from 7:00 pm to 9:00 pm, conducted by a costumed pirate named Captain Davy. This pirate's adventure will include a magical evening of music and mayhem! There will be two Magic Shows on the Events Stage which start at 7:00 pm and 8:00 pm. The cost of this event is also free.
Monday, May 22nd, begins Baytowne's "Movies under the Stars "event, where the big screen on the Events Stage will serve as a theater. Spread a blanket, and bring your picnic basket and cooler to enjoy the show. These events are also free to the public and run every week until autumn.
Baytowne's annual "Boomin Tuesdays" begins on May 23rd, starting at 7:15 pm on the village lawn near the Events Stage. This is a rollicking good time since it starts out as a big Dance Party conducted by DJ Mike Whitty. He plays a wide variety of popular festive, energetic tunes designed to get you feeling good and dancing. At 9:15 on the dot, a fireworks show shoots off in the skies above the village marina. This is also free to the public and happens every week on Tuesday nights until autumn.
The Village of Baytowne Wharf will be holding a giant Memorial Day celebration providing a last Hurrah to May on Saturday, May 27th, from 7:00 pm to 9 pm and Sunday, May 28th, from 6:00 pm to 9:00 pm. You may enjoy live music each evening performed by the popular Forrest Williams Band on Saturday and Trest Richerson Band on Sunday. Each concert will be followed by a vibrant fireworks extravaganza to celebrate the end of May and the beginning of summer.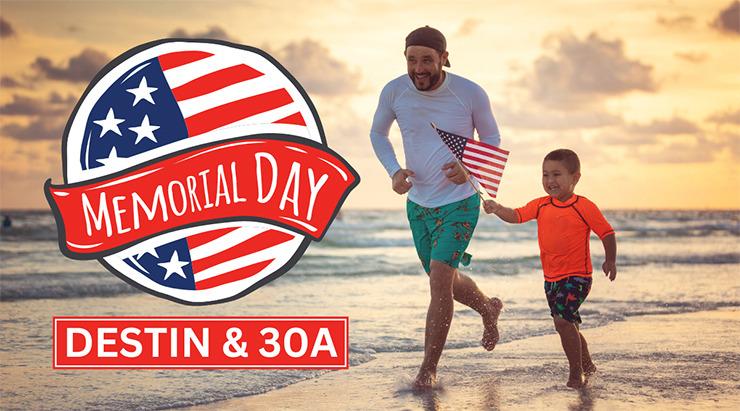 Everyone's favorite three-day weekend is coming up in May. This year is whirling by, so it'll get here before you know it! We are, of course, talking about Memorial Day! So, what can you expect this upcoming Memorial Day weekend in Destin & South Walton?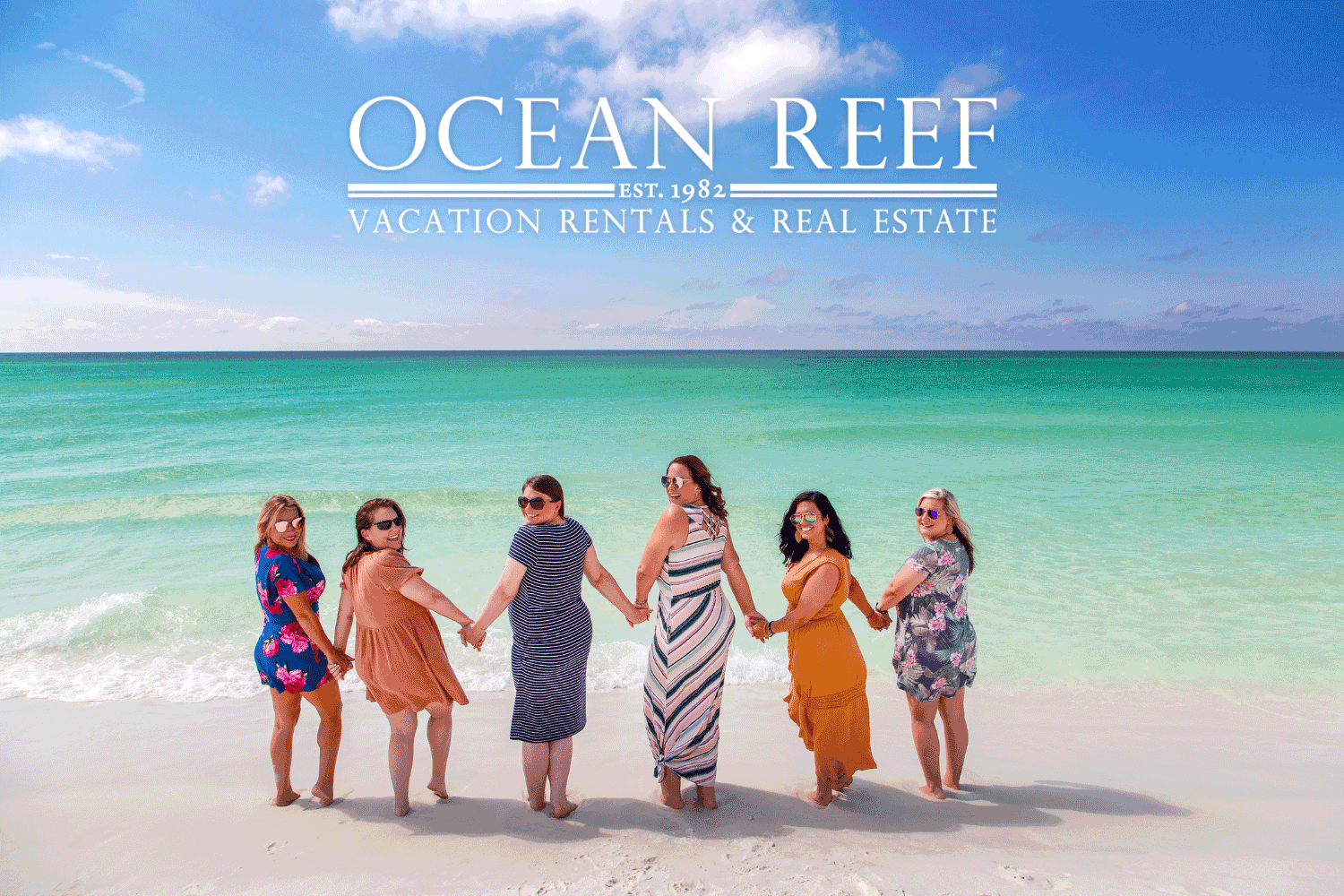 Ocean Reef Resorts is proud to provide fine vacation rentals in Destin, Miramar Beach, and the Sandestin Golf & Beach Resort. Many of them are close to the May festivities listed above. Make plans now to take advantage of this wonderful time of year along the Emerald Coast. Our excellent Ocean Reef Resorts website will show you detailed descriptions, vivid images of each property, aerial satellite views of locations, seasonal rental rates, and calendar dates still available to make a reservation. Enjoy the merry month of May down here at the beach!