Posted on 7/25/2023
Welcome to Ocean Reef Resorts, where delight and tranquility converge to create lasting memories. Our journey began in 1982, and since then, we have been privileged to be the backdrop for countless cherished beach memories. Families have carved their narratives into the sands of our sun-kissed beaches, and our distinct accommodations have been a part of those beautiful tales. Our collections of vacation rentals, each privately owned and maintained by us with excellence, dot the scenic stretches of Destin, Miramar Beach, Scenic 30A, and Panama City Beach.
Anchoring our abundant 30A vacation rentals is the picturesque Grayton Beach, a gleaming gem where Ocean Reef stands tall as the premier provider. Enveloped within this lively paradise is one of our easily accessible offices, a testament to our commitment to being readily available for our treasured guests. As the sun-drenched month of June rolled by, we revealed five captivating additions to our expansive collection of Grayton Beach vacation rentals. Each of these beach retreats vibrates with an innate charm, eagerly awaiting to be your backdrop for unforgettable experiences in one of America's most stunning coastal treasures.
Before we unveil the details of these new captivating homes, we invite you to take a walk with us through the vibrant tapestry that is Grayton Beach. Framed by the illustrious Grayton Beach State Park, a sparkling gemstone that has won the applause of Forbes Magazine for its untamed beauty, immaculate purity, and translucent waters. This slice of Eden shares its borders with not one but three Coastal Dune Lakes, a phenomenon so rare that it can only be experienced in a few corners of the world, including Madagascar, Australia, New Zealand, and Oregon.
These exquisite water bodies, the whimsical children of Mother Nature, are nourished by natural springs and tethered to the gulf by estuaries that carve their path through the sand dunes. The unique intermingling of fresh and saline waters nurtures an abundant ecosystem home to various fish, waterfowl, and wildlife. Aside from lounging on our glistening beaches, our guests can uncover the secrets of these serene lakes through kayaking, paddleboarding, or casting a fishing line into the promising depths.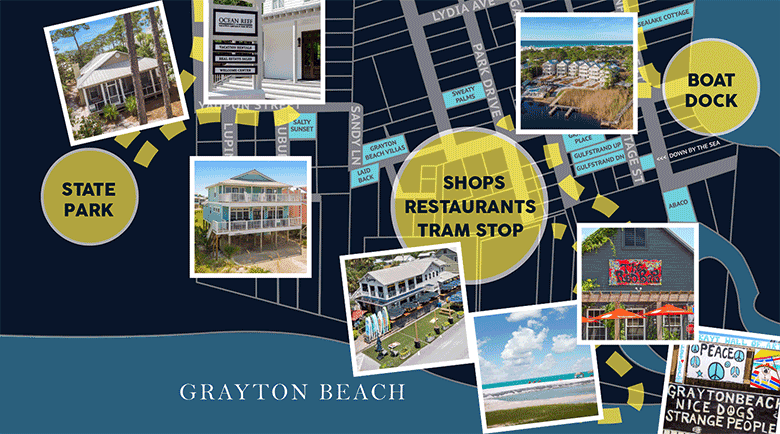 Packed with a petite downtown, architectural nooks & crannies, and if you look carefully, you can see the timeline of Grayton Beach unfold before your eyes. Expendable cracker shacks, made of local lumber, built to be swept out to sea long ago, share the pristine terrain with four-story-high stone castles of intricate design.
In the heart of Grayton Beach, you'll find the charming echoes of yesteryear that fill the air with nostalgia. Savor the tantalizing array of food, artisanal cocktails, and live music that breathes life into every evening at the renowned Red Bar. Discover an explosion of hues and ingenuity at the Zoo Gallery, showcasing an array of decorative art, unique beach-inspired furnishings, and jewelry from artists nationwide. Don the chic coastal attire from Tribe Kelley Surf Post, and whet your palate with tapas, seafood, and your choice of beverages at Chiringo. Destin's celebrated AJ's Seafood & Oyster Bar is just around the corner, offering a symphony of gulf-caught delights and invigorating live music. And if your heart yearns for more, the neighboring towns of Seaside and Santa Rosa Beach extend their warm welcome with a vibrant mix of restaurants, beach bars, boutiques, galleries, specialty shops, and a calendar packed with festivals and outdoor concerts.
Now, allow us to introduce you to the new members of our Grayton Beach vacation rental family.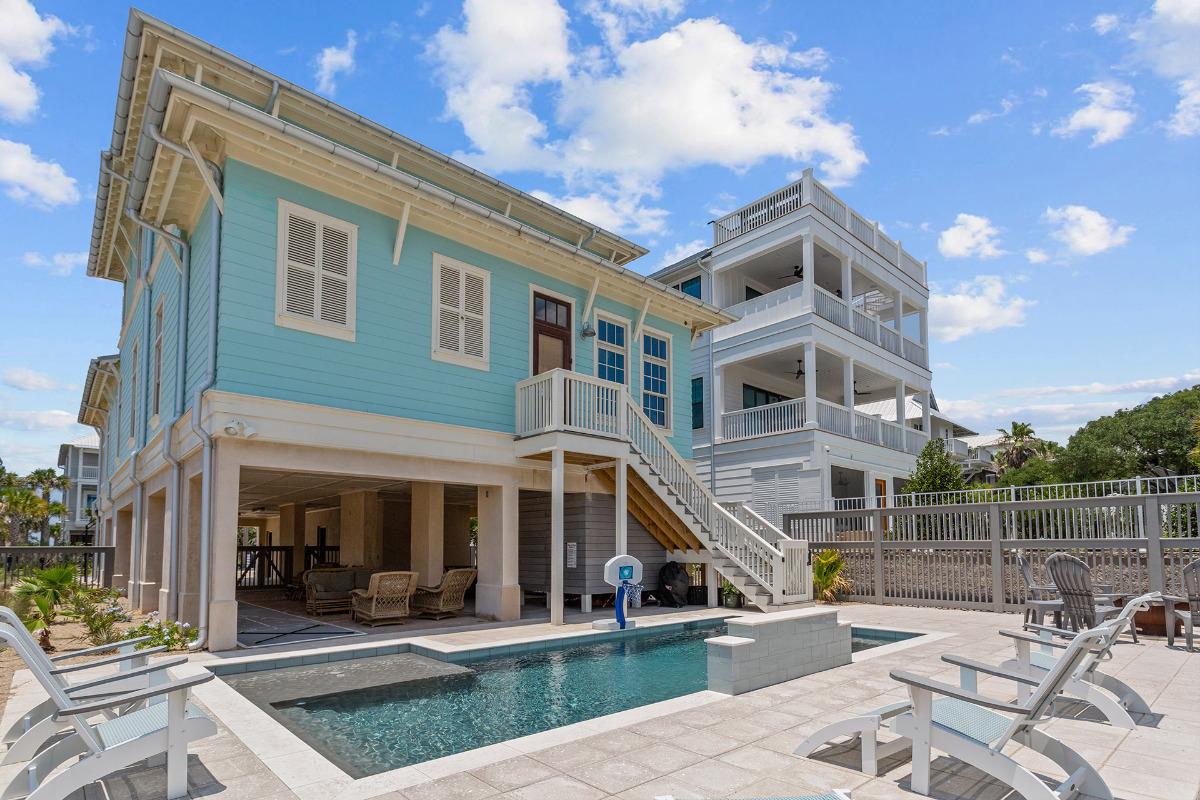 5 Bedrooms / 4 Bathrooms / 14 Guests
Set amid the alluring coastal beauty of Grayton Beach, Blue Palmetto is an embodiment of seaside sophistication. Spread across its generously spacious interior are five carefully designed bedrooms and two distinct living areas, crafting an environment ideally suited for joyous reunions. Here, up to fourteen vacationers can find restful slumber in the comforting embrace of carefully selected beds and bunks.
As you venture outside, the sugary beach and serene lake beckon, yet equally alluring is the refreshing plunge pool, complete with a soothing cascading waterfall. Surrounding this water haven, a well-furnished patio unfolds. Lounge chairs invite relaxation, while the shuffleboard court teases for a friendly game. Adding to the outdoor charm is a thoughtfully designed cabana, equipped with a dressing area and a shower, bringing beachside comfort right to your doorstep.
The heart of "Blue Palmetto" is undoubtedly its expansive main living area, an open space merging dining and kitchen domains into a harmonious ensemble. The first thing you'll notice is the impressive cathedral ceiling, inlaid with natural hardwood and framed by pristine white beams, a feature that imparts both grandeur and warmth. This spacious room hosts an eclectic assortment of furnishings, each piece resonating with coastal, tropical, or country vibes, depending upon its unique design. For a change of scenery, a large screened porch stands ready for your pleasure, beautifully appointed for evening entertainment or tranquil afternoon repose.
The property's sleeping quarters are no less impressive. The primary suite, adorned with charming furniture, houses a king-size bed and a twin bed. Here, luxury comes alive in the form of an en suite bath equipped with dual walk-in showers, a deep soaking tub, a double vanity sink, and a stylish dressing table. Accompanying this regal retreat is a well-appointed guest bedroom with a king-size bed and its private en suite bath, alongside a playful bunk room equipped with two queen-size beds, sharing a full hall bath.
"Blue Palmetto" saves one of its surprises for the upper floor. Here, a plush loft den awaits, complete with a couch, flat-screen TV, and a Foosball table, inviting cozy evenings or vibrant game nights. The final pieces of this haven are two lovely guest bedrooms branching off from the den, one of which boasts a soaring cathedral ceiling. These spaces share a luxurious interconnected bath, sealing the deal on this property's allure.
As a whole, "Blue Palmetto" is a meticulous blend of luxury, style, and comfort, a remarkable residence sure to be the backdrop for unforgettable vacation memories.
Amidst the coastal charm of Grayton Beach lies a haven of leisure and delight. A beach house adorned with a private pool and the laughter of shuffleboard echoes, where every day is a celebration of sun, sand, and cherished memories by the sea. Ocean Reef is GRAYTful to add this spectacular home to our program.
Chace Caswell - Business Development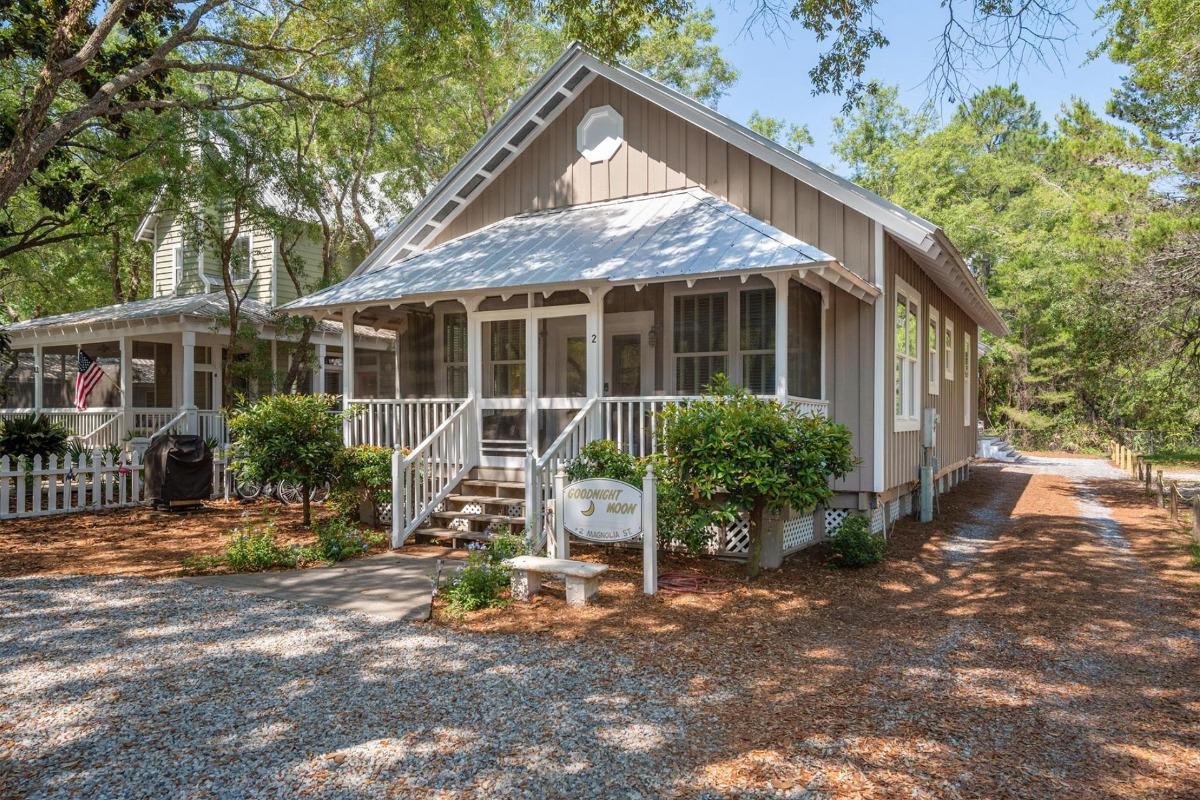 5 Bedrooms / 5 Bathrooms / 11 Guests
Magnolia House, a charming sanctuary nestled within the historic charm of Grayton Beach, is the perfect retreat for families seeking an unforgettable coastal getaway. Harmoniously blending comfort and style, this property can accommodate up to eleven guests within its commodious layout, thoughtfully divided between the main house and a delightful two-story guest cottage.
The main house, an epitome of homey elegance, houses three inviting bedrooms. Each room showcases its distinctive charm and offers a private sanctuary for sleep and relaxation. With ample windows that drench interiors in soft, natural light, and vaulted ceilings that amplify the sense of space and tranquility, this haven proves to be the heart of "Magnolia House." This is where families gather for meals, conversations, and laughter, sharing treasured moments against a backdrop of tasteful decor and serene ambiance.
Similarly, the two-story guest cottage does not compromise on luxury and comfort. Housing two beautifully furnished bedrooms, it affords guests an exclusive space away from the main hub, ideal for those who value their quiet time. It's an intimate retreat where you can enjoy a serene morning coffee or a quiet nightcap, surrounded by the soothing sounds of the seaside.
Both structures - the main house and the guest cottage - shine with their stylishly equipped kitchens, designed not just for utility but also as spaces where memories are made. State-of-the-art appliances ensure that your culinary experiences are effortless, allowing more time to enjoy with loved ones. Every meal, every shared conversation, every stolen laugh, is bound to be a cherished memory.
The houses' bathrooms are sanctuaries in their own right, boasting modern fixtures and fresh aesthetics that provide a spa-like experience. Here, relaxation is the norm, and every day begins and ends in refreshment and tranquility.
Overall, "Magnolia House" is more than a vacation property; it is a home away from home. Its thoughtful layout, elegant interiors, and exceptional comfort offer the perfect setting for your family vacation, creating a canvas for you to paint your treasured holiday memories. Whether you are cooking a family meal in the modern kitchen, relaxing in the luxurious bedrooms, or sharing stories in the cozy living areas, you are bound to fall in love with every corner of this exceptional property.
Grayton Beach is rich with history and has a strong emphasis on preservation. Magnolia House is the quintessential Grayton Beach house providing the architectural charm of an Old Florida Cottage being surrounded by mature Oaks, all while boasting modern amenities on the inside for the sophisticated traveler. Ocean Reef couldn't be happier about welcoming this property to our program. We know our loyal Grayton Beach following will love this one for years to come.
Justin Knowles - General Manager
The allure of "Magnolia House" is further elevated by the two remarkable properties that it houses within its charming family compound. "Goodnight Moon," the enchanting main house, and "Bella Luna," the picturesque guest house, each offer unique offerings that make the "Magnolia House" experience truly unforgettable.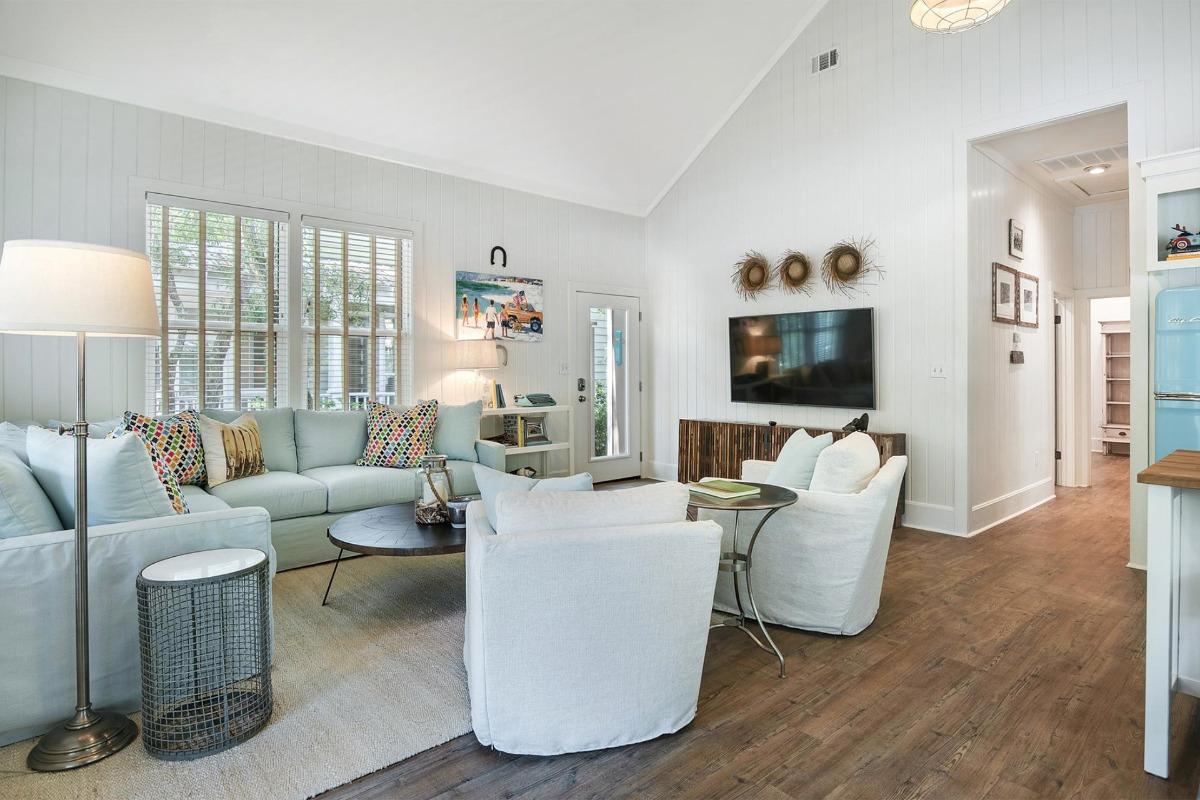 3 Bedrooms / 3 Bathrooms / 7 Guests
Goodnight Moon gracefully provides shelter for up to seven beachgoers. It stands amidst the tranquil settings of Live Oak trees and Palmetto palms, offering a serene backdrop to your delightful beach vacation. The interior design offers an exquisite blend of comfort and elegance. The house features a spacious living area centered around a wraparound couch and a unique cocktail table – perfect for enjoying lively discussions or a quiet evening with a book. The open kitchen, equipped with modern appliances, invites you to create culinary memories, while the charming primary bedroom beckons with a distinctive shutter headboard, adding a touch of rustic charm. Every room in "Good Night Moon" is well-appointed, effortlessly melding luxury and comfort to enhance your vacation experience.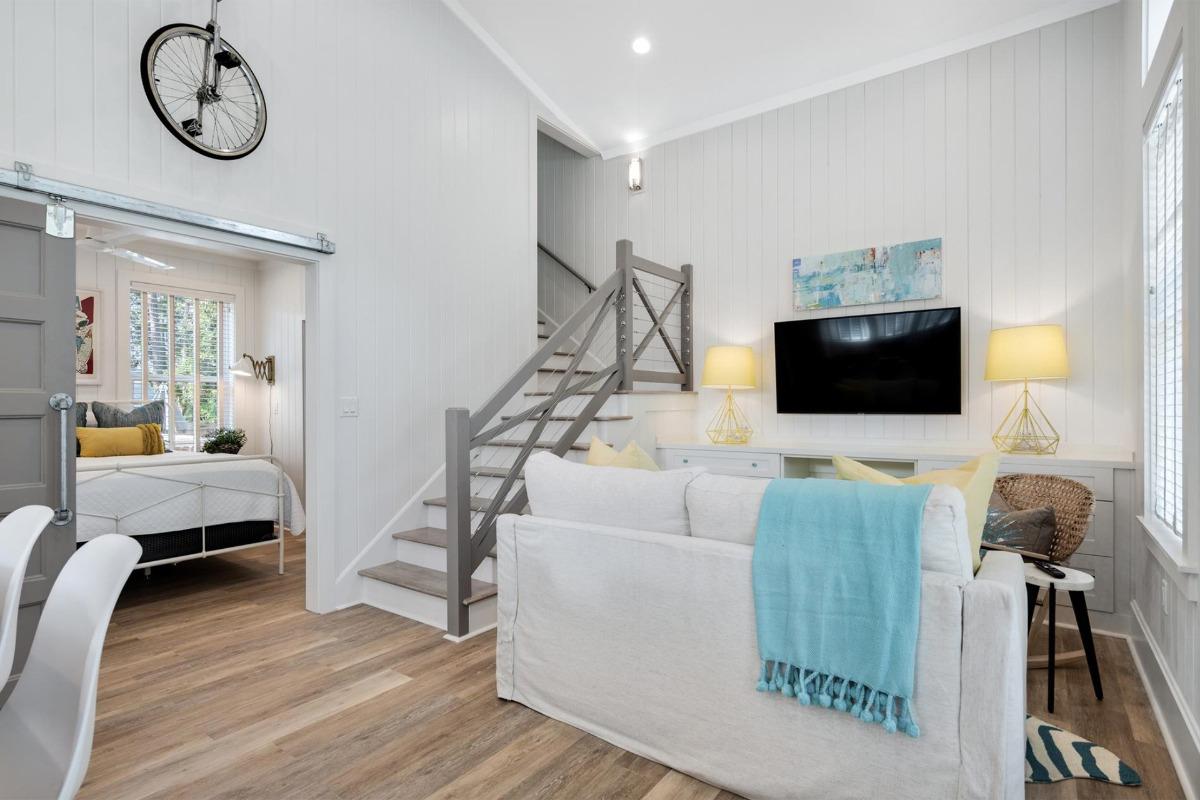 2 Bedrooms / 2 Bathrooms / 4 Guests
Bella Luna, the delightful two-story guest house, offers a peaceful haven for four guests within the "Magnolia House" compound. Exuding an Old Florida-style exterior that pays homage to the area's rich history, "Bella Luna" is a harmony of bright, welcoming interiors characterized by a soaring cathedral ceiling and two walls of windows, allowing natural light to flood the space and create a warm, inviting ambiance. The sunny kitchen beckons with promises of joyous shared meals, while the guest bedroom, boasting a plush king-size bed, provides an ideal sanctuary for rest and relaxation. Upstairs, the luminous primary bedroom, complete with an en-suite bath, serves as a private retreat where comfort meets elegance.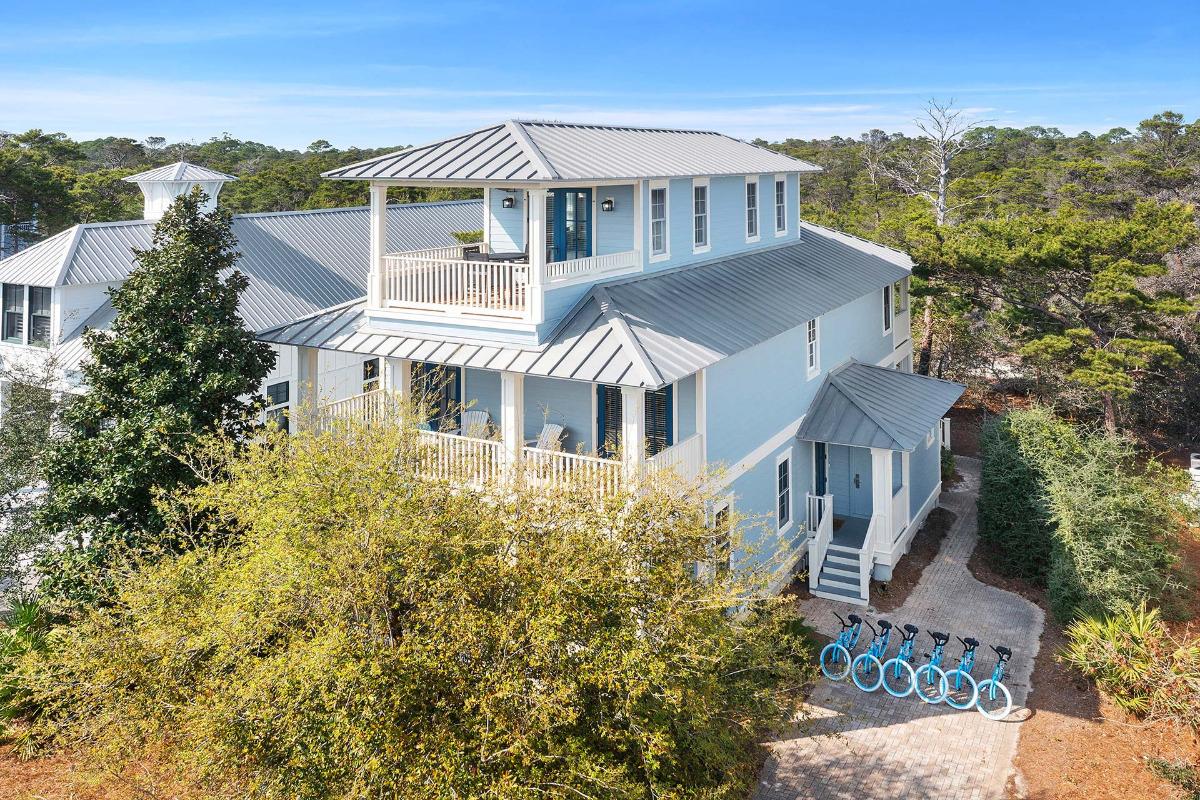 5 Bedrooms / 3 Full & 1 Half Bathrooms / 14 Guests
Rounding out our exceptional collection of new Grayton Beach vacation rentals, we were elated to introduce Grayt Expectations earlier this year. This striking three-story haven radiates an unparalleled charm that promises to enrich your beach vacation experience. Offering an inviting space for up to fourteen lucky guests, "Grayt Expectations" stands as a beacon of hospitality and comfort. With five plush bedrooms, each thoughtfully furnished to ensure tranquility and rest, this property will effortlessly cater to your needs, whether you're seeking a peaceful retreat or a vibrant family reunion.
Ensconced in the scenic beauty of Grayton Beach, "Grayt Expectations" boasts access to a stretch of crystalline white shoreline that is truly discrete, and very well located. Here, guests can surrender to the rhythmic lullaby of the waves, partake in energetic beach games, or immerse themselves in the ocean's refreshing embrace.
For those seeking relaxation, the house also offers a private, bubbling hot tub. Envelop yourself in the soothing warmth and let the therapeutic bubbles whisk away your stresses, setting the perfect tone for a delightful vacation.
Visually, "Grayt Expectations" presents a picturesque vista with its nautical-colored exteriors that pay homage to its serene beachside location. The property's exterior is accentuated by three tiers of columned verandas that wrap around the home, offering panoramic views of the mesmerizing coastal surroundings. Here, you can while away the time, lounging with your favorite book, or sipping on a refreshing drink as you bask in the breathtaking views of the sun-kissed horizon.
Ultimately, "Grayt Expectations" is more than a vacation rental; it's a sanctuary where the charm of coastal living meets the comforts of a well-appointed home. From its splendid location to its indulgent amenities and stylish aesthetics, it stands ready to fulfill, and perhaps even exceed, your 'grayt expectations' for an unforgettable beach vacation.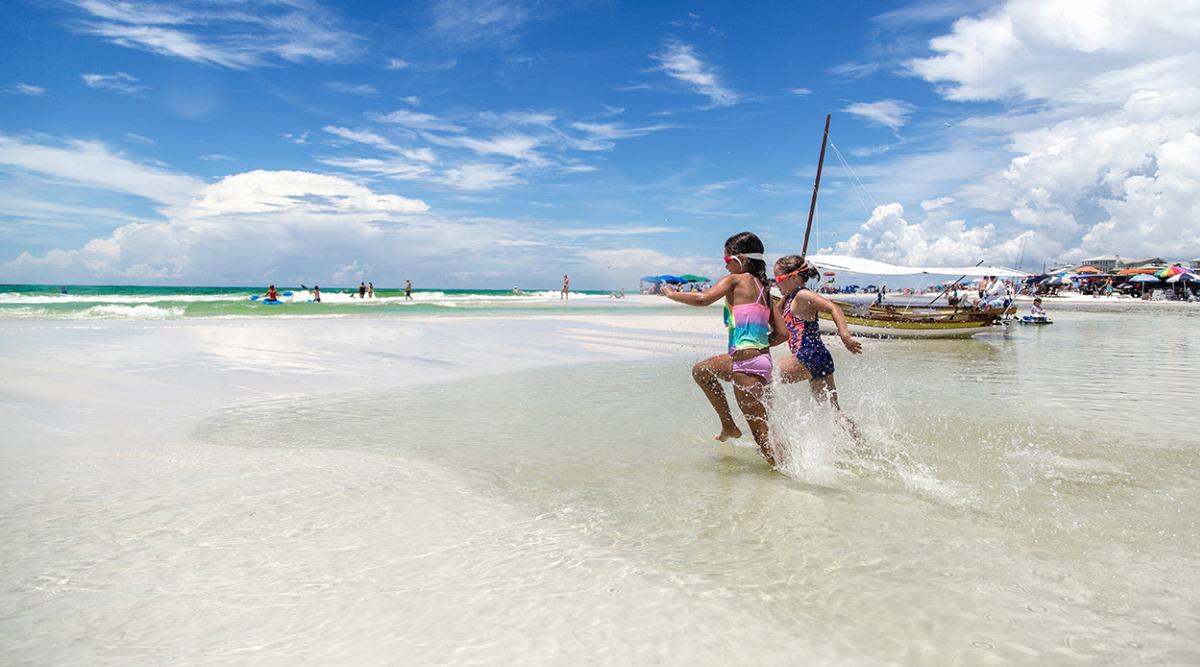 From the warm, inviting confines of "Blue Palmetto" to the old-world charm of "Magnolia House," to the luxurious simplicity of "Grayt Expectations," each of our new additions embodies our commitment to providing an extraordinary vacation experience. As part of the Ocean Reef Resorts family, these homes are far more than vacation rentals. They are sanctuaries of delight and tranquility, each promising an immersive and memorable coastal adventure.
Our legacy, etched into the sands of Destin, Miramar Beach, Scenic 30A, and Panama City Beach since 1982, is one of creating unforgettable vacation experiences. The stories of countless families are intertwined with our distinctive accommodations, each carrying a piece of their cherished memories. As we expand our collection, we pledge to uphold this legacy, offering properties that not only fulfill your vacation dreams but also contribute to your life's most treasured narratives.
As we welcome these wonderful homes into our family, we also extend an invitation to you. Come, experience the extraordinary. Let the soothing rhythm of the waves, the feel of the sun-kissed sand beneath your feet, and the comforts of our well-appointed homes serve as the canvas on which you'll paint your unforgettable vacation memories. It's time to create your own Ocean Reef Resorts story. Welcome to your home away from home!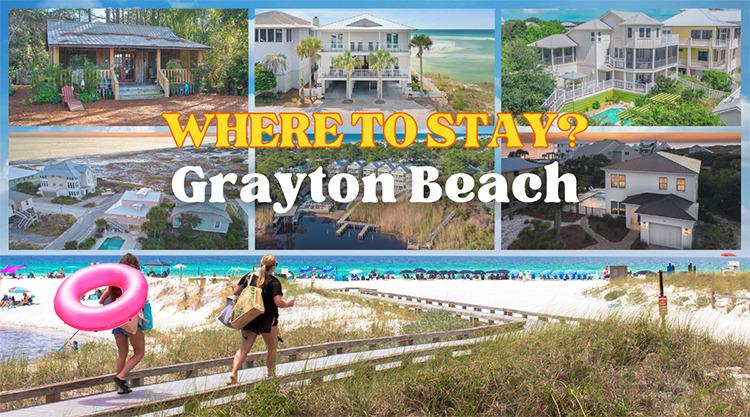 Though it's an intimate coastal community, Grayton Beach is big on character and offers an array of accommodations. Discover some of our guests' favorite spots to stay in what's sure to be your next 30A vacation destination.