Posted on 3/26/2020
Would you like to experience the golden Americana inspired era of yesteryear for the creation of fun, magical memories with family and friends today? Now you can do so at the aptly named Old Florida Beach community in Santa Rosa Beach off Scenic 30A in South Walton. This exclusively gated development is nestled beside the glowing jewel-toned waters of the Gulf of Mexico. It is adorned with towering Royal Palms and bordered by charming white picket fences. This neighborhood also has a community pool for freshwater entertainment and a dock for fishing, paddle boarding, or kayaking on Draper Lake. These precious treasured coastal dune lakes are extremely rare and found in very places around the world. Their magical mixture of salt and freshwater supports a vast abundance of wildlife.
Even though you'll feel like you're in a wonderful world of your own, this fantastic location is close to restaurants, beach bars, fashion boutiques, outdoor concerts, and seasonal festivals hosted at the Santa Rosa Beach village center of
Gulf Place
. It is also just minutes away from other dreamy coastal villages along this scenic route, including places like
Grayton Beach
,
WaterColor
, and
Seaside
.
Ocean Reef Resorts
is pleased to offer seven superb vacation rentals in Old Florida Village. They sleep between 10 to 19 happy gulf going guests. Here is a brief description of each. Enjoy finding the perfect property for you and your family!

Morrow Cottage
3 Bedrooms / 2.5 Bathrooms / 10 Guests
Morrow Cottage is a gracious South Walton vacation home that encompasses three bedrooms plus a bunk nook and can sleep 10 guests. It has been recently remodeled, painted, and newly furnished but retains its Old Florida look with a veranda, covered porches along with an elegant spiral staircase that leads to a special tower room that includes guest quarters. Rich appointments abound with Carrera Marble, wainscoting, crown moldings, rich honey-toned hardwood flooring, Dacor appliances, French custom cabinetry, and 10-foot ceilings.

Wasted Time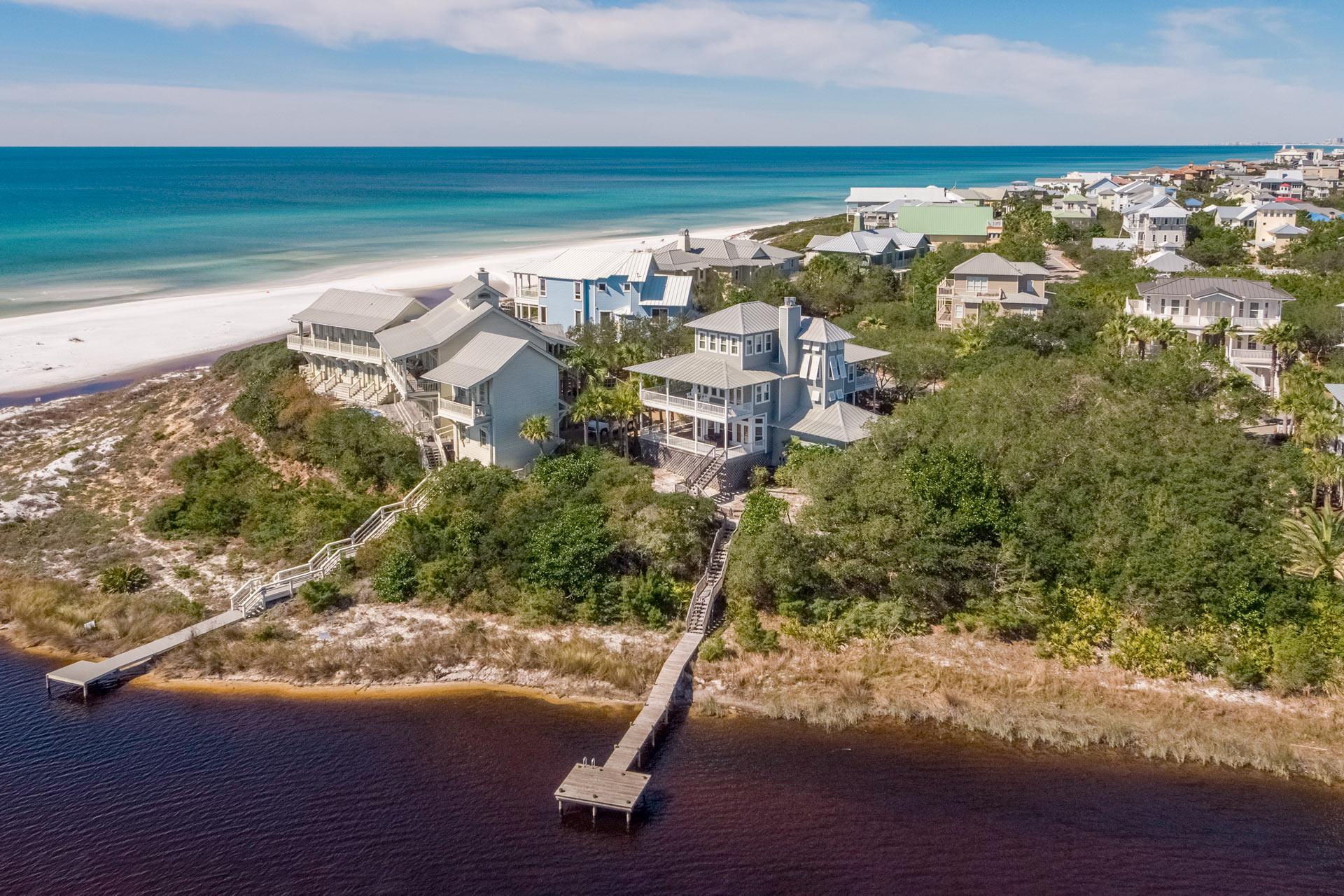 3 Bedrooms / 4 Bathrooms / 11 Guests
Wasted Time features a prominent position right on Draper Lake in Old Florida Beach. Trek down your own private dock from this waterfront abode and take full advantage of the calm brackish lake. You and your guests (11 visitors in total) can enjoy an array of watersports - and even try your hand at fishing! Inside be enveloped in classic coastal elegance as well as an abundance of incredible natural light. Currently, Wasted Time is being remodeled with a state of the art kitchen, updated bathrooms including a new bath with a shower, new furnishings, professional décor, light fixtures, interior paint, and a new roof.

Moore Vacations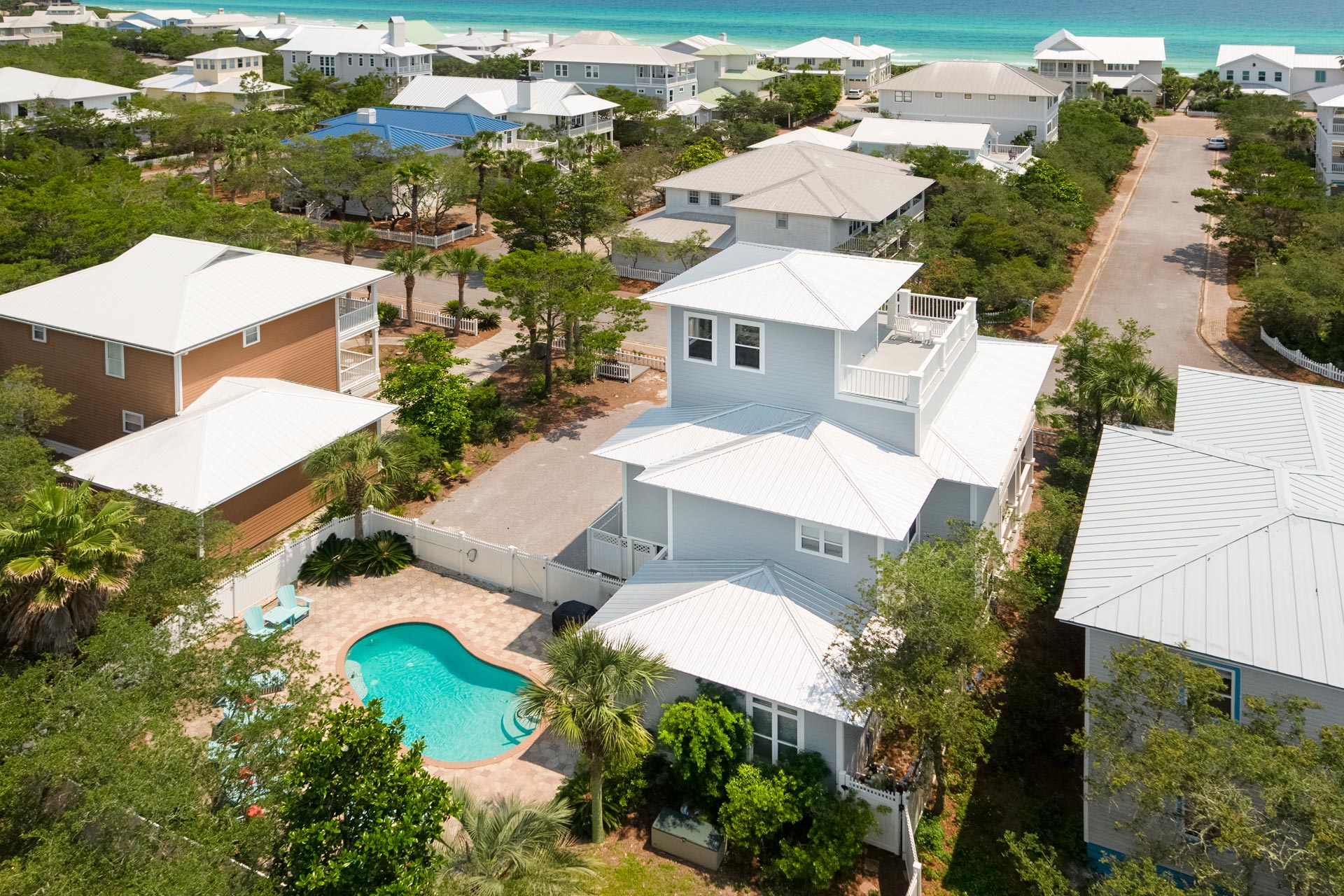 4 Bedrooms / 4.5 Bathrooms / 12 Guests
Moore Vacations in Old Florida Beach has four bedrooms and can sleep 12 fortunate guests. The fashionable coastal décor looks like something you would see featured in Southern Living Magazine! This rental home warmly embraces its guests upon arrival with a columned veranda, rocking chairs, and a porch swing that overlooks the gorgeous tropical landscaping that is bordered by a white picket fence. This property also features a lovely lagoon-shaped swimming pool with a patio, dining table, and grill for poolside cookouts.

The following four waterfront vacation homes sit high upon a sugary dune overlooking the glorious Gulf and have the ability to accommodate 14 privileged guests.

Shore-E-Nuff
4 Bedrooms / 4 Bathrooms / 14 Guests
Shore-E-Nuff provides a charming setting with a wide front porch and an upper railed balcony that faces a trio of palms in a tropical backdrop. An expansive beachfront porch out back overlooks the sensational seascape that extends as far as one can see into the sparkling horizon. The open interiors are filled with comfortable furnishings with décor that includes vivid art, schools of fish, and a giant Swordfish that soars above a mantle in a room that includes an entire wall of floor to ceiling French doors facing the Gulf. All four bedrooms have vibrant, cheerful colors for Floridian flair.

Abandon All Cares
4 Bedrooms / 3 Bathrooms / 14 Guests
Abandon All Cares provides a cheerful countenance with yellow exteriors trimmed in white with matching front verandas top and bottom. This spacious hospitable beachfront home is a great place for seaside reunions. It has two separate living areas, a full kitchen and an individual kitchenette. The Master Suite and one Guest Bedroom is on the first floor while two additional guest quarters on the second level. Two gulf front verandas and a brick patio allow you to enjoy favorite drinks while experiencing vivid heavenly views.

Barefootin
5 Bedrooms / 5.5 Bathrooms / 14 Guests
Barefootin spans across 4,000 square feet and includes five beautifully decorated bedrooms. This rental home's upscale décor includes comfortable furnishings, granite, marble, and stained glass accents that provide a warm, rich ambiance. The living area has a 30-foot wide length of floor to ceiling windows overlooking the glittering Gulf with glass doors leading out to the dune top porch with colorful Adirondack chairs for carefree lounging. Abundant amenities include a Media Room with comfortable seating, a luxuriously appointed central living area with entertainment equipment, large HDTVs, a Blu-Ray player, and an HD box.

Kokomo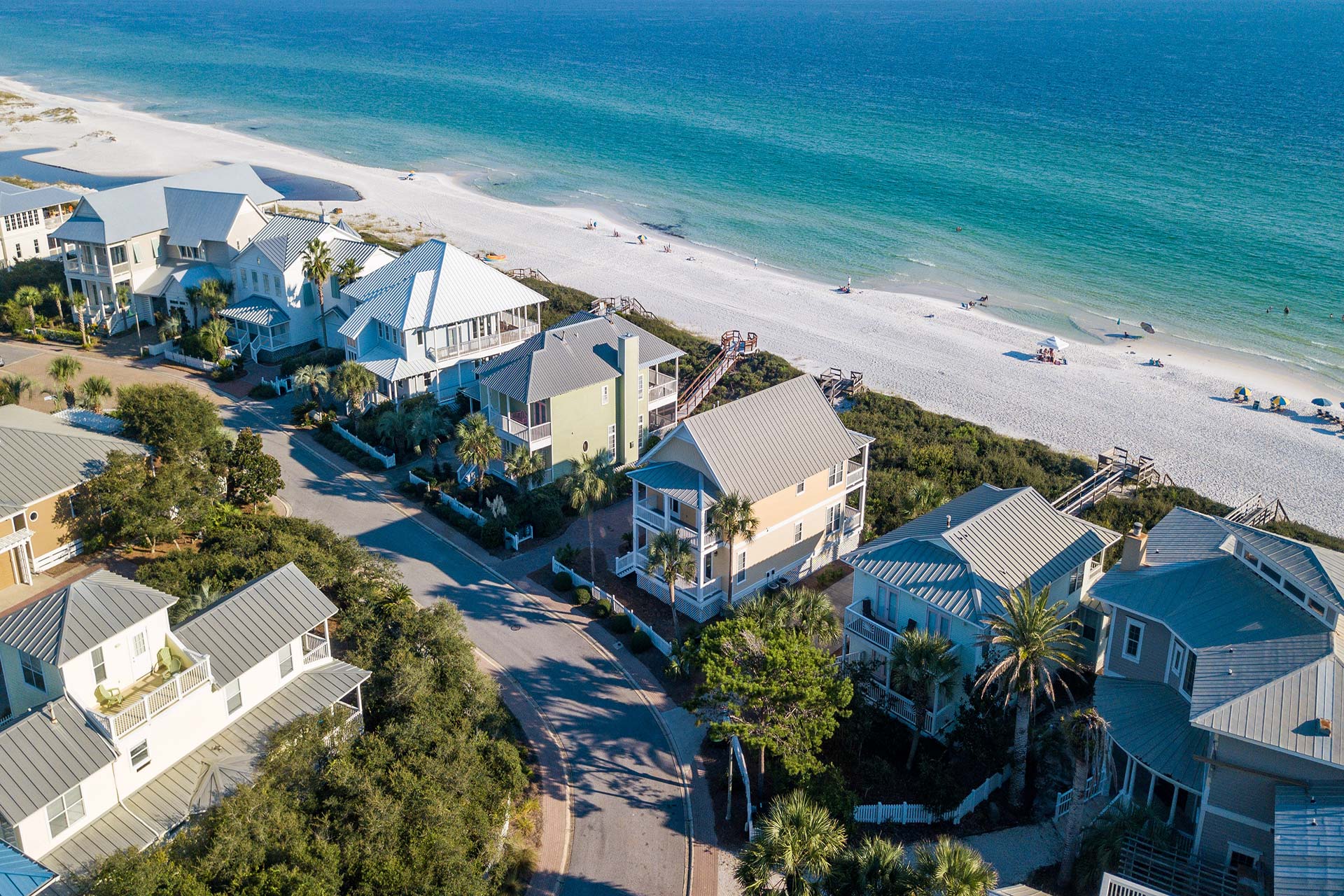 5 Bedrooms / 4 Bathrooms / 14 Guests
Kokomo will definitely want you to get there fast, then take it slow! This beautiful beachfront home has five bedrooms, which includes an exceedingly spacious Master Suite. It has a wall of windows highlighting the Gulf views, a beach-facing balcony, a glass-topped dining table with four seats, a king-sized bed, a sitting area with a couch, a sleek dark granite-topped Wet Bar, a refrigerator, icemaker, and luxurious ensuite bath. All four of the Guest Bedrooms also have direct access to covered porches where you may enjoy the views and gulf breezes.

Morning Star
6 Bedrooms / 6 Bathrooms / 16 Guests
What very well may be one of our most quintessential "30A Vacation Homes," Morning Star is an eclectic, classic, and coastally influenced six-bedroom property that comfortably accommodates up to 16 sun-seeking visitors. Although this notable rental is just a stone's throw from the shore, guests here won't even have to venture that far for some serious aquatic refreshment. A right-sized private pool out front is hidden amongst tropical foliage - surrounding you and your guests in a secluded paradise. The plethora of outdoor living continues with a variety of outside patios and decks. These include a massive second-floor covered living and dining space that features a large table, cozy loungers, and a hanging porch swing. See, we told you this house screams 30A!

The Moeller House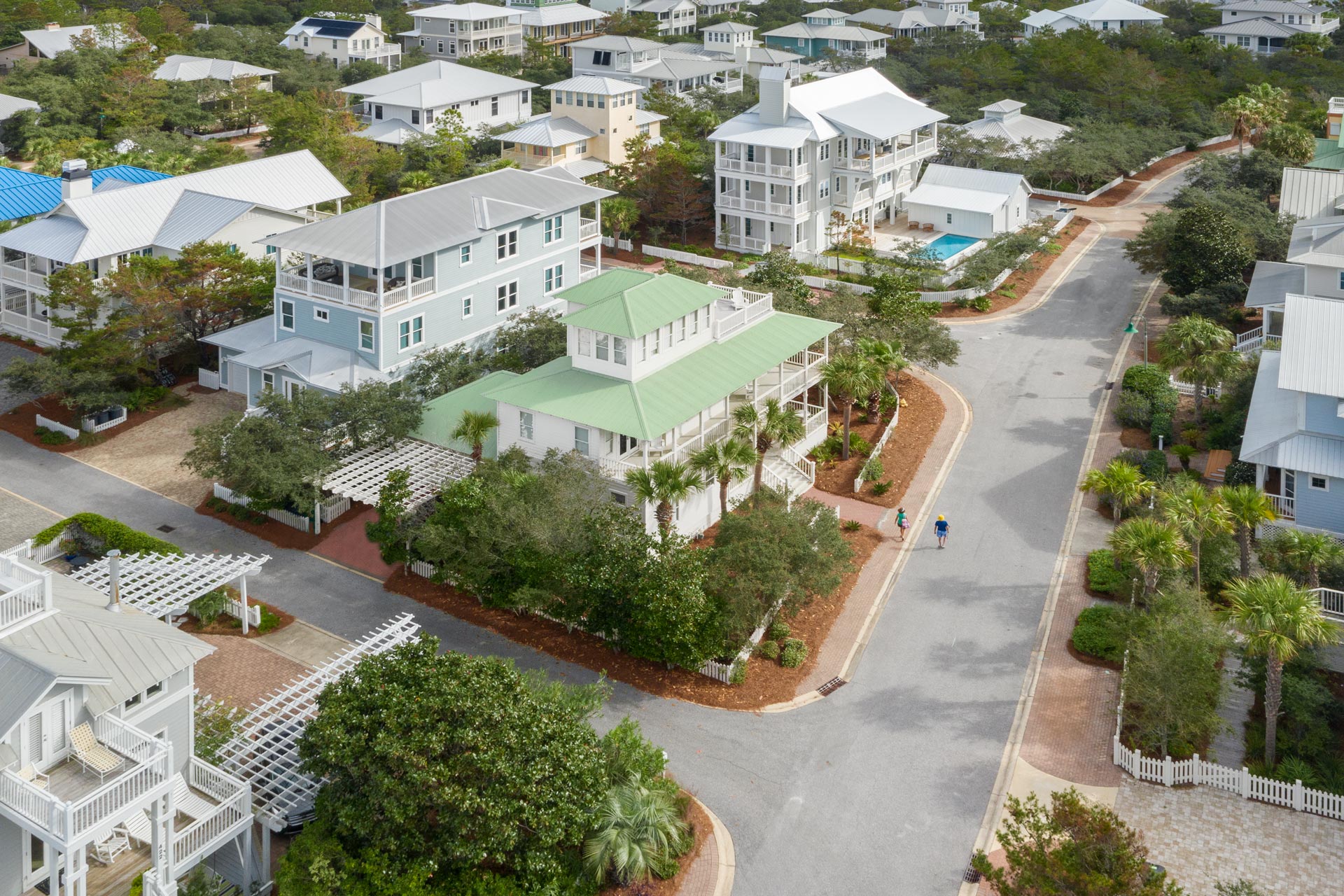 5 Bedrooms / 3 Bathrooms / 14 Guests
The Moeller House
is charming three-level rental home with five bedrooms. It can accommodate up to 14 vacationers. This beach cottage-style home features tropical landscaping, and its covered front porch offers a warm welcome to guests. The coastal vibe extends indoors with beach-washed furnishings, light-blue accents, shiplap walls, and beach décor. Multiple levels of furnished balconies ensure visitors can take advantage of the beautiful Emerald Coast weather and Gulf breezes. Of the five bedrooms, one is a guest bedroom uniquely appointed with two built-in beds and a cozy seating area. The third level boasts an observation deck with lounge chairs and beach views.

Just Beachy
6 Bedrooms / 4.5 Bathrooms / 19 Guests
Just Beachy in Old Florida Beach accommodates the largest group of happy guests for a perfect shore-side reunion. It has four bedrooms in the main house and two more in a delightful guest house with accommodations that total up to 19. Fourteen may sleep in the main residence and five more in the nicely furnished Guest House. This lushly landscaped three-story vacation home has a stately presence with a triple-level columned veranda out front with white decorative trim that resembles a steamboat. It is a very short stroll away from the sugary shore and a refreshing community pool. However, you don't even have to go that far for relaxing refreshment. This home also features its own private 10' x 20' swimming pool that can be seasonally heated. A private patio provides an inviting place for leisurely lounging with a charming shaded pergola. A grill is available for cookouts while the pergola offers a perfect place for poolside dining and drinks.

Have a fun time looking at each one of these gracious Old Florida Beach Vacation Homes. Pick the one that best suits your group's needs, and make plans to reserve a favorite for your next magical, memorable reunion on the coast. Our state of the art user-friendly website provides detailed descriptions for each one, vivid property images, satellite views of individual locations, seasonal rental rates, and calendar dates still available for reservations. Get excited about experiencing an enchanting golden vacation from a bygone era with all the creature comforts of today for your enjoyment in the very near future!