Posted on 7/28/2020
Besides enjoying the beautiful white sand beaches along the Emerald Coast of Northwest Florida, many visitors love to pursue delightful diversions. These include eating, drinking, shopping, amusements, and even fishing. We have just the place where you may have it all at a wildly popular destination in Panama City Beach, famously known as Pier Park! Here is what you need to know:
The Pier Itself
This newly rebuilt Russell-Fields Pier is one of the absolute longest on the entire coast – extending 1,500 linear feet out from the beautiful beach into the glorious Gulf waters. It juts out from the shimmering white shore into the dazzling jewel-toned Gulf of Mexico. It is one of the biggest attractions in Panama City Beach!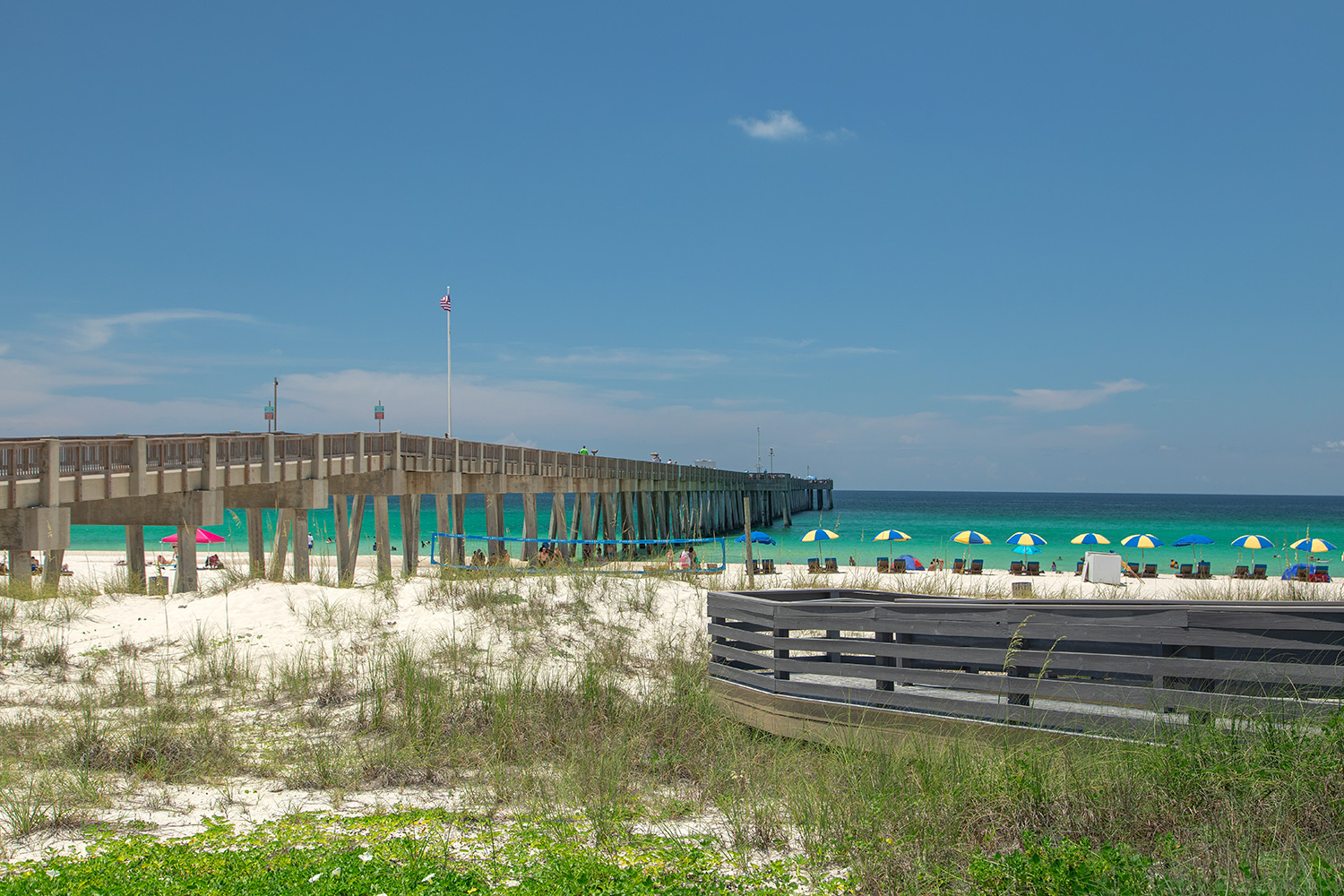 Many visitors go out on the pier to enjoy the stunning scenery, watch other folks reel in "a big one," and experience the abundant sea life that abounds in PCB. Sensational views often allow you to watch schools of fish and stingrays sweep through the luminescent clear water down below. Sometimes squadrons of pelicans soar down from the sky to dive-bomb the fish capturing food for themselves. The panoramic views down the sugary shore from about a quarter-mile out in the Gulf are quite stunning. Pods of dolphins are often seen frolicking around in the distance where they often herd up schools of fish together in a clever way. It resembles an amazing synchronized water rodeo show as they catch their meal. During the winter months, many take a romantic stroll out on the pier to catch an enchanting heavenly sunset. At that time of the year, the sun sinks right down into the western Gulf spectacularly. You can experience additional romance throughout the late spring and summer months, watching the sight of a magical full moon rising out of the silver splattered waters towards the east. A Pet-Friendly Beach Park adjoins 400 linear feet on the west side of the pier.
Read more: Fantastic Fishing Piers Near Destin
If you want to try your luck fishing, you may reel in Flounder, Pompano, Spanish mackerel, Whiting, Bluefish, and Redfish. You'll need a big rod for larger catches of King Mackerel, Tuna, Cobia, and Mahi! Rods rentals, bait, and tackle are available on the pier. General tickets are $6 for ages six and up while children under six are free. Tickets are only $3 for Spectators who aren't fishing, Senior Citizens 65+, Active Military Personnel, and the Disabled.
Pier Park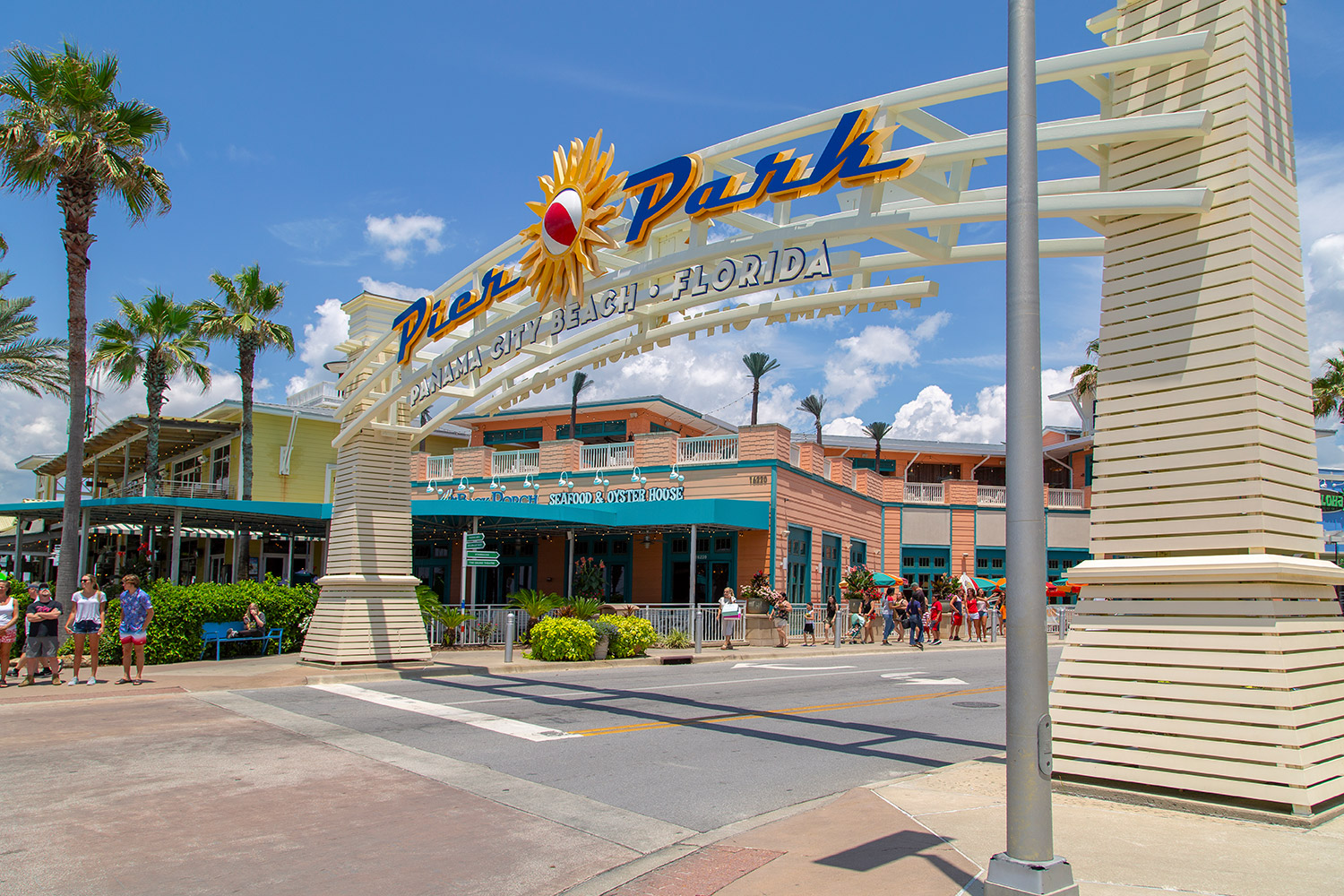 The park adjacent to the long pier is naturally named Pier Park and has become one of the trendiest hot spots to visit in the area. Over 1,000,000 square feet of retail or restaurant space and 125 places to choose from is enough to satisfy even the most ardent "Power Shoppers." Visitors named Pier Park as one of the Top Ten Attractions in Panama City Beach and give it a 4.6 Star Rating on Google Reviews out of 10,701 votes. Two-thirds of the reviewers rate it as "Excellent" with remarks like "A must see!", "Beautiful, colorful, cheerful and tropical," "many wonderful shops and restaurants that are Pet Friendly," "always have a great time at Pier Park," "so many fun shops and things to do," and "This place is amazing!"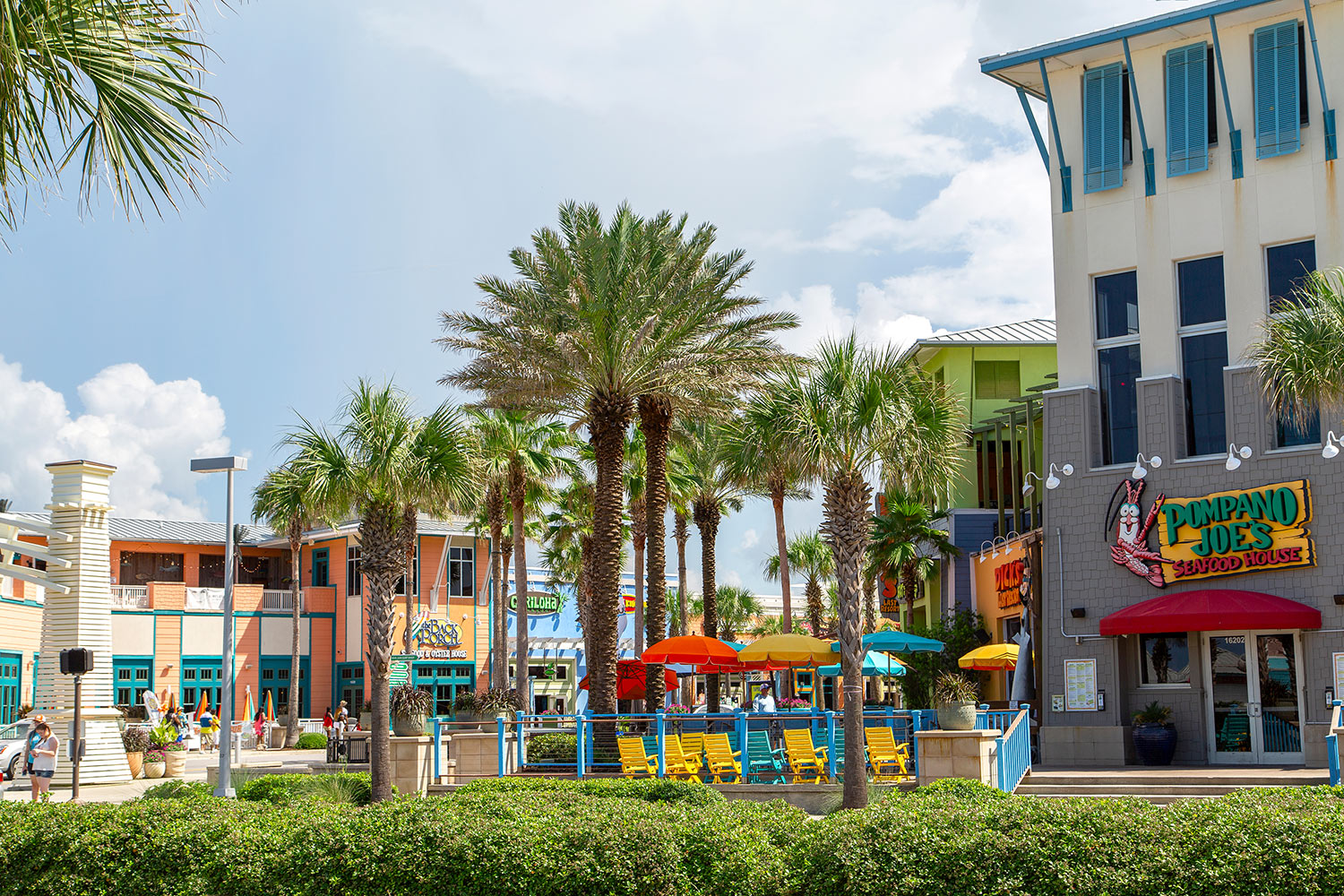 Palm-lined pedestrian-friendly boulevards extend from a giant shopping outlet complex anchored on Highway 98, which includes a Dillard's Department Store, JC Penney, Old Navy, Forever 21, and a Grand Imax Theatre. A wide assortment of retail shops, restaurants, friendly bars, and outdoor cafes line each side of the main palm-lined boulevard leading to the pier. Retail stores include the following categories: Animal & Pet Supplies; Clothing for Men, Women, Teens, Children, Toddlers & Babies; Decorative Arts; Electronics; Eyewear; Handbags & Luggage; Healthcare; Household Goods; Jewelry; Specialty Gourmet Food Items; Sporting Goods and Toys & Games.
At the very end of the boulevard near the pier is Jimmy Buffet's Margaritaville Restaurants that overlooks the beach. He sometimes makes an appearance here. Next door is a popular laid back seafood restaurant that originated years ago in Destin called The Back Porch Seafood & Oyster House. Both have a wonderful laid back casual vibe featuring breezy outdoor decks, frozen tropical drinks, savory seafood, tasty treats, and usually have free live musical entertainment. Not to be outdone, Tootsies Orchid Lounge serves good food and features country music along with dancing. Dave & Busters is a giant sports bar with huge wall screen TVs, video arcade games, drink specials, burgers & bar fare, and loads of fun. The Brass Tap serves over 70 drafts and 120 bottled brands of beers along with burgers or sandwiches. Dick's Last Resort continues to serve Southern styled food in a rollicking roadhouse setting. Other popular restaurants include the Angry Tuna Seafood Company, Chipotle Mexican Grill, Longhorn's Steakhouse Olive Garden, Osaka Japanese Hibachi Steakhouse & Sushi Bar, Panera Bread, and Pompano Joe's Seafood. Many other eateries are available for hamburgers, hot dogs, pizza, sub sandwiches, BBQ, bakery items, and ice cream. They include Auntie Anne's Pretzels, Buffalo Wild Wings Sports Bar, Chicken Salad Chick, Dickey's Barbeque Pit, Dippin Dots Ice cream, Five Guys Burgers, Great White Pizza, Hana Japan, Kilwin's Chocolates & Ice Cream, Jimmy John's Sandwiches, Nathan's Famous Hotdogs, Maple Slab Creamery New York Pizza & Grill, Red Robin Gourmet Burgers, Shoney's, Starbucks and Yard Milkshake Bar.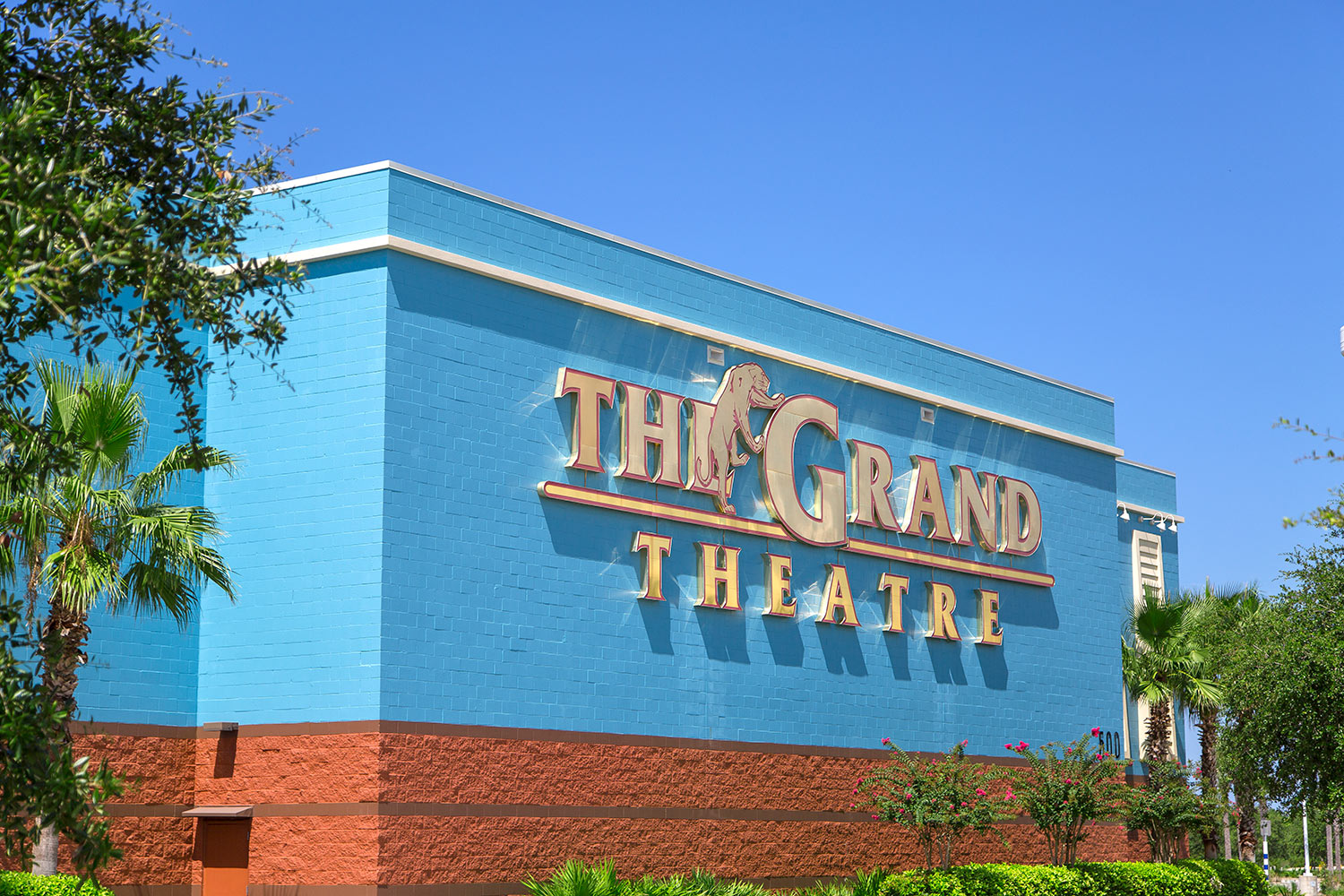 The Grand IMAX Theater provides perfect entertainment for the hottest time of the day, when occasional inclement weather occurs or during the evenings. This state of the art theater includes stadium seating with high backed rocking chairs, wall to wall screens, sophisticated surround sound systems, and a Video Arcade Game Room.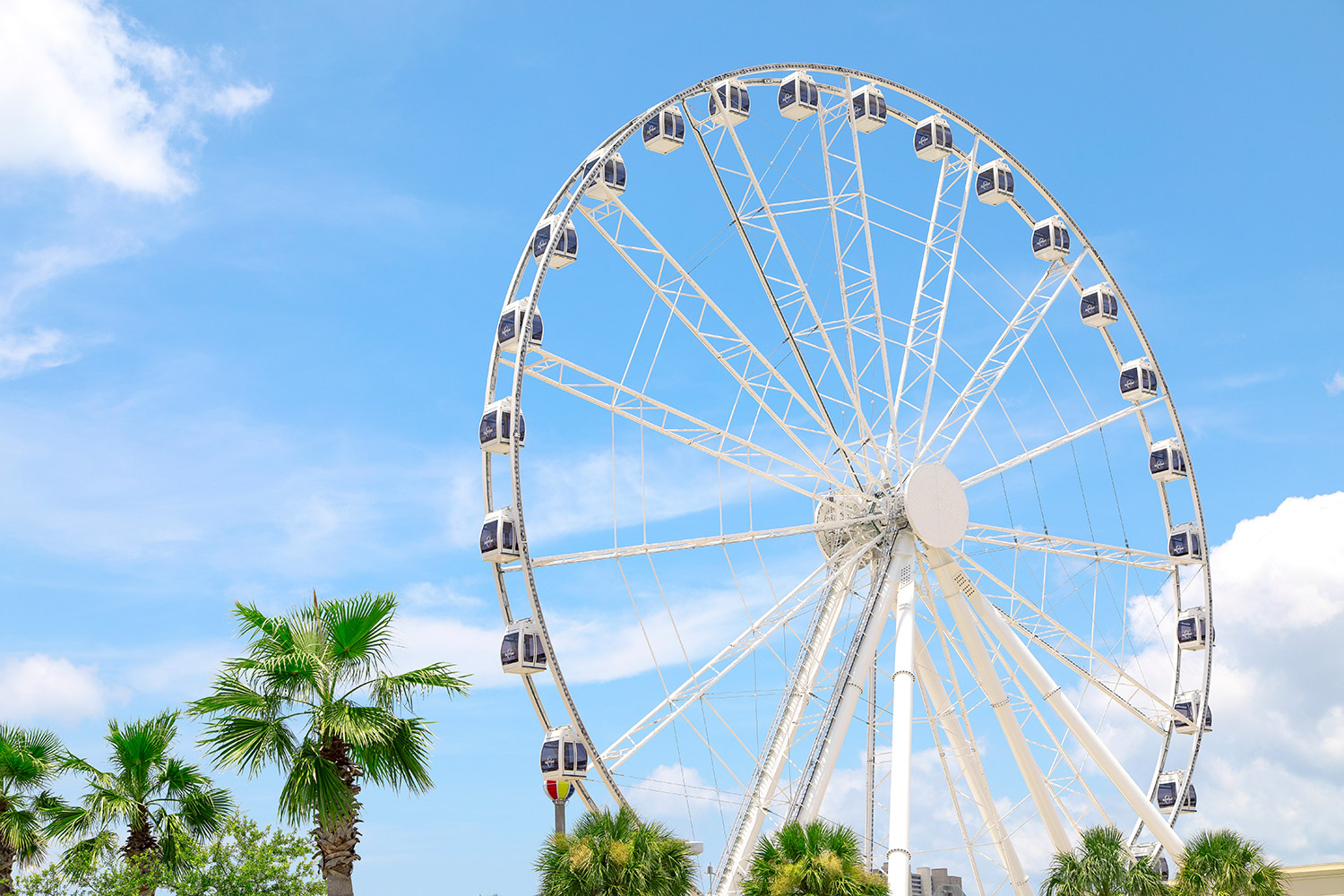 An Amusement Park features an eighteen-hole miniature golf course, a Sky Trail Adult Ropes Course, a Tykes Ropes Course, and a giant 200' tall SkyWheel that is in the center. Thirty climate controlled fully enclosed glass-walled gondolas take your group high into the sky circling around in Ferris wheel fashion to relish the impressive views. An Emerald Coast Mirror Maze and Laser Tag features a 2,300 square foot seemingly endless House of Mirrors with vibrantly colorful lights and a mind-blowing sound system. A separate Laser Race challenges you to maneuver as quickly as you can through a lighted maze without being zapped too many times and penalized. A Pirate's Quest includes twelve people who suit up in vests with eight LED colored flashing target sections and enter a 1,800 square foot "pirate ship." Mist fills the room so you can see every laser shot. If you get beamed by another, your vest vibrates right where the laser hits!
Pier Park Events
Pier Park is becoming famous for special firework celebrations, free open-air concerts, and fun festivals throughout the year, especially during the summer. Typical festivals include:
"Pirates on the High Seas Festival" Columbus Day Weekend with live music, pirate costumes & parades, a pirate's bar crawl, fireworks, and an 8,000 beach ball drop!
"Brew n Boo" Beer Festival with sixteen local and national breweries serving over fifty beers while live music provides entertainment. General tickets are $25 with VIP tickets at $35.
"Pier Park Spooktacular," a free event with sweet treat pit stops at retailers, a Pet Parade, a costume parade, and live music. If you don't have a costume, Mall Management will provide one for you and your children to pick out, courtesy of donations obtained by Pier Park's Costume Drive.
"Pier Park Seafood Festival" serving fresh Gulf caught delicious delicacies from the best area restaurants.
"Pier Park New Year's Eve Beach Ball Drop" This annual famously fun event kicks off with lots of activities, live music performances, a Beach Ball Drop of many thousands, and a fantastic fireworks extravaganza to light up the skies!
Where to Stay Near Pier Park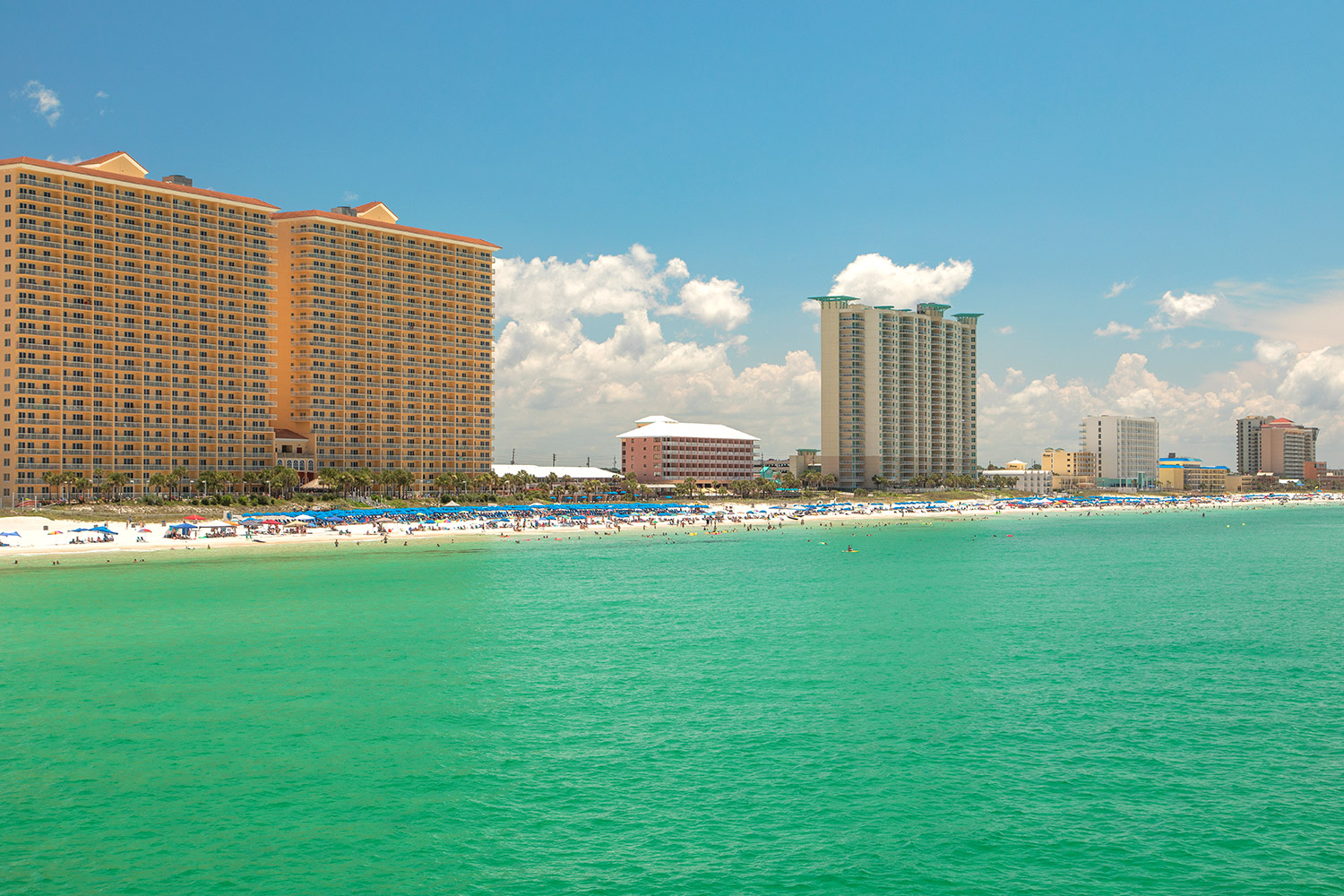 Ocean Reef Resorts has fine distinctive Panama City Beach vacation rental properties very close to Pier Park, and just minutes away from our rentals on Scenic 30A. It makes a fun "day trip" from Miramar Beach and Destin since it only takes a little bit over an hour to get there. Enjoy taking a look at our very user-friendly website to choose a "beach home away from home" that best suits your family and friend's needs. Vivid photo images, detailed descriptions, lists of property amenities, aerial satellite location views, various rental rates throughout the year, and calendar availability are shown for each. Make a reservation soon to come down to experience Pier Park during a part of your stay so you may enjoy angling adventures, shop till you drop, eat, drink, and be merry!
Read more: Destin Day Trips to Panama City Beach