Posted on 5/29/2018
A majority of our guests rent one of our distinctive private vacation homes or luxurious condominiums for some fun in the sun. Florida is called The Sunshine State for a good reason as almost every day is sunny and rain rarely stays for long. Even on those days when it does rain, the sun usually peeks out a few hours later and often has a rainbow in tow. However, even here in paradise, it does rain from time to time, and the sugar white beaches, championship golf courses, and professional tennis courts are abandoned for other pursuits. It is often a time to squeeze in some shopping, catch the latest blockbuster movie, knock down some pins bowling, have some fun with the kids at the arcade, or enjoy a spirited game of laser tag.  Fortunately, you can do it all here in Destin! So here you have it, these are our suggestions for some delightful diversions until the sunshine returns to Destin.
Shopping & Entertainment at Destin Commons
One of the most obvious choices for a rainy day in Destin is to take in a good movie. You will be happy to know that AMC offers first run productions at its theater located in the heart of Destin Commons. This Disneyesque retail village is located on the northeast corner of Highway 98 and the Mid Bay Bridge Road in Destin. This theater boasts 14 screens and all of them are digital and state of the art with the capacity to offer 3D productions on large IMAX type screens.  The theaters provide comfortable, multi-tiered stadium seating with full unobstructed views of the screen in high backed chairs. In addition, numerous speakers deliver sensational surround sound to complete the total movie-going experience. AMC is an acclaimed industry leader with over 300 fine theaters across the nation welcoming over 200 million guests per year. Fun fact, they were the first to invent the multiplex cinema years ago as well as the stadium seating concept complete with comfortable chairs with beverage holders.
Watch Movies at Boulevard 10
If you are planning to stay at one of our vacation rentals in Miramar Beach, at the Sandestin Resort or down along Scenic 30A in South Walton, you will be pleased to know that a new theater has opened. It's located on Grand Boulevard, which is considered Sandestin's Town Center. The Boulevard 10 offers a truly luxurious cinema with over 40,000 square feet of space that may accommodate up to 1,800 theater-goers. It includes a "Big D" large screen format that goes from wall to wall and floor to ceiling. The screen which measures 60 feet in width and over three stories tall is the first of its kind in the entire state of Florida. There are only fourteen theaters like it anywhere in the nation. State of the art, top of the line surround sound system along with the giant screen should make blockbusters and action movies a particularly thrilling experience. Plush leather high backed chairs will rock and are tiered with true stadium seating. The theater also features a private "Ovation Club" screen room for a more romantic and intimate movie-going experience. This private screening room also has plush leather seating for up to 120 but with swing around tables. While enjoying the movie, patrons are able to consume premium food offerings made to order along with delectable appetizers, adult beverages, and signature desserts.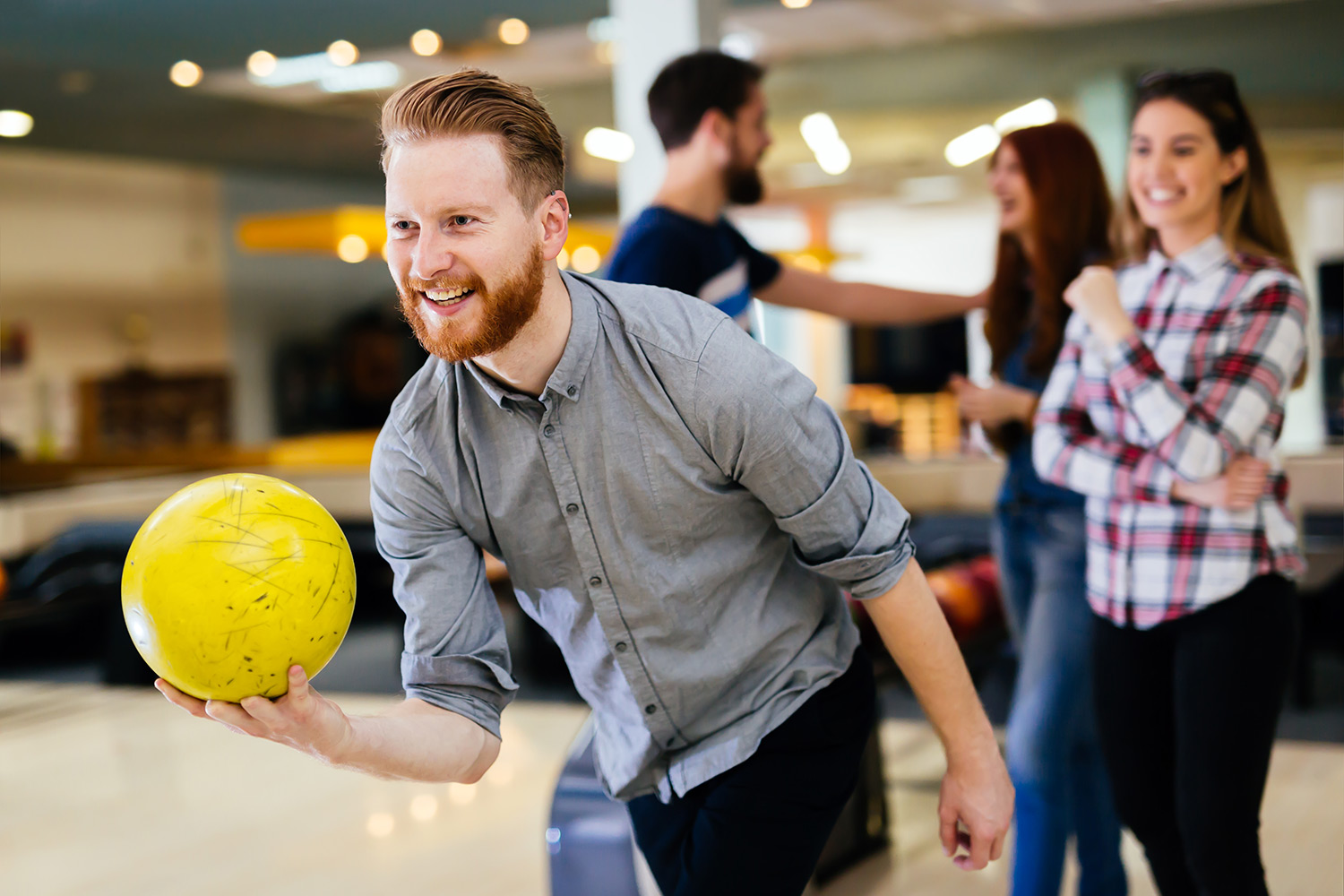 Go Bowling at Hurricane Lanes
If you're in the mood for a lot of rainy day fun and a little exercise you may join your family and friends at Hurricane Lanes, Destin's original bowling alley. It is located on the southwest corner of Highway 98 and Matthew Boulevard, just an arrow's shot away from Destin Commons. This 26 lane bowling complex includes twelve neon lighted pool tables at Rupert's Sports Bar which features Happy Hour from 3:00 to 6:00 pm daily and offers long neck beers for $2 with well drinks available for $3. Hurricane Lanes offers special Birthday Packages for the kids which includes two hours of bowling, a couple of pizzas, all the soft drinks they can drink and a quarter-sized sheet cake.  At 8:00 pm the lanes are all bathed in black light which creates an ethereal, otherworldly experience for tweens, teens, and adults alike. Late night bowlers will enjoy a $10 special that starts at 11:00 pm and includes the shoe rentals. You may bowl at this set price until the bowling alley closes at 2:00 am. Hurricane Lanes is connected to a popular bar called Club LA. The LA in this name stands for "Lower Alabama" by the way, and there is usually a rollicking crowd there. There are two full bars, free pool and ping pong tables, a huge dance floor, a DJ spinning tunes and they often feature live bands for musical entertainment. Since this complex features diversions for young and old alike, it is a great place to go with the kids while you enjoy some time with your own peers. Hurricane Lanes is open on Mondays from 11:00 am till 2:00 am; Tuesdays thru Thursdays from 11:00 am till Midnight; Fridays and Saturdays from 11:00 am till 2:00 am and on Sunday from 11:00 am till Midnight.
Indoor Fun at Fat Daddy's Arcade
Another delightful Destin rainy day diversion can be had at Fat Daddy's Arcade, which is just west of Hurricane Lanes but on the north side of Highway 98 near Fudpucker's Bar and Grill. This 7,000 square foot facility is near "Gator Beach" at the popular and iconic Fudpuckers Restaurant next door. (And yes, there are real alligators there!) Here at Fat Daddy's Arcade, you will find family entertainment deluxe, naturally becoming a popular destination for kid's birthdays. The arcade offers over 65 video games ready to play which include the latest and most popular versions. These include Guitar Hero, Jumping Jackpot, Big Buck Hunter Open Season, Terminator Salvation, The Fast and the Furious and many others. There are also a number of racing games, Skee Ball and Free Basketball Toss. Challenging, fun interactive games for prizes include Coin Pushers, Prize Claws, Barber Cut, Hoops, and Deal or No Deal. Lucky winners receive prizes of candy, toys, bicycles, and iPods depending upon their skill.
Destin Laser Tag
Another fun and unusual entertainment venue that is perfect for rainy days is Destin Laser Tag, located upstairs from the Sunsations Beach Store and right next door to Fat Daddys. Laser Tag has become increasingly popular over the years since it made its first debut back in the 1980s. Players attempt to "tag" targets with devices that emit infrared lasers with other participants who wear infrared sensitive vests. It is played indoors, so it is perfect for a rainy day for both kids and those who are young at heart. The Destin Laser Tag facility also has games of Glow in the Dark Mini Golf in the same building, so it has become another very popular destination for kid's birthday parties. Regular Laser Tag game rates are $7 for one game, $13 for two games and $16 for three.  Glow in the Dark Mini Golf rates are $7 per game but only $4 per game for children under eight years of age. The special Birthday Packages go for $13.50 per person and include two games of Laser Tag or Glow in the Dark Mini Golf or one of each. The cost also gives you a Party Room for two hours of use and each party goer receives a 20-ounce soft drink of their choice. Large pizzas can be included for an additional $9 each. Destin Laser Tag operations are open from Noon till Midnight on every day except Wednesdays when it is open from 9:00 am till Midnight.

Then, of course, you always have one other option on that occasional rainy day or evening.  You may want to just curl up on the couch and watch an exciting action movie, a warm romantic comedy or a compelling drama while staying here in your home away from home. All of our fine Destin Vacation Rentals include DVD players or Blu Ray devices so that you may enjoy watching the very latest new release or a beloved classic.   So don't get discouraged on that occasional rainy day in Destin since now you know there is still plenty to do. Don't forget to look for that rainbow. It will be out soon!