Posted on 3/18/2011
When Ocean Reef Resorts was established almost thirty years ago, it was very different here along the Emerald Coast. At that time, everything along the pristine, jewel toned waters of the Gulf of Mexico here was considered Destin. This included not only the city itself but also the sprawling, spectacular sands in neighboring South Walton County and extended down towards Panama City Beach on what is now known as Scenic 30A. Villages like Harborwalk, Miramar Beach, Baytowne Wharf, Watercolor, Seaside, Watersound, Alys Beach, Seacrest and Rosemary Beach were yet to be built. It was all Destin back then. Emerald Coast Parkway was non-existent except for a short four lane link which heralded your approach to the new Sandestin Resort. Instead there was good Old Highway 98, a two lane road that went from east to west across the center of the peninsula until it crossed into present day Miramar Beach. At this junction, across from present day Silver Sands, it curved down towards the beach and went along the coast all the way to Destin. This same two lane road is all that is left of Old 98 and due to the gorgeous gulf vistas it is now known officially as Scenic Gulf Drive. Ocean Reef manages a huge variety of beautiful private vacation homes and luxurious condominiums along this stretch. Due to its intrinsic beauty, Scenic Gulf Drive is now a second home to many of our Ocean Reef guests who periodically reside in these privately owned luxury high rise condos, cute cottages or beachfront mansions.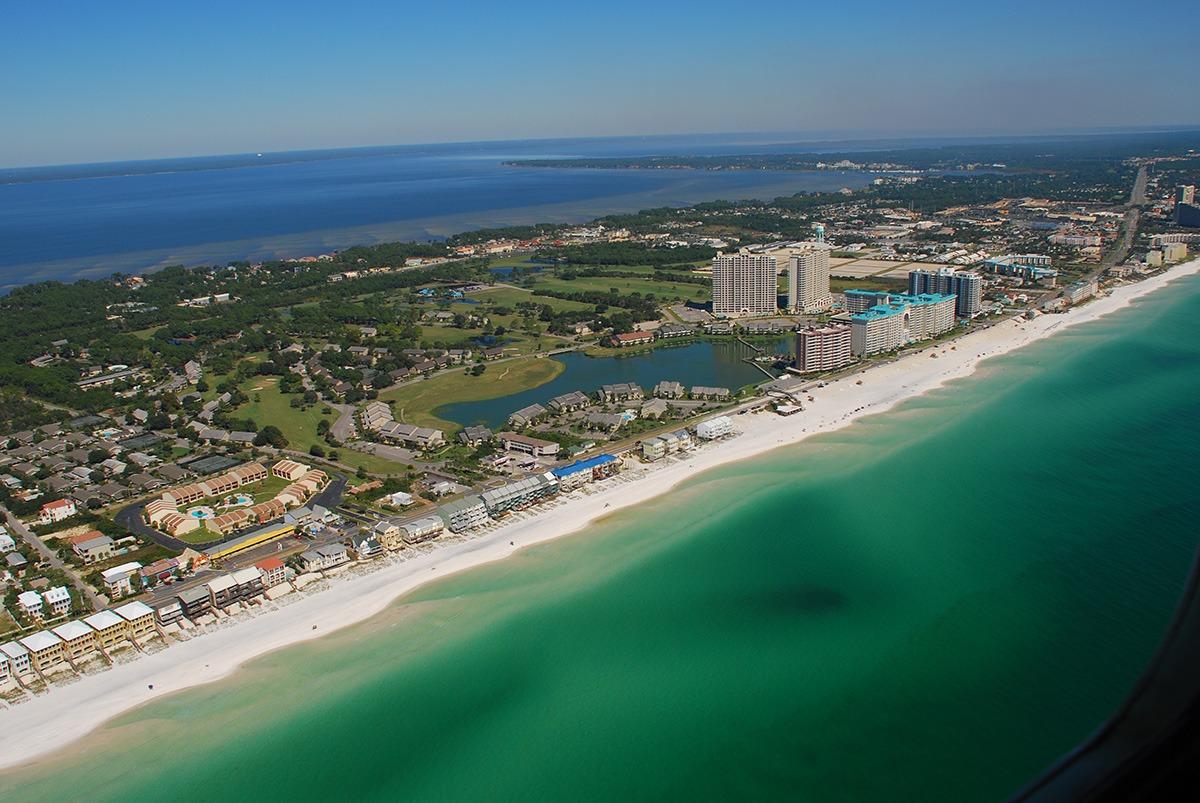 As you travel westward here from Emerald Coast Parkway, you are able to experience what it was like to travel on Highway 98 as a two lane road, before paradise was found and developed. Now, it's almost hard to believe that this two lane road was all that connected Destin east and west until the mid 1980s.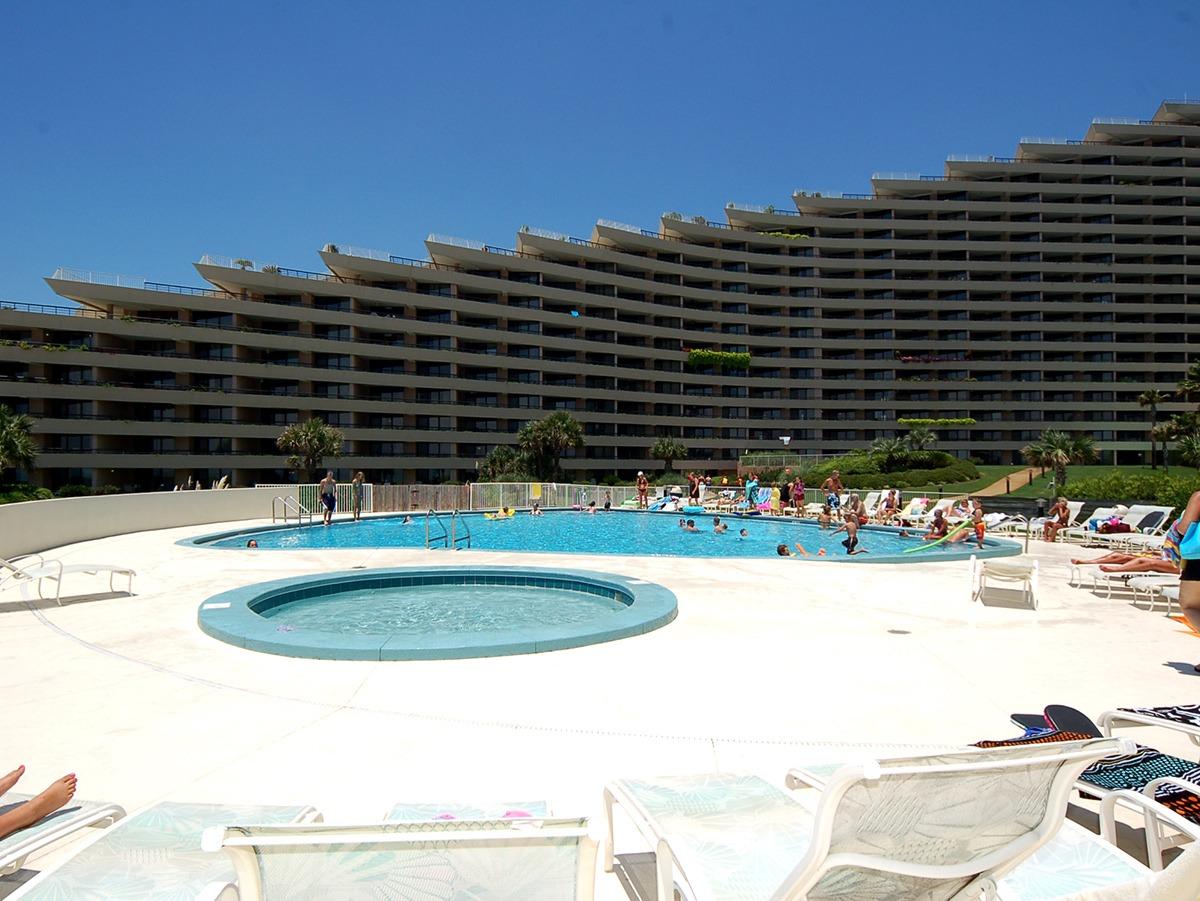 At the far eastern side of Scenic Gulf Drive is the Edgewater Beach Resort. This architectural treasure and monumental landmark resembles a docked luxury liner with sleek curved lines, wrap around balconies and open terraces that face the gulf. Edgewater is up lighted at night for dramatic effect which really highlights the ship-like shape. During the day you notice the plantings that hang down on each balcony giving it an almost "Hanging Gardens of Babylon" type feel. The impressive design was cloned from an original design which actually sits on the French Riviera. The entire building embraces a tropical, lushly landscaped setting on the beach side with expansive lawns, clustered "islands" of palm trees, a Japanese Koi pond and two swimming pools.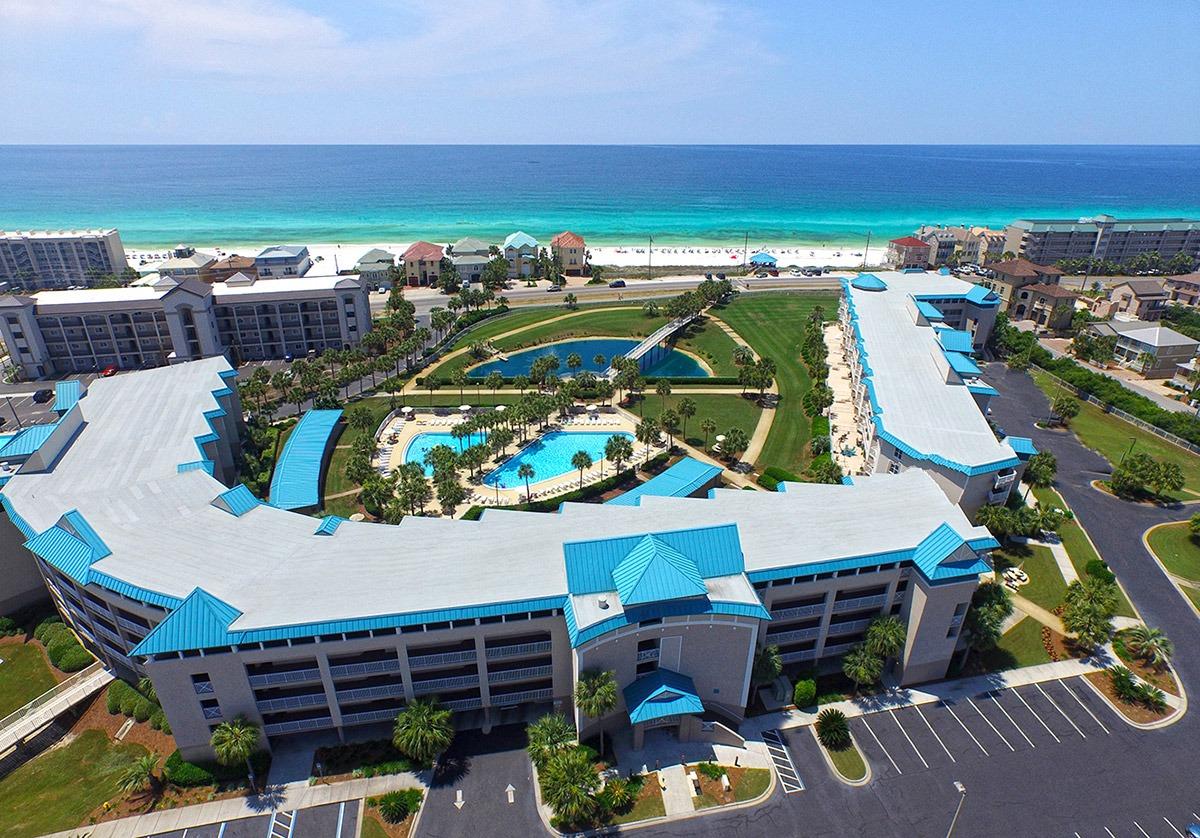 As you continue westward from this point, there is a gentle rise to the top of an old sand dune which marks one of the highest points along the coast. Here you can see views of the beach all the way to Destin which is particularly dazzling when spectacular sunsets fill the entire sky with an abundance of translucent color. Immediately to the right is the awesome Amalfi Coast Condos. This popular resort sits on eight and one half beautifully landscaped acres with two large swimming pools which are accented by a natural lagoon. A long bridge connects across these waters to Scenic Gulf Drive where an old fashioned gazebo provides access to the 120 yards of beach frontage below.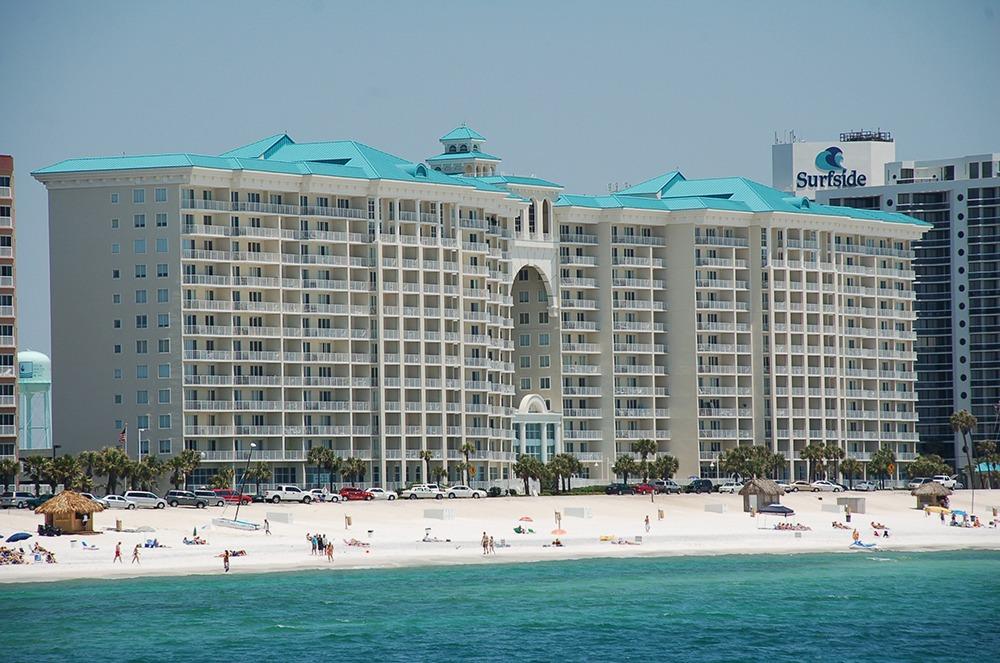 Traveling down the rise of the dune continuing towards Destin you come to a newly landscaped and palm studded boardwalk with beach side parking. This sits across from the Majestic Sun which soars up like a giant sand castle of sorts with a magnificent arch connecting both sides of this upscale condominium tower. Under this spectacular arch is an indoor swimming pool with cathedral ceilings that shoot up three stories tall and an entire wall of glass that looks out onto the gulf beyond. You can literally swim out from this room to a waterfall that cascades down to the pool below. Here the spacious poolside terrace with two hot tubs offers views of the shimmering white beach and the emerald green waters that extend out towards the southern horizon.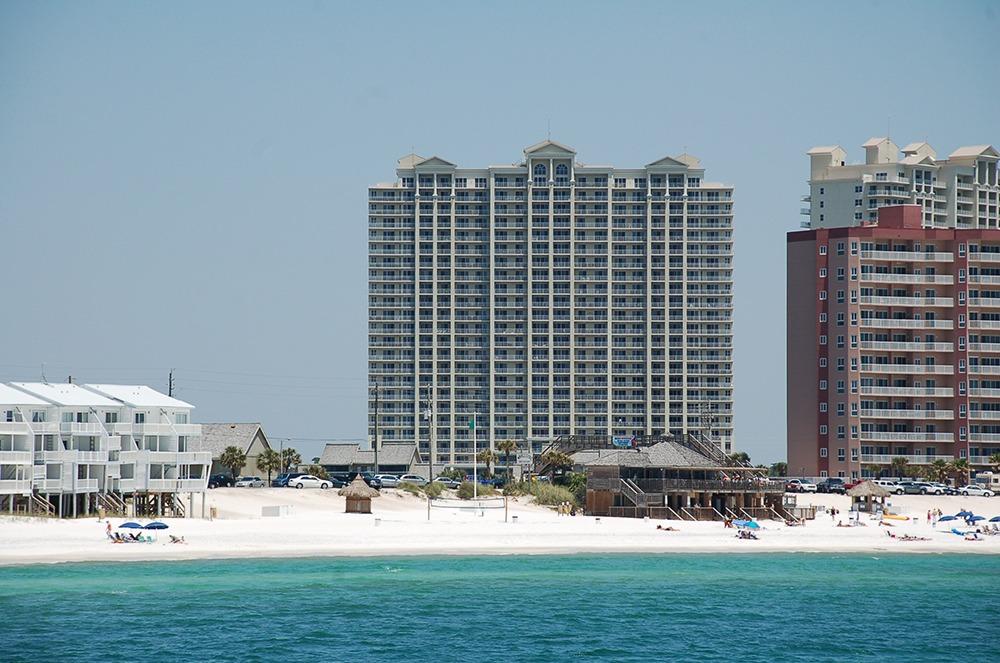 Majestic Sun is a part of the Seascape Golf and Beach Resort which comprises over 300 acres of landscaped forest, natural lagoons, an eighteen hole golf course and a professional tennis complex. It features 2,000 linear feet of white quartz crystal beach, (that's over six football fields in length). A fun place for fish sandwiches and cold beverages is located at the end of this beach that is named "The Whale's Tail." The covered and open air dining on the outdoor deck is a great place to take in all of the beach action while watching volleyball games, water sports or the big waves rolling in on a windy day. This resort is also home to two towers, Ariel Dunes I and Ariel Dunes II. These luxury high rise buildings face the beach and are inspired by the kind of design you might see in Las Vegas. Each tower is completed with columned tops that look like miniature, ancient Greek or Roman temples. One faces south and the other southwest to take advantage of the awesome, sun splattered water views. The Seascape Resort is also home to The Empress, a low occupancy condo building with oversized units. The Seascape seventy-one par golf course was designed by architect Joe Lee and meanders across exotic and unique coastal dune lakes with views of the gulf in the distance. The expansive grounds share additional large swimming pools and a nationally renowned tennis complex with a professional staff of instructors.

Proceeding west from here you pass the enclaves of Maravilla and the palm rows marking Frangista Beach with beautiful single family residences of all sizes, designed in various styles. Further along you come to the gorgeous setting at Mediterrenea. This Tuscan styled building has a 3,000 square foot heated pool with a huge patio that overlooks the landscaped grounds, the gulf and a gazebo that connects to the beach below. Beyond this is Pompano Joe's Restaurant and another big boardwalk with an abundance of parking and beach access. This rustic, funky restaurant specializes in fresh fish dishes and is perched on a dune that offers gorgeous water vistas and a beach side bar below. Another restaurant further down Scenic Gulf Drive is Captain Dave's which sits next to the Okaloosa/Walton County line. This popular spot is an original and was the first seafood restaurant to have been built here when nothing else was around. They specialize in a "Choose Two" combo of delicious fresh seafood dishes.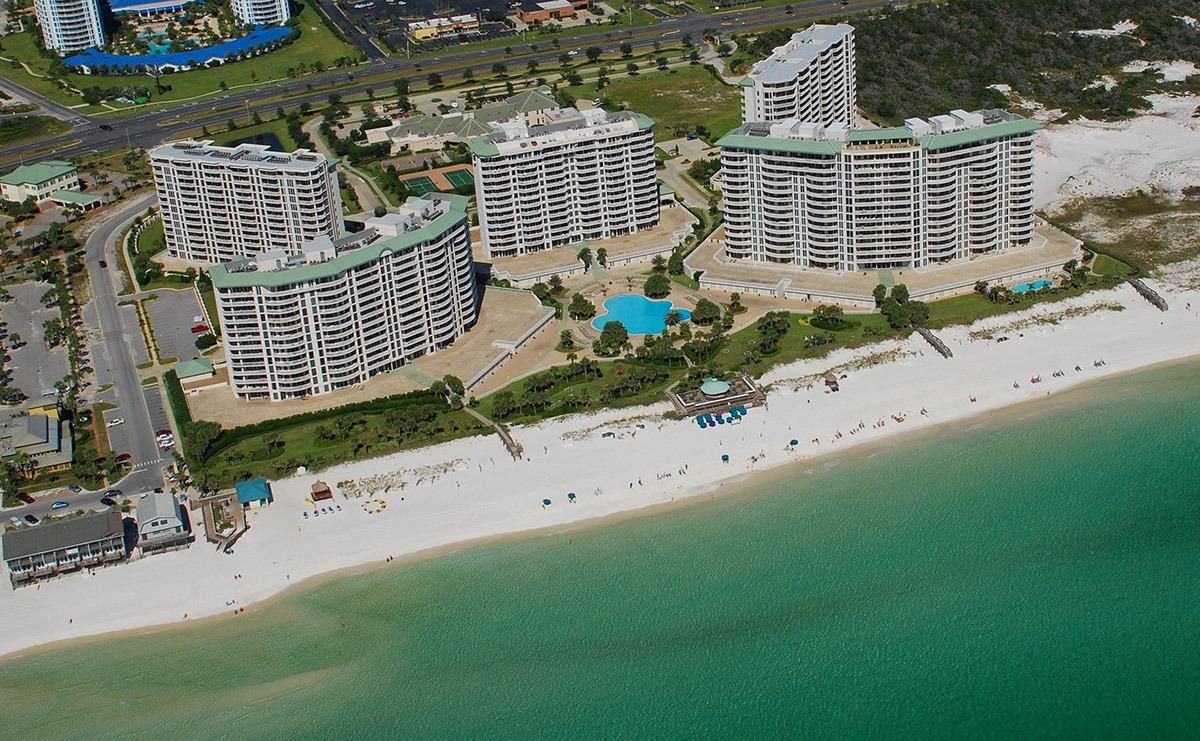 Just to the west of this locale, there is curve in the road that was not there originally and accommodates Destiny by the Sea, one of the gated enclaves of the master planned development called
Destiny
. This community of luxurious Mediterranean inspired mansions surrounds a coastal dune lake and is next to the James Lee Park which is located along the beach. Here after the curve, the road goes back to the Old 98 version which runs straight along the beach but now dead ends at the Henderson Beach State Park. Originally, the highway continued here all the way to Destin coming out on the other side of the beach side park near the present day, multiple luxury towers of
Silver Shells
. When Emerald Coast Parkway was completed, this original connection was eliminated, (amidst great controversy), to provide a more pedestrian friendly beach. It also simultaneously offered future residents, of the then proposed Silver Shells, to have unencumbered views of the park from their luxury suites. The James Lee Park is also the home of
The Crab Trap
restaurant. This Victorian styled structure looks like a charming seaside inn with a long promenade along the beach that connects several picnic styled pavilions at each end. The restaurant has been featured in Southern Living and Coastal Living magazines. They are known for their award winning gumbo.
Continuing down the road you arrive in the residential vacation community of Crystal Beach. There are lots of quaint looking cottages here along with their large beach front brethren. Most of these rentals are designed reminiscent of old Florida styled homes, many with a Victorian look. These homes usually have picket fences, breezy front porches and lots of architectural detailing. There are also upscale condominiums like The Inn at Crystal Beach where suites look out over the gulf and are right on the beach. Two more restaurants can be found here. The newly opened 790 on the Gulf is at the inn itself and serves everything from seafood to comfort food. Their unusual menu includes tuna steaks, crab cakes, shrimp, meat loaf and fried chicken along with a variety of gumbos. A little further down you have Camille's which has an elegant Italian interior along with outdoor dining on a covered deck. It is owned by local resident Charles Morgan who originated the ever popular Harbor Docks in Destin. Camille's is named after his mother and features savory pizza, BBQ shrimp, fried green tomatoes and even sushi.

Ocean Reef Resorts is very pleased to be able to offer so many fine vacation rental properties along this stretch of Old 98, now known as Scenic Gulf Drive. Our private residential selections include everything from sleek high rise luxury towers or gulf front Mediterranean mansions to cozy, Florida styled beach cottages. Some of our guests have been coming here for years, even before the four lane was completed. One thing has never changed. Highway 98 always was and still is a "scenic gulf drive" along this route. No wonder it is so aptly named.