Posted on 11/24/2020
Ocean Reef Resorts is pleased to offer a number of privately owned, distinctive vacation home rentals available for our visiting guests along Scenic Gulf Drive in Miramar Beach. This gorgeous route runs right beside the glittering jewel-toned waters of the glowing Gulf and provides an idyllic destination for fortunate visitors. This two-lane road was the original Highway 98 and went from the Sandestin Golf and Beach Resort to Destin until Emerald Coast Parkway was completed in 1987. Old Highway 98 in Miramar Beach officially became known as Scenic Gulf Drive due to the natural splendor along this route. Since that time, luxury residential towers and Gulf-front mansions have sprung up along this sought after sugary shoreline. Many of our esteemed guests have made it an annual family tradition for the past 40 years to bring their families here for an awesome time at the beach.

Besides the natural beauty, this location in the heart of Miramar Beach is close to all sorts of delightful activities. The Seascape Resort championship golf course and professional tennis center are on this route with special reduced rates offered to our Ocean Reef Resorts guests. This great locale is nearby area grocery stores, wine shops, and the Silver Sands Premium Outlets, which features bargains on a wide array of world-class goods. Wonderful restaurants with friendly beach bars grace the bright white shoreline here with their presence and provide magical dining experiences. All of them are only minutes away along Scenic Gulf Drive, and many are just a short stroll right down the beach from our vacation homes. Favorite beachfront restaurants located along this scenic route running from east to west include The Surf Hut, the Royal Palm Grill, the Whales Tail, Pascalli Kitchen, Kenny D's, Captain Dave's, The Crab Trap, and Pompano Joe's. The enchanting New Orleans French Quarter inspired Village of Baytowne Wharf, and swank upscale Grand Boulevard are minutes away in Sandestin. They both feature various great restaurants, rollicking bars, specialty shops, fashion boutiques, open-air concerts, fun festivals year-round, and exciting, colorful seasonal firework displays.
Related Article: Staff Picks: Best Destin Seafood Restaurants

If you are desirous of renting a beautiful private vacation home along Scenic Gulf Drive, we have many wonderful offerings. Some are beachfront vacation homes, and others are right across the drive with lovely Gulf views. Many of them are quite large and can luxuriously accommodate numerous guests due to their size. This makes them an excellent selection for big families or planning a special beach reunion with friends. The following is a brief description of each vacation rental sorted by the largest, which has thirteen bedrooms, down to the smallest home, which has three bedrooms. These homes accommodate between thirty-two down to eight happy beach-going guests. There are 28 homes listed here, and 25 of them come with their own private beach. The other two are beach view homes on Scenic Gulf Drive, so you have an abundant wide array of choices. Please note that some properties with fewer bedrooms have multiple beds, bunks, and sleeper sofas - so they may accommodate as many guests as some with more bedrooms. Enjoy taking a look at each one here on our state-of-the-art user-friendly website, which features detailed descriptions, multiple property images, seasonal rental rates, and calendar dates available to reserve your favorite.
Mer Le Soleil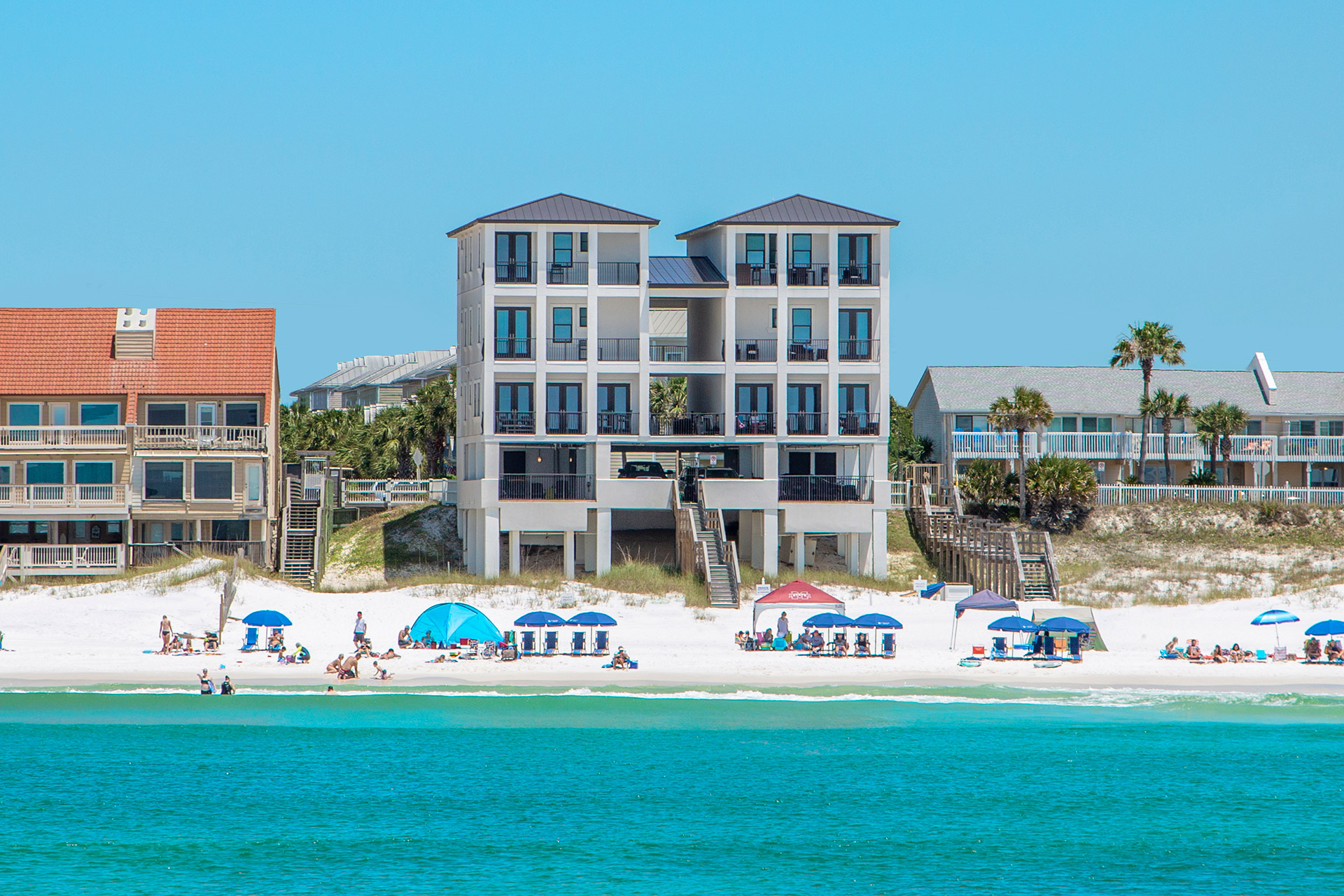 13 Bedrooms / 13.5 Bathrooms / 30 Guests
Mer Le Soleil is the largest beachfront home on Scenic Gulf Drive, with thirteen bedrooms and can accommodate 30 guests. This is a unique family compound that is actually two separate four-story houses connected side by side. It is perfect for a diverse number of your group who may desire a shared beach reunion with separate guest quarters. It is masterfully designed for entertainment, and each section has a Gulf-front pool on the first-floor balcony.
Frangista Breeze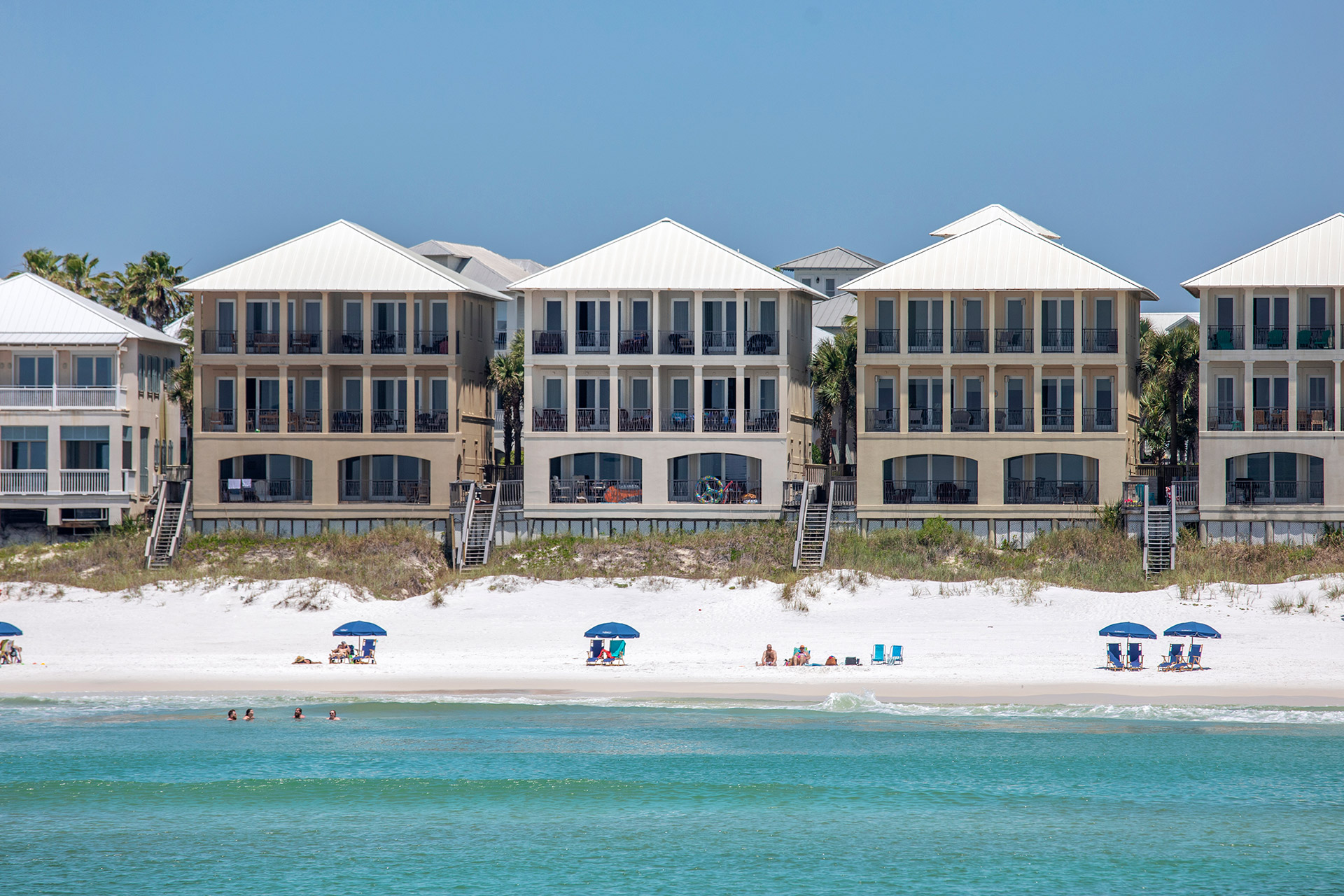 10 Bedrooms / 8 Bathrooms / 32 Guests
Frangista Breeze accommodates the highest number of guests on Scenic Gulf Drive, sleeping 32 beachgoers with ten bedrooms. It is one of quite a few vacation homes that we offer at the prestigious residential enclave called 'Frangista Beach.' These three-story homes all face the glorious Gulf and have access to a lush tropically landscaped community pool, which is available to guests nearby. This is another perfect rental for a reunion of separate parties since it is two homes combined as one. A Plunge Pool is located on each beach level veranda.
Sandcastle Dreams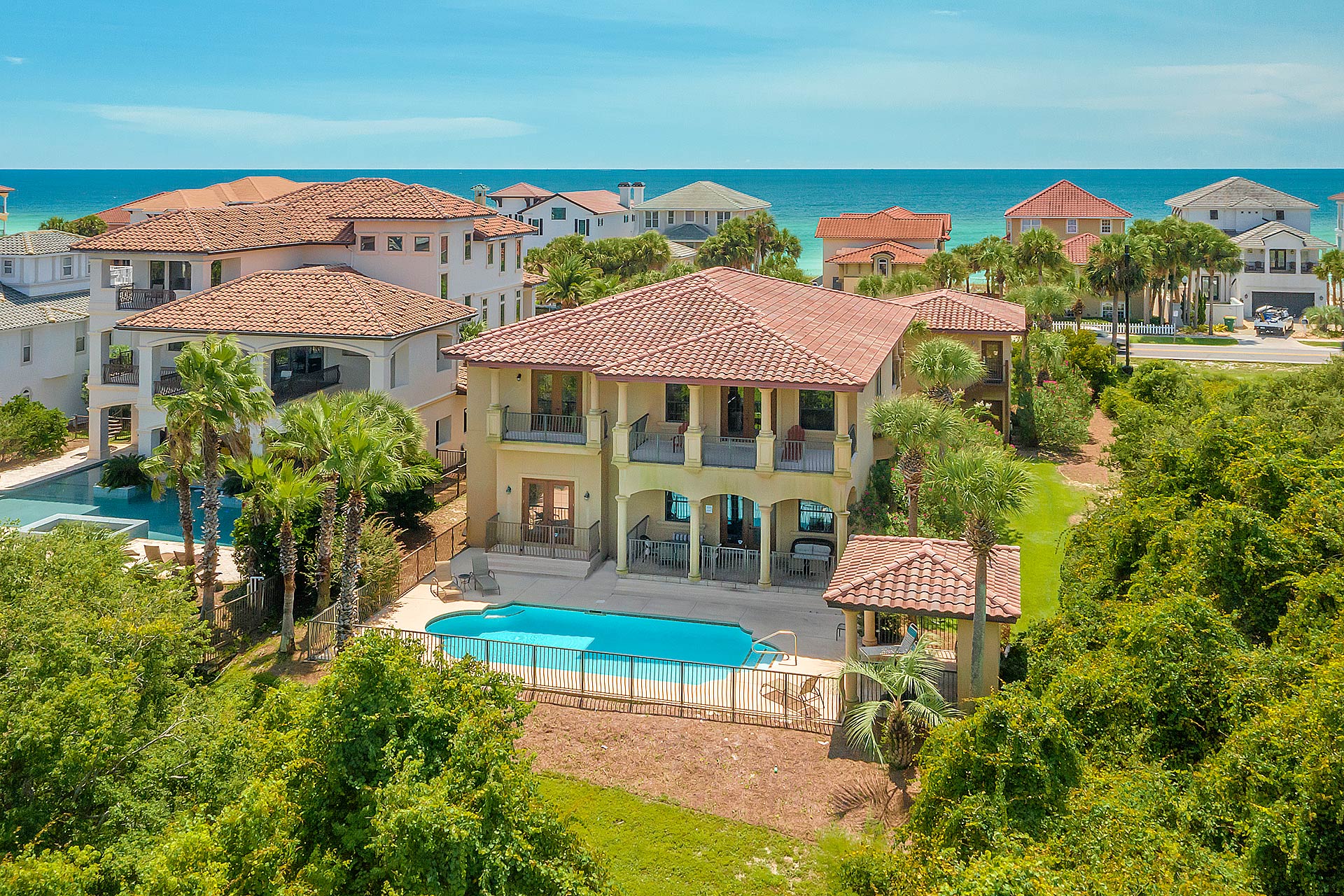 7 Bedrooms / 6 Bathrooms / 22 Guests
Sandcastle Dreams is a regal, opulent Mediterranean styled villa in 'Destiny,' one of the most exclusive residential beach communities. It has seven bedrooms and sleeps 22 fortunate guests. A separate Carriage Guest House with a living area and full kitchen can sleep two members of your party. Besides easy beach access that includes a wide promenade that connects to the popular Crab Trap Restaurant, amenities include a lovely lagoon shaped community swimming pool with a bubbling hot tub, a fitness center, tennis, and basketball courts. This Scenic Gulf Drive home also has its own private swimming pool.
Beach House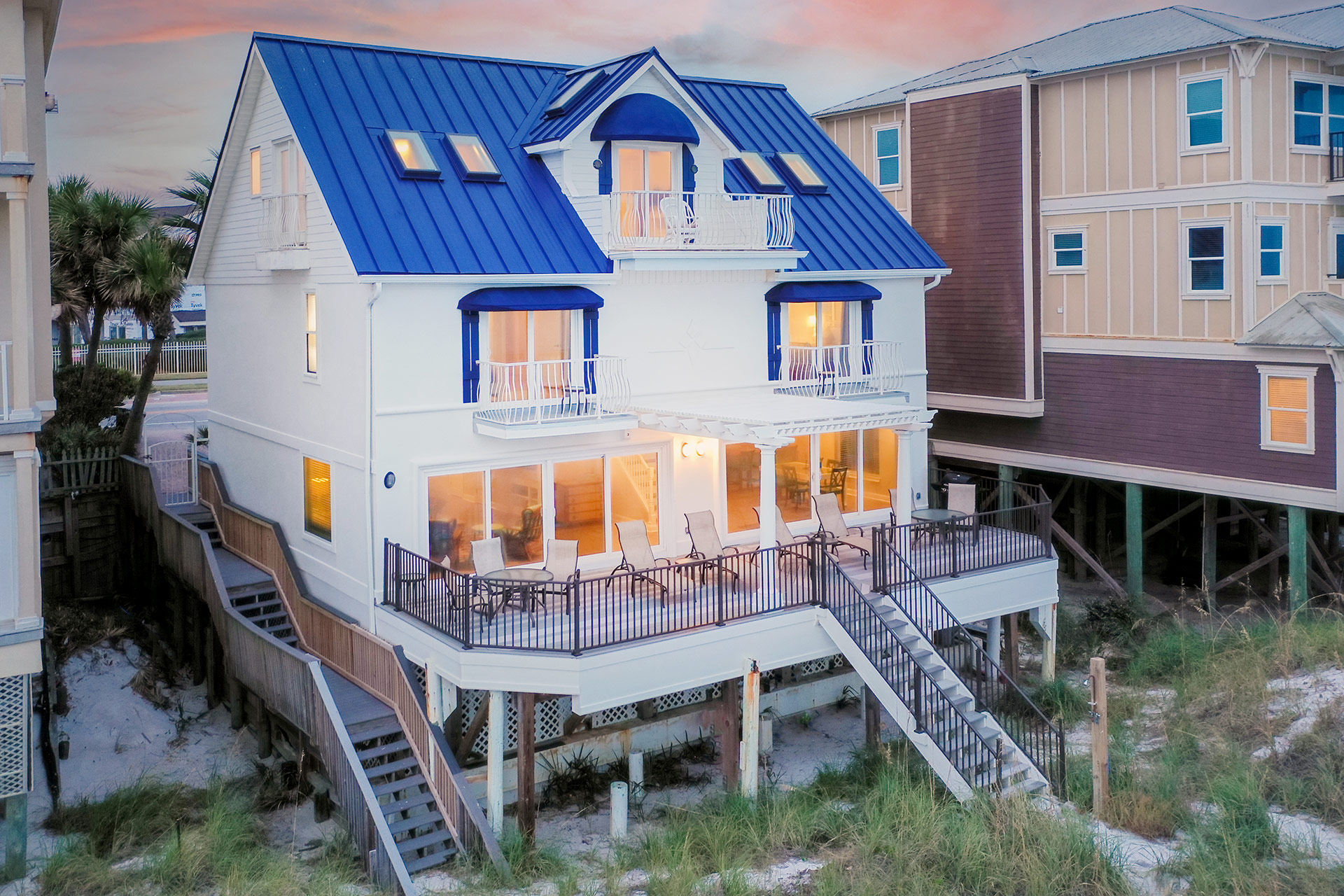 6 Bedrooms / 6 Bathrooms / 20 Guests
Beach House is a large lovely three-story beachfront vacation home encompassing over 4,000 square feet with six bedrooms and the ability to sleep 20 privileged guests. Walls of windows in the open living areas frame the sensational seascape, and glass doors lead out to an expansive breezy beach deck that spans its entire width providing vivid views.
La Mer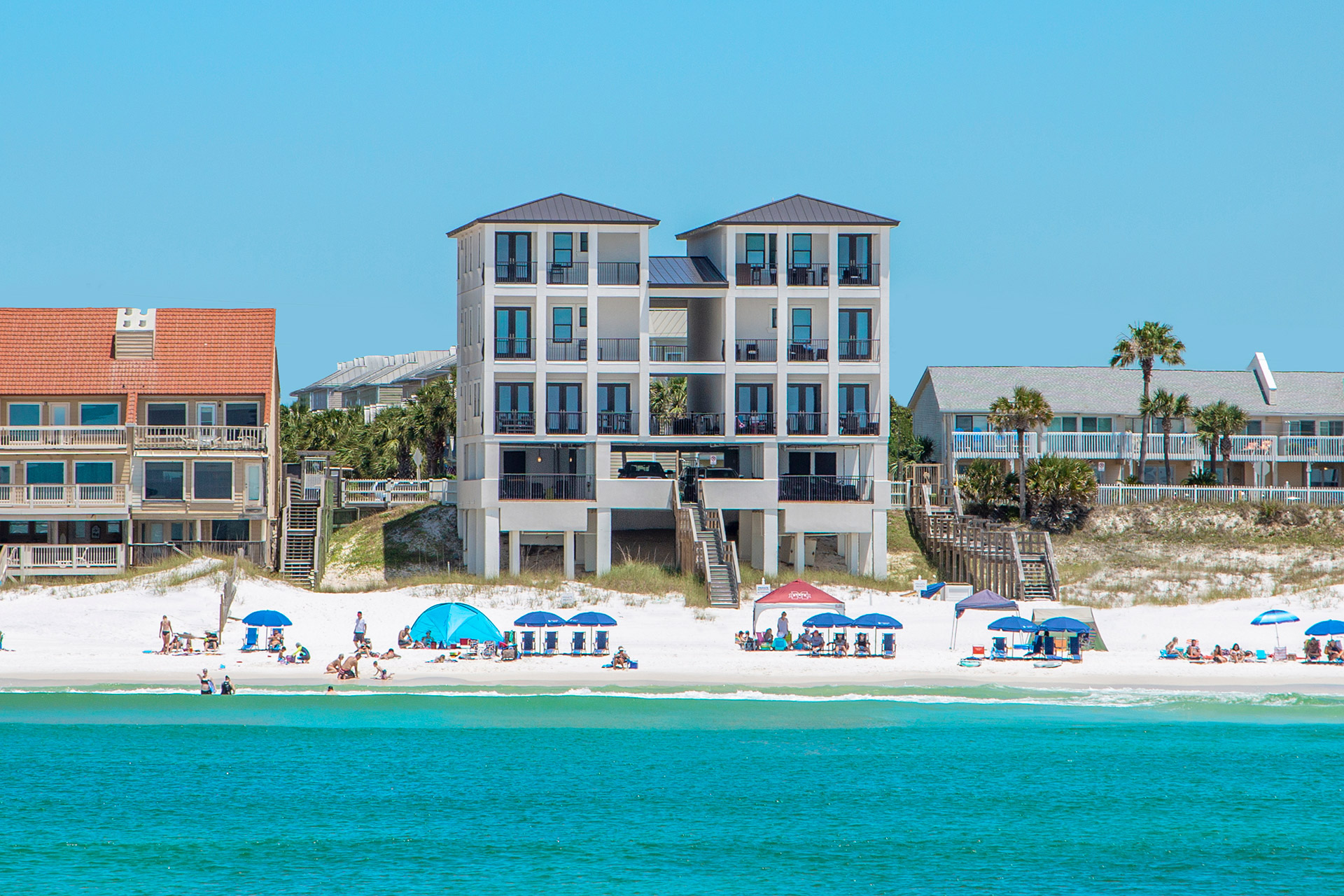 6 Bedrooms / 6.5 Bathrooms / 14 Guests
La Mer is one home on the east side of the aforementioned Mer Le Soleil, which may be rented for slightly smaller beach gatherings since six bedrooms can sleep 14 guests. It has an elegant ensemble of plush furnishings and, like the other, has three sets of beachfront verandas, a pool along with windows on two sides for double views of the gorgeous Gulf.
Emerald Breeze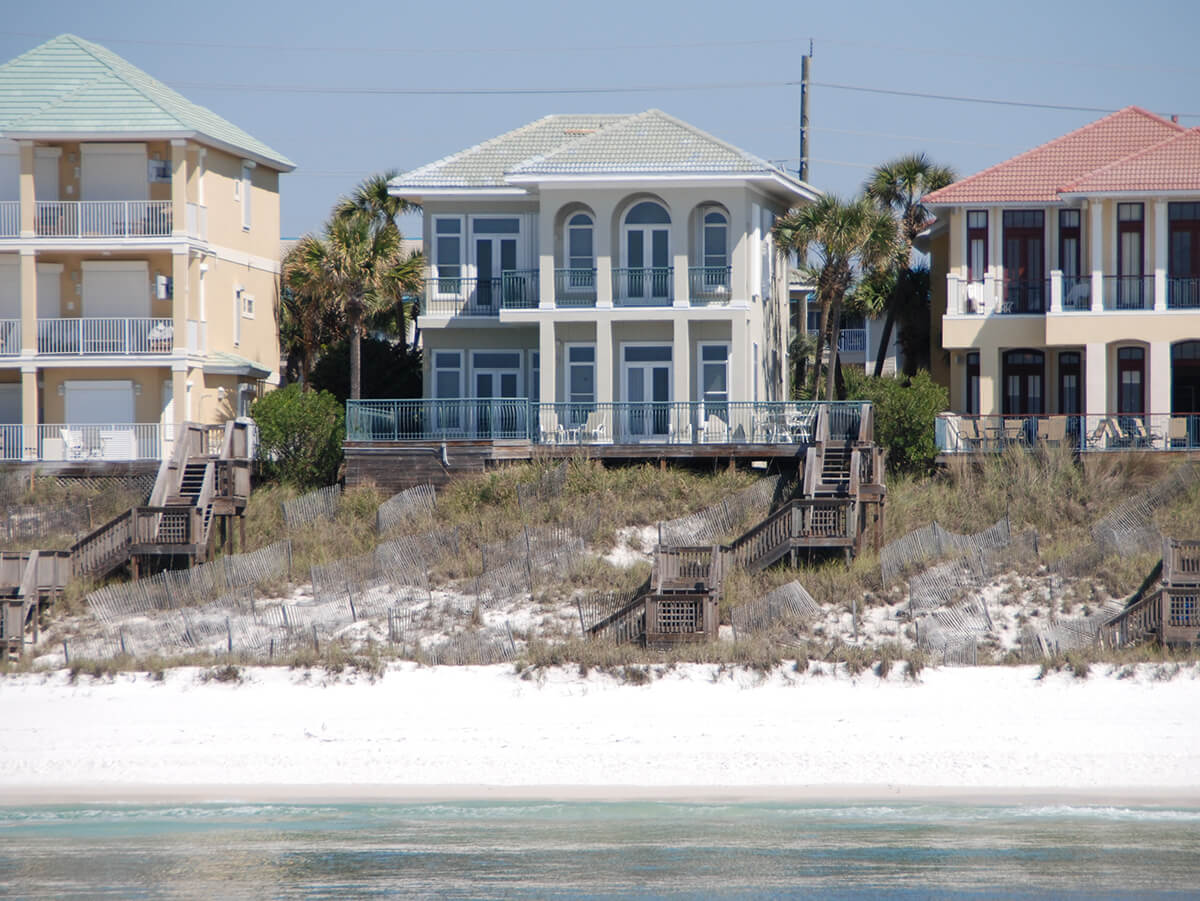 6 Bedrooms / 7 Bathrooms / 14 Guests
Emerald Breeze is a palatial beachfront residence that has six bedrooms and the ability to accommodate 14 pampered guests. Two of the bedrooms, which can sleep four of these guests, are located in a lavishly furnished Guest House with a living/dining area and a full kitchen. All bedrooms come with a luxurious ensuite bath.
Sunset Over Seas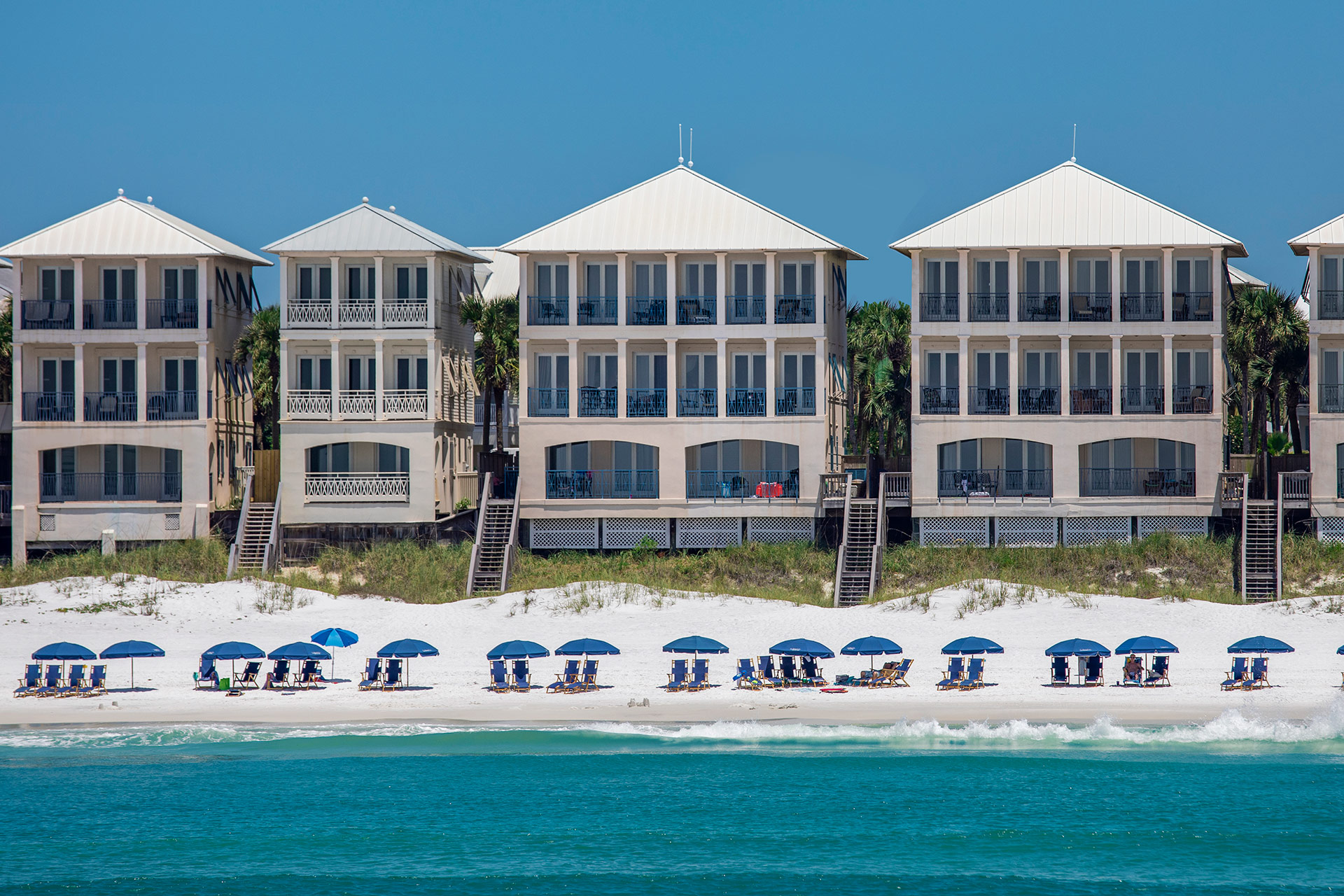 5 Bedrooms / 4 Bathrooms / 20 Guests
Sunset Over Seas is also on the beach in fabulous Frangista Beach - and has five bedrooms with multiple beds to comfortably sleep 20 guests. Bedrooms are on all three levels near open Gulf-front verandas, one of which has a Plunge Pool. Contemporary upscale furnishings are accented with colorful decorative art and whimsical nuances.
Down Time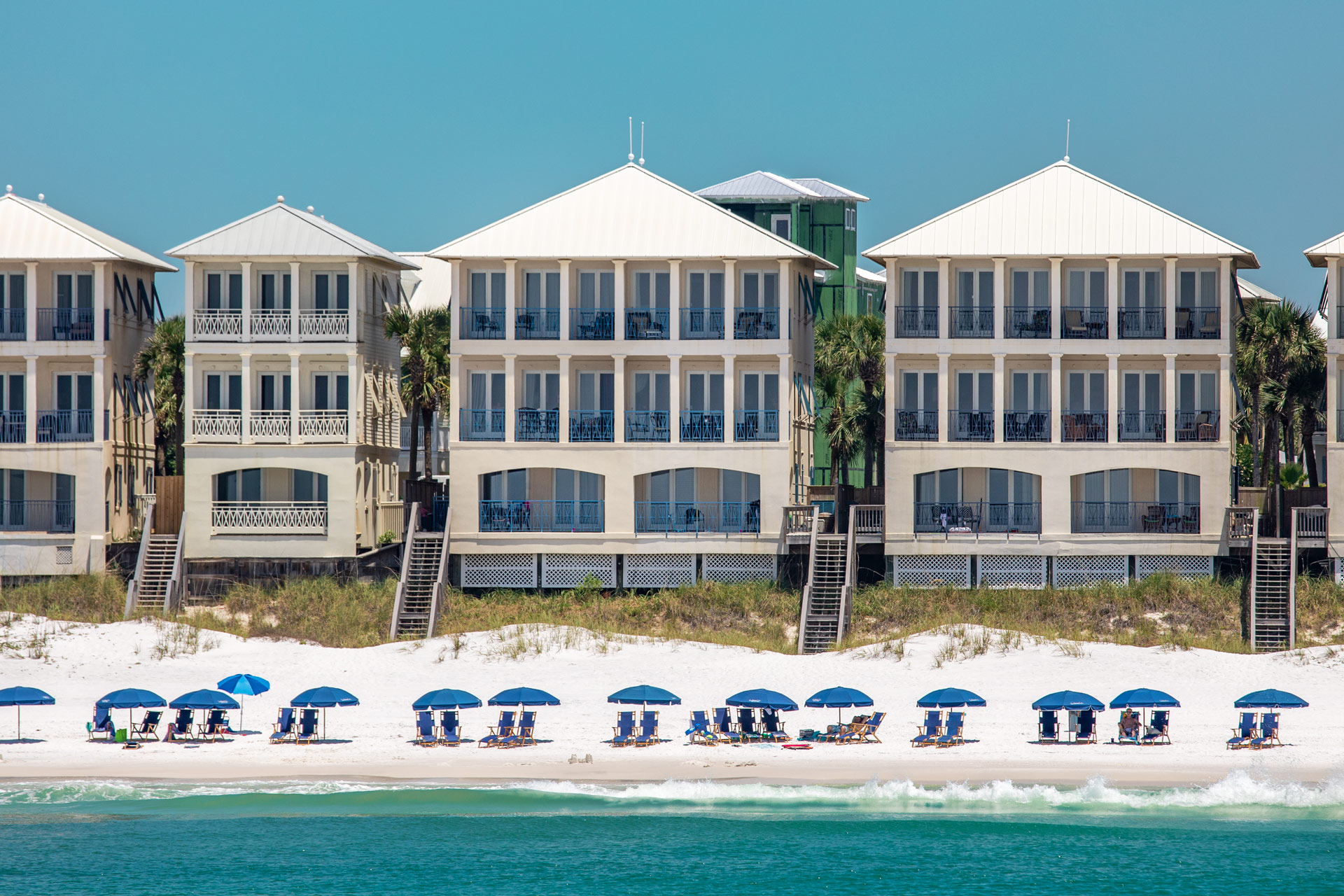 5 Bedrooms / 4 Bathrooms / 18 Guests
Down Time is another beachfront treasure in Frangista Beach with five bedrooms and places 18 guests in the proverbial lap of luxury. Grand décor and classically styled comfortable furnishings are found on all three levels, with guest quarters on each floor. Elaborately beautiful tropically inspired flourishes provide a gracious setting.
Oceania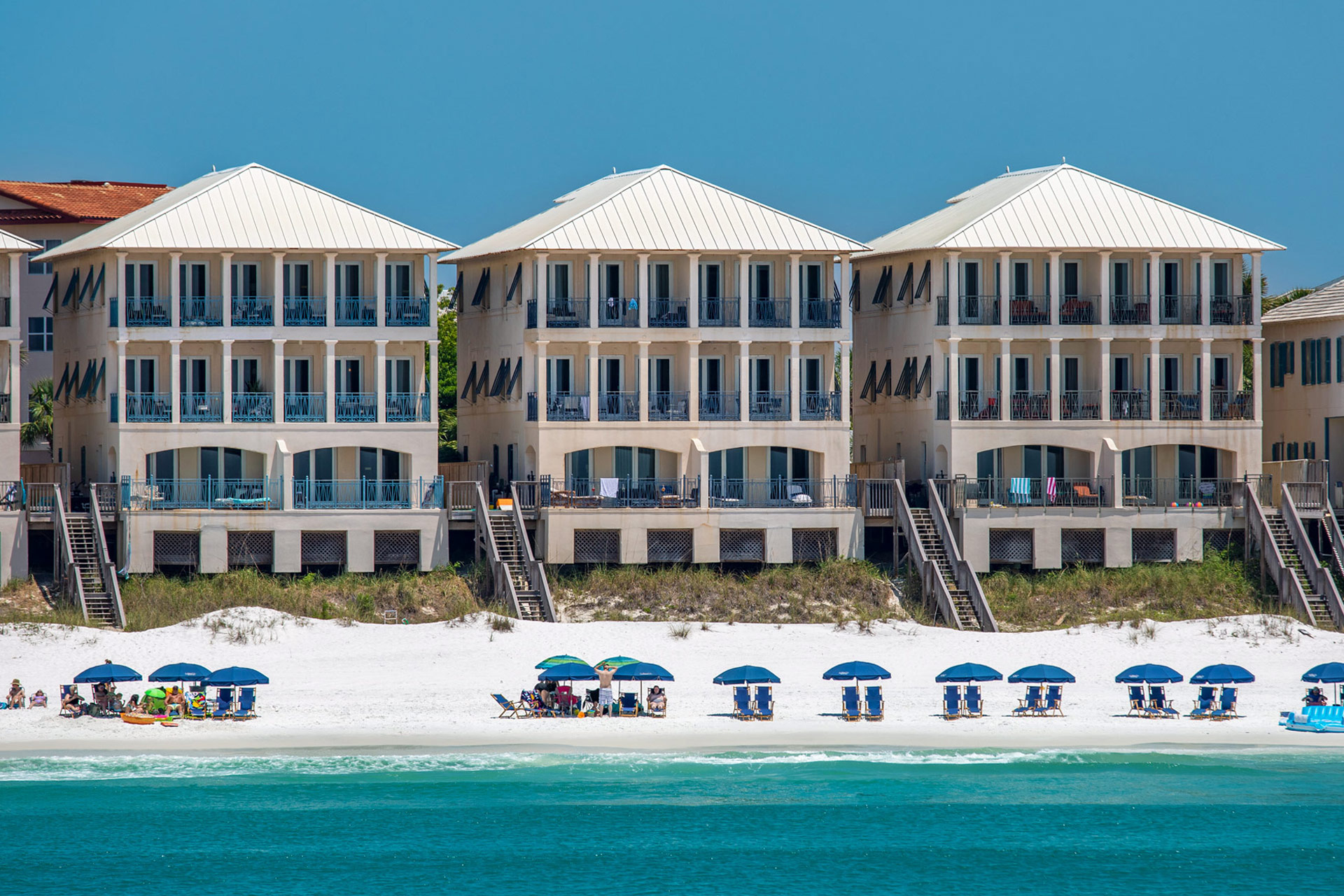 5 Bedrooms / 4 Bathrooms / 18 Guests
Oceania is also a stately Gulf-front rental home in Frangista Beach, which has five bedrooms and accommodates 18 guests in style. The chic, upscale contemporary furnishings look like a featured home in Southern Living or Coastal Living Magazine and provide a highly hospitable setting. A kid's bunk room that sleeps six comes with a Foosball Table for fun and a wall-mounted flatscreen TV to keep them occupied during the evening.
Paradis


5 Bedrooms / 5 Bathrooms / 16 Guests
Paradis is a majestic beachfront family estate with five bedrooms that can accommodate 16 carefree guests. The main two-story residence has superb furnishings with an eye toward comfort. The upstairs Master Suite and a Guest Bedroom have direct access to a beachfront veranda. A handsomely furnished Guest House provides separate quarters to sleep four of these beach-going members with a living-dining area that features a queen-size sleeper sofa, a full kitchen, and a bedroom. A long curvy swimming pool with an adjoining soaking tub that cascades down into the water overlooks the shimmering white crystalline beach.
Alegria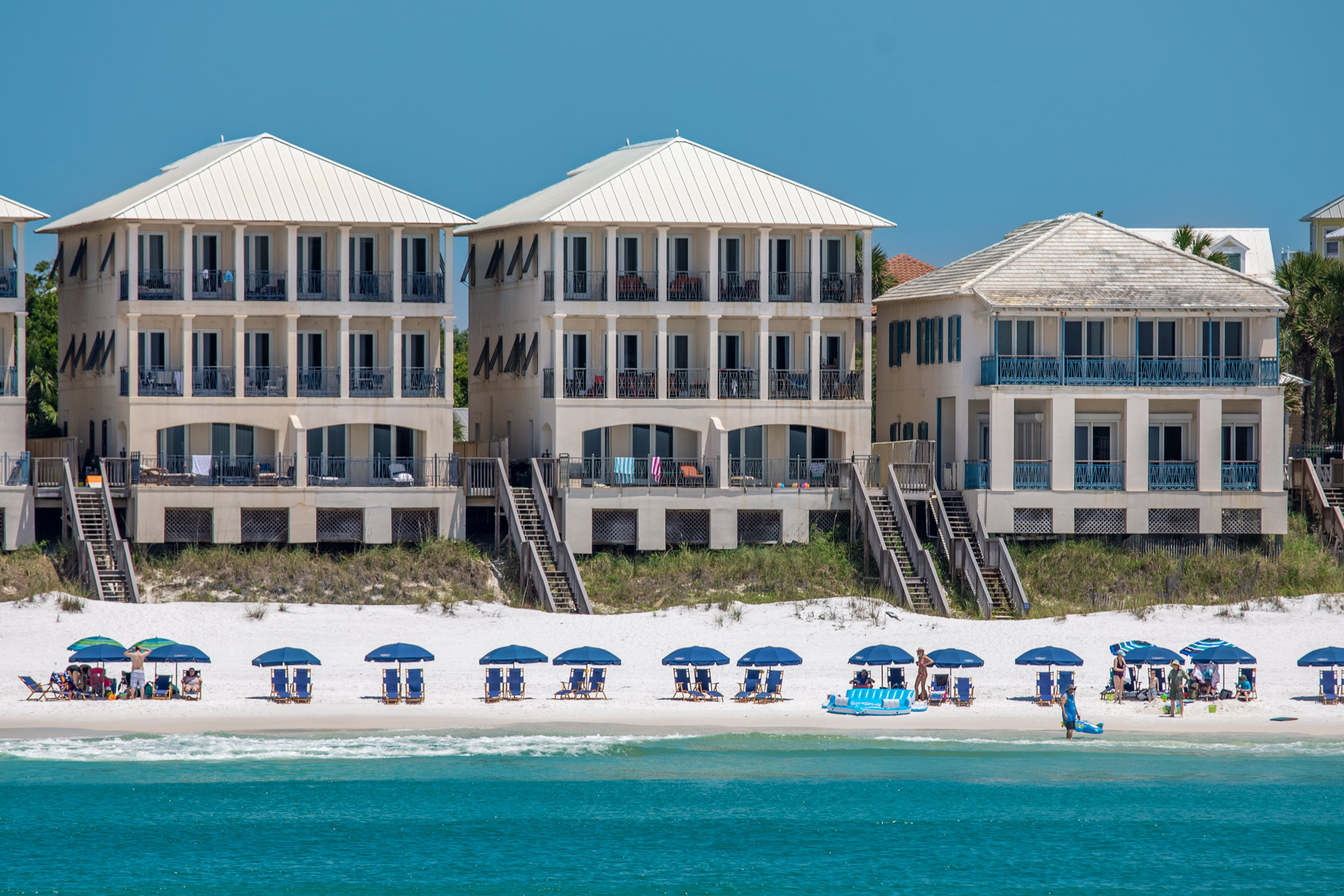 5 Bedrooms / 4 Bathrooms / 16 Guests
Alegria is aptly named since it is Spanish for 'Joy'! This five-bedroom Frangista Beach home on Scenic Gulf Drive is deliberately designed for entertainment. It has been newly renovated to provide all the comforts of home. It has a crisp, bright look with a mix of plush contemporary and charming, comfortable cottage styled furnishings. One of the two bedrooms on the beach level with access to the Plunge Pool has its own Wet Bar.
The Salty Whale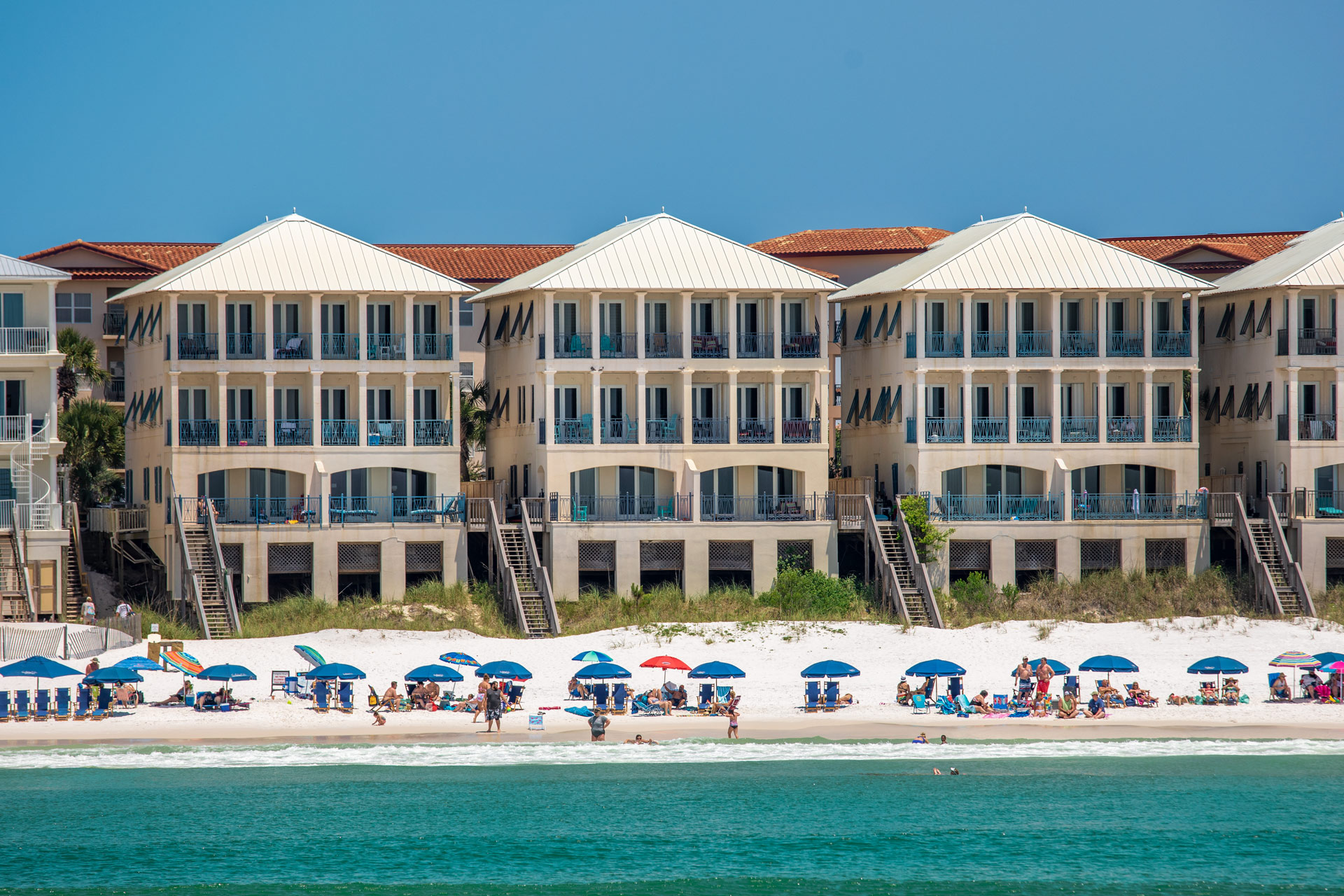 5 Bedrooms / 4 Bathrooms / 16 Guests
The Salty Whale, formerly known as 'Shangri La' is another wonderful five-bedroom vacation home in Frangista Beach that provides gracious accommodations for 16 guests. A newly completed extra Master Bedroom Suite and Kid's Quarters with queen and full bunk has been completed on the first-floor beach level with the veranda with a Plunge Pool. These quarters also feature a wall-mounted flatscreen TV and a video arcade game for entertainment.
Third Day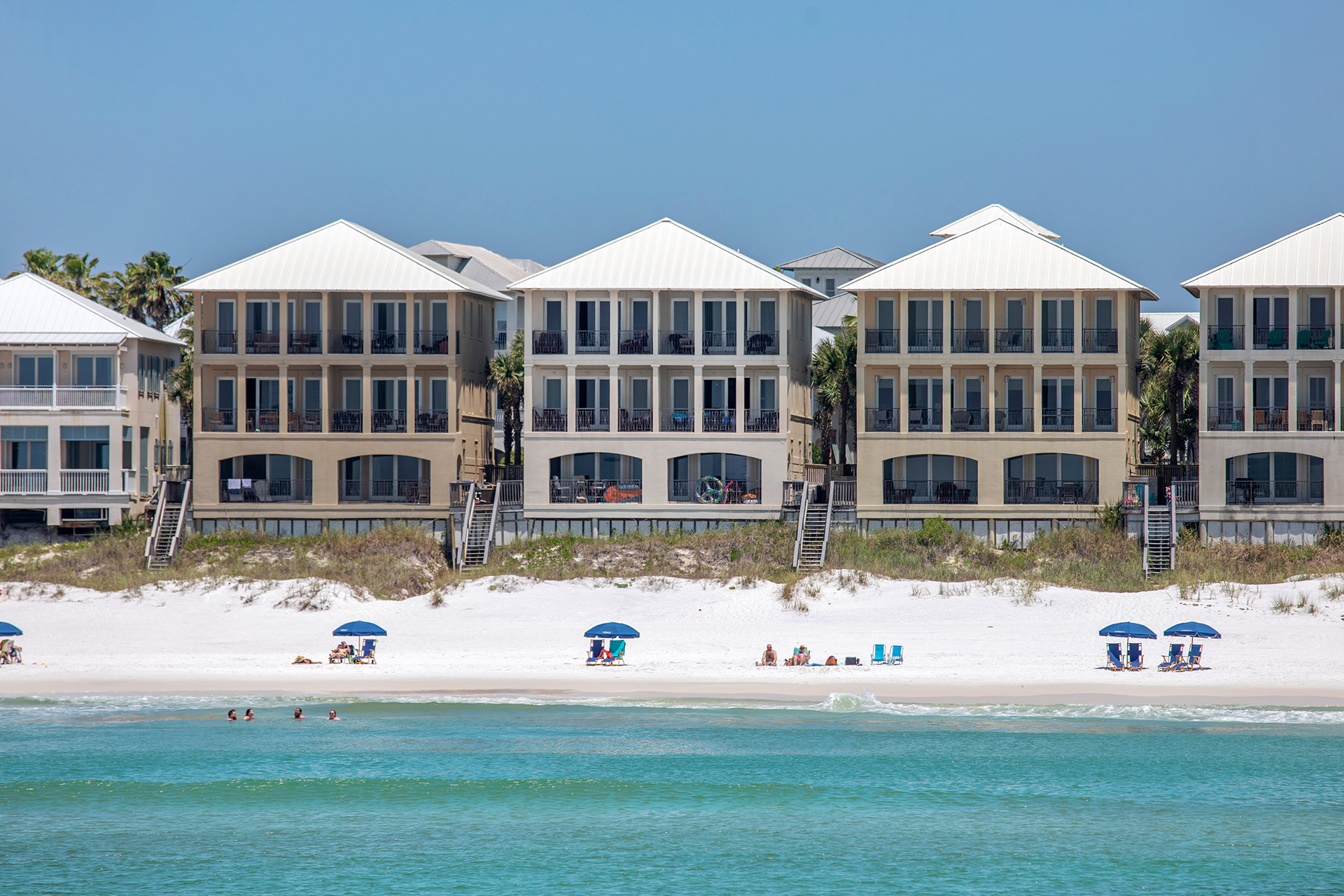 5 Bedrooms / 4 Bathrooms / 16 Guests
Third Day is also one of the crème de la crème shorefront homes located in the privileged community of Frangista Beach. It has five bedrooms which sleep 16 lucky guests. This beach home features upscale, comfortable furnishings flourished with vibrant, colorful Floridian décor. Guest Quarters on the first floor adjacent to the Plunge Pool and the third story Master Suite both feature their own wet bars.
Seaduction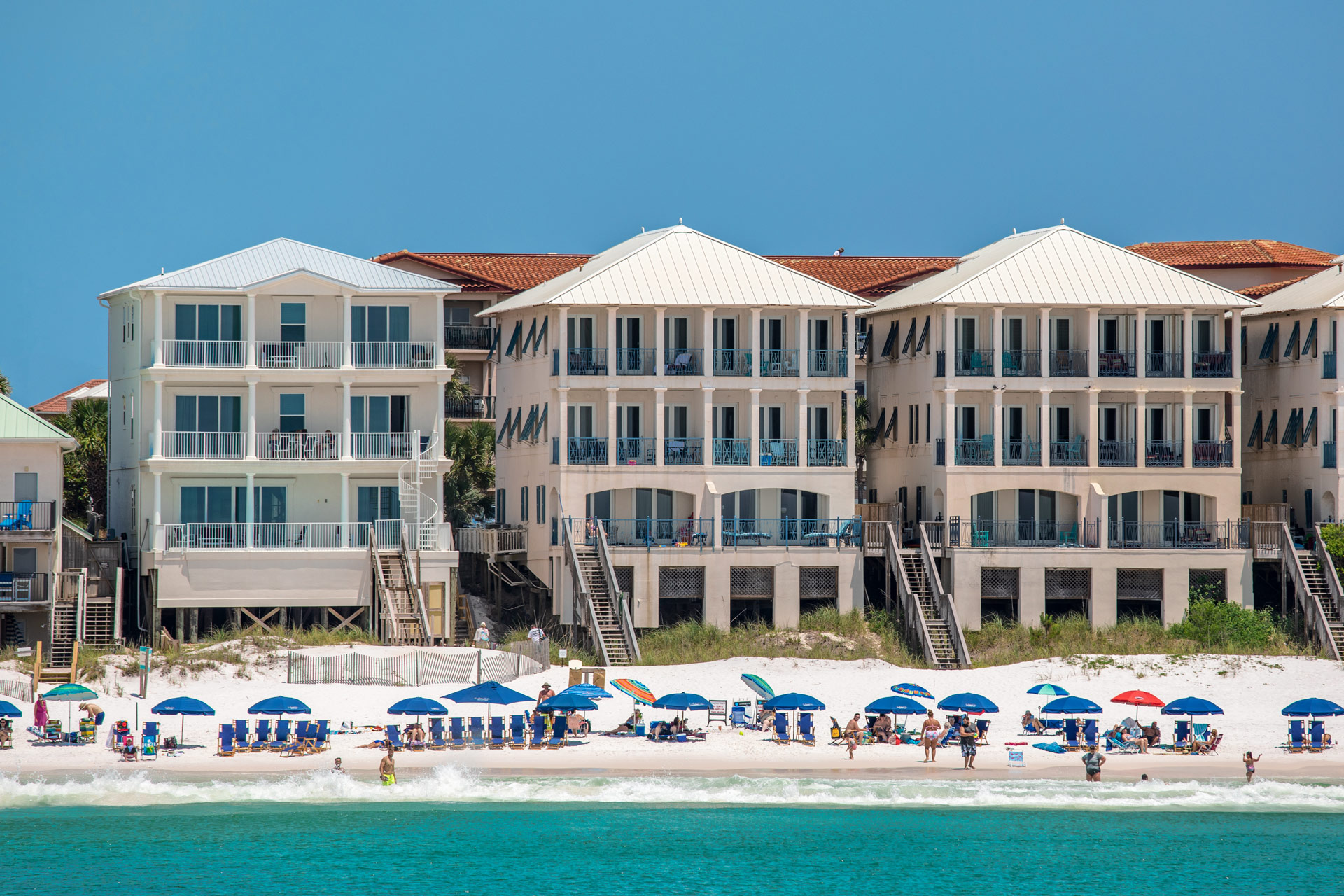 5 Bedrooms / 4 Bathrooms / 16 Guests
Seaduction in Frangista Beach also has five bedrooms accommodating 16 guests who will undoubtedly be seduced by the recently completed and fashionable high-end coastal styled furnishings that embrace incredible creature comfort. A Master Suite on the beach level and the main Master Suite on the third floor both feature 70" LED wall-mounted flatscreen TVs for evening entertainment. All the Guest Bedrooms also have extra wide wall mounted Flatscreen TVs for their individual enjoyment.
Tan Lines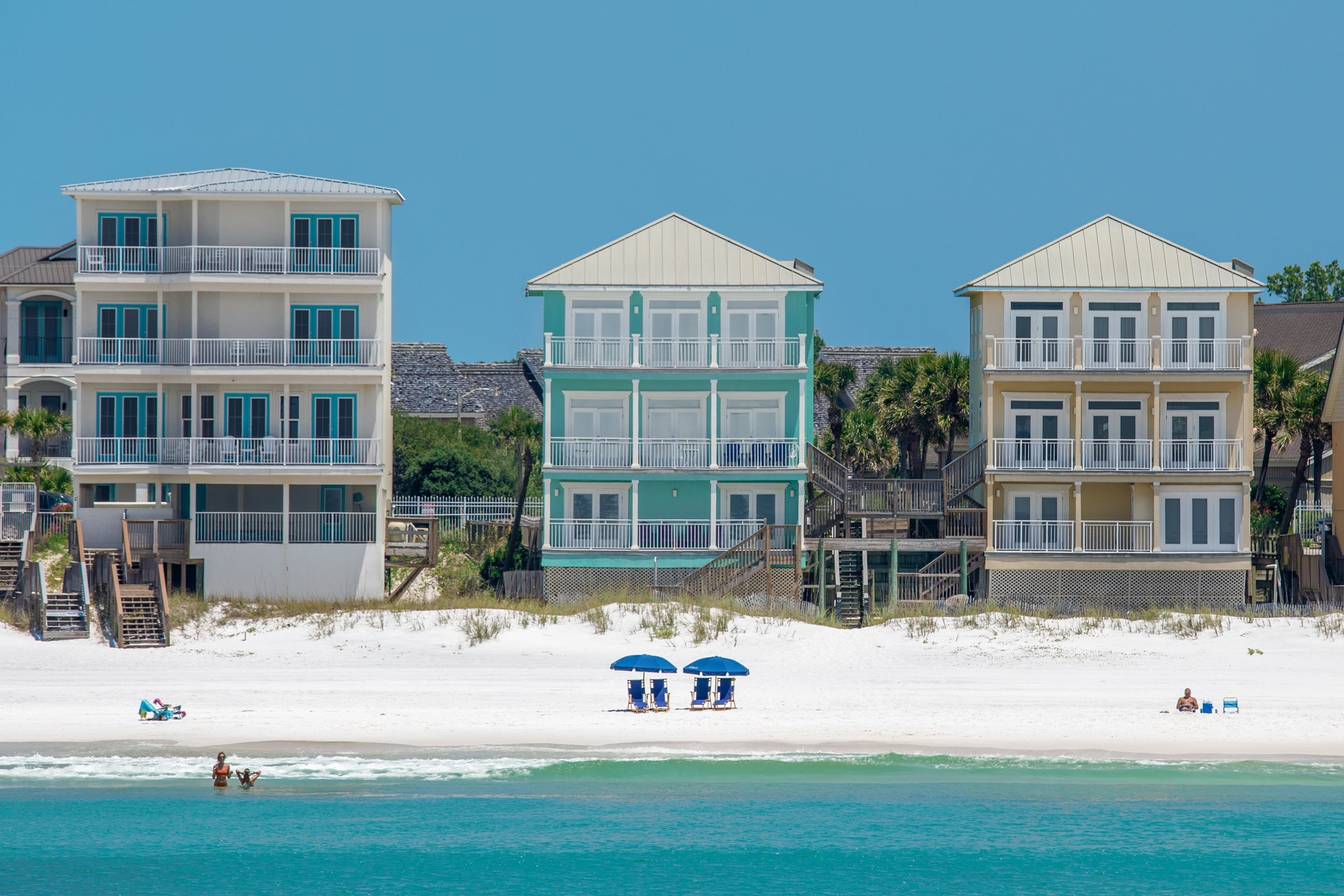 5 Bedrooms / 3.5 Bathrooms / 16 Guests
Tan Lines, formerly known as 'No Hassle Sandcastle' has five bedrooms that accommodate not only 16 beach-going guests but also your favorite fur family member since this place is Pet Friendly. Comfortable new furnishings, updated appointments, and a rainbow of colors provide a cheerful, vibrant Floridian flair. Three stories of beachfront verandas span its width with access off the living area, Master Suite, and two of the Guest Bedrooms.
Frangista Royale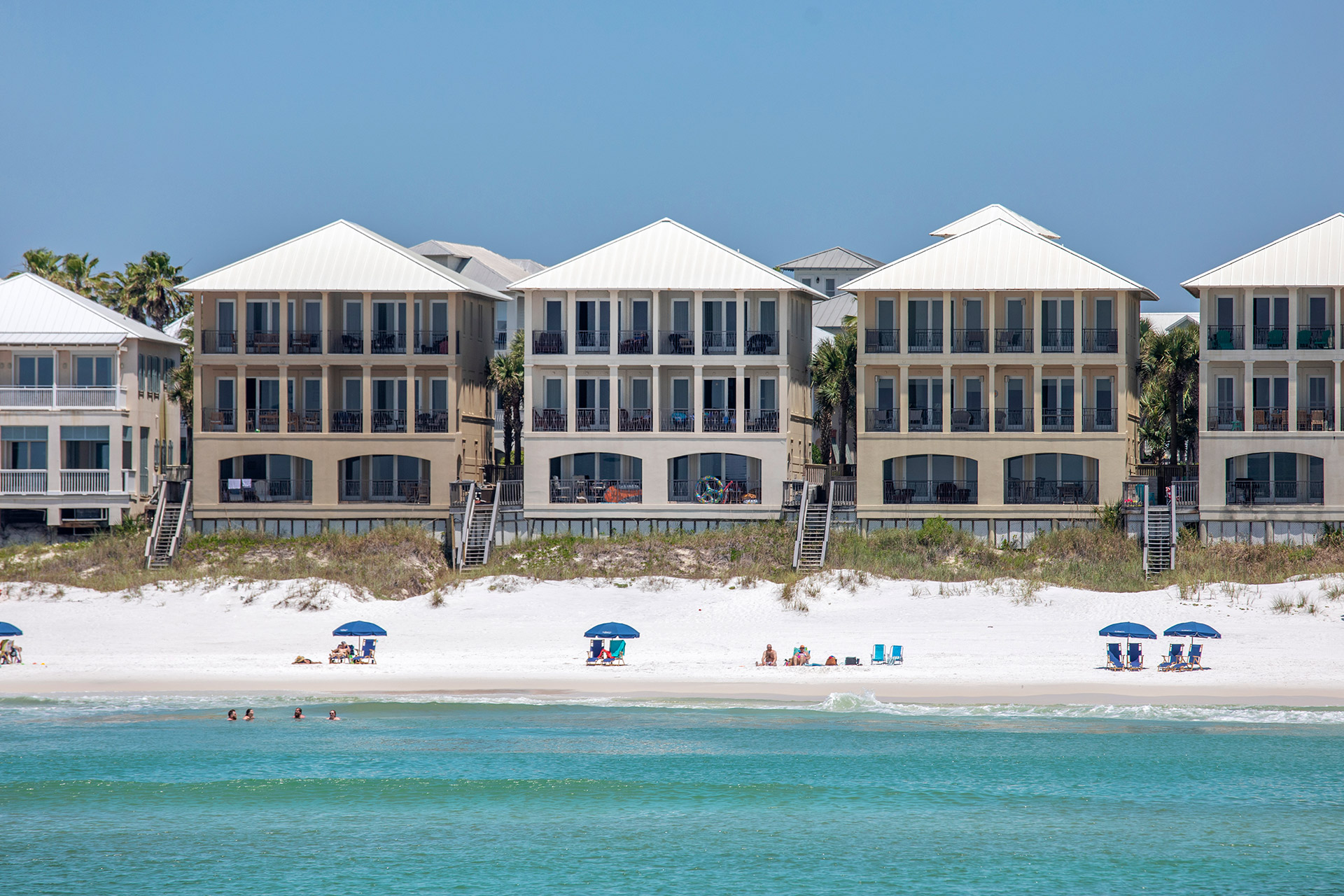 5 Bedrooms / 4 Bathrooms / 16 Guests
Frangista Royale in Frangista Beach has five bedrooms accommodating 16 guests in a Scenic Gulf Drie home that features a comfortable mix of fashionable Vintage Modern furnishings blended with lovely colorful, comfortable cottage styled furnishings. The guest quarters at the beach level off the Plunge Pool balcony includes an adult bedroom with a wet bar and a bunk room for the kids.
Sun of a Beach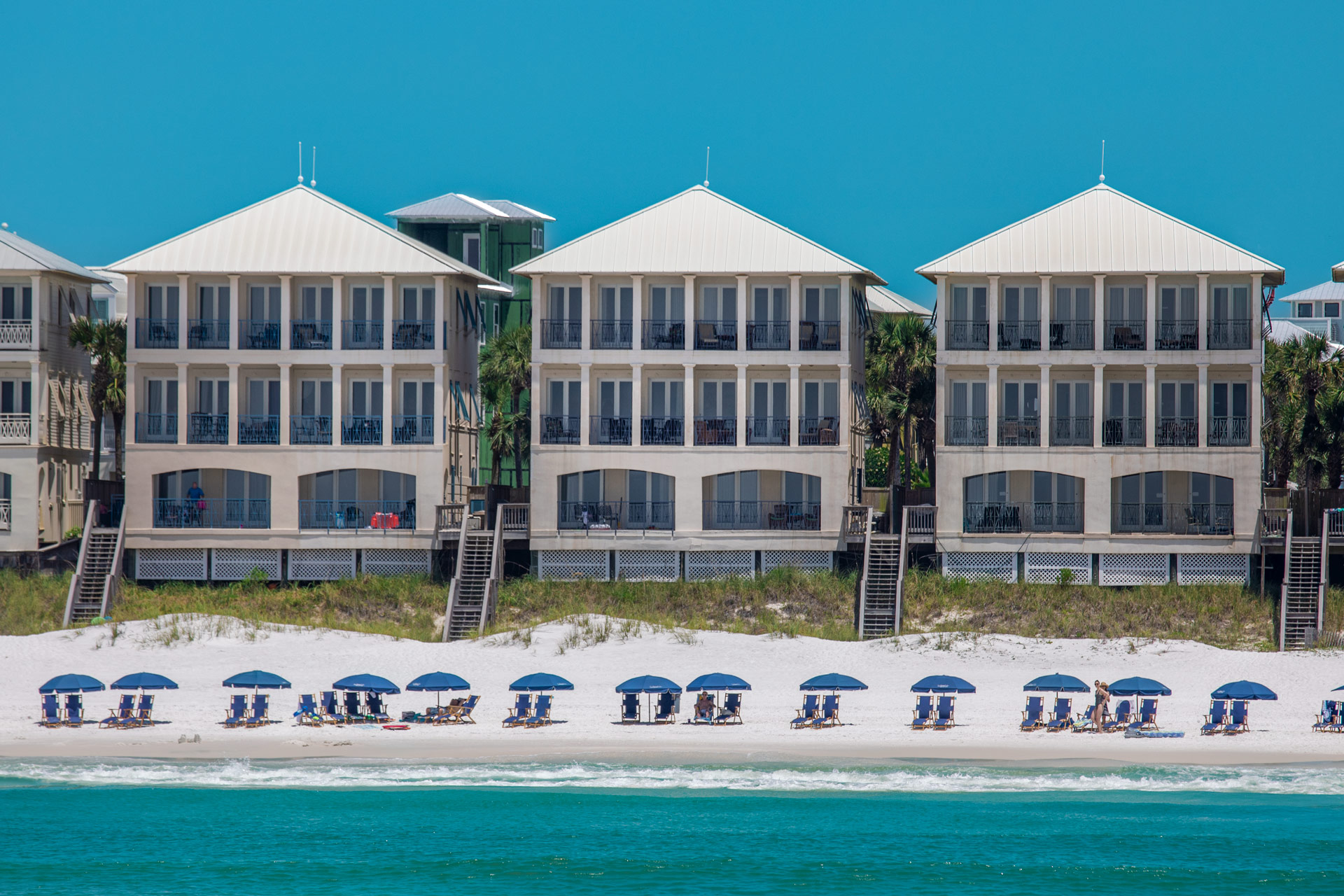 5 Bedrooms / 4 Bathrooms / 16 Guests
Sun of a Beach will make you realize that life is a "Beach" man! This five-bedroom rental home that's also in fashionable Frangista Beach with accommodations for 16 vacationers. This freshly furnished home, done with chic designer touches, has casual coastal décor. Extra-wide flatscreen TVs are in almost every room for evening entertainment. The Kid's Quarters features a Game Station hookup for Xbox, Nintendo, or PlayStation.
Le Neptune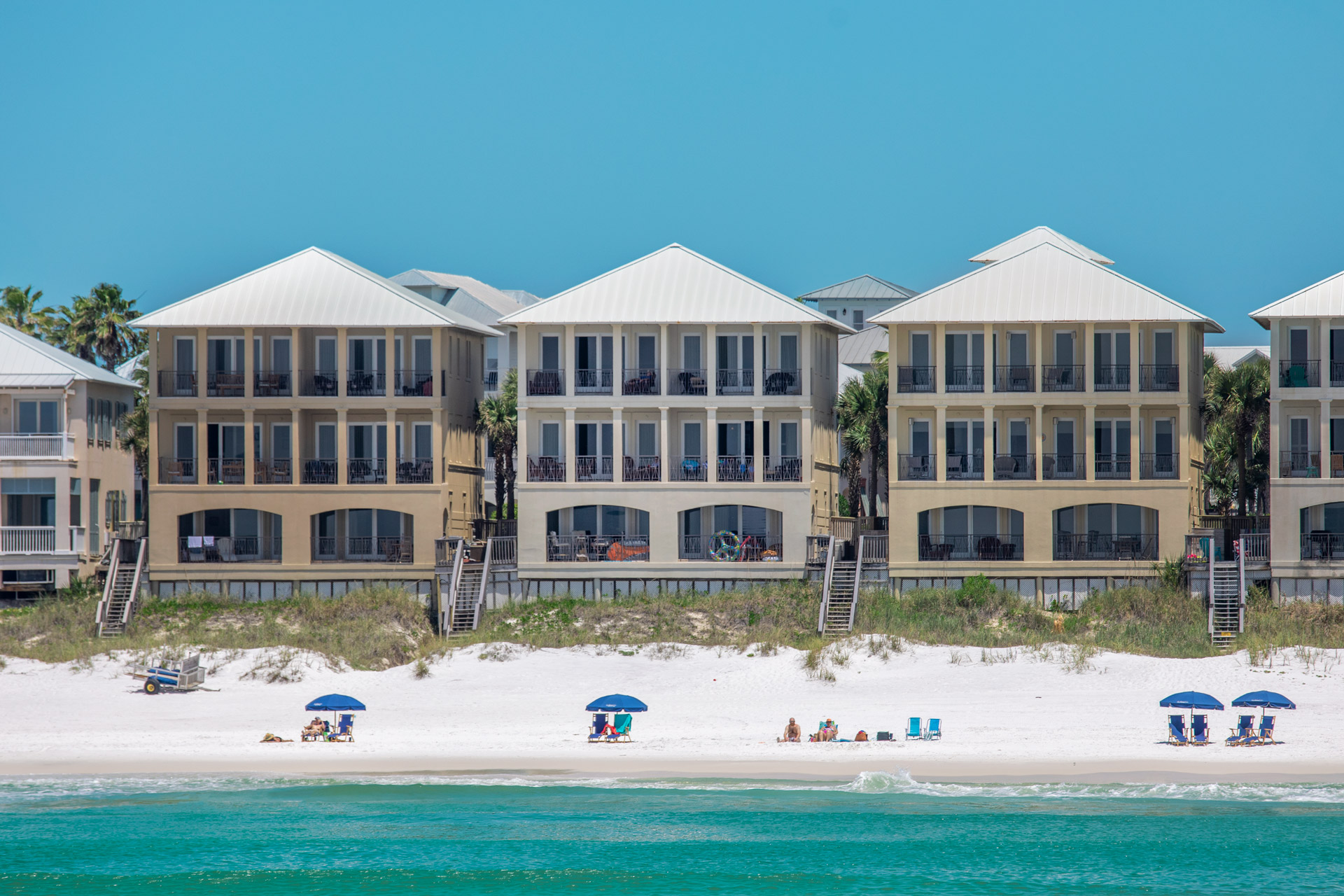 5 Bedrooms / 4 Bathrooms / 15 Guests
Le Neptune in Frangista Beach has five bedrooms for up to 16 Gulf goers. This well-furnished beachfront home has a contemporary coastal casual look. Like the others, it has guest quarters on all three levels with a Plunge Pool off the first floor and a private Gulf front balcony off the Master Suite on the third floor.
Crystal Paradise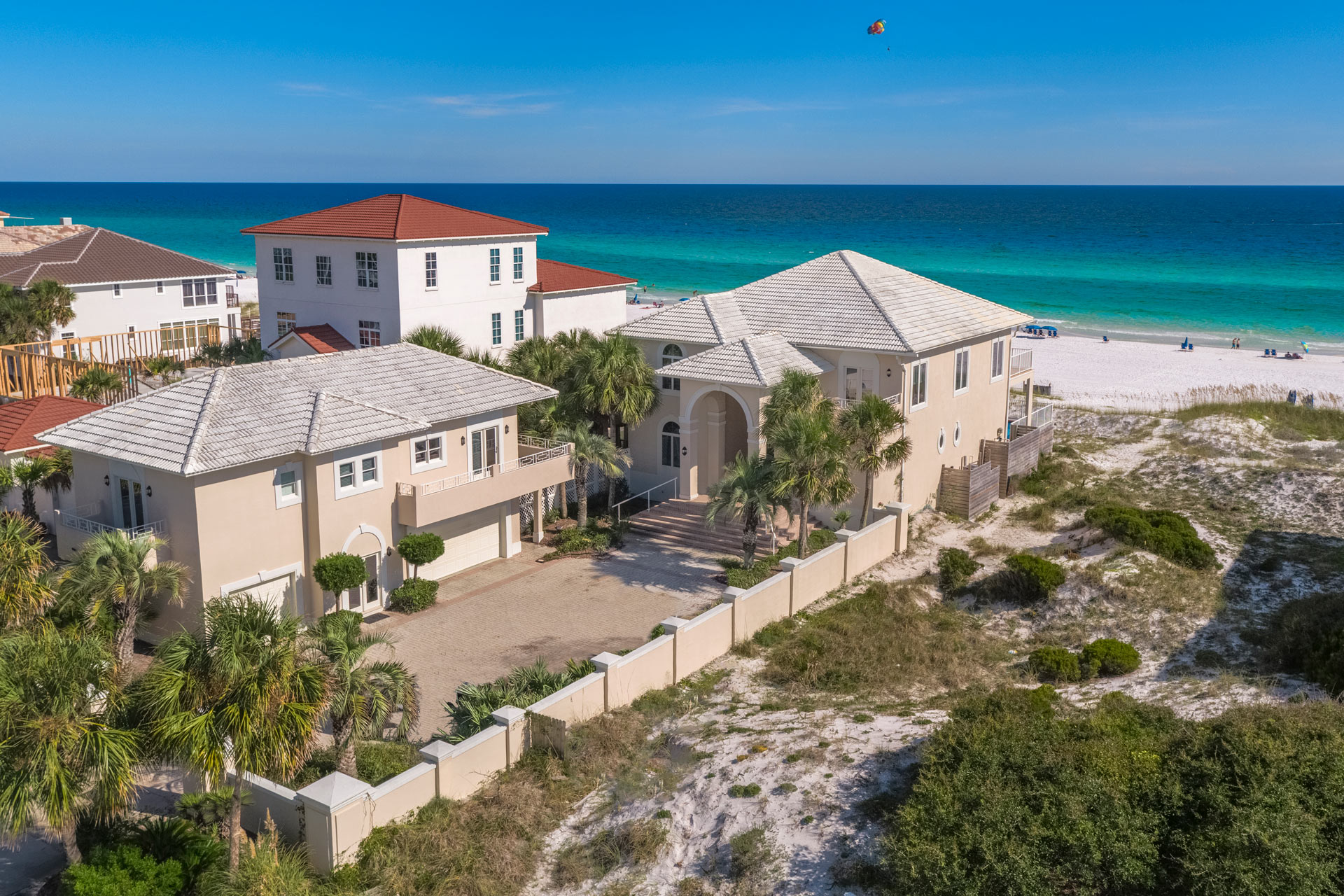 5 Bedrooms / 5.5 Bathrooms / 14 Guests
Crystal Paradise is a luxurious walled-in Gulf-front family estate that includes four bedrooms with full ensuite baths that accommodate 10 beach vacationers in the main residence. One bedroom is located in a spacious and beautifully furnished Guest House with a queen-sized sleeper sofa in its living area that sleeps four, adding up to a total of 14. The manor is also Pet Friendly, so feel free to bring along your fur baby. This palatial home has lavish furnishings with opulent décor and features a beachside swimming pool, a veranda as well as a rooftop sundeck which features sparkling panoramic views.
Crystal Cabana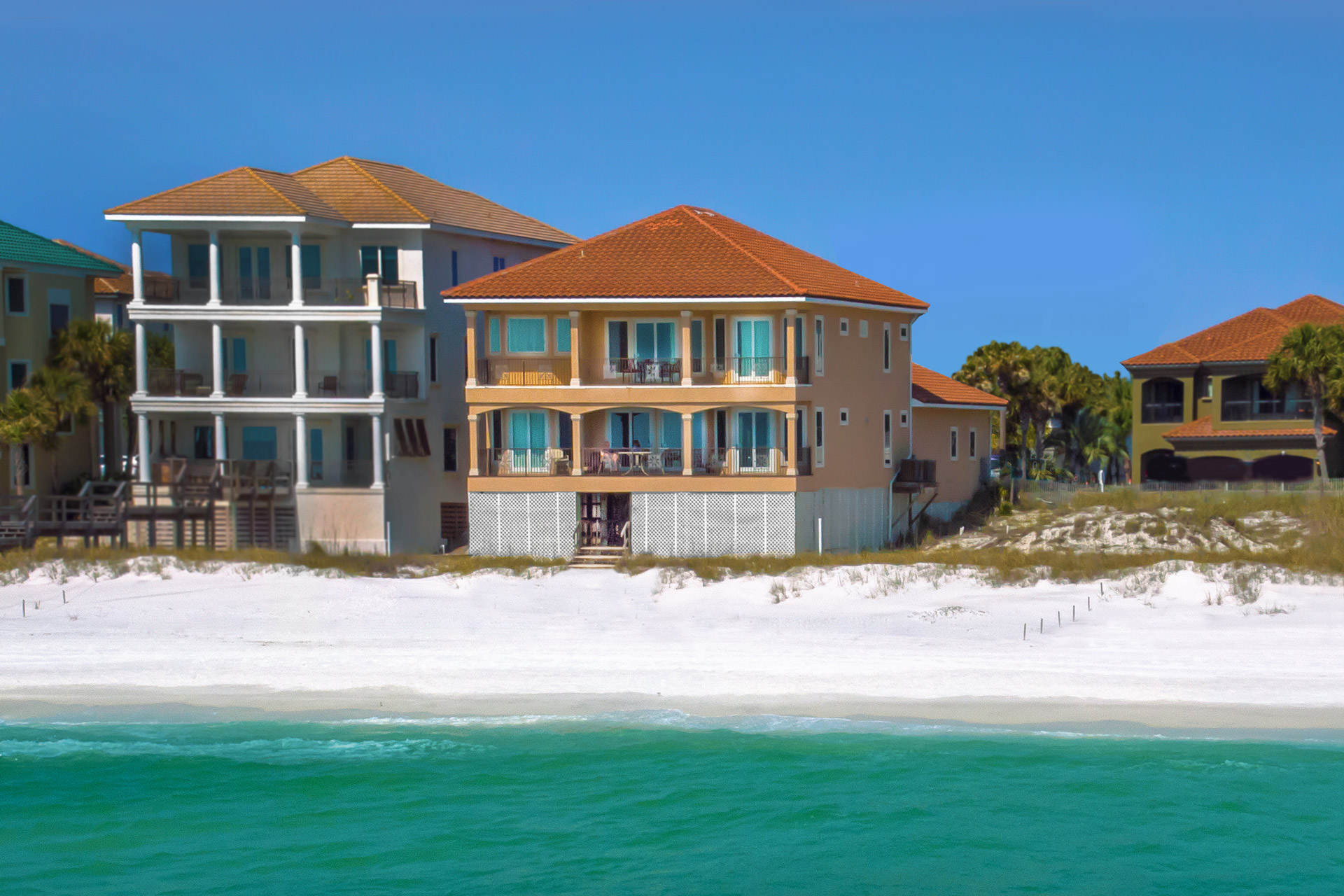 5 Bedrooms / 4.5 Bathrooms / 12 Guests
Crystal Cabana is not really a cabana at all but a large luxurious beachfront home that comfortably accommodates a dozen happy beachgoers. It has a unique fabulous location in Destiny, which is one of the most privileged residential coastal communities in the entire area. It is a stone's throw away from a long promenade that runs along the beach and connects to the charming Crab Trap Restaurant and beach bar. Destiny amenities for guests included the use of a large lush lagoon-shaped swimming pool near a club house, a simmering hot tub, tennis and basketball courts.
A Beachy Blast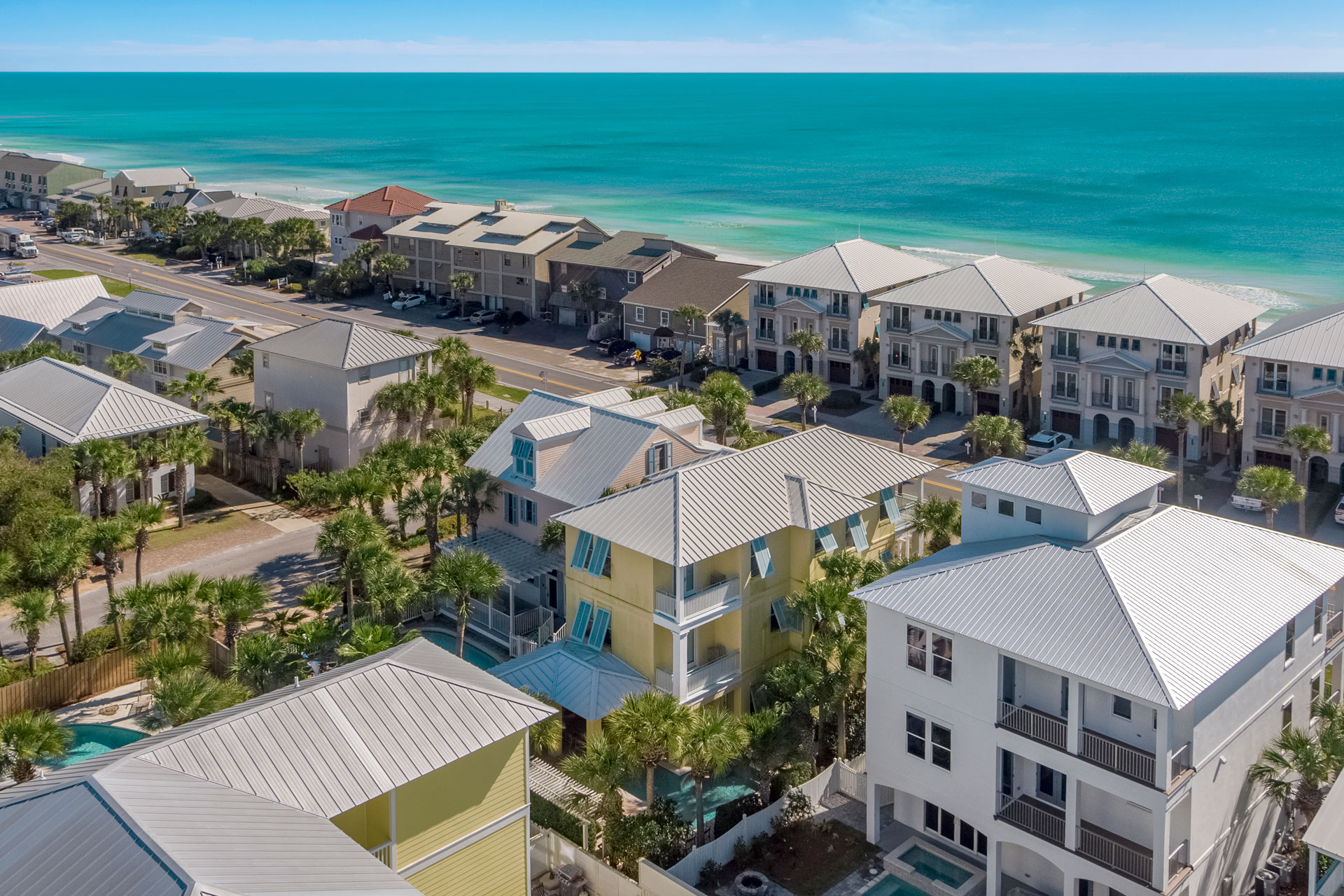 4 Bedrooms / 4.5 Bathrooms / 14 Guests
A Beachy Blast is a charming Old Florida styled three-story home with four bedrooms that can accommodate fourteen enchanted guests. It has upper-level verandas that overlook the palm-lined portion of Scenic Gulf Drive. It is a short distance away from the gated neighborhood beach access and the community pool's tropical oasis type setting. However, this home has a pool of its own for fun refreshment right out back.
Aqua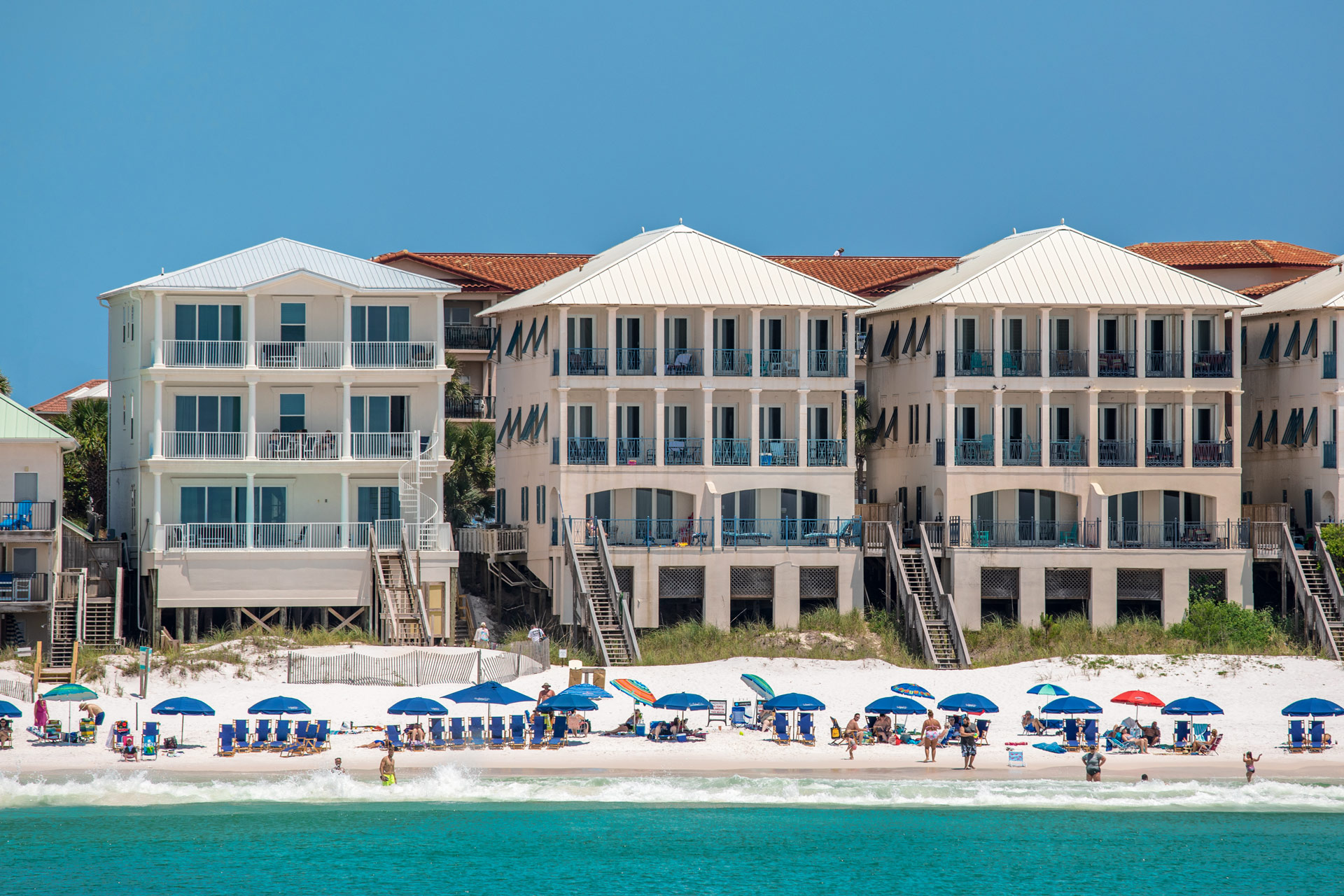 5 Bedrooms / 4 Bathrooms / 14 Guests
Aqua is another richly furnished five-bedroom beachfront home in highly sought after Frangista Beach that can host 14 guests. High-end designer furnishings throughout are comfortable, casual, and quite stylish. The beach level guest quarters that open out to the Plunge Pool includes a nice seating area off the bedroom with a queen-sized sleeper sofa and a wall-mounted Flatscreen TV for entertainment. There is also an Arcade Game Table that includes hundreds of games like Pac-Man, Donkey Kong, Centipede, and Frogger.
Little House on the Beach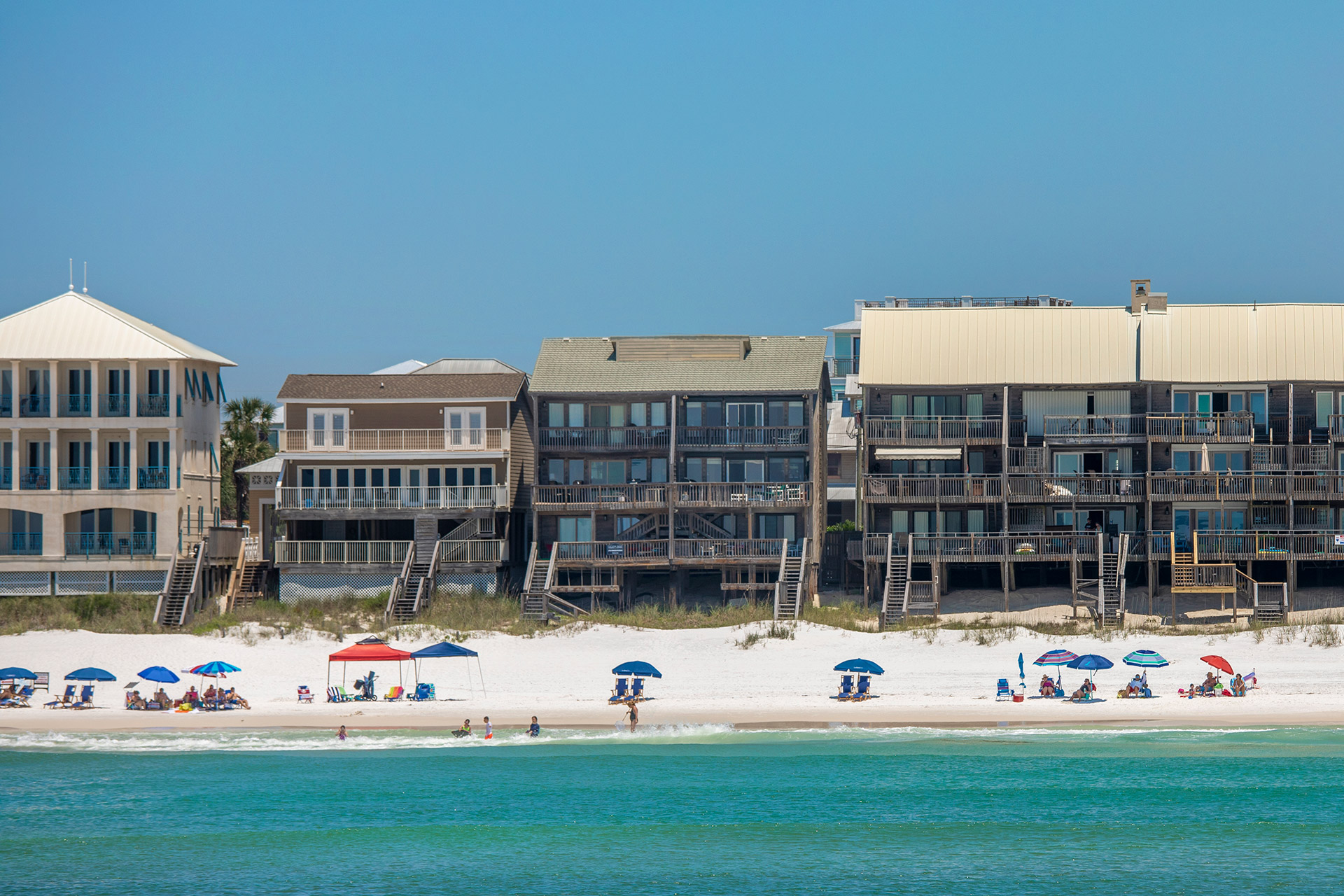 5 Bedrooms / 4.5 Bathrooms / 13 Guests
Little House on the Beach is a three-story five-bedroom rental home that overlooks the shimmering shore and glorious Gulf (instead of a prairie)! This recently updated home accommodates a baker's dozen Gulf loving guests. It has three levels of beach balconies allowing you to enjoy the sparkling views first hand. It features stylish contemporary furnishings that provide an upscale, comfortable look. Guest quarters are on the first and third floor level with the open living, dining, and kitchen areas in between. This provides great individual space for separate members of your group who are sharing a wonderful beach reunion together.
Cape Monaco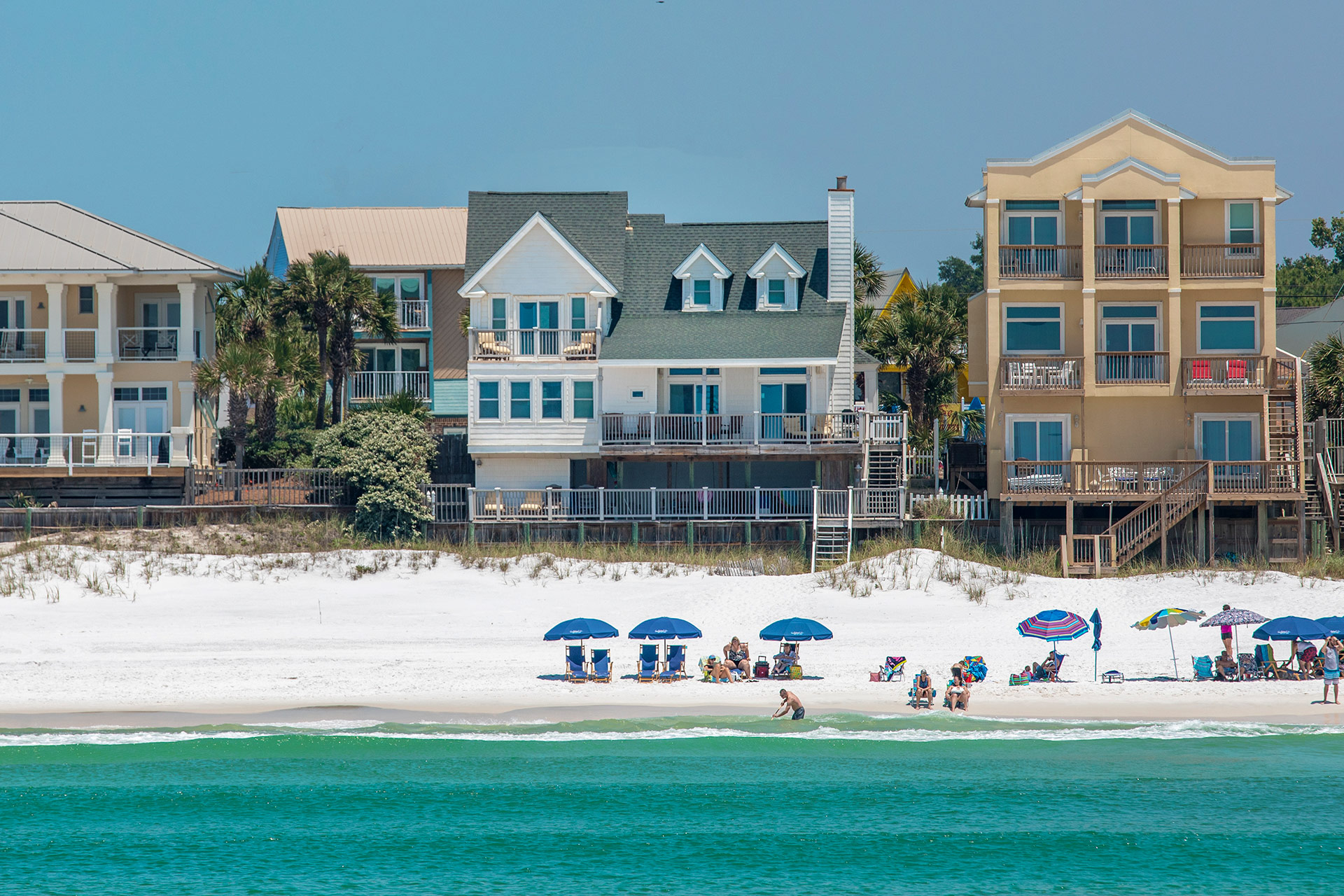 4 Bedrooms / 4 Bathrooms / 17 Guests
Cape Monaco is a four-bedroom home with multiple beds and one queen-sized sleeper sofa that can accommodate 17 indulged guests. It has a charming colonial exterior studded with tropical palm trees and bright, comfortable cottage styled interiors. A Bunk Room for kids and Guest Bedroom with a king-sized bed, sitting area with a sleeper sofa, and an ensuite bath are downstairs. The Master Suite and another Guest Bedroom are upstairs off a staircase landing that looks down dramatically into the open living area.
Good Times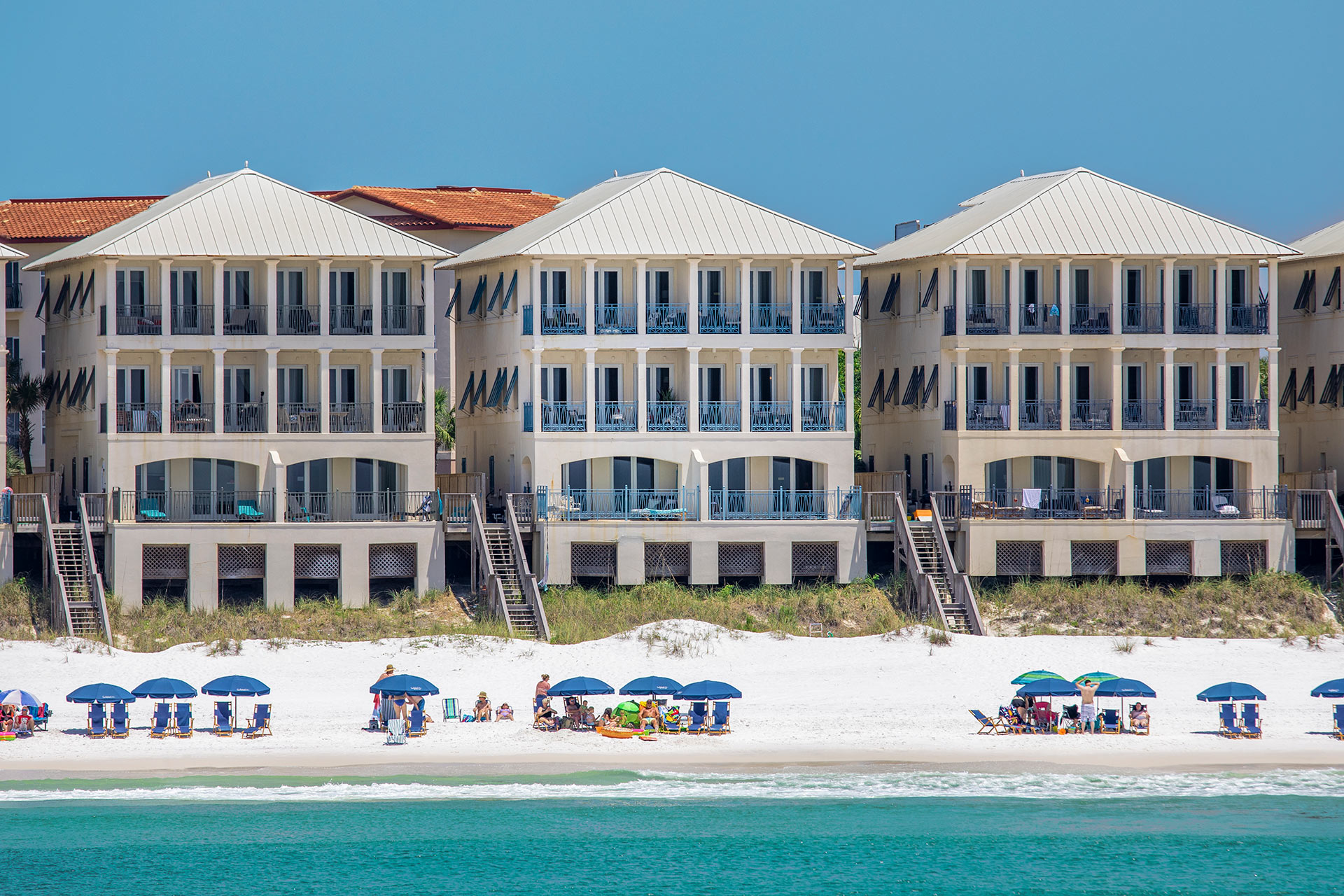 4 Bedrooms / 4 Bathrooms / 14 Guests
Good Times is another stately Frangista Beach vacation home with four bedrooms that sleeps fourteen guests and all in beds. The design ensures 'good times' for separate vacationing family members since it has plush furnished living areas on both the first and second floor levels with bedrooms on all three floors.
A Shore Thing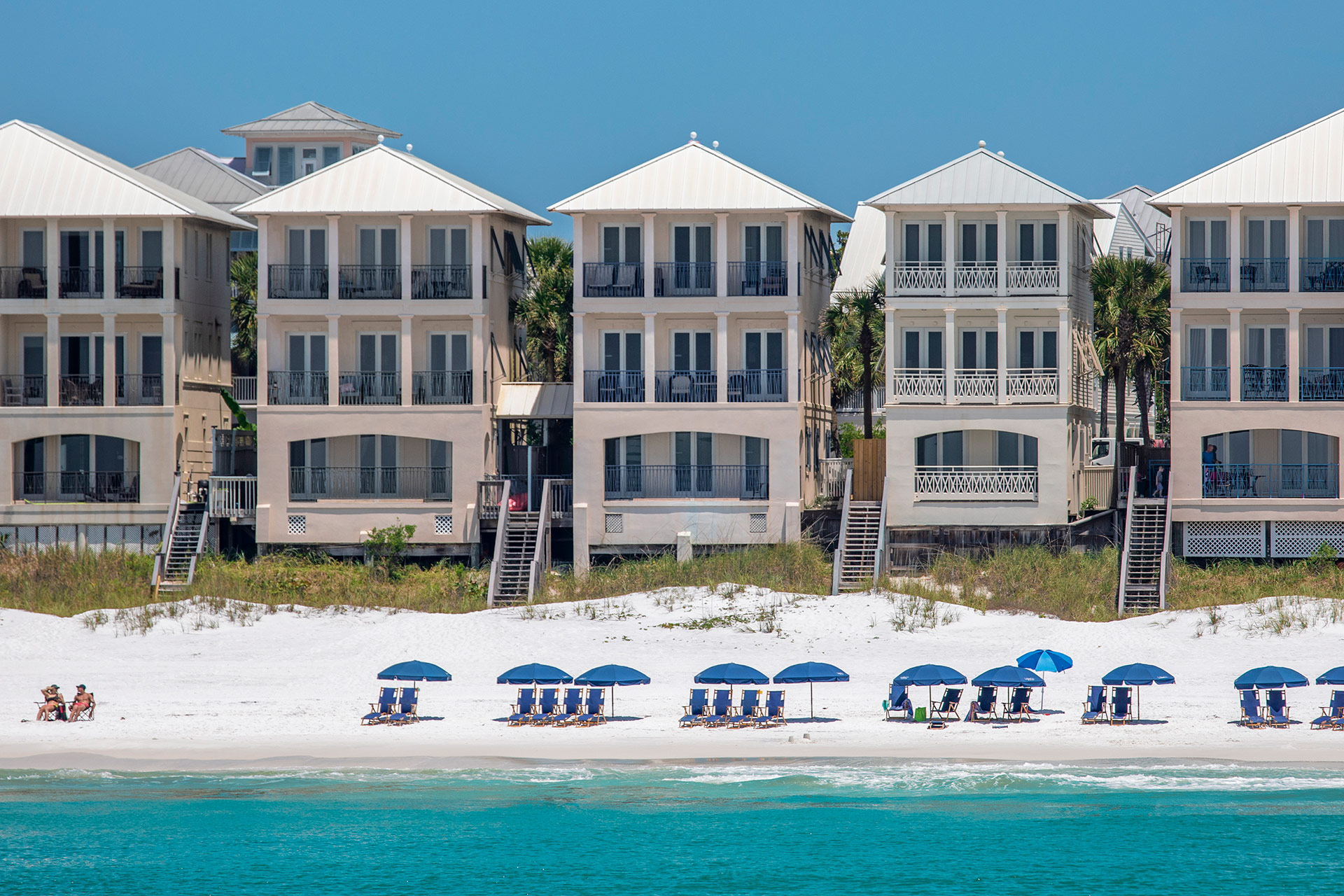 4 Bedrooms / 4 Bathrooms / 10 Guests
A Shore Thing is a Gulf-front "stand-alone" home in Frangista Beach with four bedrooms that easily accommodate ten guests. An artfully decorated living area provides a casual, cheerful ambiance that exemplifies a charming setting. All the bedrooms feature upscale appointments and comfortable furnishings.
Crystal View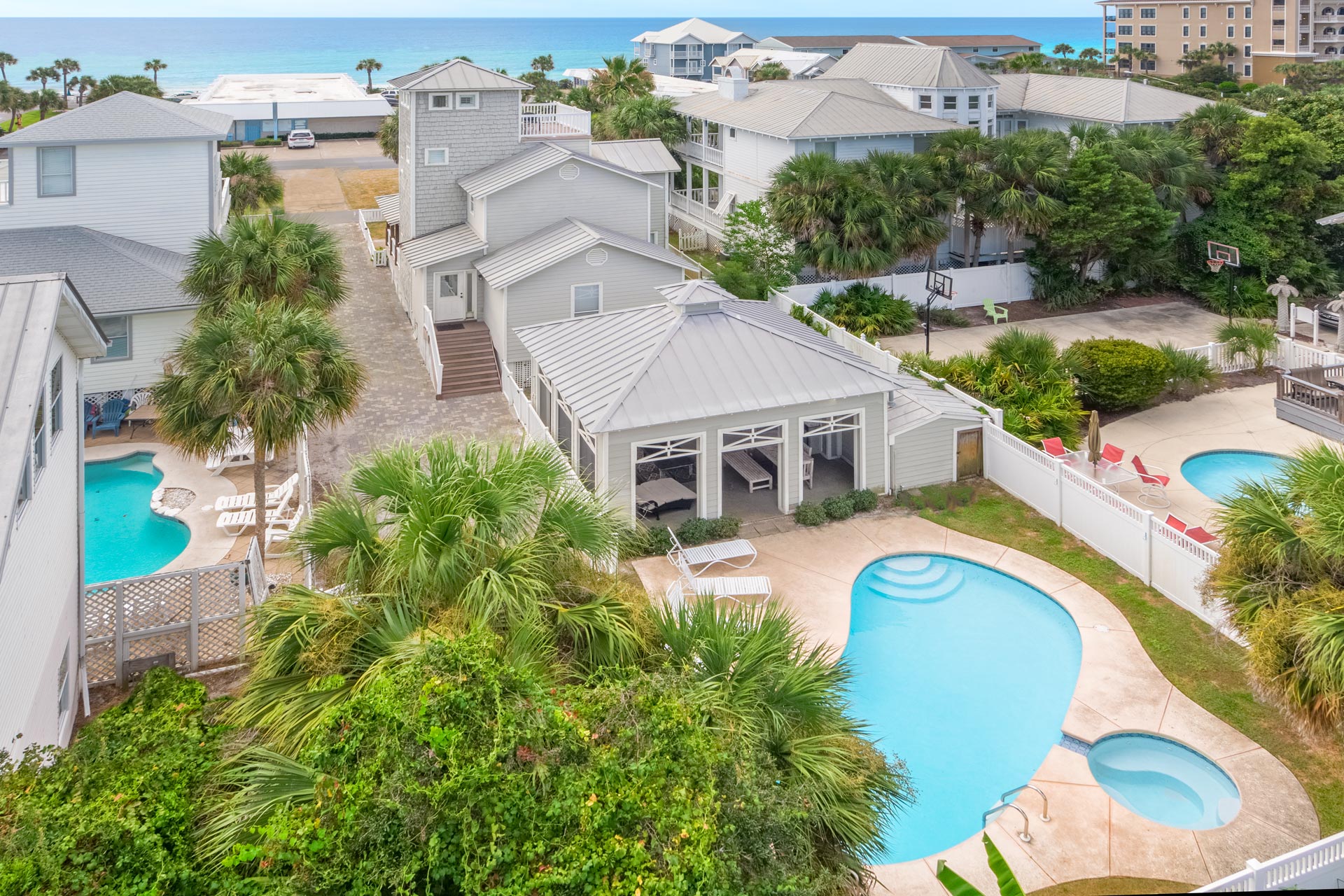 3 Bedrooms / 3.5 Bathrooms / 13 Guests
Crystal View is a captivating two-story vacation home that can sleep 13 charmed beachgoers. This home is also Pet Friendly, so feel free to bring along your puppy pal! It is across Scenic Gulf Drive, a short distance from the beautiful beach. It features a third story Observation Tower that provides a vivid "crystal view" of the glittering emerald toned Gulf. A large swimming pool and soaking tub out back provide fun relaxation. A big cabana features a fully furnished living area, an outdoor kitchen, a wet bar, and a table that invites you to enjoy poolside entertaining.
Pet Sand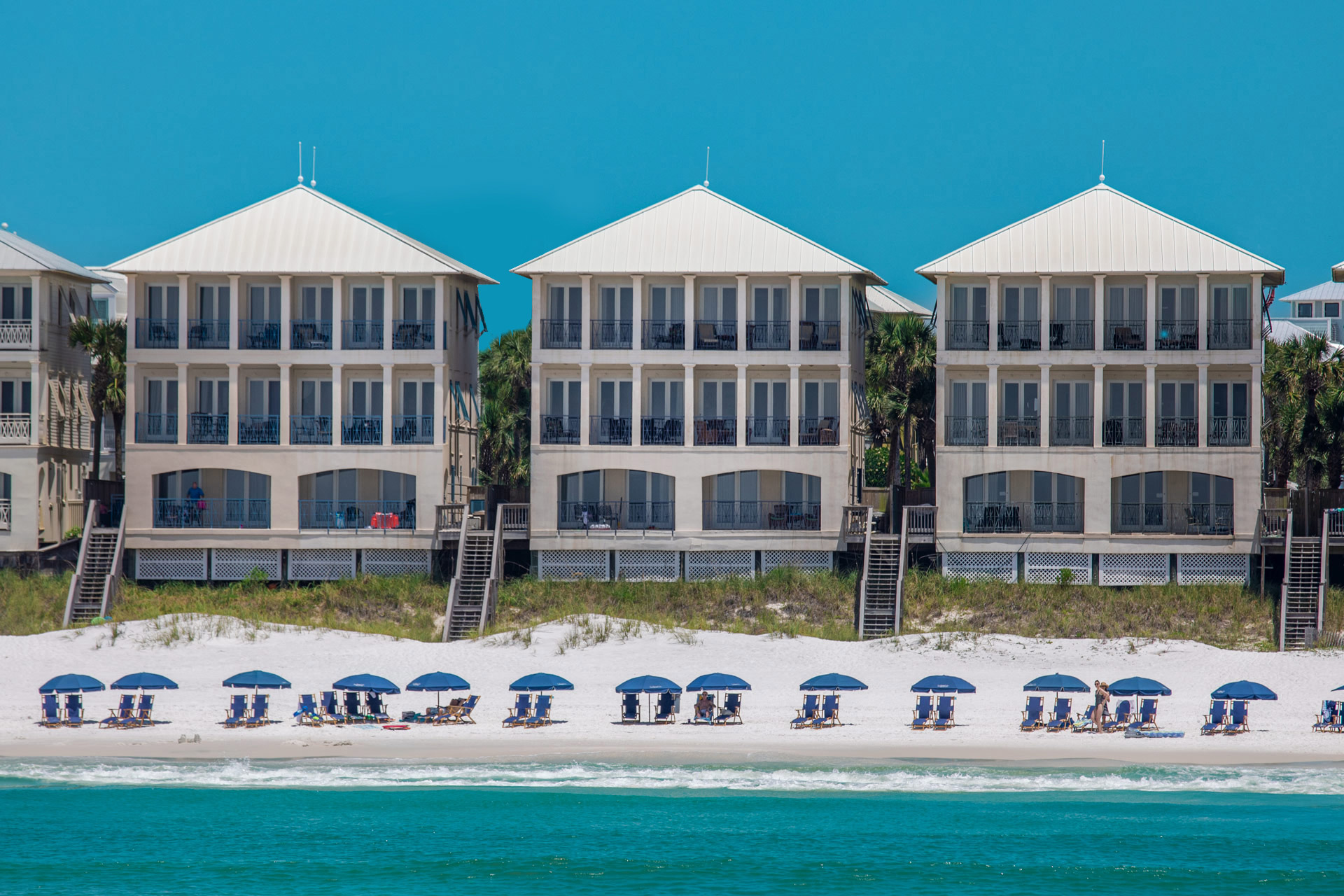 3 Bedrooms / 4 Bathrooms / 8 Guests
Scenic Gulf Drive's Pet Sand in Frangista Beach has three bedrooms that sleep eight coddled guests - and you guessed it, this home is also Pet Friendly! There is a nicely furnished bonus den area with a wet bar and queen-sized sleeper sofa off the balcony Plunge Pool, as well as a convenient full bath. A comfortable living area on the second floor with a wraparound couch is elegantly attired with floor to ceiling drapes on the sliding glass doors leading to the beach veranda. The kitchen is handsomely styled.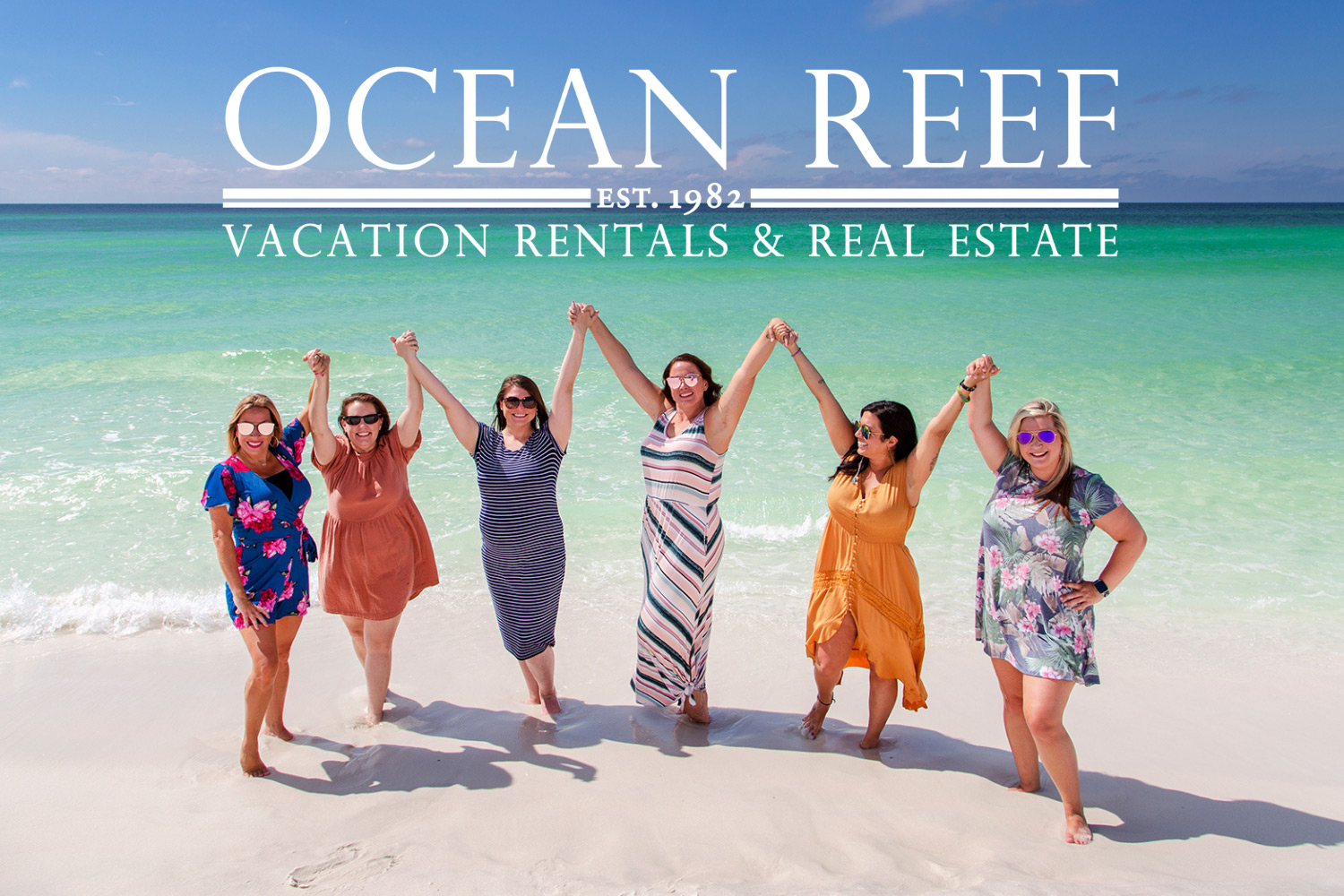 Enjoy taking a look at our Scenic Gulf Drive vacation homes to find the size and style you desire to pick your favorite. Make plans and reservations now to secure it to create happy vacation memories and give you something to look forward to next year!
Keep reading: 6 Miramar Beach Condos on Scenic Gulf Drive