Posted on 11/27/2020
Built way back in the 1990s(!) - the Shops of Grayton are now 22 years old. It began in 1998, a good year for the Goo Goo Dolls. And a good year for a South Walton gentleman by the name of Jim Poteet.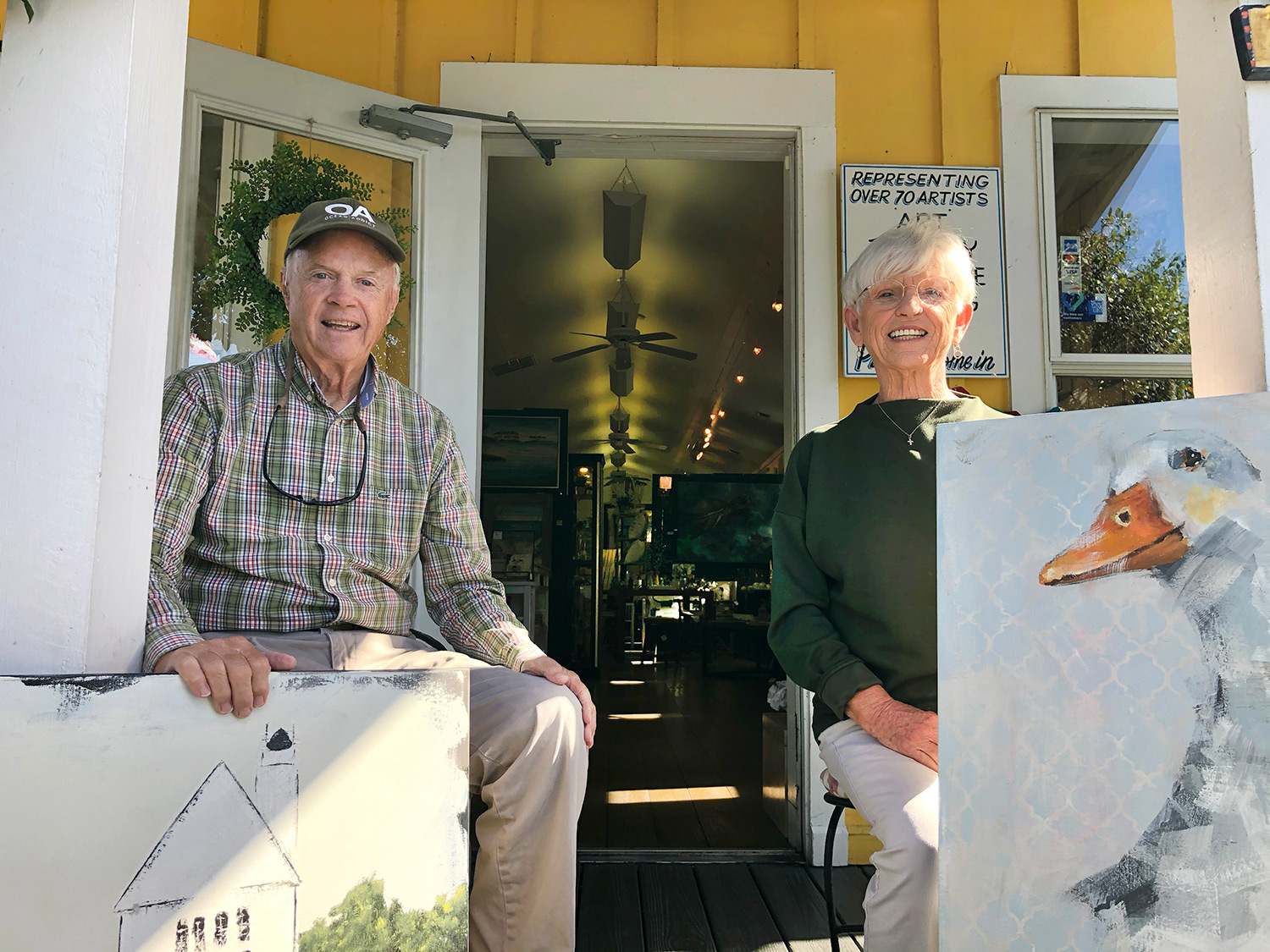 He built the shops and, specifically, The Studio Gallery - for his original works of art. Now in the hands of its third owners, it features almost a hundred different artists - local and regional -and captures the colors of the beach. The studio resides in a cute little bright yellow cottage on the northeast corner at the Shops of Grayton. The largest, er um longest of any of the shops as well...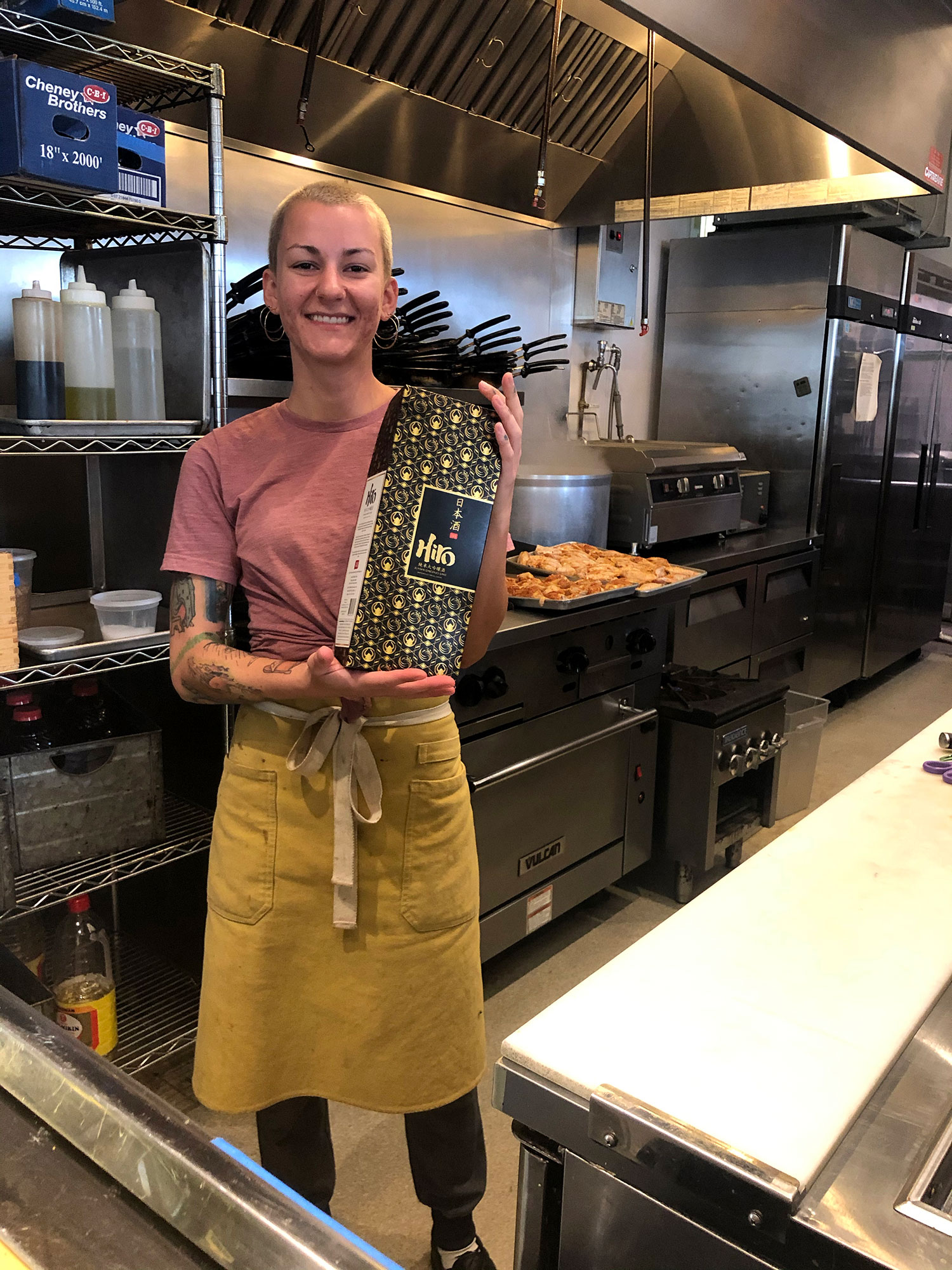 Second longest but no less delicious, Nanbu Noodle Bar is a fun fusion restaurant with gourmet Pokey bowls, and Ramen noodles; they're famous for their octopus. If you're looking for a cool, relaxed Atmosphere, this dark little blue cottage, second from the north, on the east side of the Shops of Grayton does not disappoint. Inside is a multi-dimensional seating situation comprised of pillows, stools, bars, and high top tables. It's fun, it's beachy, and it's most certainly lip-slurpingly delicious. Try the pork belly, please!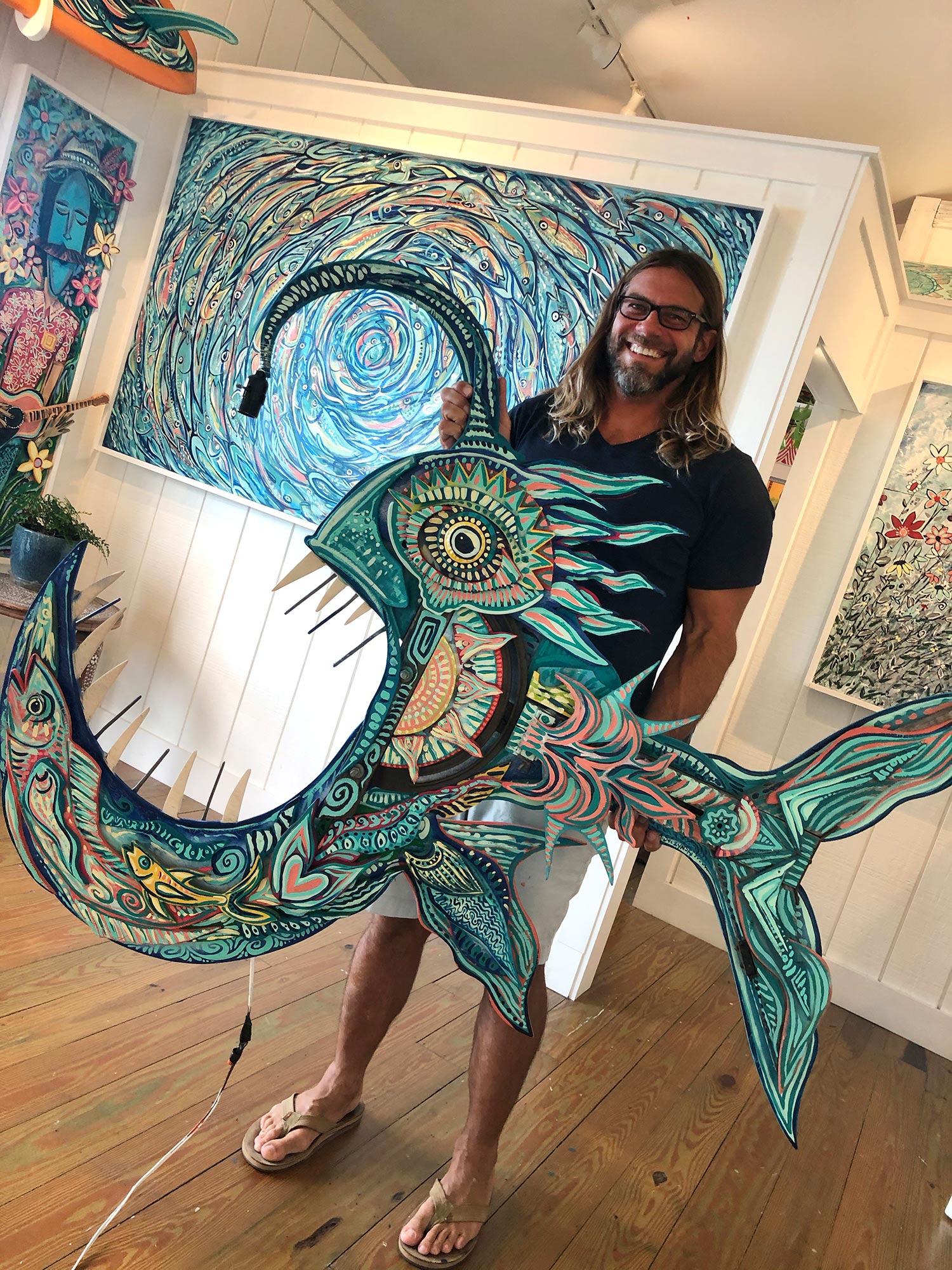 Andy Saczynski has a way of taking the ordinary and making it extraordinary; his gallery dubbed the Saczynski Gallery is full of found objects that he's re-purposed to either bring kinetic shape or form out of the existing structure. He then adds his flare of bright colored swirls and pointillist dot strokes, mixes in a little surfer mentality, and what he creates is a one of a kind piece of art. Unmistakenly South Walton. Purchase something right from his gallery or, better yet, commission him for a unique installment. He never ceases to surprise and amaze with his use of objects, color, and light. His cottage is finished in a light pistachio hue, second from the south-most eastern corner of the Shops of Grayton, and is equal in size to the four cottages across the way, more on them later…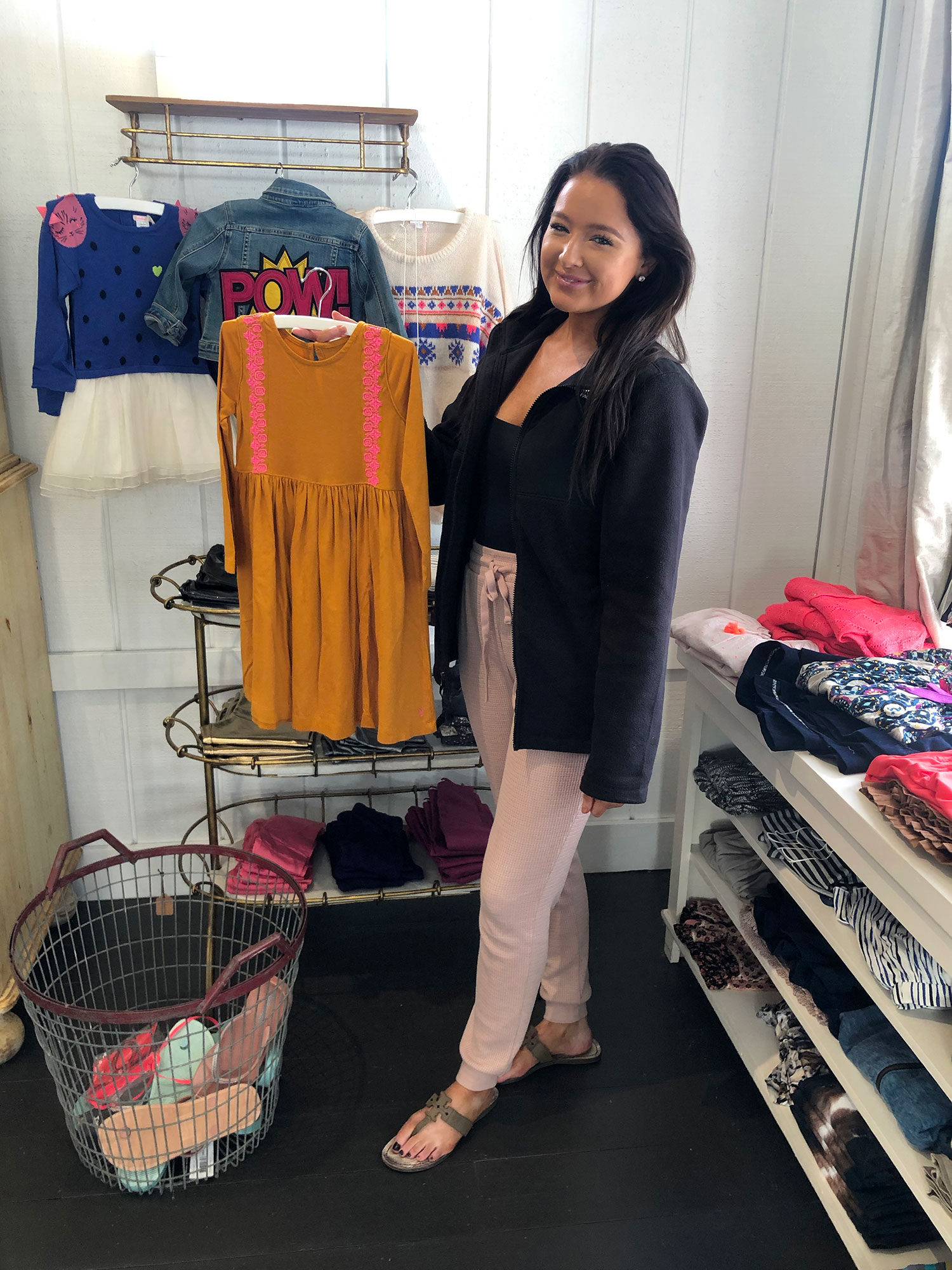 Little Red has clothes and toys for girls and boys and is a store built explicitly for your beach kids. From denim overalls to cute throws, this little store, the smallest SQFT of any of the shops, has exactly what you're looking for. A bevy of thought-provoking, science-minded toys will keep them occupied for hours - and there is always something unexpected like a pair of pink puddle duck boots or the occasional yo-yo. Pro-tip, this is a great stop for parents and grandparents on their way to do a last-minute magic-hour photoshoot.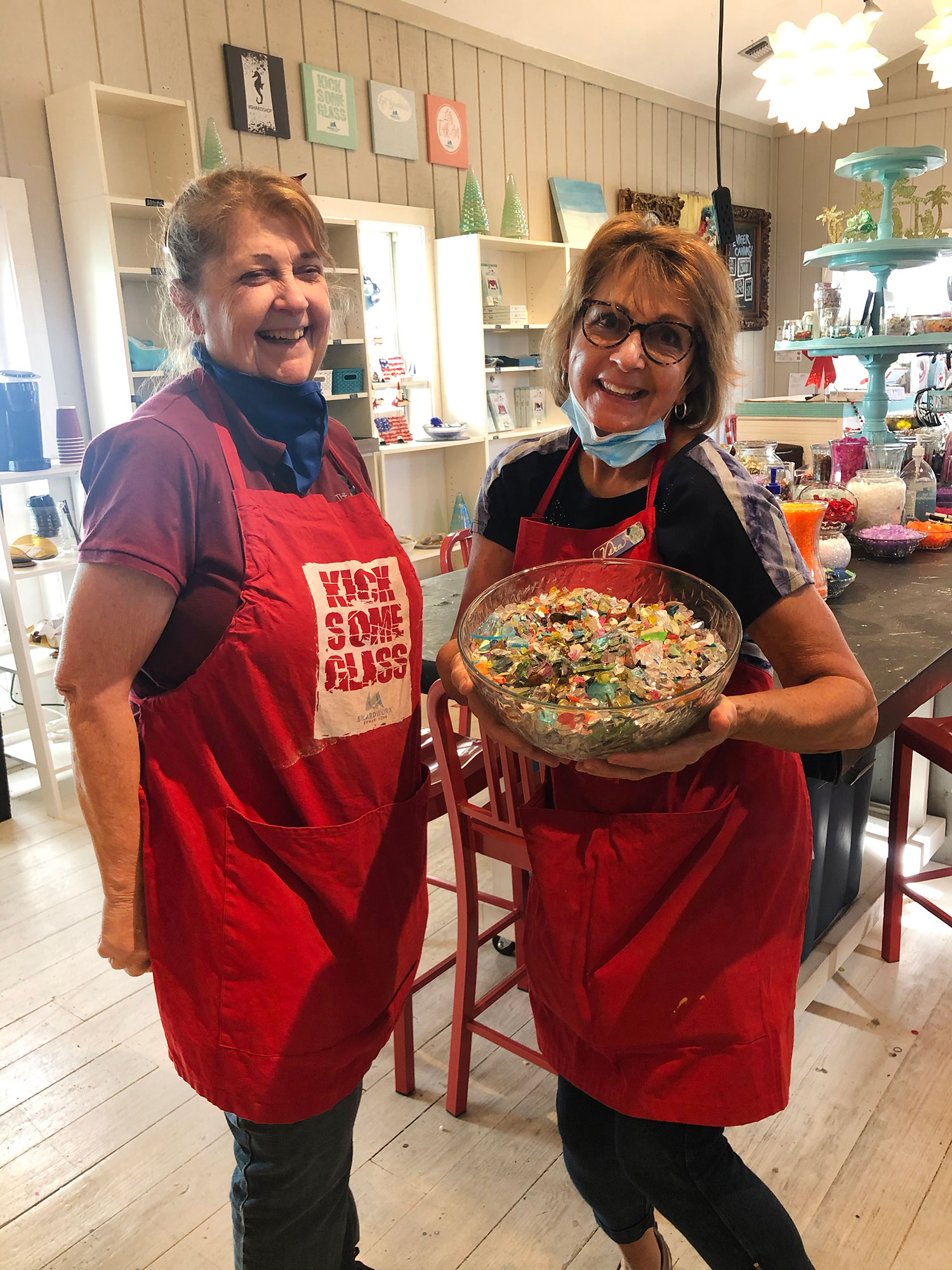 Now we cross the central parking area to The Shard Shop, a special kind of interactive studio that blends some seriously technical glass art with some serious fun for everyone! Located in the southwest corner of the complex, this little art shop hosts large groups of eager artist-in-training that come together to create artworks made of a rainbow of color glass, each reflecting an abundance of light. There are classes here for all ages and lots of them. Bowls and bowls of different color glass shards line the walls, and the moment you walk through the door, your eyes will be happy. The woman behind the Shop is Mary Hong, and the works of art she makes are very popular, so popular in fact that she has her own studio next door!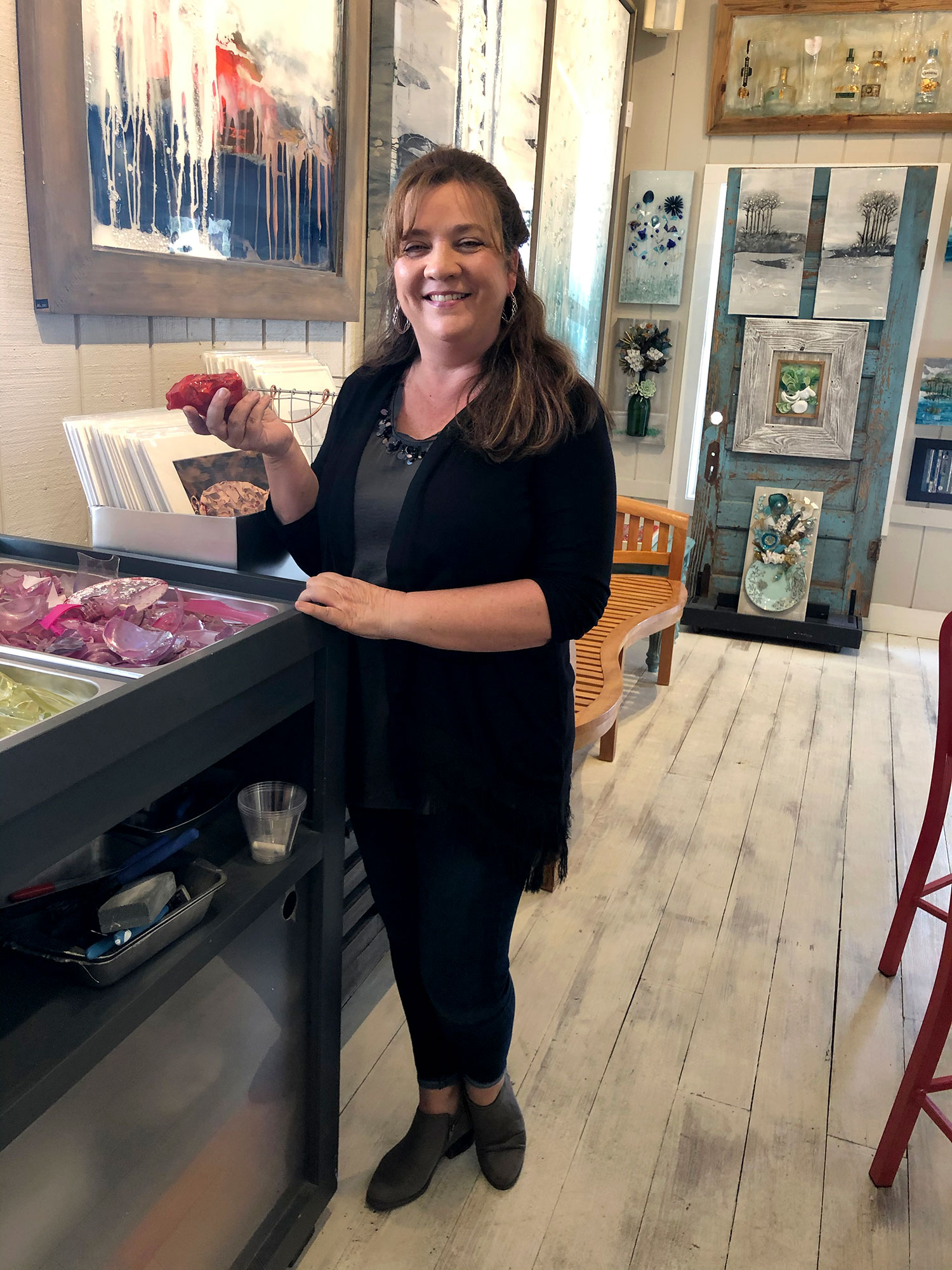 The Mary Hong Studio Gallery is the second from the most southwest corner of the shops. It's chock-full of beautiful glass art everywhere. Every inch of the place is covered in art - some are tiny, the size of a postcard, others are massive, multifaceted works - there is something here for every budget and every style. You'll be able to color coordinate directly to your home or condo. Long time, Italian-born art curator Mario will help you find just what you need or get the conversation going on what type of custom piece you may be looking for.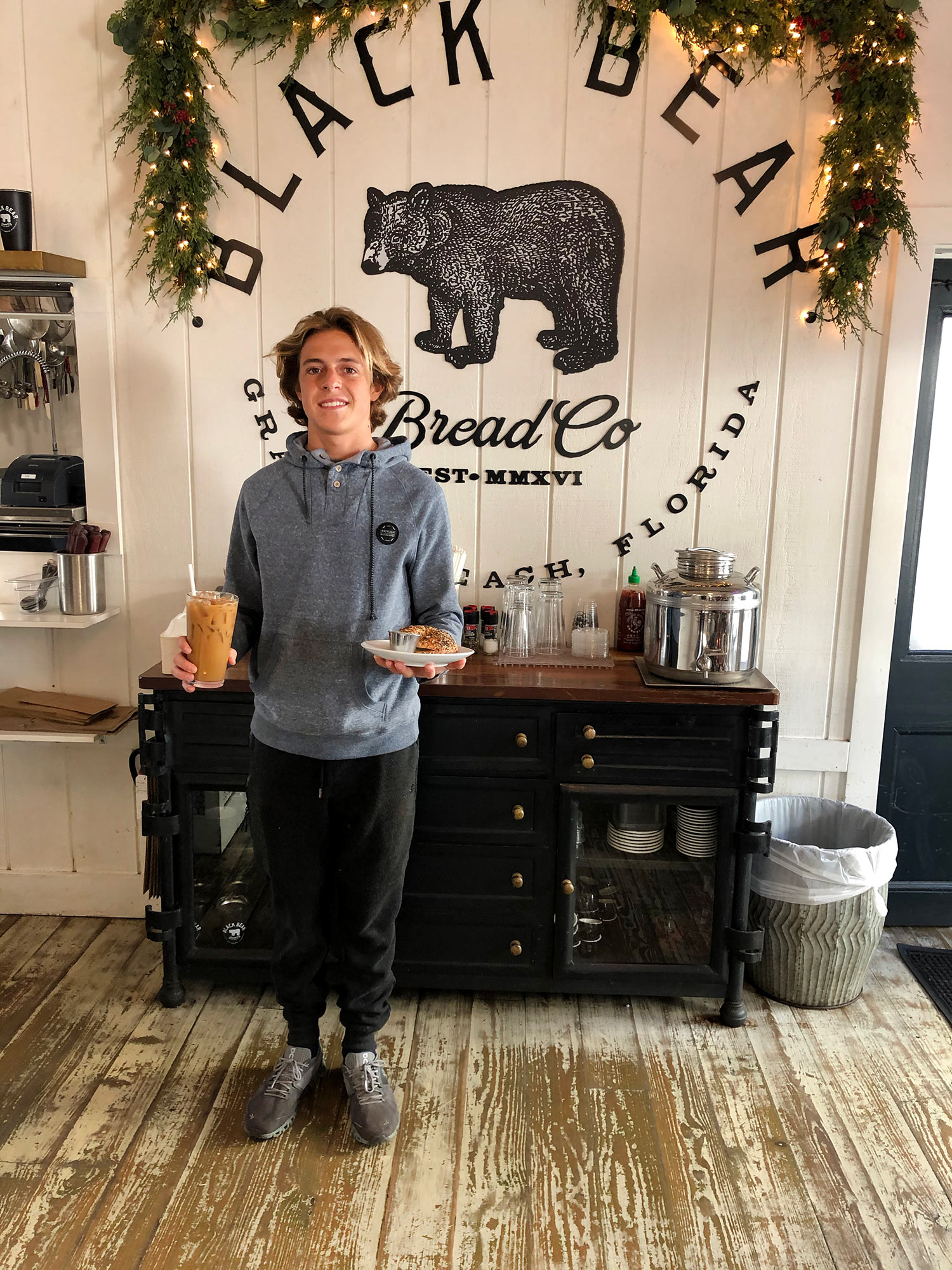 Next, moving north along the bright white raised boardwalk is Black Bear Bread Co. A collaborative effort by a dedicated group of local restaurateurs, chefs, and some of the best bakers in town, Black Bear has quickly become a local favorite and has already expanded to another little shopping plaza a few miles west you may have heard of, called Grand Boulevard. Once you've made your order, there are lots of indoor and outdoor seating arrangements, couches, tables, and comfy chairs to choose from. They feature hand-crafted dishes with precision and delicate nuance, as well as drinks, desserts, and of course, bread. Let's talk about the bread, it's artisanal, but they make so many kinds of baked goods here it's important to mention, try the bread. You'll smell it the moment you walk by the front door.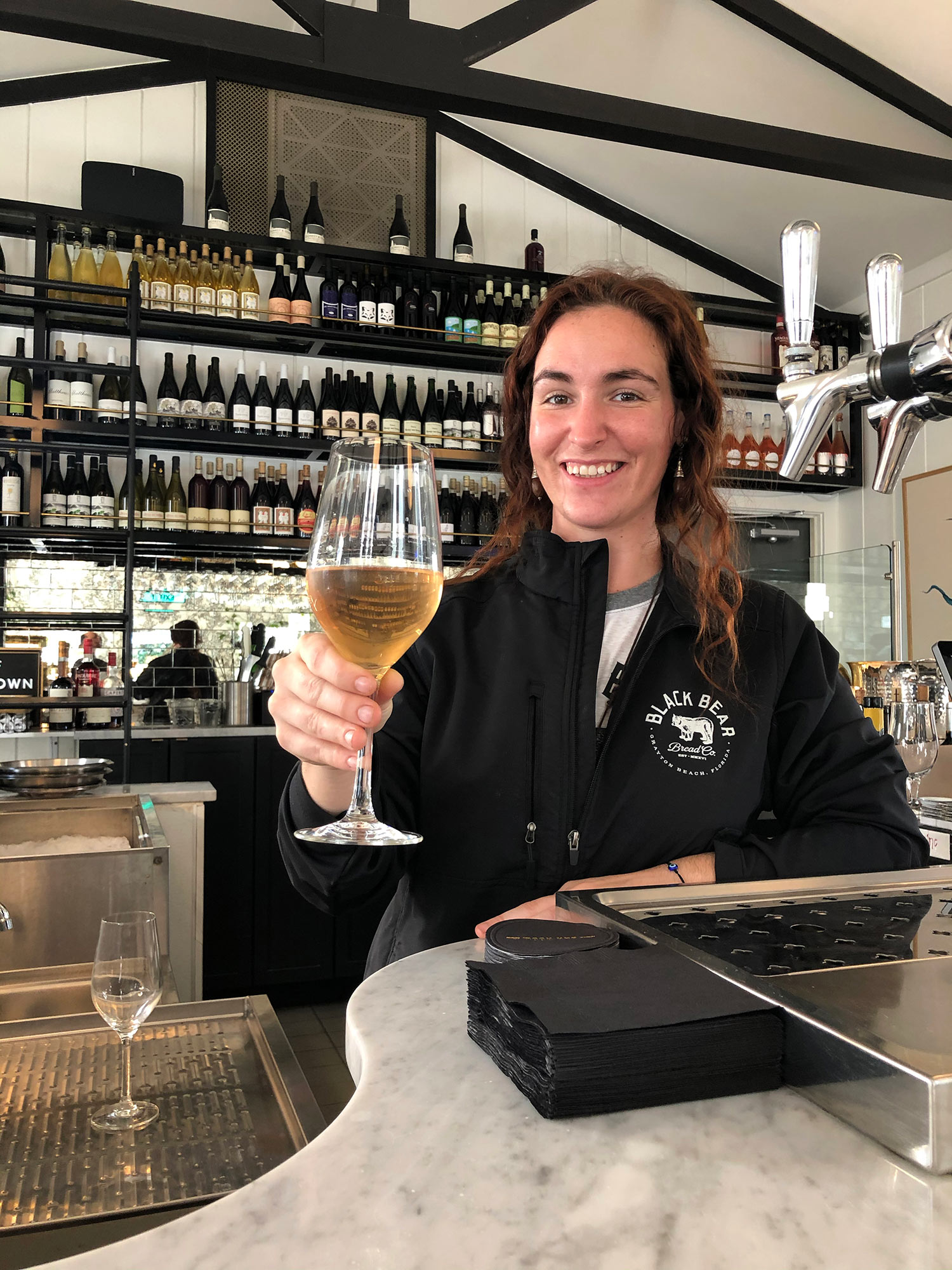 Right next door, we find the Black Bear Bar Room; it brings all the delicious flare of the bread company to the world of libations. The space is full of ambiance, the back wall of which is just awash with bottles of fine, natural wines and taps stocked with unique craft beers. A central half donut-shaped bar from which one can purchase beverages and some of the tastiest snacks and shareable plates around is the space-defining feature. You'll love the vibe in the Bar Room; it was carefully curated by the owners to strike the perfect balance between a day and night time hang-out space. Outside there is a massive deck and covered area that is open and airy yet shaded from the Florida sun.
Quite literally something for everyone at the Shops of Grayton, a beer for dad, art for mom, snacks, toys, and clothes for the kids, as well as lots of noodles and pastries for all. When you stay with Ocean Reef Resorts in Grayton Beach, or anywhere along Scenic 30A, you really should drive, bike, or just stroll by for a spell and enjoy all this special little place has in store for you!