Posted on 6/15/2021
Many of our guests at Ocean Reef love to eat out when visiting the Emerald Coast. After all, it's nice to take a break from cooking… and let's be honest, who really wants to cook on vacation? You do still have the option to serve up fresh, homecooked meals as all of our private vacation home rentals and luxury condos offer full galley kitchens, gourmet kitchens, and even outdoor grills. But when you're craving a night out where you don't have to cook, South Walton has plenty of options for you.
The best of these, of course, are the beachfront restaurants!
There's no doubt that no one can resist the local catch of fresh seafood, which is always offered in abundance at one of the area's great beachfront restaurants. There is something wonderful about being seated in a restaurant right on the beach with the smell of salt air, the crashing sound of the waves, and incredible vistas of the Gulf's emerald green water that stretches beyond the southern horizon. For our new Ocean Reef guests, here are a few of the local beachside restaurant gems along the beaches of South Walton, from Miramar Beach to Scenic Highway 30A.
Pompano Joe's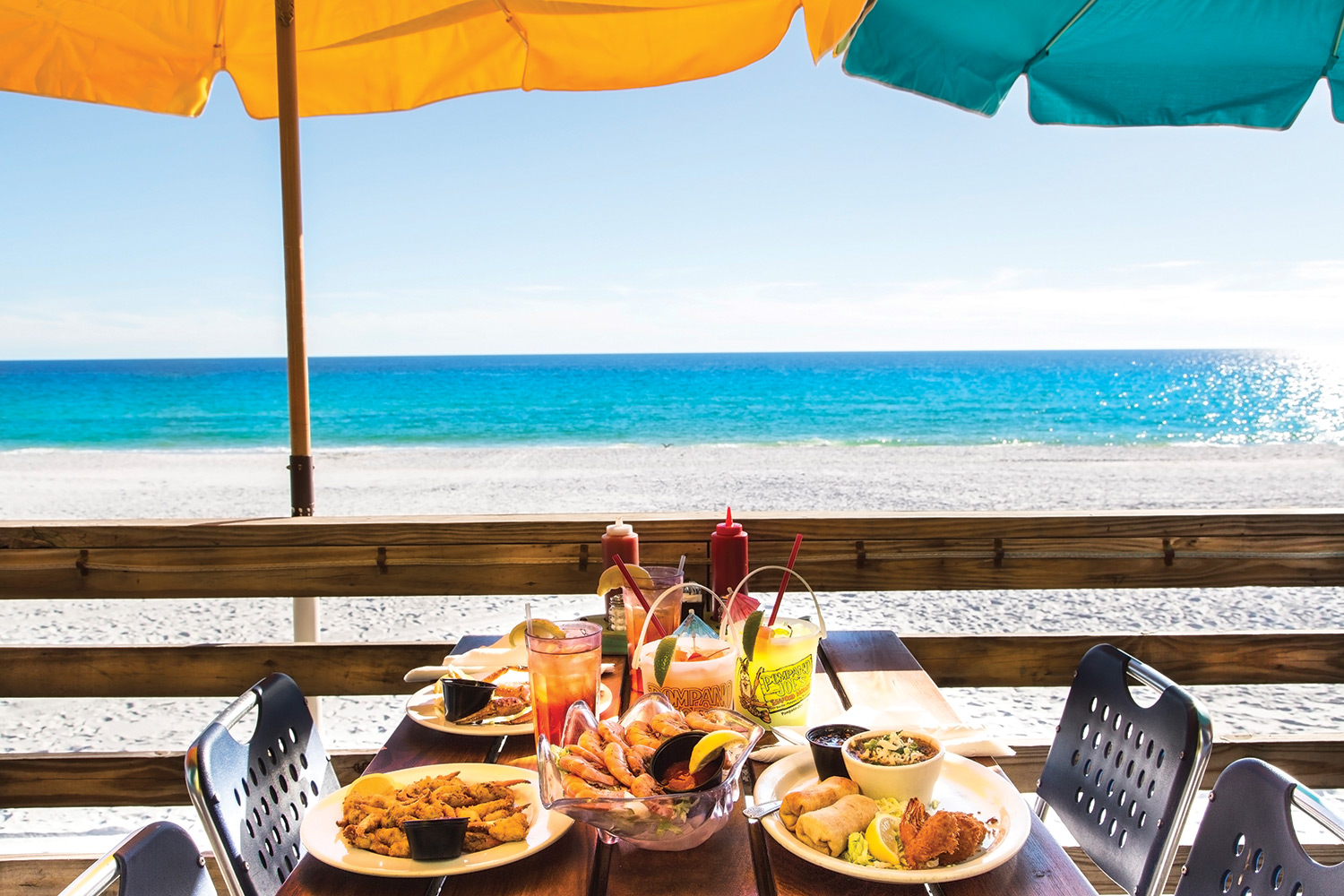 2237 Scenic Gulf Dr, Miramar Beach, FL 32550
Starting out on Scenic Gulf Drive, there is the funky, iconic Key West-style seafood restaurant called Pompano Joe's. This has been a local favorite since 1995. It has good food, a great bar, a beachside patio, and a wraparound dining balcony overlooking the Gulf. TripAdvisor gives it a 4.5-star rating with over four thousand reviews. The high ratings and enthusiastic reviews are due to the delicious Caribbean-styled seafood entrees, fantastic location, and amazing staff. The building itself boasts a rustic yet cheerful vibe, featuring old plank wood flooring, high-beamed ceilings, and rainbow-colored window frames. Large wooden replicas depicting fresh Gulf fish with name tags hang on the walls while the real thing is served on your plate. Popular items include appetizers like Coral Reef Nachos that are piled high with shrimp, scallops, and fish; Voodoo Cheeseburger served with a tangy sauce on a toasted bun; and a Smoked Tuna Dip with Dijon-Mayonnaise sauce. Fresh fish specialties include Tuna, Amberjack, Grouper, and Mahi Mahi, to name a few. You can get anything from a Po Boy Sandwich to full dinners. Pompano Joe's also offers ice-cold draft beers, margaritas, and house wine, making any meal complete.
The Surf Hut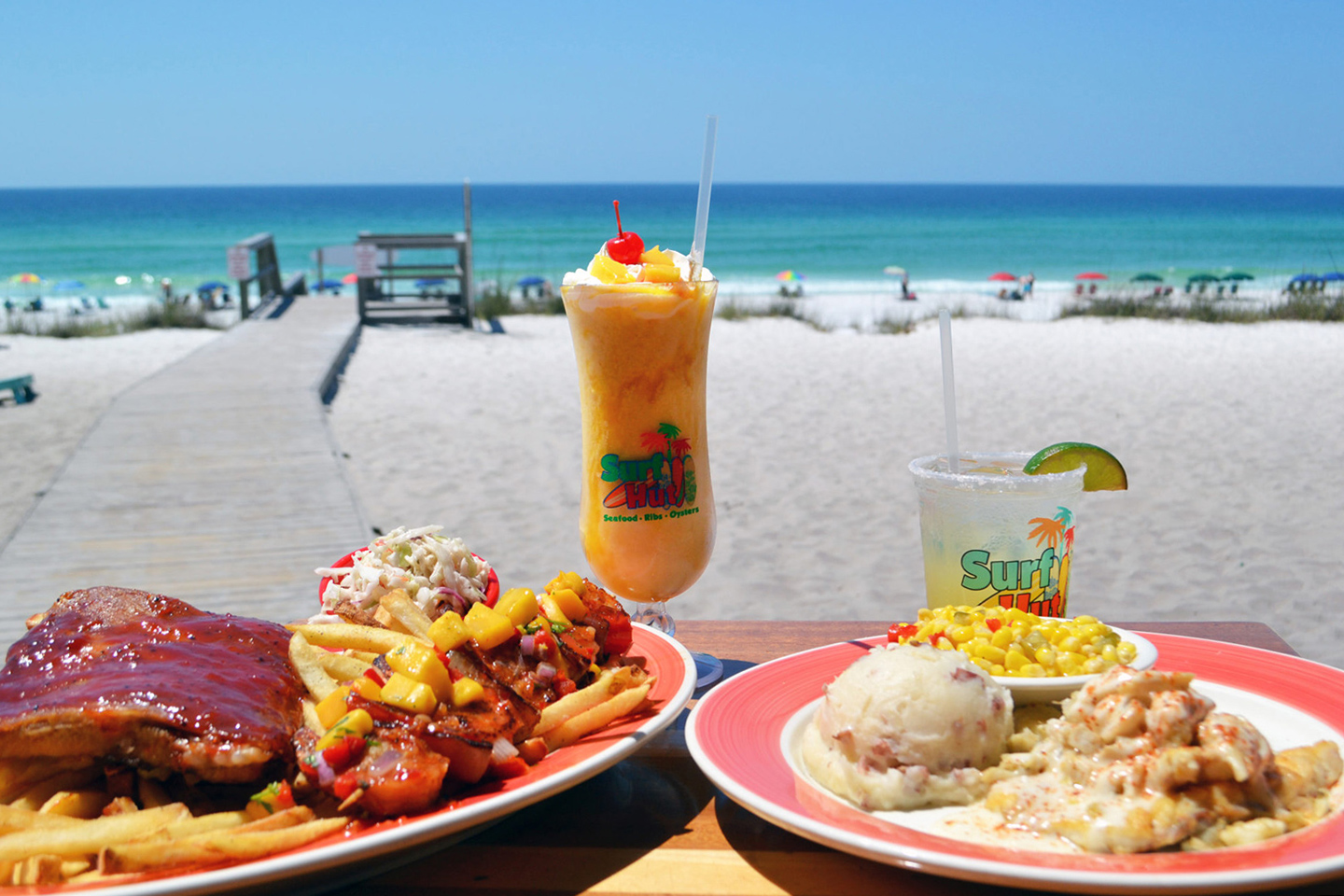 551 Scenic Gulf Dr, Miramar Beach, FL 32550
Miramar Beach is home to The Surf Hut, which has everything you could ever want in a beachfront restaurant—sand, sun, seafood, and stunning Gulf Coast views. The Surf Hut opened in 2014 with the goal of creating a casual beachfront hangout spot with tasty surf and turf meals, southern hospitality, and the best views on the coast. Let's just say they succeeded, and more! The menu features classic seafood favorites, including Oysters on the Half Shell, Shrimp & Crab Dip, Endless Summer Seafood Salad, Grilled Fish Tacos, Shrimp & Grits, Alaska Snow Crab Legs, Shish Kabobs, and so much more. But that's not all! Not only does The Surf Hut serve up the tastiest meals, it also offers beach entertainment in the form of life-size games right in the sand—like Connect Four and Cornhole. Nothing like good food and good fun with the whole fam.
The Beach House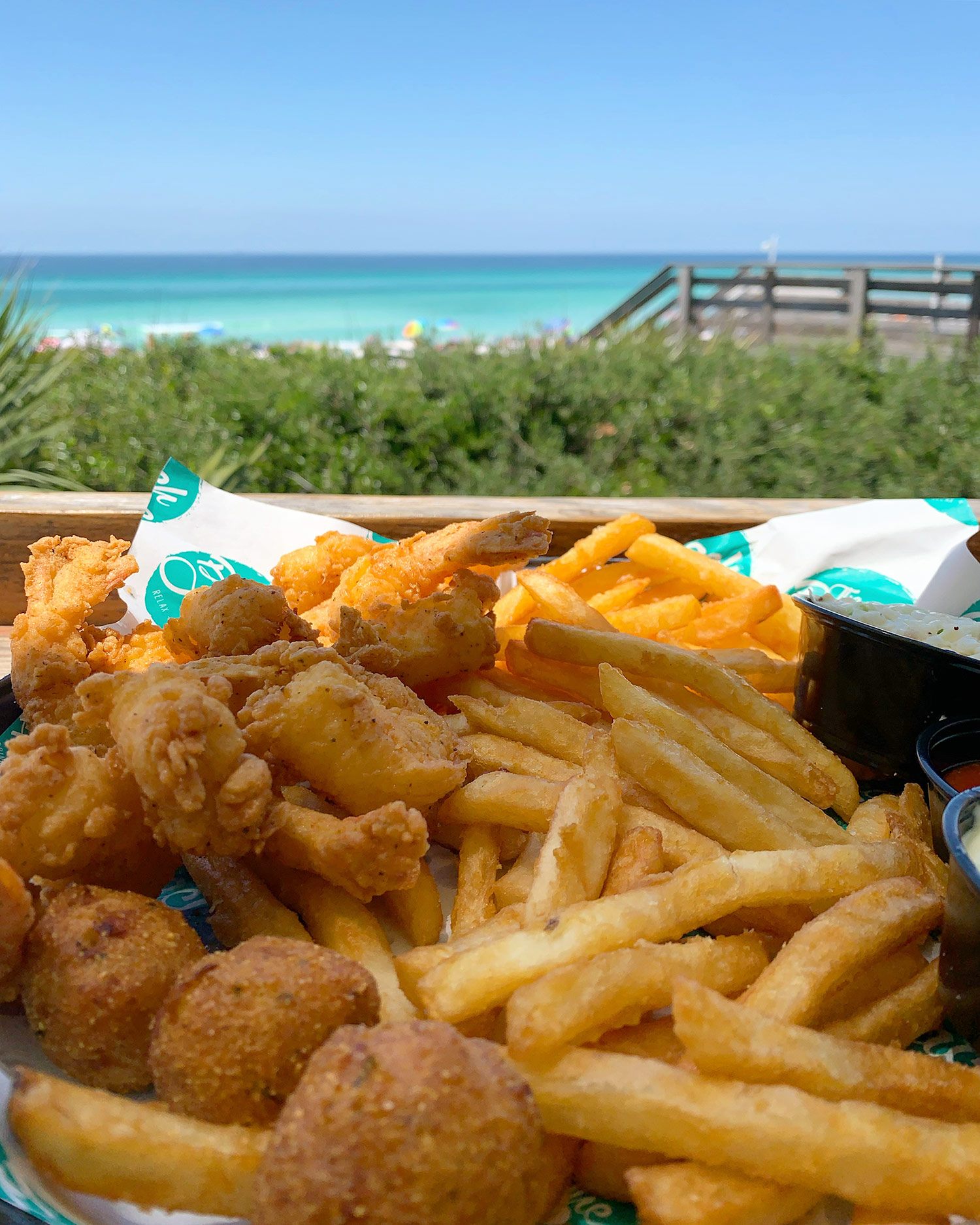 4009 S Sandestin Blvd, Miramar Beach, FL 32550
Located directly on the Gulf in the Sandestin Resort, The Beach House Restaurant & Bar is an Emerald Coast treasure with stunning views and great food. With its fantastic beachfront location, you will enjoy the primary outdoor dining area, which also has a refreshing pool. The bar area has been redesigned for prime views of the gorgeous coast. In addition to its relaxing environment, The Beach House hosts live music, ensuring the perfect beachside evening. And of course, we can't forget to talk about the food! The Beach House serves up classic American meals, incorporating fresh seafood right from the Gulf of Mexico. Enjoy large dishes that you can share with the whole group, including Crab Cakes, Smoked Fish Dip, and the famous Beach House Nachos. Or, try out the house specialties…especially the tasty Fish Tacos! Pair your meal with a coastal cocktail, a glass of wine, or a cold brew, and you'll be ready to enjoy a perfect beachfront meal.  
Vue on 30A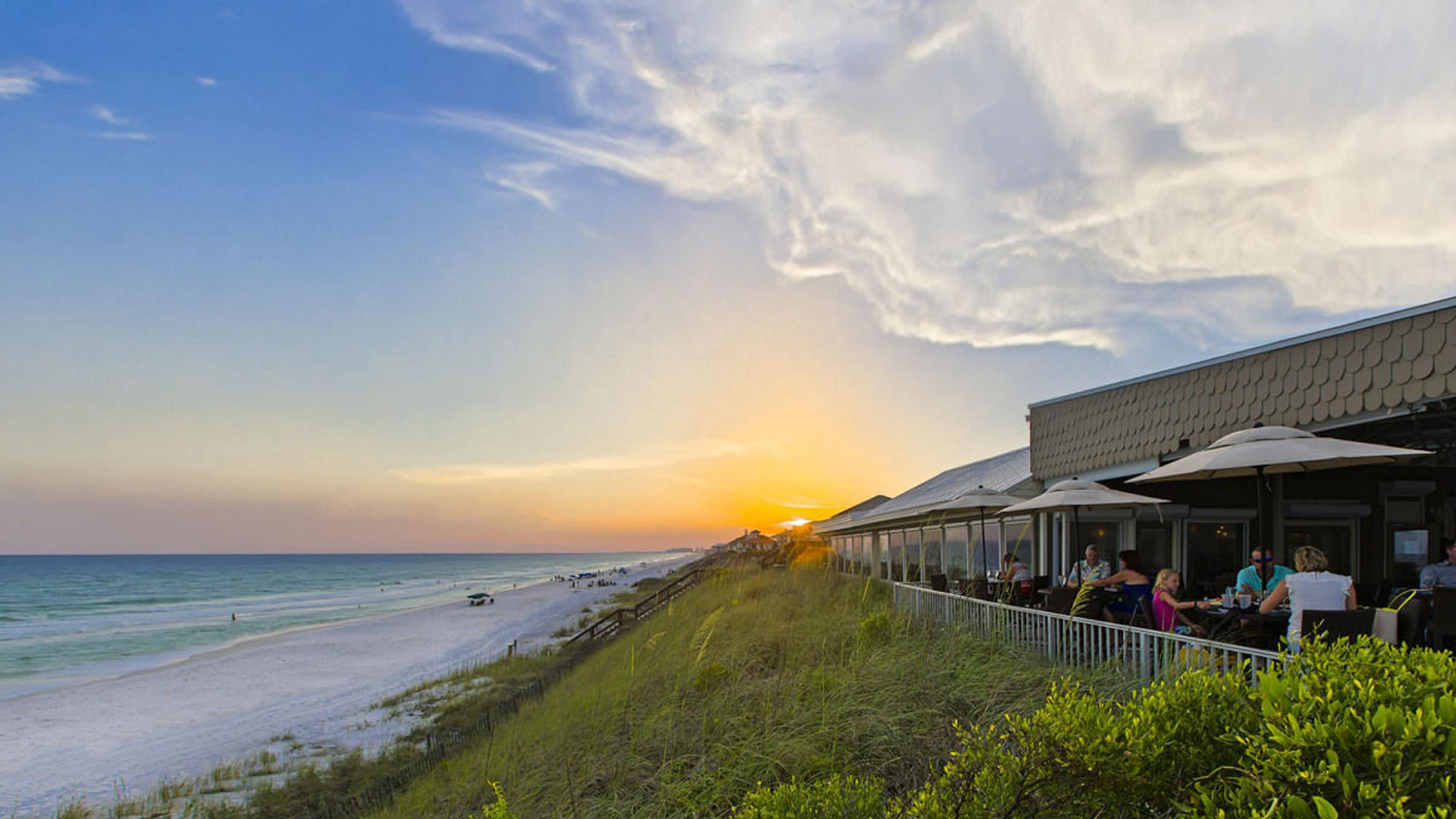 4801 W County Hwy 30A, Santa Rosa Beach, FL 32459
Heading down Scenic Highway 30A, you'll find another great beachfront restaurant. This one is Vue on 30A. Formerly a restaurant for members of the private Santa Rosa Beach Club, Vue on 30A is now enjoyed by any and all on 30A. Since its days as a club-specific joint, the restaurant has been revamped to show off a classic beach elegance, especially in the ultra-modern lounge. What hasn't changed is the wonderful location. It sits high upon the sandy bluff that rises above the Gulf in Santa Rosa Beach, and a wall of windows takes full advantage of the beach views. There is an adjacent poolside patio for outdoor dining. Not surprisingly, this place has always been popular for wedding receptions, its club-like, beachside atmosphere indoors and out. Of course, it's also great for everyday dining, from brunch to dinner! The menu is deliciously diverse, with popular dishes such as Lobster Ravioli, Lamb Lollipops, Jamaican Red Stripe Beer Batter Seafood Platter, Smoked Salmon Benedict, and more. You won't find better fine dining, or better views, than at Vue on 30A!
Related article: 9 Date Night Restaurants on 30A
Shunk Gulley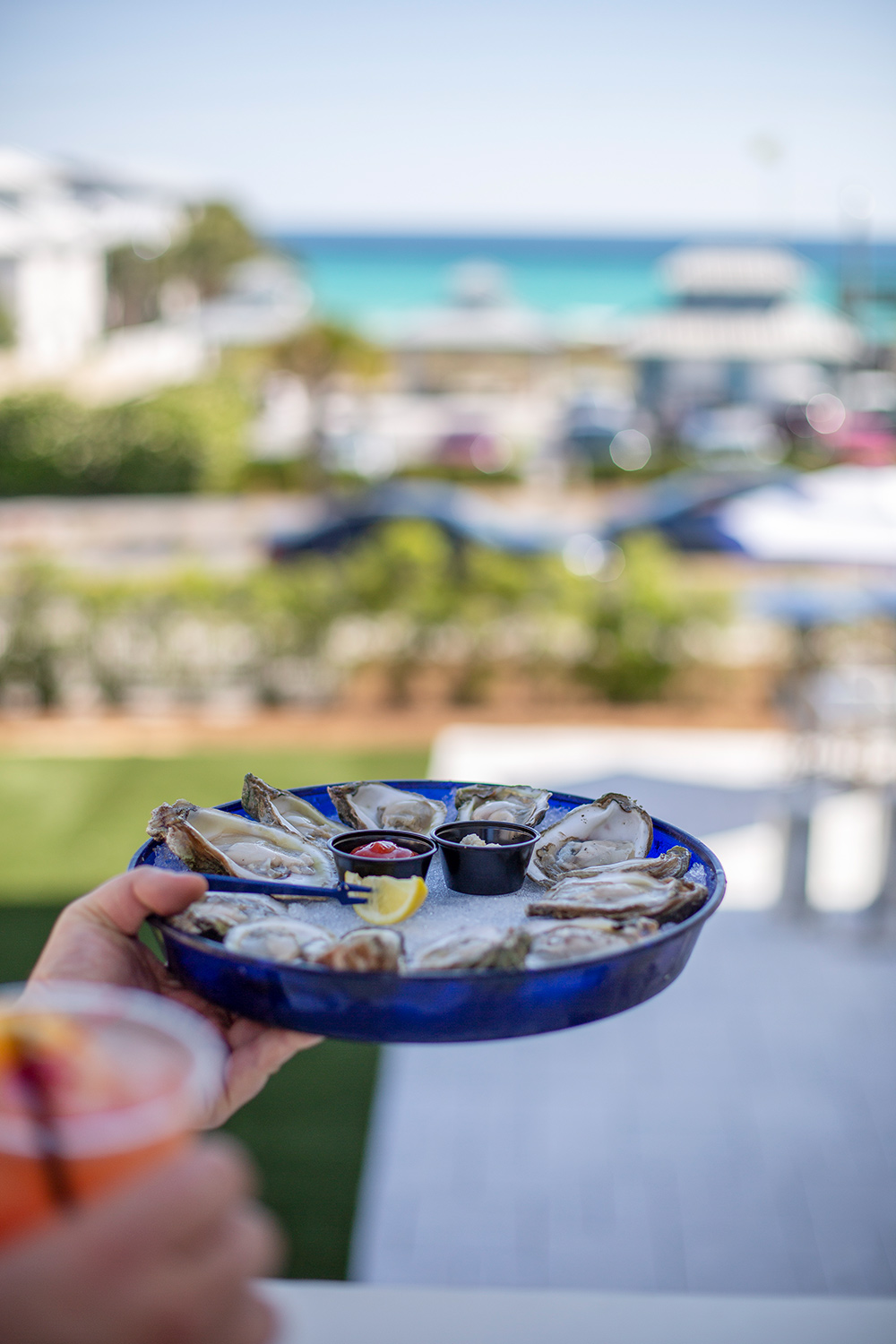 1875 S Co Hwy 393, Santa Rosa Beach, FL 32459
Just down the road from Vue on 30A, Shunk Gulley Oyster Bar is a top-rated 30A restaurant. Though not technically beachfront—it's just across the street—it offers a great view. The restaurant is named after the fishing reef on the coast. It hosts classic coastal dining combined with the southern hospitality that is common in South Walton. On TripAdvisor, Shunk Gully has a 4.5-star rating and is in the top 5 of Santa Rosa Beach's 70+ restaurants. One guest review even said that they ate here four times over the course of a three-day trip, saying, "The best seafood restaurant in the area! Amazing food, great staff, awesome view! We ate there four times…I would PAY for the coleslaw recipe!! The other times I got their hamburger with tomato jam!! OMG. Unreal…And lest I forget, the KEY LIME PIE is to die for. Get it. You won't regret it." This is the type of recommendation we all need! Besides the food and the view, Sunk Gulley has live music every day, adding to the beachy atmosphere that makes it the perfect vacation go-to.
Red Bar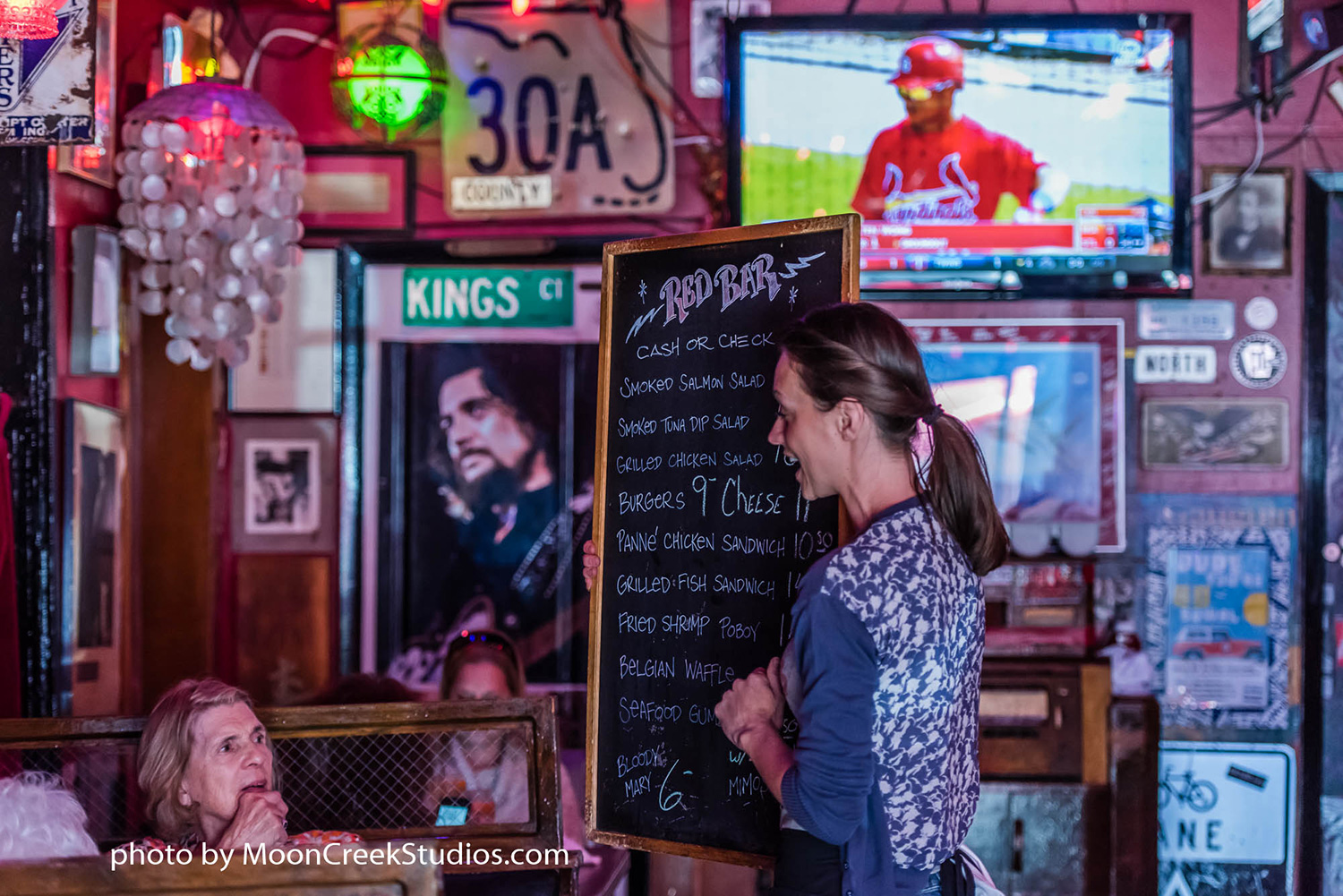 70 Hotz Ave, Grayton Beach, FL 32459
If you are looking for good food in a laidback atmosphere, then you have to head a little further down 30A to old Grayton Beach, where you will discover The Red Bar. This popular restaurant is a favorite gathering spot for both locals and vacationers. So much so, that even when The Red Bar burned down in 2019, it was rebuilt anew with the same look, vibe, food, and service. The funky, sociable atmosphere fits perfectly in the Grayton Beach community, which remains the laidback home of eccentric artists, hippies, Bohemian types, and even their dogs. The Red Bar is eclectic, to say the least. It features lots of deliberately tacky red lights, crystal balls, rustic furniture, sixties-style posters, and European prints covering the walls and ceiling. Here, menus are displayed on chalkboards, which are brought to your table by the friendly wait staff showing daily specials and traditional favorites. Lunch (11am to 3pm) and dinner (5 to 10 pm) serves generous portions of tasty dishes, such as the Blackened Grouper, Daily Fish, Shrimp and Crawfish Pasta, crispy Crab Cakes, Baked Eggplant with Shrimp and Scallops, and a cheesy, aromatic Manicotti. Although The Red Bar sits next to the beach, this is pretty much an indoor world unto itself—with great food, great people, and even great music. However, before or after you visit, the isolated beach is right around the corner—perfect for a lovely walk and a stroll through this tiny, charming, and eccentric beach village.
FOOW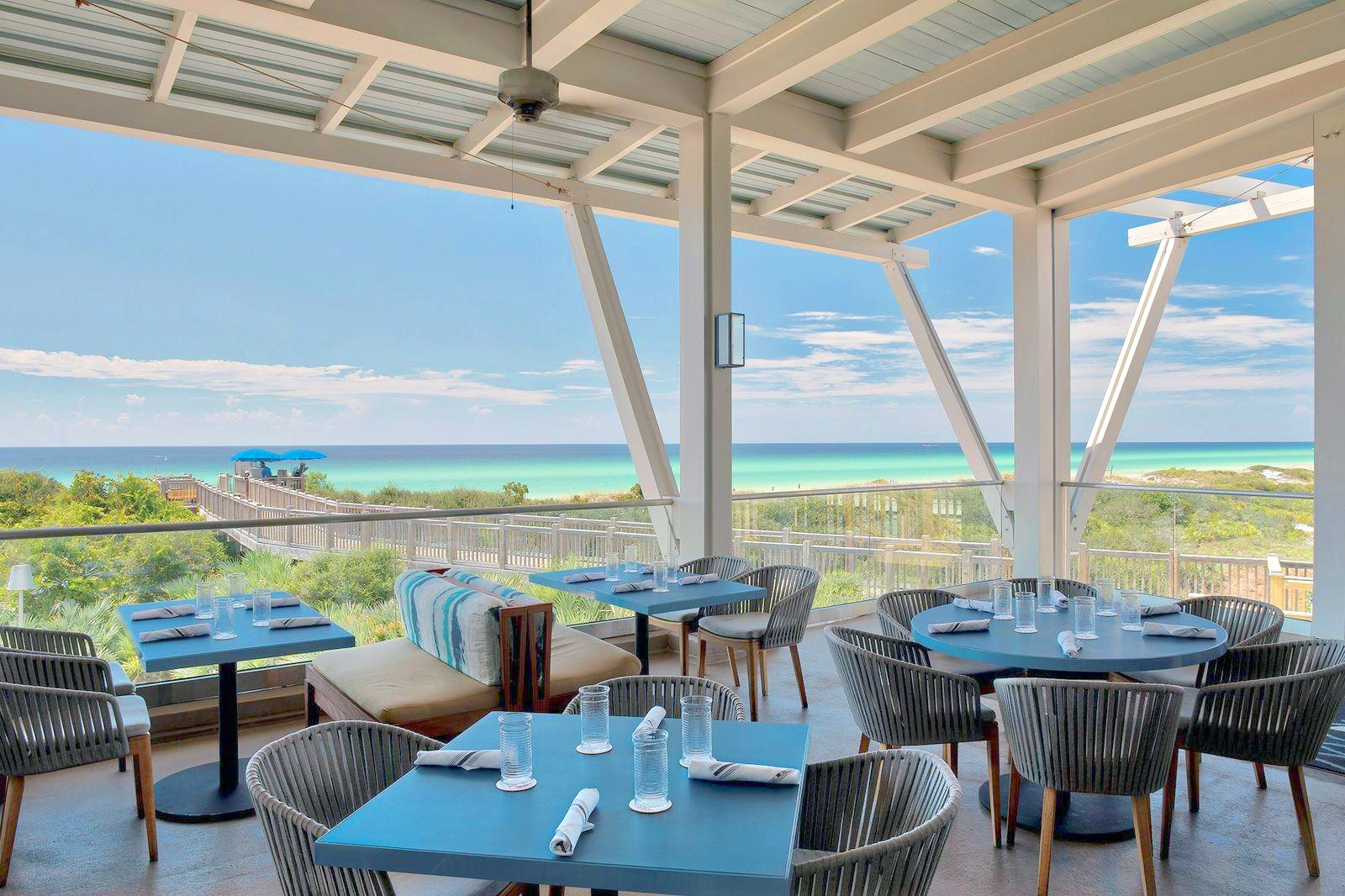 34 Goldenrod Cir, WaterColor, FL 32459
Just a hop, skip, and a jump away, down Scenic Highway 30A, you will pass over the isthmus between Grayton Beach State Park and the pristine Western Lake created by a coastal dune. Be sure to drive slowly because the views in both directions are simply stunning. Once you cross over, you'll arrive in WaterColor, where you'll find another must-try beachfront restaurant. This one is FOOW, previously referred to as Fish Out of Water. Redesigned by Cooper Carry of The Johnson Studio, the FOOW architecture and design features an indoor-outdoor concept with large windows highlighting the Gulf views. It also includes an open-air kitchen, a beach-view bar, and an incredible Gulf-front patio. This family-style restaurant strives to embody the spirit of the relaxed WaterColor community. Its coastal concept is unpretentious and serves delicious cuisine that the whole family can enjoy. Here, you can order locally sourced Southern meals served by a world-class culinary team. These include offerings such as Smoked Gulf Coast Fish Dip, Louisiana Gulf Shrimp, Gulf Oysters, Grilled Shrimp Satay, FOOW Burger, and more.
Bud & Alley's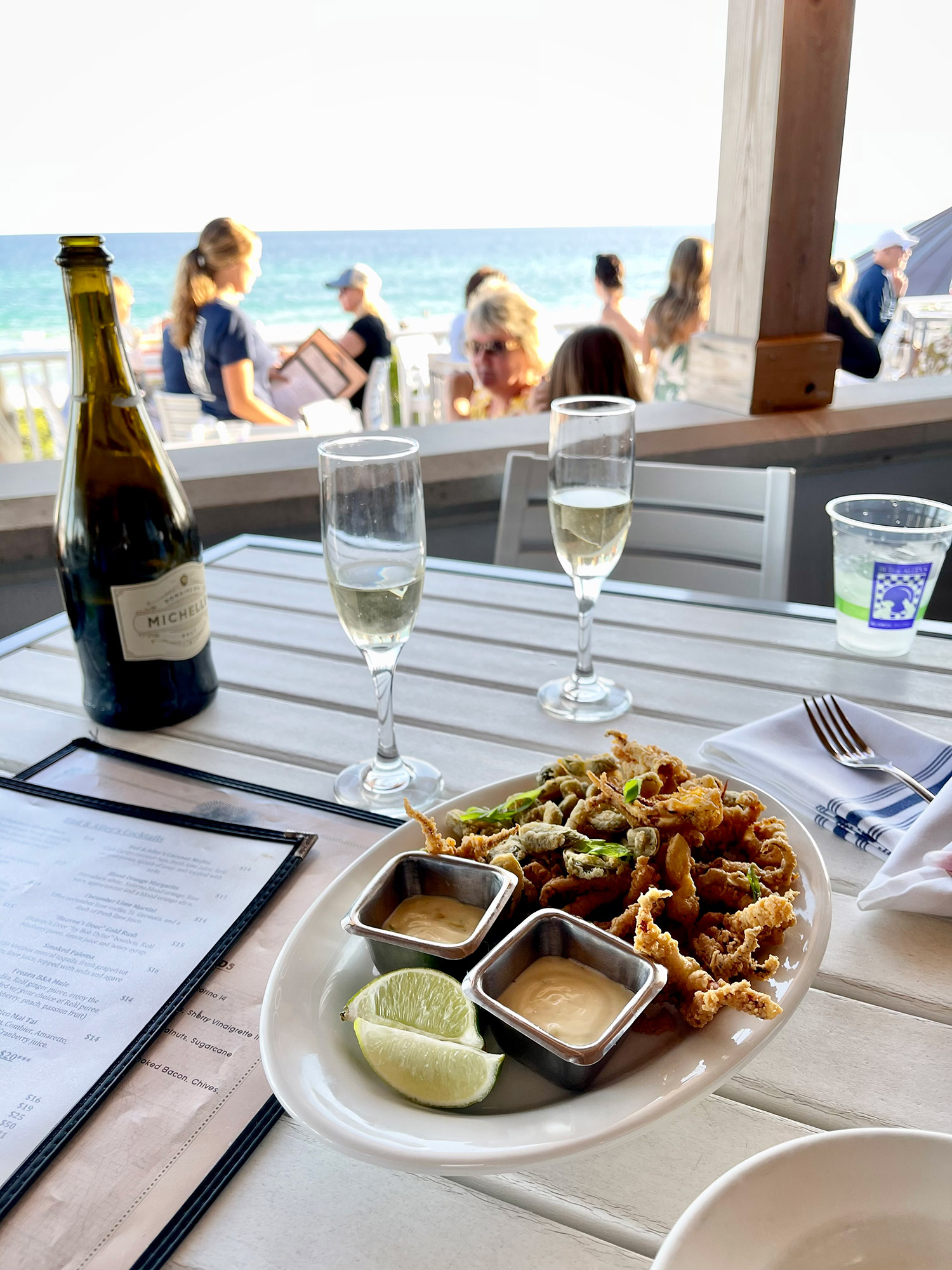 2236 E W County Hwy 30A, Seaside, FL 32459
Just a "stone's throw away," as they say, in neighboring Seaside, is a landmark hot spot known as Bud and Alley's Waterfront Restaurant & Bar. Seaside itself created quite a stir internationally when it was created as one of the first pedestrian-friendly, master planned communities in the world back in 1986 by the famed architectural team known as Plater-Zybork. Bud and Alley's was completed in 1986 when Seaside was only twelve houses around a village green on one of the most beautiful beaches in the United States. The founding of this beachfront restaurant is somewhat surreal as truth is sometimes stranger than fiction. Two young, local surfer dudes (Scott Witcoski and Dave Rauschkolb) decided to open the restaurant and named it after a pet dog and cat—Bud was the Dachshund, and Alley was the cat! The restaurant is distinctively casual and offers incredible sunsets from the recently renovated upper open deck. In fact, they ring a big cast iron bell to signal the sun setting every day. The lunch menu features a huge array of sandwiches, fish, shrimp, grilled chicken, grilled veggies, and house-made chicken salad. Dinner features such delights as Seared Diver Scallops, Red Snapper, Grilled Fish of the Day, and Bud and Alley's Crab Cakes. At the bar, you can unwind with your choice of specialty cocktails and wines. PS: There is also a Bud & Alley's Pizza Bar that is Gulf-front and has scrumptious pizzas. Bon appetite!
Related article: Best Things to Do in Seaside, FL
Shrimp Shack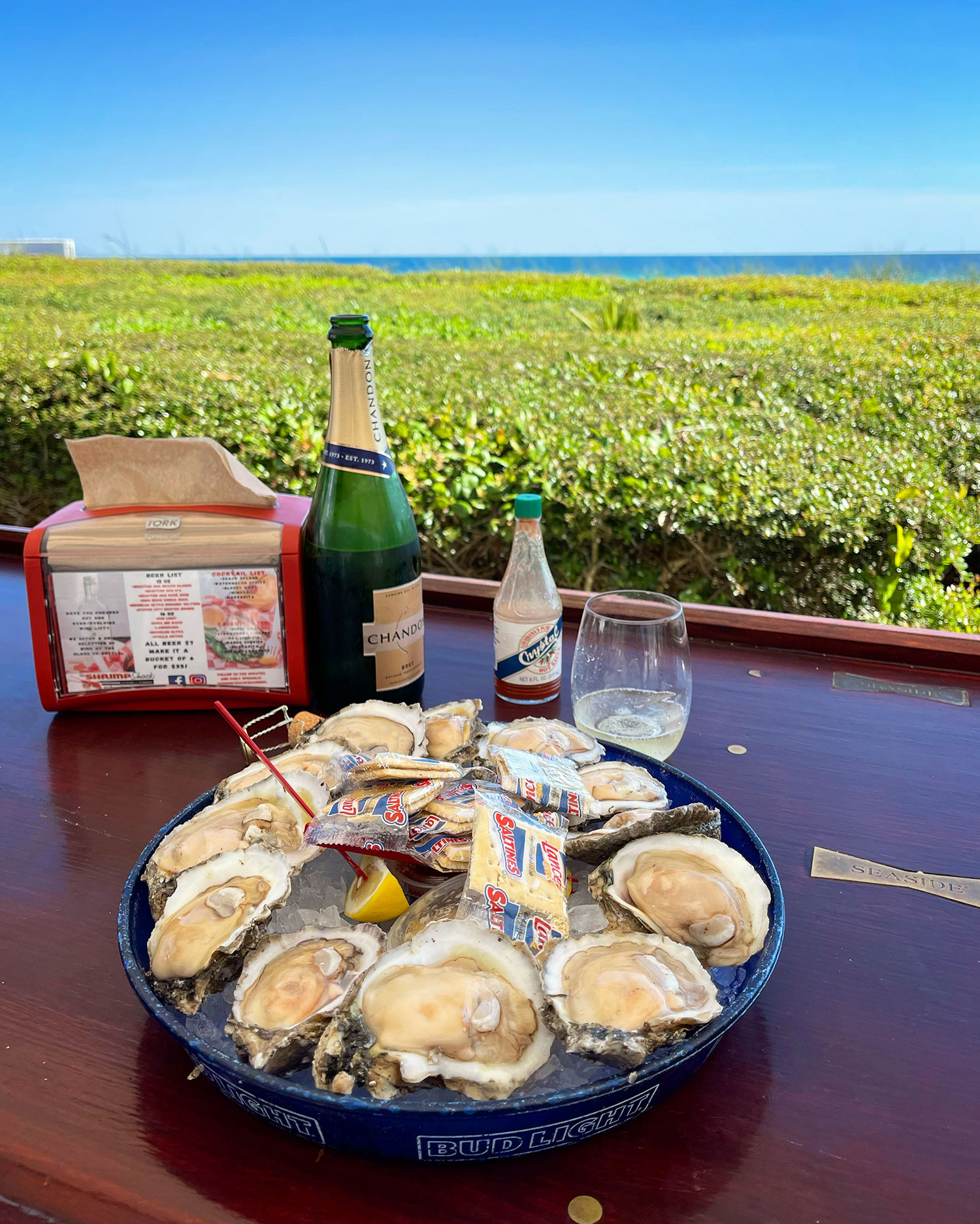 2236 E W County Hwy 30A, Seaside, FL 32459
If you've got a craving for shrimp, there's no better place to get it than the beachfront Shrimp Shack in Seaside (right next door to Bud & Alleys). Sitting atop a crystalline sand dune, the "shack" offers beachside dining on the Gulf-front deck. There is also a boardwalk behind the location with incredible coastal views. In addition to the expansive vistas, the Shrimp Shack has a delicious seafood menu, where everything is made from fresh local fish from the Gulf. You can get everything from Steamed Gulf Shrimp, Oysters on the Half Shell, Half Buttered Lobster Tail, and all kinds of other tasty snacks. Follow your lunch or dinner up with a signature dessert, like the one-of-a-kind Chocolate Dipped Keylime Pie on a Stick.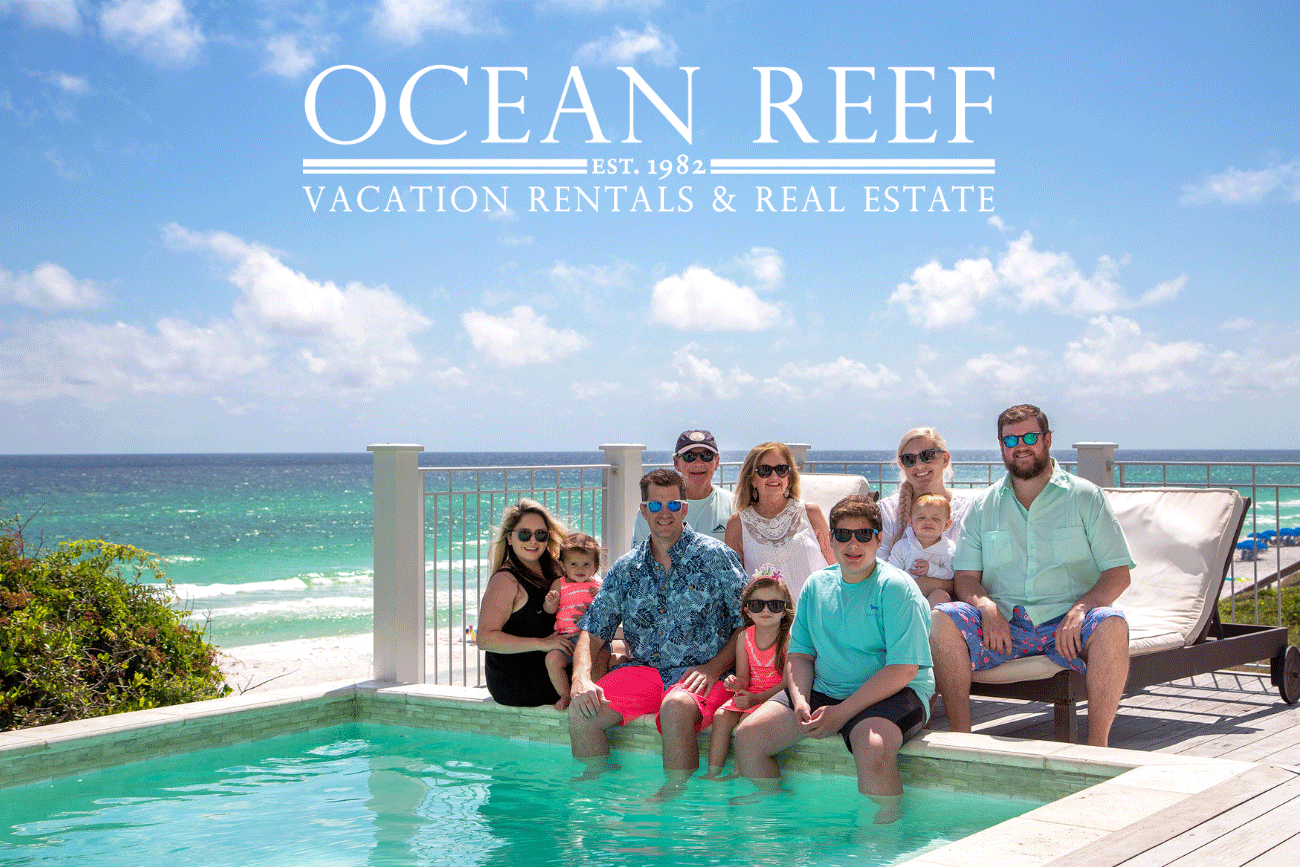 Is your mouth watering yet? Be sure to check out any, or some, or all, of these beachfront restaurants next time you're in South Walton!
Keep reading: 30A Beachfront Homes in Walton County