Posted on 11/11/2016
Many of our Ocean Reef Resorts guests make a special trip down to the South Walton at this amazing time of the year. Autumn beckons in wonderful dry weather with delightful golden sunshine, crisp azure blue skies and perfect temperatures with highs in the seventies and sweater weather evenings in the fifties. There's really no need for air conditioning or even heating this less humid time of year. You can enjoy beach bonfires or fun around a fire pit at night while playing golf, tennis, fishing and even a brisk swim in the glistening gulf during the day. However what draws many to the coast is the coincidental welcome return of the magical Monarch butterflies who arrive for temporary residence here and provide a heavenly sight. There is an annual Flutterby Festival that celebrates this annual marvel.

Monarch butterflies receive their name from the regal display of colors that span wide wings that include golden yellows and orange which are richly veined in black outlines. They are also called "The Wanderer" because of their amazing travels. During the fall they migrate literally thousands of miles from their northern habitat in southern Canada and the northern United States to places south in order to escape the brutal winters. The Eastern Monarchs travel to Mexico and some even make it to the shores of South America. Western Monarchs on the other side of the Rocky Mountains travel from Canada across California to Mexico. Some Monarchs create a habitat in parts of Florida or Arizona and may stay year round, however the vast majority are only passing through. During the spring they head back to their homes in Canada.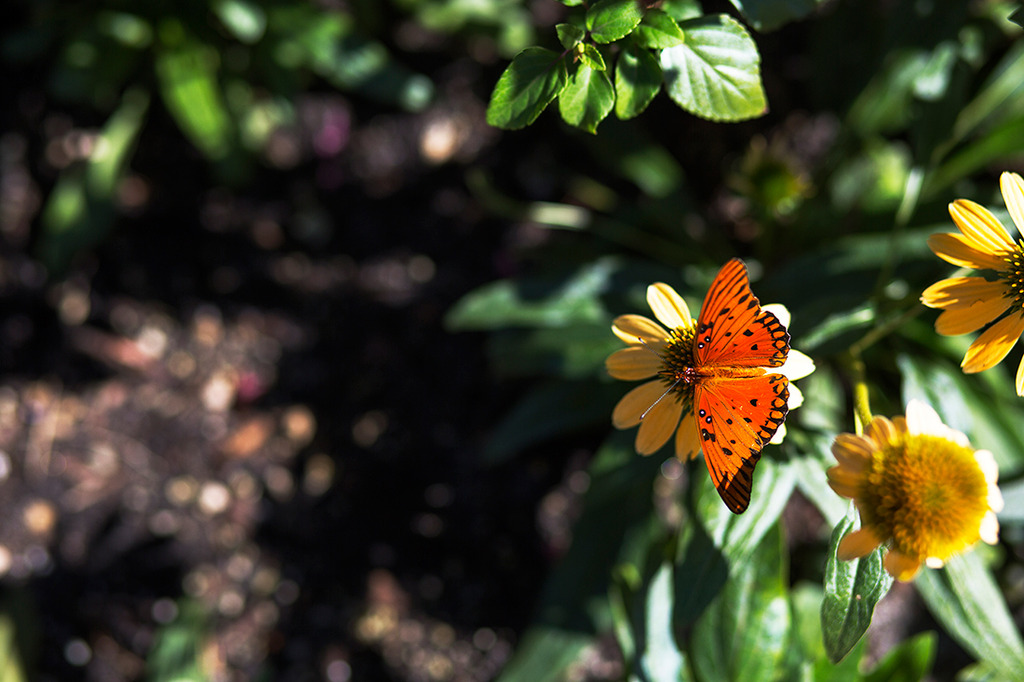 Along the transcontinental journey they fly together all day until late afternoon and then descend to rest in the evening. To see such a sight is truly awesome since they land en masse on flowers in gardens to rest from exhaustion and drink much needed nectar. At dusk they all ascend together clustered in a cloud like formation onto a tree limb for warmth through the night and begin the trip anew at dawn. Monarchs go through five stages of larvae and caterpillar development for months before they can gradually emerge from stage to stage, transform and soar majestically in the skies in such a beautiful form.  Since the butterfly stage of their life cycle only lasts about five weeks all these mass transits are multi-generational. It takes five generations to complete the entire migration. In other words, the original Monarchs begin the journey that is completed by their "Great Great Grandchildren" so to speak! Then the cycle starts anew back and forth in a never ending fashion. Monarchs require a lot of nectar from flowers during their migration and usually lay their eggs on Milkweed plants.  Many of these habitats have been destroyed and there are now efforts to preserve them. Concerned people are now growing "Butterfly Gardens" along the route since Monarchs are now dwindling in numbers. Without such efforts they are endangered and may become extinct, which would be a profound loss.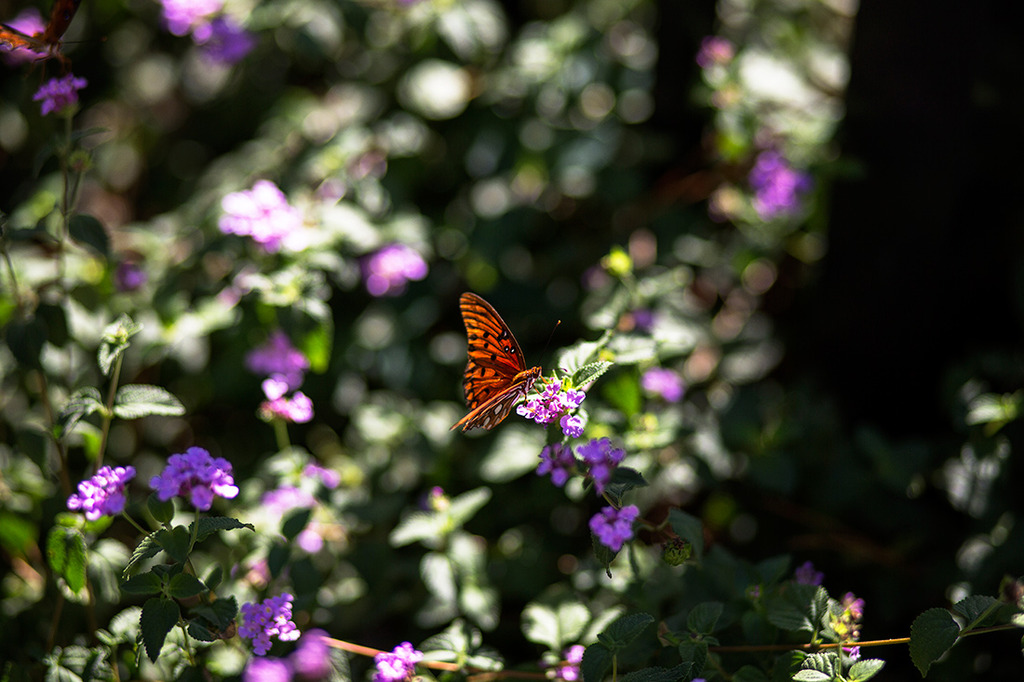 Their natural development and migration demonstrates an amazing devoted type of endurance that provides an awesome testament to natural life with a lovely message of spirit and beauty. This ancient story is part of the reason that butterflies are almost sanctified providing a meaning that conveys God's Grace, new life and even resurrection. They have been bred in schools for release at hospices, memorial events, funerals and weddings. A significant release of this kind was used during a particularly moving memorial for the September 11th victims to signify new life in another angelic-like realm.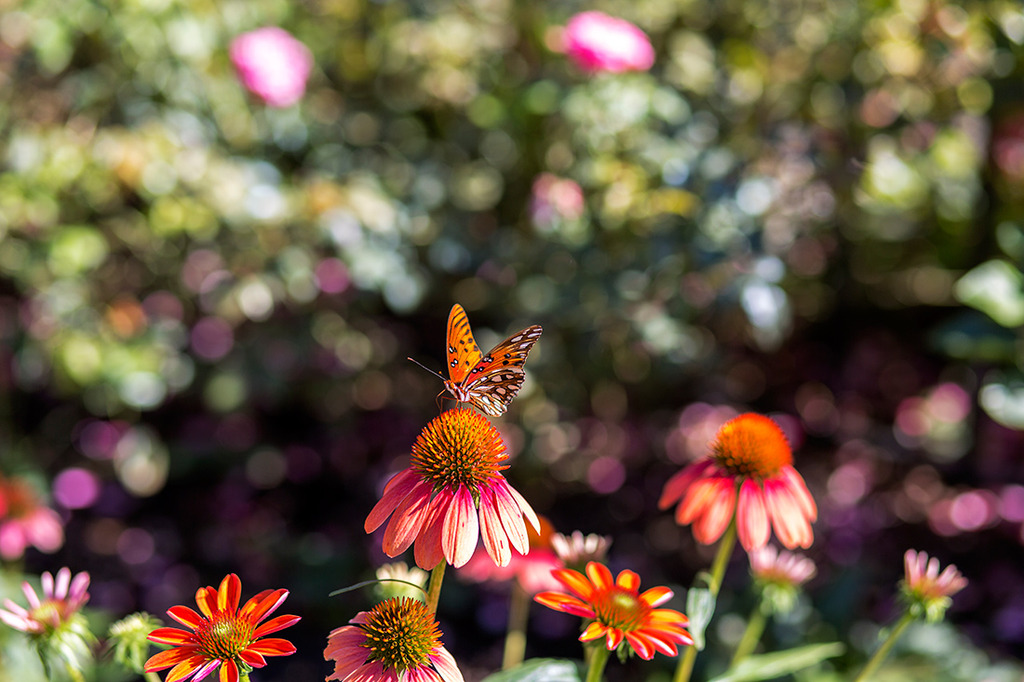 Their arrival here in South Walton usually occurs for a few weeks in late October through early November with some remaining year round. They especially like to hang out for a while along Scenic 30A due to the pastoral habitats that include the rare precious coastal dune lakes, thousands of acres of forest preserves and gorgeous nature parks. In honor and celebration of this annual "homecoming" the Flutterby Festival in Rosemary Beach has become a much loved family tradition. This unique and wonderful event is being held again on the East Long lawn park in this charming picturesque Dutch Colonial inspired town. It starts on Saturday November 12th and culminates on Sunday November 13th from 10am till 5pm each day. The fun begins in the mornings as children get help to create their own special butterfly wings. On each afternoon they get to wear their creations in a Butterfly Parade! There are also tables set up to help them craft other artistic endeavors all of which have a butterfly as the main theme. There will also be short whimsical stage productions and game activities for kids. Information and knowledge is provided all about Monarch Butterflies and their migration. Young students from Walton County schools are celebrating art and nature by creating literally hundreds of pictures of butterflies which will be exhibited across the lawn.

The first Flutterby Festival was started in 1991 as an arts promotion for kids. This grass roots effort was created by the group of local artists which became part of Artsquest. The success of this creative venture of volunteers was immediately successful and evolved into the founding of the Cultural Arts Alliance with a mission to support local arts through leadership, charitable funding and advocacy of cultural arts in South Walton with educational programs as well as special events. They are co-hosting the Flutterby Festival with the Rosemary Beach Merchants Association so attendance of the event is free.

If you do plan to "flit" on down for a fun memorable visit or just happen to "flutter by" - plan on staying at one of our fine South Walton vacation rentals located close by along Scenic 30A. Check out our user friendly website to view multiple images of each property, verbal descriptions, seasonal rates and vacancies available. Have fun!