Posted on 2/3/2023
You may be dreaming of getting away for a beachfront vacation, but where do you find one that includes the entire family? After all, the family dog wants to be with us to sniff the salty sniffs. You want a meaningful beach vacation to replenish your energy, refresh your spirit, and bond with ALL the loved ones in your family. Sometimes it's hard to find an accommodating vacation rental on a beautiful beach that is Pet Friendly. This is particularly true at highly sought-after popular locations that feature spectacular scenery and abundant amenities. South Walton near Destin, Florida, is one of those places with a brilliantly bright beach composed of pure powdered white quartz crystal and the gulf beside it literally glows in luminescent jeweled colors. Here at Ocean Reef Resorts, we are happy to tell you about four wonderful Pet-Friendly beachfront properties available to suit you in South Walton.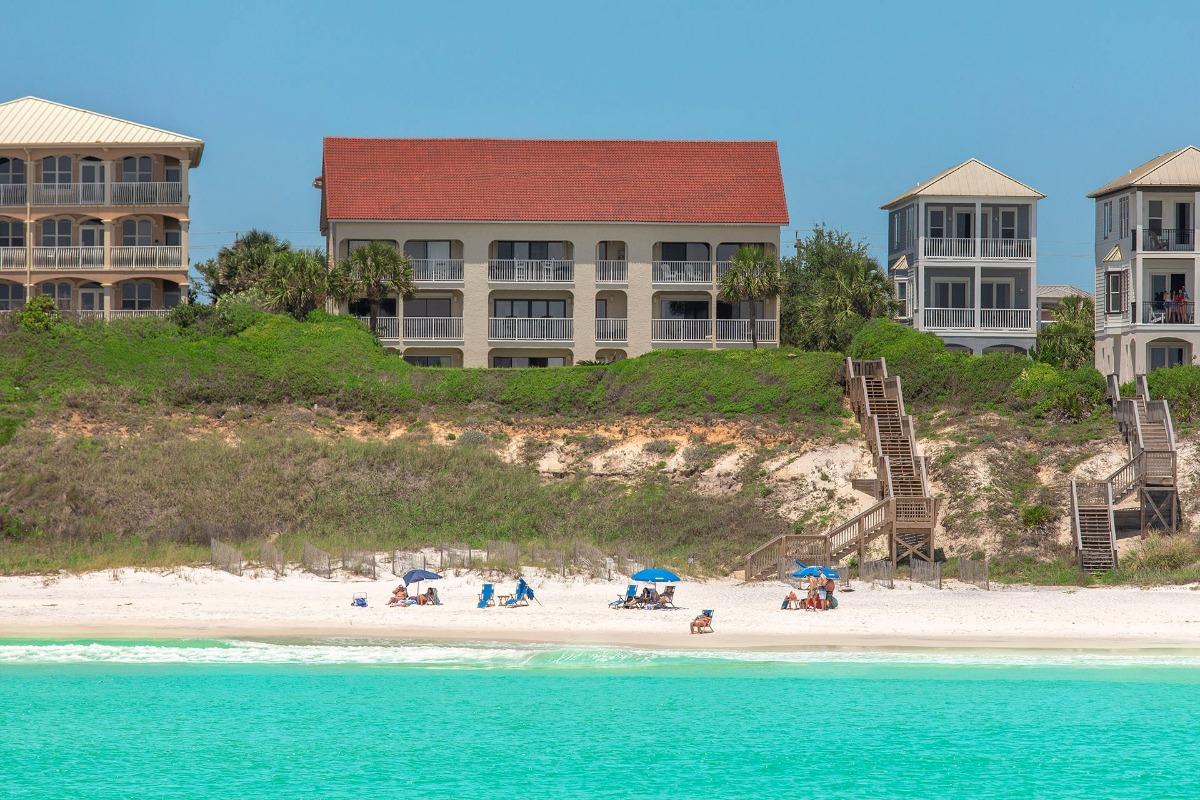 Two of these Pet-Friendly vacation rentals are located at Capistrano, which is a three-story tall Mediterranean-styled residential building in Seacrest Beach right above the sugary shore. This exclusive little enclave is perched high upon a dune providing stunning panoramic views of the glittering gulf as far as one may see into the sunny southern horizon.

Each one of these privately owned vacation rentals is beautifully decorated in a chic beach style where comfortable furnishings dovetail seamlessly together to create a wonderful ambiance. They each include two bedrooms with the ability to accommodate six fortunate guests and pampered pets. Open-concept designs incorporate the living, dining, and kitchen areas of each, with a wall of sliding glass doors that frame the stellar views and lead out to a breezy balcony or patio.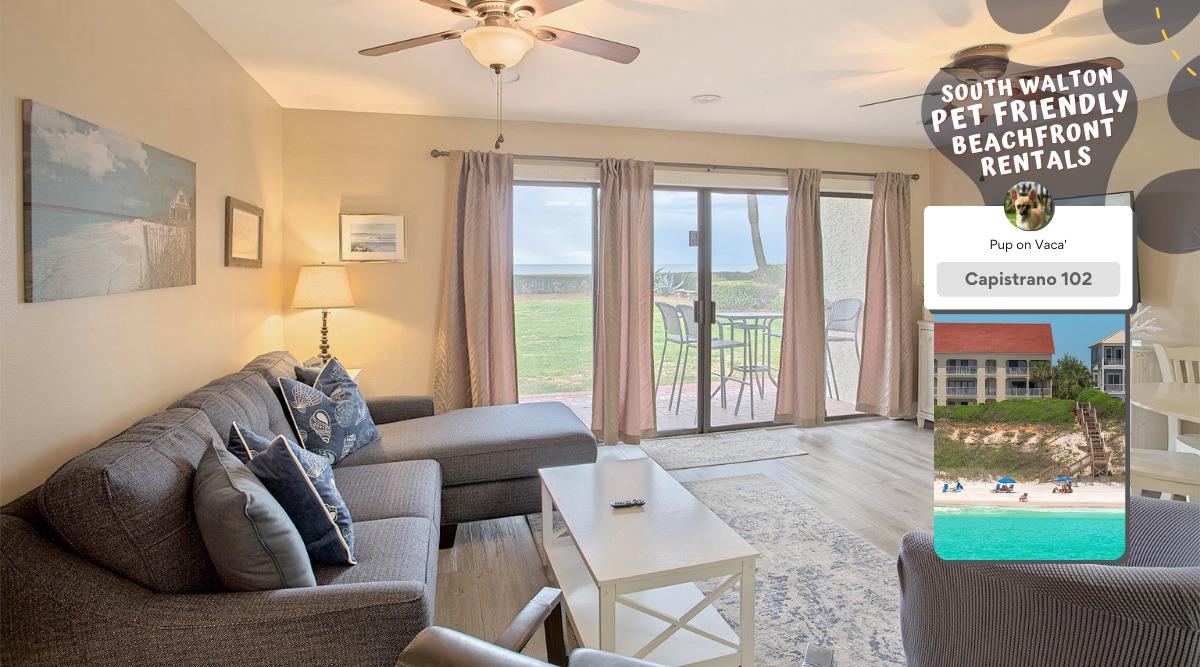 2 Bedrooms / 2 Bathrooms / 6 Guests
Capistrano 102 blends a contemporary look with coastal cottage styling. It is also fashionably appointed with lovely paintings of seascapes and marine life sculptures. The open living area faces a wall of double glass doors flanked by two windows. They look out from this ground-floor residence upon a patio beside a lush lawn studded with tropical palms with the gulf as a gorgeous backdrop. A handsome couch, along with a contemporary and brown leather accent chair, sits beside a whimsical corner bookcase that resembles the upright hull of a rowboat. They face the gulf, and a large flatscreen TV is mounted above on a stylish white credenza for entertainment. A charming creamy white cottage-styled dining area has a round raised pedestal table with four spindle-backed chairs beside a wall adorned with starfish. A golden-brown mottled granite top bar facing the open kitchen features urbane raised black metal framed chairs with cushions for fun wining and dining. The primary bedroom provides a serene setting with white cottage-styled furnishings, pale blue walls, an armoire with a beautifully painted forest scene, and patio access. The ensuite bath has a walk-in shower. The guest bedroom has a sunny window, white contemporary furnishings with a queen size bed, a full-size futon, and access to a full hall bath with a tub shower combination.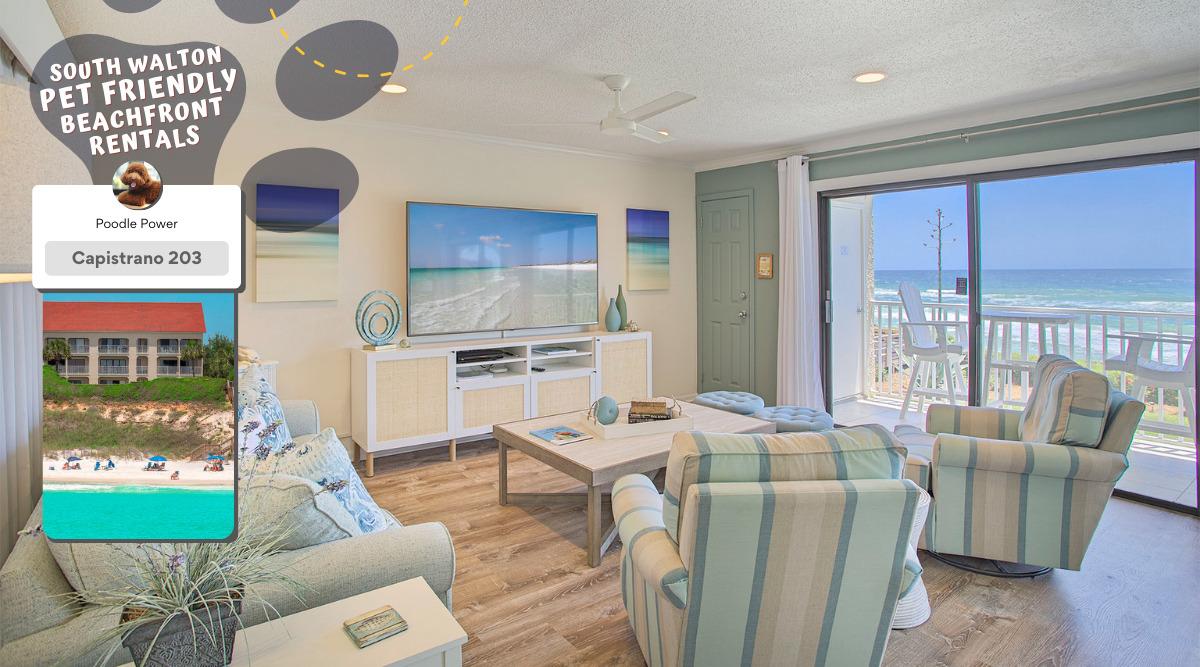 2 Bedrooms / 2 Bathrooms / 6 Guests
Capistrano 203 has received renovations, comfortable new stylish furnishings, and updated creature comforts. These include new bedding, nice linens, fresh interior paint, lighting fixtures, decorative art, tropical paintings, a state-of-the-art kitchen, and a large 75" flatscreen TV for entertainment. This property is a special corner unit with extra sunny windows on the side, and the views are almost panoramic. The beachfront balcony invites you to experience vivid views while enjoying your favorite drinks with savory snacks on Adirondack chairs and around a raised dining table. The primary bedroom has white cottage-styled furnishings with a king-size bed facing a flatscreen TV for evening entertainment. It is centered on two bedside tables with nautical green bottle-based lamps and paintings of sailboats. An ensuite bath includes a tub shower combination. The guest bedroom has a queen size bed with a stately white cannonball headboard beneath a tropical painting. Unique sliding glass doors that can open into the living area provide sunny gulf views. It has access to a full hall bath with a tub shower combination that doubles as a powder room.
From luxurious dog spas to reliable pet hospitals, and even convenient apps, we've delved deep to bring you the very best in pet care services in Destin & along 30A. This ensures your dog will be enjoying their vacation just as much as you will!
Two additional Beachfront Pet-Friendly vacation rentals are located in Seagrove Beach with awesome dune-top locations.
1 Bedroom / 1 Bathroom / 4 Guests
Ramsgate 8 has one bedroom and could provide a romantic place for a getaway but can accommodate a small gathering of four with the use of a queen-size sleeper sofa if need be. This pet-friendly place features stunning gulf views since the open living area has two side windows and an entire wall of sliding glass balcony doors that frame the shimmering seascape. You will enjoy spending a lot of time on the balcony sipping upon favorite drinks while experiencing the sensational scenery and listening to the soothing surf sounds when the waves are high. Heavenly sunsets occur right over the glittering gulf from mid-October until early March while magical full rise out of the water in the summer months. The impressive open living area includes vivid views and has a dramatic cathedral ceiling that soars up all the way to the roof truss. This bright light room has a tan couch and two swank pale blue accent chairs facing the gulf views, along with a flatscreen TV for entertainment. The charming dining area has a stylish decorative cottage cabinet and a round white table flanked by four royal blue colored hardwood chairs for a nautical look. Two matching blue raised chairs sit beside a granite bar facing the open kitchen. The primary bedroom has a unique creamy white custom headboard cabinet with a king-size bed and an upper-level window for natural light. A full hall bath with a tub shower combination also serves as a powder room.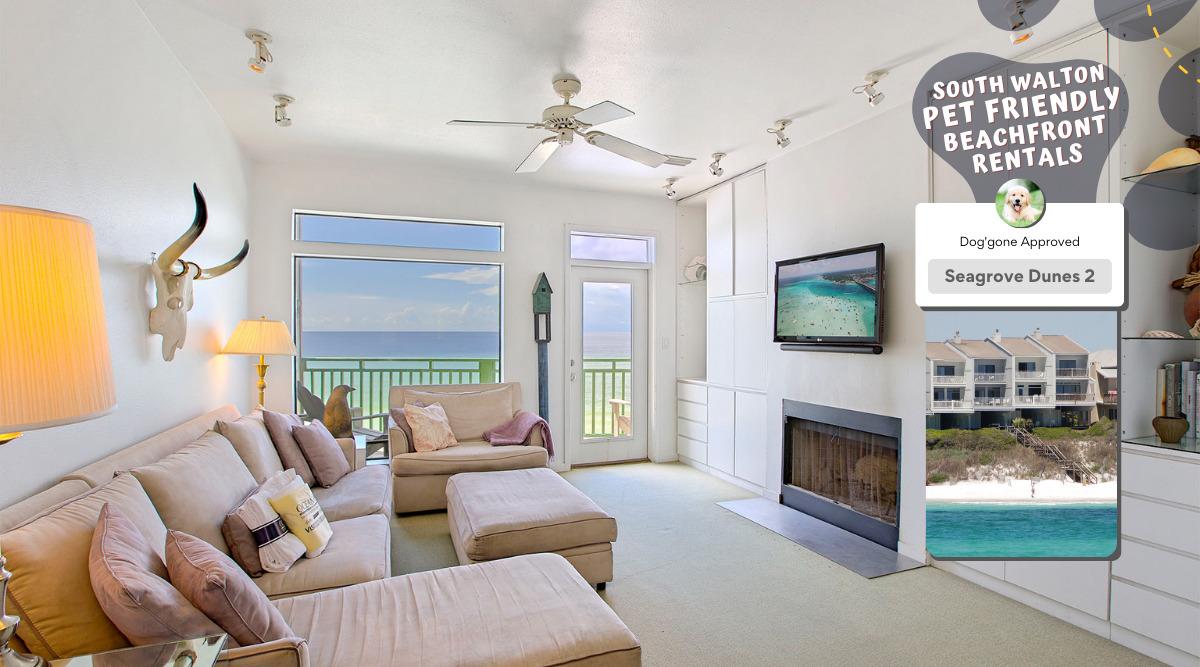 2 Bedroom / 2 Full & 1 Half Bathrooms / 6 Guests
Seagrove Dunes 2 has two bedrooms and can accommodate six happy guests with the use of a queen-size sleeper sofa. This spacious rental residence has covered parking at ground level, an open living, dining, and kitchen area on the second floor, and two bedrooms on the top level. The bright white ambiance in the living area features a large window and sliding glass balcony doors that showcase the glittering scenery. A tan wraparound couch, a matching armchair, and an ottoman have Gulf views and face a custom-built entertainment wall featuring a large flatscreen TV. A half bath serves as a convenient powder room. A fashionable Vintage Modern dining area includes eight blonde hardwood contemporary chairs around a black ebony oval table beside a vibrant abstract painting. The sunny well-equipped open kitchen has a mottled granite top bar with four rustic wooden stools where you may enjoy drinks with appetizers before dinner. The primary bedroom has a chic contemporary look with a king-size bed facing white custom cabinetry and shelving with a large flatscreen TV for nighttime viewing pleasure. Sliding glass doors lead out to a beachfront balcony to enjoy breezy views. The stylish ensuite bath with black and white patterned tile includes a walk-in shower. The handsomely furnished guest bedroom has a king-size bed with a rich molasses-toned hardwood headboard and also has access to a balcony. It is served by a full hall bath with a tub shower combination.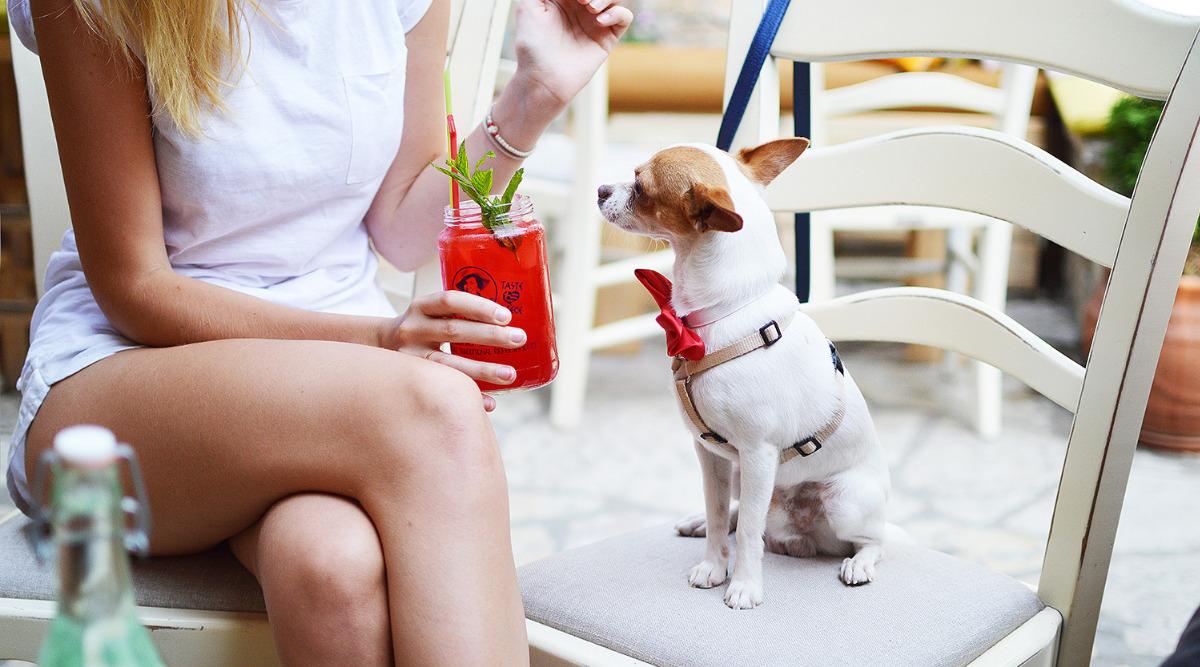 All these South Walton vacation rentals are in a wonderful world of their own but just minutes away from the picturesque coastal villages of Seaside, WaterColor, Grayton Beach, Santa Rosa Beach, and Rosemary Beach. They all offer a wide variety of great restaurants, friendly beach bars, art galleries, specialty shops, and fashion boutiques. Seaside, Santa Rosa, and Rosemary Beach also feature fun festivals, outdoor musical concerts, and seasonal firework celebrations. Well-behaved dogs are more than welcome to join you on a leash for these lovely excursions and enjoy sniffing the surroundings. Many restaurants are Pet friendly along 30A for café, deck, or patio dining, and many will bring a cold bowl of water for your favorite fur baby. It should be noted that dogs are not allowed right on the beach, but they can be on walkways or decks beside it. Designated areas allow leashed dogs close to the beach in state parks along Scenic 30A.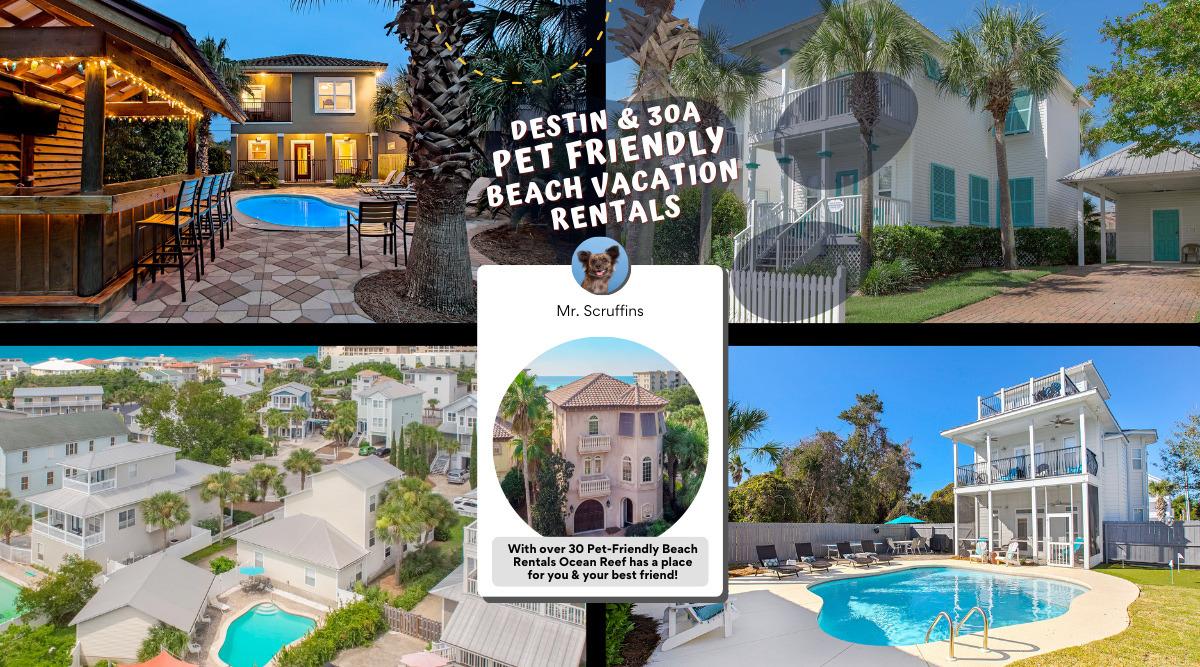 Enjoy taking a look at each one of these wonderful, beachfront Pet-Friendly vacation rentals in South Walton & Destin on our user-friendly Ocean Reef Resorts website. You can see detailed descriptions, vivid property imagery, aerial views of each location, seasonal rental rates, and calendar dates available to make reservations.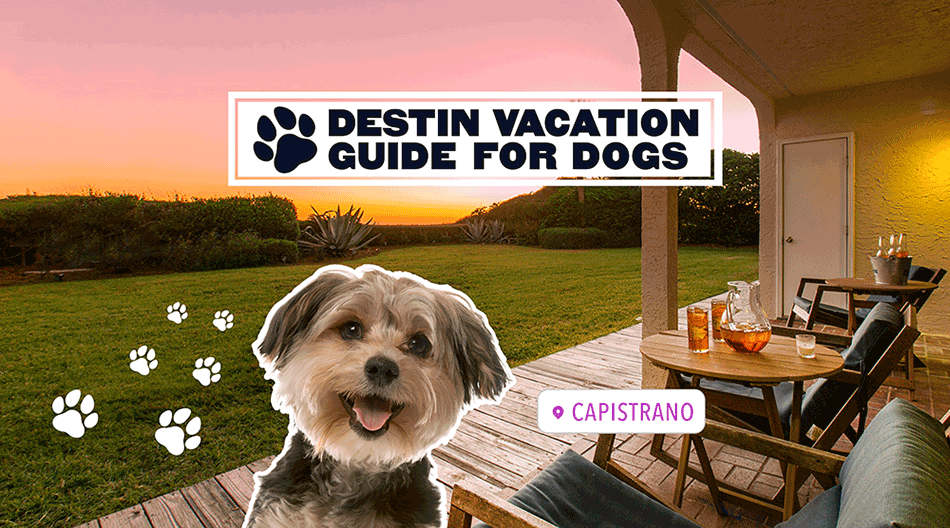 Destin, Miramar Beach, and all the coastal villages along Scenic 30A and Panama City Beach have tons of restaurants, dog parks, and fun places to take your pet. Here is a look at all of the "dog destinations" that are located here in Northwest Florida.