Posted on 4/13/2018
That classic Louis Armstrong song tells us… "Life can be so sweet, on the sunny side of the street!" Well, then what about the sunny side of the BEACH? This residential community aptly named Sunnyside is just that, a wonderful little laid back place tucked away right on the "sunny side" of the sugar white beach, overlooking the sun-splattered sparkling waters of the emerald-hued gulf.

Located in far western Bay County near the Walton County line, this precious point places is right at the western gateway of Panama City Beach and the eastern gateway to South Walton's Scenic 30A. Although the location is somewhat remote, it is just minutes away from either world east or west, which provides visitors with an abundant array of amusements, wonderful restaurants, and friendly beach bars. In addition, it is near two large grocery stores for added convenience. Towards the west, you cross over a long bridge that passes over Lake Powell, which has the distinction of being the largest Coastal Dune Lake in Florida. These treasured bodies of water are quite rare and located in very few parts of the world. They support an abundance of natural wildlife due to their exotic combination of fresh inland water mixed with the salty gulf on the other side of the dune. This bridge leads into Inlet Beach and onto Scenic 30A connecting to the picturesque coastal villages along this now famous route. The closest villages include Rosemary Beach, Seacrest Beach, Alys Beach, Seagrove Beach, Seaside, and Watercolor. These perfectly planned communities feature multiple dining and drinking establishments, specialty boutiques, galleries and seasonal festivals. A little further west you come into Santa Rosa Beach and Dune Allen.

Going east from Sunnyside you are just minutes away from the popular Pier Park. This amazing destination includes a pedestrian-friendly boulevard that is adorned with tropical plantings and lined with a wide array of retail shops, restaurants and beach bars that feature live bands. It is anchored by one of the longest piers located on the entire Gulf of Mexico and for a nominal charge, you may fish there all day or take a stroll to enjoy the water views. Pier Park also has an adjacent shopping mall and a Multiplex Movie Theater. Seasonal festivals are held at Pier Park throughout the year with food, drinks and live music which is often accompanied by vibrant displays of festive fireworks. Pier Park also provides carnival-like rides for kids. Panama City Beach also offers an abundance of other restaurants with lively bars along with delightful diversions that include Ripley's Believe it or Not Odditorium, Wonderworks, the Shipwreck Island Waterpark, the Man in the Sea Museum, and the Gulf World Marine Park. Ocean Reef Resorts has several popular vacation rentals in Sunnyside, which include properties at Shoreline Villas, Ramsgate Harbour, Sunnyside Resort, and at nearby Carillon Beach.


Shoreline Villas are beachfront condominiums that include two or three bedrooms and can sleep up to eight guests. There are two full baths with one private bathroom off the Master Bedroom and a hallway bath for the Guest Bedroom that also serves as a powder room. These classic beachfront vacation rentals are two stories tall with double balconies that overlook the glittering gulf. One is off the open area that includes the living, dining and kitchen portions while the other is a private romantic balcony off the Master Bedroom Suite. Since these properties are elevated, the lower beach level includes a porch patio that offers covered parking.


Ramsgate Harbour is an upscale gulf front residential townhome complex with a wide private beach lined with tropical palm trees. A gulf front swimming pool includes a spacious patio surrounded by lounge chairs that usually point towards the sun. This pool sits right beside the beautiful beach so that in no time you may go from taking a freshwater plunge to enjoying a dip in the glowing gulf. Ocean Reef Resorts features a two bedroom residence with two baths that can accommodate up to six happy beachgoers. This sought after property has double windows since it has a premier position on a southwest corner. The sensational scenery includes spectacular sunsets over the gulf and views all the way to the southern horizon. It is decorated in a chic contemporary style that includes comfortable furnishings. A balcony off the main open living area and another private balcony upstairs off the Master Bedroom Suite allow you to enjoy the views and listen to the soothing sounds of the surf.
With 350 linear feet of pristine white sand beach and a plethora of exciting amenities, it's easy to see why
Sunnyside Beach & Tennis Resort
is a long-loved favorite among guests visiting this enclave of Panama City Beach. Intimate two-story townhomes surround a large grassy area that contains a refreshing community pool, hot tub, as well as tennis and shuffleboard courts. The beach is just across Front Beach Road and is easily accessed by a tunnel!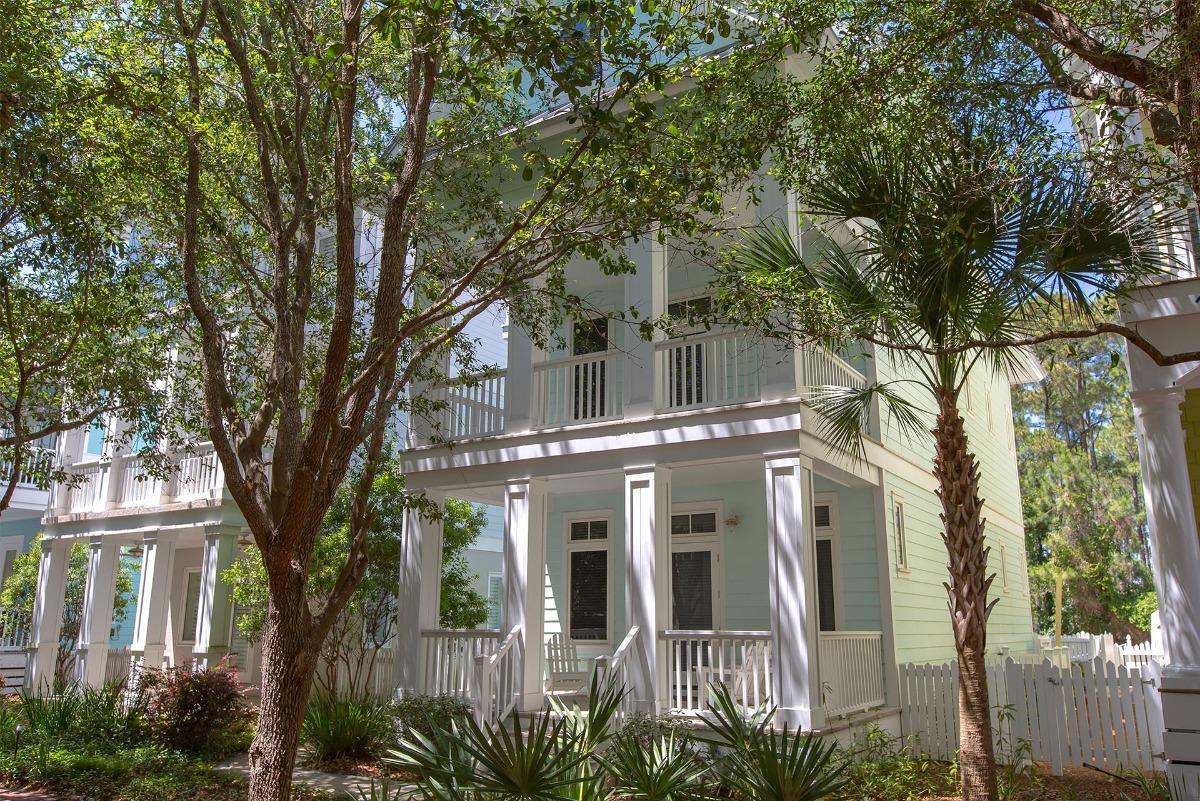 At Carillon Beach which is adjacent to Sunnyside, we have a lovely hospitable four bedroom home known as Coast Awhile that can sleep up to 11 fortunate guests. This charming new home has a lot of nostalgic Americana style with a wide columned front porch and a matching balcony. The living area is on the first level, and a bonus sitting area is on the third floor off the guest quarters. The Master Bedroom has a full bath en suite and access to its own private balcony. This home is comfortably furnished with tropically inspired décor along with seascapes and the use of pleasing pastel colors that provide a wonderful sense of serenity. This picture perfect community offers a lifestyle that includes swimming in your choice of pools or in the gulf, kayaking or paddle boarding on a small lake, fishing on a long pier, tennis, basketball, dining or sipping a drink by a village fountain and shopping at a specialty shop.

Take time now to look at your choices for a wonderful vacation experience on the sunny side of the beach!