Posted on 6/10/2022
Surf's up in Destin!
Did you know that, contrary to popular belief, you can surf in
Destin
? Yep, it's true! It may not be the gnarly waves of Oahu, South Africa, or California, but it's still a fun spot to catch some waves.
So, what's the surf like in Destin? We sat down with local surf legend and owner of Fluid Surf Shop, Tim Carr, to find out.
Tim Carr has been surfing since 1971—more than 50 years! While he mostly surfs in the local area, he's also traveled to other places, including Hawaii, California, Central America, and the Caribbean. Tim and his wife Rona opened Fluid Surf Shop in Fort Walton Beach in 1999. Currently, it is the only surf shop in Fort Walton. While many surf shops have opened and since closed, Fluid has weathered the test of time. This mom-and-pop surf shop serves the communities of Northwest Florida by sharing the joy of surfing with everyone.

A love for surfing has certainly contributed to the shop's success. According to Tim, their philosophy is simple—they just want to surf every day before work. Sounds like the good life to us!
What Draws You to Surfing?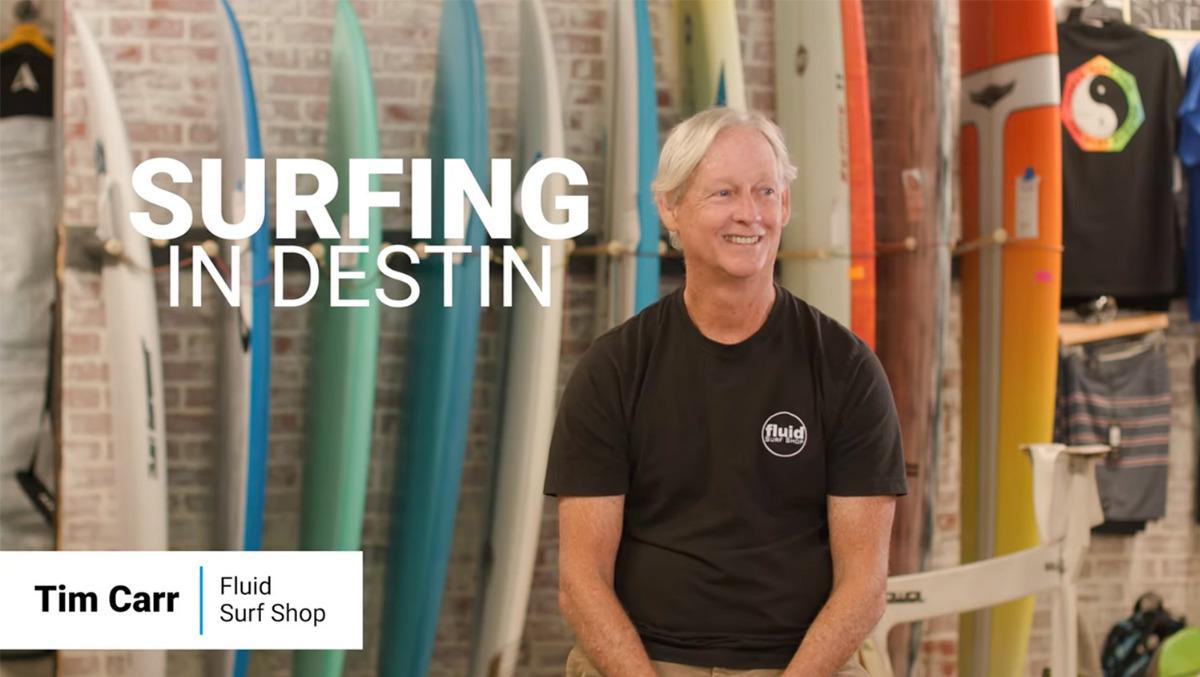 For Tim, the reason he enjoys surfing is simple—it's a blast! Catching waves is a good time, and the waves keep him coming back for more. When asked what draws him to surfing, Tim responded that the fun factor is definitely a key part. He also loves getting out in nature, taking in the salt air, blue skies, and clear water. Another reason to love surfing is the people. Tim says it's great to have good friends in the water. Surfing draws a unique crew of characters from all walks of life, all with different careers and life experiences. There are young surfers, old surfers, and surfers every age in between. All of these things are a draw to the surfing scene.

Oh, and in case you're wondering, you don't have to be good to enjoy surfing. Surfing is for everyone!
Can you actually surf in Destin? As we've already mentioned, you can surf in the local area even though some folks think you can't. One of the reasons people don't think of Destin as a surfing hotspot is because the majority of visitors come during the summer. And during the summer, the Gulf is flat, flat, flat. However, in the fall and spring, the surfing is a lot better, and the waves are a lot bigger. Tim likes to say that Destin has the gnarliest two-foot waves in the world. Jokes aside, Destin really is a great place to surf, especially during those fall and spring months.

What are the Waves Like in Destin?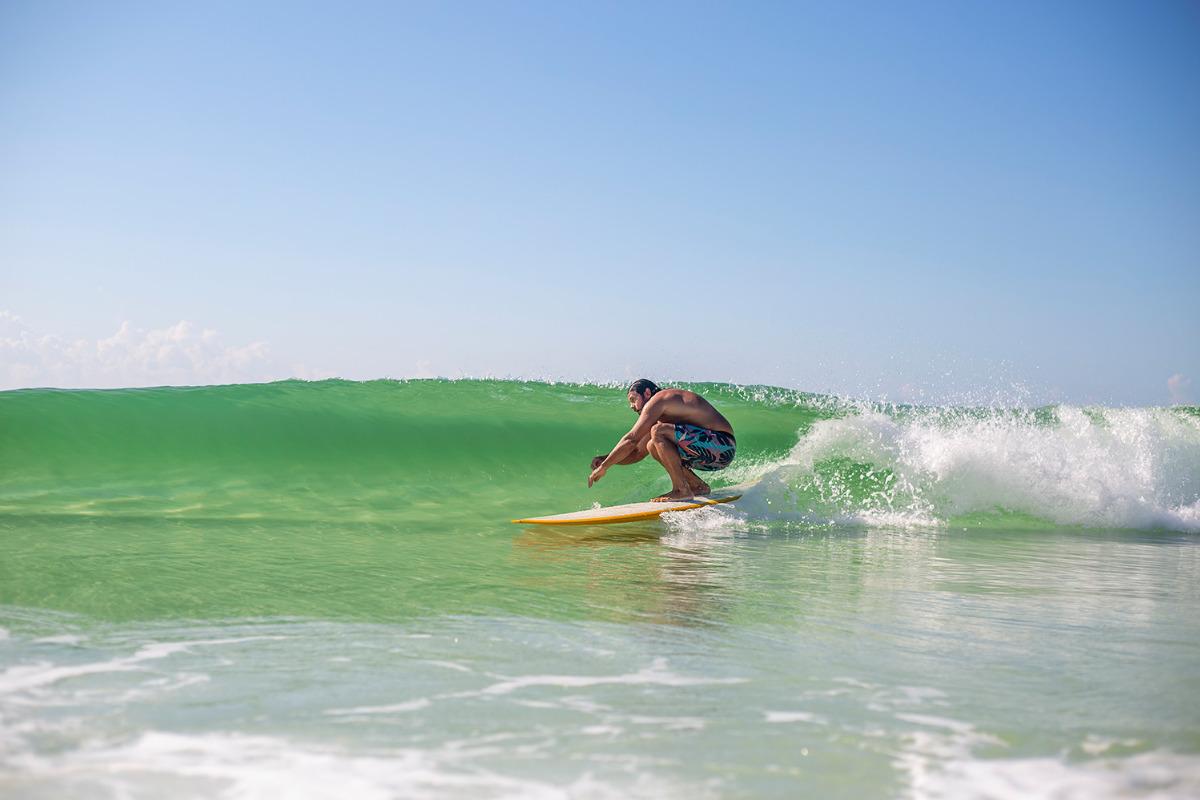 Another thing you might not realize about surfing in Destin is that the Gulf Coast has a bunch of different kinds of waves. As Tim mentioned, the waves can go from knee-high or smaller to as high as the ceiling, basically. Wind is a big factor in wave type here on the coast. If the wind is on shore, the waves can be kind of "crumbly and dumpy," which isn't the best for surfing. But, the north, northeast, and northwest winds that come through help clean it up. The winds make the water crystal clear, nice, and groomed, and they begin to look a little bit like what you would see in California.

Where is the Best Place to Surf in Destin?
We asked Tim to tell us the best place to surf in Destin. When asked, Tim said his favorite surf spot in the area is Okaloosa Island pier, located behind the Gulfarium. Tim checks this area every day. Though it can change day to day, the breaks in this spot can be really good and consistent when the waves are small.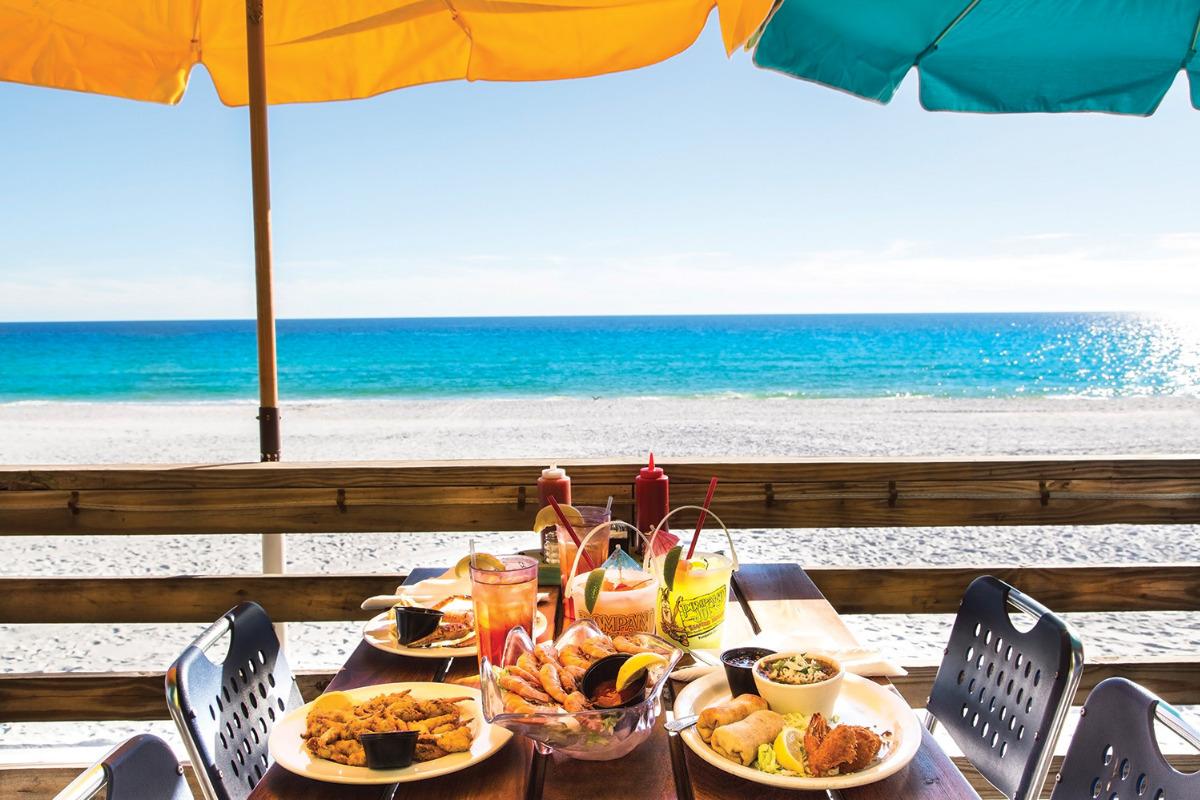 Another good spot in Destin is the water near Pompano Joe's, which can have a really good wave on the right day. Here, the water breaks on that middle sand bar and breaks for a long way. The water is always crystal-clear in that area, so it's a great spot to go.

If the swell is pushing towards 30A, you can go to the Blue Mountain Beach area and catch some waves there, and they can be up to a foot bigger than those in Destin. Tim advises if you have the time, you can always chase the swell a little bit to try to find the optimal surf conditions.
How Do I Pick a Surfboard?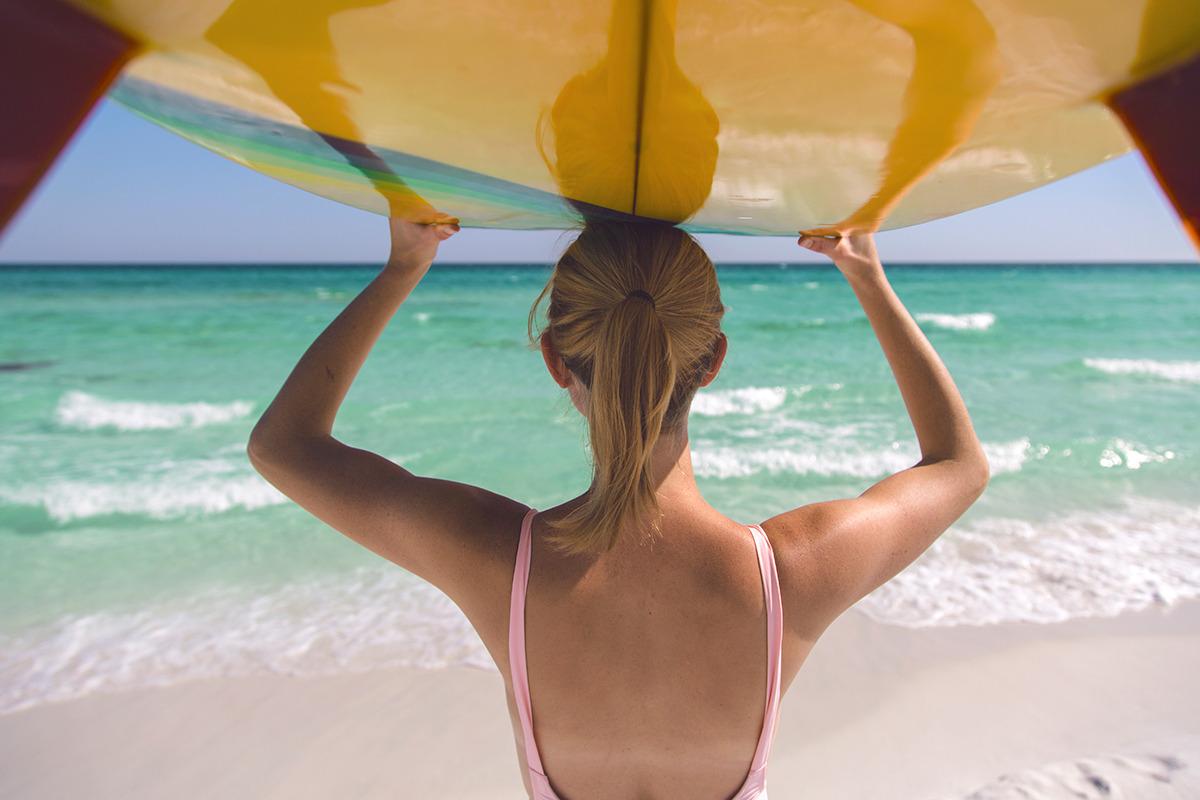 Tim offered some great advice on how to pick a surfboard. When selecting your first surfboard, there are a few factors that come into play. Of course, one of these factors is experience. If you're a beginner, Tim's rule of thumb is to select a board that is one to two feet over your head. Picking a board this size ensures a lot of width and thickness and, therefore, a lot of foam, making it easier to catch waves. And catching waves, especially when you're newer to surfing, is the hardest part. In general, Tim says that bigger is better and foam is your friend.

After you've been surfing a year or two and you want to improve your skills, you can scale down your board and get something a little smaller. You can select something more radical that will turn better. However, Tim says not to use a board like that when you're just getting started because you'll just get frustrated. And surfing is supposed to be fun, not frustrating!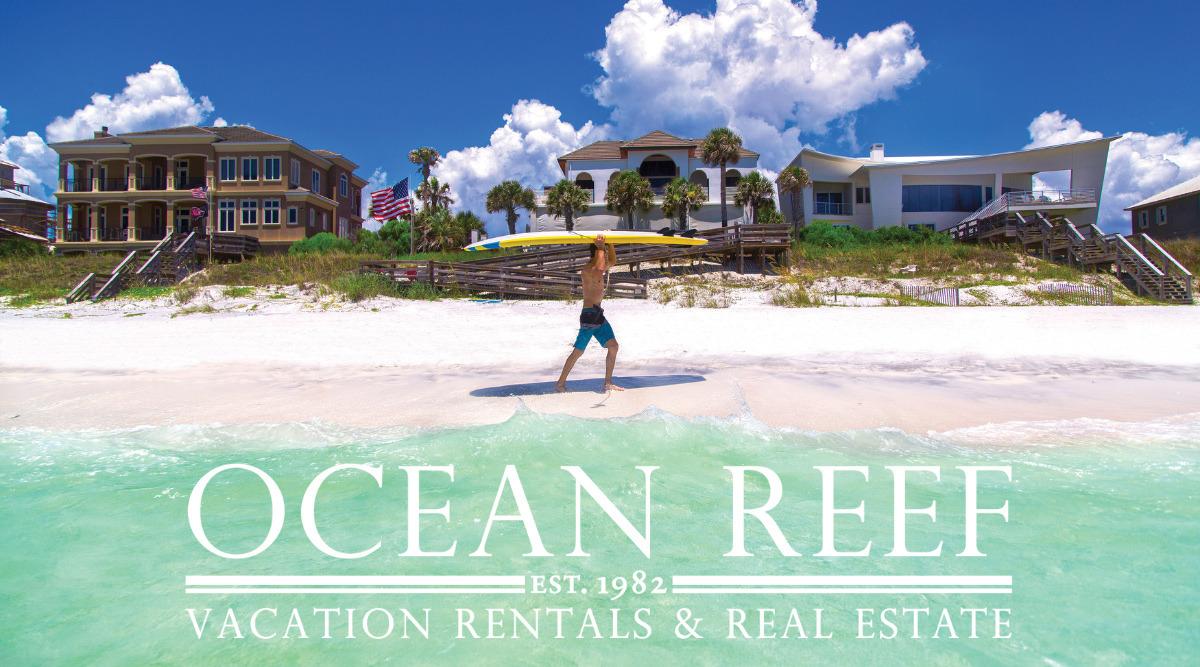 Planning a Destin vacation soon and want to give surfing a try? Stop by Fluid Surf Shop to get started. Tim and his team can help you embark on your surfing adventure on the Emerald Coast!