Posted on 1/26/2021
Dotted along the South Walton coast, there's a special little open-air place you'll be sure to want to visit. When you arrive at The Hub 30A, you're greeted by a large wide green. It's a great spot to take a stroll, walk your dog, and let the kids blow off some steam. Full of open areas with flowers everywhere, it's lined with trees and features perfect parking, a grand entrance indeed to this quaint little place called the Hub.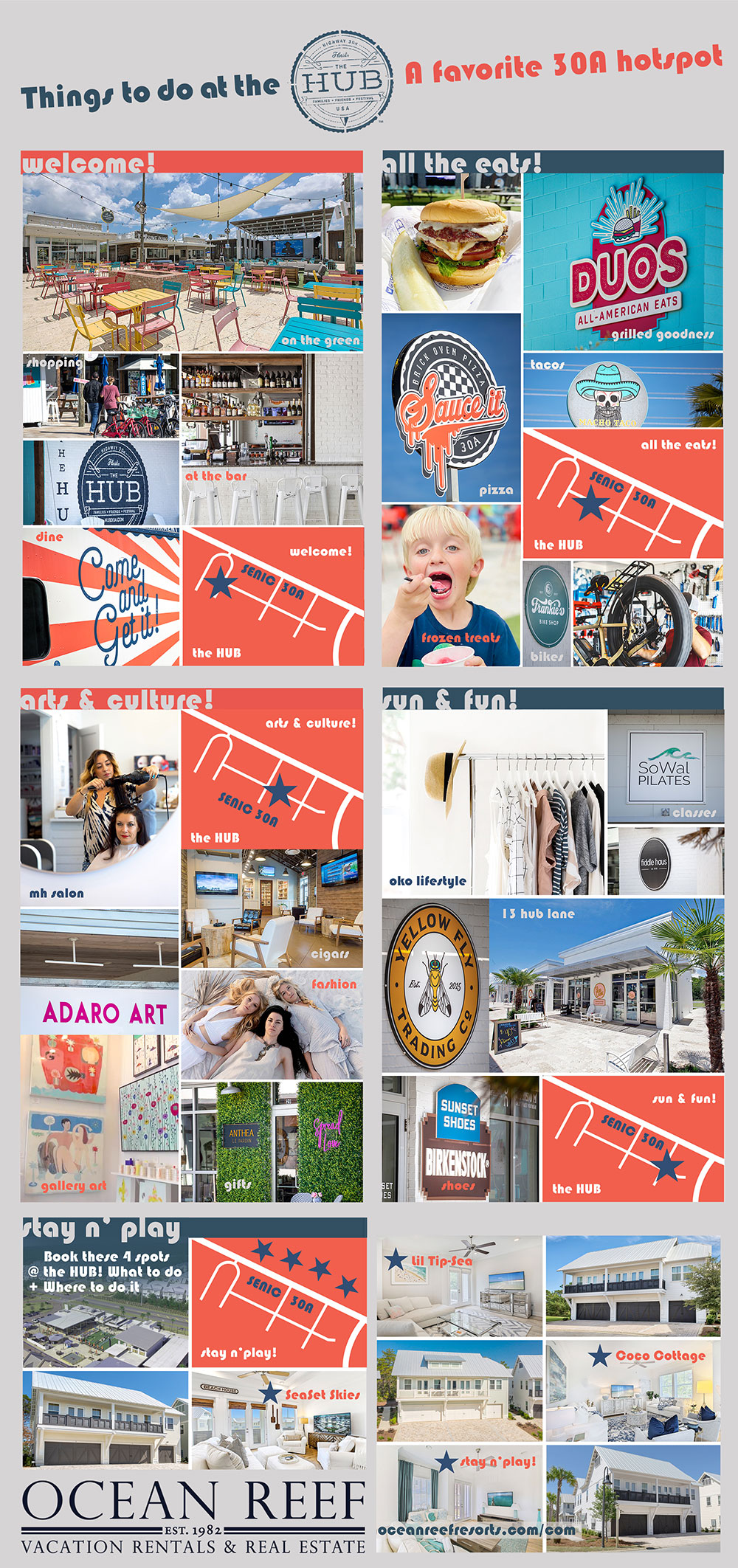 Walking past the HUB's Americana-esque Food Truck, you start to enter the magical, relaxing world of the HUB. You'll see a groovy little beach-bar called Pineapple at the HUB as you enter into the ample green canvas-covered space. A great spot for your kids to play and the perfect place to grab something to eat. The central focus is a giant wide-screen the size of a movie theater is the center of the space and is covered by a large canvas tarp that protects everyone from the elements.
Vacation rentals near The Hub: Prominence 30A Rentals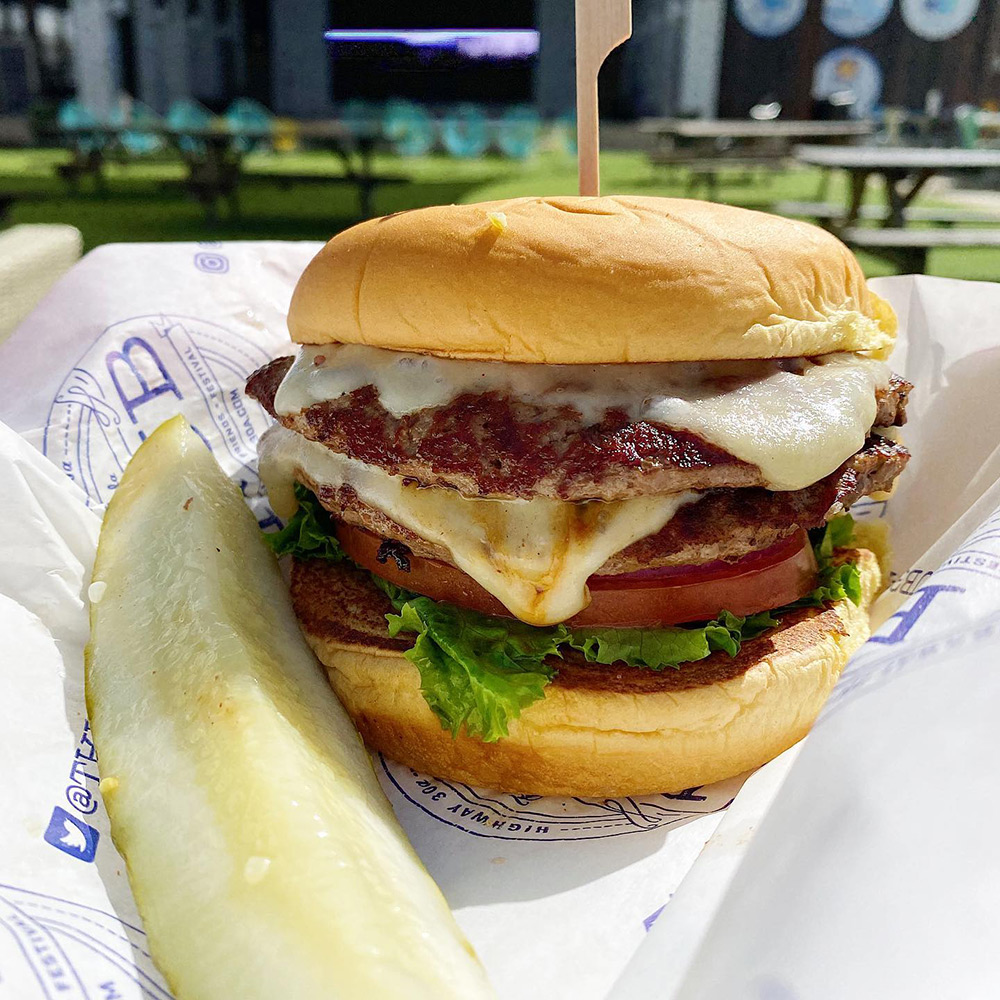 All the cool food spots are right here! Let's start Duos, offering fancy pork sandwiches of every shape and style; pulled-pork, brisket, turkey, and sausage sam'iches. Not to mention... the burgers! Here you can dine atop a wide variety of seating options like comfy couches, picnic tables, and booths; it's a great vibe and pretty vibrant for sure.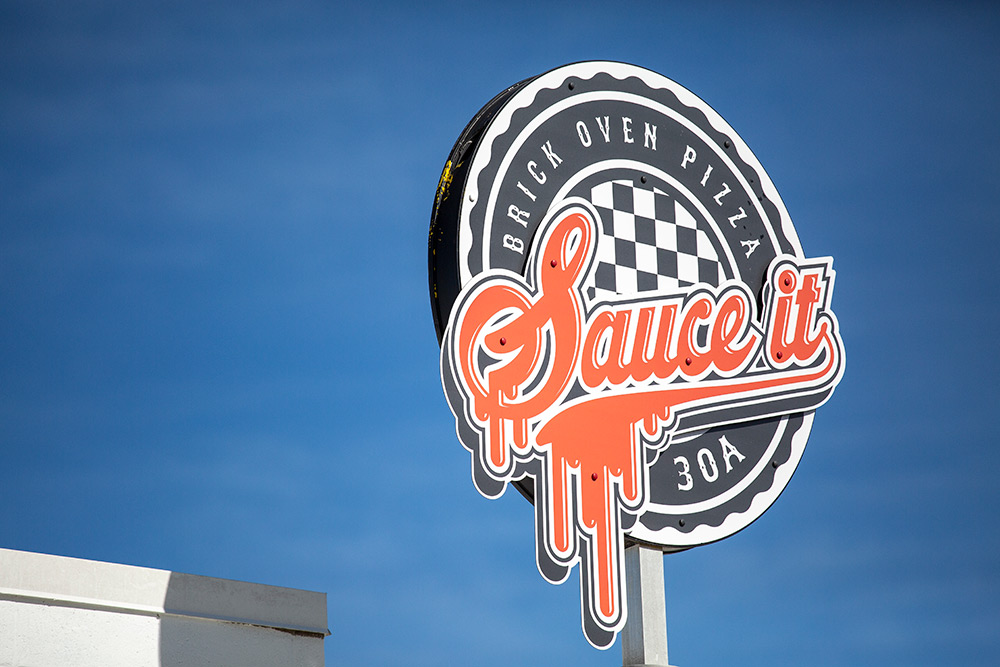 Next up is the New York Style Pizza place called Sauce It 30A. This place has some of the best brick oven pizza on 30A. #Authentic. Go pick up a pie and sit outside, fold your slice in half and scarf it down. Lots of choices to pick from and delicious drinks to boot. Try the Rosemary, if you want to keep it local – they all have a New York crust that just won't quit.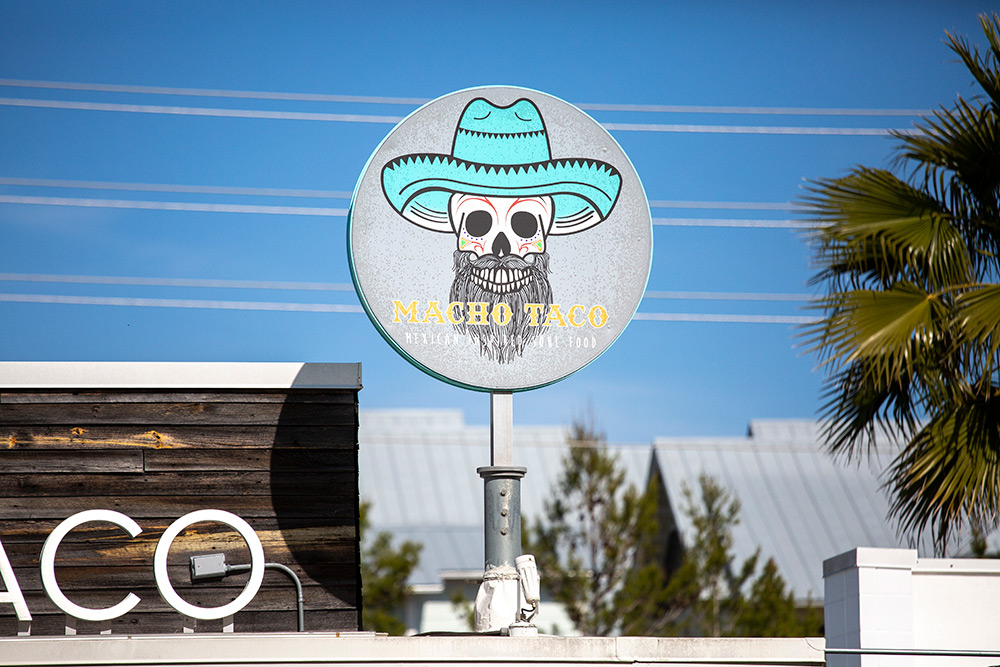 Pop next door to Macho Taco for some delicious tacos. It's the same layout as Sauce It, just to go pick up some delicious Mexican and bring it on out into the central area. Tacos on picnic tables, does it get better than this? They have the best crispy smoked wings 'this side of El'Paso and the Mexican style mole spices and black pepper ranch sauce.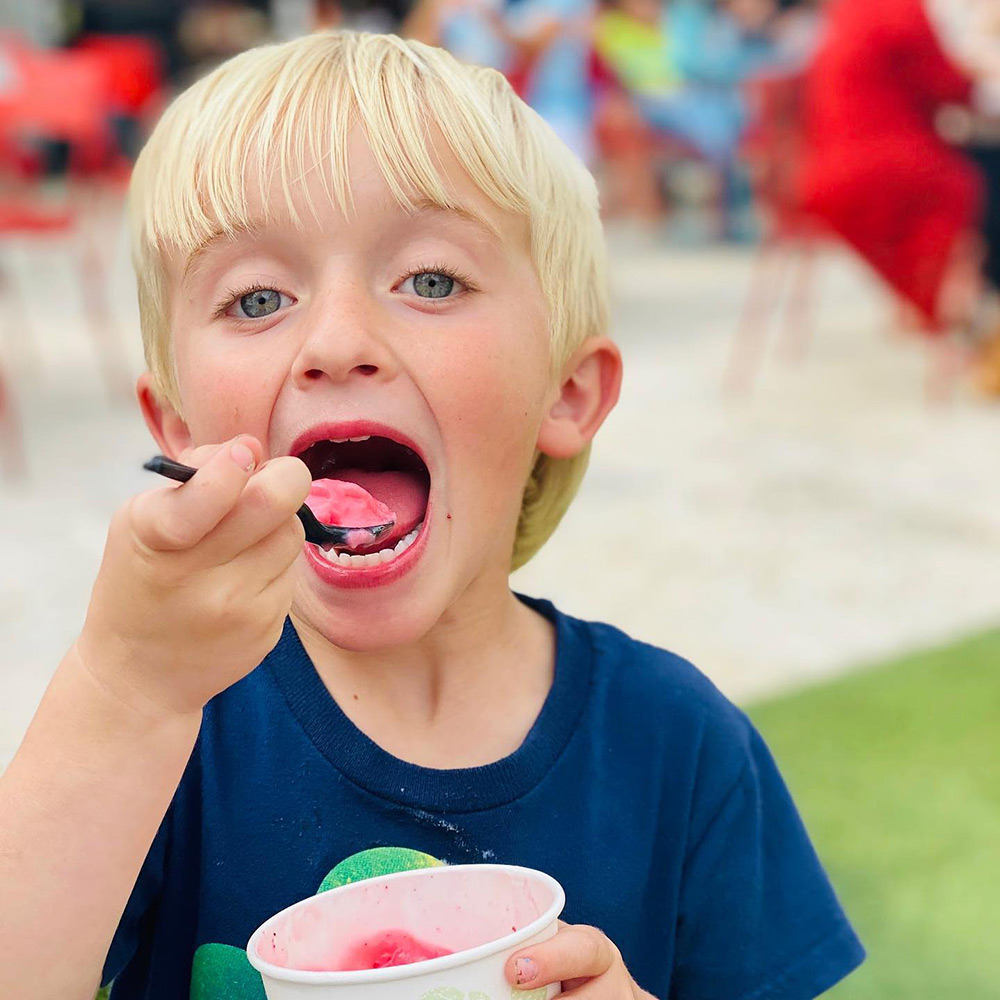 Mr. Freeze is next along the way, and he's got all the ice cream and milkshakes you could possibly want. Plenty of soft-serve, sorbet, and (OMG) Keylime Pie(!), signature ice creams like scooper-man and pirates bounty both a must-try, PLUS lots of fun + cool things to eat and enjoy in the sun.
Around this adorable north nook, there's a little private event space that is screened in to keep the bugs out and keep the fun in. A great place to have a small wedding party or family jam; there's even a bar inside. If you're thirsty, what you really want to do is go right next-door to Nectar, a really hot new spot; they serve great craft beer, wine, and coffee Every. Day. Of. The. Week!
As you pass through from the open-air food and entertainment center, you come to the HUB's more retail side. On this side, we have a couple of odd businesses and a really cool little place called Lily Chartier Pearls. This cute shop is chock-full of beachy jewelry that's Waterproof, Kidproof, and Lifeproof—offering an assortment of pearls and other fun beachy items perfect for all the people in your life that want something special to remember the beach.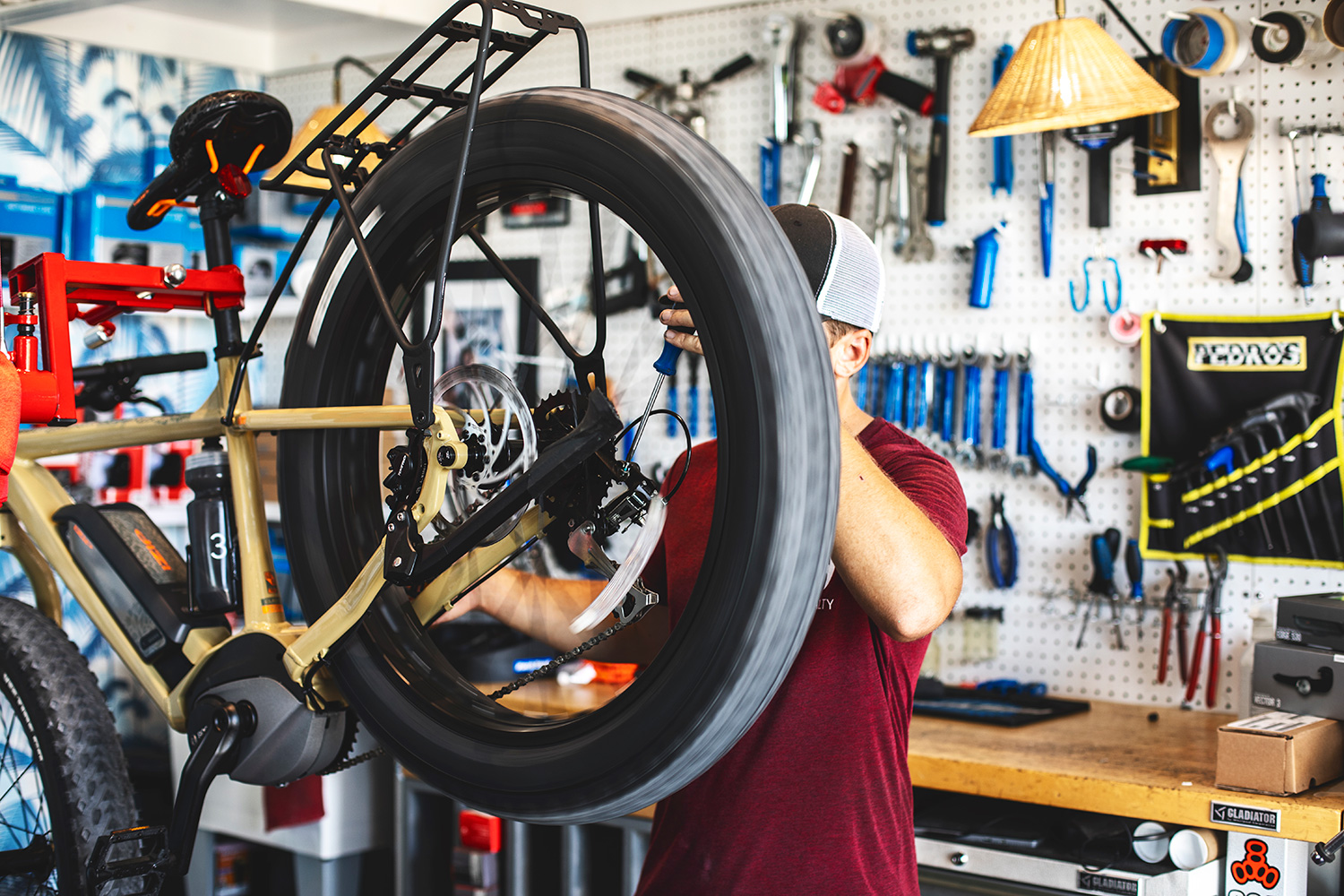 Midway in the Hub and at this vantage point, we look out over Frankie's Bike Shop with a variety of fun rental bikes to ride down to the beach.
Related article: Bikepacking Through Destin & 30A
Right in that same area, we find Adaro Art Gallery with some of the most imaginative art you're going to see around 30A. Plenty of little sculptures and paintings that you can pick up and take home with you. All feature the unique art of Adaro!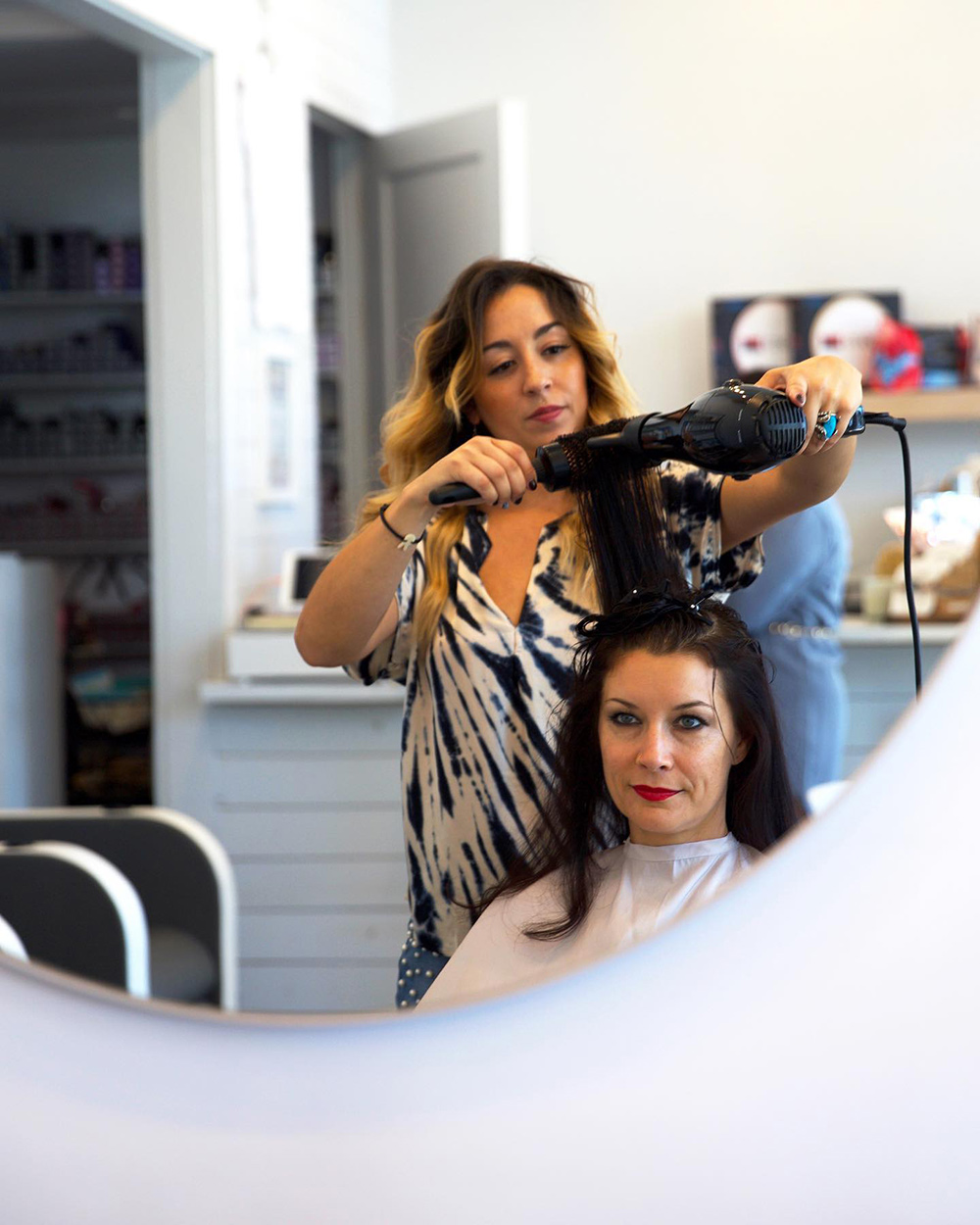 MH Salon 30A will make your hair look better than it ever has before. Whatever look you want is possible here, yet mostly she's simply cranking out long-flowing carefully-colorful n' curly beach locks, as that is the popular look around here. Come check out the custom international line of Italian Haircare products here, bada boom – they are spectacular, as are the stylists, and quite honestly, can we say the whole clean 60's vibe is like outta this world in this salon. Bring your hair here.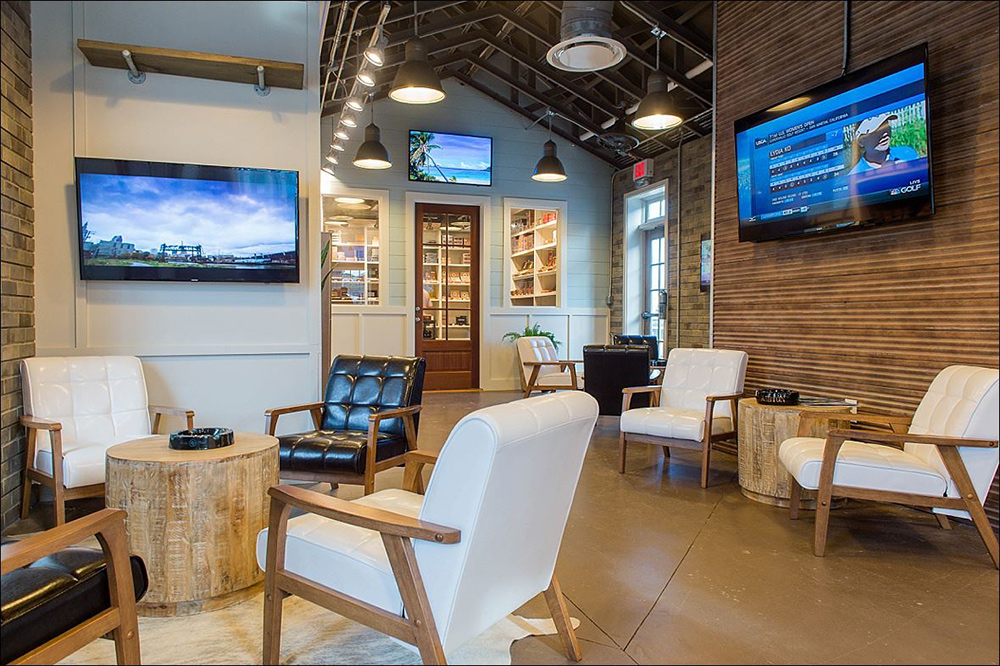 Right on that same corner, we find Shore Thing Cigars with a big lounge to hang out in and smoke one down, if you need to. Yes, they have a curated selection of smokes to take with you as well. They also feature ice-cold beer on tap, and just a pro-tip: this place is smok'n at dusk!
Related Article: 30A Stickers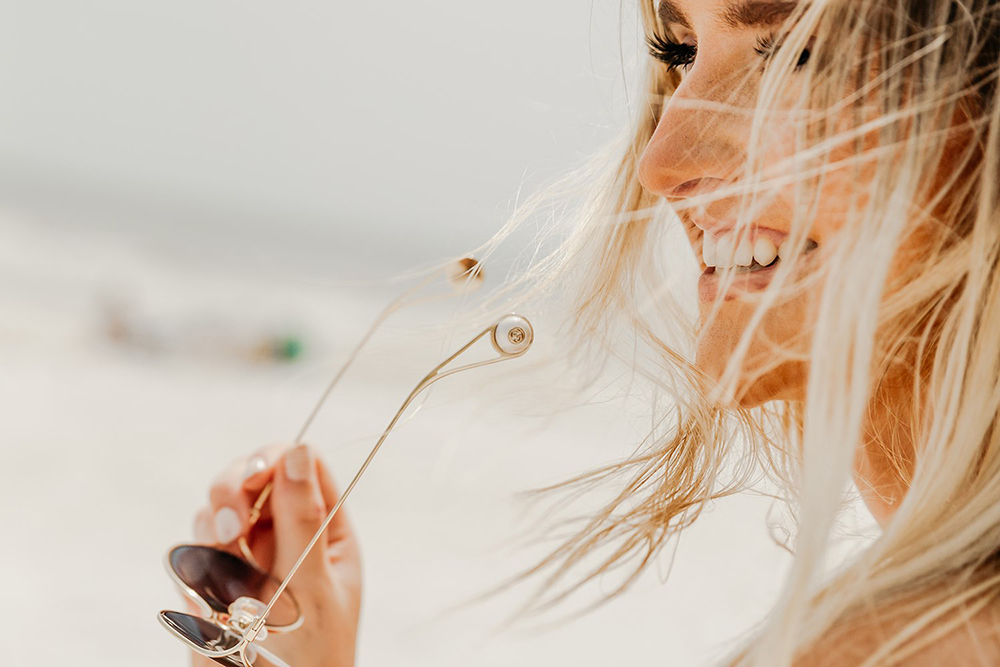 Making our way onto the east side of the HUB, we pass a fun little place called the The Lens Bar with lots and lots of sunglasses. If you lose your specs at the beach, this is the place you'll want to come for your peepers. They've got a variety of styles and lots of other little fun accessories perfect for being on the beach.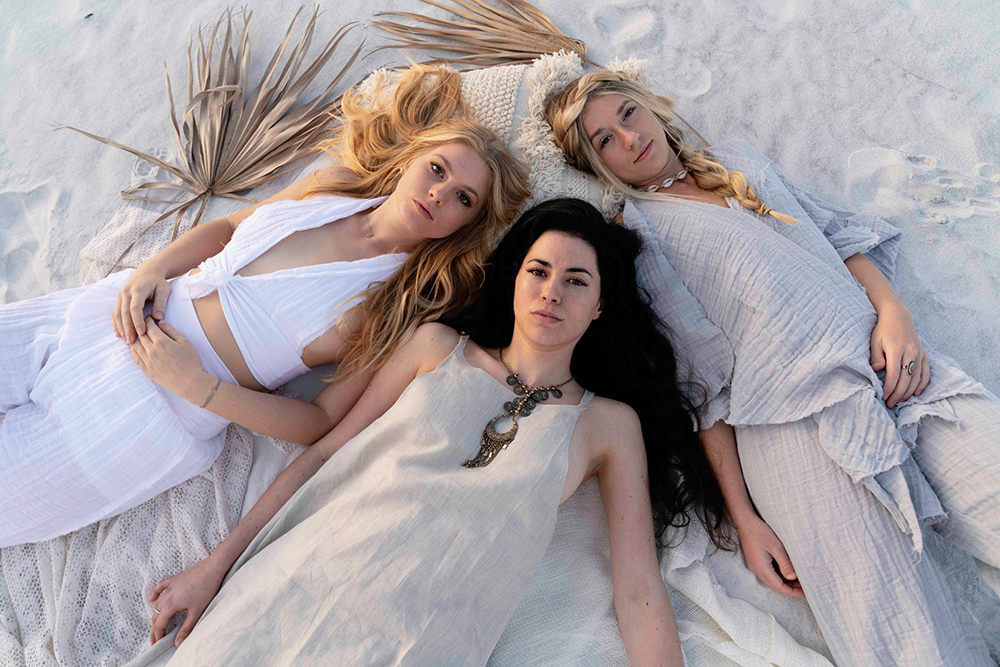 Just across the way, we have Mary Ellen DiMauro's clothing shop full of lots of flowing, muted tone wears for ladies who LOVE the beach. You'll find fun purses here, animal prints, yes please, lots of soft colors and oh so fabrics if you're looking for something unforgettable you definitely want to come to check this place, out it's s'ooo nice.
Just across from there, we have Mermaids of 30A with some really fine jewelry, stainless steel art pieces, and generally interesting things for the home, like funky beach Christmas ornaments when it's that time of the year. But the season is always right for all the rings that little sea princesses love and a bevy of little treasures. Are you looking for art with mermaids? This is your spot, Ariel.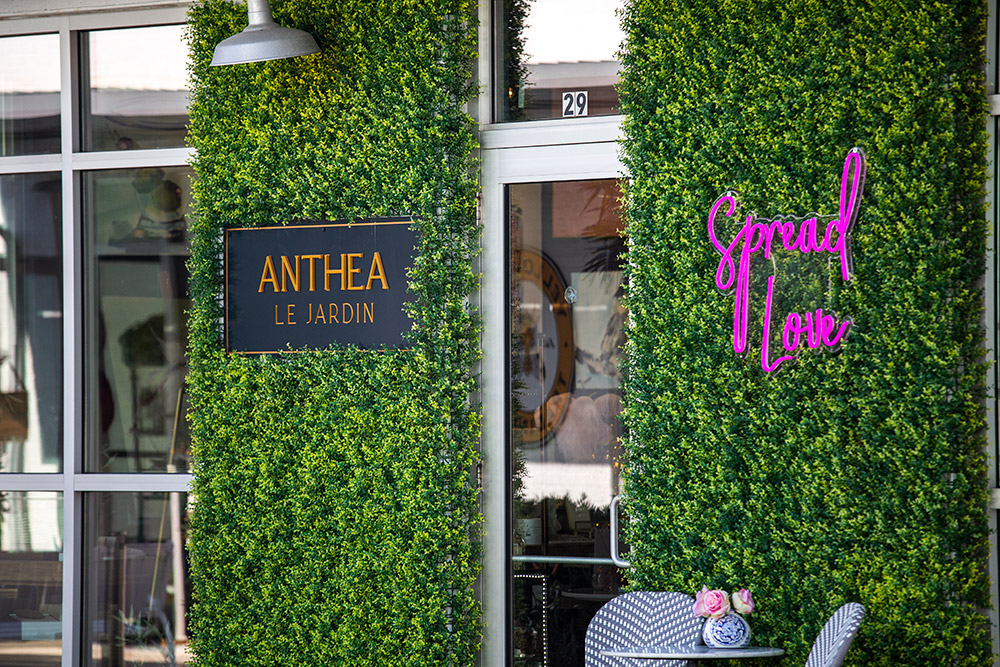 Anthea Le Jardin is a peculiar little shop. Part art gallery, part fashion boutique, and part gift shop. Tons of groovy little knick-knacks, bold art, and some gorgeous jewelry. It's a one-of-a-kind shop with its own take on the 30A style location. You'll enjoy the vibe, and the people here, specifically Anthea, are very bubbly. Enjoy!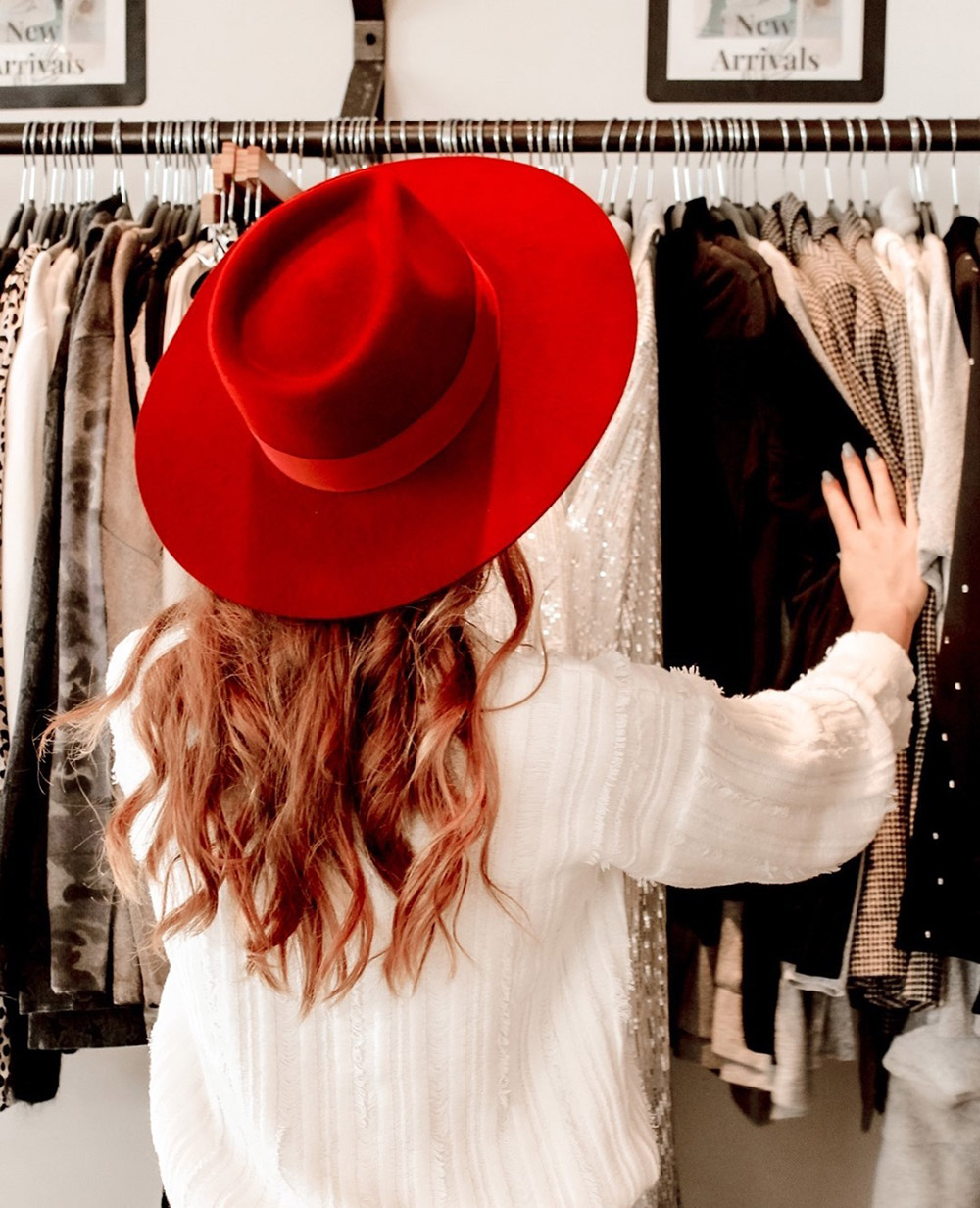 Moving right along, we come to the Yellow Fly Trading Company, don't be scared these yellow flies don't bite! This place is got some great fashions, really fun beachwear, some downright unique brands of shampoo and gifts. They sell some very beachy clothes and wears for women, shoes, jackets, one-of-a-kind hair bands; you're going to find everything you didn't know you needed, desperately, in this cozy little place.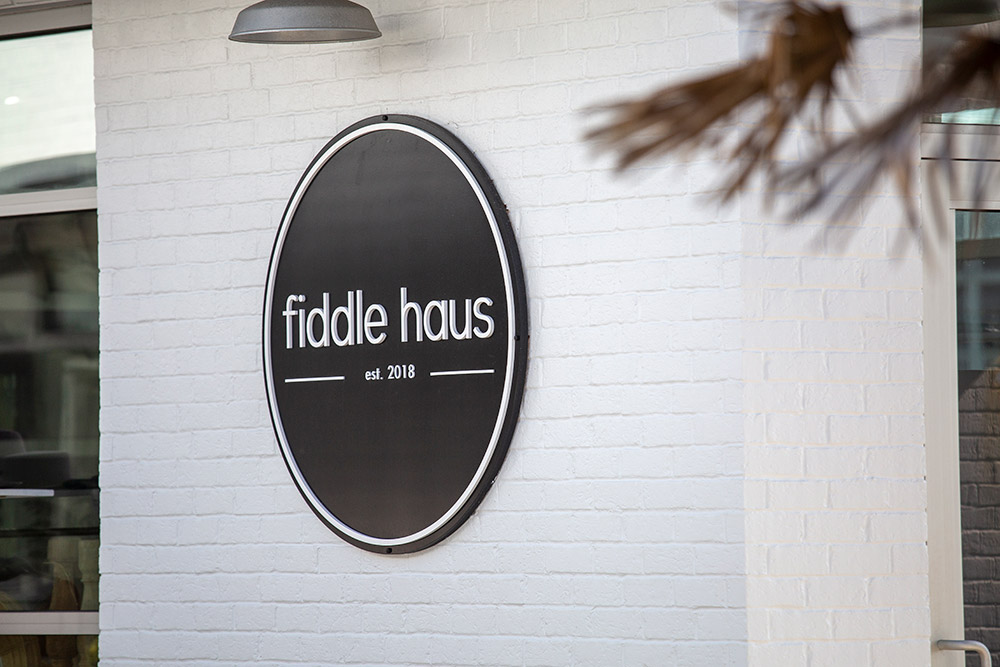 Across the way, we come to Fiddle Haus, established way back in 2018, a cheeky home decor local with fabrics, pillows, and things for your beach cottage or grand home, as well as a few select clothing items for women who love to decorate. Come find some fun purses and maybe the coolest pillows around town.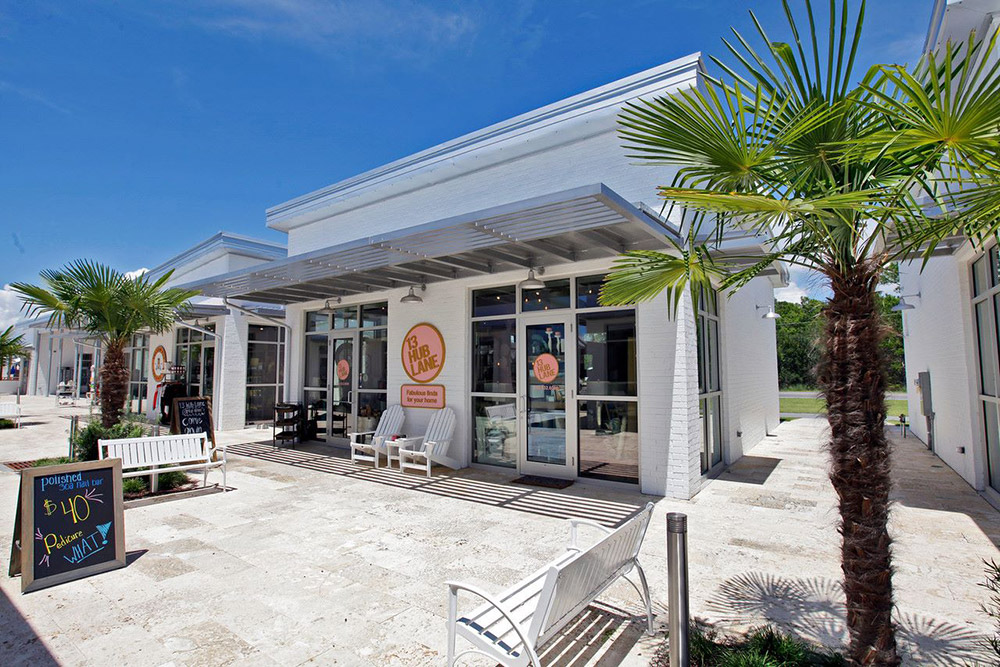 We must've wandered into the home "decor zone" of the Hub because right across the street is 13 Hub Lane. Featuring fabulous finds for your home, this place has everything you need to set off your beach house from bright artwork to giant metal balls; they've got lamps too and all kinds of home goods. Let them make your place warm inside with an instant beach vibe. It is just chock-full of home decorating ideas, pillows, throws, bedding; you'll find it all here!
Here on the far east side of the HUB, we find Polished 30A Nail Bar, a cute little nail salon just right for finishing up those nails after they get scratched up in the sand. They can handle pretty much anything nail related you need but make an appointment because they do fill up fast.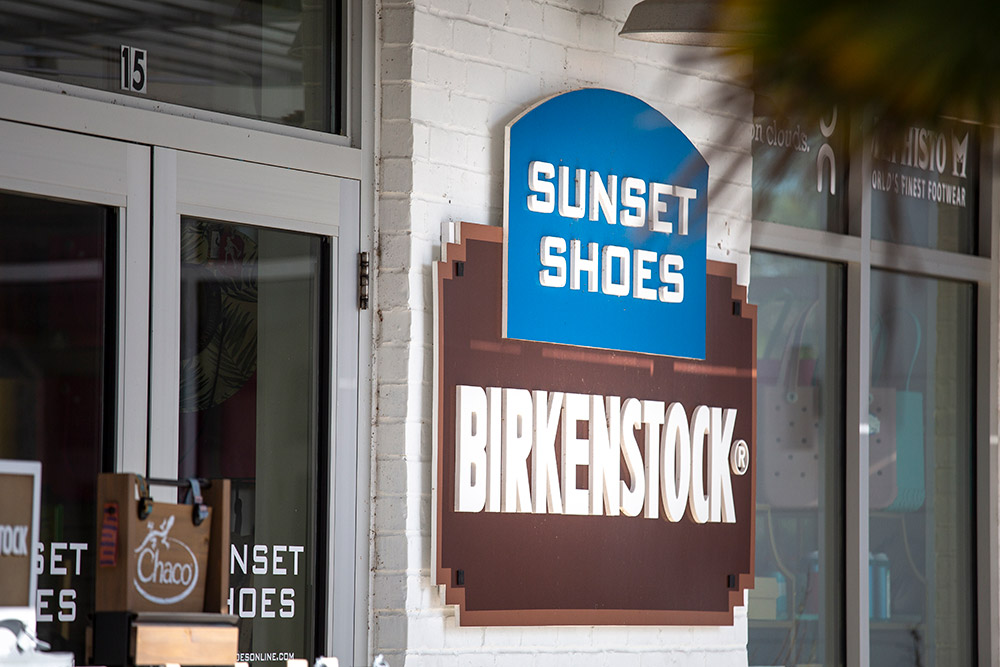 Looking for some flip-flops, well then definitely pop into Sunset Shoes, where they've got all your favorite footwear from Birkenstocks and Olakai Sandals to Tretorn sneakers and Manifesto software technology boots; you can't beat this place for selection, fit, style, no place as many pairs as Sunset!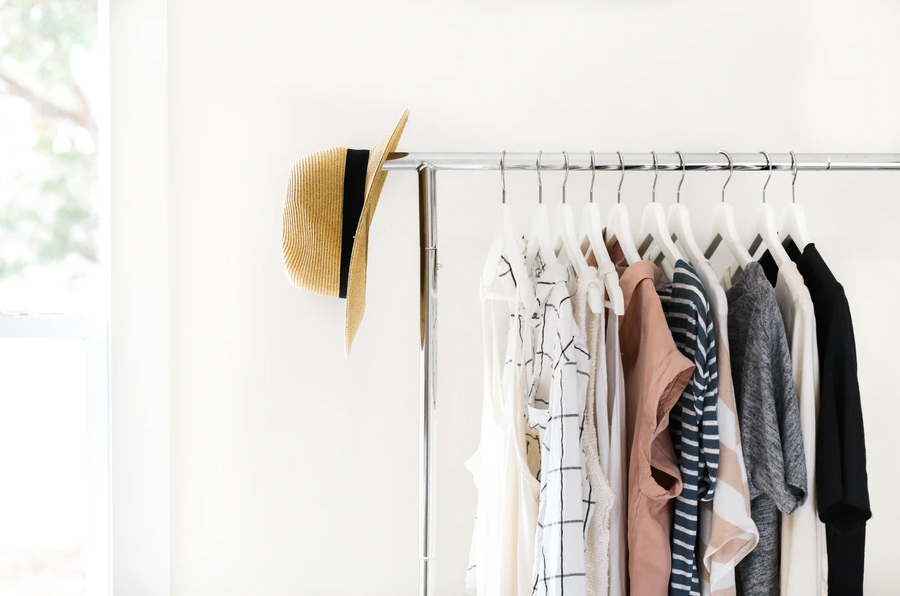 Almost to the end, we just have a couple of places to go. There's a cool little clothing store called Oko Lifestyle for men, women, and kids. They have so many different styles of clothes here; this shop really has it all. It's a great gift spot, or if you just want to take a little memory of the beach home with you. Men's and Women's styles fill this shop; come to get a fresh outfit or two or three! They have clothes for everyone from little babies all the way up to grandpas and grandmas.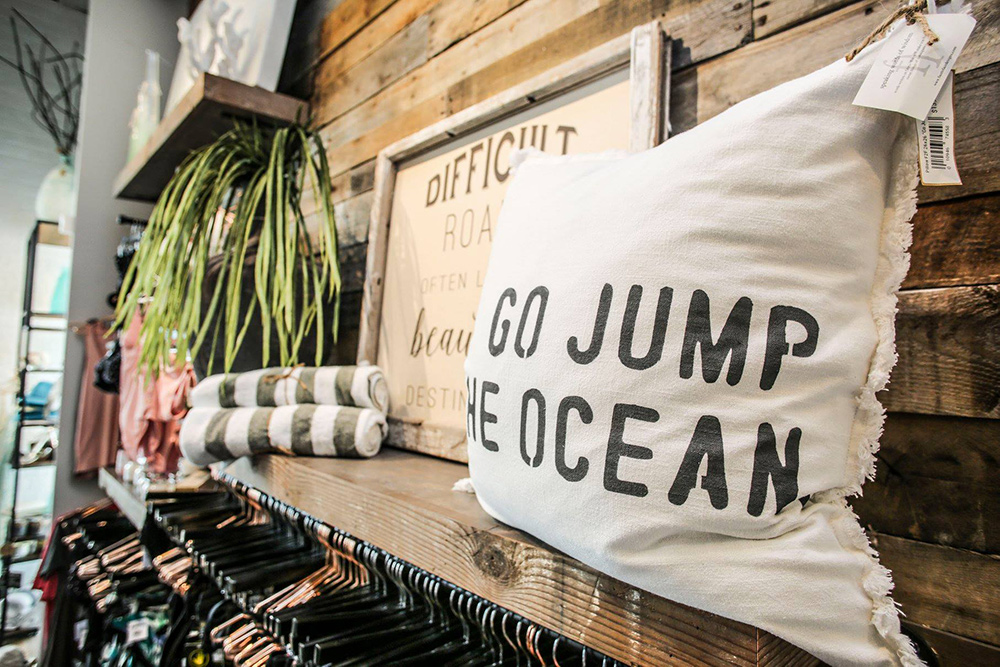 Finally, the last stop on our tour is the 30A General Store, which carries a full range of Beach supply items. Here you find kneeboards, nets, footballs, and sundresses. Things for people that want to come to the shore! Bikes and Boards can be purchased here - it's fun times, if you like the beach, you'll love this place.
And that concludes our tour of the Hub on 30A. Next time your planning on coming to the Gulf of Mexico, visit with us here at Ocean Reef. Just like the Hub, we have a lot of different things to do, mostly in the form of 30A vacation rentals - and simply the best place you'll ever stay to make memories with your family.