Posted on 1/11/2022
When's the best time for a beach vacation? Whenever you can! And once you've picked your vacation dates, the next thing to do is figure out how you're getting there.

Many of our Ocean Reef Resorts guests travel to Destin and throughout the Emerald Coast by car, as several southeast metropolitan areas are located nearby. Additionally, navigating airline connections in the past could be somewhat cumbersome. More and more recently, however, many visitors from distant cities are discovering our glistening jewel-toned waters and sugar-white sand beaches. New air travel services in Panama City Beach and Ft. Walton Beach allow visitors to get here nonstop—no connections necessary. Furthermore, increased competition has made flying to Destin much more affordable. That's a win-win for our out-of-town guests!
Three airports serve as a gateway to the Emerald Coast. These are located in Ft. Walton Beach (Valparaiso), Panama City Beach, and Destin itself. This allows folks to travel long distances and make it to paradise in just a couple of hours.
Destin–Fort Walton Beach Airport (VPS)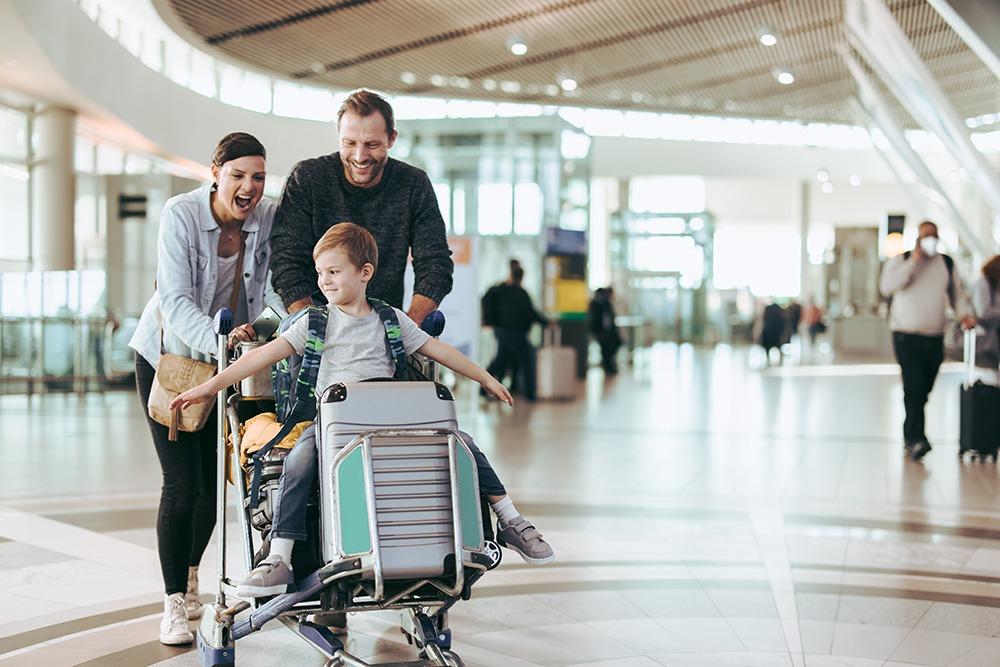 For regular commercial air travel, the closest airport to Destin is the Destin–Fort Walton Beach Airport (VPS). This airport is located off Eglin Parkway in Valparaiso, with quick access to our beautiful beaches in less than thirty minutes. In fact, thanks to the Mid Bay Toll Bridge that crosses Choctawhatchee Bay, you can make it to Miramar Beach and Sandestin from this airport in exactly thirty minutes. This award-winning terminal serves approximately two million travelers every year.
The airport's alabaster white walls and green steel roof are accentuated by an adjoining landscaped park, which provides a perfect welcome to the Emerald Coast. The interior has vaulted ceilings with multiple skylights that provide a sunny spacious look and feel. A unique inlaid custom floor in the main foyer displays a huge multicolored map made out of terrazzo. It shows all of Choctawhatchee Bay, Ft. Walton Beach, Destin, Miramar Beach, and the Gulf
This terminal has many convenient amenities of a big city airport but with a wonderful laidback ambiance of a smaller facility. A free shuttle service is available to and from the parking area. Complimentary curbside assistance is also available. Rental car services are inside on the premises, and there is convenient access for transportation. Private cabs, shuttles, and limos are right outside (read more: Destin–Fort Walton Beach Airport Shuttles). For those flying with pets, there is even a pet relief and play area for your traveling pooch to enjoy—and plenty of visitors bring their animals, as many of our vacation rentals are pet-friendly! Emerald Coast Bar & Grill, Aero Mart, and Dunkin' offer snacks and meals. Refreshments are also provided at the Tropical Landing Bar, complete with seven plasma HD TVs for sports entertainment, news, and weather. You can also get free WIFI throughout the terminal.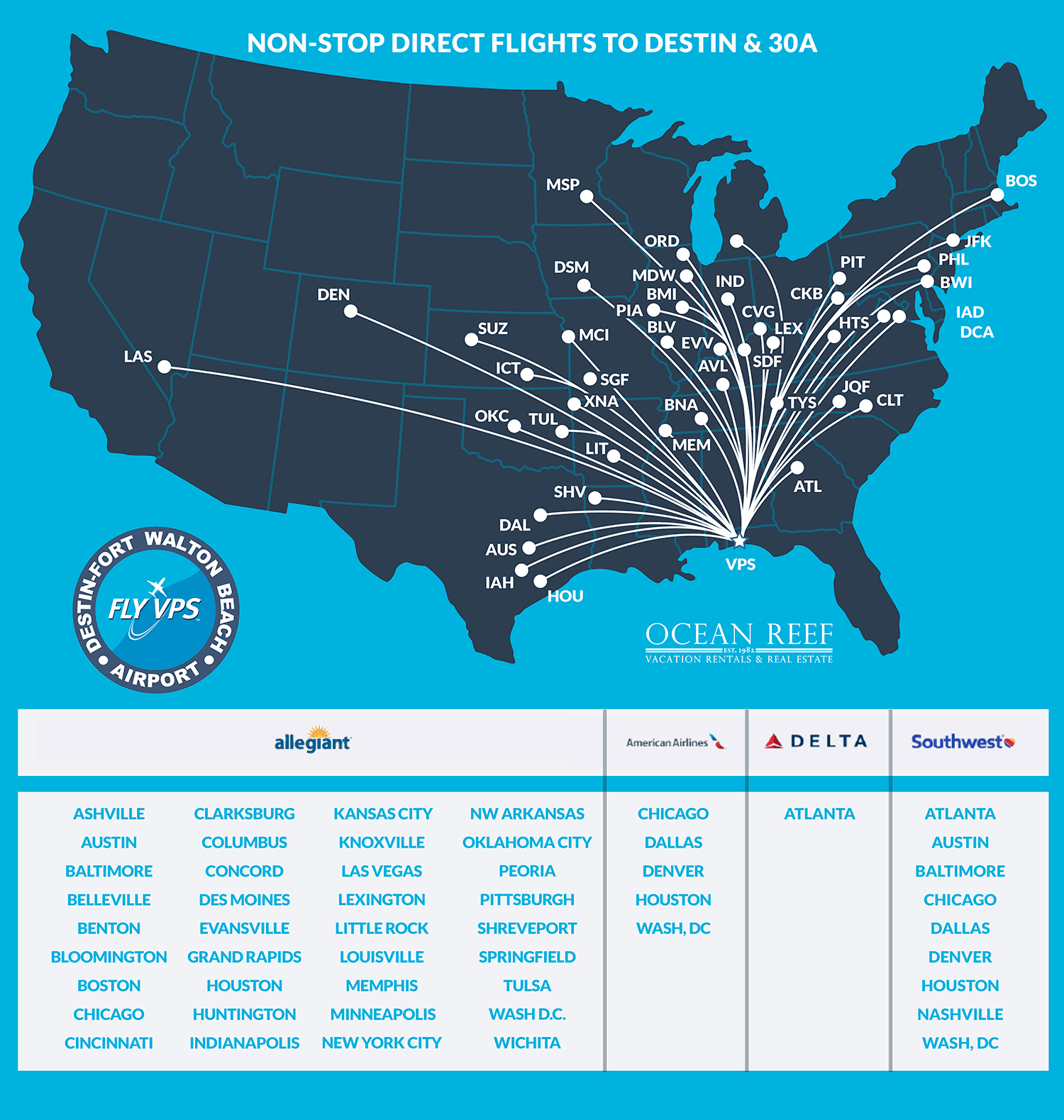 Over 50 daily nonstop flights go to and from Atlanta, Charlotte, Dallas, Ft. Worth, Houston, Orlando, and Washington DC. Most recently, Southwest Airlines began daily flights to and from Nashville, Baltimore, Austin, and Milwaukee. Carriers include American, Delta, US Airways, United, and Southwest. The airport is open from 4 am until 12 am daily.
Beaches International (ECP)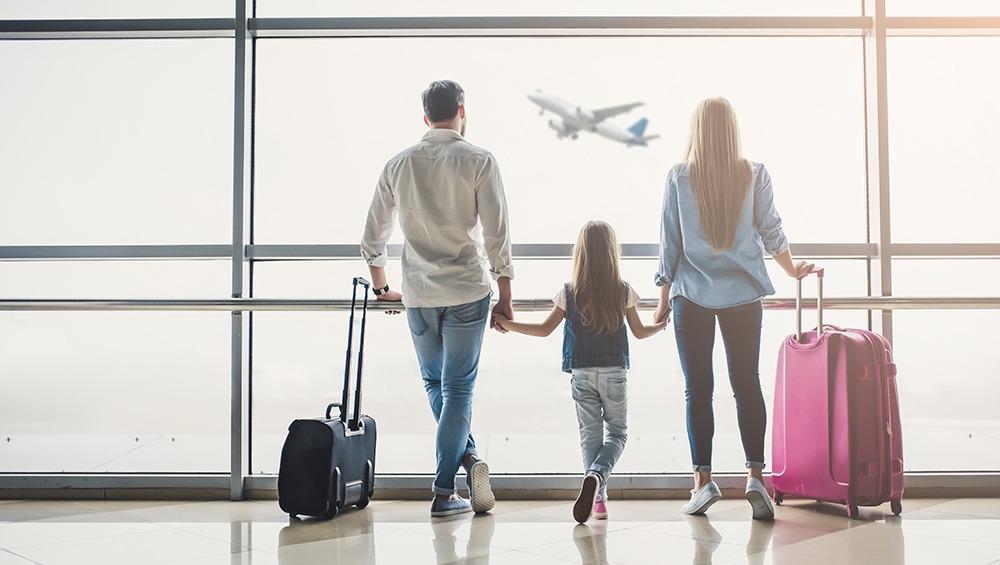 Northwest Florida Beaches International Airport, also known as "Beaches International" for short, is a state of the arts $330,000,000 airport that opened with much fanfare in 2010. Though the airport has yet to receive a LEED for being a "green" airport, it has received numerous accolades for land conservation and preservation. The 4,000 acres of airport includes 10,000 linear foot runways that can land even the largest airbus. Its pristine location is surrounded by over 41,000 acres of nature preserve that includes thirty-three miles of protected bayfront.
The airport is located just north of Hwy 98 in Panama City Beach by taking Hwy 79 to Hwy 388 near West Bay. A long lushly landscaped boulevard meanders through the dense forest preserve, which provides a sight to behold as it opens dramatically into a giant clearing that serves as the airport grounds. When you fly over this expanse of lush green forested land, it almost makes you think you're about to arrive somewhere in remote South America rather than here in Northwest Florida! This airport is closest to our Ocean Reef vacation rental properties in Panama City Beach and along much of Scenic Highway 30A. Drive times to these properties range from twenty to under forty minutes.
The terminal has 125,000 square feet with seven gates, state-of-the-art security systems, technology for quick baggage delivery, and WIFI throughout. Restaurants, retail, and rental car venues are all on-site for convenience. A special Military Welcome Center is upstairs for all active-duty personnel and veterans. This private lounge includes flat-screen TVs, computer terminals, a small kitchen, and a kid's playroom. This military lounge is open from 8 am until 8 pm.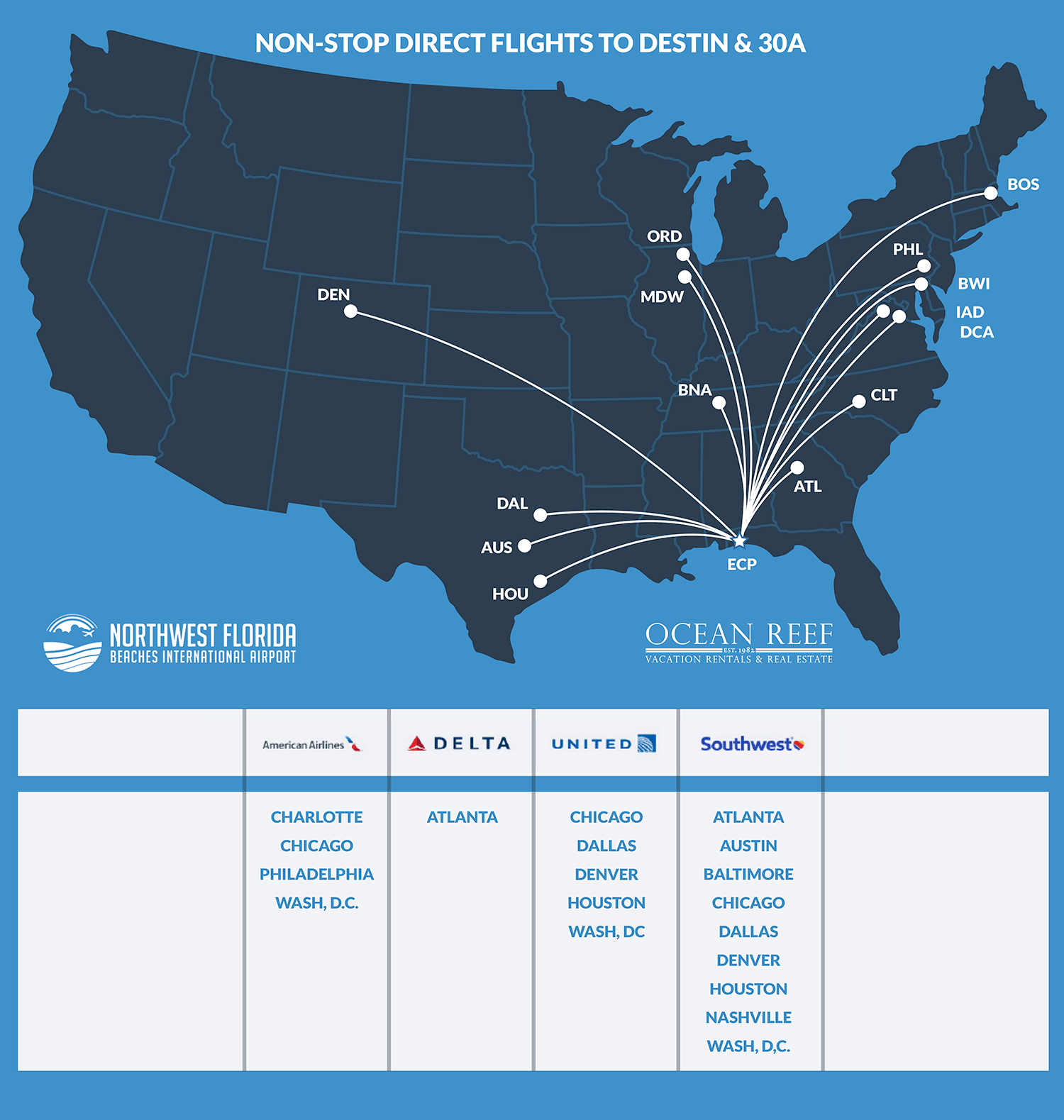 Beaches International ranks among the top four US airports in capacity growth in 2021. The main terminal is open to all travelers 24/7, with dozens of arrivals and departures daily. Delta has daily nonstop flights from Atlanta with international connections. American Airlines, United, and Southwest offer daily, nonstop service to other destinations, including: Baltimore, Dallas, Houston, Charlotte, Chicago, Denver, Kansas City, Philadelphia, Nashville, and Washington DC.
Destin Executive Airport (DTS)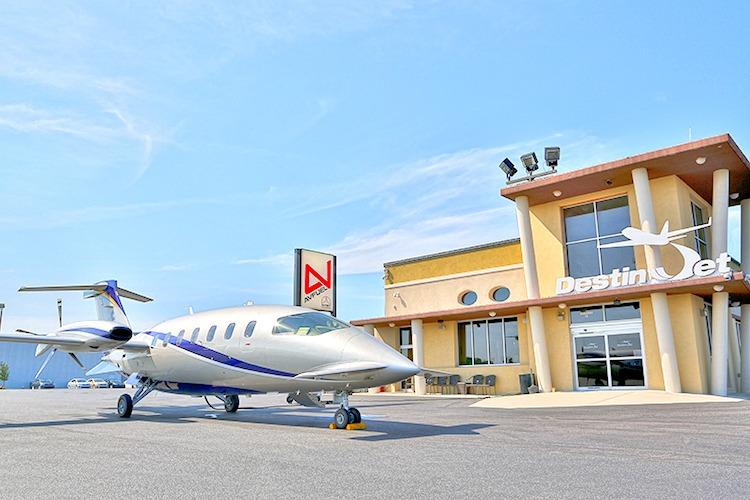 Located in the heart of Destin, only two miles north of Hwy 98 on Airport Road, you'll find Destin's Executive Airport (DTS). In service since 1963, it accommodates non-commercial flights, private aircraft, and charters on its 5,000 linear-foot runway. The airport terminal has 6,000 square feet and received an award among private plane owners as one of the best facilities of its kind in the entire nation. In addition to private planes, many commuter charter flights arrive here on a regular basis.
The airport is served by JSX and Southern Airways. Southern Airways has flights to and from Tampa and Memphis, with connecting flights to Harrison/Branson, Hot Springs, El Dorado, and Dallas. Open 24/7, with air traffic control and guidance provided by nearby Eglin AFB; the luxurious terminal provides the level of service one would expect for its "jet-set" patrons and executives. Amenities include plush sofa seating, comfortable leather recliners, big screen LCD TVs, WIFI, kitchens, wet bars, private locker rooms with showers, limousine access, and car rentals. Here, southern hospitality runs deep, with complimentary coffee, delicious cookies, and of course, rocking chairs out on the veranda.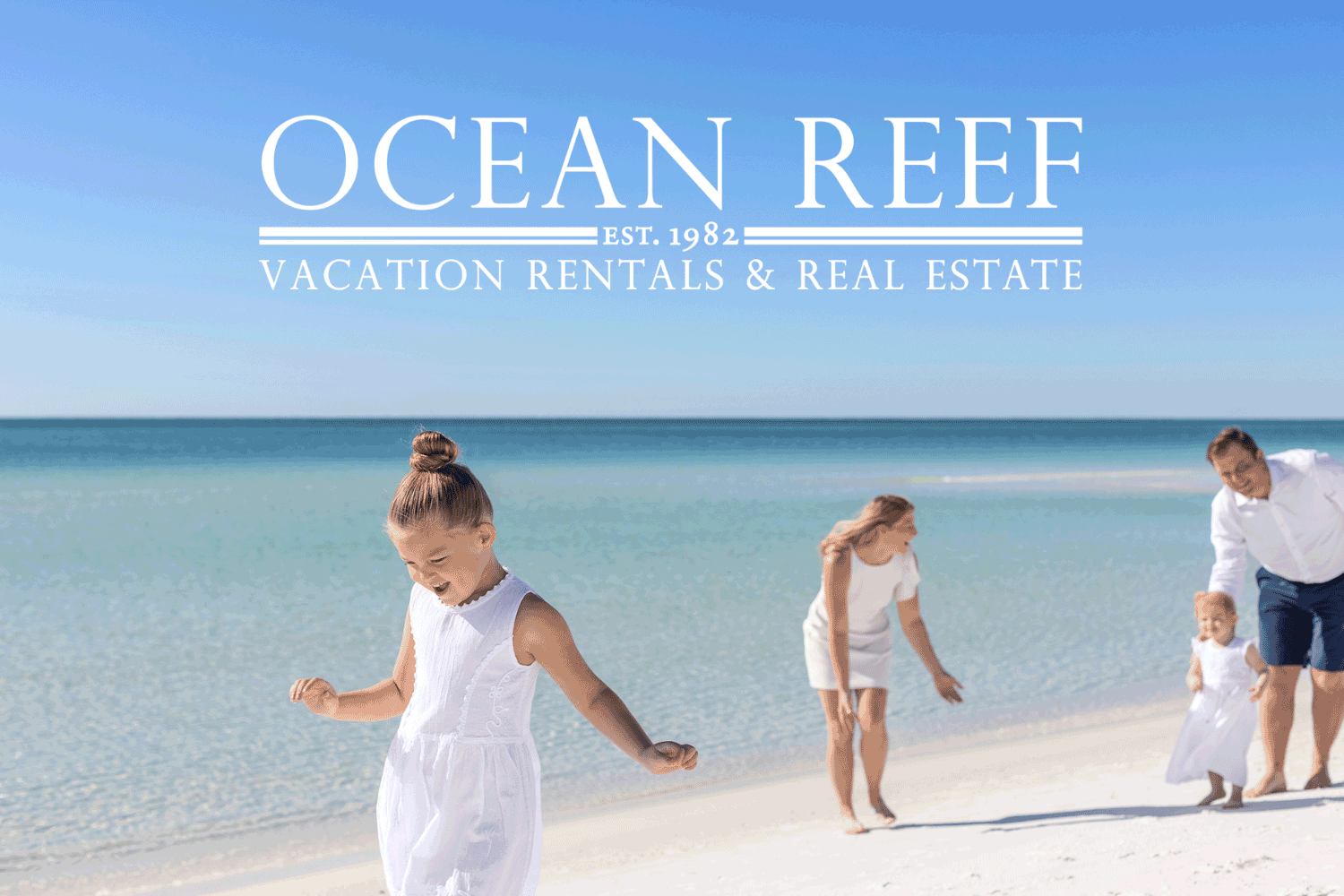 When you fly to Destin's Emerald Coast, just like that old classic song said, you "can get there fast and then take it slow." Ocean Reef Resorts bids you a bon voyage as you arrive here in this slice of paradise. It is always a pleasure to have everything ready for you upon your arrival at one of our distinctive Destin vacation rental properties. Happy landings!