Posted on 9/29/2023
Ever wondered what Destin is like in October? In one word – Heavenly! While many might consider this the "off" time of the year, it's actually very much "on" for a delightful and unforgettable experience without the crowd. Discover the unique allure of Destin in October, a timely treasure known only to locals and the savvy guests of Ocean Reef Resorts. Come explore why everyone falls in love with Destin in October!
Destin Weather in October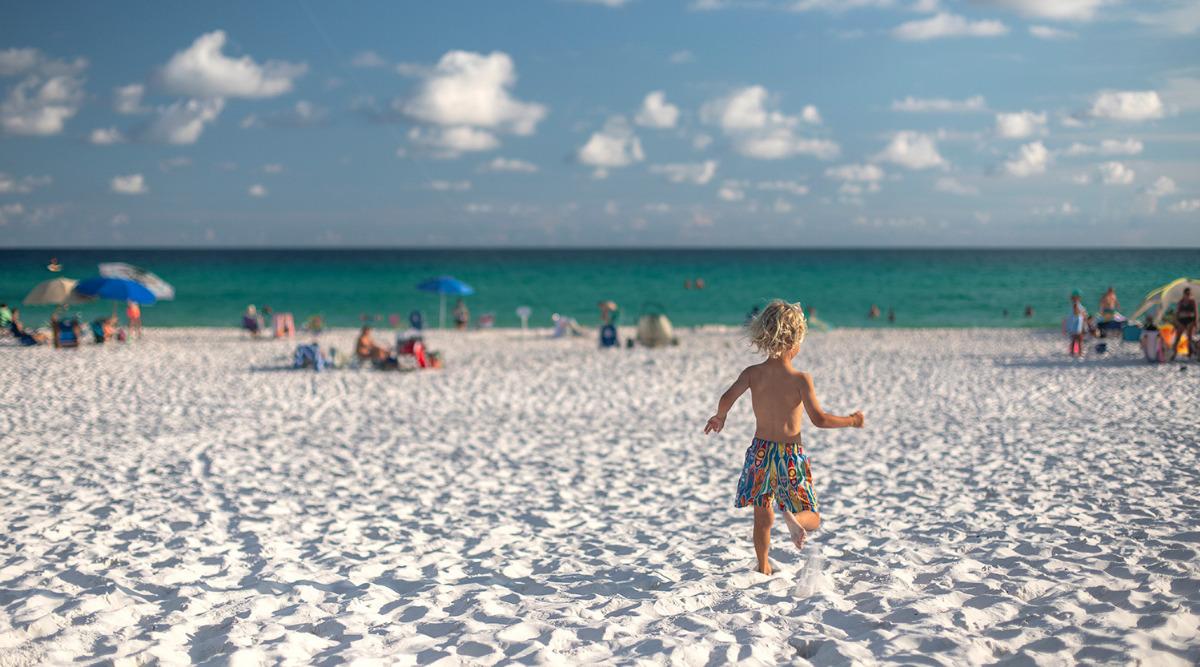 The summer heat abates in October, which ushers low humidity, and everyone enjoys the picture-perfect weather. Cobalt blue sunlit skies are accompanied by a lovely gulf breeze and extraordinarily comfortable daytime temps in the seventies. Evenings are delightfully cool and crisp, with lows generally in the sixties.
Many visitors and locals (including us here at Ocean Reef) relish the October weather in Destin. As Cameron in Reservations aptly puts it, "October - It's not too hot and not too cold, it's just right." Edwina in Real Estate also chimes in with her love for October, "because the weather is absolutely beautiful!!! Warm days and cool nights." These testimonials highlight the ideal weather conditions that await you in Destin in October!
Destin Water Temperature in October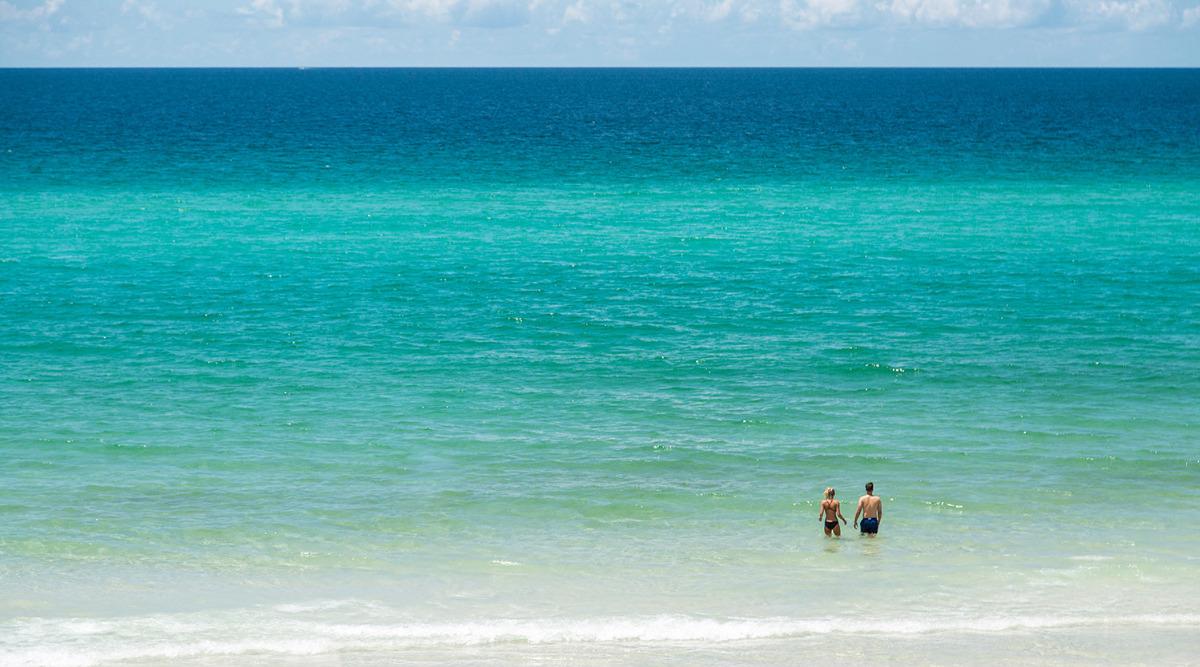 The golden orb radiates its warming sunshine over the glorious Gulf all summer long, and it maintains a wonderful swimmable temperature throughout the month of October. The Gulf temperature starts out around the mid-eighties and ends the month in the mid-seventies. Sometimes, it's even warm enough to take a brisk dip until Thanksgiving. Many of our vacation homes and condos come with heated swimming pools and bubbling hot tubs if you want to be truly pampered or take an evening swim.
Destin Fun Things to Do in October

Embark on a month filled with diverse activities and excitement this October.
All of October: Reel in the fun all month long with the Destin Fishing Rodeo, a haven for angling enthusiasts competing for prizes or just enjoying the lively weigh-ins on the docks.
October 6 - 7: Kick-start the month with the 11th Annual Baytowne Beer Festival on October 6th and 7th. Enjoy tastings of over 200 craft beers, lagers, and ales alongside live music.
October 6 - 8: Continue the revelry at the Destin Seafood Festival, running from October 6 -8 at the Destin Harbor Boardwalk. Free admission, live music, and scrumptious seafood await every visitor.
October 14: Get ready for a spicy outing on Saturday, October 14, at the Bloody Mary Festival at the Market Shops at Sandestin from 11:00 am to 2:00 pm. Savor unlimited tastings and vote for your favorite Bloody Mary.
October 15: ArtWalk on the Harbor is on the docket for October 15 from 11 am to 4 pm. Explore the offerings of over forty artisans, from jewelry and paintings to food and soaps.
October 19: Bubbly Baytowne chimes in on October 19 from 5 to 7 pm, pairing champagne sips with retail therapy.
October 26 - 28: Prepare for a spectral celebration at Spooktacular Nights at Harborwalk Village from October 26 to 28th. A wealth of Halloween festivities, including fireworks and a costume contest, will be held.
October 28 & 29: The Mattie Kelly Festival of the Arts graces the Mattie Kelly Cultural Arts Village on October 28th and 29th, with a rich display of diverse artworks and live music performances.
October 30 - February: Winter beckons as Baytowne On Ice opens on October 30, offering ice-skating fun under a grand tent until February.
October 31 (Halloween): Lastly, kids dress up for Trick or Treat Street on October 31 from 6 to 8 pm. Baytowne merchants will distribute treats, accompanied by spooky music and a grand fireworks finale.
Enjoy a packed October filled with a variety of events, each offering a unique experience, ensuring a memorable autumn month for all!
Destin Sunsets in October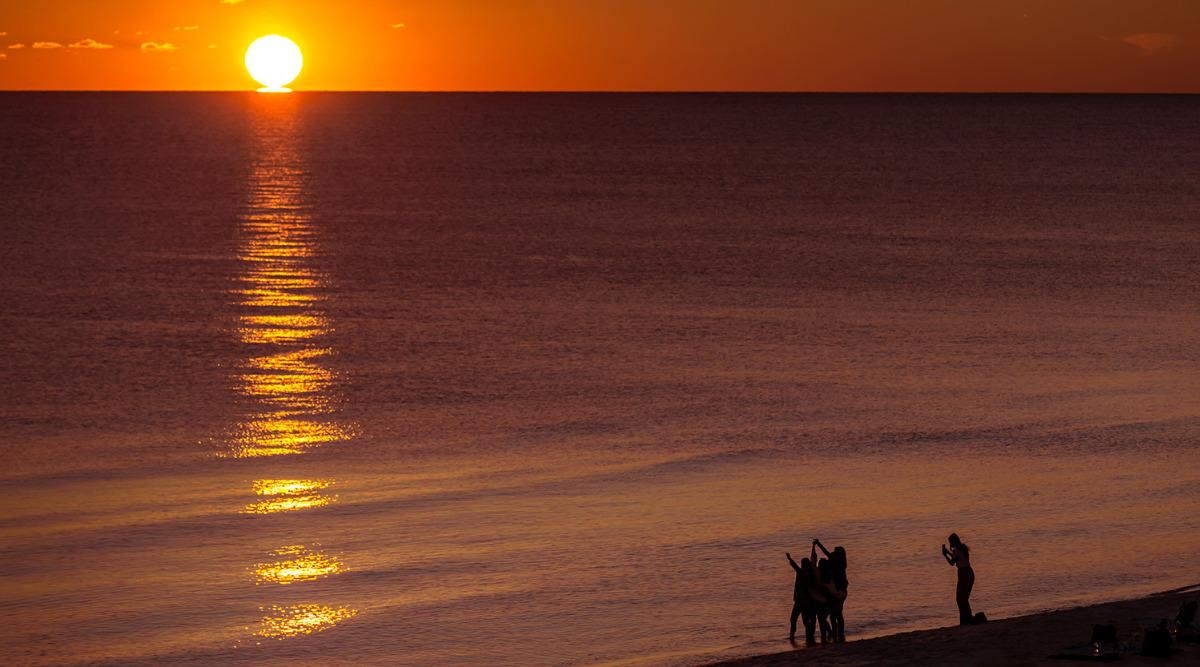 Starting in October and extending through March, the sun sets in a spectacular display over the glittering Gulf. Both local residents and visitors make a point to behold this heavenly spectacle from the pristine beach. The expansive light often bathes the entire sky, casting a magical mirrored reflection upon the water's surface. Guests of Ocean Reef Resorts with beachfront rentals enjoy premier, unobstructed views of this breathtaking show. This special "Sunset Hour" coincides with the coast's "Happy Hour," filling gulf-front restaurants and beach bars with patrons eager to toast the radiant event.
As October arrives, the less crowded beaches offer everyone the chance to bask in the serene ambiance. Chace from Business Development highlights this, noting, "I am always a fall type of guy… kids are back in school, and the beaches are less crowded. It's the locals' turn to play." This sentiment underscores the peaceful and enjoyable atmosphere awaiting you in Destin during this time.
Destin Vacation Rentals in October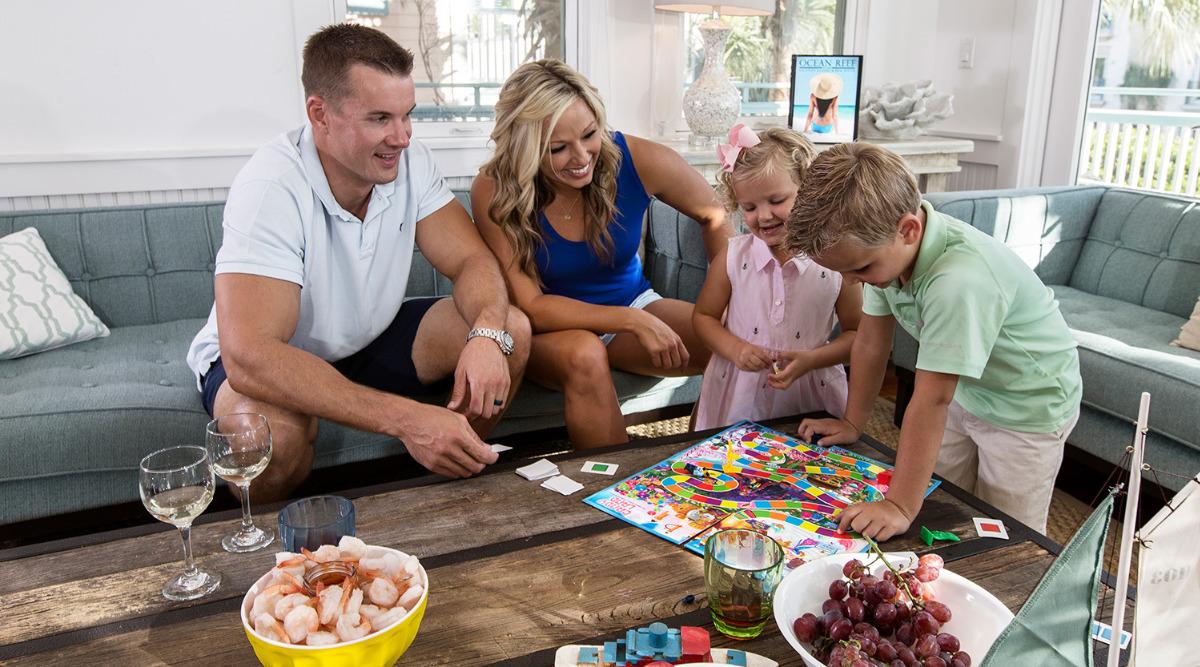 This time of the year coincides with the second lowest rates available for vacation rental properties along the Emerald Coast, way off their prime-time spring break and summer rates. Ocean Reef Resorts offers highly hospitable homes and luxurious condos that span across Destin, Holiday Isle, Crystal Beach, Miramar Beach, and South Walton. Each property is on or near the sugary shore overlooking the jewel-toned Gulf but with a distinctive ambiance.
Downtown Destin has loads of action at restaurants, lively bars, and fabulous festivals. Exciting activities occur around Harborwalk Village which overlooks the nation's largest private charter fishing fleet. People go there to "eat, drink and be merry" at waterfront restaurants and lively bars. Our guests use their Reef Rewards for complimentary reduced rates on dolphin cruises, sunset excursions and fishing charters there.

Nearby Holiday Isle is a prestigious peninsula that shoots offshore south of Destin Harbor. Fortunate guests are conveniently close to all the action of Destin but in a wonderful world apart. Many mega-million dollar homes here are either on the bright white beach or canals with docks for big boats. The gorgeous Gulf side includes beachfront mansions and luxury towers. Some exclusively gated residential communities feature private beaches, community pools, and tennis courts.

Crystal Beach is an upscale residential community named for the crystalline shore that includes homes and luxurious condominiums along Scenic Highway 98 east of Henderson Beach State Park. It has everything from luxury condominiums to cottages and opulent beachfront mansions. Architectural styles include Mediterranean as well as the Old Florida designs with white picket fences, wrap around porches and tin roofs. Popular shoreside restaurants are located along this route. This exceptionally convenient locale is close to Destin Commons which has been named multiple times as "The Best Place to Shop in Destin" since it features designer clothing shops, specialty boutiques, restaurants, bars, and a Multiplex Theater.

Miramar Beach is just east of all the action of Destin however you may not have a desire to leave this place since there's so much to do. Very popular properties located here include awesome beachfront vacation homes and resort destinations along Scenic Gulf Drive like Majestic Sun, Ariel Dunes I, Ariel Dunes II, Amalfi Coast, Edgwater, as well as Mainsail Resort. Ocean Reef Resorts guests receive special rates for championship golf and tennis at nearby Seascape. Many go bargain shopping at the famous Silver Sands Premium Outlets discount designer complex. The exclusive Sandestin Golf and Beach Resort in Miramar Beach spans across 2,400 lush acres from the gulf to the bay studded with four championship golf courses. Ocean Reef Resorts has quite a few vacation homes and luxury condos available here as well. Sandestin boasts an abundance of restaurants, bars, specialty shops, fun festivals and family amusements at the charming Village of Baytowne Wharf as well as upscale Grand Boulevard.

South Walton has picturesque coastal villages along Scenic 30A which meanders eighteen miles beside the glittering gulf that's adorned by precious coastal dune lakes with flourishing natural wildlife. Thousands of acres of state forests and award-winning beach parks like Grayton Beach provide an enchanting, serene setting. Charming homes and condominiums are located in perfect Americana inspired coastal villages along the beach. Village greens feature concerts with seasonal activities near galleries, boutiques, restaurants, and friendly beach bars. Our vacation properties are located in Dune Allen, Santa Rosa Beach, Blue Mountain Beach, Grayton Beach, Seagrove Beach, Prominence, Seacrest Beach, and Rosemary Beach.
Navigating a trip to Destin in October? We have compiled a list of frequently asked questions to help ensure your vacation is as seamless and enjoyable as possible. From understanding the weather conditions to knowing the perfect time for a visit, we've got you covered!
What is it like in Destin in October?
October in Destin is truly heavenly. The weather is ideal, with warm days and cooler nights, and the summer crowds have dissipated, leaving the beaches and attractions less crowded. Visitors can enjoy various events, such as the Destin Seafood Festival and the Destin Fishing Rodeo, not to mention the breathtaking sunsets over the Gulf.
Does it rain a lot in Destin in October?
October typically brings lovely weather to Destin. While there is always a possibility of rain, October generally sees less rainfall compared to the summer months, allowing visitors to make the most of their time outdoors.
Is Destin water clear in October?
OAbsolutely! The waters of the Gulf remain beautifully clear and inviting in October, offering perfect conditions for swimming, snorkeling, and enjoying the serene beach views.
Is October a good time to go to Destin?
Definitely! October is considered one of the best times to visit Destin. With its perfect weather, fewer crowds, clear waters, and numerous events and festivals, it offers visitors a chance to fully enjoy all the beauty and activities Destin has to offer.
Don't just dream about the perfect getaway; make it a reality! Seize the moment and plan your unforgettable escape to Destin this October. Experience the exquisite weather, crystal-clear waters, lively events, and breathtaking sunsets firsthand. Join the locals and in-the-know visitors who revel in the uncrowded beaches and superb conditions this time of year offers. Don't let another autumn pass you by - book your October vacation rental in Destin now and create memories that will last a lifetime. Your adventure in paradise is just a click away. See you in Destin this October!