Preserve at Grayton Beach
The Preserve at Grayton Beach is a newer, highly sought-after vacation rental enclave just off Scenic 30A. This exclusively gated neighborhood adjoins a protected woodland preserve. It is bordered on two sides by the expansive acreage of the Point Washington State Forest. This park includes miles of nature trails that meander through this beautiful wooded area. Hikers enjoy seeing Great Blue Herons, Snowy White Egrets, Osprey Falcons, American Bald Eagles, Rabbits, occasional Foxes, and white-tailed Deer.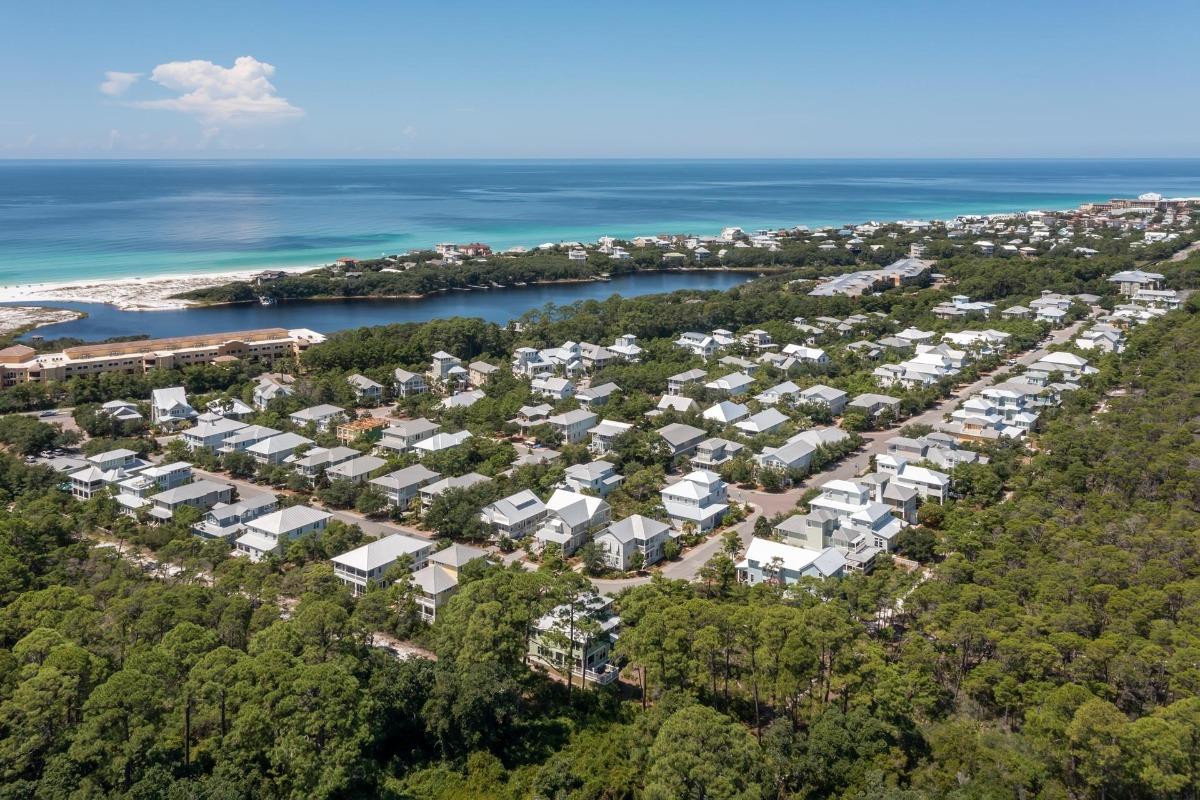 A private boardwalk across from the Preserve leads through a patch of forest that heads down to the sandy dunes of the shimmering shoreline overlooking the jewel-toned gulf. The beach is particularly beautiful here since it is sandwiched between Little Redfish and Big Redfish Lake. These precious coastal dune lakes are found hardly anywhere else on the planet and are rare precious natural treasures. They feature a magical mixture of salted and artisan spring-fed water created by creek-like tributaries that cross over dunes connecting with the gulf. This mixture provides a habitat that harbors abundant wildlife, waterfowl, and a wide variety of fish. Guests enjoy exploring the lovely lakes, fishing, and checking out the waterfowl.
The Grayton Beach State Park is nearby - just a quick bike ride away. After an extensive national environmental study, it recently received the acclaim of excellence and is reported to be one of the most beautiful shorelines in the nation by Forbes Magazine.
The Preserve at Grayton Beach features golden Old Florida Americana-styled architecture. Homes include classic metal roofs, gracious front porch verandas, and lovely tropical plantings that provide an enchanting setting. The residences here are two and three stories tall. They include three to five bedrooms with the ability to accommodate well over a dozen fortunate guests. The Preserve has private access to the beautiful beach and two community swimming pools with tropical landscaped patios, restroom facilities, and showers. There is also a clubhouse, a fitness center, and tennis courts available for privileged use by guests.
Although this gated 30A neighborhood is in a wonderful world of its own, it has an outstanding location close to the beautiful beach. It is minutes away from restaurants, bars, shopping, and amusements at Grayton Beach and the well-known Seaside.
Random

Name

Bedrooms

Sleeps

Price
Yes, all IS great, especially at this "grayt" vacation home that encompasses almost 3,400 square feet. All is Grayt features five beautifully appointed bedrooms with multiple beds hosting over a dozen fortunate guests. This lovely rental is located in the exclusively gated community of The Preserve at Grayton Beach, off Scenic 30A in South Walton.
This gracious southern styled home sleeps 10 fortunate guests and is situated in the gated residential enclave known as The Preserve at Grayton Beach. The Preserve is bordered on two sides by the expansive wooded acreage of the Point Washington State Forest off of Scenic 30A. Rare coastal dune lakes nearby feature an abundance of natural wildlife i
Expect "grayt" things when staying at this lovely three-story vacation home with five bedrooms, three and one-half baths, and accommodations for 14 fortunate guests. It is located in the exclusively gated neighborhood of the Preserve at Grayton Beach on Scenic 30A. Getting to the beach or nearby coastal 30A towns is a breeze with the six compliment