Grayton Landing
Grayton Landing is a newly established South Walton neighborhood with gated access to multi-million dollar homes within a short walk to the historic village center of Grayton Beach. It has an amazing waterfront location on Western Lake and was recently featured in Coastal Lifestyle Magazine with a glowing article about this masterpiece of design, including only six premier properties. They are architectural masterpieces of design and worthy of being featured in the latest edition of Architectural Digest magazine. These four-story Old Florida-style vacation homes sit side by side and encompass over 3,500 square feet. Five graciously appointed bedrooms all include full luxury ensuite baths. A half bath also serves as a convenient powder room off the main living areas. These highly hospitable homes accommodate between 12 to 14 beach-going guests.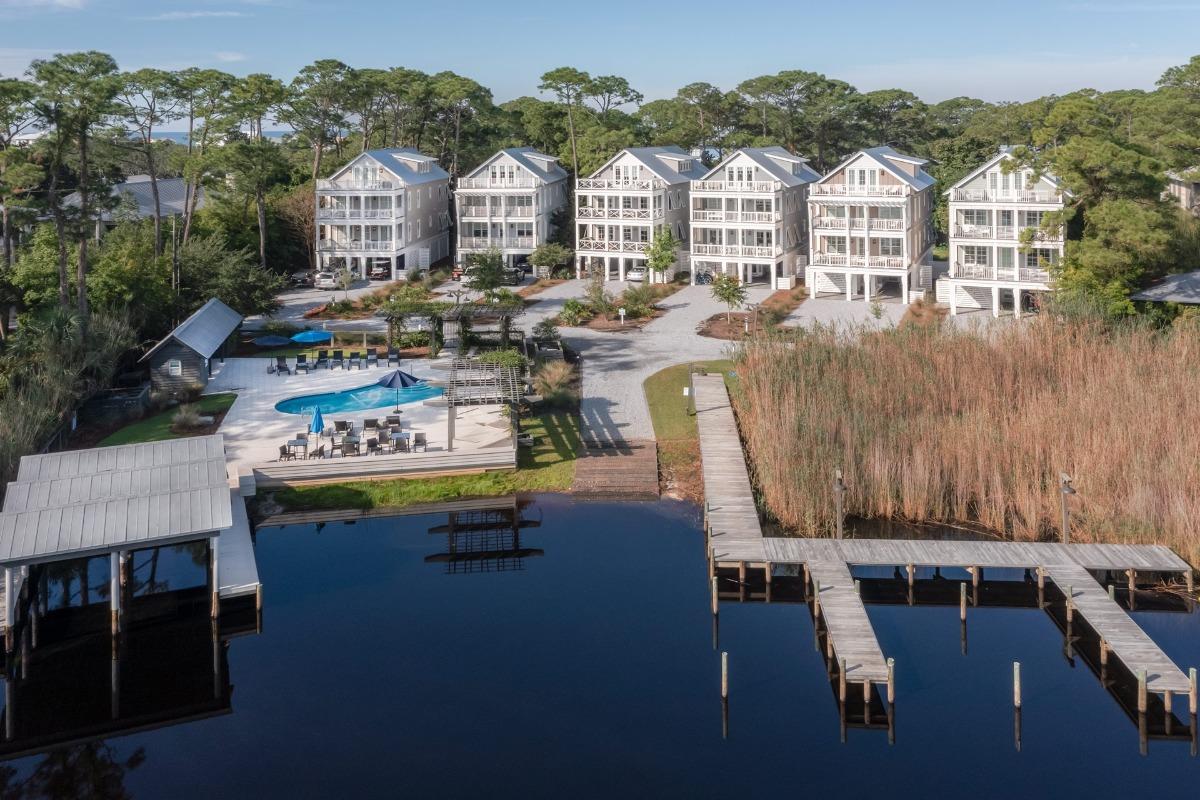 Each of these Scenic 30A homes features two upper levels of columned verandas. They overlook a waterfront patio with a lovely pool and a pavilion to enjoy poolside dining. The views of Western Lake are quite celestial in their beauty. Coastal Dune lakes of this kind are a precious natural treasure found hardly anywhere else in the entire world. Creek-like tributaries flow intermittently across sandy dunes, flowing in two different directions depending upon the tides. This mixture creates a magical habitat with salted artisan spring-fed freshwater, supporting wildlife, fish, and waterfowl.
A sparkling lakefront swimming pool with a sun patio and pergolas provides refreshing relaxation. Besides the pool and beach, fishing and exploration of the lake's natural beauty are popular pursuits. Grayton Landing has two docks that invite guests to paddle into the large lovely lake. A tributary meanders down a short distance from this location to the shimmering white dunes and glittering emerald-toned gulf. It borders nearly 2,000 acres of the pristine forested Grayton Beach State Park, which was recently named one of the most beautiful beaches in America by Forbes after completing an extensive annual environmental shore report.
This exclusive lakefront neighborhood is only a five-minute stroll away from the historic village center of Grayton Beach. It is a charming place that provides an enchanting laid-back setting of golden years. The famous Red Bar here features excellent food, craft cocktails, and live music. Nearby, the Chiringo's Restaurant and Bar features Spanish Tapas, seafood, favorite drinks, and seasonal entertainment. The vibrantly unique Zoo Gallery includes a colorful array of decorative art, jewelry, and beach-inspired furnishings created by select artists nationwide. The Tribe Kelley Surf Post nearby offers a fantastic wide array of fashionable coastal clothing along with handpicked vintage-styled accouterments.
This 30A locale is also minutes away from many other restaurants, beach bars, fashion boutiques, and specialty shops in other picturesque coastal villages. Nearby, Seaside and the Santa Rosa Beach village center of Gulf Place feature outdoor amphitheater concerts and fun festivals throughout the year.
Random

Name

Bedrooms

Sleeps

Price
This captivating vacation home with five bedrooms can comfortably sleep a dozen privileged guests in a recently completed exclusive residential enclave known as Grayton Landing. It features an excellent waterfront location on a Coastal Dune Lake, which is a precious natural treasure and found hardly anywhere else in the world. Tributaries connect i
This enchanting hospitable home is located near the old historic village center of Grayton Beach in South Walton. This charming, captivating spot provides an enchanting setting of golden years gone by. The popular Red Bar, which features live music along with great food, is in the village center. Nearby Chiringo features tapas while the newly opene