Posted on 8/16/2022
Undeniably the crown jewel of Destin is HarborWalk Village! The vibrant harbor it takes its name from is home to the largest private charter fishing fleet in all of North America. Destin's famous fishing fleet was born over 150 years ago, and the town has grown to be known as "The World's Luckiest Fishing Village."

HarborWalk Village was created in 2007 on Destin's waterfront as an idyllic setting for boating, drinking, dining, shopping, adventure, and more. This village portrays a Golden Americana style of architecture. It looks like it has been here since the 1950s. It features a decorative lighthouse, Old Florida-styled architecture, and docks for all sorts of boats. The "walk" on the "harbor" includes a beautiful selection of restaurants, bars with live music, boutiques, specialty shops, and family amusements. It has a prominent presence and is the first thing you see as you approach Destin from the western bridge that spans the bay and open gulf.
Vacation Rentals Near HarborWalk
Many of our vacationing guests flock to HarborWalk for all the activities it has to offer. Those staying at one of our distinctive rental properties nearby on Holiday Isle may be drawn over as the harbor skyline is one of Destin's most prominent features. This place is a dazzling destination for visits from our guests staying in Miramar Beach and the coastal villages along Scenic 30A as it completely answers the question of what is there to do off the beach.
HarborWalk Village is jammed packed with options for Dining, Shopping, Adventures, Boating, and Events. Let's take a quick look at each!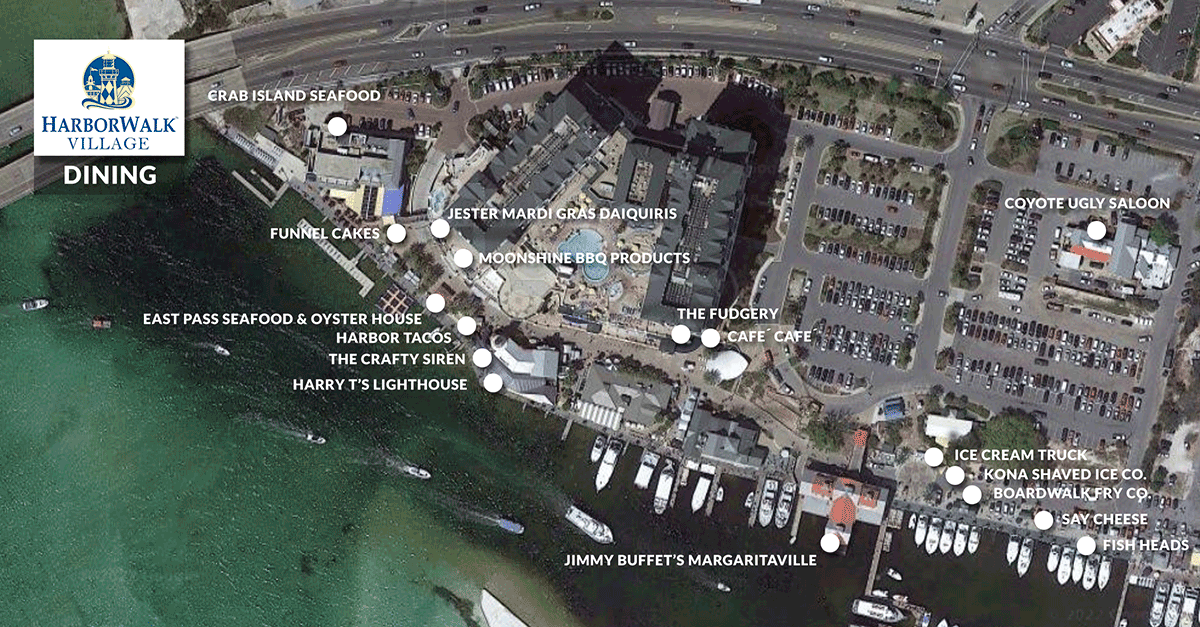 There are some great selections for dining, which include "Harry T's Lighthouse," "East Pass Seafood & Oyster House," "Jimmy Buffet's Margaritaville," and "Crab Island Seafood". These large restaurants feature everything from tantalizing appetizers to decadent desserts with delicious main entrees in between - so you can feast to your heart's content! Each one provides a unique ambiance, from casual to more refined.

The colorful Harry T's Lighthouse features a wraparound covered porch on the water. It serves tasty appetizers, gumbo, salads, seafood entrees, and fried baskets. East Pass Seafood & Oyster House is a harbor-front restaurant known for freshly caught seafood, shucked oysters, and delicious entrees of all sorts. Margaritaville boasts a unique variety of food, including Volcano Nachos, Fish Tacos, Jambalaya, salads, seafood dishes, margaritas, and of course, a "cheeseburger in paradise." Crab Island Seafood is the newest restaurant at HarborWalk Village! Featuring fresh local seafood, chef specialty entrees, pizza, and a fabulous Happy Hour. Try Harbor Tacos for tasty Mexican fare or "Ice Cream Truck" for a frozen delight. Most of these restaurants host friendly bars with live music.
Other HarborWalk hots pots include Café, Café, serving coffee and delicious treats, The Boardwalk Fry Company for you know what (French Fries!), and The Fudgery for fudge of all kinds! There is The Crafty Siren for delicious seltzers and beers, Funnel Cakes, a powder sugar lovers dream, and Jester Mardi Gras Daiquiris serving the best frozen drinks and late night pizza. Try Moonshine BBQ Products for locally sourced fair and Say Cheese for melts and all the cheesiness you need. You don't want to miss Kona Shaved Ice Co. for icy cold treats, the Fish Heads Bar where you can try one of their famous pineapple or watermelon drinks served up in fresh fruit, and finally Coyote Ugly Saloon where you can find great cocktails and some of the best dancing in town.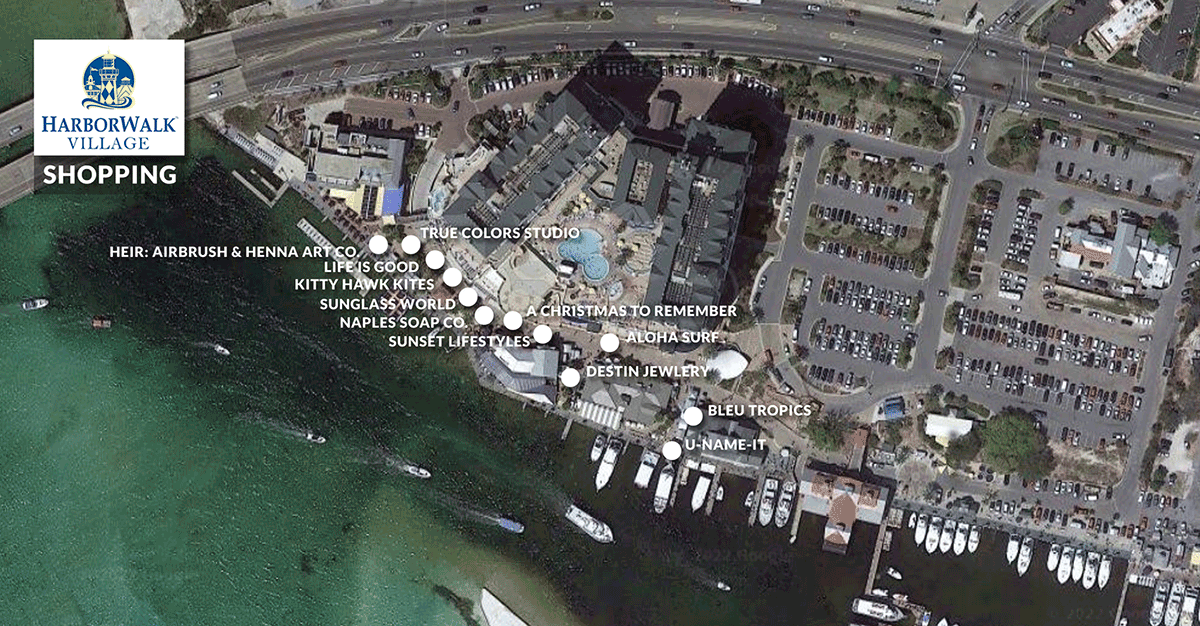 There are a plethora of shops at HarborWalk. They range in size and scope from quaint beach gear stores to beautiful, prominent art galleries. Here you find souvenirs for everyone on your list as well as a few must-haves for yourself!
Starting on the hip side of things, we have Aloha Surf! Find that unique bathing suit you've been searching for, plus lots of other beach wears. It's Christmas every day of the year at A Christmas to Remember, then there is Bleu Tropics, featuring jewelry and oddities from around the world. You can try out Destin Jewelry Shop or U-Name-It for some engravable pieces and HEIR: Airbrush & Henna Art Co. for custom airbrushed art, henna, and more! Kitty Hawk Kites features fun toys, great kites, and beach clothing! Life is Good will never leave a frown on your face as everything there has a positive message. You can't smell better than Naples Soap Co. they have the highest quality bath and beauty products in town. Maybe it's quality sunglasses you are after; in that case, you may want to pop by Sunglass World. If you step on a pop-top and blow out a flip-flop, you need to stop into Sunset Lifestyles for shoes, sandals, and more. Finally, there's True Colors Studio by Kelly Pierre, where you can find live painting on-site and original art, as well as prints on metal, canvas, and more! There is something for everyone!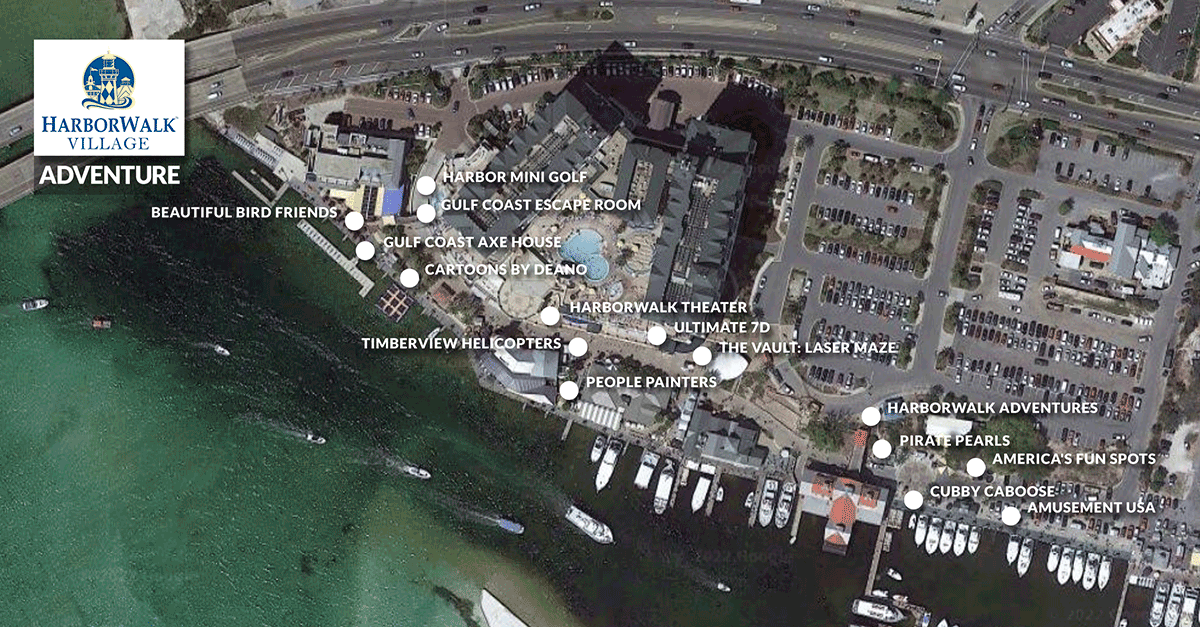 There is quite literally something to do for everyone in HarborWalk. From action and adventure to thrills, art, and more, your whole family will love all the amusements this special place has to offer.

Let's start with America's Fun Spots, here, you will find a crazy mirror maze and a killer shooting gallery. Head down to Amusements USA, where the kids can bounce around in giant aqua spheres or test out the bungee trampolines. For something more down-to-earth, there's Beautiful Bird Friends, where you can meet the birds of a feather, snap a selfy, or pop into Cartoons By Deano for custom artwork and cartoon'ify you and your whole family! Did you know Harbor Walk has a rail system? Cubby Caboose is always on time as it parades through the center of town like clockwork. Looking for something a little more ... deadly?!? Check out Gulf Coast Axe House, where you can learn how to more accurately throw an ax. It's perfect for birthdays and parties. For a more cerebral activity, you may want to try the Gulf Coast Escape Room, solve riddles and pay attention to get out! Harbor Mini Golf is a crowd favorite, featuring a new 9-hole course. Feel like a high-octane thrill ride? Ziplines? Check, Freefall? Check, this place even has a 40'LED rock wall! Looking for more entertainment than perspiration? HarborWalk Theater serves up the best Comedy, Magic Shows, and even Hypnosis! Want to try on a new tattoo or put on a little war paint, People Painters has you covered, in paint! One of the newest additions, Pirate Pearls, will let you pick an oyster of your choosing and find a pearl; what could be more fun? The Vault: Laser Maze is action-packed to the max! Jump, climb, and crawl your way through a brilliant green laser maze. When you are ready to leave the world behind, snatch up some tickets for a ride in Timberview Helicopters, the best way to see Destin. The 3D world we live in is so overrated. You'll want to experience 7 Dimensional virtual rides with Ultimate 7D. The most exciting 4 minutes of your vacation awaits!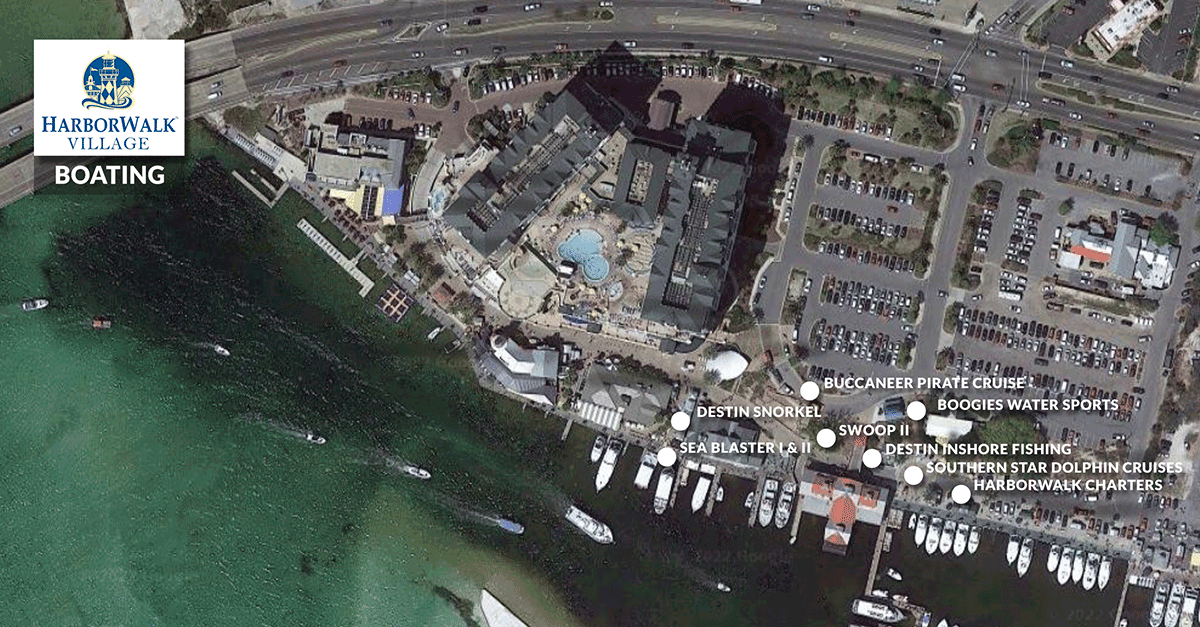 HarborWalk Village also includes several recreational boat rentals and delightful water-born diversions. They include a romantic sunset dinner cruise, dolphin sightseeing excursions, and pontoon boats for party trips to nearby Crab Island.
You can even take out Jet Skis with Boogies Water Sports. There are fishing charters with HarborWalk Charters where you can pick your own fishing vessel. Try a treasure hunt adventure aboard a real pirate ship with a rollicking costumed crew. Buccaneer Pirate Cruise will take you for a real-life pirate adventure right in Destin's calm seas. Then there is Destin Inshore Fishing, which is very kid-friendly and can take you out to catch some great fish, right in the bay! Enjoy life under the sea with Destin Snorkel, the perfect way to explore our shores. If you want to bring home some fish, you may want to stop by Destin Charters, host to 20 of Destin's best charter boats. Take advantage of a seasoned captain and crew to put you right on the fish. Swoop II is a large deepsea vessel perfect for big groups of fishing folk. Sea Blasters I & II are pretty much giant speed boats that bring you to all the action in a hurry, a great way to tour the seas! And finally, there is Southern Star Dolphin Cruise, Destin's original Dolphin Cruise, which features a double-deck for those hard-to-spot dolphins.
Our Ocean Reef Resorts guests receive special complimentary discounts for many of these activities. Check out the Reef Rewards program!

HarborWalk Festivals & Events
HarborWalk Village is also known for hosting festivals and holiday celebrations throughout the year. They usually include free outdoor concerts, activities for kids, and other amusements. These fun times have a long zip line, a water trampoline, a bungee rope flight, water balls, a mirror maze, a creek mining adventure, and a critter shooting gallery. The main calendar of events features magnificent fireworks choreographed to live music for New Year's Eve, festive Mardi Gras celebrations, the springtime Cobia Fishing Tournament, vibrant firework displays for Memorial Day and Independence Day, the fabulous Destin Seafood Festival, The Destin Fishing Rodeo extravaganza, a wine festival, a holiday lighted boat parade and colorful Christmas festivities.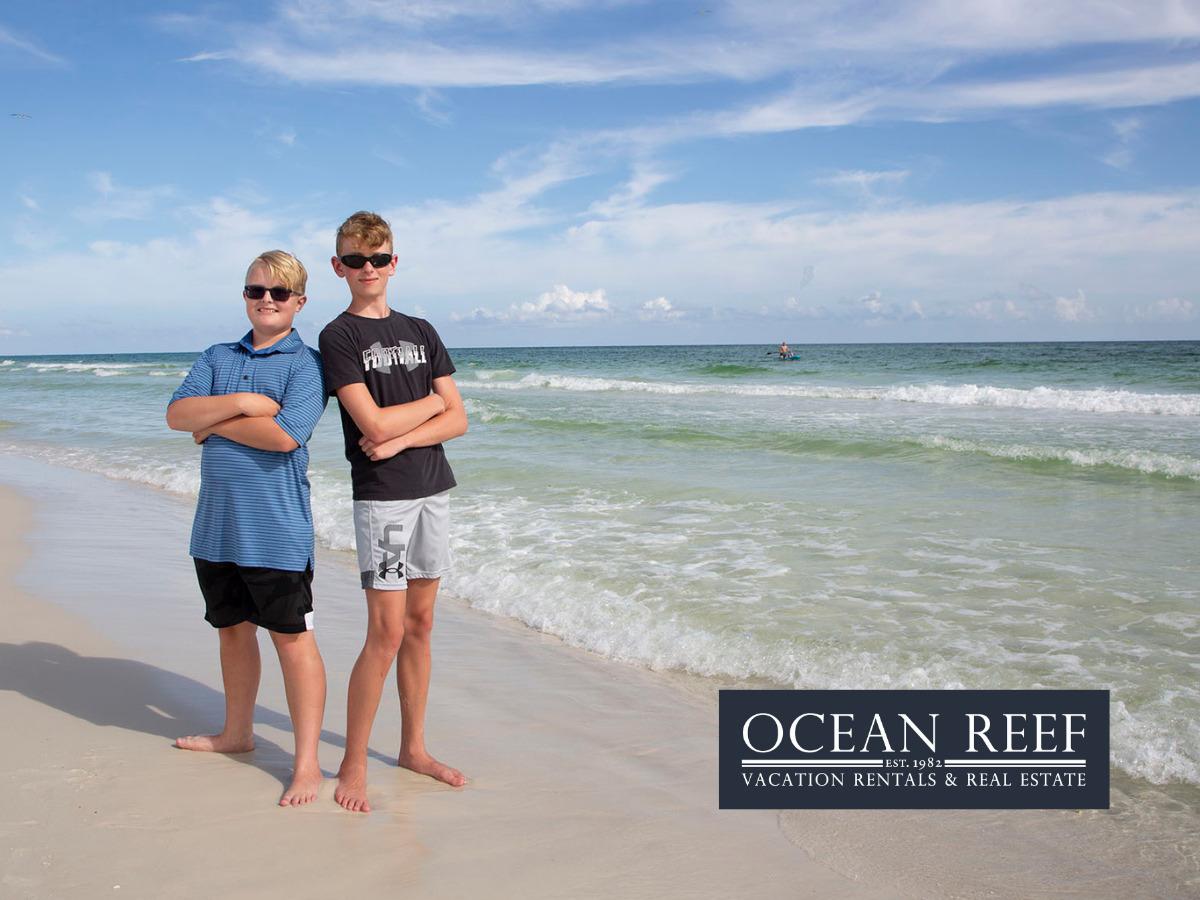 Ocean Reef Resorts can bring you closer to all the action in a vacation rental property tailored to your needs. HarborWalk has so much to offer. Plan a trip to the vibrant harbor and book your stay in one of our great Destin vacation rentals.