Posted on 4/24/2020
"It's only half-past twelve, but I don't care…It's five o'clock somewhere."
Wise words from Alan Jackson and Jimmy Buffet! Even if you are at home just dreaming of paradise, it's always time for a good ol' beach happy hour.
Here at Ocean Reef Resorts, we are firm believers that happy hour at the beach is all about relaxing. This means letting your worries wash away on salty winds and emerald waves. It means laughing with friends and family. And finally, it means sipping your favorite tropical drink while watching a beach sunset.
Not at the beach? Not a problem! A virtual happy hour can be just as good as the real deal. All you need are the ingredients for a good beach drink, and you're ready to go! Pro tip – a virtual happy hour can also help speed up the time while you're waiting for your next Destin vacation.
So, what are the best beach drinks for happy hour? We did our research to find out the top five best beach drinks to help you get started. Try one (or all – we don't judge) of these beach drinks the next time you're in Destin or while at home. It doesn't matter where you are in the world, after one drink you'll be feeling the salt and sand in your very veins.
Without further ado, here's our countdown of the top five beach drinks! (PS – we've included recipes so you can let your inner mixologist free and make these cocktails at home!)
5. Daiquiri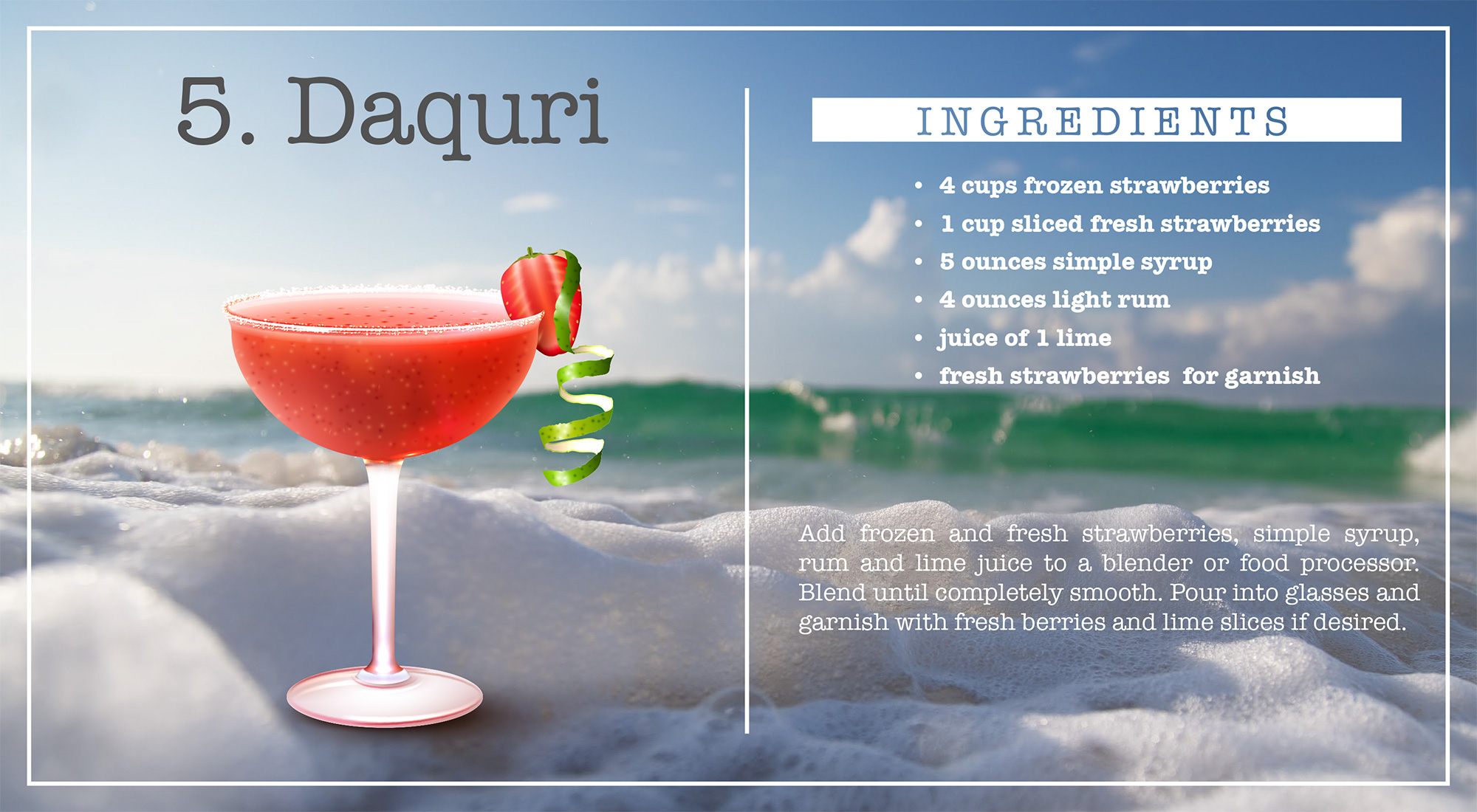 Unlike many classic drinks, the Daquiri's origins can be traced back to the late 1800s. It is believed that a man named Jennings Cox first created the Daquiri in Cuba after running out of gin for a cocktail party. His drink was a huge success, and he dubbed it "Daquiri" after a beach town in Cuba. Now, the Daquiri is considered one of the best beach drinks around! The genius of this drink is in its simplicity. At its core, a Daquiri is an uncomplicated blend of rum, sugar, and lime juice. The cocktail is light, refreshing, and tastes like drinking sunshine straight from a glass. A Daiquiri is the perfect drink for when you are soaking up the tropical sun while sitting on the beach.
4. Pina Colada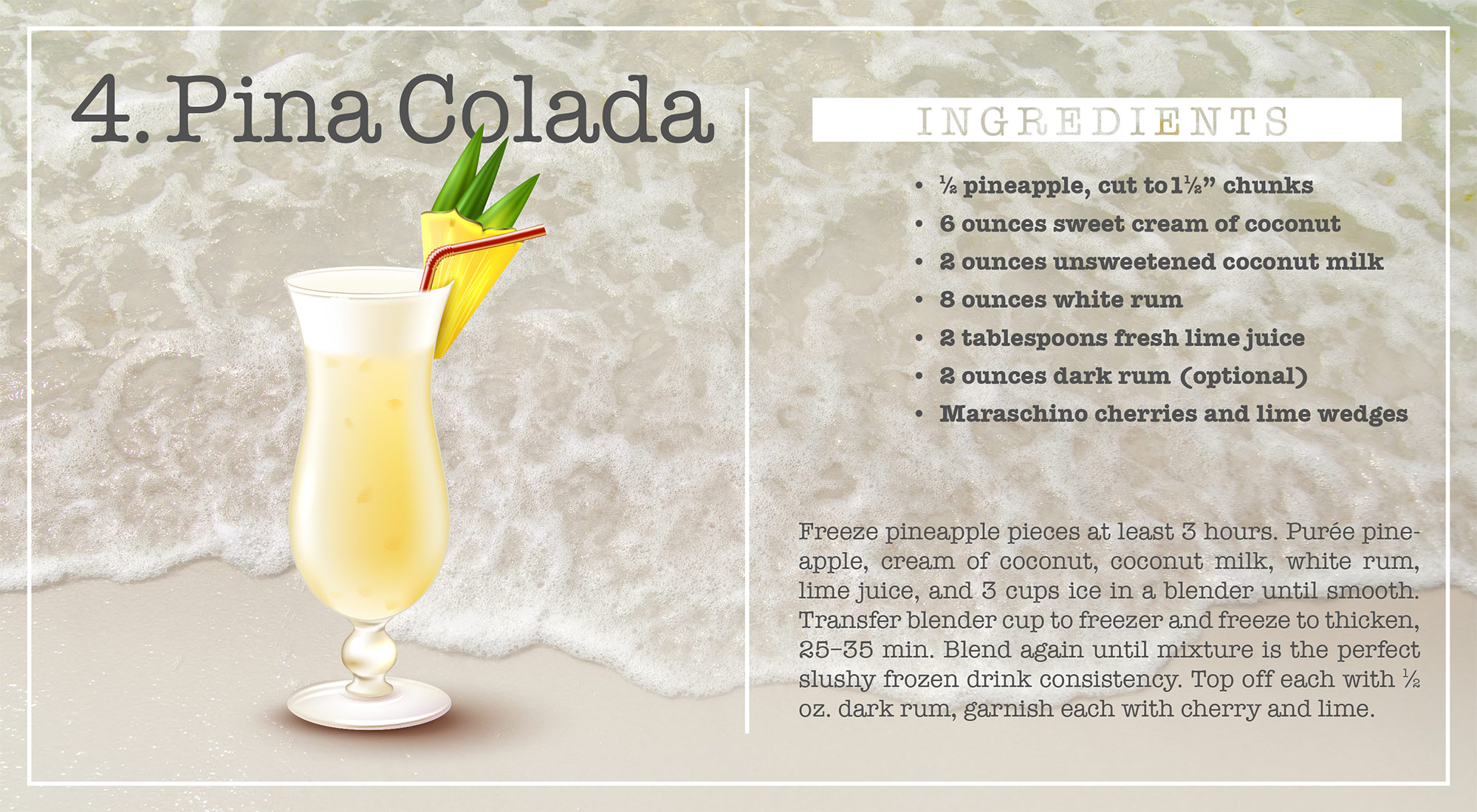 If you like Pina Coladas… then you are not alone! The Pina Colada is a highly popular beach drink, and for good reason. Pina Colada translates to "strained pineapple," aptly named for the fresh pineapple juice that is used in the delicious cocktail. This tropical blend mixes coconut, pineapple, and rum for a truly beachy taste. After all, nothing says "beach" quite like pineapples and coconut. If you don't believe us, try closing your eyes when sipping your cold Pina Colada. Odds are you'll immediately imagine yourself with your toes in the sand, warm waves crashing all around, and the Florida sun shining down. Whether you choose to enjoy your Pina Colada by the pool, on the beach, or during a virtual happy hour, it's a great way to get you in a beach vacation mood.
3. Mojito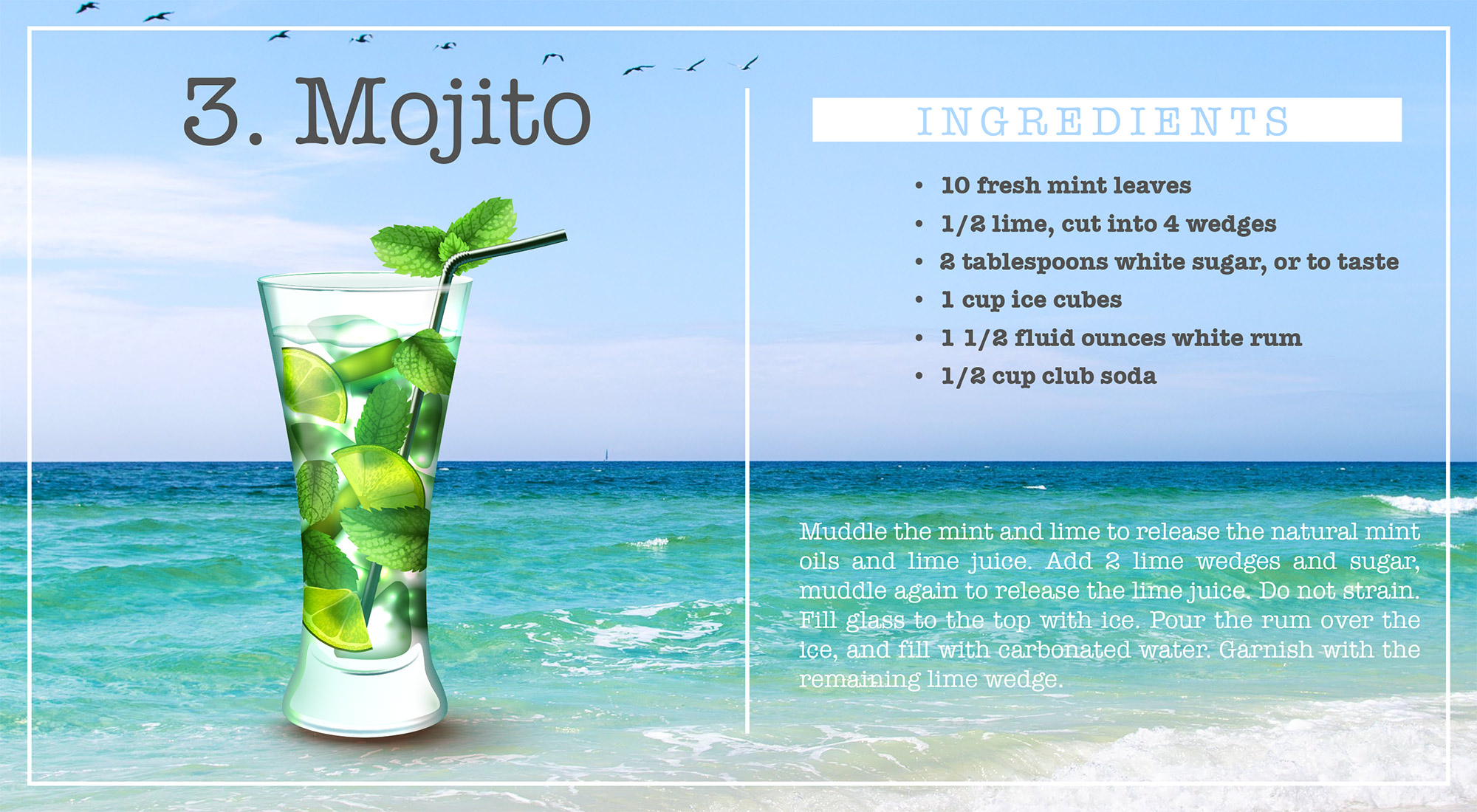 Oh, Mojito, I love you from my head to moji-toes! Ha, see what we did there? Originating from Havana, Cuba, the mojito has endured through the years as a well-loved drink, and it has since made its way to happy hours around the world. This classic cocktail is made with white rum, sugar, lime juice, soda water, and mint. The sweet and citrus combo make it an in-demand drink during the summer and on the beach. There are a number of mojito variations, ranging from the Mojito Blanco in Mexico that uses tequila instead of rum to a Peruvian version that is made with passionfruit. Whether you're out on the beach town or at home, it may be fun to try both a classic mojito and a variation. Then you can see which you like best!
2. Sangria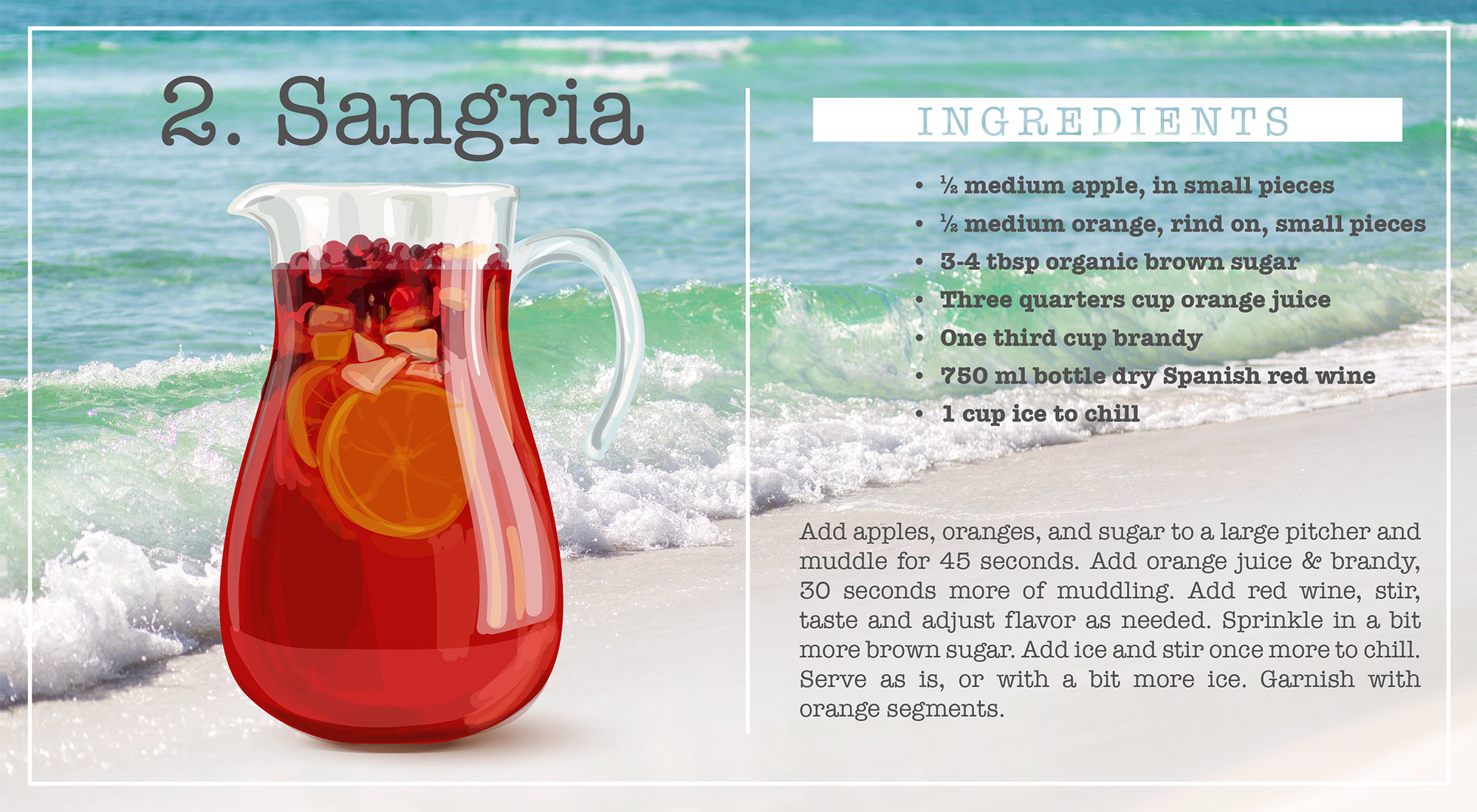 Hailing from Spain, Sangria is nearly synonymous with "relaxing on the beach." This cocktail punch traditionally includes red wine mixed with chopped fruit and other ingredients or alcohol. While the Sangria base is always red wine and a fruity flavor, the beauty of this drink is the flexibility to shake up the flavor. Recipes vary widely even in Spain! So, if you're making Sangria at home, don't be afraid to experiment a bit. Who knows, you might just find a new favorite tropical drink to add to your happy hour list!
1. Margarita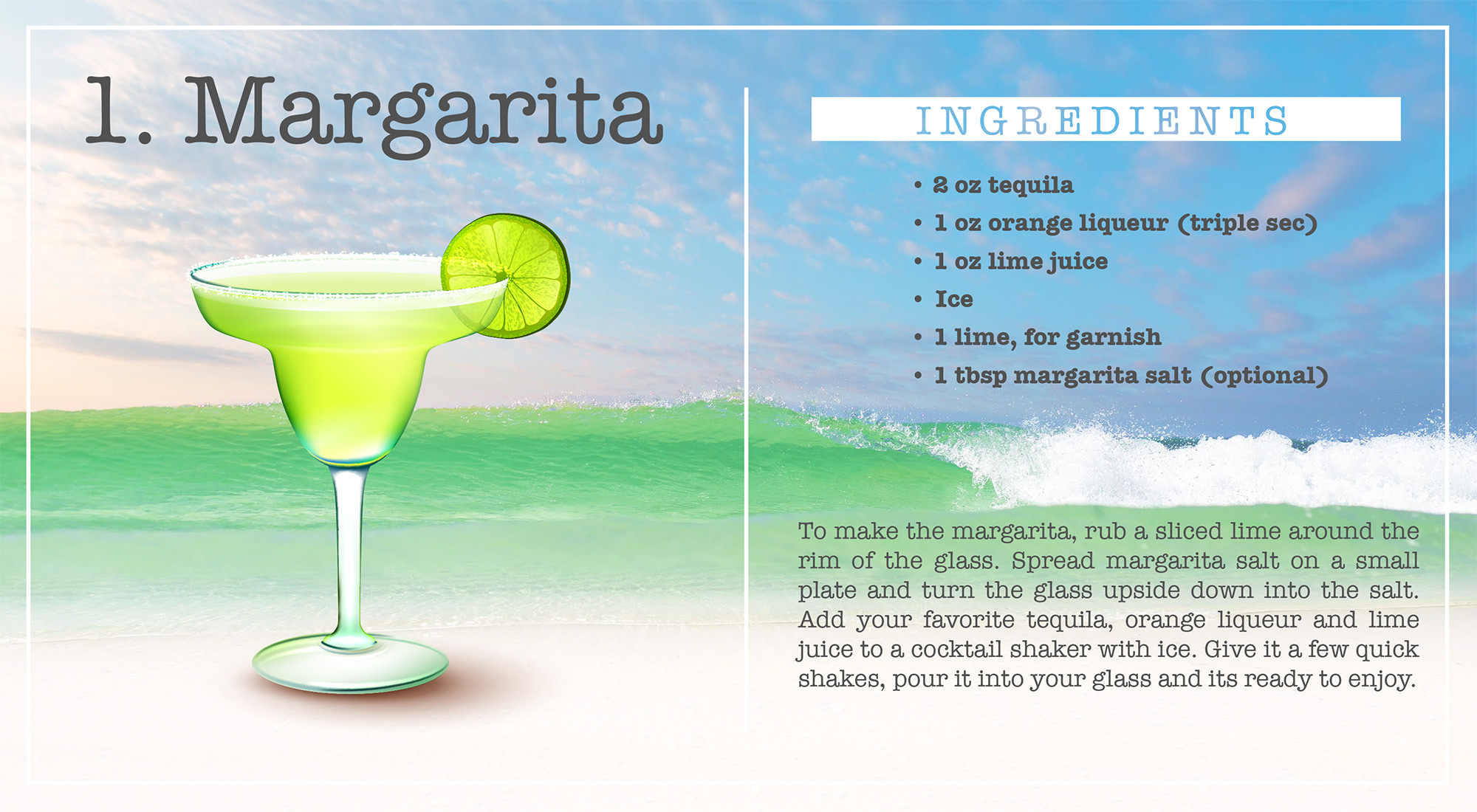 The number one beach drink according to internet searches (and just common sense) is…drum roll, please…the Margarita! This shouldn't come as a surprise to anyone who loves a good happy hour margarita while on a beach vacation. Made with tequila, flavored liqueur, lime juice, and salt on the rim of the glass, you can't go wrong with a Margarita. The citrus flavor, combined with a salty tang reminiscent of the beach makes it the perfect tropical drink. Shake up the flavor by using different flavored liqueurs, fruity sodas, or fruits. No matter how you drink it – on the rocks, without ice, or frozen – it's sure to be refreshing!
Now, who's ready for happy hour? We certainly are! From restaurant to bar to beach to your own home, these drinks will get you in the happy hour mood. If tropical drinks aren't for you, come see us in our lobby for a free Miller Lite next time you are in town. You don't need a tropical drink to enjoy a beach happy hour!
Read more: 21 Must-Visit Miramar Beach Bars