Posted on 8/29/2023
Vacations are a coveted time for rejuvenation, a chance to immerse oneself in the natural splendors of a new locale. As you set your sights on the mesmerizing beauty of Destin, Florida, your four-legged friend needn't miss out on the adventure. Destin and neighboring 30A, with its pet-friendly spaces and welcoming atmosphere, is truly a paradise for both pets and their owners. However, we recognize that there may be times when you wish to explore destinations where pets might not be allowed. Fear not! At Ocean Reef, we pride ourselves on catering to every family's unique needs. While we offer the largest selection of pet-friendly vacation homes in Destin ensuring a delightful stay, for those occasions when they're all occupied, or if you're staying in a non-pet-friendly property, we have meticulously curated a list of top-tier boarding options in the area. With us, every experience is tailor-made, ensuring that you and your pet can make the most of your Destin vacation.
From luxurious dog spas to reliable pet hospitals, and even convenient apps, we've delved deep to bring you the very best in pet care services in Destin. This ensures your dog will be enjoying their vacation just as much as you will. So, as you pencil in that fishing trip or dreamy spa day, rest easy knowing they're in the best hands. With our curated guide to Destin Area Dog Boarding & Kennels, opting to leave your little buddy behind might just feel a tad "RUFF." Dive in to explore these fantastic facilities that are ready to roll out the red carpet for your furry companion. Because, let's face it, they deserve their own slice of vacation luxury too.
Destin Dog Boarding & Kennels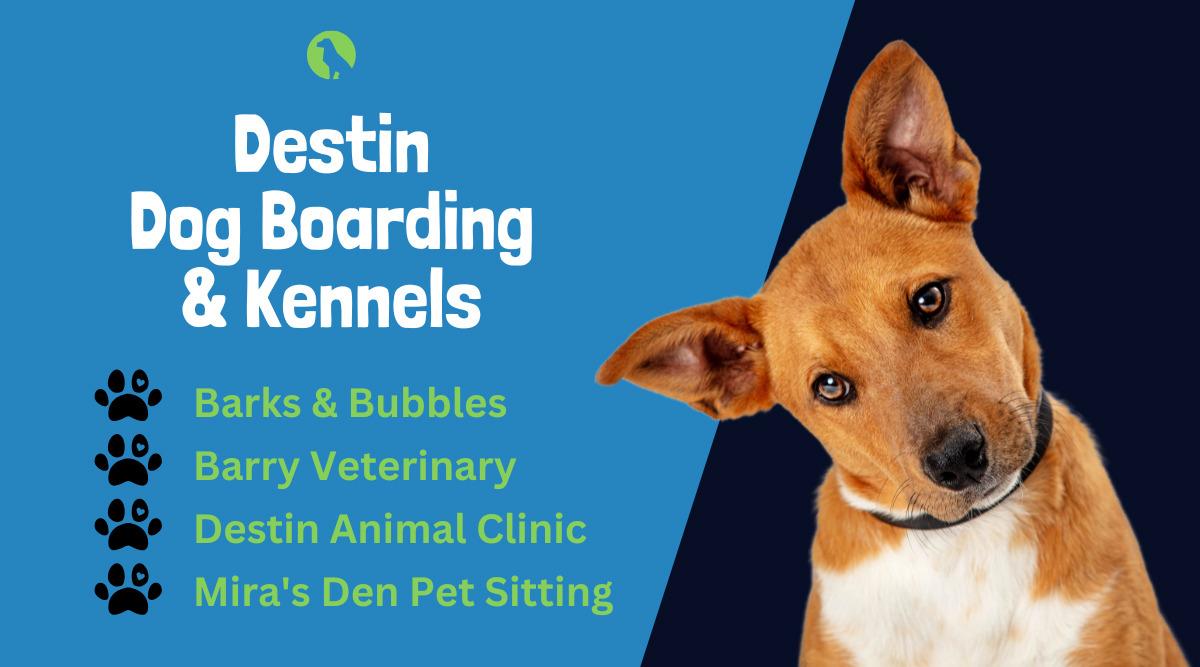 Give your dog that "spa day" experience at Barks & Bubbles. Owners Rachel & Thomas will treat your dog like family. They have been grooming and boarding for over 20 years, ensuring quality care for your pet.
Boarding Rates: $45/night – Appointments required
Hours of Operation: Tues – Sat 8am – 3pm; Sun & Mon boarding drop off/pickup only days
Contact: (850) 716-5543
Location: 981 Airport Road, Destin, FL
Barry Veterinary Hospital
Renowned in the Destin & 30A areas, Barry Veterinary Hospital offers more than just expert veterinary care. Every pet is unique, and their dedicated team ensures each guest enjoys a safe, happy stay in their pristine, temperature-controlled facility. With personal attention from their caring staff, your pet's comfort and well-being are their top priority.
Boarding Rates: Call for rates and availability
Hours of Operation: Mon – Fri 7:30am –5:30pm; Sat 8:00am - 1:00pm
Contact: (850) 749-4805 or clientcare@barryvethospital.com
Location: 29 South Shore Drive, Miramar Beach, FL
Pet owners in need of boarding services can find exceptional care for their dogs at Destin Animal Clinic. Offering over 30 runs and cage banks, the facility has spaces for dogs of all sizes, with individual spaces and play-times in a large fenced-in yard.
Boarding Rates: Call for rates and availability
Hours of Operation: Mon – Fri 7:00am –6:00pm
Contact: (850) 837-2931 or destinanimalclinic@gmail.com
Location: 4003 Commons Dr W, Destin, FL
Venture into Destin's attractions with peace of mind, leaving your pet at Mira's Den. Owned by a local veterinarian and veteran, this service promises expert care and a heartfelt commitment to your fur baby's well-being.
Boarding Rates: $55/night; $45/day for daycare; $30/day drop-in visit

Hours of Operation: Varies
Contact: (850) 325-0490
Location: Destin, FL
30A Dog Boarding & Kennels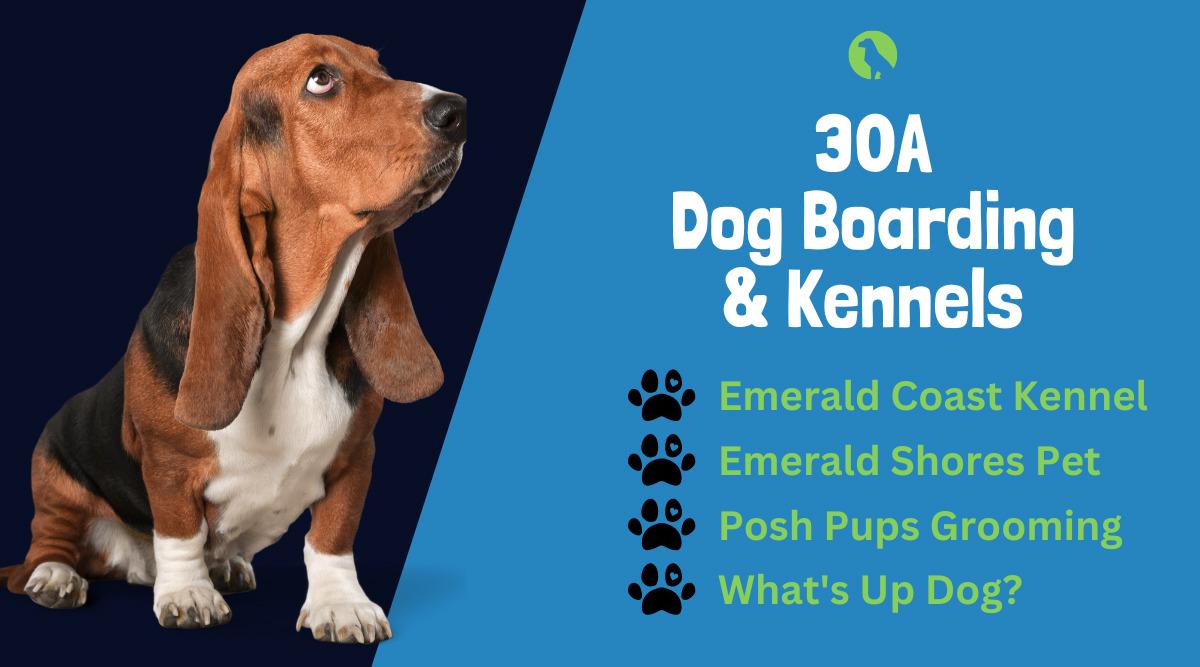 Emerald Coast Kennel, Inc.
Since opening in 2002 with an A+ rating from the BBB, dedication to providing unparalleled care for dogs remains a top priority. With four distinct play yards, each dog enjoys individual attention, ensuring no mixing of dogs from different families. To show gratitude, discounts are available for Military, Police Officers, and Fire Fighters. Additionally, dog bathing services are offered.
Boarding Rates: From $45/night, with various discounts
Hours of Operation: Mon – Sat 8am – 5pm; Sun & Holidays 8am-9am & 4pm-5pm
Contact: (850) 267-1679 or diane@eckennel.com
Location: 190 Shannon Lane, Santa Rosa Beach, FL
Emerald Shores Pet Hospital Resort and Spaw
Nestled in Santa Rosa Beach, Emerald Shores Pet Hospital Resort & Spaw is renowned for its premium boarding facilities. Alongside comprehensive medical services, they offer a serene and secure environment for dogs during short or extended stays. The dedicated team ensures a comfortable, home-like experience for every pet.
Hours of Operation: Mon – Fri 9am – 5:30pm; Sat 9am-12pm; Sun & Holidays CLOSED

Contact: (850) 622-0988 for Rates and Availability
Location: 4925 US Hwy 98W Santa Rosa Beach, FL
Experience luxury and peace of mind at Posh Pups, where they prioritize free-range dog boarding in a safe and loving environment. Limiting their admissions ensures that each pet receives individualized, unparalleled attention and care, making it more than just a boarding stay - it's a pampered retreat for your furry friend.
Hours of Operation: Mon – Fri 8am – 4pm; Sat 12:30pm – 4pm; Sun – CLOSED

Contact: Ellis & Arielle at (850) 960-7493 for Rates and Availability
Location: 557 Mack Bayou Rd, Santa Rosa Beach, FL
Experience a serene and hands-on approach to boarding at What's Up Dog. Eschewing the typical crowded kennel vibe, their dedicated team channels all their energy towards ensuring each dog's happiness. With expansive, secure yards for play and attentive leash walks from seasoned Animal Care Specialists, your dog won't just be boarded – they'll be cherished, as if they were a part of their own family.
Contact: (850) 420-2894 for Rates and Availability
Location: 180 Lynn Dr, Santa Rosa Beach, FL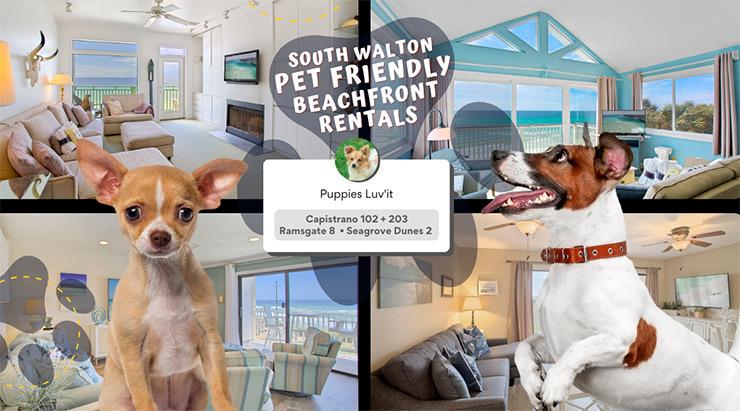 Here at Ocean Reef Resorts, we are happy to tell you about four wonderful Pet-Friendly beachfront properties available to suit you in South Walton.
For those seeking a more personalized and convenient option, the Rover App offers tailored care backed by the nation's most trusted pet boarding network. From overnight dog boarding and in- home dog care, Rover makes finding the perfect pet sitter a breeze.
Whether you prefer your pet to have a cozy home stay or need a reliable sitter, the Rover App has a wide array of services to fit your needs. With rates typically ranging from $25 to $57/night, you can easily find a sitter within your budget.
You can download the Rover App and explore various options, read reviews from other pet owners, and even chat with potential sitters to ensure the perfect match for your pet. It's a fantastic way to ensure that your furry family member receives loving and reliable care, even when you can't be there yourself.
Your Destin Pet-Friendly Getaway Awaits!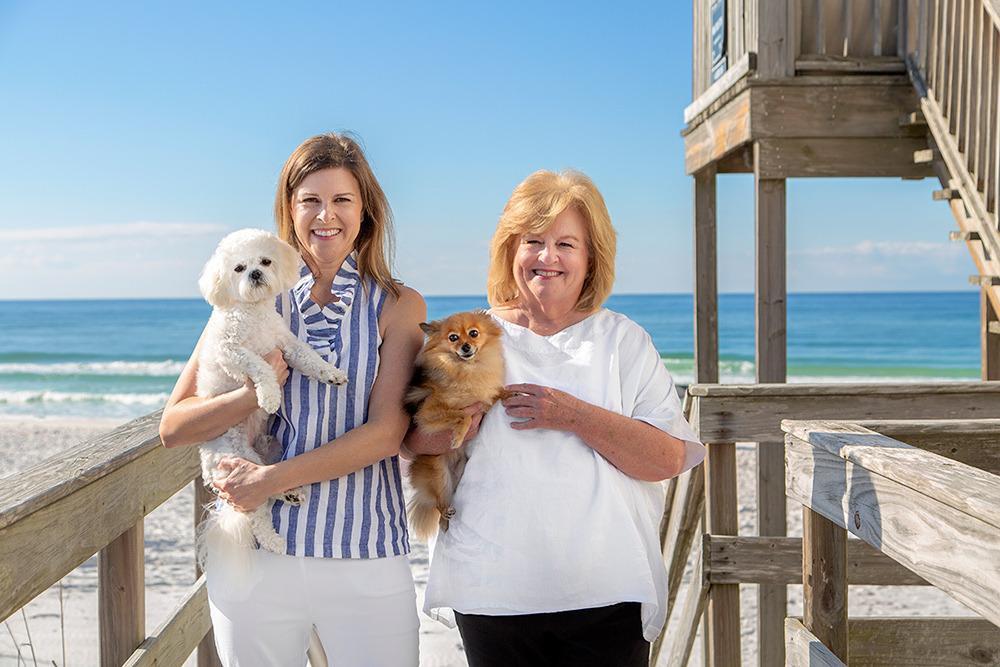 We're more than just vacation rentals — we're your partner in crafting unforgettable moments for every family member, especially the furry ones. While we take pride in offering the most expansive selection of pet-friendly vacation rentals in the Destin & 30A areas, we also understand that some of our esteemed properties are exclusively for our human guests. For those staying in non-pet-friendly locations, this article guides you to nearby quality care options for your pets. With Ocean Reef, you never have to compromise; your vacation can be complete with both luxury accommodations and peace of mind for your four-legged companion's care.